Good morning everyone, and welcome back to Masterpiece Theater on Hipsters of the Coast for the fifth (!!) installment of the 2020 Marvel Masterpieces Sketch Card Showcase! We are now two years removed from the initial release, but way back when, each box of Marvel Masterpieces 2020 (on average) contained a sketch card, an original work of art by an artist rendered on the same size and stock as the regular set. They are inserted at random, and could be from one of more than 150 artists and of almost any character found within the Marvel Universe.
Among sketch collectors there are lots of different sketch collecting strategies. Some folks collect sketches by set (me), others do it by a certain artist (also me), or a particular character (still me), and a few collectors just really seek out high quality sketches, regardless of anything else, no different than an art collector in any other genre.
Volume I | Volume II | Volume III | Volume IV | Volume V | Volume VI | Volume VII | Volume VIII | Volume IX | Volume X | Volume XI | Volume XII | Volume XIII | Volume XIV | Volume XV
For my Magic: The Gathering readers, these are most similar to the artist proofs that artists receive after illustrating a card. While Magic APs don't ever appear in packs, the idea that each artist brings their own interpretation to a subject on a miniature blank canvas is the same. In Marvel, blank artist proof cards are provided to Marvel sketch card artists based on the number of sketches created, and they can illustrate and sell these both before and/or after set release.
This article is the beginning of the proverbial homestretch to this Sketch Card Showcase series, as I near the end of my 150+ MM20 sketch card collection. As always, some entries will be character specific, other artist specific, and some a bit of both. The constant again will be that each sketch tells a tale in the larger story of my collecting journey, and I'm very excited to tell you all about how I acquired them and the artist behind the artwork.
Showcase ahoy: this is the Episode XVI of Exploring the 2020 Marvel Masterpieces, the Sketch Card Showcase #5!
Blink (AP) by Ryan Odagawa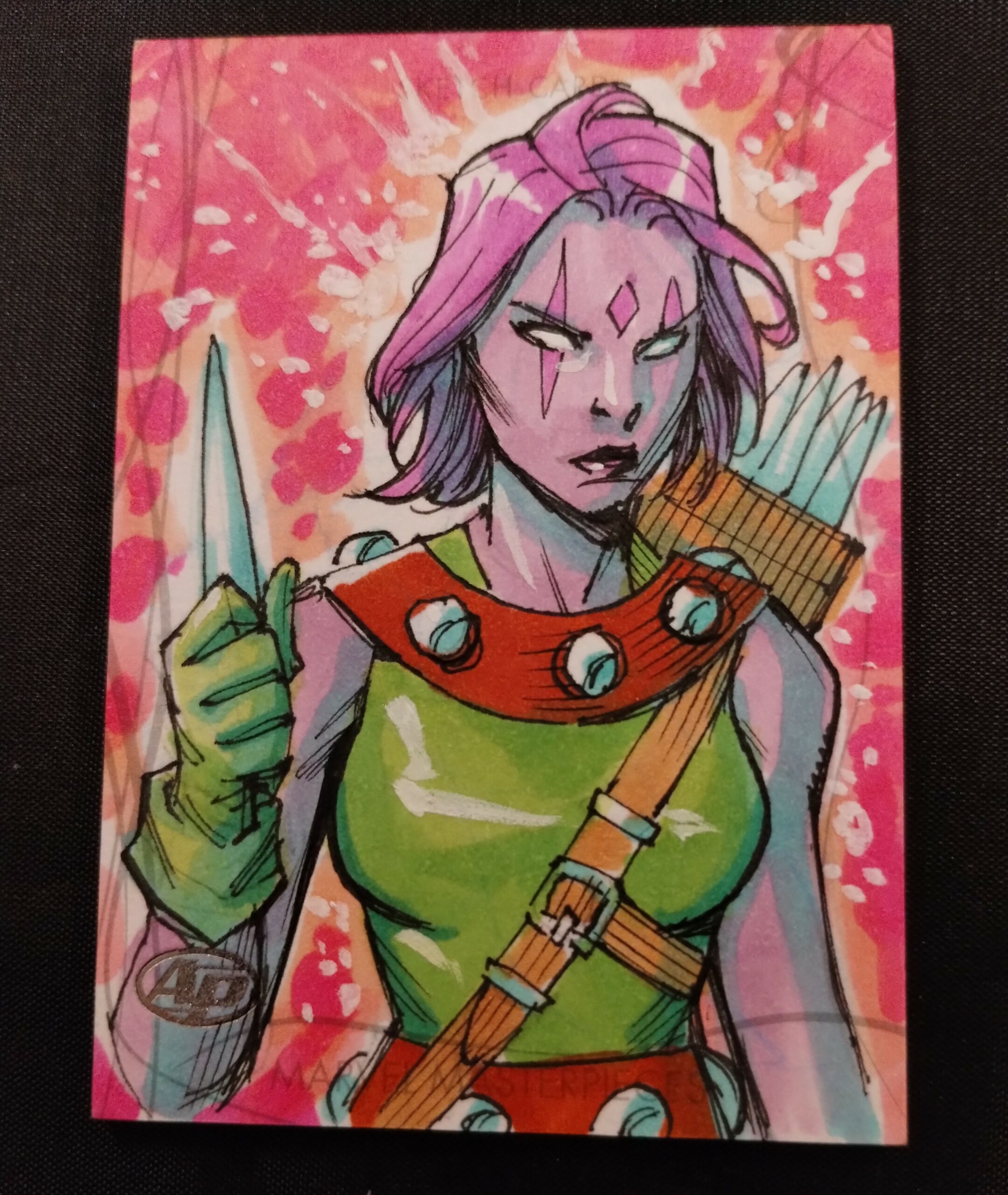 I've admired Ryan Odagawa's work since I added his Spider-Woman sketch to my collection way back during Sketch Card Showcase #2. He's now working with my good buddy, the intimable Tatiana Dykes of TDArt, and as such was recently open to some AP commissions. I got a Mysterio (of course) as well as my best girl Blink. His colors are bright and bold, and I love how he's able to fill the frame with the character without losing any attention to detail. I've already got my next AP booked, and you'll see that one in an upcoming article.
Black Cat (AP) by Mai Irving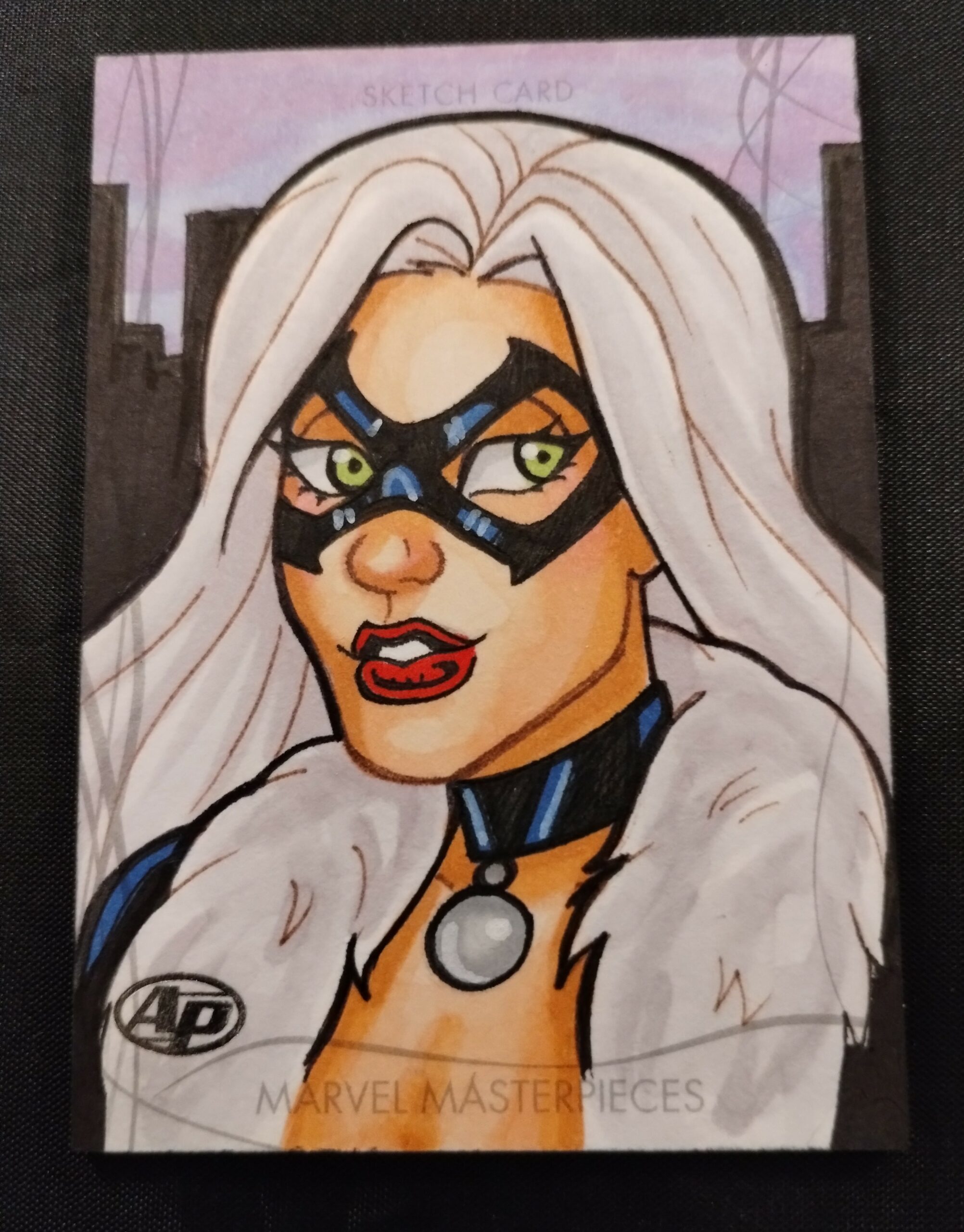 This AP is one I've watched on eBay for far too long, as she sat patiently in artist Mai Irving's eBay UK store. Irving has a completely distinct style that is immediately recognizable; big colors, and a smoothness that is all her own. Her APs are done with her choice of character, but that's often something I really enjoy; when an artist is illustrating who they want, the result is often reflective of that excitement, and you just can't go wrong with that.
Symbiotes by Mayonnaise & Bread
These two symbiotes, Venom and Scream by Mayonnaise & Bread, came by way of trade back during the first run of Unbound. I've enjoyed Mayo's style since the very beginning of this set, and the neon edginess that runs deep within his artwork is like no other. You can follow along with all of his "artsauce" on Instagram, and I'm looking forward to the next set we see him on.
I've held off on writing about these until I could find a third symbiote or at the very least a Mayo & Bread Spider-related character, but I could wait no longer. If you have one for sale or trade I'm your huckleberry—hit me up!
Blink (AP) by Breed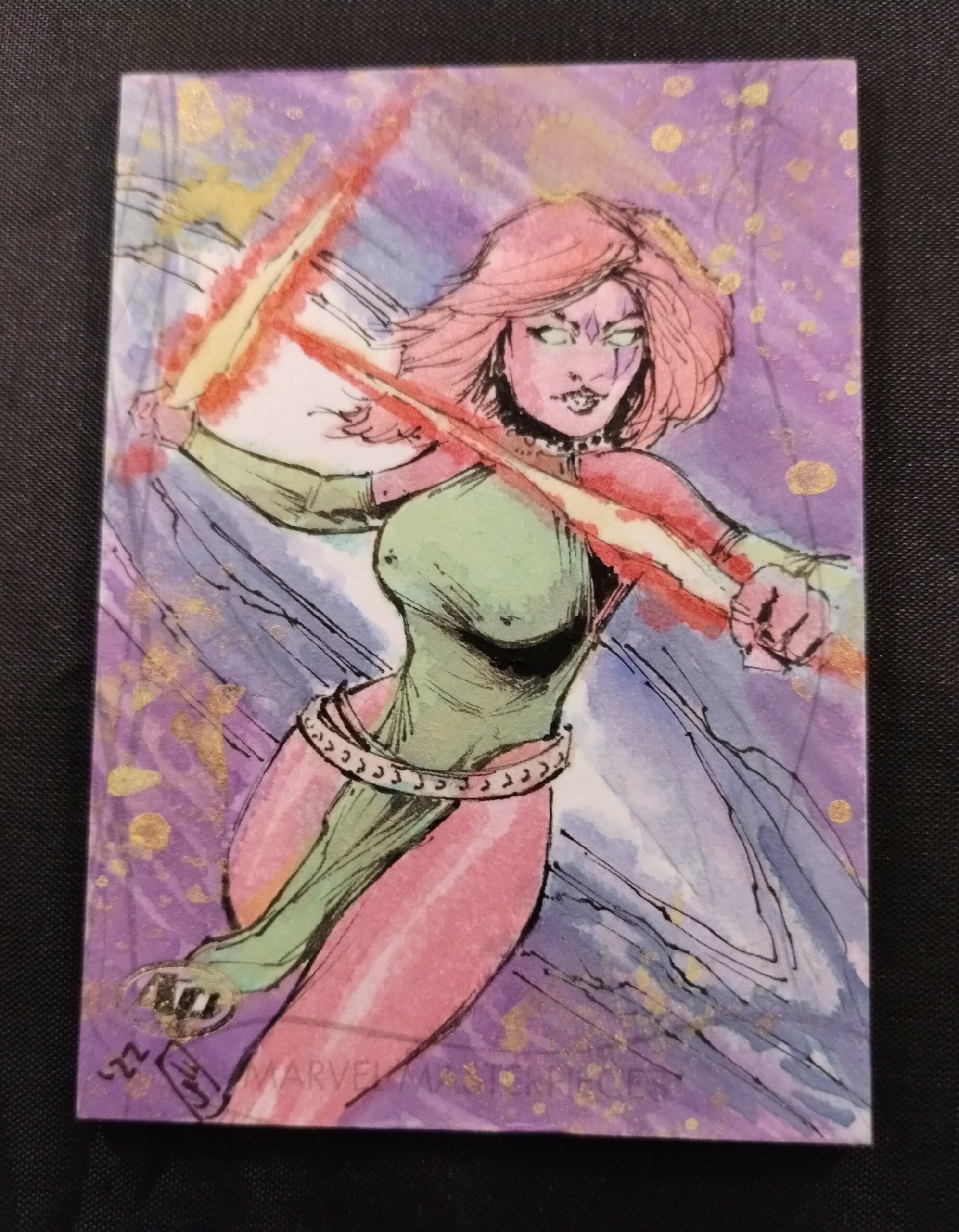 Sometimes you find an artist whose style just gels perfectly with your personal taste, and that's what I've found from Bobby Breed. He did a Mysterio AP for me more than a year ago, and with the addition of these two APs, brings my total count of his work in my collection to seven! He's not afraid to push the envelope when it comes to APs; it does seem it gets a bit chilly when traveling through portals, doesn't it?
Ego (AP) by Breed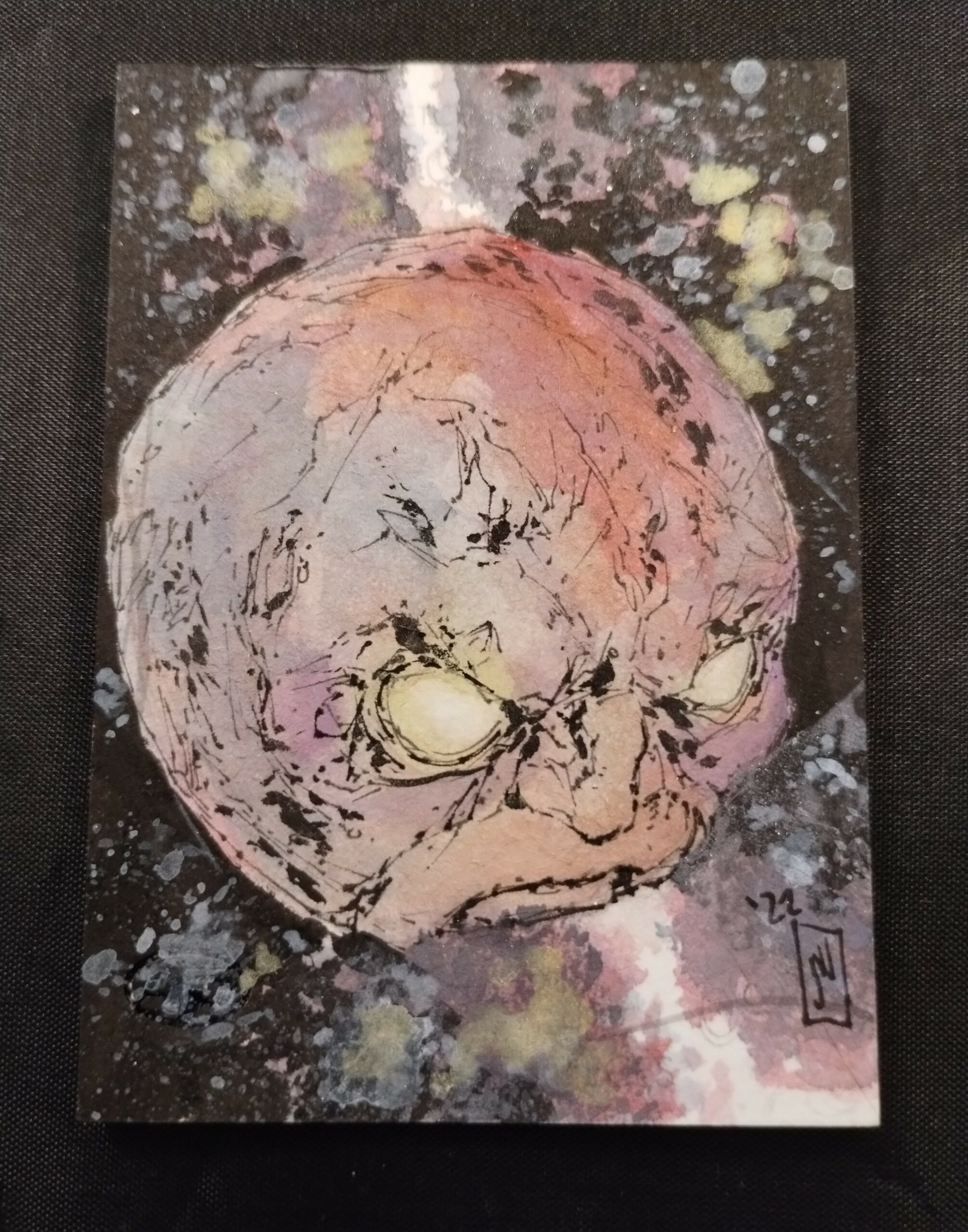 Breed's versatility is simply exceptional, and this and the above AP, commissioned together, show exactly that. I was able to finish my Ego Triptych with this newest sketch, and if you look closely, it has all sorts of reflective and metallic space matter infused right into the artwork. I love the classic look with contemporary art elements, and Breed simply knocked this one out of the park, no question.
Silk by Cruddie Torian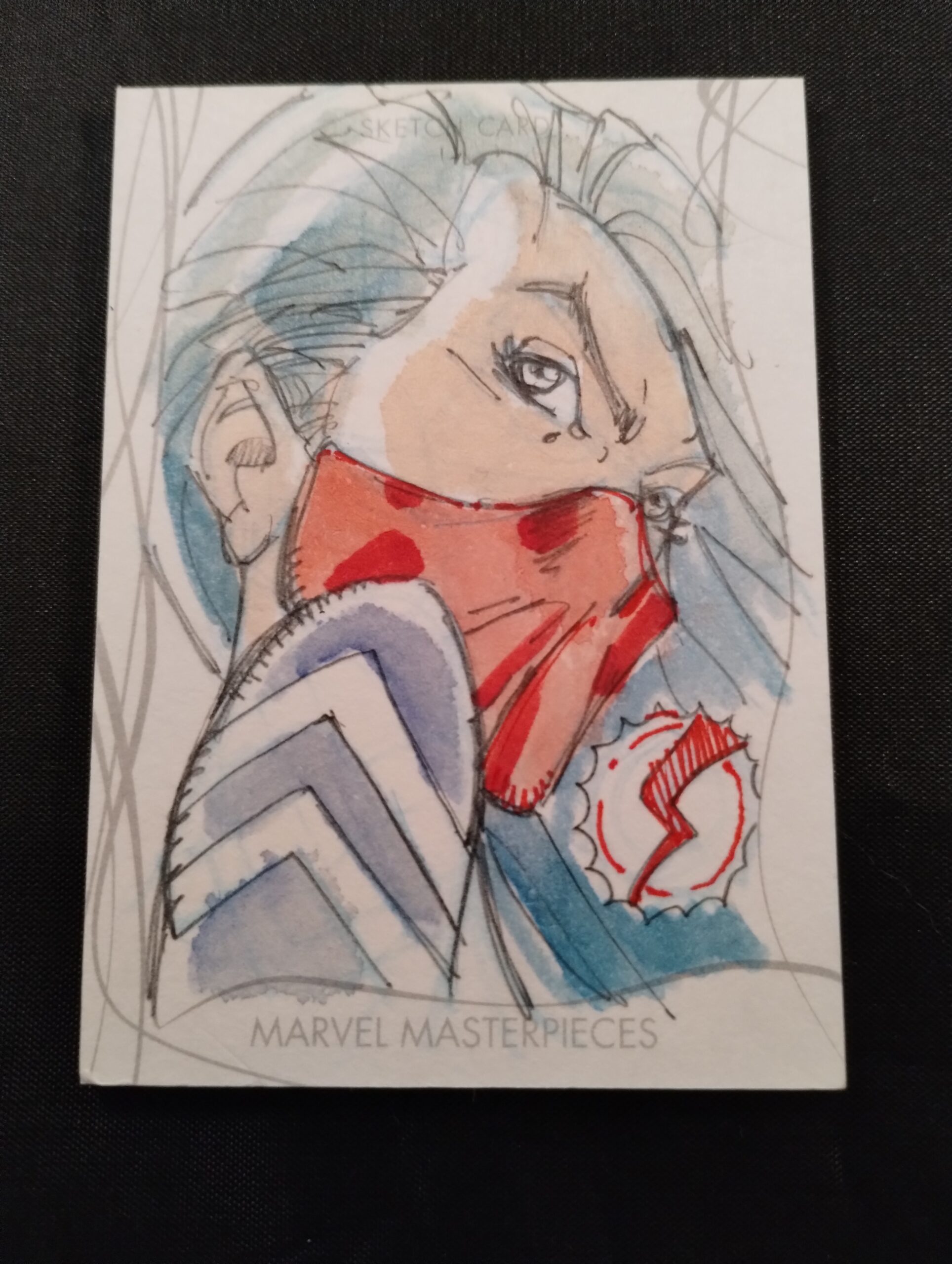 Another seldom seen character, whether a Spider-Man centric set or otherwise, is Silk, a.k.a Cindy Moon. This came from an esteemed collector who has always been good to trade with, and is only the third sketch of Silk (and only pack pulled version) I've been able to acquire. Torian is a long-time penciler in the comic book industry, and I'm glad I was able to add one of his sketches, especially of one of my favorite characters.
Spider-Woman (Julia Carpenter) by Joven Mendoza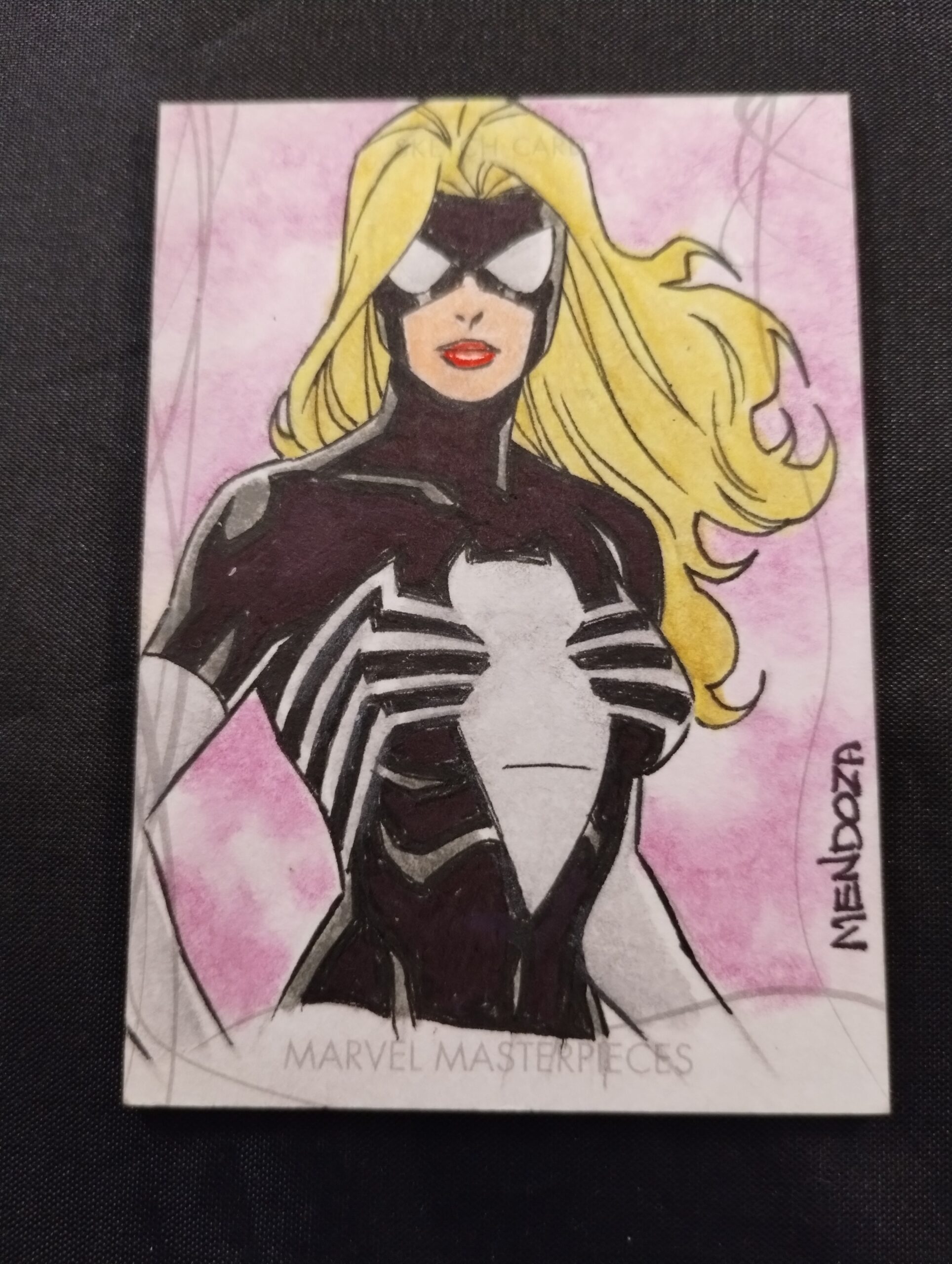 My very first Sketch Card Showcase in March 2021 featured a Julia Carpenter Spider-Woman by Ash Gonzales, and since then she's become one of my favorite characters to chase across sketches and sets. Mendoza's version has a classic comic book feel, with sharp linework and a no BS attitude from the heroine that is exactly what I'm looking for in her depictions. I'd love to find a Jessica Drew (Red Suit) companion if one exists, but for now I'm very happy to have grabbed this sketch when I could.
Doc Ock by Chris McJunkin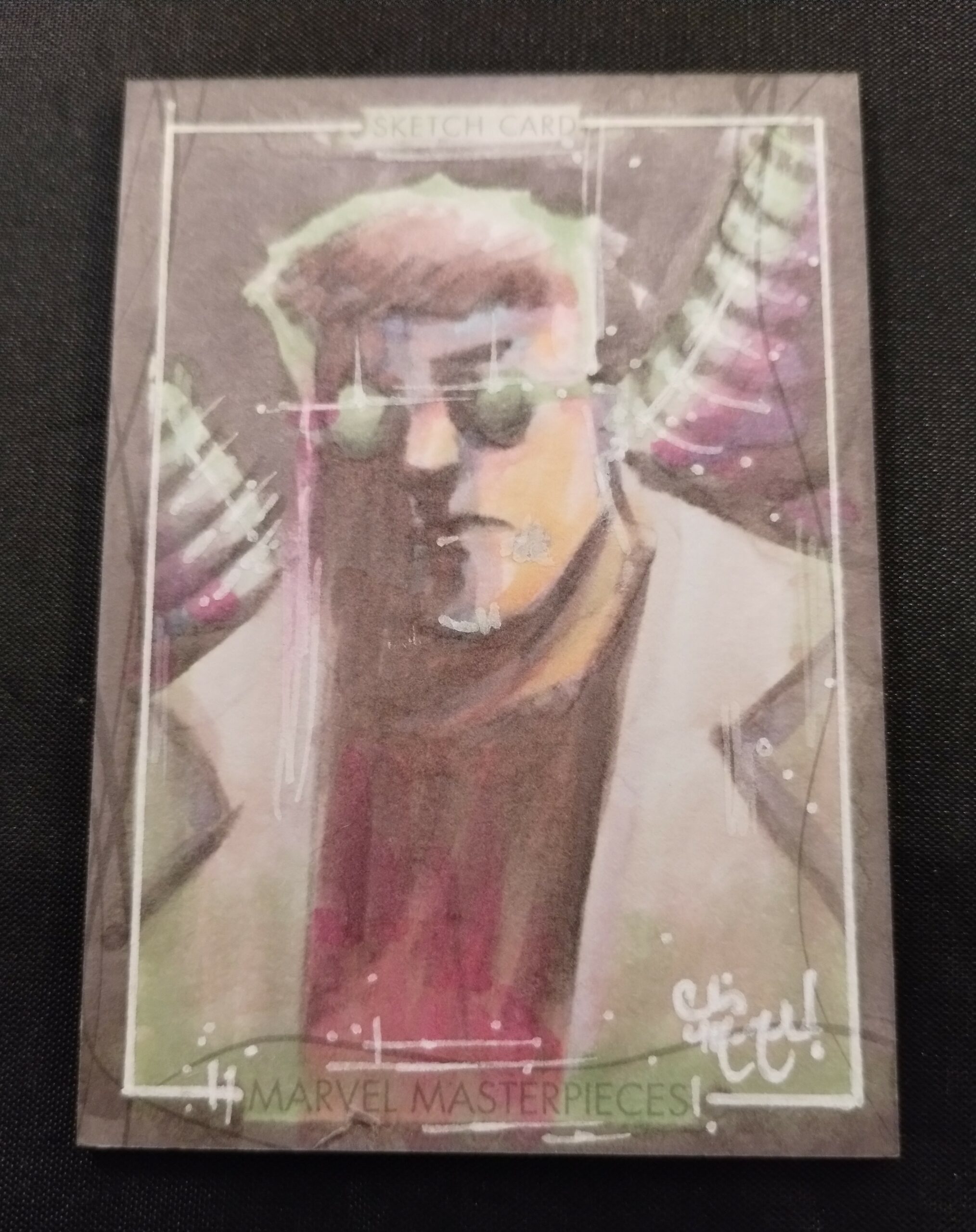 I'm a big fan of McJunkin's style, after trading for one of his Carnage sketches also back during the time of Showcase #2, and will never pass the chance to grab another Spidey villain by his hand. This popped up on eBay sometime ago, and the jury is still out whether it will be #2 of 3 in my Doc Ock Row, or perhaps the start of an all McJunkin row just the same. You can find all his art on Junk Drawer Studios, from sketch cards and covers to original art.
Spider-Girl by Erick Marshall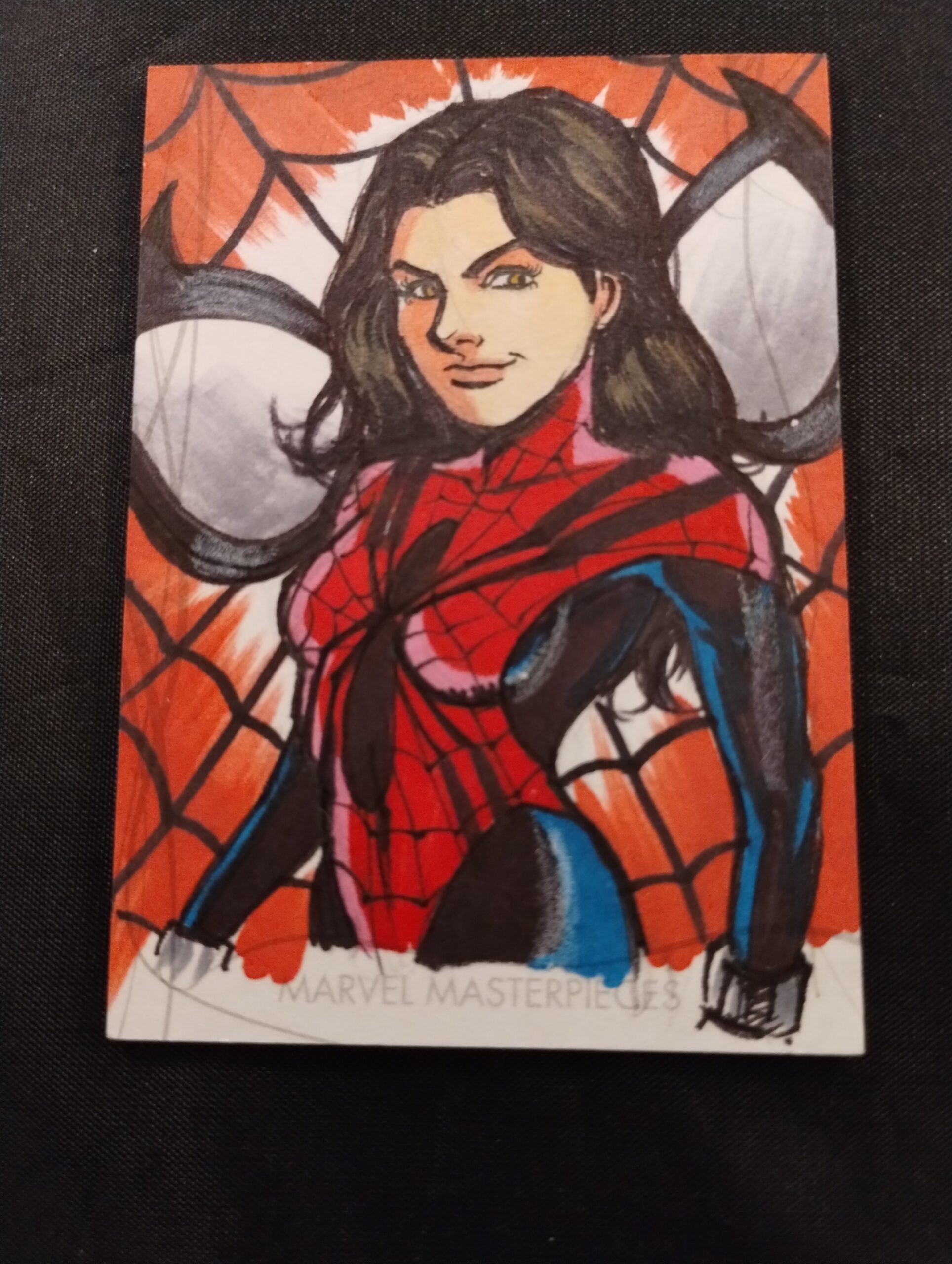 This was a sketch that came to me as an ePack trade, and as a character that you just don't see that often in Spider-Girl, has been a nice one-off inclusion in my collection. Erick Marshall did a bevy of Spider-related characters, and I'm still chasing a few of them to try and round out a row on my sketch page. He's got a simplified, cartoon-esque style and isn't afraid to illustrate some seldom seen corners of the Marvel Universe, which is always a lot of fun to collect. You can follow Erick on Twitter here.
Black Cat (AP) by Andrew Fernandes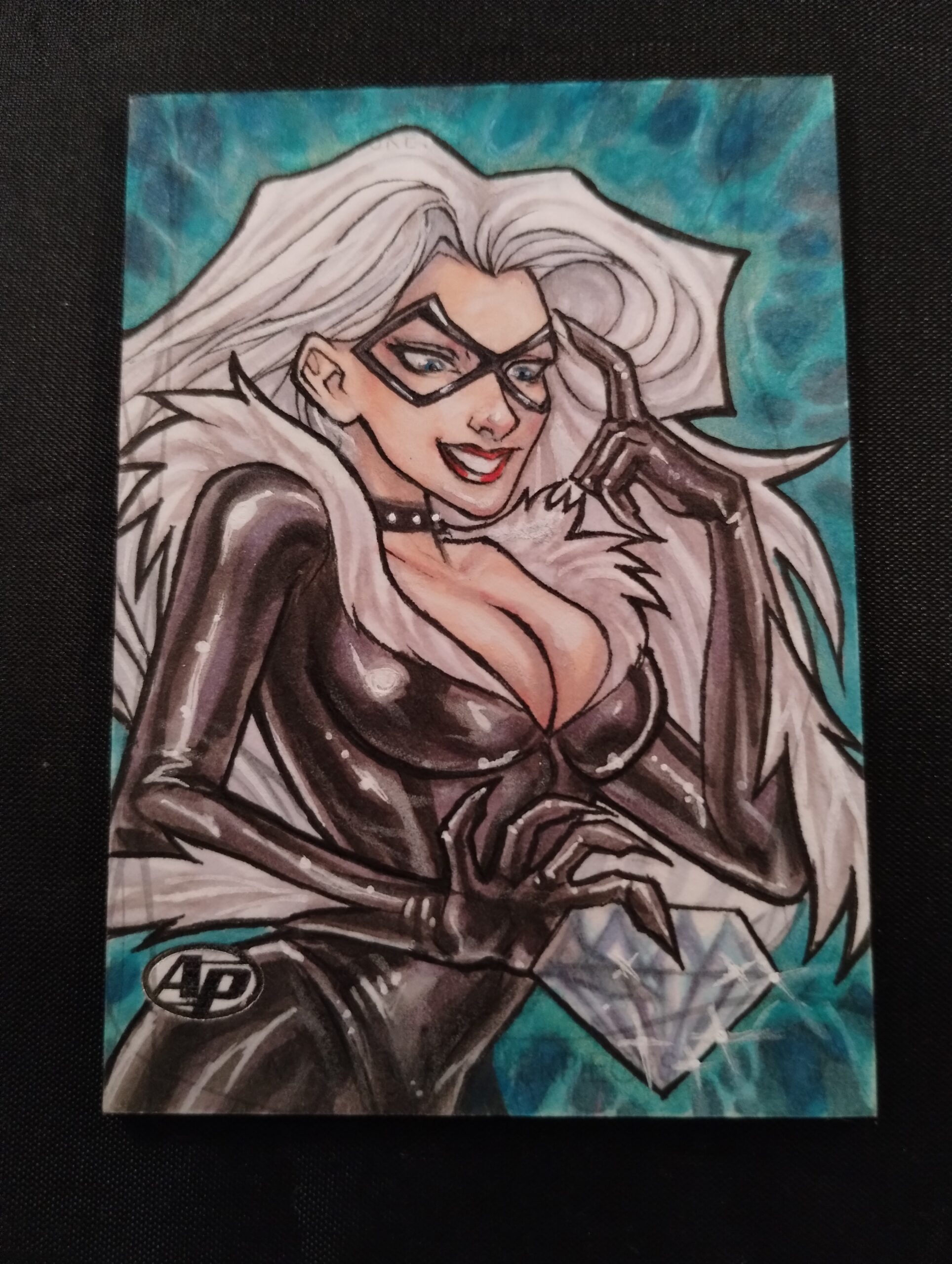 It's not too often I can add a fresh example to one of these, but this Black Cat AP arrived from eBay just as I was beginning this article, and thus I could slot her right in at the end. I don't have a ton of Black Cat sketches, as I usually defer to  Ian Taylor a.k.a. Mr. Felicia Hardy whenever possible, but I do think I'll be able to finish a nine-page of just the masked mistress before my collecting journey is done. Thanks to the collector willing to part with this (I think you're in the MMC group)—she's found a good forever home!
Wrapping Up
That's another ten sketches in the book as we arrive at the end of Sketch Card Showcase #5. I've now passed the 150 card mark for my Marvel Masterpieces 2020 sketch cards, and as the set ages adding new pieces gets a bit more challenging. There are still a few dozen Mysterio sketches I've yet to show you all, but whether or not a Sketch Card Showcase #6 materializes remains to be seen. I've said it before and I'll say it again: I absolutely love sketch card collecting, trading, interacting with artists and getting to know fellow art-lovers, and I don't see myself leaving this part of the hobby any time soon!
Looking ahead Masterpieces Theater will continue to feature various versions of the Sketch Card Showcase as we await future Marvel card releases, and I still have that Mysterio article I mentioned long ago still in the works. As always, you can keep up with all things Marvel Masterpieces 2020 by following me on Twitter. Feel free to ask questions or retweet to continue the conversation. Thanks and see you next time!
Donny Caltrider (he/him) is a Senior Writer at Hipsters of Coast writing about all things related to the art of Magic: The Gathering and the larger imaginative realism genre. He has an M.A. in Museum Studies from Johns Hopkins University and enjoys telling stories about art, objects, and the intersection of fantasy with real-life. When he's not writing for Hipsters, you can find him traveling with his wife, petting his two cats, and watching the Baltimore Orioles.