Good morning everyone, and welcome back to Masterpiece Theater for the second installment of the 2020 Marvel Masterpieces Sketch Card Showcase! In each box of Marvel Masterpieces 2020 (on average) there is a sketch card, an original work of art by an artist rendered on the same size and stock as the regular set. They are inserted at random, and could be from one of more than 150 artists and of almost any character found within the Marvel Universe. Some folks collect sketches by set (me), others do it by a certain artist (also me), or a particular character (still me), and a few collectors just really seek out high quality sketches regardless of anything else.
Volume I | Volume II | Volume III | Volume IV | Volume V | Volume VI | Volume VII | Volume VIII | Volume IX | Volume X | Volume XI | Volume XII
For my Magic: the Gathering readers, these are most similar to the artist proofs that artists receive after illustrating a card. While Magic APs don't ever appear in packs, the idea that each artist brings their own interpretation to a subject on a miniature blank canvas is the same. Similarly, additional blank "artist proof" cards are also provided to Marvel sketch card artists, and they can illustrate and sell these after set release as well. I'll talk more on that later.
This article will be similar in style to my Grand Art Tour articles I write over in my Mirror Gallery MTG column; some entries will be character specific, other artist specific, and some a bit of both. The constant will be that each sketch tells a tale in the larger story of my collecting journey, and I'm very excited to tell you all about how I acquired them and the artist behind the artwork. These sketches will largely have come from the ePack release of Marvel Masterpieces 2020 that began in February, and the time shortly thereafter, as well as a handful of purchased and commissioned APs.
Let's get right into it: this is the Episode XIII of Exploring the 2020 Marvel Masterpieces; it's the Sketch Card Showcase #2!
Blink (Portrait & Portal) by Miranda Gainey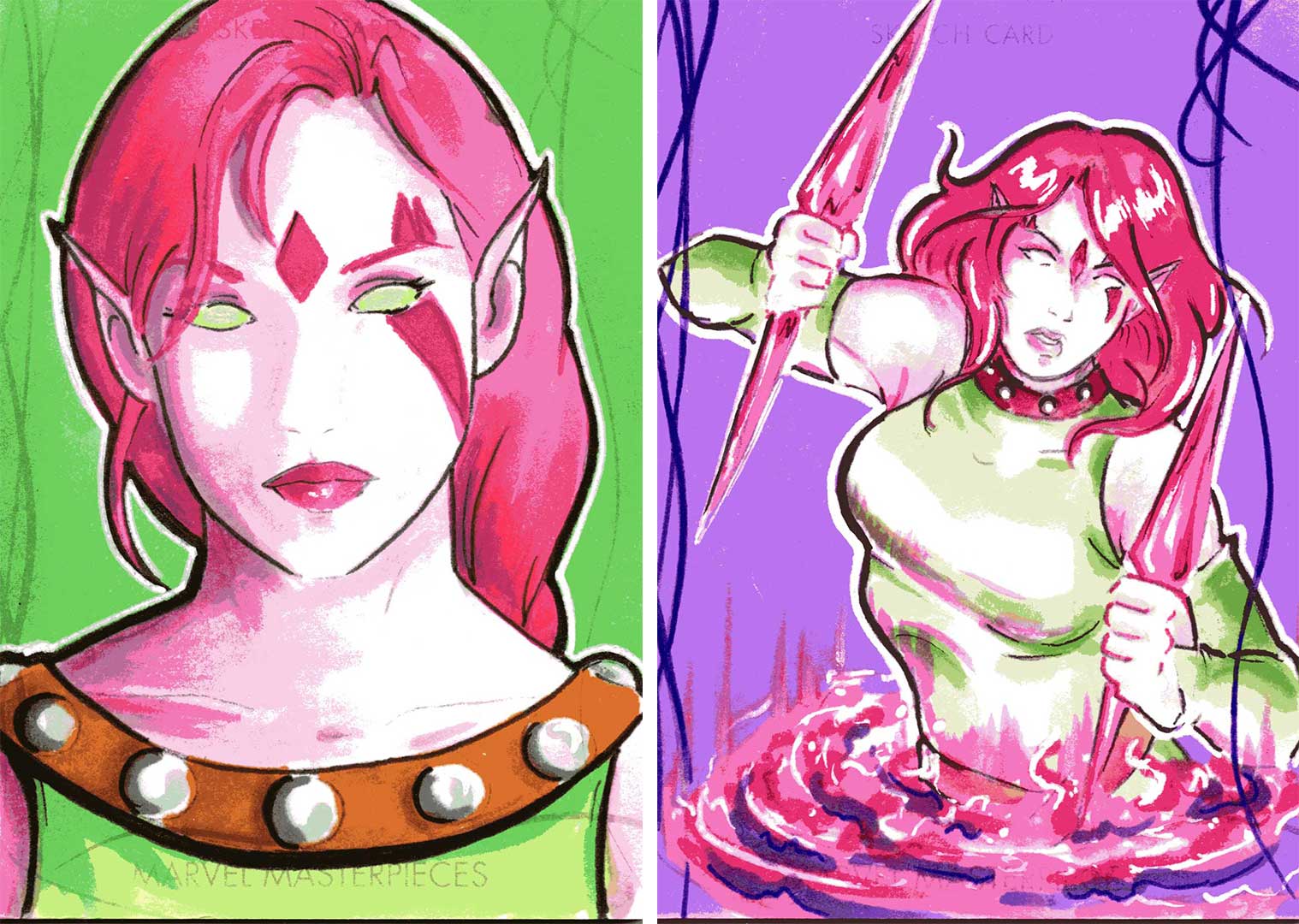 We start today with a pair of sketches by one of my new favorite artists, Miranda Gainey, and this pair of Blink sketches are the only two of the character that she did for the set: the one came from eBay, and the other required some creative trading, essentially trading for something the previous owner wanted with the expressed intent to trading it for the Portal Blink. In the Portrait, I love the green background and how it compliments and contrasts with the pink of her skin, and the Portal image is full of fervor and action. These two were the catalyst to a small collection of Blink sketches I'm currently working on, and I can't wait to collect more work from Miranda on future sets!
You can find and follow Miranda on Instagram and Facebook as Mz MandyPants!
Blink (AP) by Israel Arteaga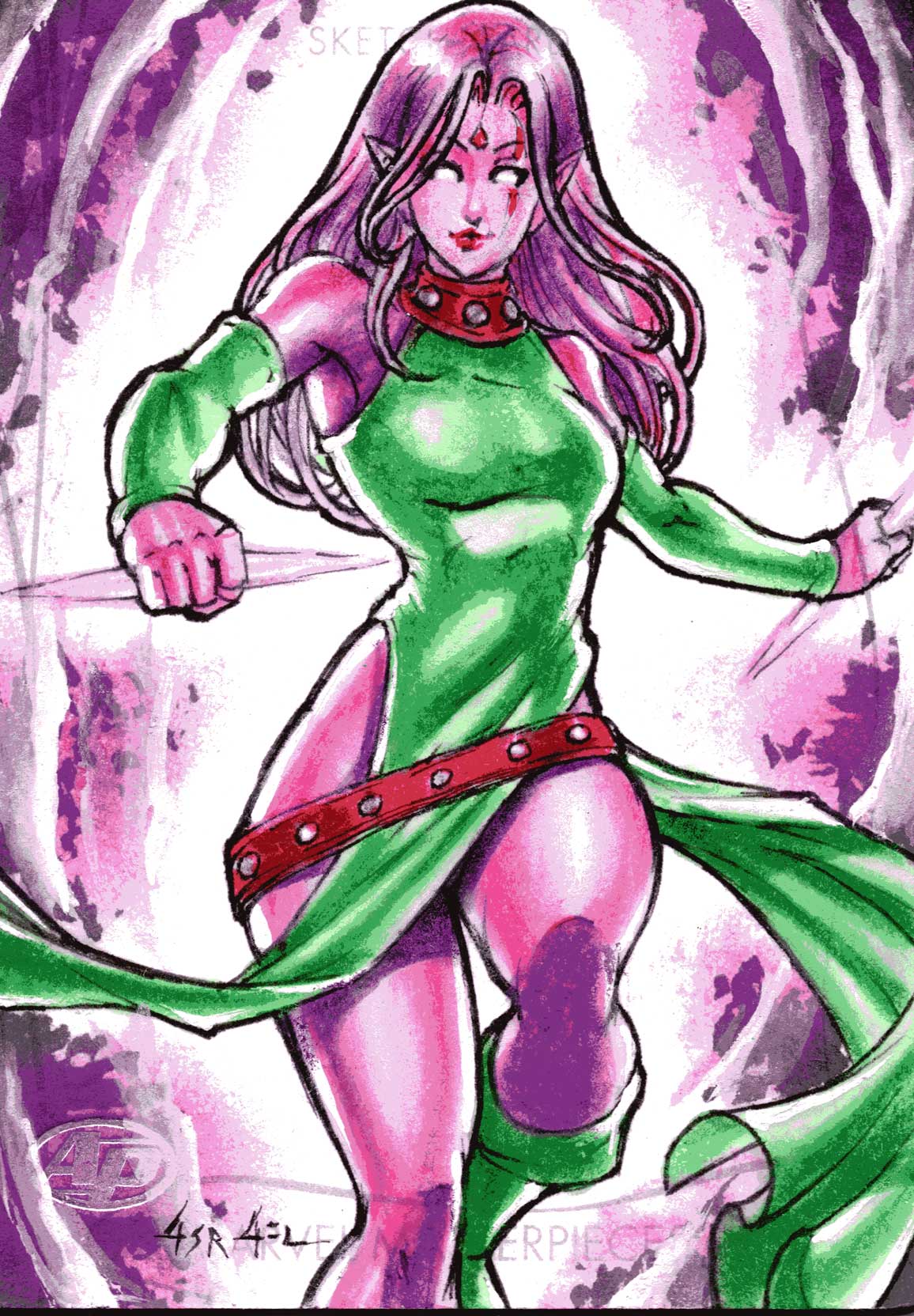 This was the second step down the road of my Blink mini-PC, and I commissioned this artist proof through Arteaga's agent back during the summer as I was exploring the current availability of MM20 APs. Israel did a lot of sketches for MM20, but had not done a Blink, and this turned out to be a perfect fit. His female sketches are uniquely his style and instantly recognizable, and this Blink is no different, just with the pink-tensity turned up to 11!
You can follow Israel's work on Instagram.
Carnage by Chris McJunkin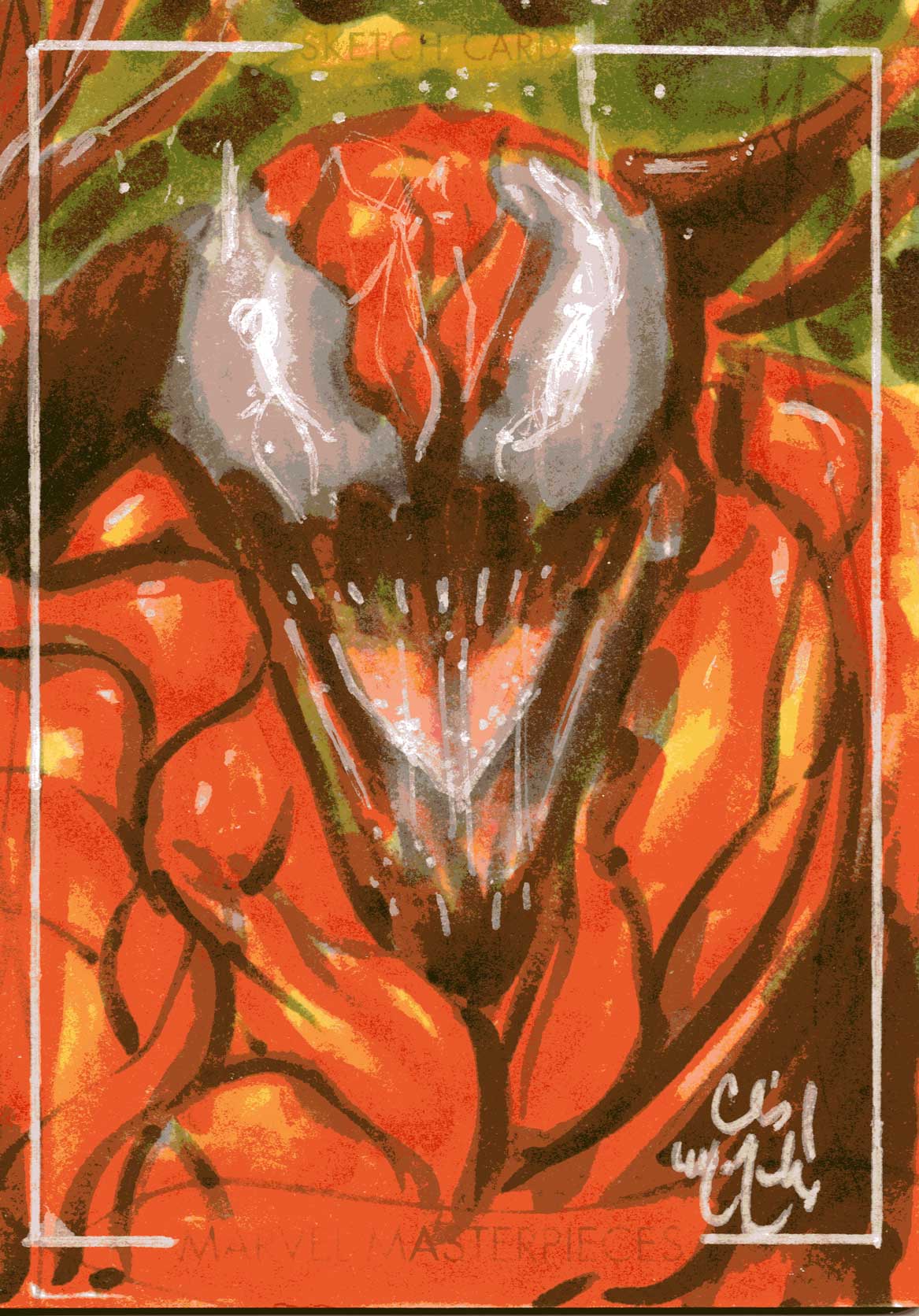 Let's change directions completely, and head deep into the Spiderverse and check out my very first sketch by the immediately identifiable Chris McJunkin. I traded for this sketch after a long negotiation with it's previous owner, and am very glad I decided to add it to my collection. The oranges and reds of the character work so well with the green background he chose, and it practically leaps off the page! McJunkin did two Carnage sketches, so there is a twin to this sketch out there as well. I've found it, and hopefully I can add that to my collection at some point in the future too.
Check out his art and explore his available sketch cards on his website here.
Lizard by Jerry Bennett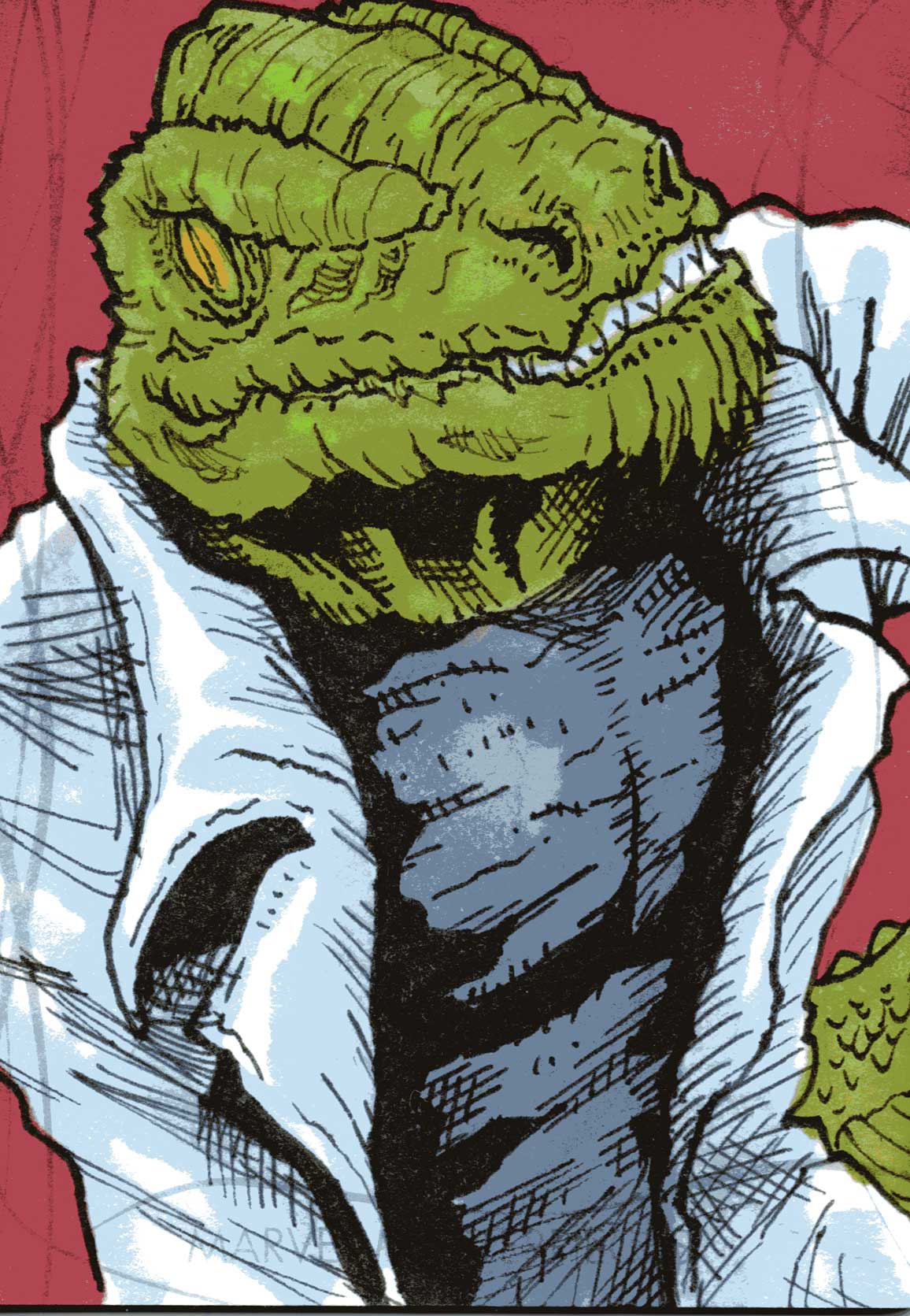 Another Spidey Villain you say? This was also a trade from the land of Aus, and is the second Lizard sketch in my collection. Bennet's version emphasizes the white lab coat off the solid burgundy background, and positions the reptilian rapscallion as if he's about to just up and walk right through the sketch card itself. I've been increasingly intrigued by the character that is The Lizard after Palumbo's depiction in the base set, and will be on the lookout for Lizard Sketch #3 to finish this row in my binder.
Arnim Zola by Bernie Cook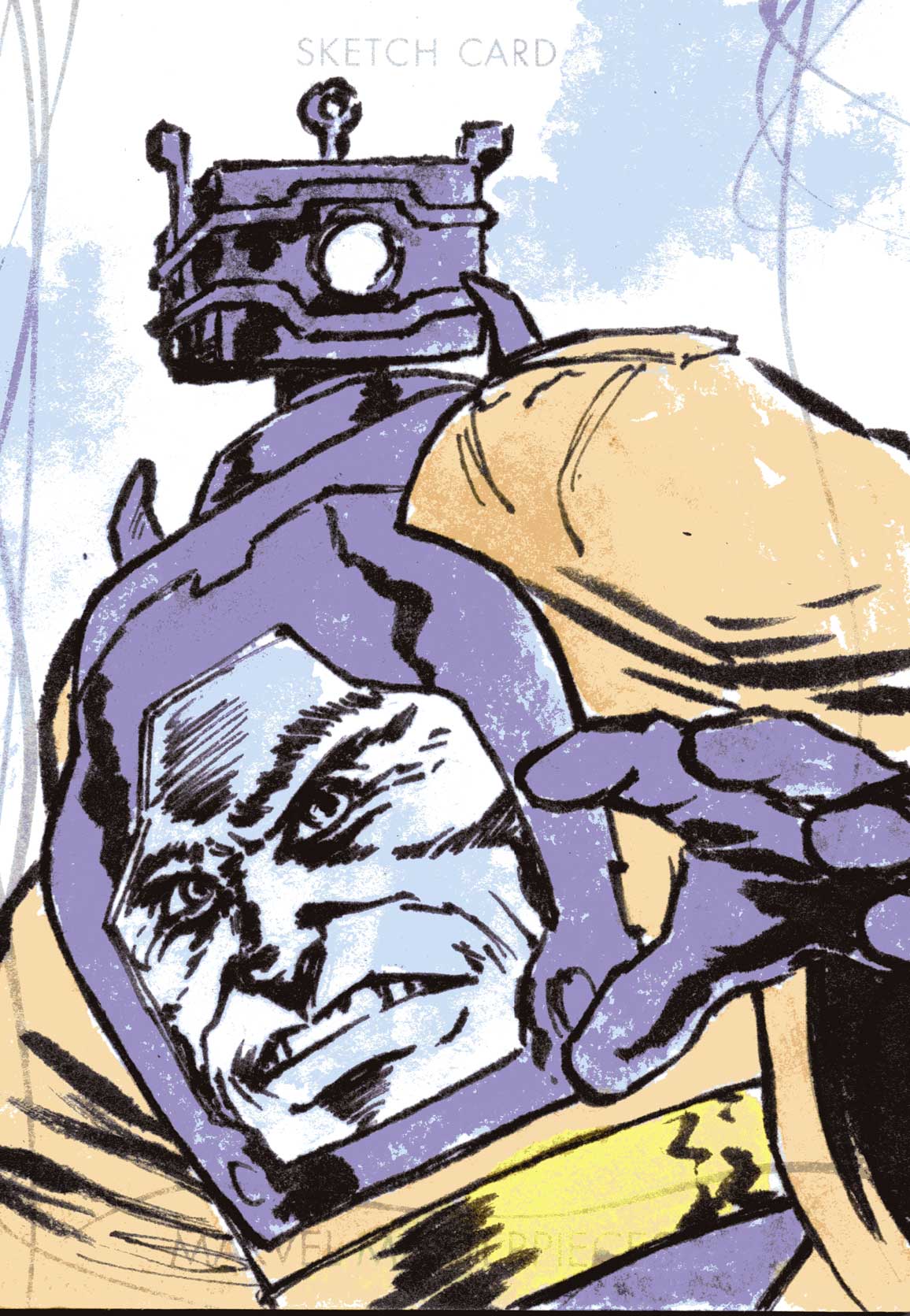 This sketch came from COMC, which is short for Check Out My Cards and a hub for all things related to cards that originate on ePack. The inner workings of COMC are for another article, but I was able to get what I thought was a fantastic deal on this not-often-sketched villain by Bernie Cooke. Cooke's style is reminiscent of the Golden Age of comic books, with soft colors that are still super vibrant; as if a throwback but made for the collector of today.
You can keep up with him on Instagram.
Mary Jane Watson by Elise MP Strong & Tim Shinn (AP)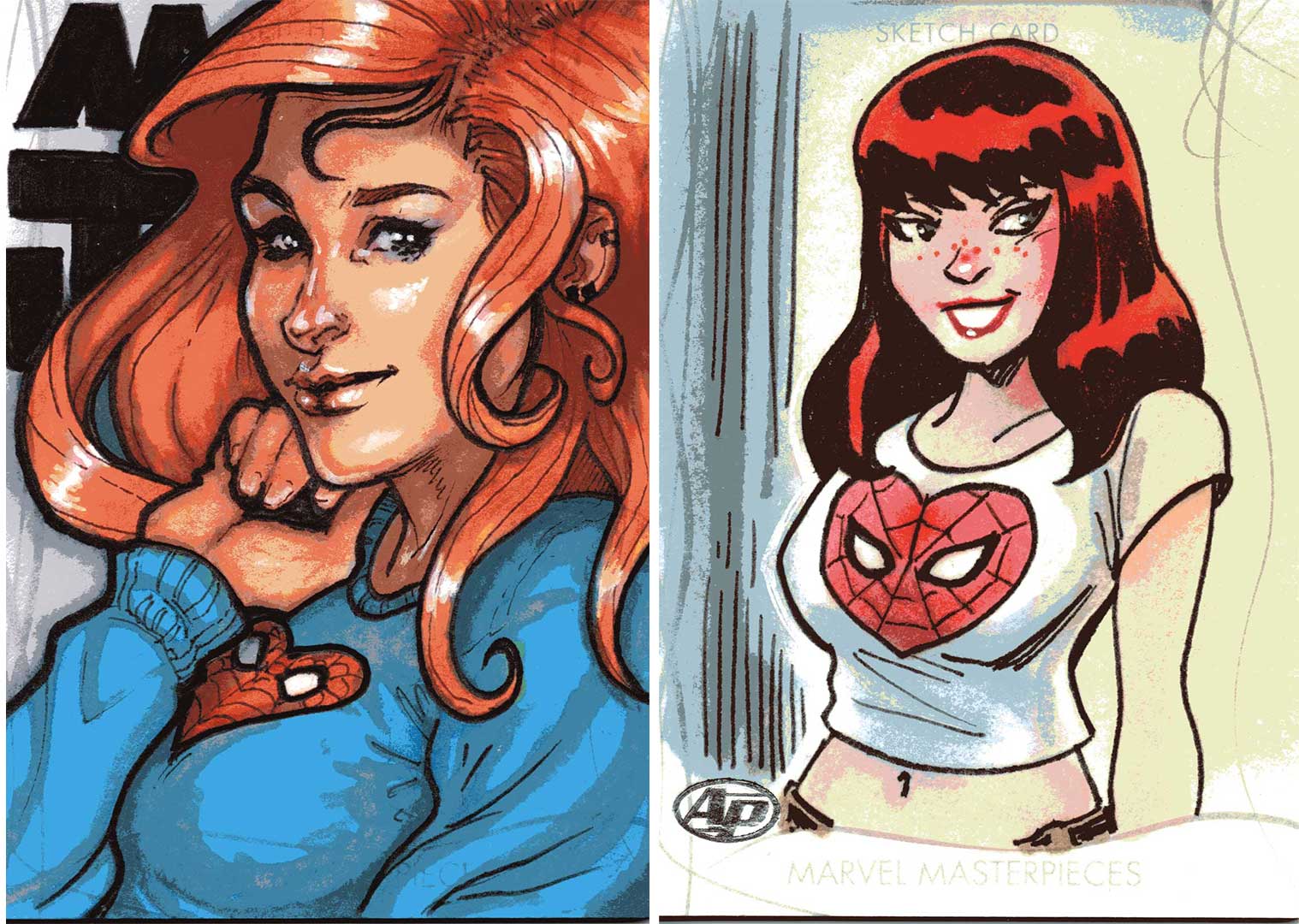 Back to the Spiderverse we go for my first two sketches of Peter Parker's red-headed love interest, MJ. Both of these were nabbed off eBay; one by way of Best Offer I never expected to be accepted; the other won auction style, an AP listed and purchased directly from the artist himself.
Elise Strong's work has captured my imagination since I first saw her collection of work on ePack, and I knew I would eventually have to have her work in my collection. Her style is hugely reminiscent of the Art Nouveau movement in the early 20th Century, and you can see all of her happenings here. (Stay tuned, as she's in Sketch Card Showcase #3 as well, and it's gonna blow your mind. Promise.)
Shinn's work is vivaciously vibrant, and this vintage Mary Jane feels like we found her during the original run in the 1960s. It's dramatically different from almost every other sketch I've seen of the character and a departure of pure fun that's perfect for my collection. Check him out on Instagram as well.
Spider-Woman (Red Suit) by Ryan Odagawa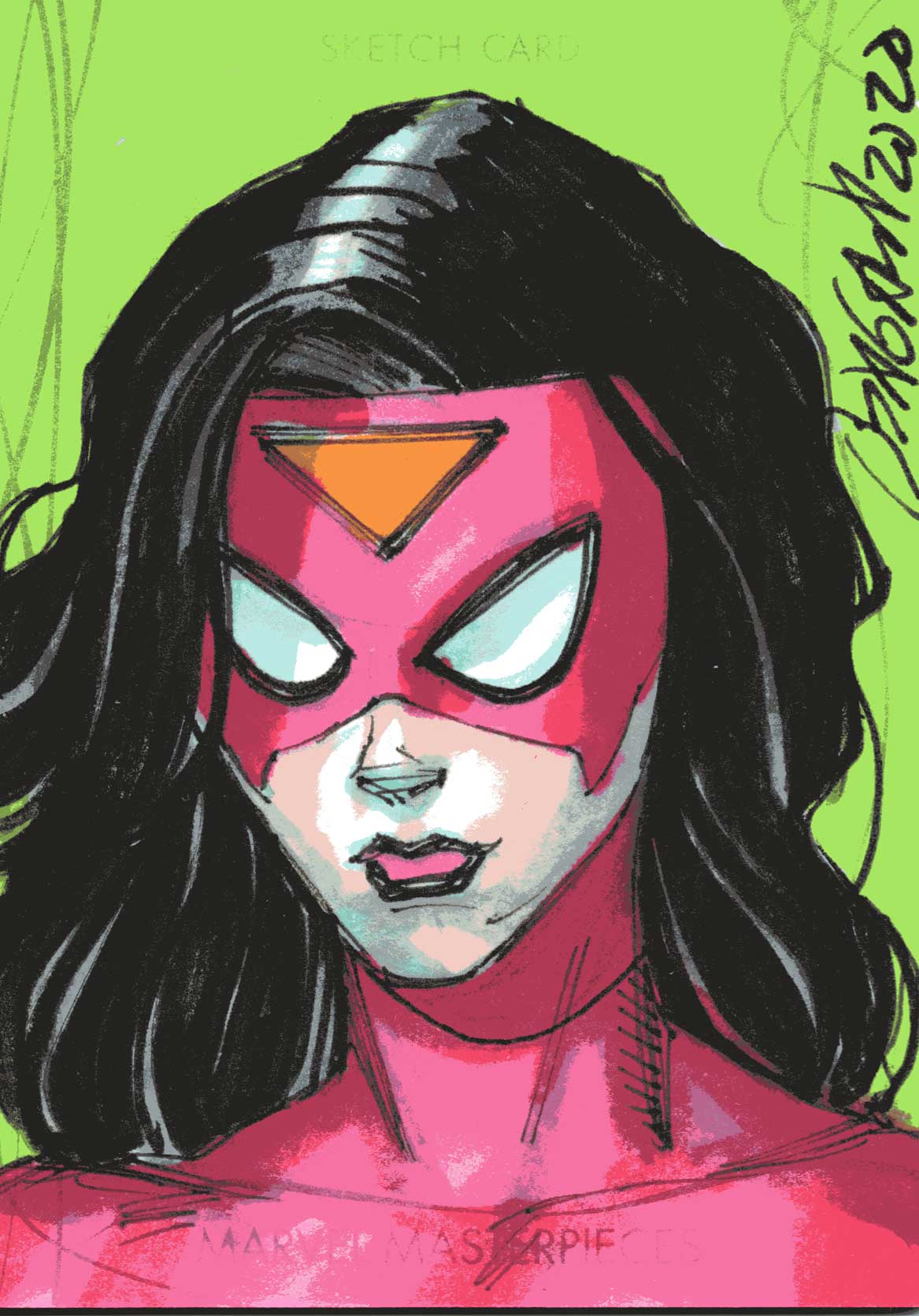 There are two instances of Jessice Drew, the red-suited Spider-Woman, in this showcase; the first is by Ryan Odagawa. Odawaga has created a beautiful series of sketches for MM20, and I was quite excited to trade into this Spider-Woman and finally add one of his works to my sketch set. I'd absolutely grab another given the opportunity, and he's an artist I've been on the lookout for over the last few months. Check out his sketches that are still on ePack, and click to his website to see more of what I mean.
Spider-Woman (Red Suit) by Timothy Geathers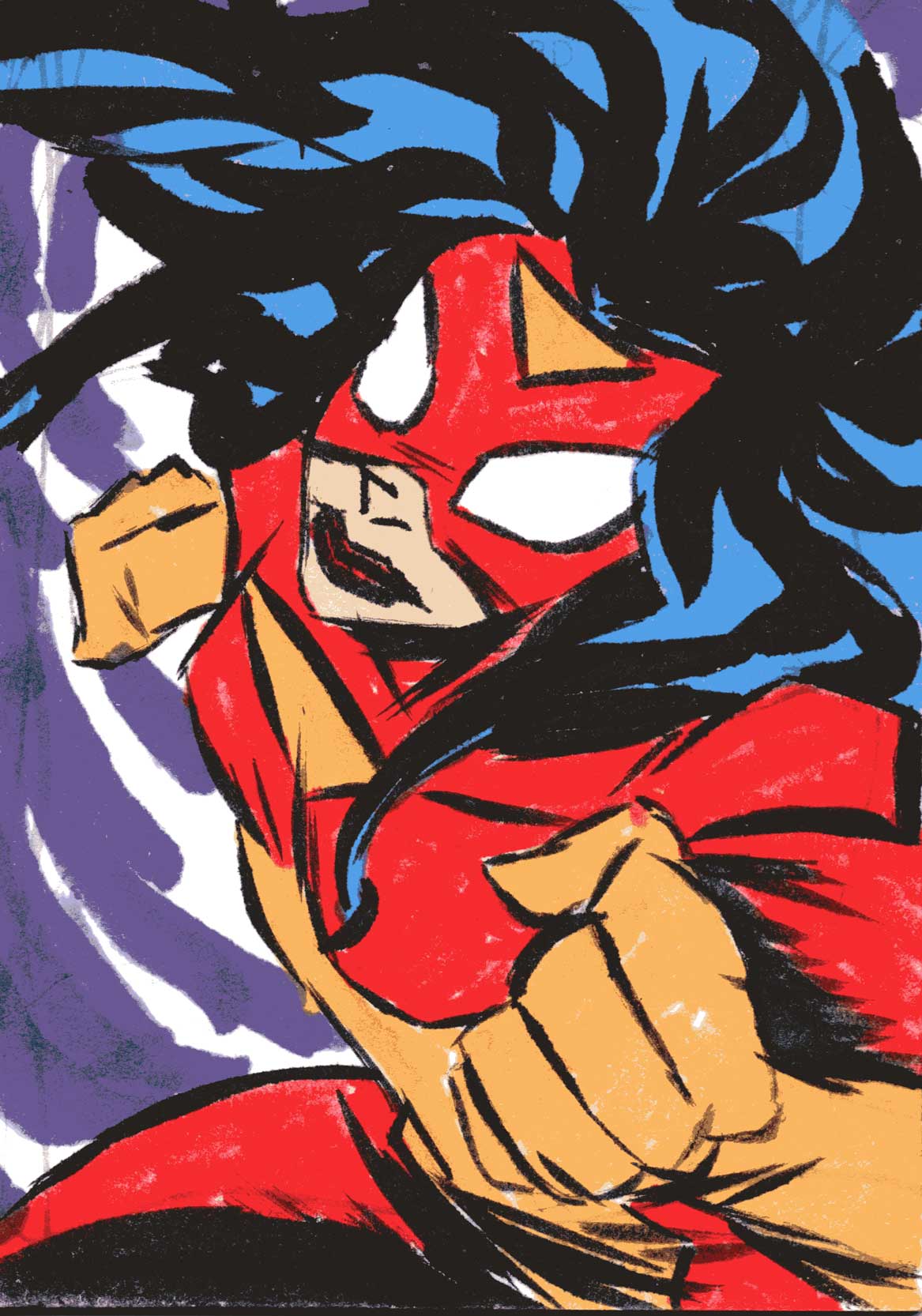 Our second Spider-Woman is by Timothy Geathers. For those that haven't seen his ink work outside the realm of sketch cards, stop reading right now and go check out his Instagram; I'll wait.
Did you do it? Fantastic, right? Geathers work is definitely different; while it might not be to everyone's taste, sometimes you have to look further than a single medium or collection of work to really appreciate even more what the artist can do with their talents. I'm happy to have been able to grab a perfectly fitting piece for my collection, and would love to see him work on an inked set of sketch cards sometime in the future.
War Machine by Breed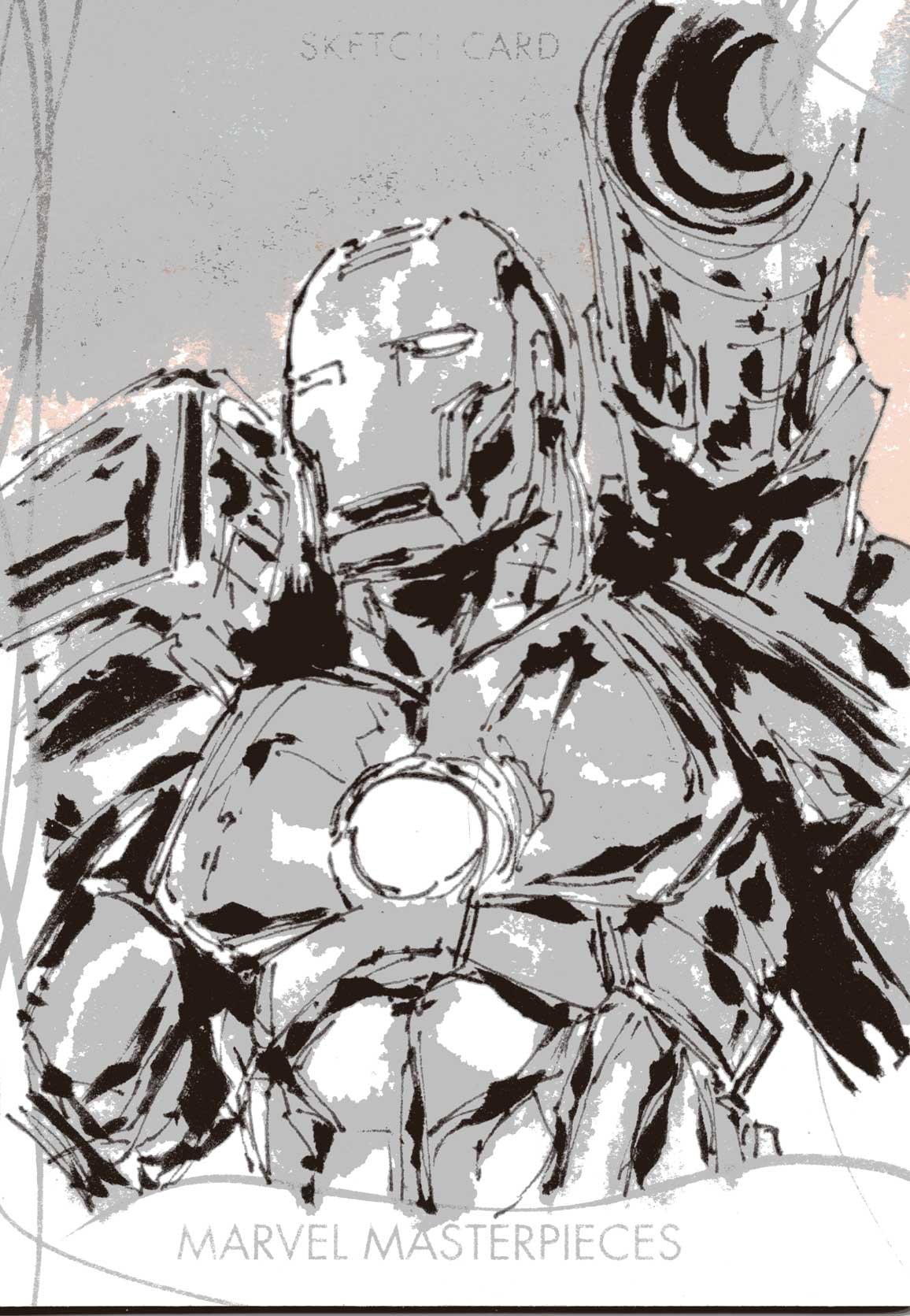 I love Bobby Breed's style, to the point where I've started to pick up his sketches regardless of character if it strikes a chord. His linework and use of color captures characters completely differently, and it's almost an emotional experience looking at how he portrays heroes and villains alike. This War Machine is powerful but mysterious, shrouded in mist but unmistakable in appearance. How cool is that?
Breed might actually be the only artist that's going to make all three Sketch Card Showcases, and follow his Instagram to see where you catch him out there on the road as he begins to attend conventions once again!
Spider-Woman (Black Suit/ Red Suit) & Silk/Black Cat by Ivan Rodriguez (AP)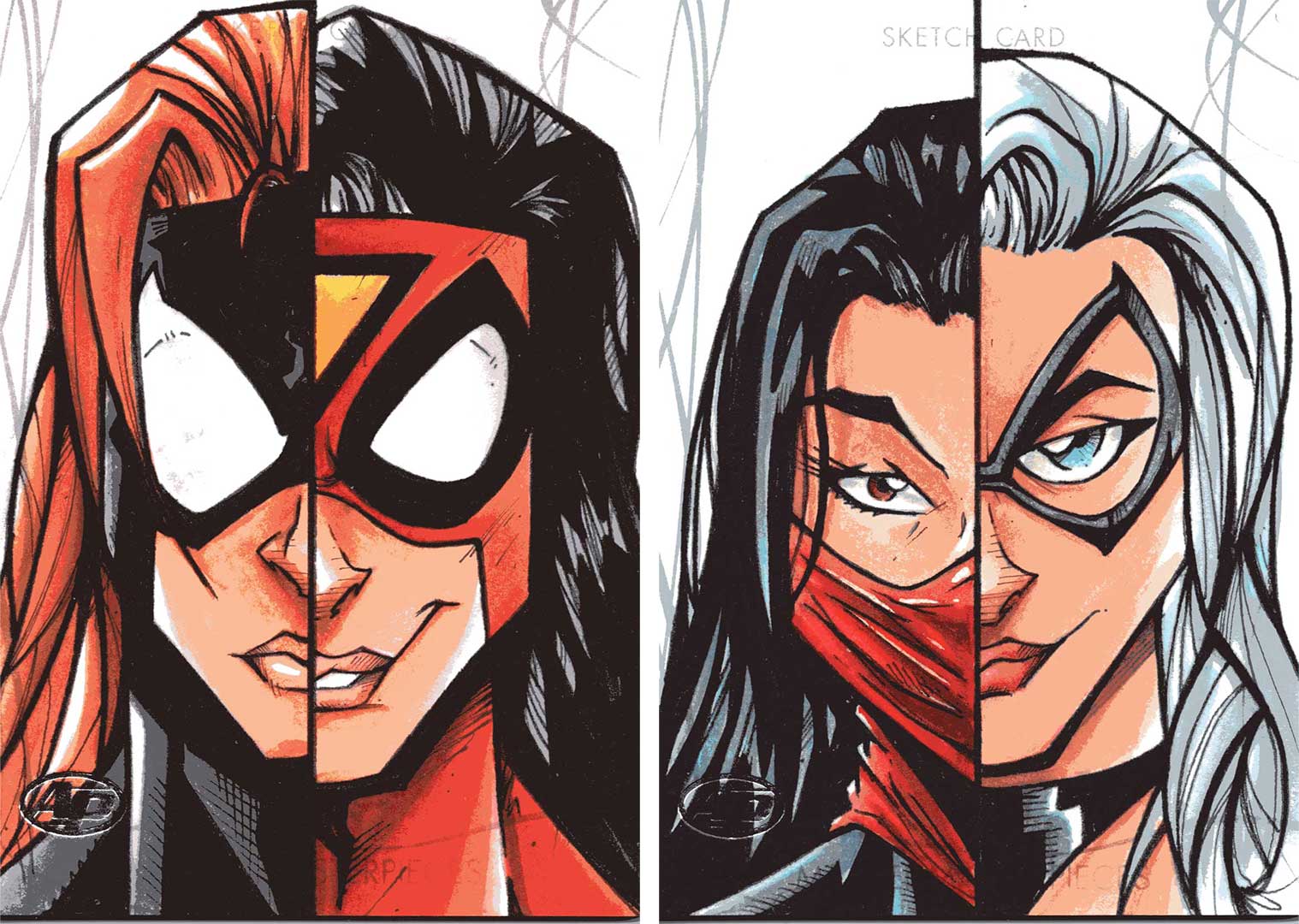 We'll end today back in the Spiderverse with a fabulous pair of APs from Ivan Rodriguez. Ivan's MM20 sketches were all in this style, these very cool split charactes, sometimes with two figures and sometimes with a character and a symbol (like Captain America and his shield, for example). They are completely unique, and I couldn't pass up the opportunity to grab a couple of sketches of the characters I'm collecting as a part of my larger set.
He did a bunch of different sketches to try out different characters and designs, whether they worked best on the left or right, and what pairs told the best story. I couldn't be happier with how these turned out and the stories they tell: the two faces of the Spider-Woman, and the origin of Silk and her first villainous encounter with the infamous Black Cat.
Check him out on Instagram and see all the awesome work he did for this set!
Wrapping Up
That will do it for Sketch Card Showcase #2. I think it's fair to say I've been bitten squarely by the sketch collecting bug—my spreadsheet now reads in excess of 115 Marvel Masterpieces 2020 sketches, and we've only looked at a fraction of these over these last two articles. If you noticed an absence of Mysterio sketches and sketches by artist Johnathan Ruple, fear not, as each of these groups will be getting their own upcoming article later on this year or early next year. There will also be the aforementioned Sketch Card Showcase #3, and there are some serious stunners in that little group of artwork. And who knows—if I keep up maybe even a Sketch Card Showcase #4.
Next month in Masterpiece Theater we'll return to the Parallels series, and begin on our mini-series featuring the Avengers, and all those heroes and foes that surround that embattled group of larger than life figures.
As always, you can keep up with all things Marvel Masterpieces 2020 by following me on Twitter. Feel free to ask questions or retweet to continue the conversation. Thanks and see you next time!
Donny Caltrider has been playing Magic since 2002 and collecting original Magic art since 2017. He has an M.A. in Museum Studies from Johns Hopkins University and enjoys telling stories about art, objects, and the intersection of fantasy with real-life. You can find him on Twitter talking about #mtgart, museums, and other #vorthos related goodness. Follow along and continue the conversation!