Good morning, and welcome back to Masterpiece Theater, a new column on Hipsters of the Coast exploring Dave Palumbo's artwork from the 2020 Marvel Masterpieces trading card set. This is Volume VI, so if this is your first time here, you can find Volumes I-V below:
Volume I | Volume II | Volume III | Volume IV | Volume V
Marvel Masterpieces 2020 is the latest iteration in the bi-annual Marvel Masterpieces series, following in the footsteps of the 2016 set by Joe Jusko and the 2018 set by Simone Bianchi. The idea behind the Marvel Masterpieces line is they are illustrated by a single artist, and this year Dave Palumbo was tapped for the immense undertaking.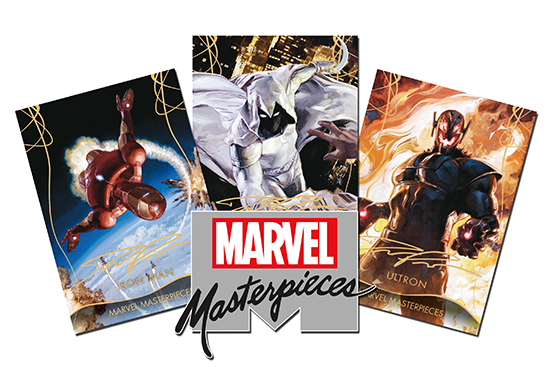 Palumbo announced that he would be the featured artist for the set in July of this year via Instagram, and his contribution is the largest artistic project to date for the artist. Just this single set is comprised of more pieces than his decade long catalog of work for Magic: the Gathering, of which I and I suspect many others best know his hand. The physical cards became available to collectors in September, and an online "e-Pack" release (more on those here) is due out within the next few months, completing the product release for the 2020 run.
This column will cover each of Palumbo's Marvel Masterpieces illustrations individually, and for each article Dave and I will look at 15 or so illustrations until we've gone through all 135. I'll include artist commentary, bits of collecting information, tidbits from the back of the cards themselves, and as always, a TON of stellar artwork. This particular edition makes considerable mention of the information on the back of the preliminary art cards, inserts into the packs that show the final artwork in his oil sketch phase.
Each entry will include the published artwork as well as the song Dave used while he was painting. Each painting has its own musical cue from Palumbo's personal music catalog, and in almost every case, the work wasn't complete until he felt it fully reflective of the song he chose. As in previous volumes, there are no songs for the Battle Spectra scenes, and duplicate appearances of the same character have the same song, in case you've heard it before. In order to closest replicate Dave's headspace, I also listened to the song as I wrote each entry, and I highly encourage you to do the same. Hit play and then look back at the artwork and read the caption for full effect.
It's time for Volume VI. Let's begin!
Venom (Base)
Song: Blinded by Fear by At The Gates
Venom is easily one of the most collected characters in the entire Marvel universe, and it comes as no surprise that this is one of the most popular pieces of the whole set in all its different printings. This is the perfect soundtrack to the hulking villain as he emerges from the rubble, with the signature slithering tongue out and about. I love this composition and pose: is it as if Venom says to his adversary, "You thought you got me. Think again." Or is it simply the hunted getting their first glimpse of the hunter. You decide.
Emma Frost (Holofoil)
Song: Intro by The XX
This is a rare depiction of Emma Frost in her Diamond Form, her second mutation alongside her telepathy which gives her near invulnerability and superhuman strength. She is shown strong, stoic, and poised, her cape billowing in the breath of a battle we cannot see. Trying to render a translucent character dressed in white had to be quite the challenge, but Dave has captured it well, and it's especially fitting on her Holofoil version that comes with that extra sparkle. Something, something, girl's best friend, right?
Hulk (Base)
Song: Brand New God by Danzig
Hulk…..SMASH. I love the immense scale of the Big Green Machine, and all that fire in the background I've spoken about in previous articles. Dave gave me some fabulous insight, including how this song matches so perfectly with the painting:
"If any painting needed to focus on raw power, it was this one.  Hulk smashing military equipment always feels classic to me, so a fiery scene along those lines was my starting point. The opening lyric of the Danzig song ("I am a walking screaming Hell") along with the opening drums when all the instruments kick in was exactly the energy I wanted. I can just listen to that section of the song and run through all kinds of scenes of Hulk just smashing everything to pieces"
Krakoa
Song: Vortex by John Carpenter
Krakoa is a character I had to do a bit of research on, and is in fact a sentient, living island, first introduced in Giant Size X-Men #1 (1975) as "The Island That Walks Like A Man." This larger than life landmass turned creature is shown emerging from the mist, and as the viewer we have no idea how big it is, or where it might stop. Once again, it is wildly difficult to paint an entire island to be legible at trading card size, but Palumbo has packed the Living Island narrative into this work all the same.
Bucky Barnes
Song: Dodge City 1 by Jack Trombey
"I liked the idea of seeing Bucky in WW2, and was aiming for a kind of nostalgic idealized 'leading the charge to glory' vibe"
James Buchanan "Bucky" Barnes is the longtime side-kick of Captain America, and we see him here as he would have originally appeared in the 1940s fighting alongside The First Avenger. This is a warm, almost sentimental storybook version of a character most were introduced to as the villainous Winter Solder via the Marvel Cinematic Universe, and I love that Dave was able to incorporate a bit of history and the "character that was" for 'ol Buck. Resurrecting old stories and retelling those once forgotten is an underlying theme in this set, and I am here for it.
Spider-Man vs. Mysterio
Song: N/A (Battle Spectra)
I love Spider-Man, and I especially love Mysterio, but this painting gives me the straight-up heebie-jeebies. I'll just let Dave tell you about it:
"This is one of those images I had in my head that I was sure had already been done, but I couldn't find it anywhere. I must have been thinking of the man-spider story where Spiderman grows extra arms? The most iconic Spidey Mysterio scene for me is when he's shrunk to the size of a spider, but Jusko already nailed that one down so I needed another take. Somehow, as far as I can find, Mysterio never made Spider-Man think he was transforming into a spider, but it really seems he should have."
This painting really leans into Dave's horror work outside of Marvel. It's also worth noting that this is painted at his larger of the two sizes, 18 inches by 24 inches. That makes it not just a bit scary, but straight up terrifying.
Black Knight vs. Swordsman
Song: N/A (Battle Spectra)
The rounded window you can see in the space between them give this fight a real Roman-esque, Coliseum setting, as hero and villain prepare to square off and fight to the death. I really love the mirrored, parallel composition: face to face, eye to eye, swords crossed, both at the ready. It creates great tension as Dave has done across the Battle Spectra series. In this case, whoever flinches first loses a limb.
Silk
Song: Rebel Girl by Bikini Kill
As I delved deeper into the stories of Spider-Man for future articles, I discovered this character, and the story that Cindy Moon was bitten by the same radioactive spider that bit Peter Parker, thus becoming Silk. She is seen sideways on a skyscraper, as Spider-folk do, and that stomach-turning, tilted perspective makes this into one of my favorite cards in the series.
And once again, we have just an spot-on musical cue. There's a bad-ass intro, and then listen to the lyrics:
That girl thinks she's the queen of the neighborhood
She's got the hottest trike in town
That girl, she holds her head up so high
I think I wanna be her best friend, yeah
Dr. Strange vs. Mister Misery
Song: N/A (Battle Spectra)
A manifestation of all of his fear and pain and suffering that came as a result of his newfound magic power, we see Dr. Strange in a weightless bout fighting against what is essentially himself. The composition swirls to the center, appearing as if Mister Misery will begin to overtake the Sorcerer Supreme. And yet, if the wizard's fist moves forward, the tide would turn the other direction. Again there is great tension, and we have no idea who will come out victorious.
Grim Reaper
Song: Sin by Nine Inch Nails
This is an in your face version of the supervillain, shrouded in fog but very much not a mystery as he comes into focus. His scythe has coma-inducing capability, which seems quite fitting, as on the back of the preliminary art card found in the set Dave describes the scene as "waking up to the last thing you'll ever see."
Jean Grey
Song: This Is For Me And I Know Everyone Knows by Blonde Redhead
There is an incredible realness to this portrait. She is not over-sexualized, not scantily-clad, and not in a strange or superhuman pose: Jean could be your schoolteacher or next door neighbor, and you'd have no idea she had these superpowers. Dave has done this with many of his characters, both male and female, and that relationship to the real-world is part of what has resonated so deeply with fans of this set. These could be real people living amongst us, and to see them as we see ourselves is really special, powerful stuff.
Beast
Song: Hybrid Moments by The Misfits
This is not a scientific or studious Beast. This is Beast unleashed, careening through a cityscape at night in pursuit of someone or something. The complimentary palette of blue against the golds and yellow of the city lights really make him pop from the background, and reinforce that idea that he could spring through the frame at any moment.
Arcade (Holofoil)
Song: Joker and the Thief by Wolfmother
In this insert version of Arcade, we get to go behind the scenes of Murderworld:
"Since Arcade does most of his villainry from a distance, it felt right to show him in his control room watching his plans unfold. The monitors, though small, suggest scenes of X-Men shown on other cards."
How cool is that? Look close. You can see Kitty Pryde, Wolverine, Jean Grey, Storm, and Cyclops vs. Mr. Sinister, all cards from this year's set, painted in miniature on the screens. This is more than a fun anecdotal addition; it's a testament to Palumbo's artistic planning (he had to know what these would look like before this work was finished), and to the cohesiveness of this body of work as a whole.
High Evolutionary
Song: Waters of Nazareth by Justice
This song sounds radioactive, and is a perfect fit for this mad scientist of sorts, as we see literal energy coursing through his fist. Notice the solar eclipse in broad daylight: Dave mentioned on the preliminary art card it was "something I can't quite explain, but it felt very right." It does indeed, a perfect strangeness of natural manipulation, symbolic of this already very odd character.
Captain America (Base)
Song: Gonna Fly Now by Bill Conti
"Right off, this piece veered from the original music cue harder than any other piece. I did end up keeping the cue as inspiration for the holofoil version [This is in the next volume]. My original plan for this piece was going to be a bit more rah-rah in the traditional heroic style of Captain America, but I was feeling it did not match the tone of the current times. One of the things that I love about this character is that he doesn't exactly represent the USA so much as he represents the purest ideals of the USA. He's the best possible reflection of us. For me, that means that he also feels the pain of our collective failure to live up to those ideals greater than anyone."
This maybe the most resonant depiction in this set, published during one of the toughest years for many folks in recent memory. Cap is on one knee; shield down amongst the rubble, in certain contemplation with the weight of the world firmly upon his shoulders. As Dave said he is a reflection of us, the best of us, an everyman, and that's something we've really never seen before for this character. Even superheroes are human, and we feel that most of all in this 2020.
Wrapping Up
We've reached the end of Volume VI, and to recap, this article places particular emphasis on a few key elements that make this set exemplary.
First, the addition of the musical associations are so incredibly strong with some of these works, you can hear it in your head every time you see the card, even after hearing it only once. That's something I've never experienced before, and will be hard-pressed to find again. Second, Palumbo has chosen versions of these characters that are some of the hardest to render, be it Diamond Form Emma Frost or half-land, half-creature Krakoa. He didn't have to go that hard, but he did. And finally and perhaps most importantly, many of these superheroes have such a strong realism that each and every one of us can see ourselves in their shoes, whether it's the subtlety of Jean Grey or the overwhelming mood of Captain America. These things make this work transcend trading cards, and the more I look at each piece, the more I love it.
You can see all 135 works in a single three page gallery along with information on which pieces are available for purchase and those that have already been sold. As of the writing of this article only a fair few finals plus a single preliminary are still available.
As another aside, Dave recently announced his SmArt School mentorship class that begins Spring 2021. Entitled "Showcasing Your Style While Working With Established Characters," it will give artists a behind the scenes look into exactly how he did what I've been talking about, in making these Marvel characters his very own.
We've got three articles left before we've completed the overview of the entire 135 card set, and I've got a fun few "appendices" to keep this column going well into next year, including a Preliminary Palooza and Sketch Card Showcase. You can keep up with all things Marvel Masterpieces 2020 by following me on Twitter. Feel free to ask questions or retweet to continue the conversation. Thanks and see you next time!
Donny Caltrider has been playing Magic since 2002 and collecting original Magic art since 2017. He has an M.A. in Museum Studies from Johns Hopkins University and enjoys telling stories about art, objects, and the intersection of fantasy with real-life. You can find him on Twitter talking about #mtgart, museums, and other #vorthos related goodness. Follow along and continue the conversation!