Good morning everyone, and welcome back to Masterpiece Theater for the third installment of the 2020 Marvel Masterpieces Sketch Card Showcase! In each box of Marvel Masterpieces 2020 (on average) there is a sketch card, an original work of art by an artist rendered on the same size and stock as the regular set. They are inserted at random, and could be from one of more than 150 artists and of almost any character found within the Marvel Universe.
Among sketch collectors there are lots of different sketch collecting strategies. Some folks collect sketches by set (me), others do it by a certain artist (also me), or a particular character (still me), and a few collectors just really seek out high quality sketches, regardless of anything else, no different than an art collector in any other genre.
Volume I | Volume II | Volume III | Volume IV | Volume V | Volume VI | Volume VII | Volume VIII | Volume IX | Volume X | Volume XI | Volume XII | Volume XIII
For my Magic: the Gathering readers, these are most similar to the artist proofs that artists receive after illustrating a card. While Magic APs don't ever appear in packs, the idea that each artist brings their own interpretation to a subject on a miniature blank canvas is the same. In Marvel, blank artist proof cards are provided to Marvel sketch card artists based on the number of sketches created, and they can illustrate and sell these both before and/or after set release.
This article will follow suit of the Sketch Card Showcase #1 and #2; some entries will be character specific, other artist specific, and some a bit of both. The constant will be that each sketch tells a tale in the larger story of my collecting journey, and I'm very excited to tell you all about how I acquired them and the artist behind the artwork. This article will have two different subthemes: collections of three, as well as another round of APs that were commissioned and now reside in my binder.
It's Show Time: this is the Episode XIV of Exploring the 2020 Marvel Masterpieces; it's the Sketch Card Showcase #3!
Blink (AP) Triptych by Elise MP Strong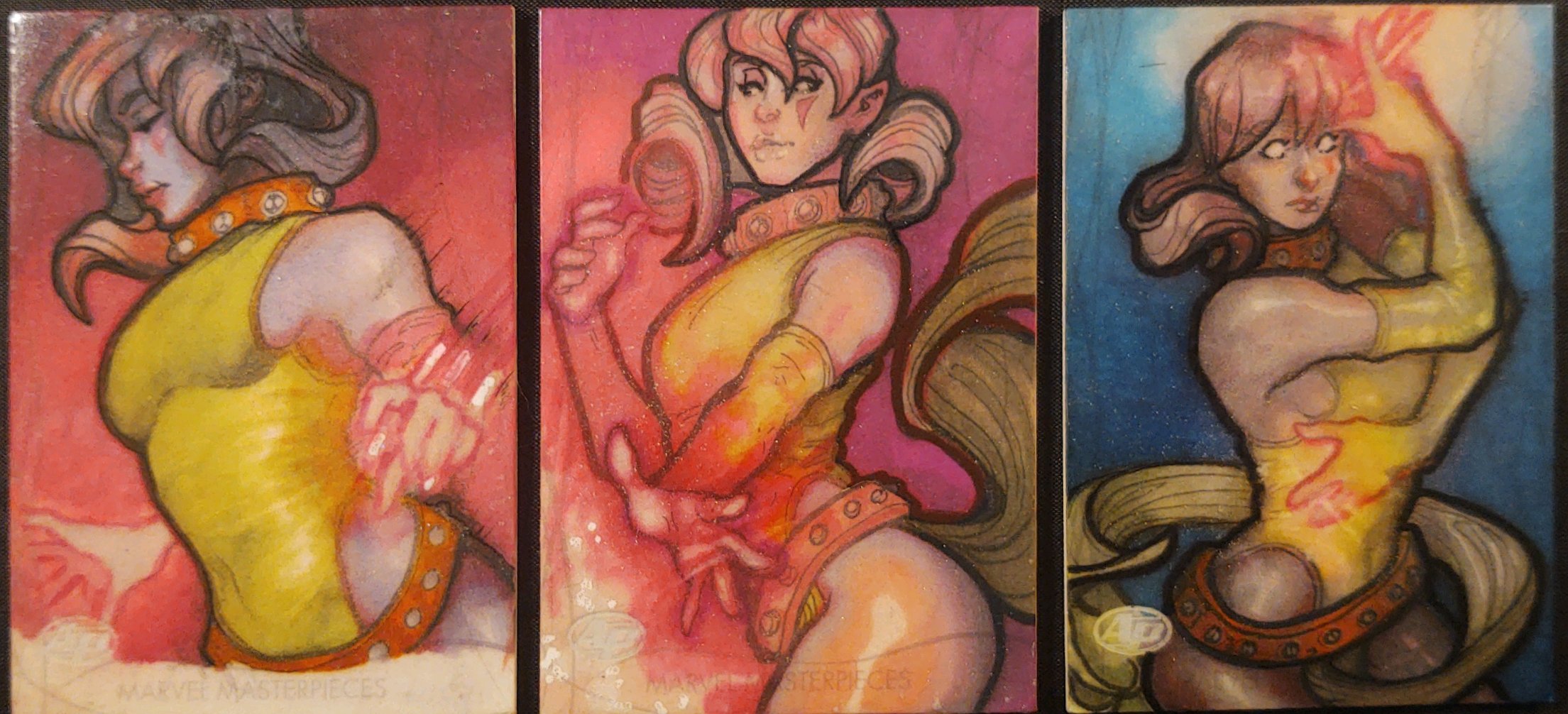 We'll start this article the same way we started the last, with a feature on Blink. I began collecting her a short time ago after seeing fred.ian's incredible Unbound depiction and collecting the only two Blink cards in MM20 from Miranda Gainey. When I reached out to Elise Strong, I was so enraptured by the first piece I got from her (which will be in the next SCS) that I asked if she had any interest in a Blink commission. She created three different sketches for me to choose from, and as you can see, I went with D) All of the Above.
Elise has quickly become one of my favorite sketch card artists, and I really hope we see her again on a future set. Her style is wonderfully unique, a mix of natural beauty and Art Nouveau, and I'm looking forward to collecting even more from both past and upcoming sets. You can find her on Instagram here.
Silk (AP) by Paul Hill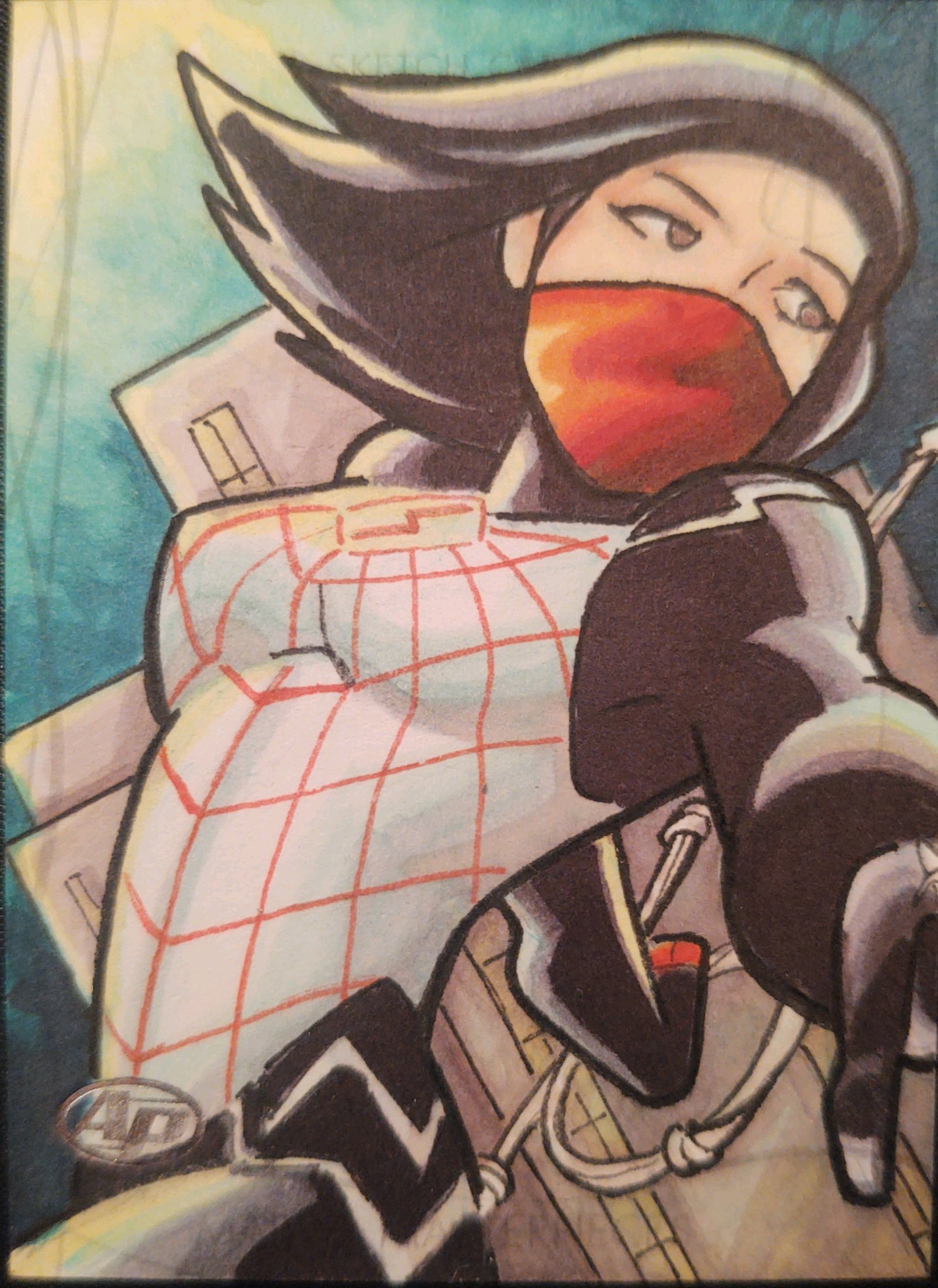 Silk #1 was the first comic book I read last year after a very long hiatus, and turns out she's not seen particularly often within sketch card sets. When I commissioned one of Paul's remaining MM20 APs, he'd never drawn her before; but being the Webhead he is, was up for the challenge! He gave me four different sketch options to choose from, and we agreed that this was both of our favorites. I couldn't be happier: it's Silk in his signature style, and I don't think it'll be the last time we see him sketch this Spider lady. She's even in his Facebook header.
You can watch a process video of the creation of this card on his YouTube Channel and make sure to give him a follow on Instagram.
Dormammu by David Hindelang, Lydi Li & Steve Mardo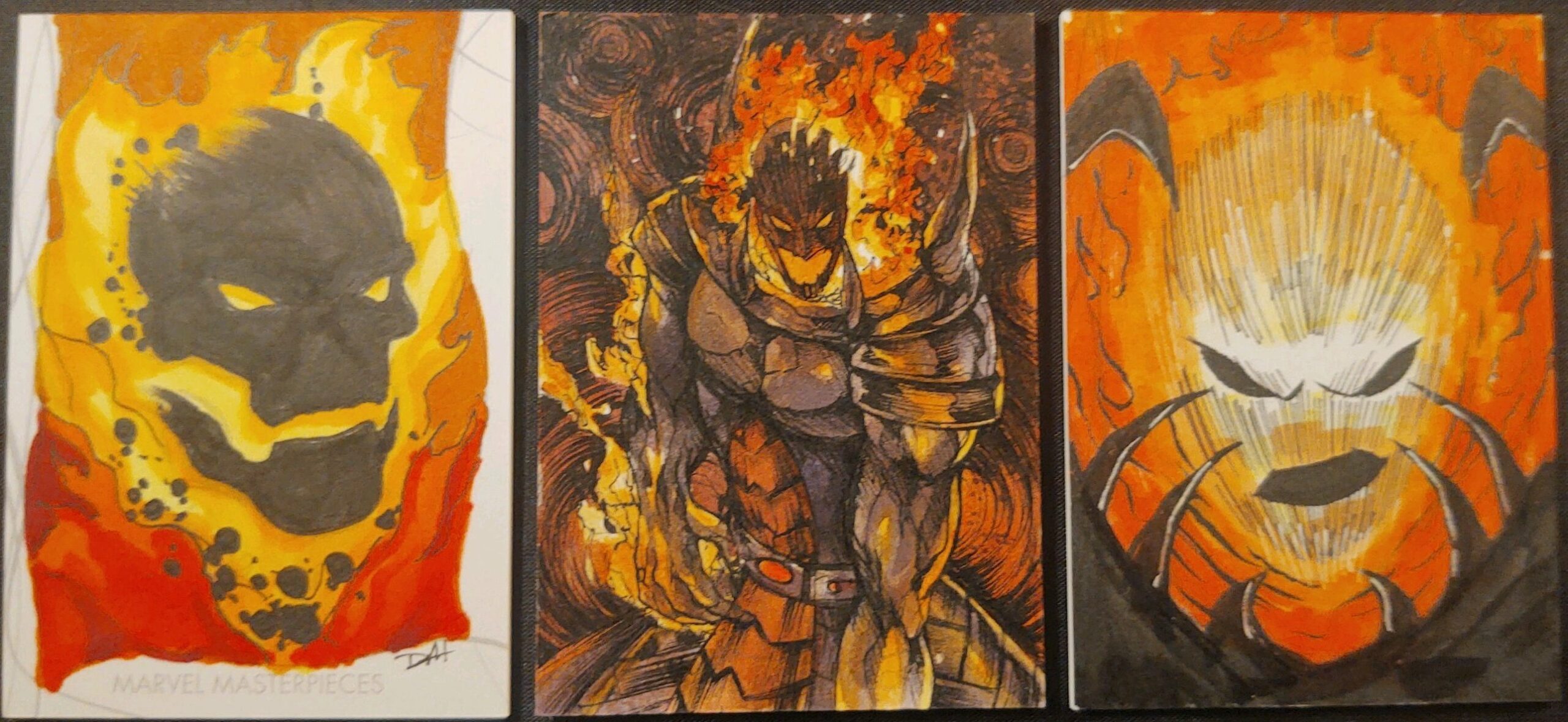 As I continued collecting sketches, I found myself creating 1×3 rows in my binder specific to character or artist (or sometimes both) as I encountered cards that were particularly unique and interesting. One of the first I finished was my Dormammu row, with sketch cards by David Hindelang, Lydi Li, and Steve Mardo. Hindelang created an incredible quantity of sketch cards for this set, all in this headshot: style and with some serious deep cuts! Lydi Li, while best known for her sketches of Marvel ladies, works an unparalleled amount of detail into these tiny masterpieces of otherworldly beings. And Steve Mardo brings his immense experience in sequential art to life at sketch card size; I chased this particular sketch around ePack for quite some time before being able to bring it home.
You can follow each of these artists on Instagram: David Hindelang, Lydi Li, Steve Mardo
Ego (AP) by Fernando Pinto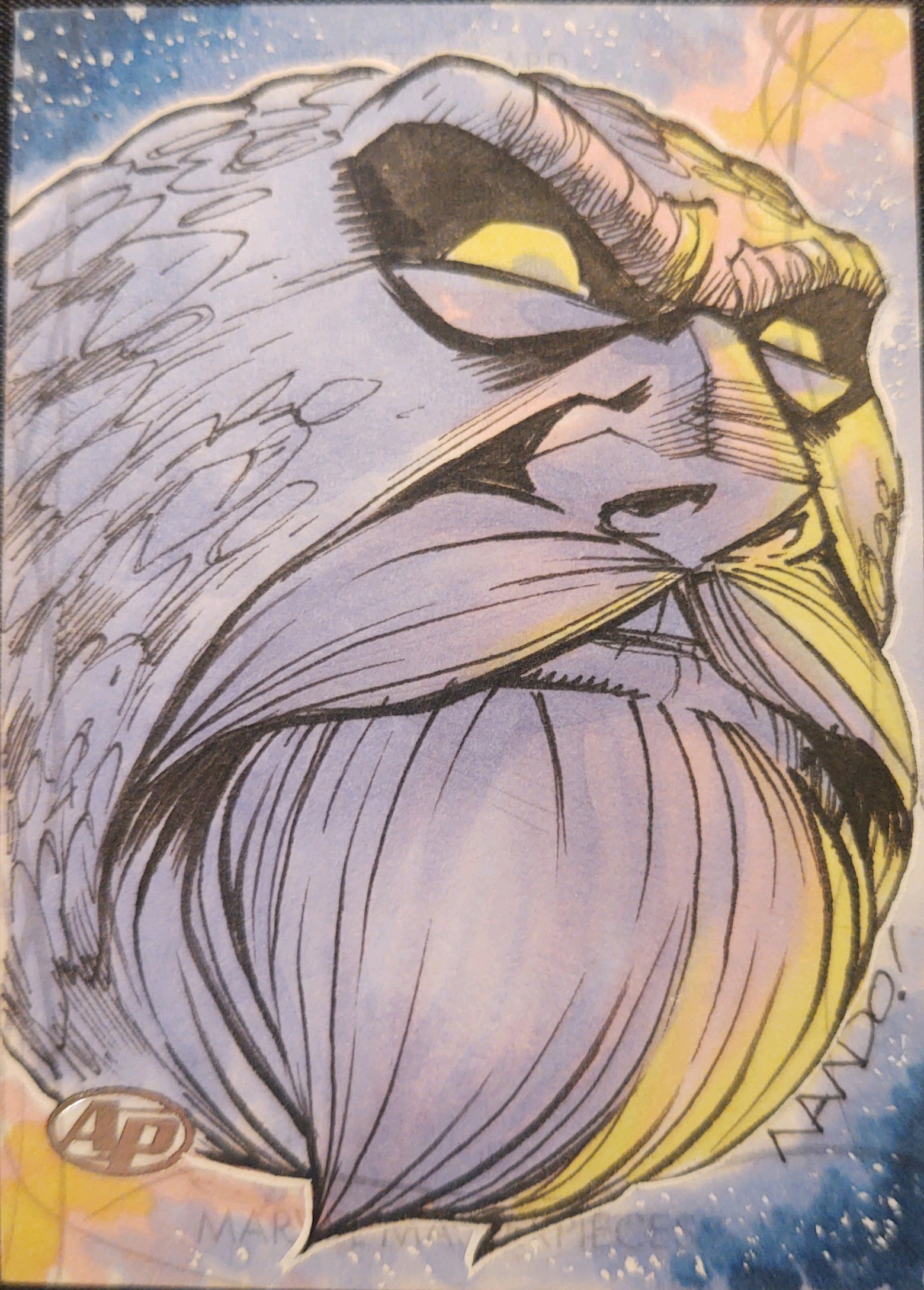 Fernando Pinto created some of the most whimsical sketches of the entire MM20 collection, full of characters with exaggerated expressions and wild compositions, truly in a cartoon comic style. He created two APs for my collection, and this is the first, none other than Ego, the Living Planet. You see this character almost never, and it's only the second Ego sketch I've been able to collect.
His style has captured the character's hubris perfectly, and I'll be looking forward to more Pinto cards later this year! You can find Fernando on Facebook here.
Red Skull by Breed, Andrei Ausch & Jeff Abar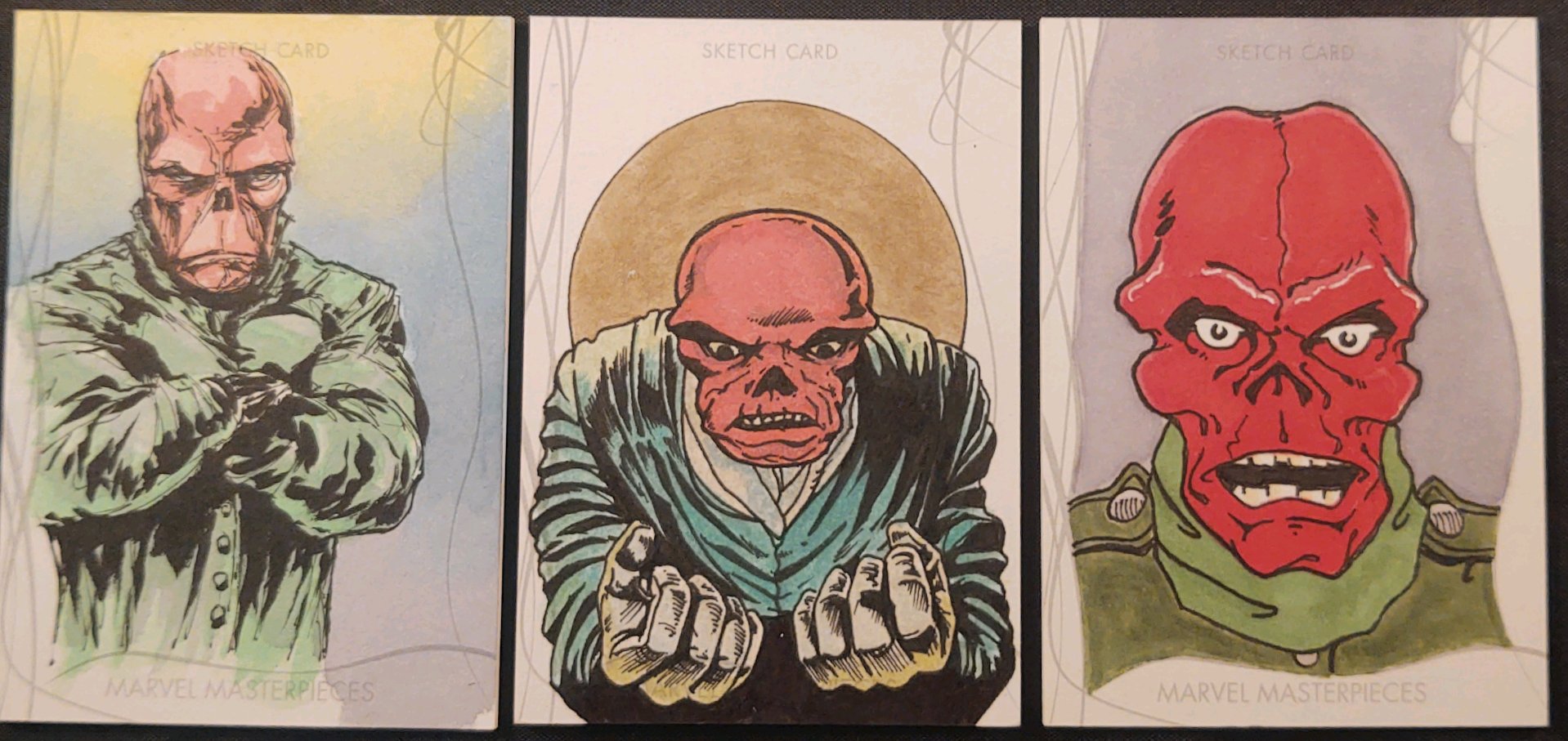 The second of two Three Rows in this article features the villainous Red Skull, begun when I collected the center sketch by the artist better known as Dre. This was a part of his Gold Seal sketch subset, and he nailed the classic look of Red Skull from Captain America 103. One either side we have Red Skull from the same vintage (check the jumpsuit); one by Bobby Breed in his fantastic pastel palette and the other a zoomed in headshot by Jeff Abar, who also created quite the quantity of these headshots from across the Marvel Universe.
The three make for a nice compliment of angry, angrier, angriest, and complete the encapsulation of the character himself. You can follow each artist on Facebook: Breed, Andre Ausch, Jeff Abar.
Venom (AP) by GetAtom (Adam S. Harris)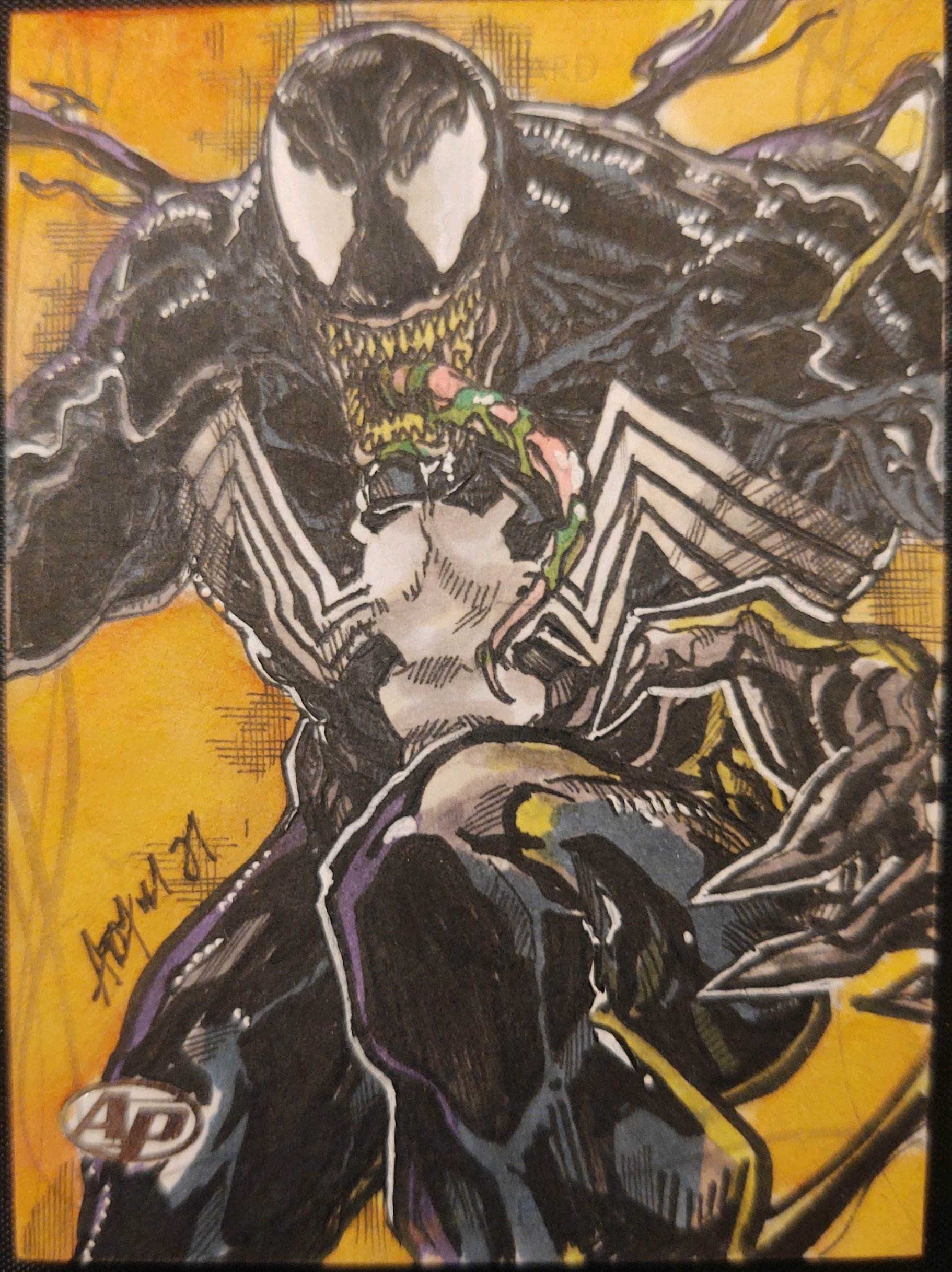 GetAtom, otherwise known as Adam Harris, is one of the most versatile sketch artists I've seen over the catalog of MM20. Any character, any series, and yet unmistakably GetAtom. The Spiderverse is one of his specialties, and that made him the perfect choice for my collection's first Venom. I left the composition entirely up to him, and couldn't be happier with his rendition of the classic baddie on a perfectly putrid yellow ground.
You can follow Adam on Instagram here.
Sinister Six Set by Adam Angel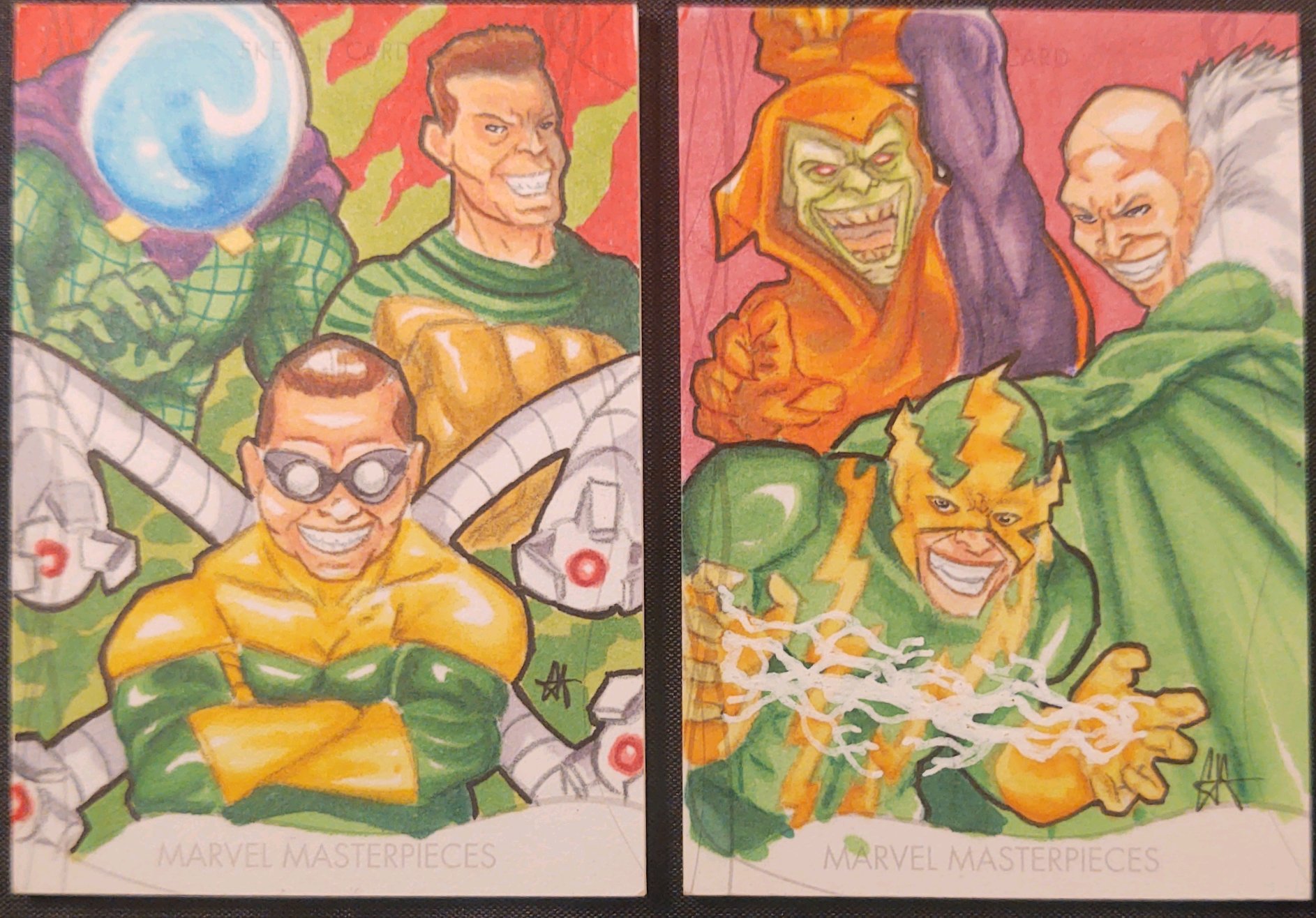 This isn't exactly what's known as a puzzle sketch, where two sketch cards make a single image, but this is certainly an associated pair. I acquired these from eBay in a single auction so I'm not sure whether they were kept together or assembled by the original collector; in any case, it's the only depiction I've seen of the SInister Six in their entirety of Marvel Masterpieces 2020. Angel's sketch cards are almost neon-vibrant and these two are no different, and you can follow him on Instagram to see more of his out-of-this-world color.
Spider Ladies (AP) by Bien Flores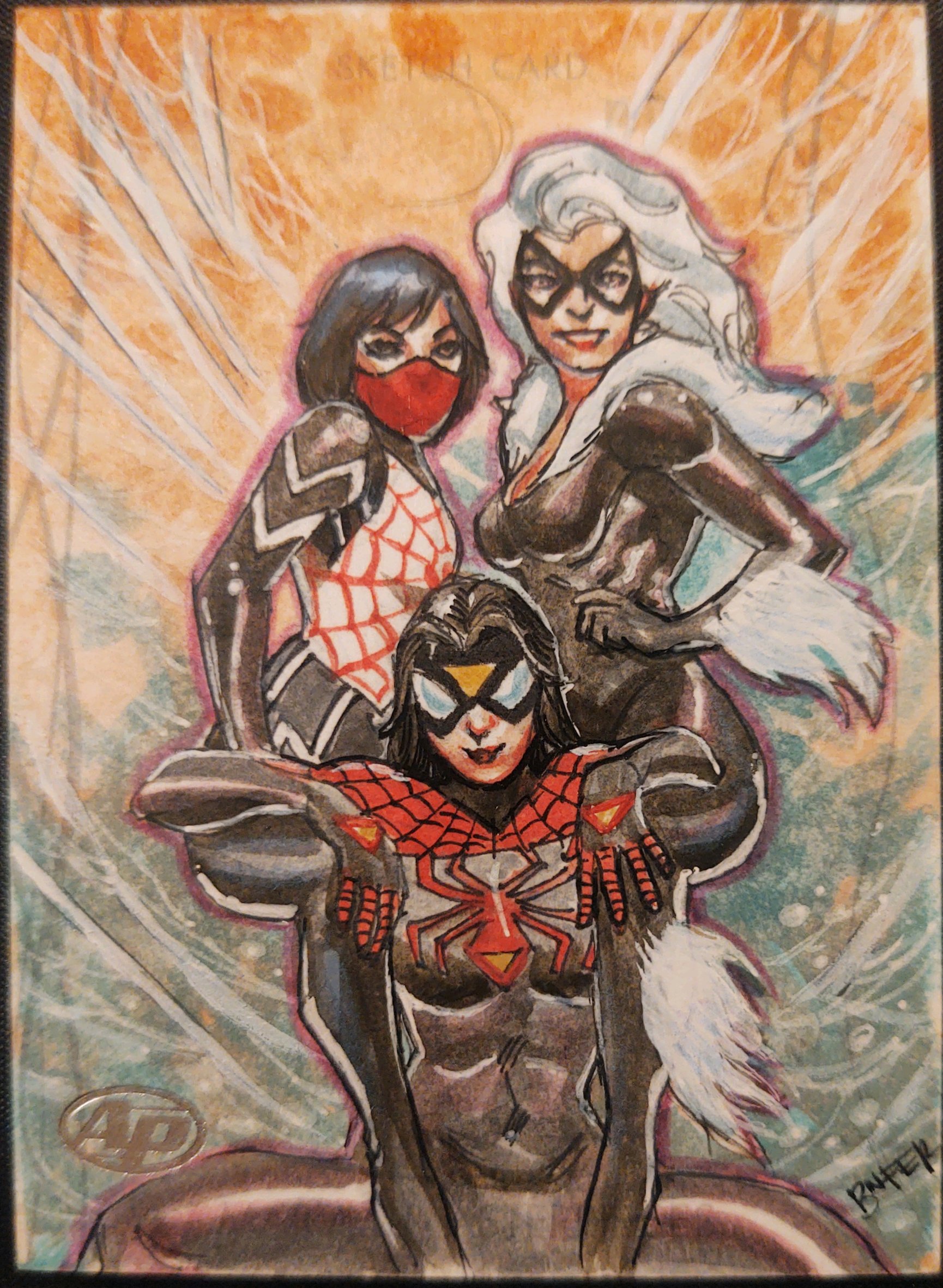 Bien Flores, also known as Bnfer or Bienifer Flores, hails from the Philippines, and when given my shortlist of characters I was looking for, suggested he do all three in one! The result is this contemporary Silk-Black Cat-Spider Woman mash-up, the likes I've never seen before on any other sketch card. It's a casual and fun composition that highlights all three of these characters in their own way, and will work as a centerpiece of my binder page featuring these three. You can find Bien on Facebook.
Prowler Triptych by Brian Soriano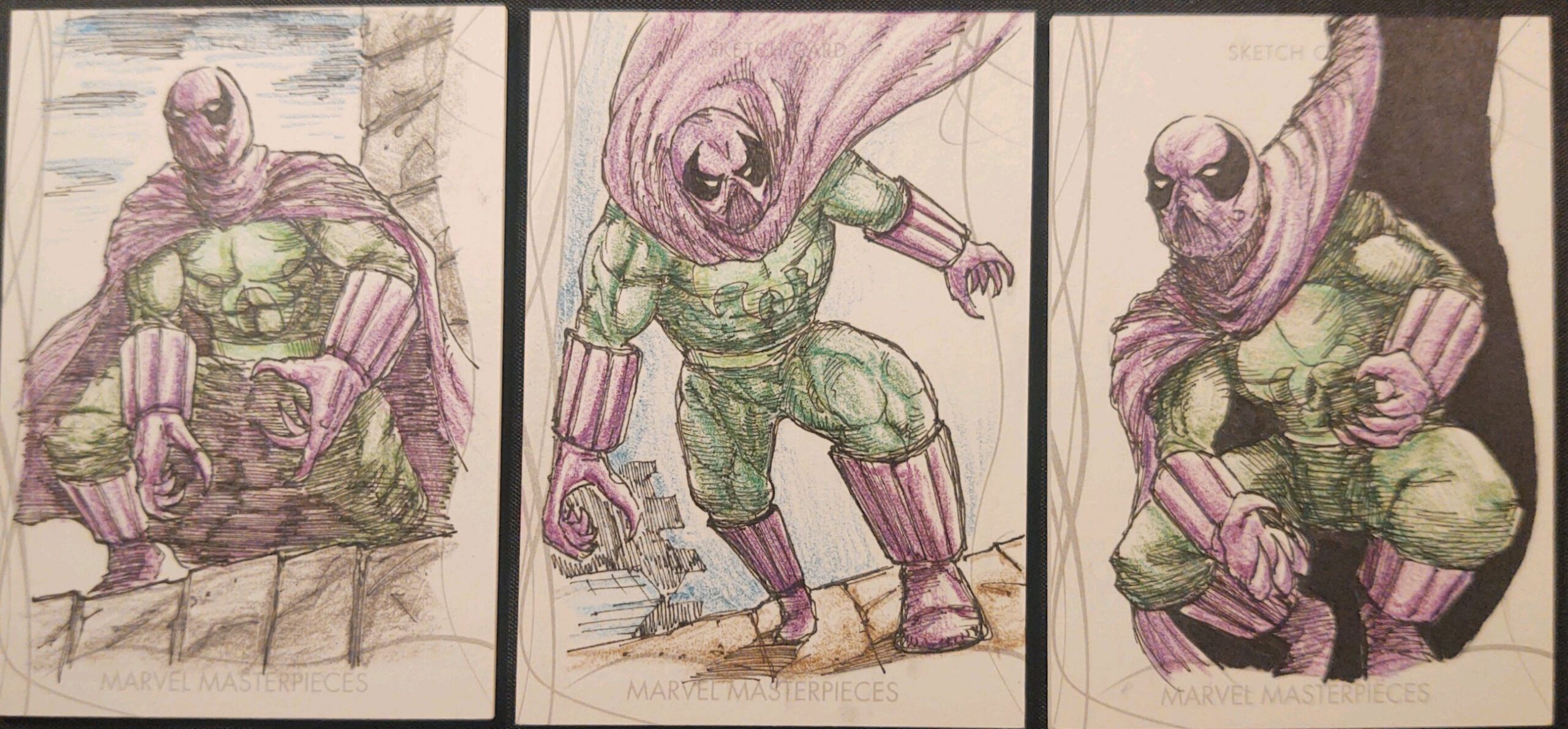 Some artists like to repeat characters in different scenes and poses, and I was able to put this three-row of the Prowler together from two different collectors between eBay and ePack. Soriano's MM20 sketches went unsigned but his colored pencils are instantly recognizable, and these multi-character collections develop as tiny narratives when placed in succession. I can almost feel that same intensity when Prowler had Miles Morales hanging over the roof edge in Into the Spiderverse. You can follow Brian on Twitter.
Carnage (AP) by Bob Petrecca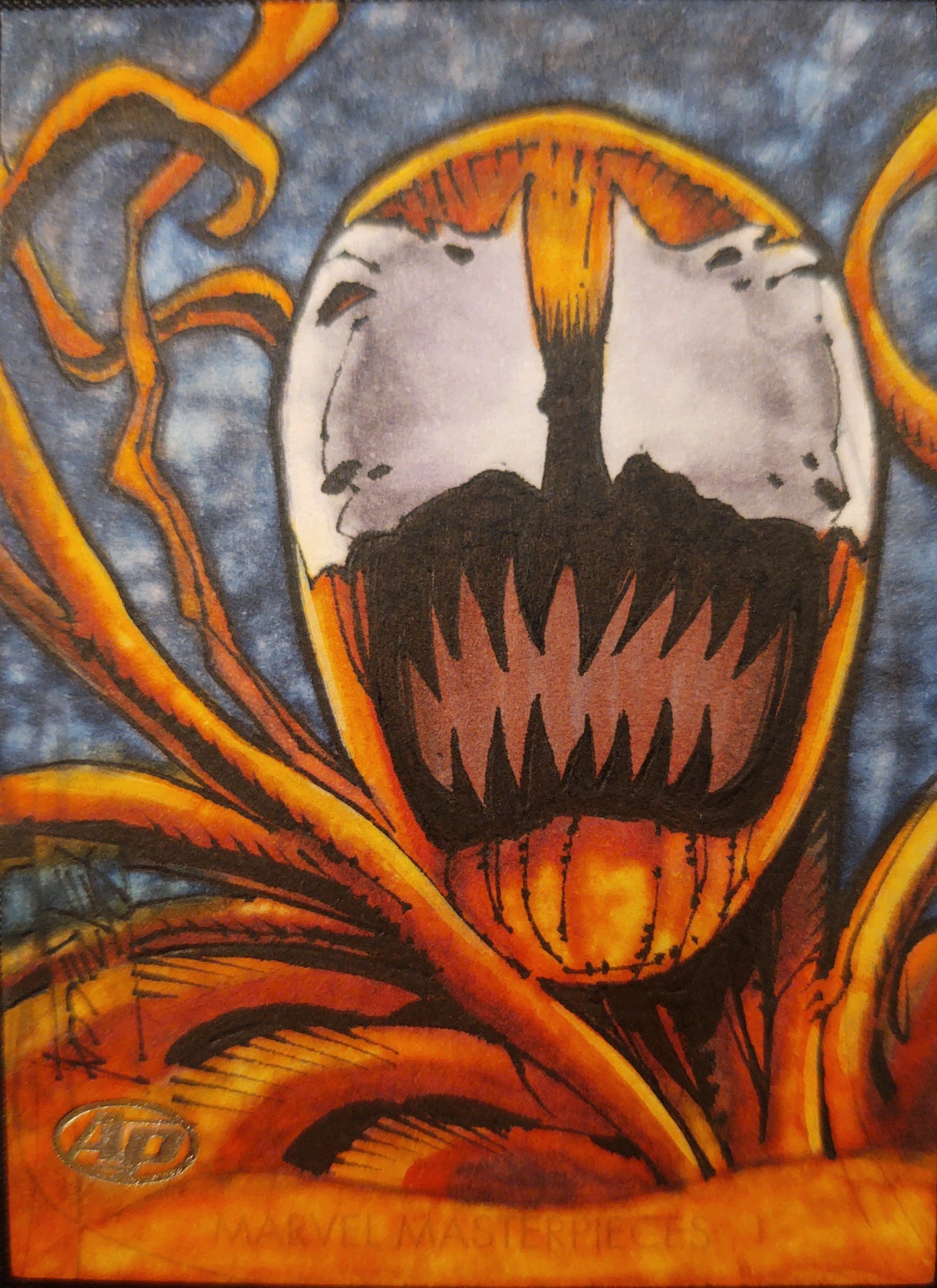 Bob Petrecca is a Marvel legend who worked small groupings of sketch cards for various sets into his schedule over the last few years. After not seeing much of his work widely available in the secondary market, I was most fortunate that he still had some completed APs available, and I went with this Carnage as I work towards a three-row of the sinewy symbiote. Petrecca's colors are bright and bold and his figures and forms full and expressive. You can see more of his work on Facebook, and don't be afraid to reach out to see what he has left!
Wrapping Up
We've reached the end of Sketch Card Showcase #3 and put another near twenty sketch cards into the collection bank. I'm now over 130 Marvel Masterpieces 2020 sketches including my Mysterio and Johnathan Ruple collections, so a Sketch Card Showcase #4 is a certainty later this year, in addition to a Mysterio and Ruple article of their own right. I absolutely love sketch card collecting, trading, interacting with artists and getting to know fellow art-lovers, and I don't see myself leaving this part of the hobby any time soon!
Next month in Masterpieces Theater we'll return to the Parallels series, and finish up our Avengers subseries looking at their Villains before moving into the last grabbag trio of selections. As always, you can keep up with all things Marvel Masterpieces 2020 by following me on Twitter. Feel free to ask questions or retweet to continue the conversation. Thanks and see you next time!
Donny Caltrider has been playing Magic since 2002 and collecting original Magic art since 2017. He has an M.A. in Museum Studies from Johns Hopkins University and enjoys telling stories about art, objects, and the intersection of fantasy with real-life. You can find him on Twitter talking about #mtgart, museums, and other #vorthos related goodness. Follow along and continue the conversation!