Welcome back to Masterpiece Theater, a new column on Hipsters of the Coast currently exploring Dave Palumbo's artwork from the 2020 Marvel Masterpieces set. This is Volume II, so if you're joining us for the first time, check out Volume I to learn some background on Palumbo, this set, and see which work I already covered.
I know Palumbo's work from his more than 100 Magic: the Gathering cards, a game he's been illustrating since 2008 and upon which his artistic talents have made a considerable impression. But when I saw he had done the entire 2020 Marvel Masterpieces card set, creating 135 traditional paintings that make up its entirety, I knew it was time to hit the keyboard for something a bit different.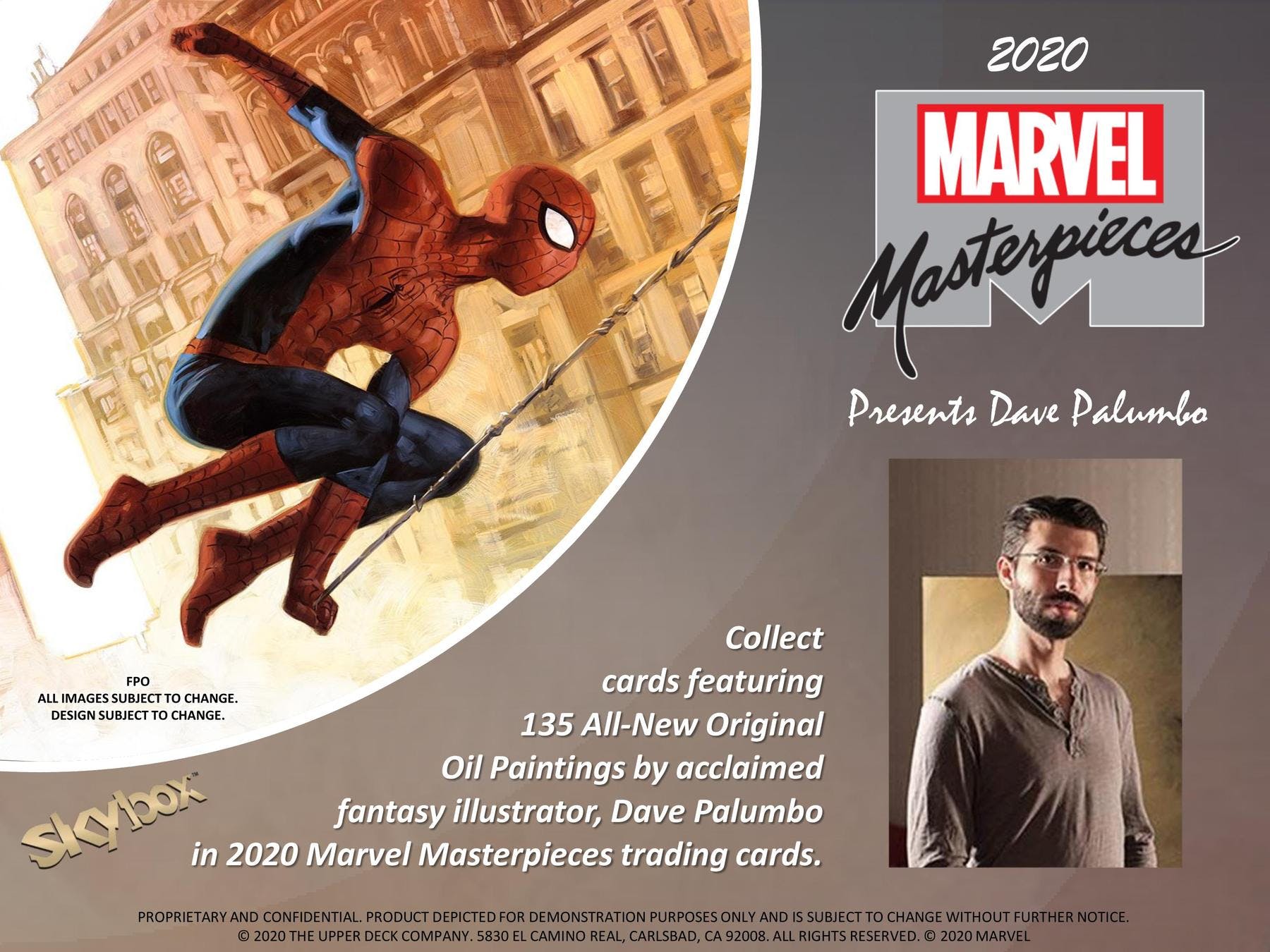 Marvel Masterpieces is a biennial premium trading card set by Upper Deck Entertainment and Skybox that features a single artist's take on some of the most popular superheroes and villains in the Marvel Universe. You can read about the types of cards and inserts in Volume I, but here's a quick look at the incredible variety of art and frame found within this set.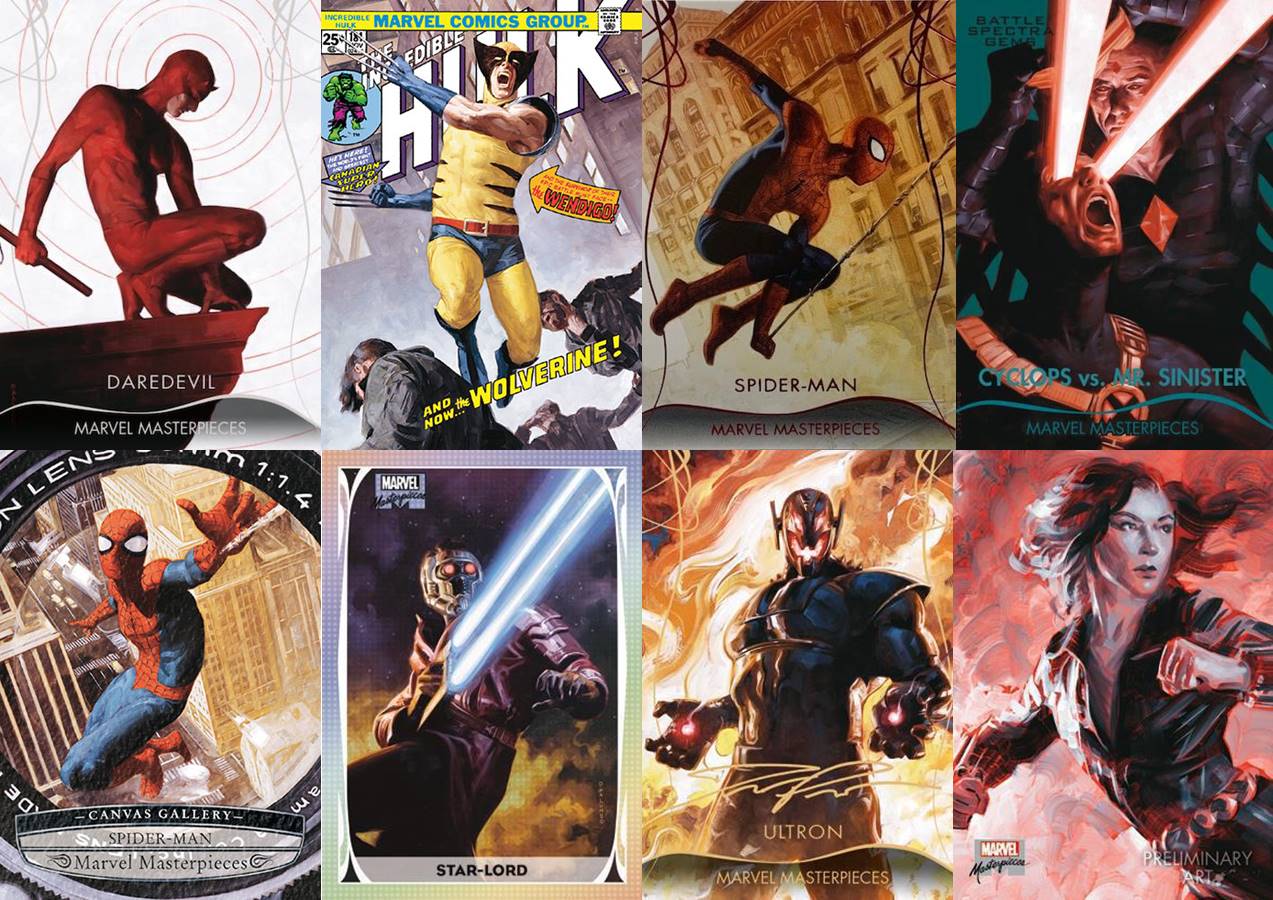 Each following entry will include the full artwork, as well as the song Dave used while he was painting. Each character got its own musical offering, and the work wasn't complete until he felt it fully reflective of the song he chose. There are no songs for the Battle Spectra scenes, and duplicate appearances of the same character have the same song. For full immersion I also listened to the associated song as I wrote each section, and I highly encourage you to do the same: hit play and then look back at the artwork and read the caption for full effect.
It's time for Volume II. Let's begin!
Spider Man (Canvas Gallery)
Song: Mr. Brightside by The Killers
This was another of the early preview images, and in my opinion is one of the signature works of the entire 135 card series. It is purely Palumbo, and I'll tell you why. First, from Dave:
"I'm a lover of analog photography, so I wanted to do a piece inspired by Peter Parker's selfies seen so often in the comics that also worked the camera into the shot. I aimed for everything to be period appropriate for vintage Spidey."
He revealed exactly what this means on his Marvel Card Collectors Podcast episode. It means the camera lens that we see in the image is from the same 1960s time period when Peter Parker first appeared; it's something he would have used in the real world. It's one of those details that sets this painting and this series apart, and is just brilliant.
This work is also the in-pack painting redemption for the physical release, which means somewhere out there, inside a pack is a card that you can redeem for this very work of art. There is also a preliminary artwork which should be offered later on this year, and you can bet I'll be chasing it as one of the neatest works of art in this set.
Dr. Strange (Base Set)
Song:  Fire on High by Electric Light Orchestra
"The mood music is a piece my dad used to listen to when I was little and tell stories about wizards fighting, which is probably what brought it to my mind for Dr. Strange."
There is an obvious sentimentality to this work as Dave describes above, and both song and artwork are a symphony of storytelling. The tune is full of twists and turns, and tells the story of this complex character perfectly, from arrogant genius to crippled student to his rising as Sorcerer Supreme and Master of the Mystic Arts.
The model for this work is none other than Magic: The Gathering and fantasy artist extraordinaire Allen Williams, a man nothing short of a wizard in his own right.
Fin Fang Foom
Song: East Hastings by Godspeed You! Black Emperor
"Looking for a Kaiju vibe on this piece, I initially had the foreground planned as the Army reacting to the disaster. I couldn't quite fit the pieces together and it worked much better as a desolate foreground with police instead of military vehicles"
This Strange Tales beast was one of those characters I was wholly unfamiliar with, but Palumbo has brought him to this set larger than life, and we see pure destruction in his wake. Look at all the tiny details worked into the foreground; every time you look at this work, you'll see something you missed before.
Black Widow (Base Set)
Song: No Wow by The Kills
We find ourselves mid-fight, albeit a single character scene, as the assassin Black Widow turns to face her opponent, flames fanning in the background. I love how simple the background is considering it's on fire, as it forces focus on our arachnid assassin and her stern look of resolve.
I should also mention that this artwork's preliminary art is featured on the in-pack Preliminary Art Redemption cards, of which each contain a code that can be redeemed for one of the 90 base set 5 inch by 7 inch preliminary artwork by Palumbo himself. The work you get is random, and the one pictured below is the one I've acquired. You'll have to wait and see what I get in a future article!
Enchantress
Song: XXXO by M.I.A.
"This felt to me pretty suggestive of the lead-up to an Asguardian orgy, which I was a bit surprised to get away with."
And get away with it he did! The Enchantress is a beautiful and cunning sorceress from Asgard, and her regality is on full display here. Her suitors are smitten (including Thor himself) and yet she can't be bothered as she interacts directly with us as the viewer. I love this breaking of the fourth wall; perhaps we're next to fall under her spell?
Black Knight
Song: Olympians by Fuck Buttons
Let that music play the Black Knight charges into view. The subtle background once again highlights the details of the character and forces our focus directly. Dave mentions on the preliminary art card that the idea of the billowing cape sold him on this composition, and it certainly gives this often unknown character a superhuman dynamism. Check out his Metallurgy card that really makes that armor shine!
Ex Nihilo
Song: Golden Age by Woodkid
This was another character I really just wasn't familiar with, as they're a fairly recent addition to the Marvel Universe, first appearing in 2012. Palumbo set this work up as a classical portrait, with the subject surrounded by their favorite things, which in this case that just happens to be an alien with a penchant for creating new life. The end result is a beautiful blending of classical pose and contemporary portrayal, giving this D-list character an A+ depiction.
Hawkeye vs. Bullseye
Song: N/A (Battle Spectra)
This is the first Battle Spectra work we've looked out, one of fifteen scenes that take two characters, a hero and a villain, and pit them against each other in a pint-sized picture. As you can well imagine, it's no easy feat getting one character into a card, and when I talked to Dave about this scene, he noted its difficulty:
"A trading card sized image of two guys fighting each other with ranged weapons was one of the most challenging concepts in the whole set."
This is an ambush, and you can see Hawkeye catch a glimpse of the human projectile Bullseye out of the corner of his eye as he draws back his bow. We are situated high above the skyline, and the feeling that either could fall at any moment keeps the viewer on the edge of their seat as this scene unfolds.
Killmonger
Song: Get Up by The Young Fathers
I can't say anything more fitting than what Dave already said on the reverse of the preliminary art card:
"I wanted to see Killmonger standing victorious and strong with Wakanda stretching beyond him. The curve of the distant river acts as a handy compositional aid in both framing and leading us to him. But in a metaphorical sense, it also crosses swords with him, alluding to his struggles for power over the nation."
This level of thoughtfulness is what is continually making these works outstanding, whether we realize it at first glance, or need a little extra introspection into the ever-present storytelling.
Green Goblin (Base Set)
Song: Crazy Train by Ozzy Osbourne
As a lifelong Baltimore Ravens fan, I'm quite familiar with this song as the team almost always uses it as their entrance before they lay the smack down on that week's opponent. We get the same insanity-inducing vibes in this painting, as a grinning and wide eyed Green Goblin is situated amongst a pumpkin splattered chaos. I love when purples and greens can be used in harmony. This is a spot-on embodiment of this character at every level, and once again when coupled with this song, is a touchdown.
Egghead
Song: Crazy by Gnarles Barkley
Egghead doesn't get enough respect, either in the comic books or the MCU movies; so what if he's a little crazy. Here we see him confident and ray-gun-at-the ready as we approach the scene uninvited (the robots behind him don't look happy to have visitors). I love that his glasses are a solid stark white—an impeccable touch of negative space as a part of one of his best known elements.
This is one of my favorite works in the entire series, so much that I managed to trade for one of the original printing plates from the set!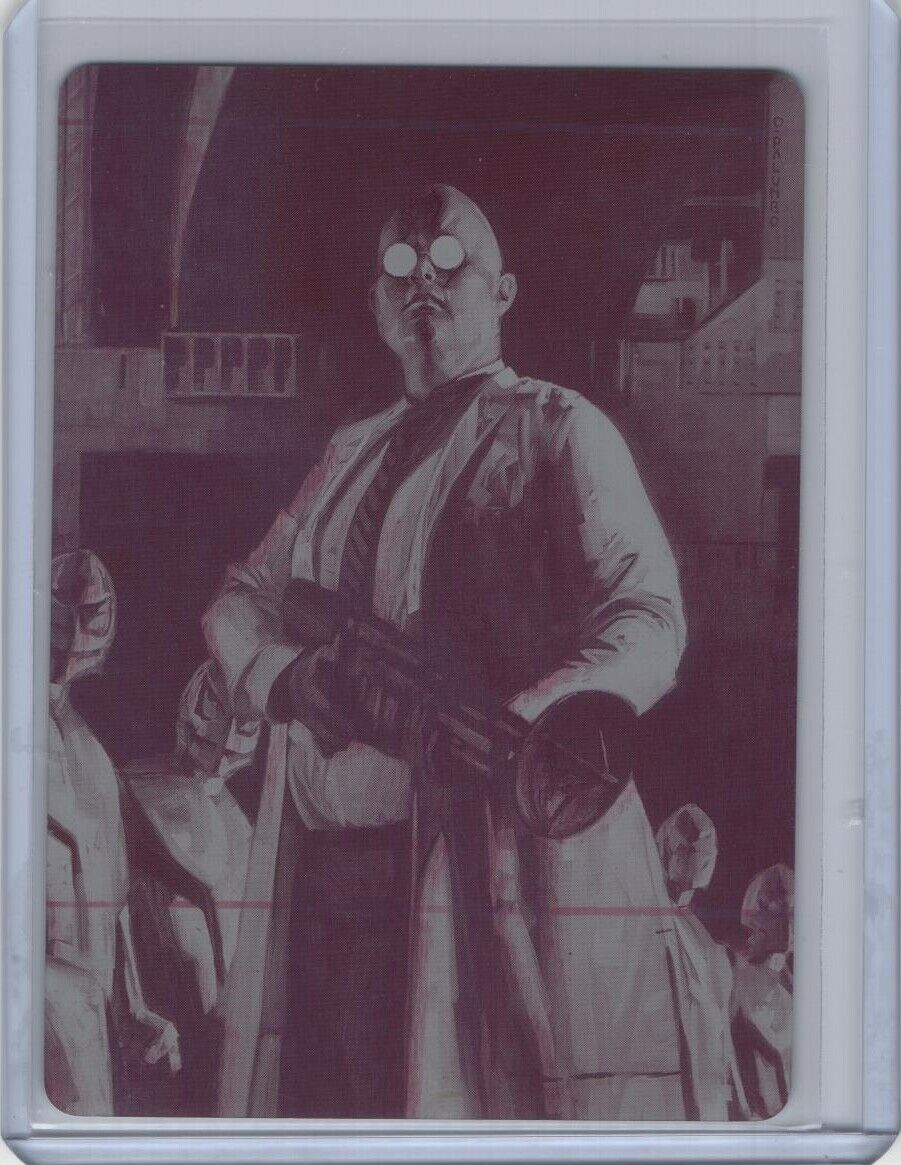 Ebony Maw
Song: Blackstar by David Bowie
I mentioned in the last article how much I love Palumbo's painting of space, and we get another glimpse in Ebony Maw as we are able to look through this work. We see the spindly and brooding super-villain in the foreground set against a porthole backdrop. Our eye continues to the unknown outside, where a peek of purple and pink let us know we're are certainly not on Earth any longer. The song choice is as long and in-depth as Ebony Maw's sinister schemes, and is a brilliant companion to this painting.
Black Panther vs. Killmonger
Song: N/A (Battle Spectra)
Long before the Marvel Cinematic Universe would pit Erik "Killmonger" Stevens against Prince T'Challa, the Black Panther, these two battled in a struggle for power through the Jungle Action comic series in the early 1970s. We see that struggle amplified here in close-quarter, hand to hand combat that appears it could go either way at any moment. The struggle is incredibly hard to render in oil paint, but Palumbo lets us feel the strength and power of these two leaders of Wakanda even at this very small size.
Martinex
Song: Blue Fly Green Fly by Sleeping People
"This was the first piece that I painted in the whole set. I picked this one to begin because I felt like the image would be really interesting and cool, especially getting to do the crystal effect, but the character wasn't super well known so that took a bit of pressure off to get the ball rolling."
This work is just wild, and we get a little bit of everything we could ask for in a sci-fi painting set in the Marvel Universe: a cool spaceship interior, a glimpse of the starry sky outside (more space!), and an extremely unique character. I can't imagine the time Dave put into the purples and pinks of the crystalline body, and its yielded astounding result. I believe this is Martinex's Marvel Masterpieces debut, and will an image that becomes associated with this character moving forward.
Pip the Troll
Song: Bubblin' by Anderson Paak
Dave mentioned on a few of his early interviews that there was a painting in here "just for him" and I'm fairly certain this is it. He put a lot into it, and broke down for me exactly what we're seeing:
"Lots of cameos in this piece for me, featuring Artist Scott Brundage as Pip, along with artists Boris Vallejo, Anthony Palumbo (my brother), Julia Griffin, and also my wife Dena and a family friend with her daughter as background characters. Really packed for a D-list character, but I got a bit carried away. The reference shoots for this were super fun, actually throwing money while folks tried to catch it and playing the mood song to set the tone."
Dave also noted the printed version has the gaming cards and chips edited out, but I think listening to the song gives us enough of that detail nonetheless. What a piece of pure fun.
Wrapping Up
And now we've ended Volume II! It's once again evident how much care Dave took when creating each character, from period appropriate Spiderman camera equipment to compositional allegory in Killmonger. None of these facets are accidental, and each adds continuing substance to the saga that is Marvel Masterpieces 2020.
If you'd like to see all 135 works in a single three page gallery, you can find that here, along with information on which pieces are available for purchase, those coming soon, and those that have already been sold.
Additionally, you can follow along as Dave posts these artworks on both his Instagram page as well as within his ongoing "Playlist" Instagram story.
Once again if this is something you enjoyed and found interesting, please make sure you like and share/retweet on both Twitter and Facebook. This is only the second part of what I'd like to be a twelve part (or more!) continuing mini-series that covers everything art-related from this brilliant offering. I'm still no Marvel expert, and there are still many, many stories left to tell.
You can keep up with all things Marvel Masterpieces 2020 by following me on Twitter. Feel free to ask questions or retweet to continue the conversation. Thanks and see you next time!
Donny Caltrider has been playing Magic since 2002 and collecting original Magic art since 2017. He has an M.A. in Museum Studies from Johns Hopkins University and enjoys telling stories about art, objects, and the intersection of fantasy with real-life. You can find him on Twitter talking about #mtgart, museums, and other #vorthos related goodness. Follow along and continue the conversation!