Good morning, and welcome back to this semi-annual featurette here on Hipsters of the Coast, the Sketch Card Showcase! Over the last two years I've found myself enraptured in the trading-card sized original works of art known as sketch cards, after diving headfirst into the world of Marvel sketch cards as a part of my Marvel Masterpieces 2020 collecting journey.
I've written about Marvel sketch cards, as well as about the Magic: The Gathering equivalent, simply known as Artist Proofs. I even covered my very first Perna Set, Hallowe'en 4, in November of last year. Needless to say after that wonderful experience I was fully hooked, and the time has come to take a closer look at the most recent release from Perna Studios, Elementals 2!
Perna Studios is run by artists Tony & Elaine Perna from their home base in Canada. Tony has been a freelance and sketch card artist since 2006, working on a variety of comics and sketch card sets over the last fifteen years. Together with his wife Elaine, they commission and create independent trading card sets, each of which includes an original sketch card commissioned from some of the top artists in the field. There is a fair bit of crowd crossover between Marvel sketch card collectors and Perna Studios collectors, and I was turned to their work by fellow collector Matt Parks. Announcements come from the Perna Facebook page:
"Perna Studios is very excited to announce our 17th trading card set entitled Elementals 2 (for release in June of 2022). This set will focus on characters who can control one of the four elements: Earth, Air, Fire or Water or are made of one of the elements. This set will also include sketch cards from some of the top artists in the industry."
Elementals 2 was available two ways, either as $39.99 packs with four base cards, one of five pearl finish chase cards and one original hand drawn art card with metal chase cards, metal sketch cards and lenticular chase cards sprinkled throughout; or as full sets for $42.99, which contain all twenty base cards, one of five pearl finish cards, and again that one original hand drawn sketch card. As with last time, both formats sell out all but immediately, and you have to order as soon as the clock strikes 1pm EST.
This time I opted for the maximum set of packs, which would yield at least ten original sketches. I recently moved my sketch collection into a 2×2 binder so my intention was to keep, trade for, or buy eight sketches from this set, and ideally two of each element. Above is where I started, and below is what has become my "final" set thus far, and where you can find the folks that made them possible: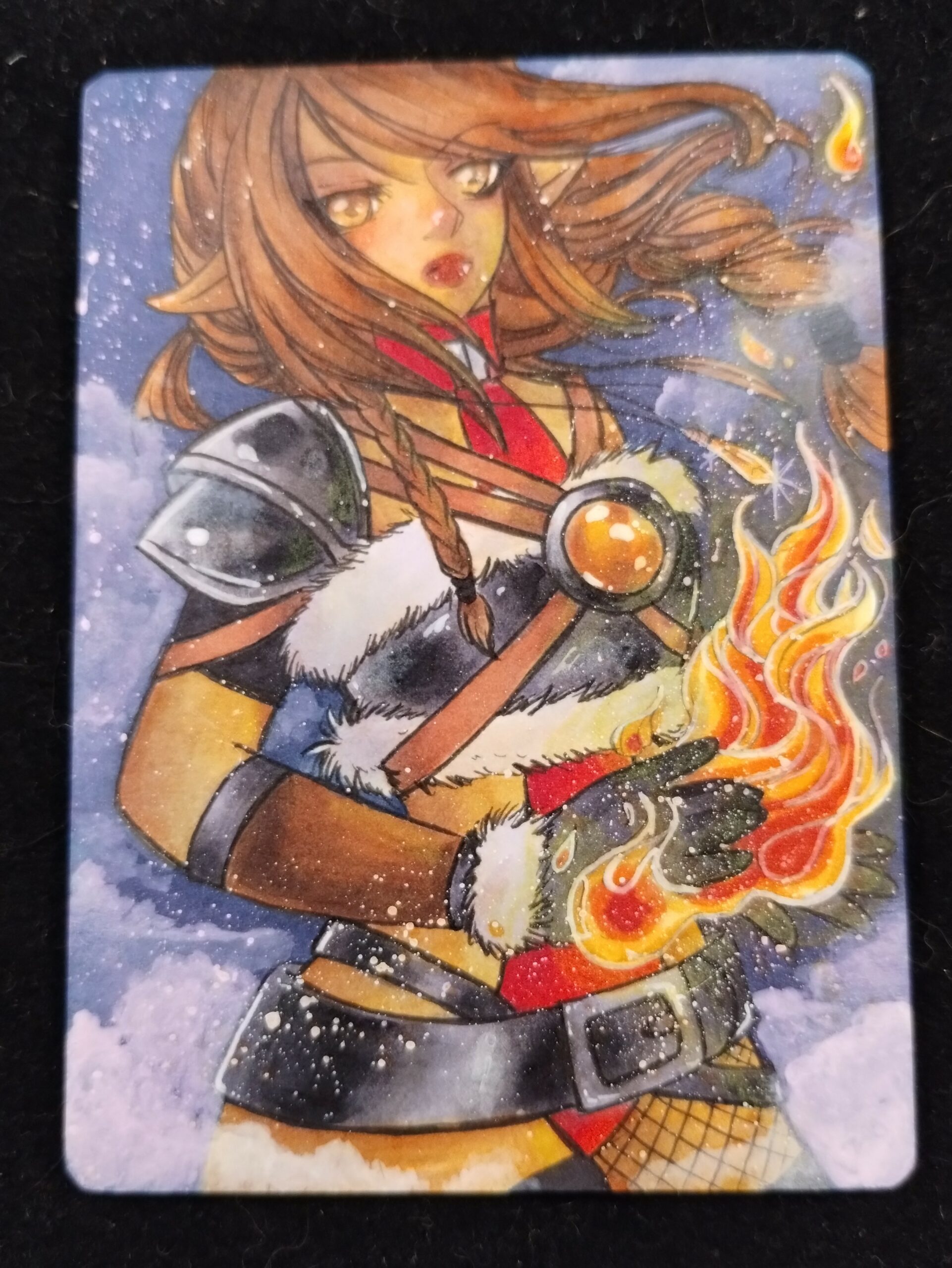 This is my very first sketch by the amazing Jaime Joslyn across any set, genre, or property, and is one of the rare metal sketch inserts, done on a thin piece of paper coated aluminum! Joslyn is known for her large-eyed ladies and I was so excited that this "bonus" sketch can be the centerpiece of my Elementals collection. You can follow her artwork on Instagram.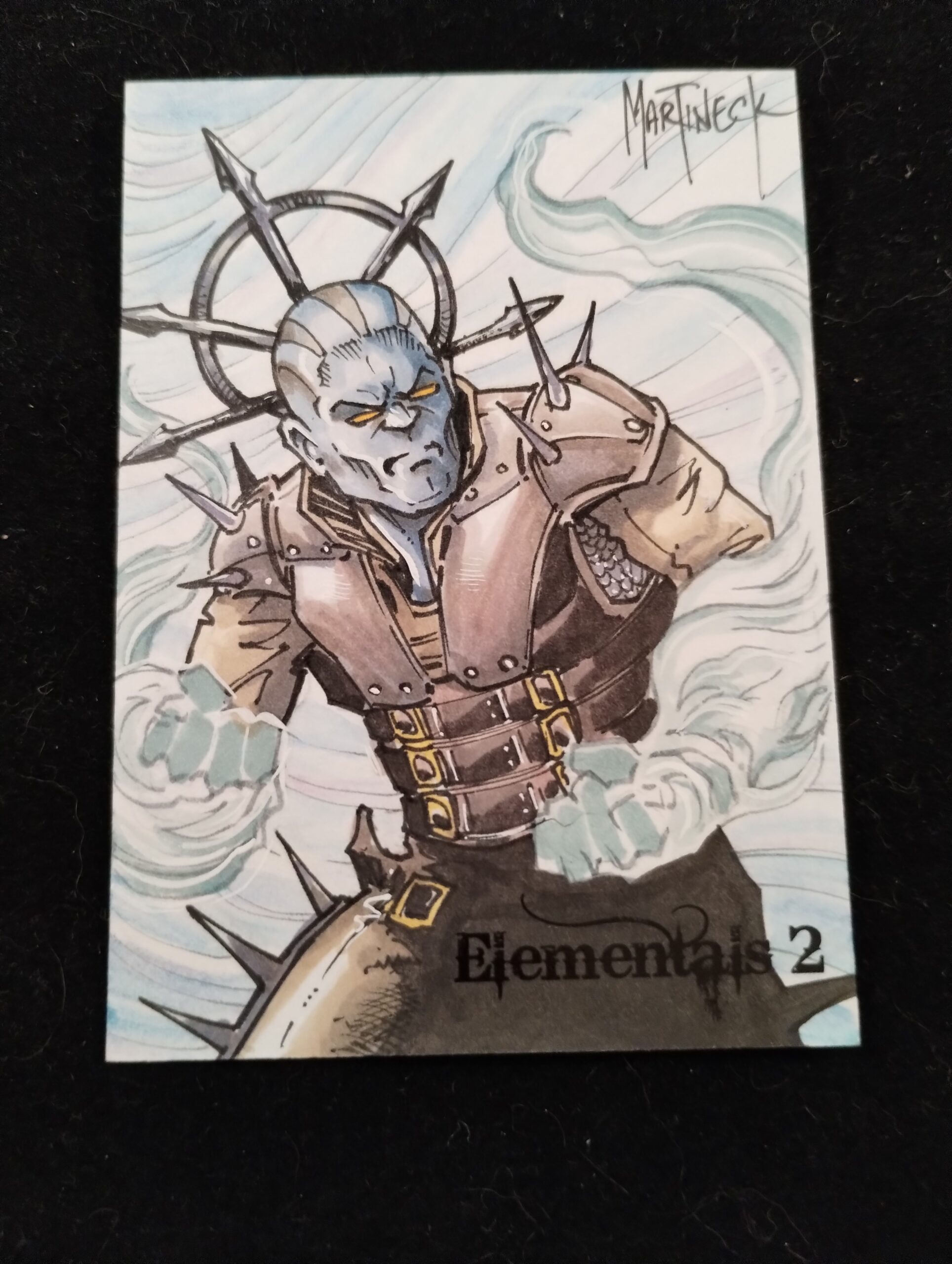 Martineck has worked in comics since the early 90s, and what a joy when he can squeeze sketch cards into his certainly busy schedule. This is also my first sketch by him across my entire collection, and a very cool (get it) master of the Wind. You can find him scribblin' on Facebook!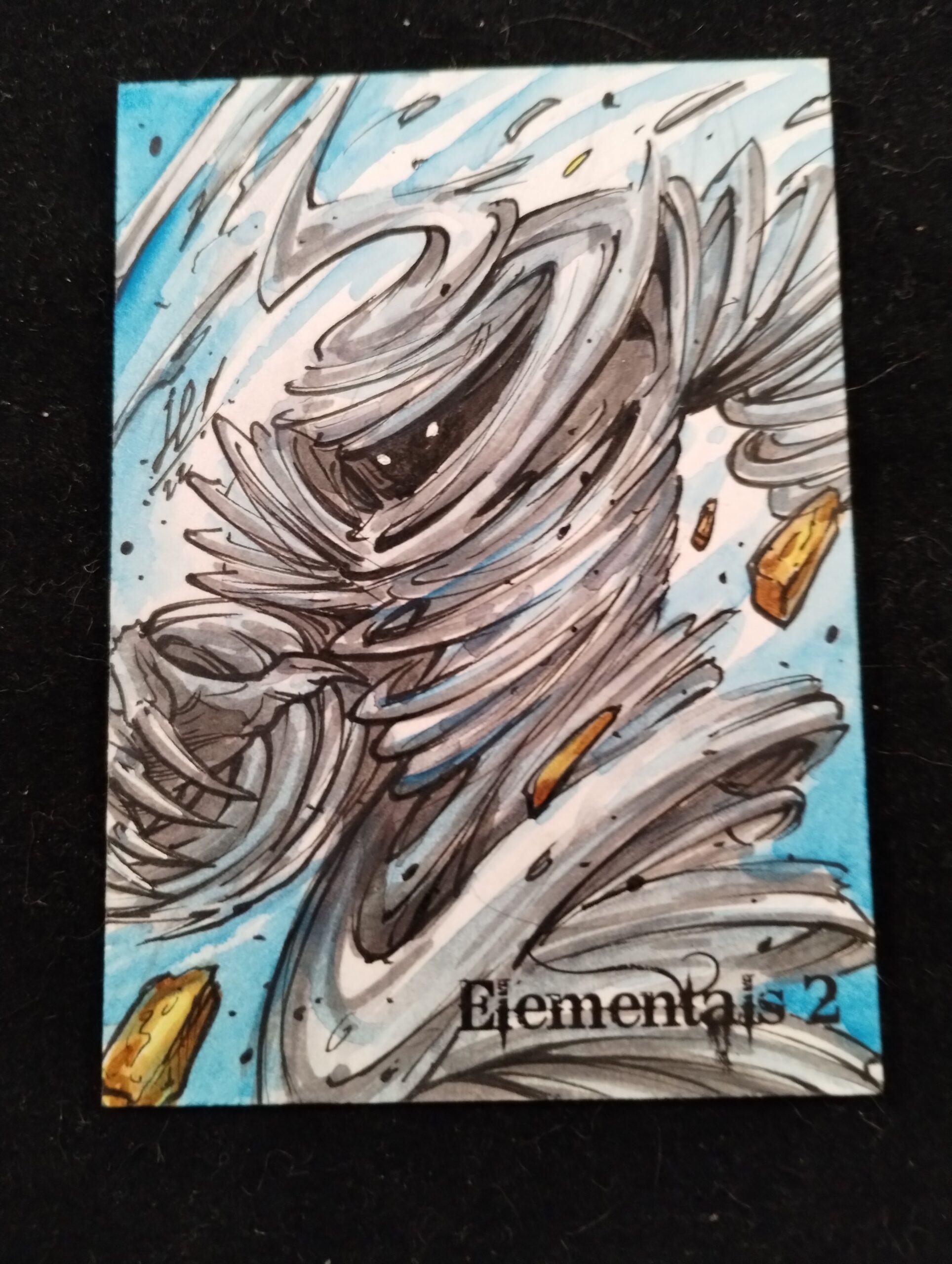 Jose Carlos Sanchez is unsurpassed in richness of color regardless of the sketch property he's working with. When Elaine was previewing these sketches, I was really hoping for one of these tornado-esque air elementals, and lo and behold was lucky enough to open one. You can follow Sanchez online on Facebook, and perhaps get one of your own!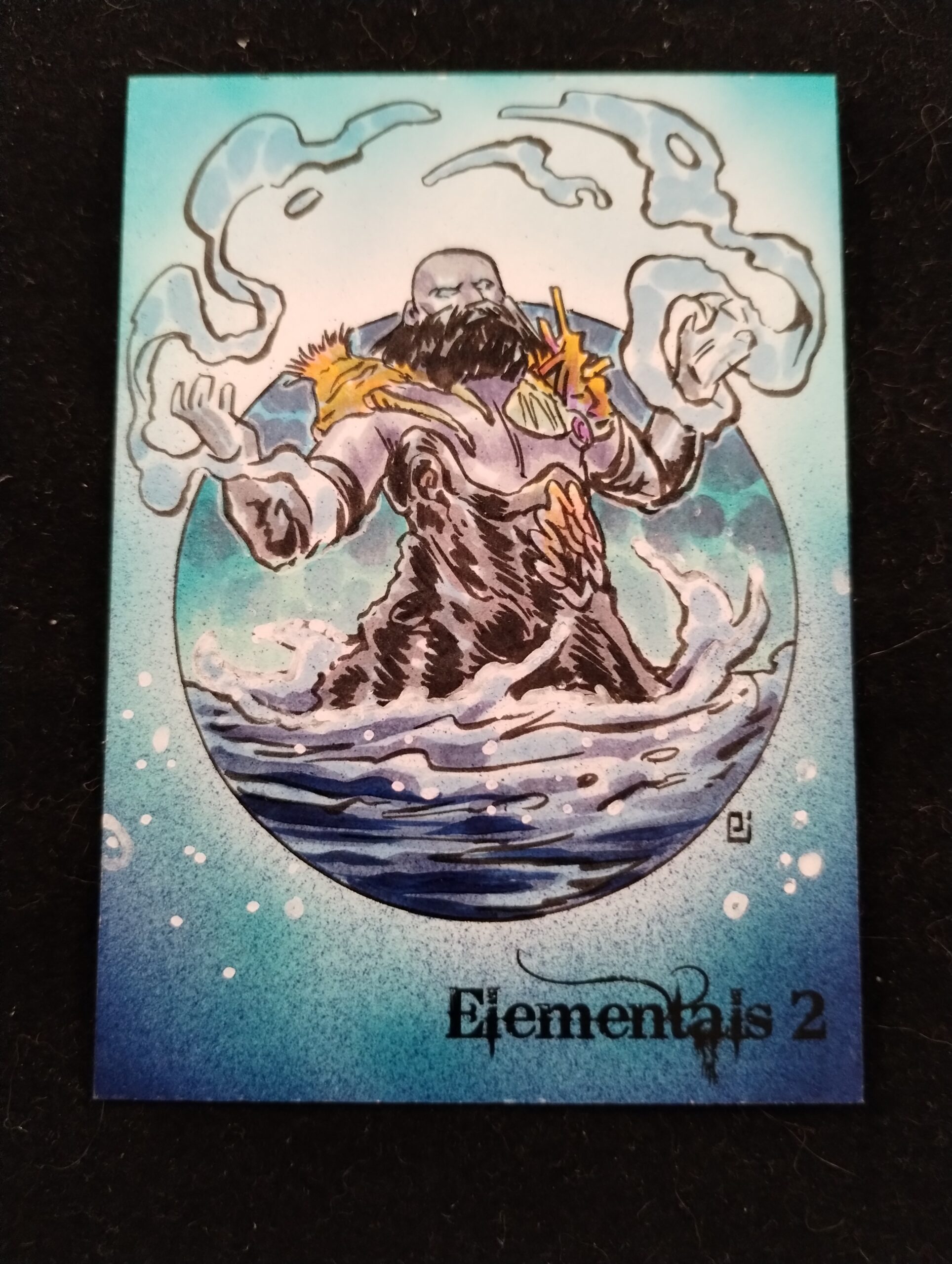 Peejay's geometric touches make his sketch series for Elementals entirely unique, and almost instantly recognizable amongst the other work in the set. Well known in the Marvel sketch card universe, especially for doing unusual and seldom seen characters, he's a regular on Perna sets, and always a treat to find waiting in your pack or set. You can follow him on Facebook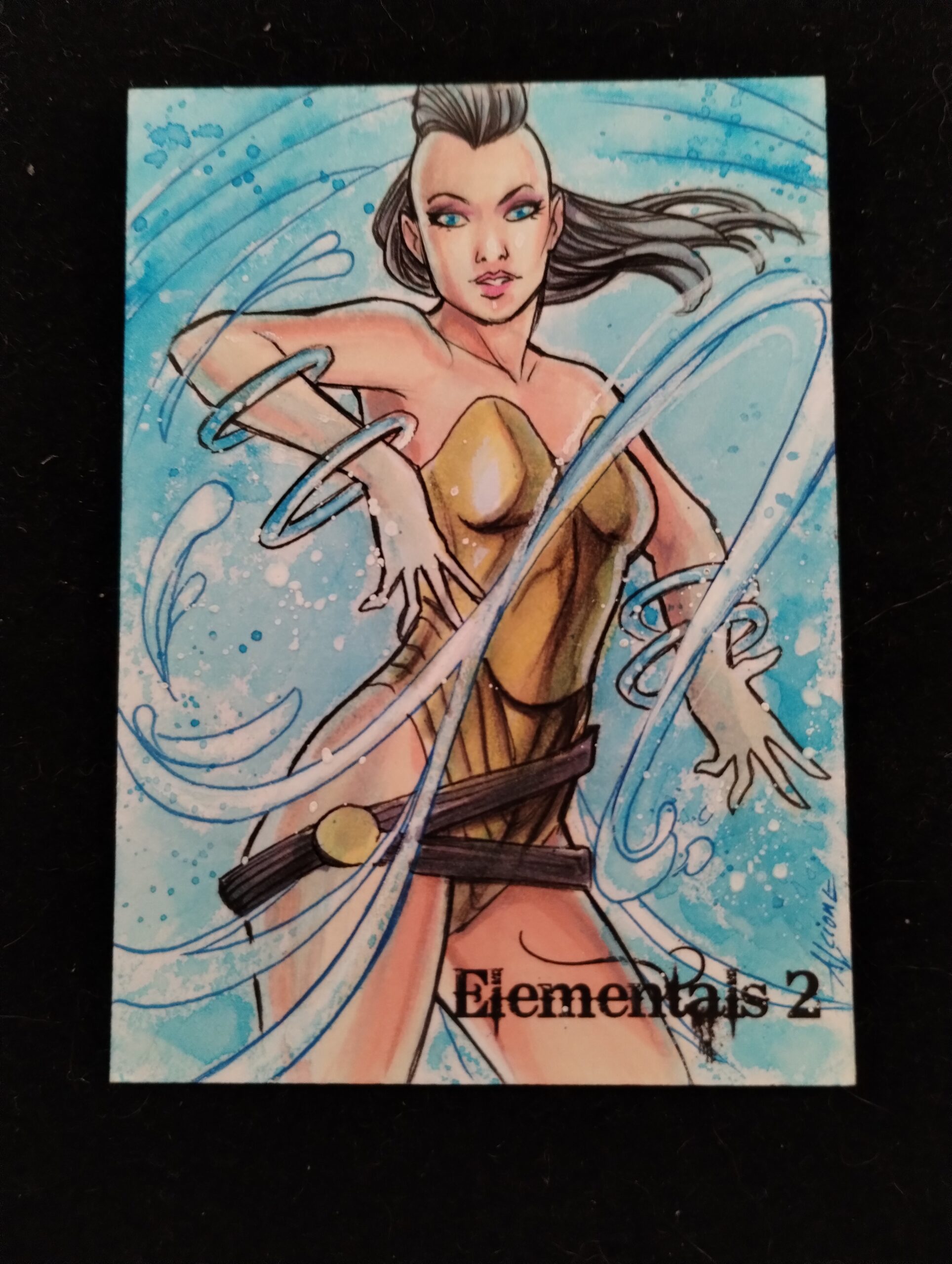 I first found Alicione Silva's work as a part of the X-Men Metal Universe set from 2021, where his full figure renditions of famous X-Women were quite a hit across the set. He's done something similar here, as this elemental woman fills the card with all the confidence and courage she could muster. You can see all of his sketch card work on his website, and you will not be disappointed!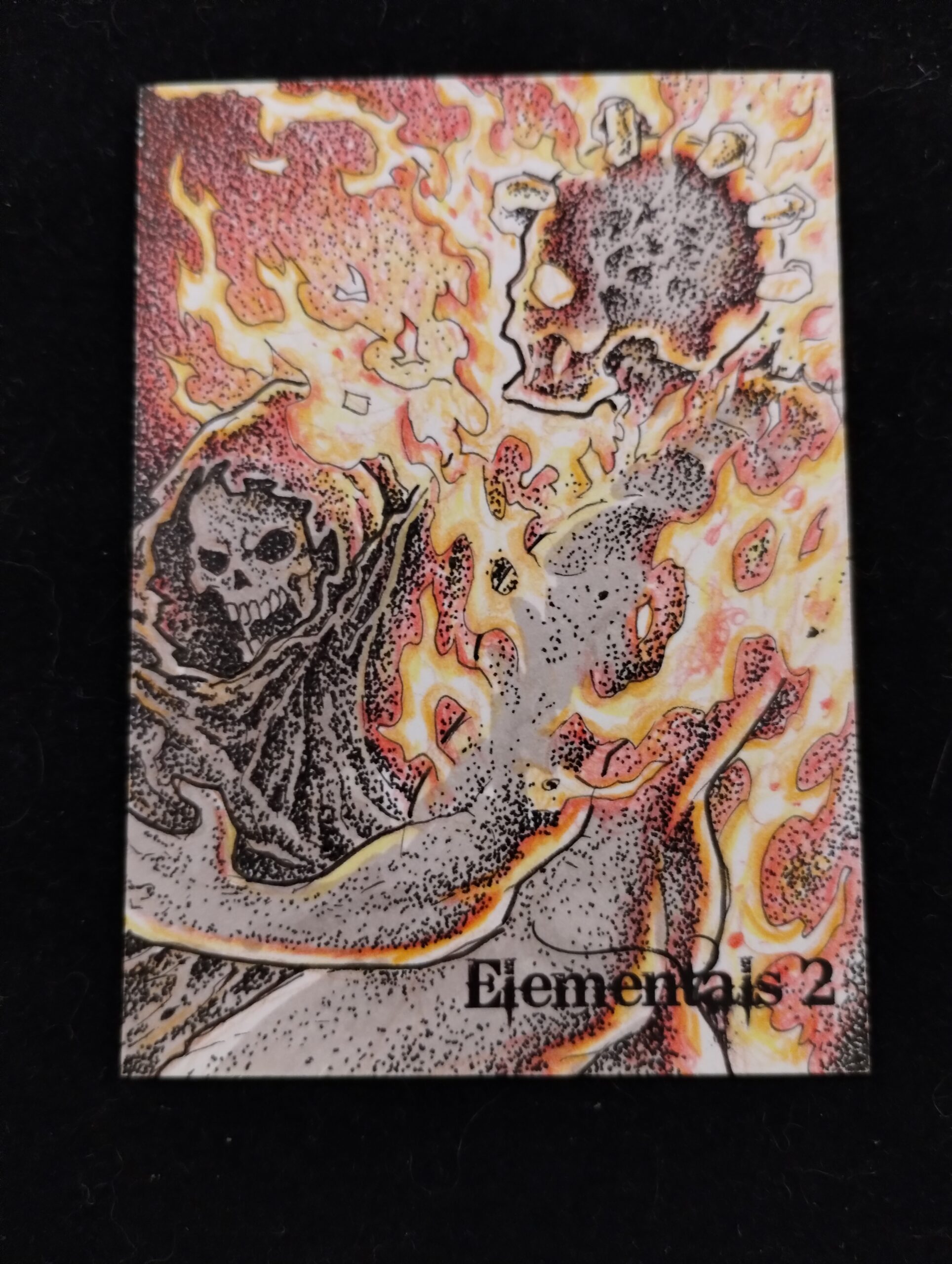 Norvien Basio was a new name for me when I opened this sketch, but you can bet I'll be following his work moving forward. He's able to pack an incredible amount of detail into these cards regardless of subject, and every time I look at this sketch card I see something new. You can keep up with his work on Instagram.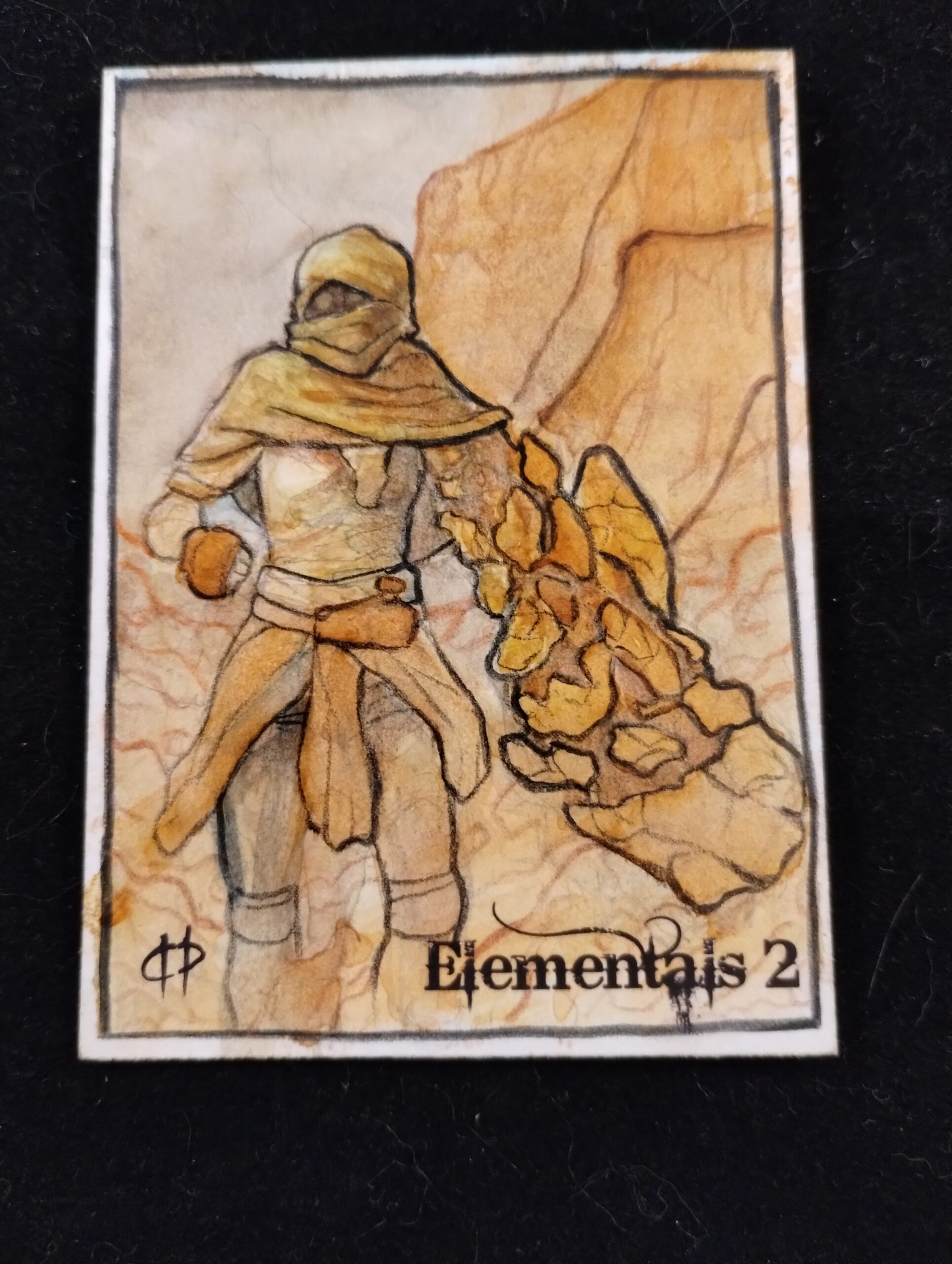 These Earth elementals by art apprentice Ralph Evan immediately caught my eye during the set release, evoking the high fantasy, science fiction blend of DUNE with the Elemental homage required for this set. Evan is currently working under Nestor Celario, Jr., and I can't wait to see him back on a future set..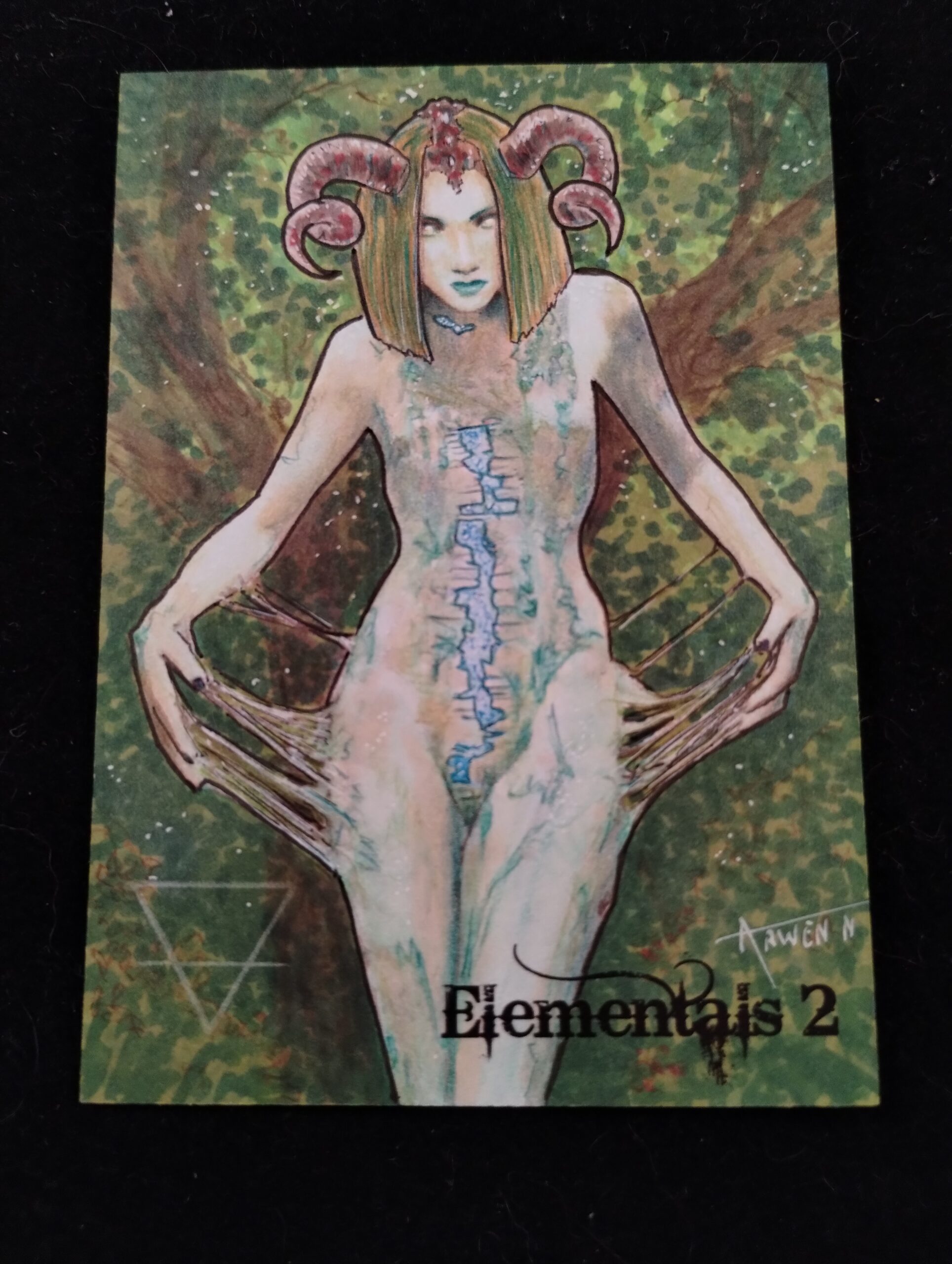 This came by way of trade, the only one of the group, and I'm thrilled I was able to add another work by Arwenn Necker to my collection. I have two by their hand in my Hallowe'en 4 set, and this Earth Elemental is wonderfully representative of their style and subject. They are one of my absolute favorite artists who work on these sets. Big ups to my buddy Ian across the pond for the trade and allowing me to add another piece to my collection. You can follow Necker on Instagram.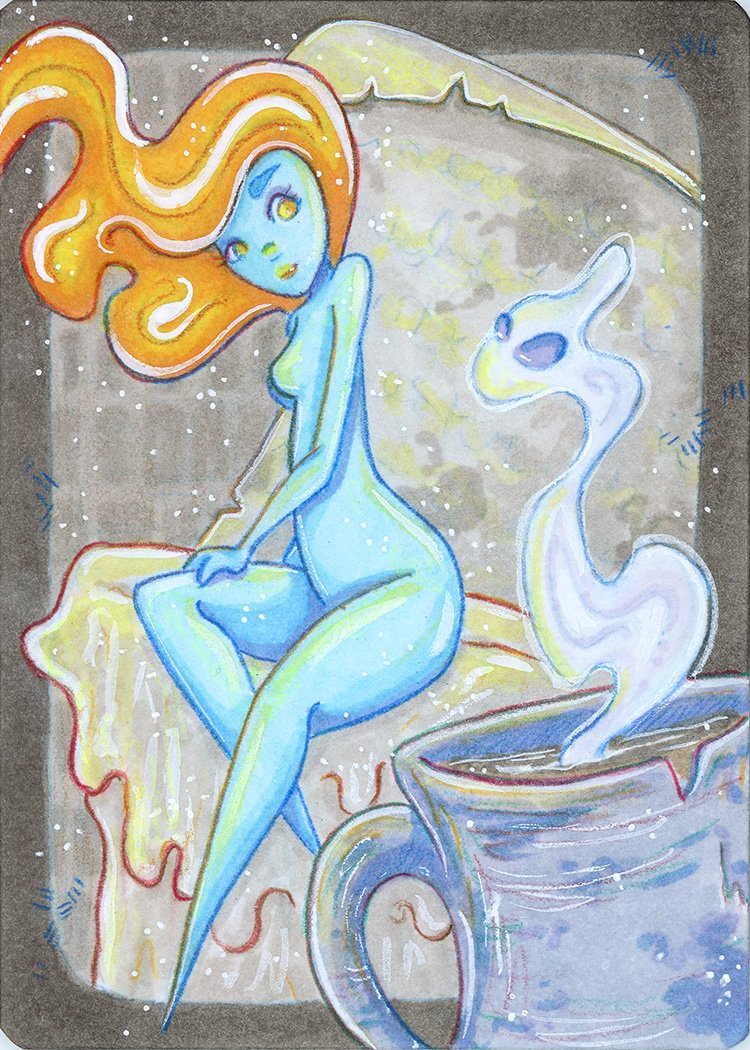 I do have one more card incoming, an Artist Proof (AP) from Tabitha Jensen aka Pabkins, done in the style of her Fire Elementals as seen above. I absolutely love her style, especially on this set, and will have to figure out how to squeeze this new addition into my group when it finally arrives. She's always got a ton of art-related goodness going on, from Kickstarters to sketch card auctions, and you can follow her on Facebook to keep up with all of it.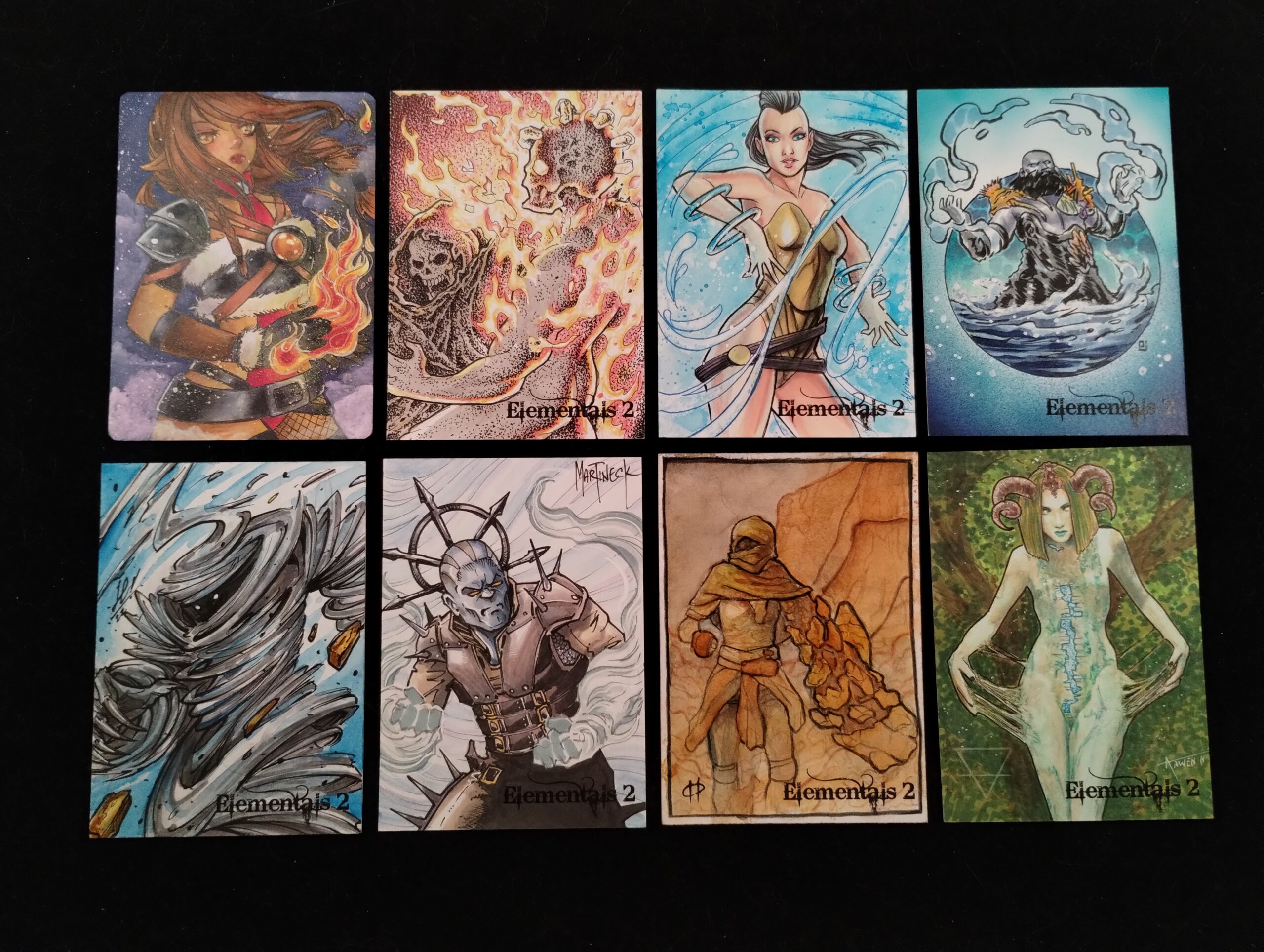 So for now, this is what my eight-card collection looks like. Perhaps in the future I'll do an update article with the current status of each one this far. Maybe next year?!
Wrapping Up
You can follow Perna Studios on Facebook for updates on upcoming sets, and on Deviant Art to see all the sketch cards and original artwork done for past releases. Their most recent set, Hallow-Ink 2 was just up for preorder this past weekend, and as expected, sold out all but right away. We should see another some time next year, and I'll be back with another article once my four Hallow-Ink sketches arrive!
Tony and Elaine are consistently doing fantastic work getting wonderful art into the hands of fans and collectors. I've said it before but I'll be a customer forever, and I sincerely hope you'll check them out too. Until next time folks, take care and talk soon.
Donny Caltrider has been playing Magic since 2002 and collecting original Magic art since 2017. He has an M.A. in Museum Studies from Johns Hopkins University and enjoys telling stories about art, objects, and the intersection of fantasy with real-life. You can find him on Twitter talking about #mtgart, museums, and other #vorthos related goodness. Follow along and continue the conversation!