There is a wide ocean of fantasy artwork outside of Magic: the Gathering, and these same artists working for Magic are creating phenomenal pieces for games, collectibles, and galleries around the world. This particular project will highlight some newly released masterworks illustrated by Magic: the Gathering artists. Our first series features an impressive new collection from a long-time Magic artist. I look at a lot of art every single week, and I was so dumbfounded at just how impressive this collection of work is, I just knew I had to write about them.
Without further ado, Masterpiece Theater presents Marvel Masterpieces 2020, illustrated entirely by Dave Palumbo.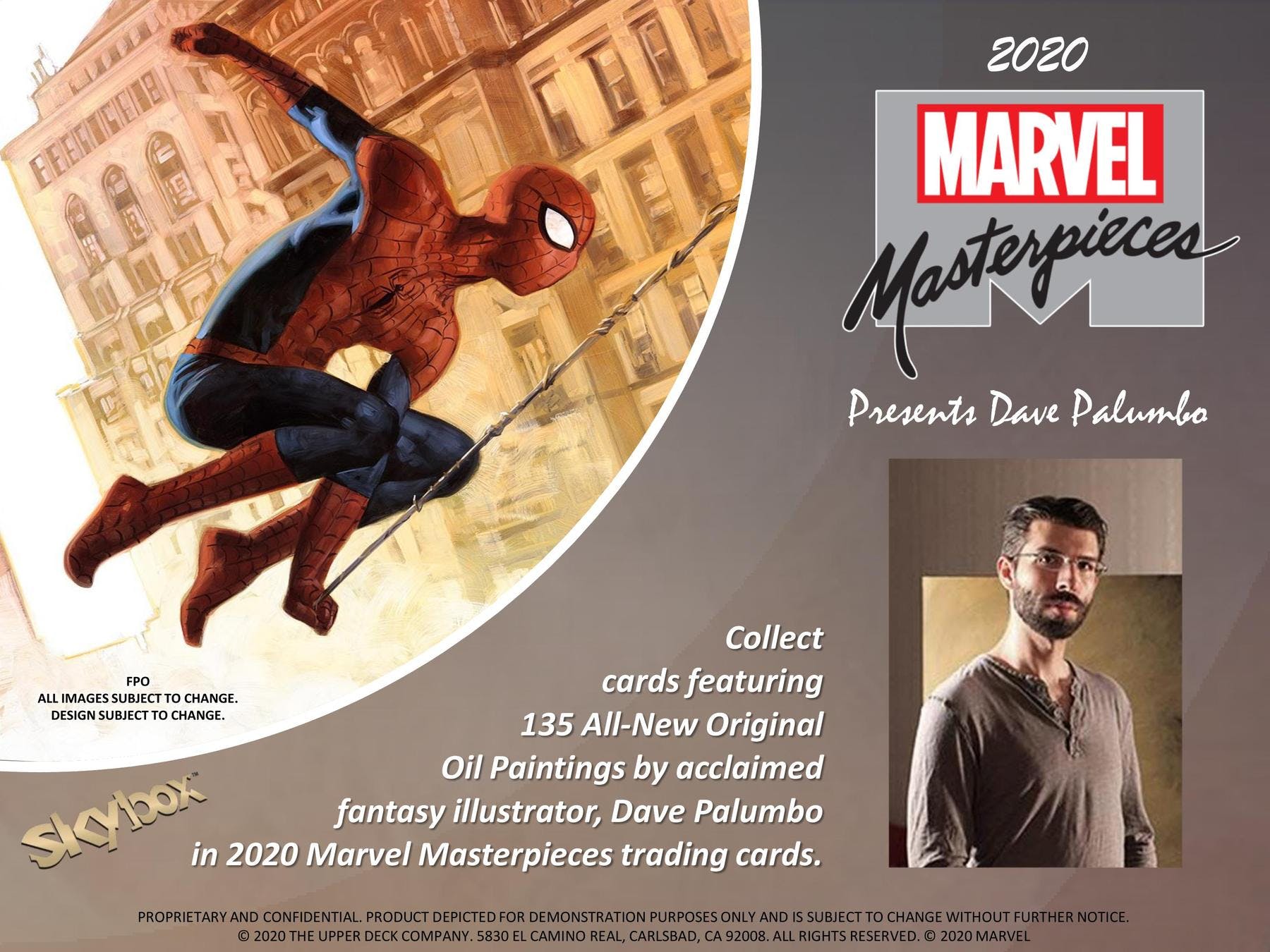 Palumbo is a freelance artist and illustrator who has worked for dozens of clients across the fantasy, science fiction, and imaginative realism genres, as well as showing in fine art galleries around the world. He's won several Spectrum medals as well as a Chesley award, and also comes from an art family. His mother is Julie Bell and his step-father Boris Vallejo and his brother Anthony Palumbo; all active artists working in similar spaces.
He has illustrated more than 100 cards for Magic since he began his career with the game in 2008. After his first few years getting his feet wet, he's almost always had near a dozen new cards come out each year. That is, until this year: only a single card so far.
Why? Because Palumbo has spent the better part of the last two years illustrating the Marvel Masterpieces 2020 set, creating 135 traditional paintings that make up both the base set and chase inserts of this brand new release from Upper Deck Entertainment and Skybox.
That's right. He did the whole set. All of it. Start to finish.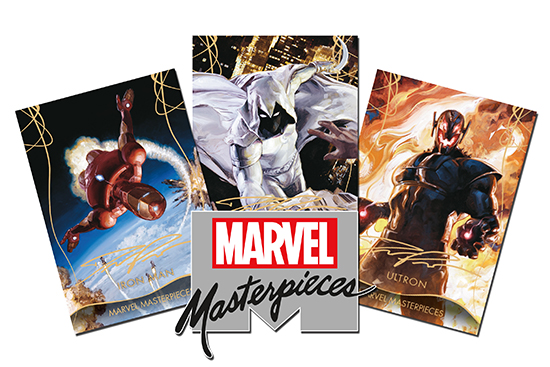 Marvel Masterpieces is a biennial premium trading card set by Upper Deck Entertainment and Skybox that features a single artist's take on some of the most popular superheroes and villains in the Marvel Universe. Included within the set are Base cards, What Ifs (as in what if this artwork was a comic cover), Gold Signature, Epic Purple, Legendary Orange, and Red Spectrum Parallels, Battle Spectra (featuring classic fight scenes), Canvas Gallery (with a matte finish to appear as a miniature painting), Metallurgy (real metal!) three levels of Holofoils, and Preliminary art cards (I will refer to these quite often later).
There are also inserts featuring cards with Palumbo's actual signature, four colors of printing plates from the actual process, and redemptions for uncut sheets and original artwork. Original artist sketch cards are also included in packs, approximately one per hobby box. Many of these subseries are numbered, and a full breakdown and checklist can be found here.
We got a teaser of Palumbo's work back in July when he made the announcement and the whole set was released on September 10. This column will act as a highlight reel for Palumbo's Marvel Masterpieces, bringing you exclusive information from the mind of the artist, process images from this set's creation, information from the back of the cards themselves, and as always, a TON of stellar artwork. This will be my largest writing project to date, and for each article Dave and I will look at 15 or so illustrations until we've gone through all 135 pieces of art.
Each following entry will include the full artwork, as well as the song Dave used while he was painting; he wanted each painting to reflect a particular song he had in mind while concepting the character, and the work wasn't complete until he felt it fully reflected the music he chose. I listened to the associated song as I wrote each section to place myself in the same mindset, and I highly encourage you to do the same: hit play and then look back at the artwork and read the caption for full effect.
Today we'll start with those early teaser images from July. Let's begin!
Ultron
Song: MIDI Surf by Mad Capsule Markets
Form Dave:
"I was thinking a lot of the Terminator for this, from the first movie when the semi-truck explodes and the endoskeleton comes walking out of the flames. The image of the indestructible, relentless killing machine standing in a scene of total destruction."
We'll start with one of the baddest supervillains in the Marvel Universe. In his long history of comic appearances and recent film showcases, Ultron leaves destruction in his wake, not unlike the Terminator that inspired it. Dave's scintillating rendering of fire is something we'll see quite often throughout this series, and it's on full display here alongside a fabulous rendering of reflective metal, and the tiniest peek of blue that gives the painting a wonderful depth.
Black Panther
Song: Mombasa by Hans Zimmer and Lorne Balfe
Listening to this song as you're looking at the artwork lets you envision the Black Panther moving through the outskirts of Wakanda at unbelievable speed. He is trimmed in yellow highlights, evoking the idea of sunrise through the trees. Note the knives he carries in each hand. He is threatening and ready for battle, but his arms are also laid across his chest, symbolizing his role as the great protector of Wakanda. Forever.
This was the autographed card I opened in my product, numbered only to 10 and from the "What If" series of comic covers variant inserts.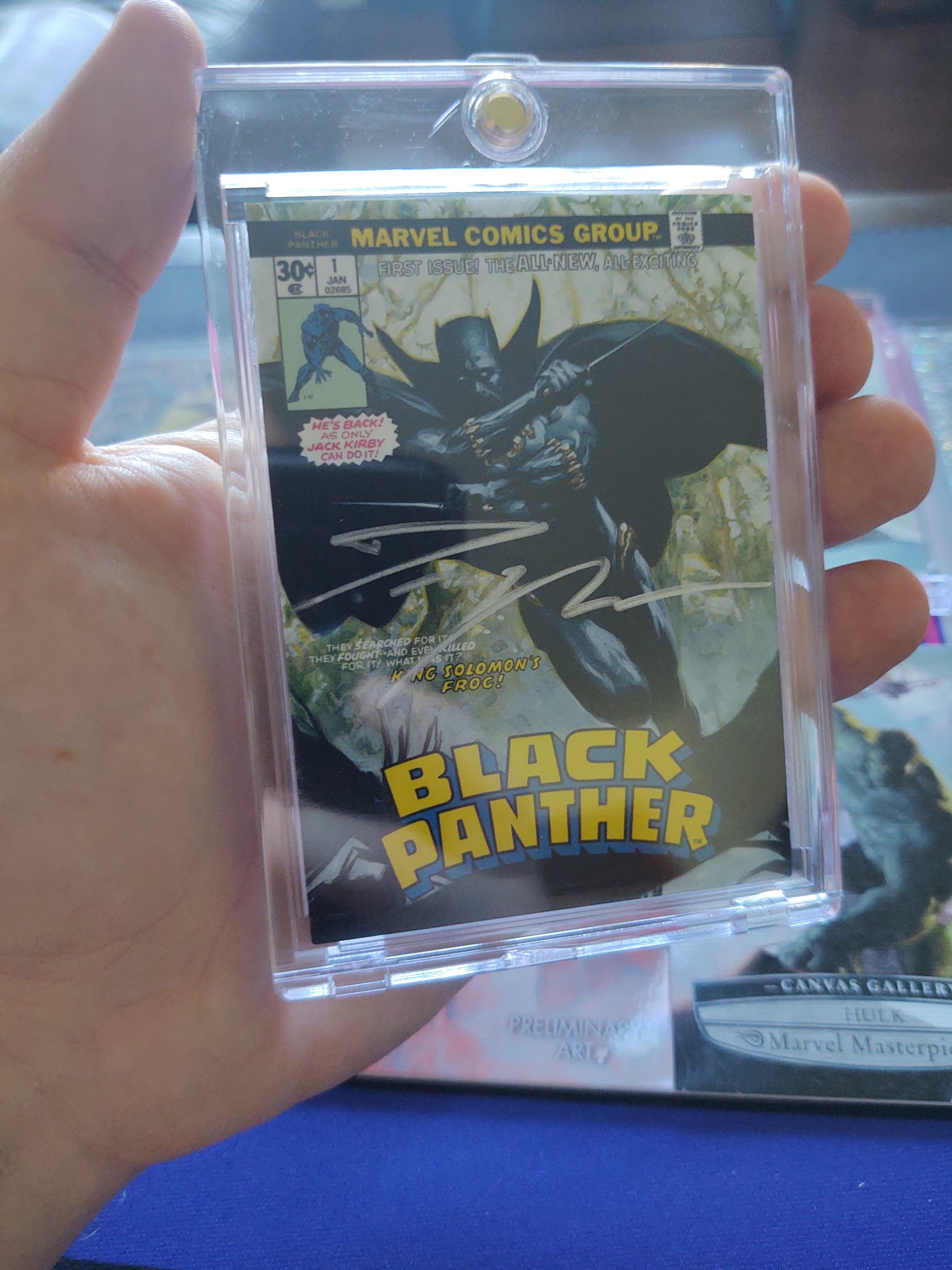 Star Lord
Song: Feel It Still by Portugal. The Man
This is our first look at Palumbo's painting of space, another recurring setting we'll see in quite a few of these works, and one of the artistic highlights of the entire set. Again we see a perfect rendering of reflection as the energy from the sword beams off his mask and shoulder plate, and the strong diagonal composition carries our eye through the work from corner to corner, making sure we don't miss a thing.
The song also feels like it would be on Peter Quill's updated Awesome Mix Vol 3, doesn't it?
Spider Man
Song: Mr. Brightside by The Killers
This is another painting where the song really sets the image in motion. Once you hit play, sunrise Spider Man immediately begins to swing through the buildings on a new day in New York City. We don't often get these wonderfully warm tones, but it's just so fitting for this work and the song that inspires it. Think about the lyrics for a moment:
Coming out of my cage
And I've been doing just fine
Gotta gotta be down
Because I want it all
It started out with a kiss
How did it end up like this?
It was only a kiss, it was only a kiss
If that's not the ballad of Peter Parker, I sure don't know what is.
Juggernaut
Song: Rumors of War by High on Fire
From Dave:
"I initially thought of Juggernaut standing solidly in the middle of a train derailment, but that felt more like The Blob, whereas Juggernaut is a driving force. Back when I collected comics, I had his first appearance (X-Men #12) and the whole story was Professor X telling Juggernaut's origin story as the X-Men hear him smashing his way closer and closer. So having him smashing his way towards us felt right. But still through a train, because trains are really powerful, but still not like this guy!"
Palumbo's powerful perspective, where an immense train is literally upended and tilting the entire painting, really lets us see who we're dealing with. This is perfect portrayal of the tour de force that is Juggernaut.
Black Cat
Song: All Mine by Portishead
From Dave:
"I wanted Black Cat to be in the middle of a heist, and stealing jewels while evading the laser alarms really delivers that message for me."
This is another stand-out composition, which accomplishes exactly what Dave initially envisioned. The laser beams help guide the viewer down through the artwork, ceiling to floor, until it's eyes on the prize with that shimmering blue necklace. It's a creative take on the character at her core, shown in the "natural environment" of the feline fiend, and with matching heist music just for the occasion. It turns out having a character upside-down is a bit of an irregularity amongst the artwork in previous Masterpiece sets; most Black Cat cards were packaged upside down! Er, right-side up. You get it.
Hela
Song: Hail and Kill by Manowar
Much of the world met Hela in the MCU (Marvel Cinematic Universe) smash-hit Thor: Ragnarok, and she's just as intimidating here as on the silver screen. On the back of her preliminary art card, Palumbo explains the key to her poise and power is in the symmetry of her headdress, and the strong central composition that gives her that godly, larger than life feeling. Beautiful, balanced, and baleful: what a combination.
Taskmaster
Song: How You Like Me Now by The Heavy
It's no easy task to capture one character per card, but Palumbo actually has four different figures worked into this composition to show the power and prowess of the Taskmaster. This isn't a Battle Spectra card (where two figures are fighting on purpose); ]Taskmaster is focal, large and in charge. The combination of his menacing smile and the anguish felt by the surrounding heroes (look at Cap in the corner) drive home his advantage. How You Like Me Now as the song choice is the cherry on top, a perfect complement to this tide-turning action scene. This is also the first Canvas Gallery card we've looked at, and the trading card itself is printed with a matte finish to make it feel like a tiny painting!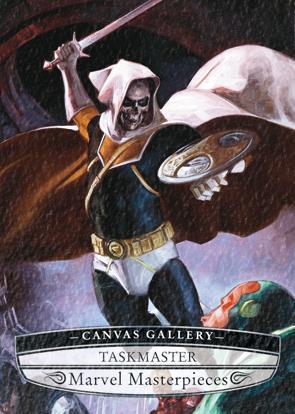 Iron Man
Song: Panama by Van Halen
From Dave:
"I wanted this to feel like a modern day dogfight, dodging heat-seeking missiles waaaay way up"
Situated high above the ground, this is classic superhero exactly as we expect to see him: both a snapshot take from a multi-million dollar movie and a fifteen-cent 1970s comic cover. Couple with another perfect song combination (especially at the beginning), what we hear is what we see and vice versa, from the plane flyby to the shredding guitar emulating the explosions behind the one and only Iron Man. Look closely for a moment at the details in the trailing smoke; this is a really fantastic painting.
Daredevil
Song: Leave by R.E.M.
From Dave's Instagram post:
"Minimalist in color and content, focusing on the essential and doing away with the rest. It emotionally connects us with Daredevil as he concentrates from his perch, sorting through all the sounds as he looks for that one unique heartbeat or that specific cry for help."
This painting is so stunning different, and an immediate stand-out capturing of the character. It was also mentioned on the Marvel Collector Card Podcast as well as on the preliminary art card of Daredevil's mimicry of a gargoyle at the edge of a building, his red suit bleeding into the reddened point of the roof as the sonar rings out. It's one of my favorite works in the set, and a depiction of Daredevil that will follow the character for a long time. One of the very best, of this there's no doubt.
Cable

Holofoil
Song: Lockdown by Paul Leonard Morgan
This is a work we can juxtapose against the first we looked at in this article, that of Ultron. Here we have a "good guy" emerging from the inferno-engulfed background. Instead of a smile we're met with stern resolve and a piercing gaze that engages the viewer directly, as if to ask the question: "Are you next?" Cable feels so very real, and is a great example of exactly how perfectly imaginative realism can function within a trading card set.
Quicksilver
Song: Megaman 2 by the Minibosses
A simple background that says one thing: "I gotta go fast." Palumbo strips away the excess, because let's face it, we couldn't see it anyway. In doing so, he creates a unique composition that is exclusively for this character. This is another work where this character will be very much remembered by Palumbo's portrayal.
Moon Knight
Song: One Slip by Pink Floyd
From Dave:
"I wanted to do one card with a POV from someone getting their ass beat and it felt like a good fit for Moon Knight"
Guess who is getting their ass beat? It's you! This is the only work where you are truly a part of the painting, as this milky mantled man of the night lifts you above the city buildings for your crimes against society. I absolutely love that Dave was able to fit one of these perspective point-of-view works into the group, and I kick myself a bit for not buying the original painting. This is one of my favorites of the entire set, and a really fabulous illustration overall.
Wolverine
Song: La Chupacabra by Kings of Nuthin
You'll notice something a bit different here, and it's something Dave and the Marvel Collector Card Podcast also talked about on their episode. We have Wolverine, kicking butt and taking names, but he's not really overly buff or comically muscled. He's very much an everyday man, just using his mutation for the good of the city. This is a classic fight scene for the fan-favorite, and what a fun song to have playing in the background.
This original painting will be available as an in-pack redemption, most likely for the ePack of Marvel Masterpieces 2020 in later this year or in early 2021.
She-Hulk
Song: Let 'Em Say by Lizzo and Caroline Smith
I didn't know much about this character, but in diving deeper discovered that the statue and those columns are a nod to her profession as a lawyer, and that She-Hulk is one of the only superfolk to retain her regular job while fighting crime. You can read more about Palumbo's choices on the back of the preliminary art card, but I love this level of character storytelling, especially within this pint-sized trading card package.
As a fun aside, that green haired maven we see is none other than Lauren Panepinto, the creative director of Orbit Books (among many other art-related things). According to Dave she was the first and only casting pick for She-Hulk. I'd say she was an absolutely perfect fit!
Wrapping Up
And so ends Volume 1! Even from this small cross-section, you can see the incredible amount of work that went into each card and character. You'll hear me say this several times over the course of these articles, but never before have I seen a body of work that is both classic and contemporary, and with near perfect execution across it's entirety.
If you'd like to see all 135 works in a single three page gallery, you can find that on Dave's website, along with information on which pieces are available for purchase, those coming soon, and those that have already been sold.
Additionally, you can follow along as Dave posts these artworks on both his Instagram page as well as within his ongoing "Playlist" Instagram story.
If this is something you really enjoyed, please make sure you like, share and retweet on all the social media platforms. As I mentioned at the beginning, this is just the first part of what is to be a large multi-part series covering this entire set, so I'd love to hear what you all think so far. I'm no Marvel expert, so getting to explore a half a century of superheroes through the lens of Palumbo's artwork has been an absolute joyride, and we're only a fraction of the way through!
You can keep up with all things Marvel Masterpieces 2020 by following me on Twitter. Feel free to ask questions or retweet to continue the conversation. Thanks and see you next time!
Donny Caltrider has been playing Magic since 2002 and collecting original Magic art since 2017. He has an M.A. in Museum Studies from Johns Hopkins University and enjoys telling stories about art, objects, and the intersection of fantasy with real-life. You can find him on Twitter talking about #mtgart, museums, and other #vorthos related goodness. Follow along and continue the conversation!