Good morning everyone, and welcome back to Masterpiece Theater for my very first Sketch Card Showcase! In each box of Marvel Masterpieces 2020 (on average), there is a sketch card, or an original work of art by an artist on the same size and stock as the regular set. They are inserted at random, and could be from one of more 150 artists and of any character found within the Marvel Universe (and that doesn't appear on a "banned character" list). Sketch card artists and styles vary greatly, and some folks even collect only the Marvel card sketches from a given release, whether it is a certain artist or character, or just really high quality sketches.
Volume I | Volume II | Volume III | Volume IV | Volume V | Volume VI | Volume VII | Volume VIII | Volume IX | Volume X
For my Magic: the Gathering readers, these are most similar to artist proofs that artists receive after illustrating a card. While Magic APs don't ever appear in packs, the idea that each artist brings their own interpretation to a subject on a miniature blank canvas is the same. Additional blank "artist proof" cards are also provided to Marvel sketch card artists, and they can illustrate and sell these after set release as well. I'll talk more on that later.
This article will be similar in style to my Grand Art Tour articles I write over in my Mirror Gallery MTG column some entries will be character specific, other artist specific, and some a bit of both. The constant will be that each will tell a tale in the larger story of my collecting journey, and I'm very excited to tell you all about how I acquired them, and the artist behind the artwork. Let's get right into it: this is my Marvel Masterpieces 2020 Sketch Card Showcase!
Mysterio by Brandon Warren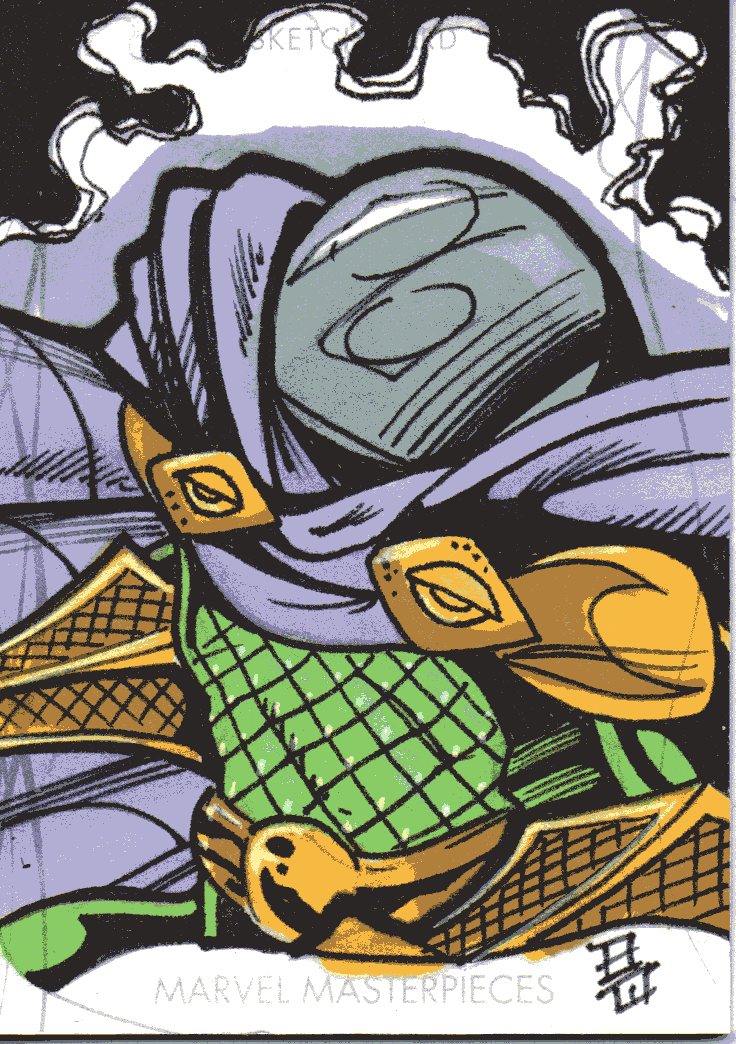 This was the sketch card that started it all. For regular followers of this Masterpiece Theater column, you know that Mysterio has become my personally collected character, and my favorite of all Palumbo's depictions. It was by serendipitous chance that my first sketch from the first box I opened was this awesome Mysterio by Brandon Warren. His work is all about bright colors and bold lines, there was no better way to start my Marvel Masterpieces journey. This sketch will always have a special place in my collection, and you can follow Brandon's work on Facebook as he begins his journey as a tattoo artist as well!
Spider-Woman (Black Suit) & Captain Universe Spider-Man by Ash Gonzales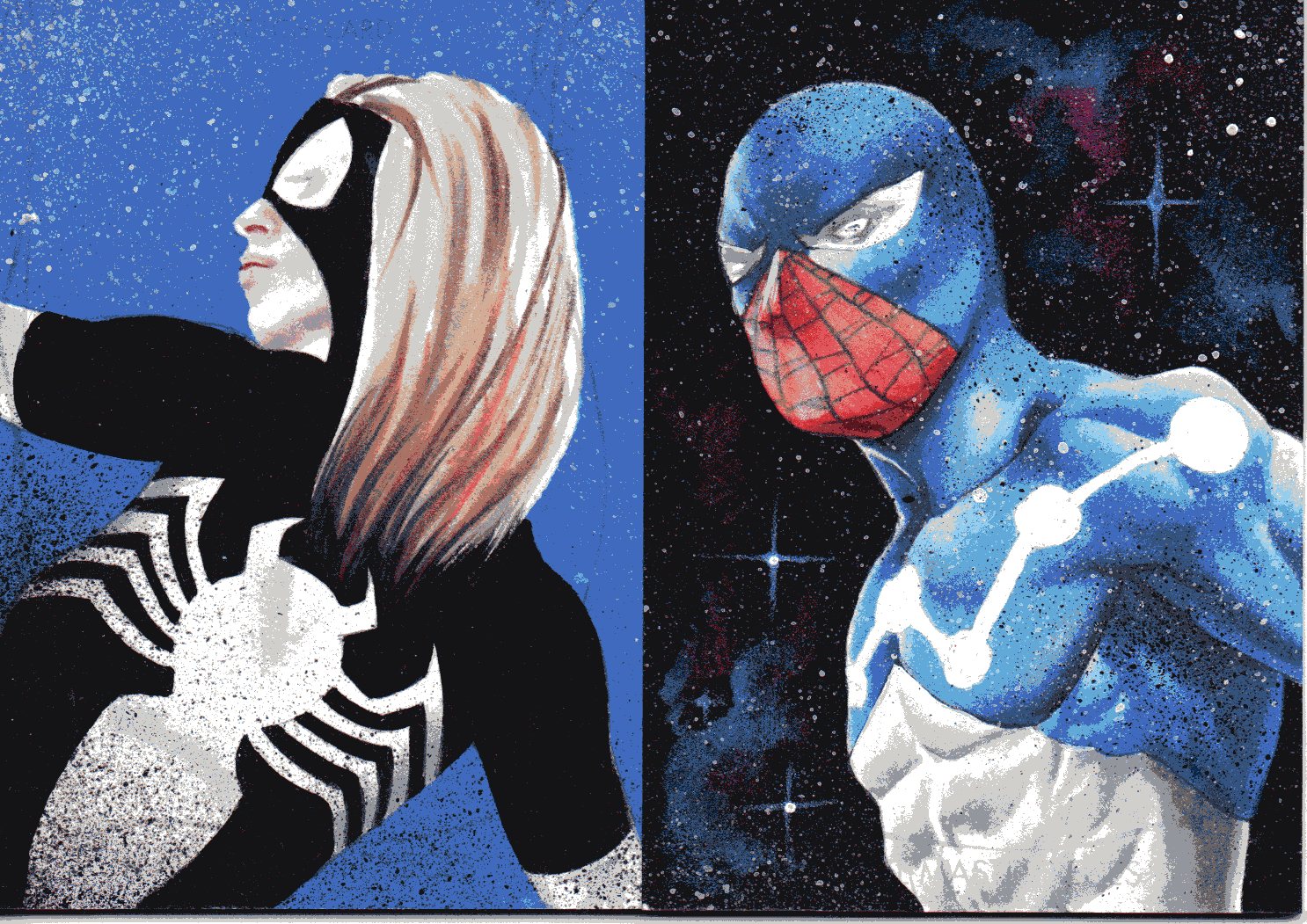 Gonzales is a brand new sketch card artist to Marvel, and has very much taken the set by storm. He comes from the world of commissioned art comic book covers, and although now working quite a bit smaller, hasn't lost one bit of his penchant for hyper-realism as he conveys the heroes and villains of the Marvel Universe.
I've added two of his cards to my collection so far, including a beautiful, art-deco style Black Suit Spider-Woman (my favorite version of the heroine) and most recently his Captain Universe Spider-Man, which is just incredibly detailed in person and so very niche and obscure. In fact, Gonzales has chosen perhaps the widest variety of characters in unusual form and attire in the entire set, and you can see many of them on his Instagram feed. And to hear more about his work on MM20, check out an interview with AznFunk Comics here.
Spider-Man Snap! by Dominc Racho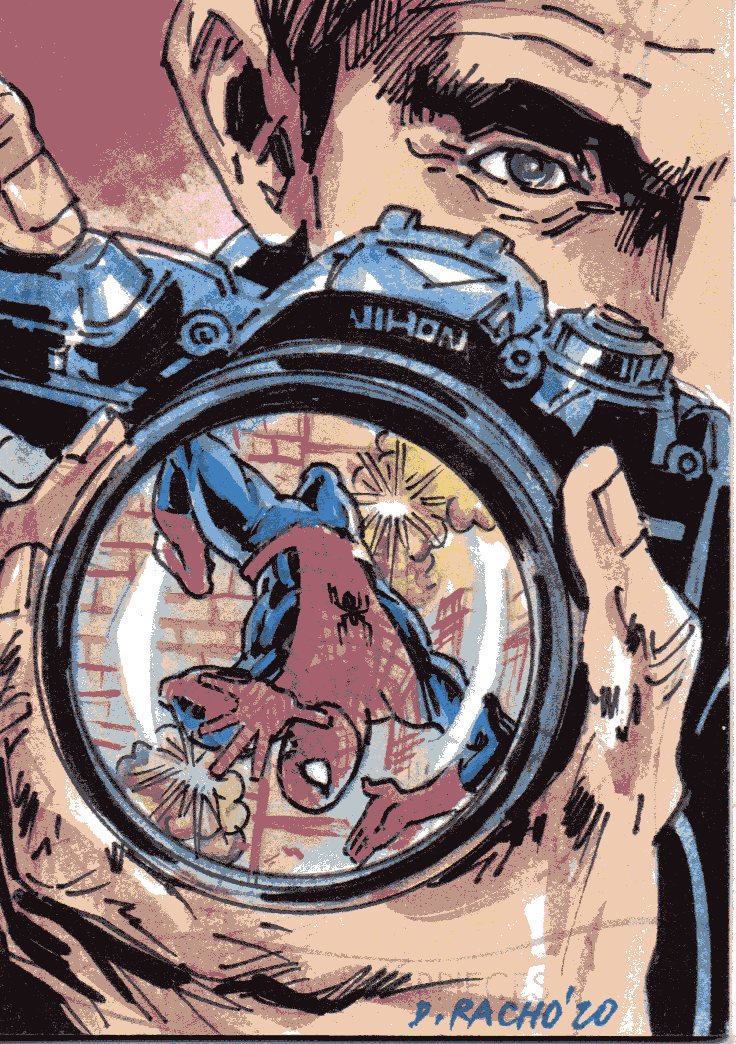 This is classic moment for Spiderverse fans, when Spider-Man gets photographed, and a sketch card I was more than happy to trade for shortly after MM20 was released from someone that's become a good friend of mine. Artist Dominic Racho hails from the Philippines, and has been a fan-favorite for quite some time, working on both the 2016 and 2018 Marvel Masterpieces sets before this one. He's able to pack an incredible amount of action and detail into these tiny cards, and you must take a moment to look close before you move on. You can follow him on Facebook.
Ego, The Living Planet by Jude Gallagher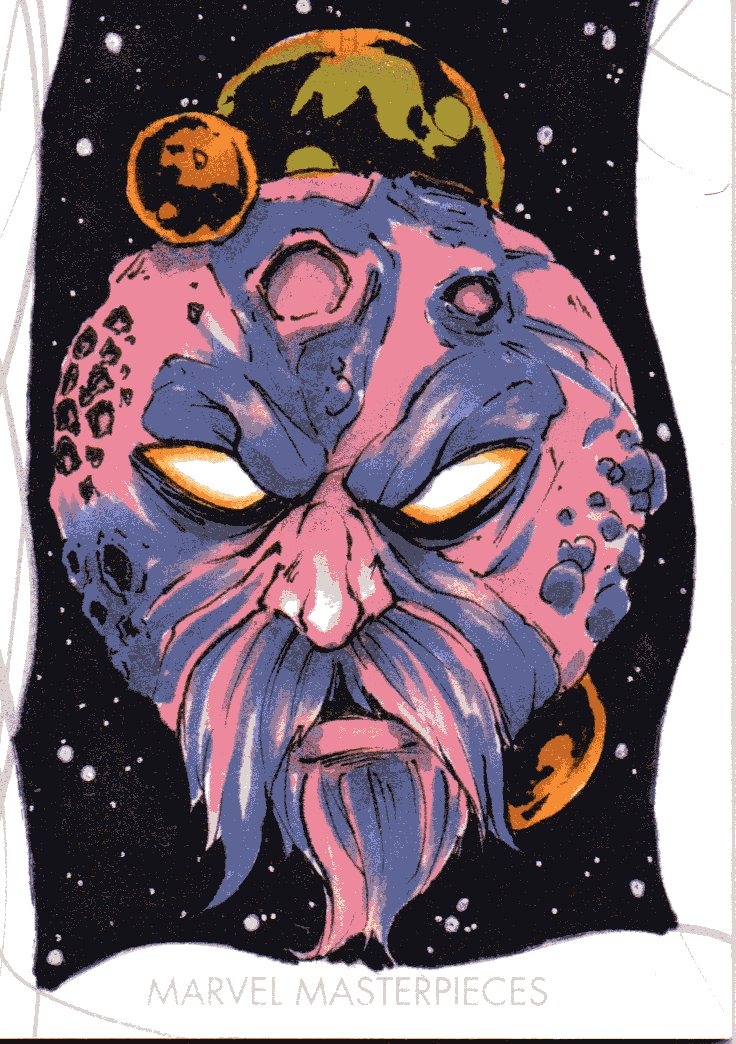 Ego, the Living Planet was such an interesting inclusion in this year's set, and I love that a handful of sketch artists decided to represent this most oddball of villains in their sketch card selections. Ego was just one of more than a dozen Guardians of the Galaxy themed sketches by Gallagher, and you can see that whole gallery here on their Facebook page.
When I saw this card pop up on eBay, I knew I wanted to add it to my collection, and that there would probably only be a handful of chances to grab a sketch of this character. I'm hoping to find a few more Ego sketches, but have yet to see another turn up, so I'm glad I jumped when I did. What a mustache!
Doctor Octopus by Camron Johnson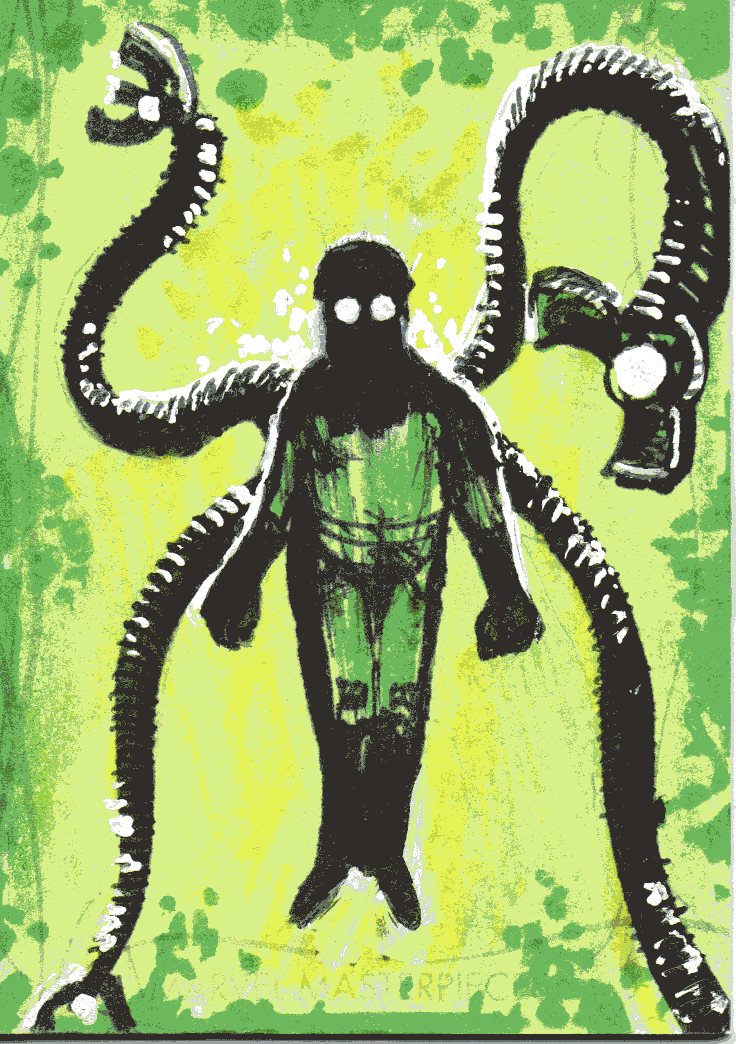 Heading back into the Spiderverse, this next card was another eBay pick-up, and one I watched for a few weeks before being able to strike a deal with the previous owner. I've been a Doc Ock fan since I was a kid, but Johnson's electric, almost nuclear green makes this card literally glow, and I am here for it! This card just screams from any slot on the page, and is a super fun addition to my grouping of unique versions of Spidey villains. You can follow the artist's work on his Facebook page, and check out everything he's been doing, from black and white ink work up to the wild splashes of color like we see here.
Spider-Woman (Red Suit) by Mai Irving & Sean Stannard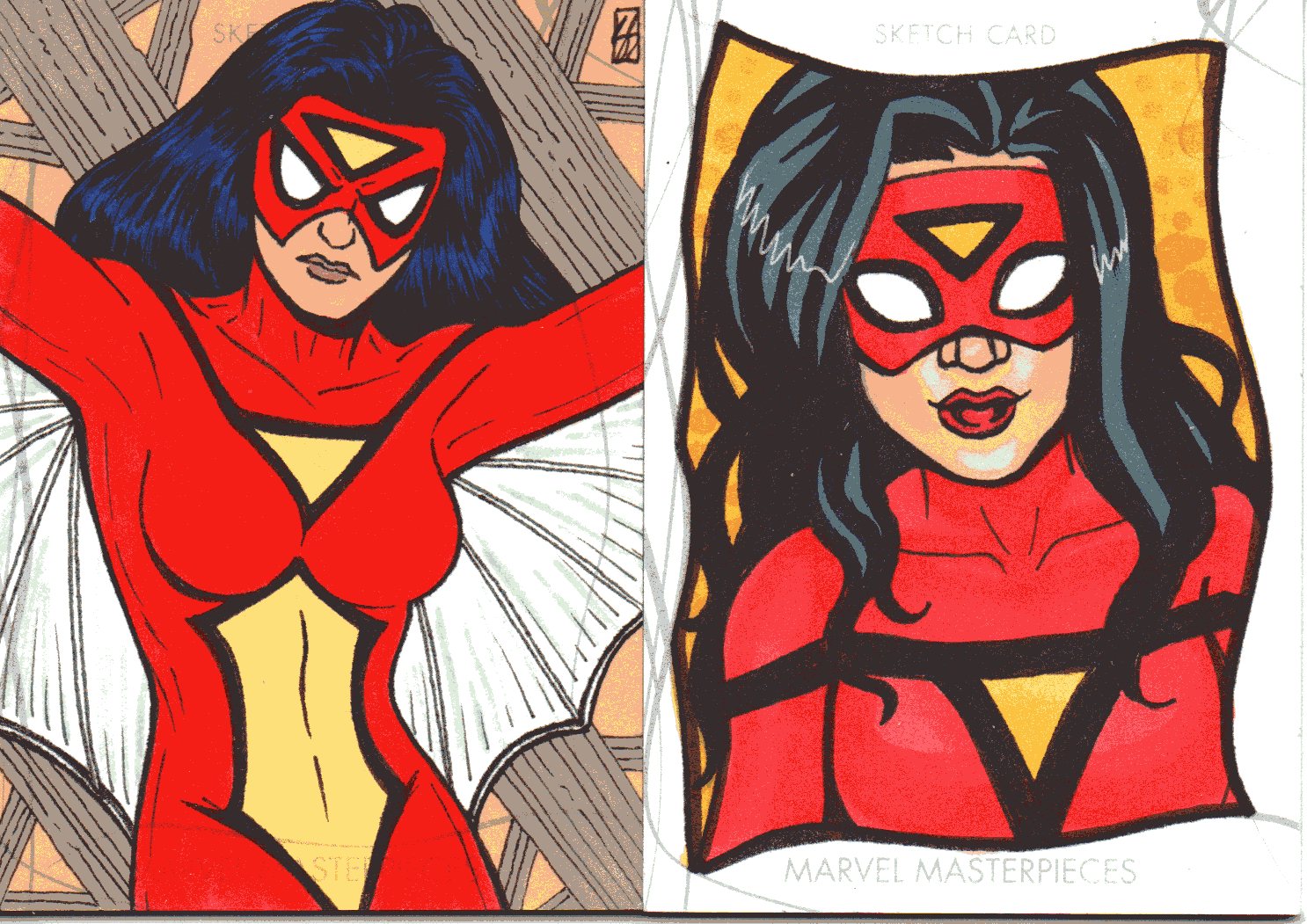 I mentioned earlier that I have an affinity for black suit Spider-Woman, and I decided a few months ago that she would be the female character I was going to collect from his set. I've picked up two red suit versions of her so far as well, one from an MMC group member and one from eBay. Each is stylistically unique in its own right.
On the left is Spider-Woman by Sean Stannard, which comes as if it was pulled straight out of her debut issue in the 1970s. I've really enjoyed seeing sketch artists capture that classic comic feel, and was excited to add something with that flair to my collection.
In a bit of contrast is my other red-suit Spider-Woman by Mai Irving. Irving is from across the pond in the U.K., and her sketch card work is instantly recognizable, capturing the Marvel Universe is a candid portraiture all her own. It's a contemporary imagining perfectly suited to sketch cards, and I was excited to be able to grab this from an Irving collector in the MMC Facebook group.
Kingpin by Breed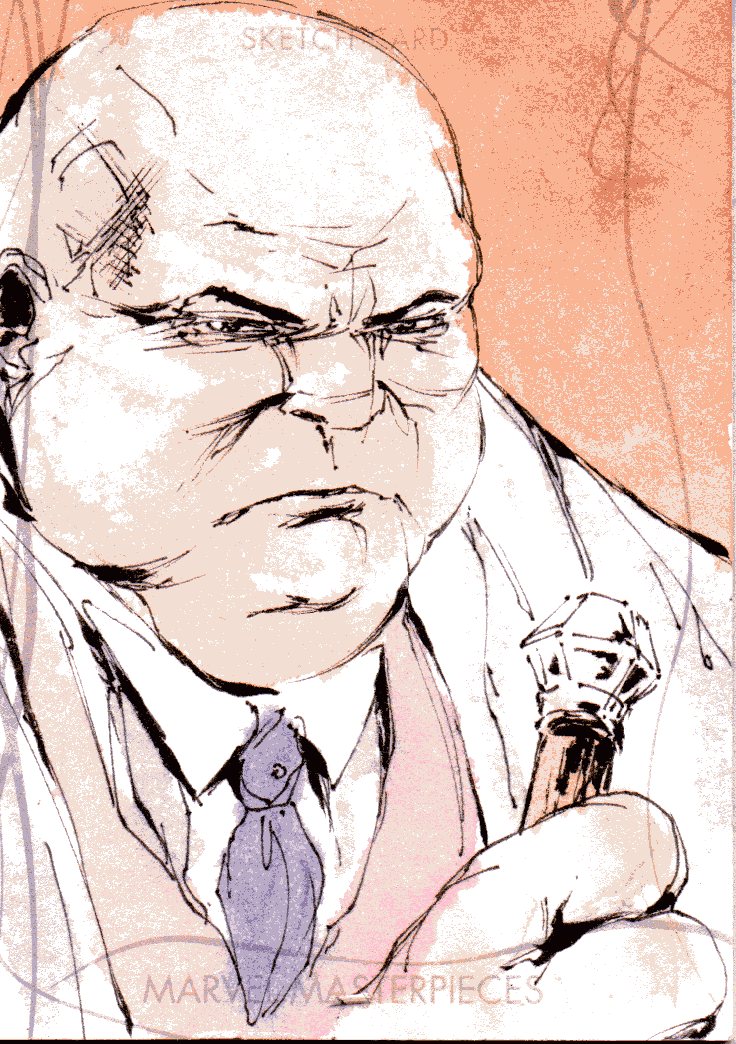 This was not my first piece by Bobby Breed, the other of which has since moved onto a giant X-Men collector, but I was quite excited to see his version of this larger than life Spider-Man villain pop up for sale on the net. Breed's work ranges from loosely impressionistic with big colors to fine lines and muted pastel palettes like we see here- each appropriate for the character in which they depict. You must check out his vast artistic variety, both on his website and his Instagram. It looks like he may still have APs available as well, and you can bet I'll be dropping him a line.
Lizard by Apri Kusbiantoro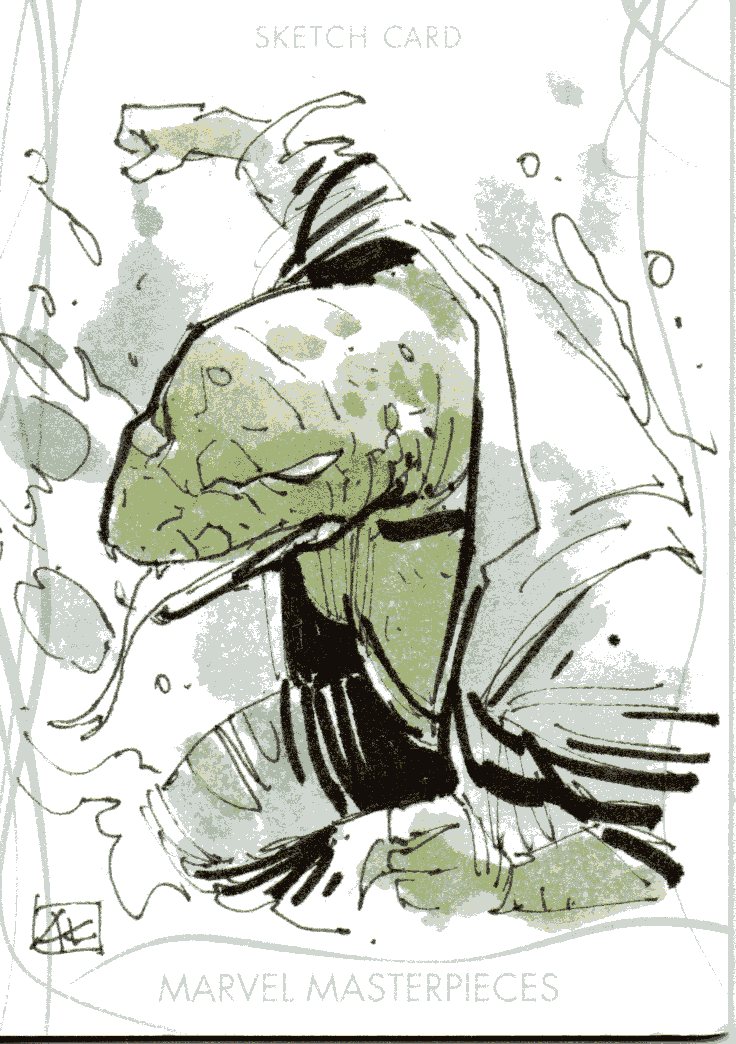 Kusbiantoro comes to MM20 all the way from Indonesia, and again has a style unlike any other artist working on the set. He employs those fine lines like we've seen in some other works, but makes special use of the white space on the sketch card, as if the character is emerging from the textured surface. This Lizard captures all the dynamism of the monster, but from a unique perspective I haven't seen replicated, reinforcing the chaos he is often seen causing. It's a perfect fit for my collection of Spidey Villians.
Iron Man by Idan Knafo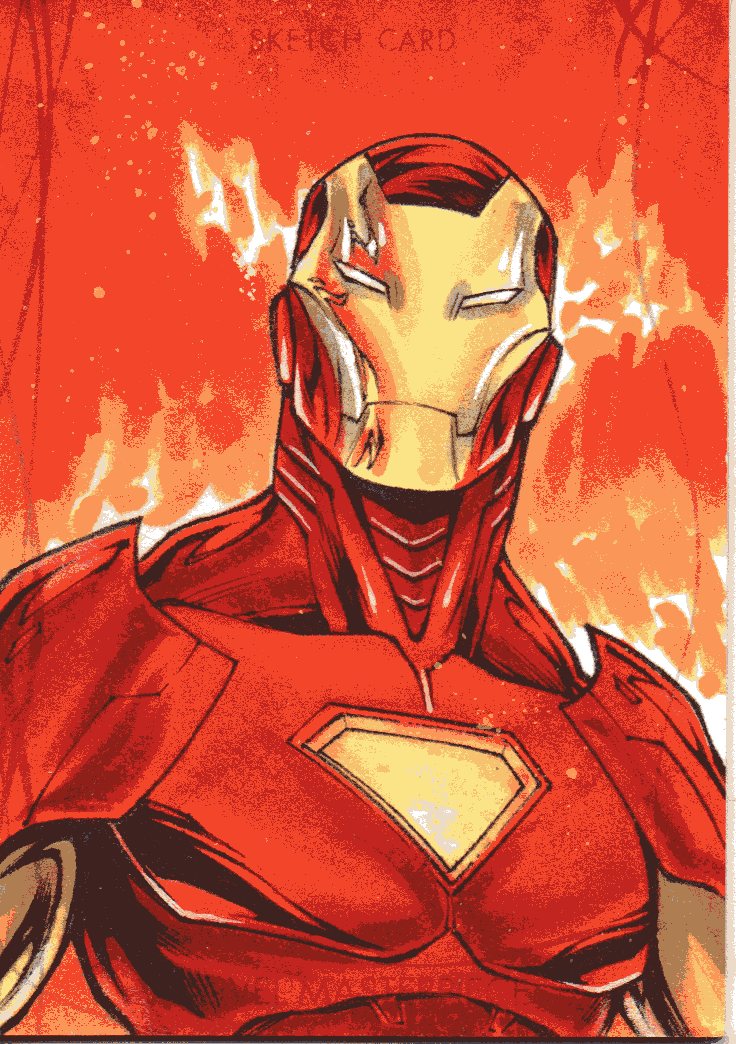 I have but a single Iron Man sketch in my collection, and being the popular character that he is (and one of my favorites) I was more than lucky enough to open this from a physical box. It's not been shown anywhere before, but I can't get over the color saturation of the Stark Superhero by Idan Knafo. Knafo's work is bright and bold, and his backgrounds add completeness to the sketch that makes it more of a miniature painting than a sketch card. I plan on keeping this one with me for a good while; it's just a stellar little piece. You can follow Idan on Instagram, and you'll be glad you did.
Vision by Michael Munshaw (Artist Proof)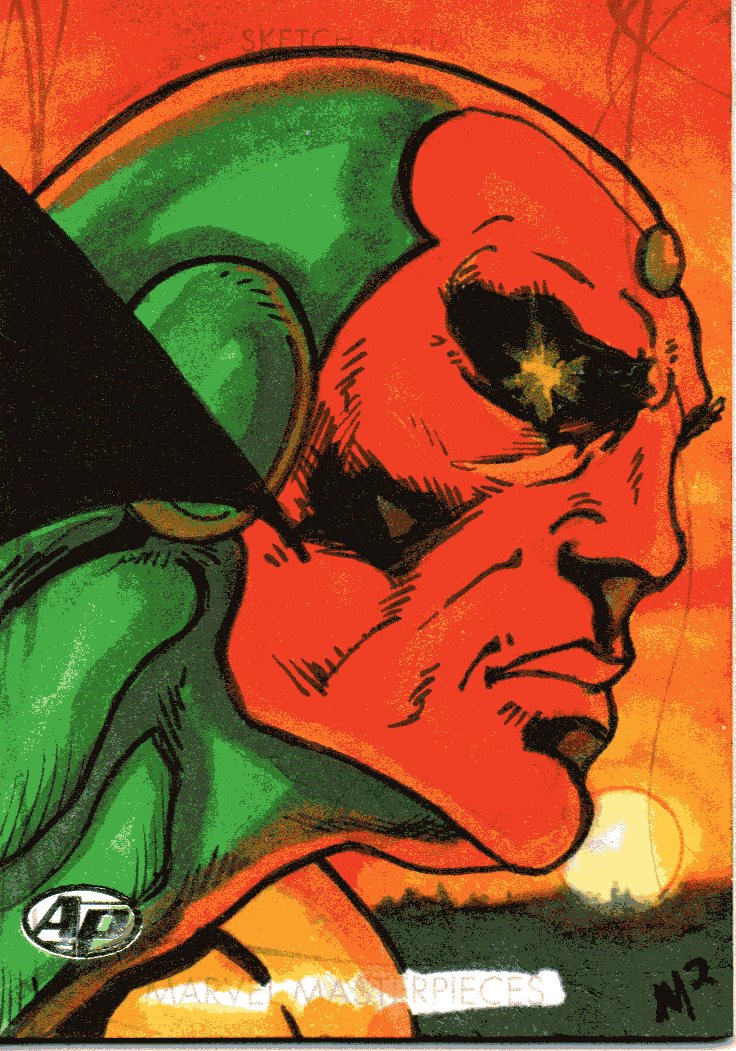 As we wrap up I want to share the first Marvel Masterpieces 2020 AP that's arrived, and a bit of a story. A week or so ago I got a notification that @artofm2 had started following me on Instagram, who I knew to be sketch card artist Michael Munshaw. What I didn't know is that we live in the same state here in Maryland, about two hours away, so I dropped him a message to say hello, and that I was hoping to add one of his sketches to my collection at some point.
It was then he mentioned he had a few APs left from a buyer who had commissioned very specific things and then for whatever reason had to back up on the deal. One of those happened to be a recreation of my favorite Munshaw sketch from the set, a Vision profile done after comic legend Neal Adams.
I had been unable to come to an agreement with the person that pulled the one found within the set, but now could get one of my very own. What are the chances that the exact card he had already started was exactly the one I would have wanted? He's added a fabulous sunset background alongside the classic character profile, and it's just lovely.
You can follow Michael on Instagram here and listen to a crazy fun interview he did with Ian and Norrin over at the MCC Podcast earlier this year here.
Johnathan Ruple (Artist PC)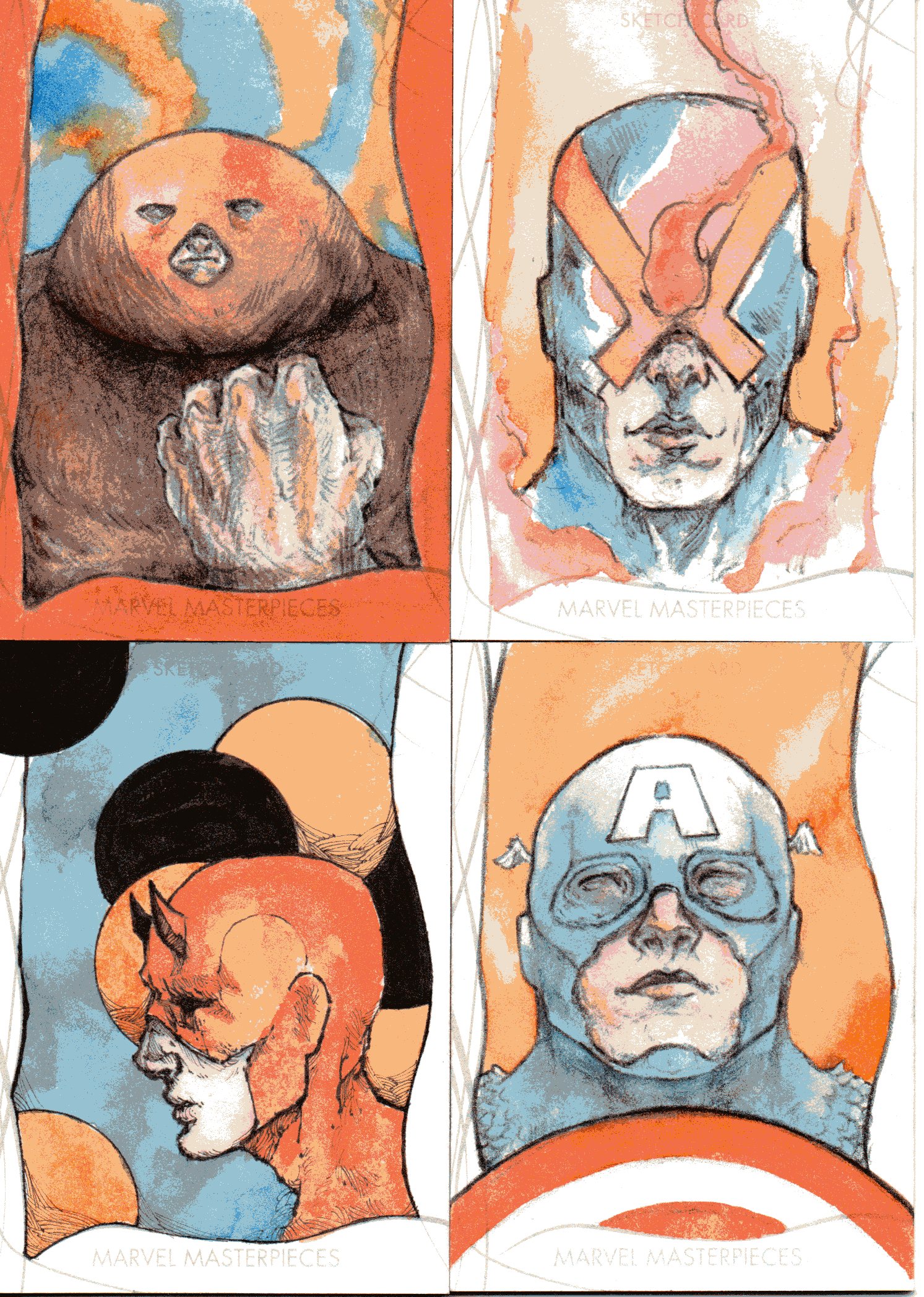 I'll end today's article with an artist who has become my "Artist PC" for Marvel Masterpieces 2020, and that's Johnathan Ruple. I've also got an artist proof on the way from him, but I'll save that for a future article
The first Ruple sketch I saw was one of Ultron, listed on eBay, and it unfortunately sold while I was stuck at work and not paying attention to my phone (I'm still after it by the way, if a reader happened to be the purchaser). Being the curious art person I am, I went to his art page on Facebook and was just blown by his unique style and interpretation of these Marvel characters. I sent him a message to tell him that I really loved his sketch card work, and turns out we're both big Magic: The Gathering fans and have talked regularly since about all sorts of art-related things.
Ruple's Marvel sketches are wholly imaginative, as if we've gone to a different, Tim Burton-esque universe where familiar faces are recognizable, but not quite the same as everyone else. His characters range from dark, gritty, and transfigured to light and comical, like the Juggernaut you see above. They're wildly unique, and that's why I love them so much. I've been chasing them for months now, and intend to have a wide cross-section of his MM20 sketch work by the time I'm finished.
You can follow him on Instagram, and for anyone reading this with an MM20 Ruple, I'm interested in adding it to my collection.  He'll have quite the section in my ePack follow up article as well, so stay tuned for that.
Wrapping Up
We've reached the end of our very first Sketch Card Showcase, a very short trip through some of the physical sketch cards I've added to my collection as a part of Marvel Masterpieces 2020. I had no idea what sketch cards were when this whole adventure started, but have been thoroughly bitten by the collecting bug for this little subset of cards  over the last few months. I think it's something I'll continue chasing for quite some time.
I plan to do an ePack Sketch Card Showcase as well, with the cards I was able to accumulate from that release and send home. And in that same vein, next time I'm planning to talk about my very first ePack experience, and what a wild ride that happened to be. From buying cards to trading over that first weekend and how thing eventually shook out. That'll be coming in two weeks, and from there we'll begin our Modern Masterpieces Art Exploration that'll take us through most of the rest of this year. There's lots of exciting stuff coming up folks, so stay tuned and as always, thanks for reading.