Welcome back to Masterpiece Theater, a new column on Hipsters of the Coast exploring Dave Palumbo's artwork from the 2020 Marvel Masterpieces trading card set. This is Volume III, so if you're joining us for the first time, check out Volume I to learn some background on Palumbo, the set itself, and the first fifteen works revealed; and then Volume II for another fifteen paintings.
I met Dave Palumbo for the first time at IX, the annual imaginative realism conference held each year in Reading, PA, knowing his art from his work on the game Magic: the Gathering. He's illustrated Magic cards for more than a decade and amassed over 100 cards, a stout accomplishment for any artist working on that property. It's hard to believe that in just two years and for this singular set, he would blow right part that achievement and create 135 brand new traditional paintings for this Masterpiece edition.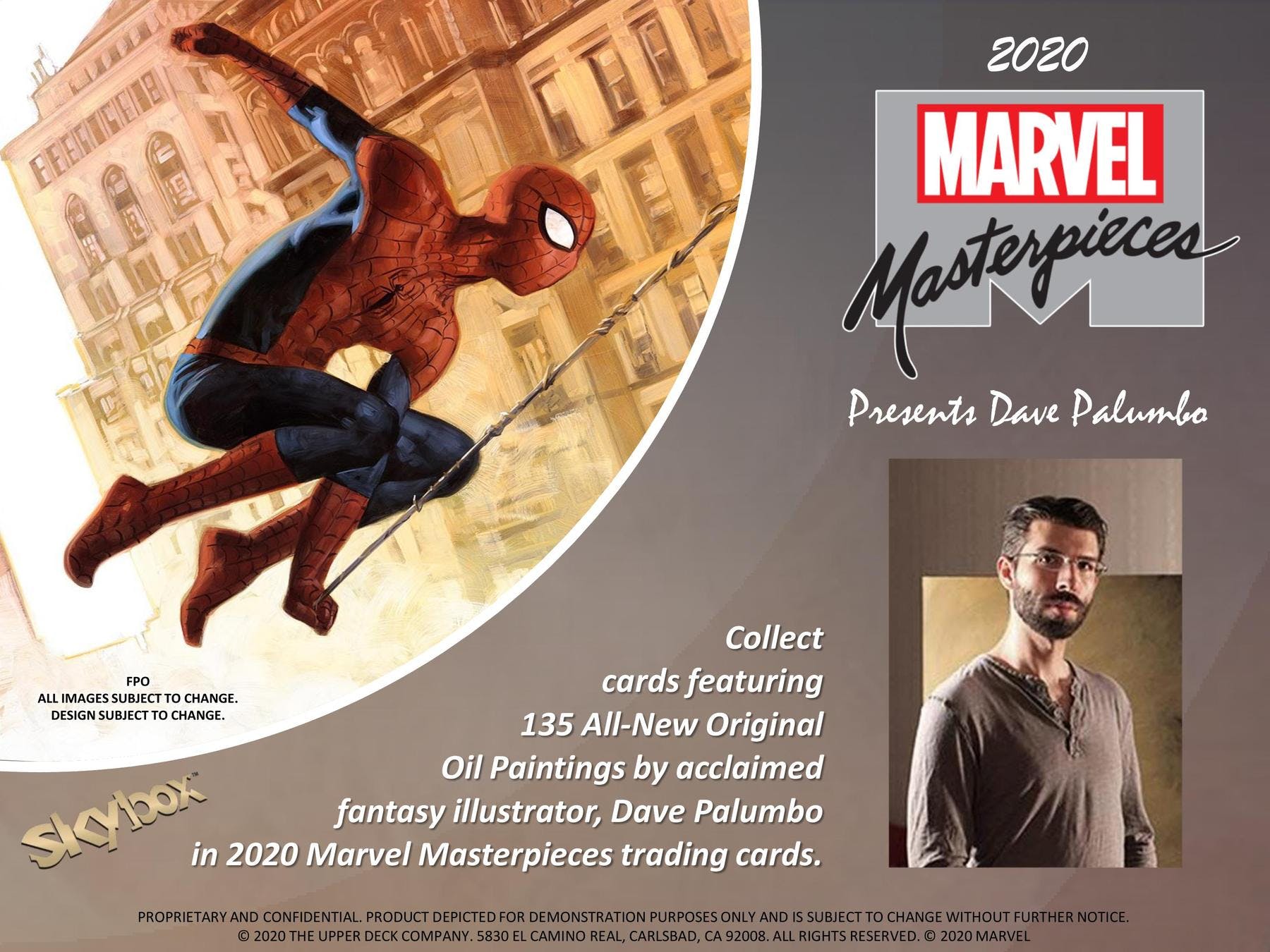 Marvel Masterpieces 2020 is the third set since the Marvel Masterpieces series was reborn, following in the footsteps of the 2016 set by Joe Jusko and 2018 set by Simone Bianchi. There are more than a dozen different card types and subseries, and you can see and read more about the types of cards and inserts in Volume I, and Volume II.
Palumbo revealed his involvement back in July of this year via Instagram, and the whole set was released at the beginning of September to incredible fanfare and excitement. Over the next few months this column will look at each of Palumbo's Marvel Masterpieces illustrations individually. Each article will include artist commentary, bits of collecting information and information from the back of the cards themselves, and as always, a ton of stellar artwork. For each article Dave and I will look at 15 or so illustrations until we've gone through all 135 pieces of art. This is article #3 of 12; we've seen a lot, and there's a lot left to see.
Each following entry will include the full artwork, as well as the song Dave used while he was painting. Each painting was paired with a song from Palumbo's extensive music catalog, and the work wasn't complete until he felt it fully reflective of the song he chose. I should note there are no songs for the Battle Spectra scenes, and duplicate appearances of the same character have the same song. For full immersion, I also listened to the associated song as I wrote each section, and I highly encourage you to do the same: hit play and then look back at the artwork and read the caption for full effect.
It's time for Volume III. Let's begin!
Wolverine (Holofoil)
Song: La Chupacabra by Kings of Nuthin
"I wanted to do at least one classic "leap at the audience" Wolverine.  I'd like to think we're seeing the business end of a Fastball Special."
This is the second depiction of Wolverine we've seen, and for those unfamiliar, the 'Fastball Special' is a superhero tag-team move made famous by Wolvie and his titanic titanium friend Colossus, where Colossus literally hurls the much lighter Wolverine into battle.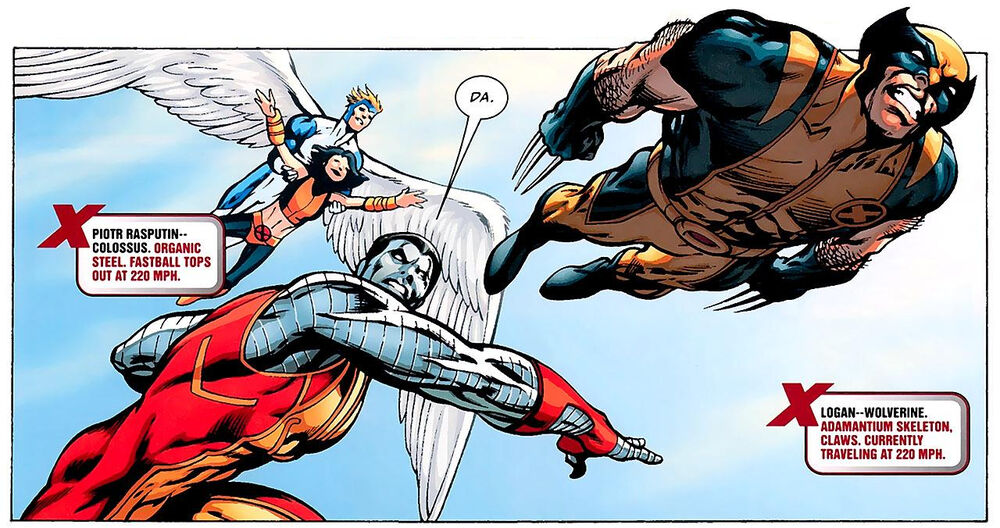 We do indeed get the business end here, as Wolverine is literally bursting through the card; any closer and he'd be breaking that fourth wall. This is a very cool perspective that weaves in a bit of comic history, which is itself a fun factoid you wouldn't get without talking to the artist.
This image was also the subject for a Marvel Masterpieces 2020 Promo Card that can be found in the October/November issue of Non-Sport Update Magazine that features Palumbo and his work on this set.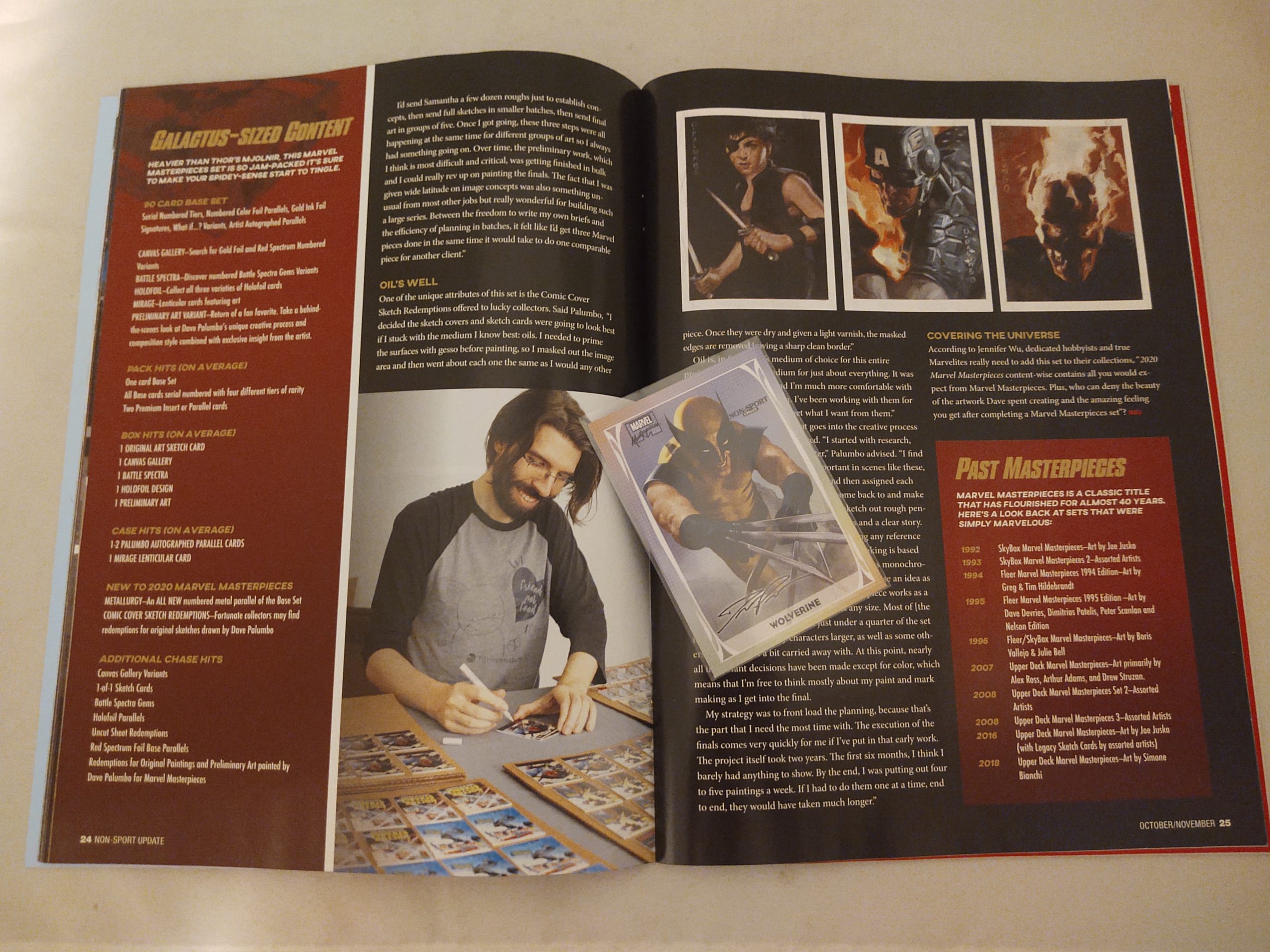 Red Queen
Song: Mean and Evil by Adeem
We've got a villain in motion, and not a lot of time to act! Red Queen is comin' atcha!
Dave commented that "the wings were a bit of an experiment, painting a blurred shape and then picking out details." Those wings are a wildly unique element, and I imagine incredibly difficult to pull off in oil paint; there is no blur button with a paint brush. Coupled with the black-hole converging point of the swirling vortex she's flying through, this image is simple, and yet so very complex.
Kitty Pryde
Song: Veteran of the Psychick Wars by Blue Oyster Cult
Katherine Ann (Kitty) Pryde has the unique ability of intangibility, allowing her phase through physical objects and simulate levitation. That's exactly how she's depicted here, half in and half out of the brick wall, but completely determined and ready for whatever she's about to face. Again, painting someone partially in a brick wall is no easy feat in oil paints and traditional media.
Note the little guy on her right shoulder, the dragon-form alien known as Lockheed. The psychic bond they share is incredibly strong, and rings true in this work as seen in their expressions of total trust. It's no surprise why. From Dave:
"She was one of my favorite characters growing up.  I was at least as excited to paint Lockheed as I was Kitty Pryde!"
Elektra
Song: Hurricane by The Coat Hangers
"This one was pretty clear in my mind early on. Elektra is surrounded by an absurd number of ninjas in a big empty warehouse, and she is totally in control of the situation"
This seems like one of those works that goes exactly as planned: a strong early vision of how the artist wanted to depict the subject, solid execution, and a perfect musical compliment to drive home that feeling of melee level ass-kicking. Everything from her pose to golden hour sunlight, to the warehouse location screams classic fight scene, which is exactly what Dave was going for.
Cyclops
Song: Eye of the Tiger by Survivor
"My original plan was a similar scene but the figure much more a silhouette with just the red slash of his visor.  It felt like more fill light was needed to get the story and see the ruined Sentinel.  This was a fun 'David defeats Goliath' piece"
Turn the song up, a fan favorite in its own right, and look closely at this piece. You can almost play the entire scene in your head just from this screen cap we get: an epic battle between Cyclops and Sentinel, ending in smoke with hero triumphant. This is an outstanding narrative packed into such a small scene, and indeed a perfect David defeats Goliath analogy.
Nova
Song: Anoxia by Man or Astroman
I've said it before and will surly say it again multiple times: I love Dave's depiction of outer space in this set, and it's on full display here. One of the most space-laden images in the entire set, this is Nova set in his natural habitat amongst the stars and clouds and planets. Perhaps my favorite part is the use of stark white negative space on his eyes and chest to simulate that glow even in zero-gravity. This is also a holofoil card, and looks particularly cool with that glittery finish.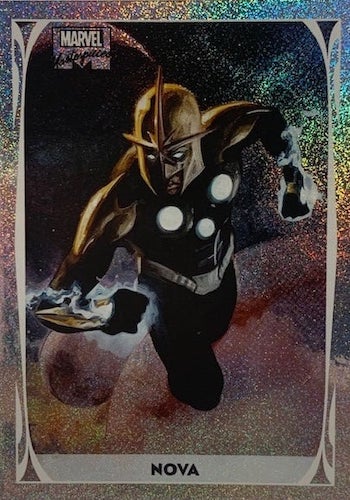 Groot
Song: Contact by Daft Punk
I love this perspective of Groot, a sentient alien tree-like being but shown here on Earth, towering within the tall timbers of a Forest. Notice the elongated strands of bark, painted to reinforce his great size and make him seem even more monumental. We aren't quite sure how tall he may be, but we can be certain we are much, much smaller. The song Dave chose hearkens his first arrival, and makes for a perfect backdrop to view this art.
Spider Queen
Song: Testbild by Volt
"I didn't want to do the women characters as pin-ups as they're so often seen, but this one felt like the right way to go.  In her raggedy web.  With mummified corpses on either side."
This is Dave's singular cheesecake depiction in the entire set, and I love that's entirely by design (something I'll talk about when we get to Rogue near the end of this series). In a world of oversexualized popular female superheroes, I absolutely love that Dave chose a subject who rarely gets this treatment, and we get her full glamorous glory, right in the midst of spooky season. It's this sort of artistic foresight that will make this image one of those that lasts, one in which the character is remembered by.
I think there's a pin-up joke in here somewhere too. About the mummies. Pinned up in the web. No? Ok, moving on…
Gambit
Song: The Wild Horde by Ennio Morricone
Another absolutely perfect song choice, doubling down on the Wild West feel of this painting. Imagine hearing this play as you push through a pair of swinging batwing saloon doors and approach Gambit as it becomes the soundtrack to the ensuing exploits and explosions. Note the card in his hand: one of Gambit's mutant abilities is to be able to charge inanimate objects with kinetic energy, and his signature is often throwing playing cards, using them as incendiaries.
I did a bit of homework on the Ace of Spades, which we see clearly shown. Turns out Gambit is often shown with specifically that card, and always has been. Is it because it's the highest card of the highest suit? Or because of its historical association with Death?
They say the devil is in the details, and Dave Palumbo does not forget the details..
Dormammu
Song: Snakes of Christ by Danzig
The other major element I particularly love in this set is Dave's depiction of fire, often white-hot and with flames licking across the scene. The demonic Lord of the Dark Dimension Dormammu is pictured as such, wreathed in flame, almost as if the Balrog from Lord of the Rings, but staying still as he destroys something. While that's not surprising, we can't be sure exactly what he's bathing in fire. Hopefully not Earth.
Black Widow (Canvas Gallery)
Song: No Wow by The Kills
This is the other Black Widow from this set, and as opposed to her being mid-fire-fight like her Base Card, we see Nat's other side. She stands cunning and prepared, but with the weight of her conscience fully visible in that facial expression, as if she knows what need be done and yet still has future repercussions clanging about in her head.
I'd be remiss if I didn't mention those glorious stained glass windows in this piece. Not only beautiful, they're the perfect muted light source, and add a solemnity to what is about to happen right outside the frame, whatever that may be.
Thor vs. Hercules
Song: N/A (Battle Spectra)
Adversaries since the Journey into Mystery Annual #1 in 1965, this scene pits the God of Thunder Thor against the Son of Olympus Hercules, a character adapted from Greek mythology but existing parallel in the Marvel Universe for now more than fifty years
And as much as this is a battle between Gods, this is also a showcase of fantastic weaponry. Thor's hammer Mjolnir is drawn behind his head, becoming imbued with lighting, and we see Hercules Adamantine Mace directly in the forefront. The Mace is brilliant, and serves as a focal point to carry our eye up through the work, all the way to that lightning strike. This was a painting I passed over at first, but looking more closely, may be in my top favorites of this entire series.
Dr. Octopus
Song: D:Contamination by Man or Astroman
It just wouldn't be Doc Ock without that menacing grimace and those mechanical, maniacal tentacles headed right for us. The song Dave chose places us in the warehouse where we find out villain, complete with loudspeaker announcement and the metal music we would associate with this character. Painting a supervillain "at home" is no easy task, but as Dave mentions on the back of the Preliminary Art card found in the packs:
"It seems like Doc Ock is always making lairs in old abandoned industrial buildings. It seems to me his natural environment is standing at a rusty old railing with steam jets blasting around him"
Gorr the God Butcher
Song: In The House In A Heartbeat by John Murphy
Being able to kill a god isn't a power we see all that often, even in comic books and movies, so its representation cannot not be taken lightly. To do this Dave turns the tables on the use of positive and negative space to highlight the albino-skinned and immortal Gorr, while at the same time drowning the rest of the background in darkness, including his cape and weapon, All-Black the Necrosword. The only other color we see is red, and I don't need to tell you that that symbolizes. Listen to the song alongside the image. But make sure you keep the lights on.
Cyclops vs. Mr. Sinister
Song: N/A (Battle Spectra)
We'll end this article on another signature image that was a part of the early preview back in July. Everything, from scene and subject to near-perfect composition makes this a standout of both the Battle Spectra series and set on the whole. This was an artistic high point for Palumbo out of all 135, and Dave was especially reflective of this work. It's also one that for the foreseeable future will remain in his personal collection:
"It's tricky composing vs cards that show both characters clearly.  I feel this one is my most successful though because the best solution (both are facing the viewer) completely fits the story.  Mr. Sinister removing Cyclops's visor unleashes Cyclops's worst fear: losing control of his power.  It all came together in a real tidy package."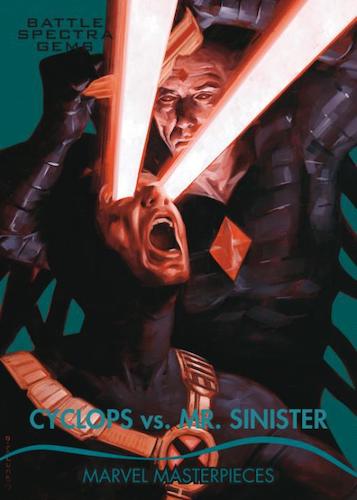 Wrapping Up
That's a wrap on another fifteen paintings, and we've reached the end of Volume III! This group was once again incredibly indicative of the tiny details that make this body of work so strong, from the smallest in Gambit's Ace of Spades and Widow's Stained Glass windows to the largest, like the Sentinel in Cyclops' allegorical self-portrait. Once again, it's these specific choices that make all the difference between very good, great, and unforgettable. This set is very much the letter.
If you'd like to see all 135 works in a single three page gallery, you can find that here, along with information on which pieces are available for purchase, those coming soon, and those that have already been sold. The last of the final paintings have been offered, and only about two dozen of the 135 remain available for sale.
Additionally, you can follow along as Dave posts these artworks on both his Instagram page as well as within his ongoing "Playlist" Instagram story.
This article marks one third of the 135 artworks in this set, and only about 25% of the entire series. I hope you've enjoyed the journey thus far, and you can keep up with all things Marvel Masterpieces 2020 by following me on Twitter. Feel free to ask questions or retweet to continue the conversation. Thanks and see you next time!
Donny Caltrider has been playing Magic since 2002 and collecting original Magic art since 2017. He has an M.A. in Museum Studies from Johns Hopkins University and enjoys telling stories about art, objects, and the intersection of fantasy with real-life. You can find him on Twitter talking about #mtgart, museums, and other #vorthos related goodness. Follow along and continue the conversation!