It just so happens that this Monday's Masterpiece Theater falls right within Hipsters 10th Anniversary celebration, and on that occasion, it felt a great time to begin to pull together the Parallels series I began back earlier this year.
For those unfamiliar, that sub-series of articles placed side by side the art and characters that have appeared in all three of the modern Marvel Masterpieces trading card sets: 2016 by Joe Jusko, 2018 by Simone Bianchi, and 2020 by Dave Palumbo. But what about the characters that do not appear in all three sets? The less popular, less seen superheroes that deserve just as much love as Spider-Man and Captain Marvel? What about those characters that appear in exactly one set? I've gone through the rosters and chosen my favorite folks that only show up once, approximately three from each set, and compiled this list of those characters not to be missed.
These are the Top 10 Standalone Superheroes from the modern Marvel Masterpieces.
10. Spider-Woman by Simone Bianchi, 2018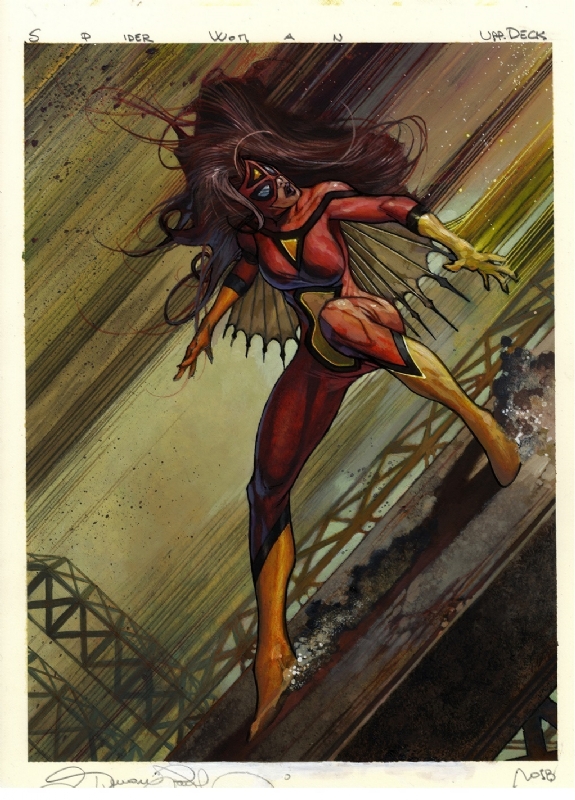 The fact that Jessica Drew as Spider-Woman has only appeared in a single Marvel Masterpieces is a true crime (the only larger is the absence of Julia Carpenter, but I digress). Her back against the wall action pose with wild hair and imbued motion is signature Bianchi, and this is one of the most underrated works of the 2018 set.
9. Howard the Duck by Dave Palumbo, 2020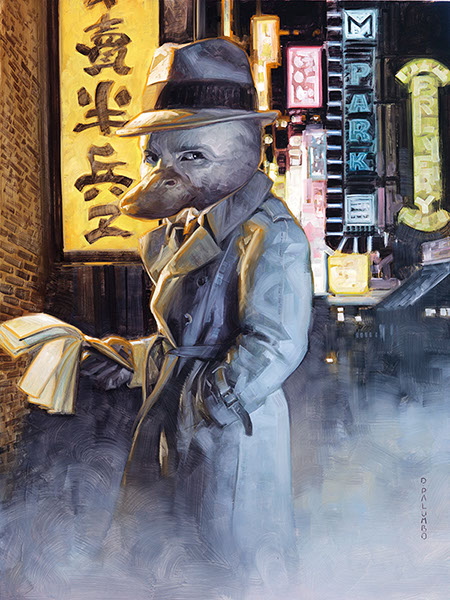 Humphrey Bogart Howard the Duck (yes, it's true) was one of the surprise inclusions in the 2020, but one of my absolute favorites of the 135 cards. As all Palumbo's work did, Howard the Duck's theme song was the Love Theme from Chinatown, and what a mood it creates.
8. Doctor Doom by Joe Jusko, 2016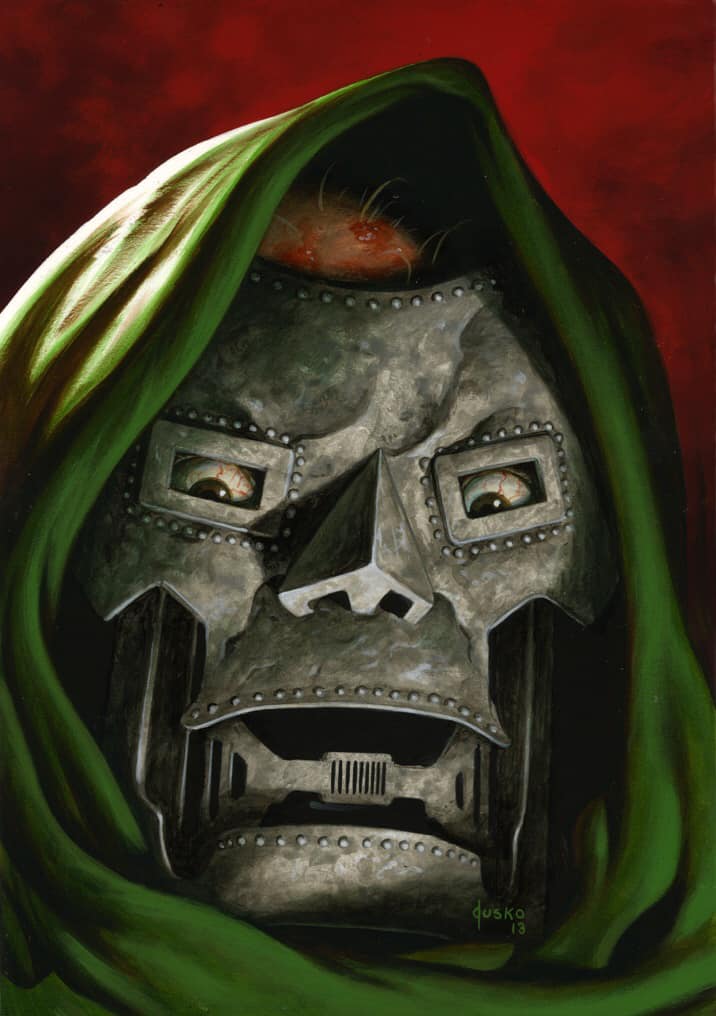 Dr. Doom has been a once and done Marvel Masterpieces character not because folks don't like him, but because he fell onto Upper Deck's banned characters list over copyright squabbles, alongside lots of Fantastic Four-adjacent characters. This was a Tier 4 card in 2016, very low numbered and very hard to collect, and one of the rare appearances of a character headshot becoming the entire illustration.
7. Yellow Jacket by Simone Bianchi, 2018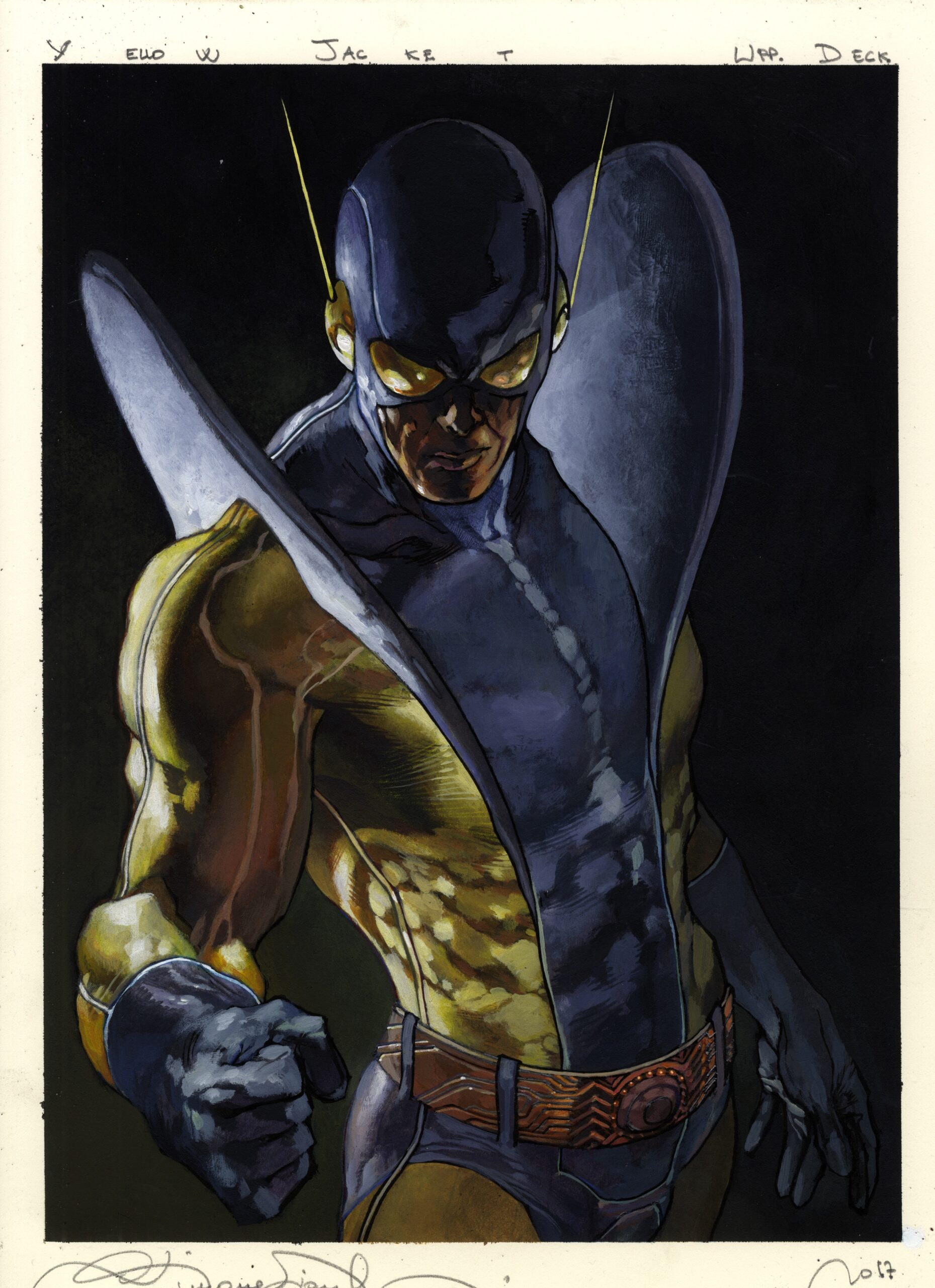 The Masterpiece sets are home to lots of minor characters, and in many cases these are favorites of the artists that they get to choose to paint. How can you tell? They go hard. This is maybe the most stunning (get, it?) depiction of Yellowjacket every created for a trading card set, and I'd wager a guess the he's a favorite of the artist.
6. Sentinels by Dave Palumbo, 2020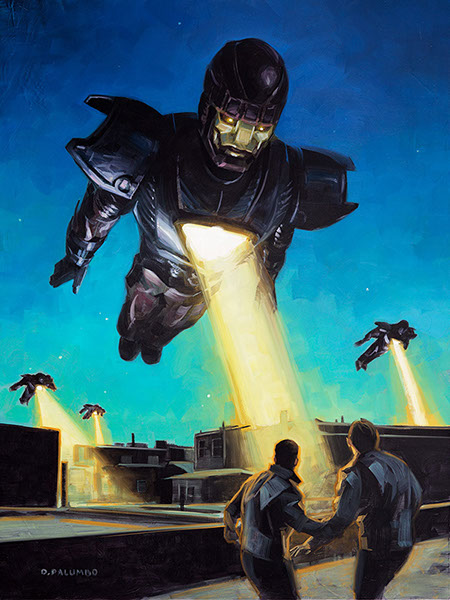 This painting looks like it was taken right from a fantastic 1950s science fiction cover, and Palumbo has created all the ominous feelings of mystery associated with both that genre and these characters in a single painting. While the Sentinels may appear in other paintings (usually getting their ass kicked), this is the only card dedicated to them doing what they do best.
5. Sandman by Simone Bianchi, 2018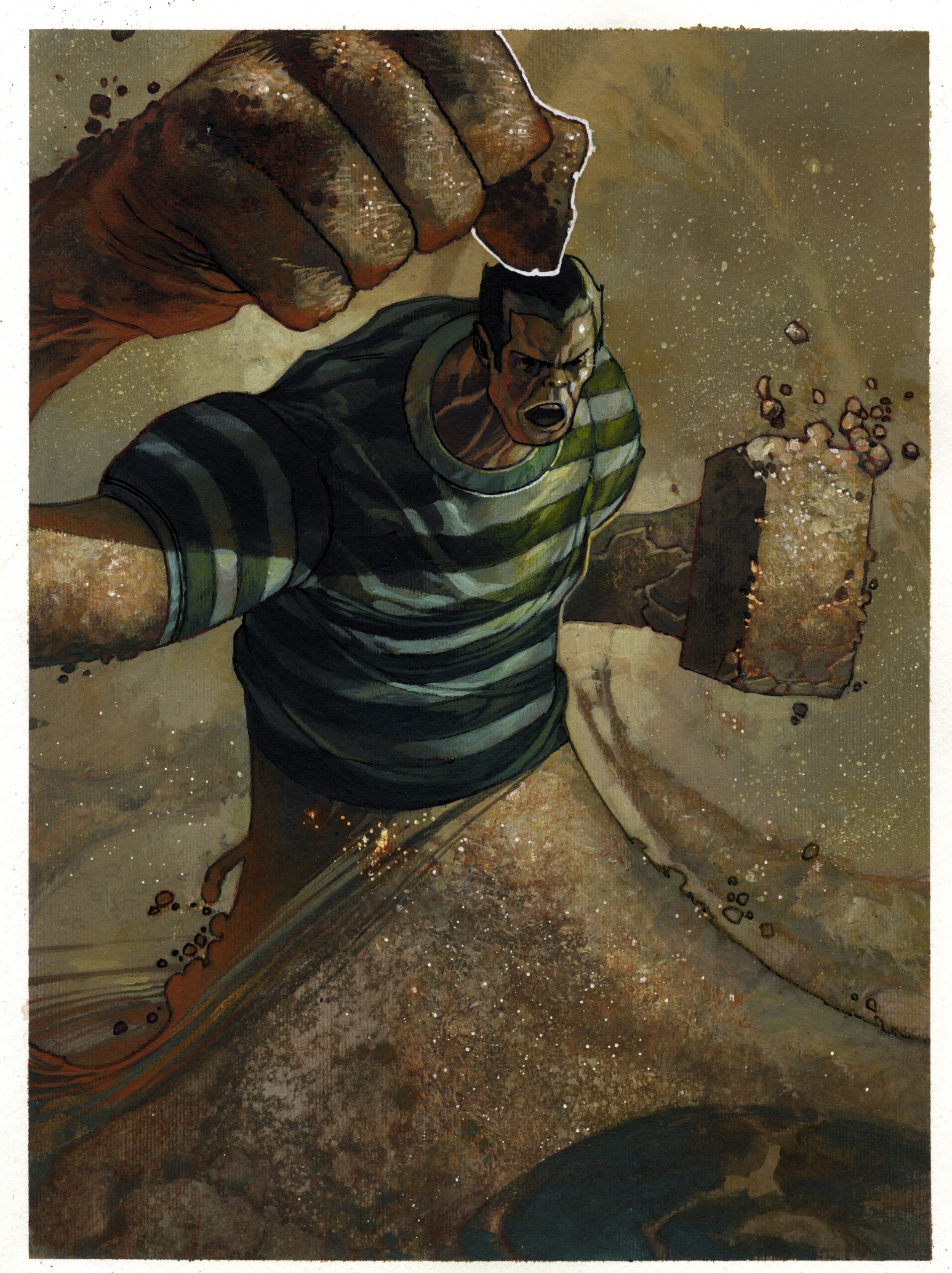 I've often said Bianchi's work has an unparalleled grit to it. That's doubly true when he gets to paint a man made of sand: you know he's going to knock it out of the park. His limited palette here is brilliant, and Sandman's recent reappearance in the MCU means we might see more of him soon? I'd like that.
4. Ego, the Living Planet by Dave Palumbo, 2020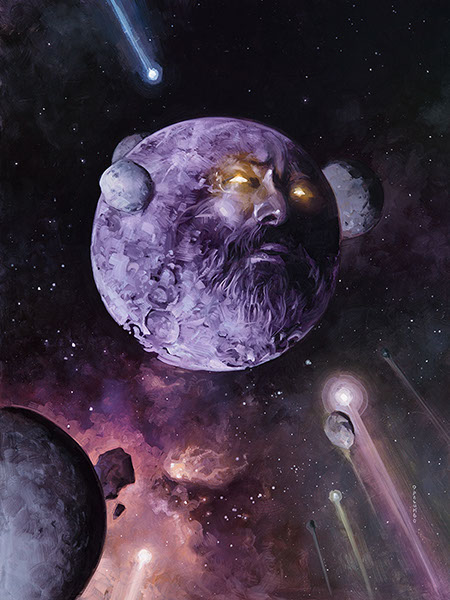 This is in my Top 5 favorite works from the 2020 set in general, and I think Dave did an amazing job bringing this bad guy to life. There's a realness to this painting that you can't find in other versions of Ego, and when it comes to planets that have come alive, I think that's pretty impressive.
3. Shanna the She-Devil by Joe Jusko, 2016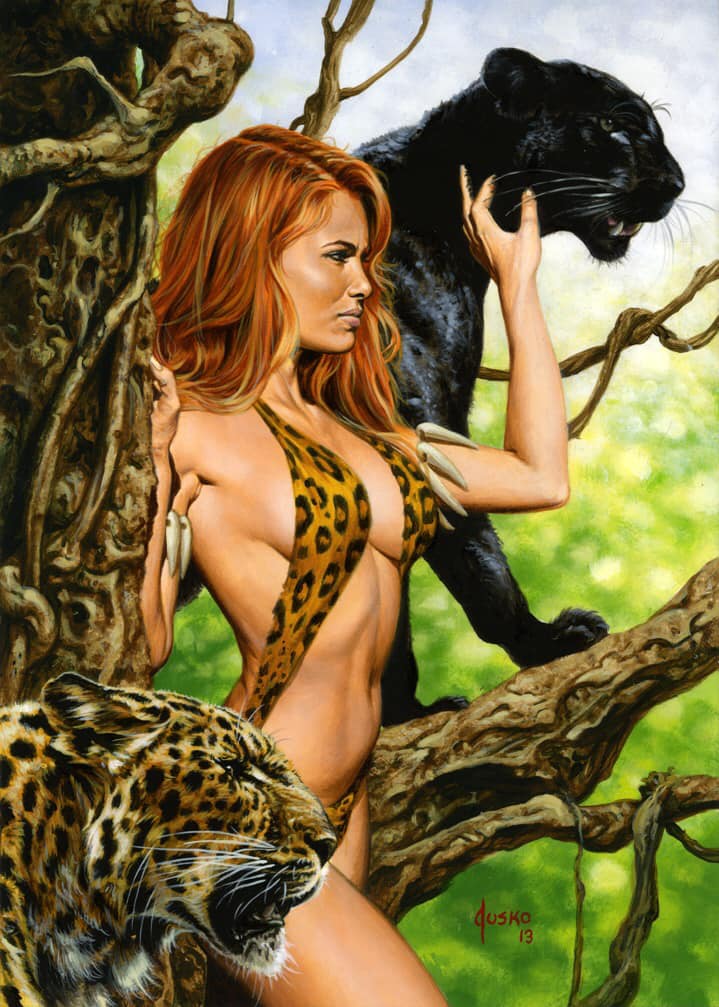 Jusko's entire set screams classic in all the right ways, and Shanna is one of the crown jewels atop this accomplishment. He mentions in his book it's one of his favorites in the entire set, as he was able to lean into what he does best in every way, and it sure is one of mine too.
2. Ultimate Spider-Man by Joe Jusko, 2016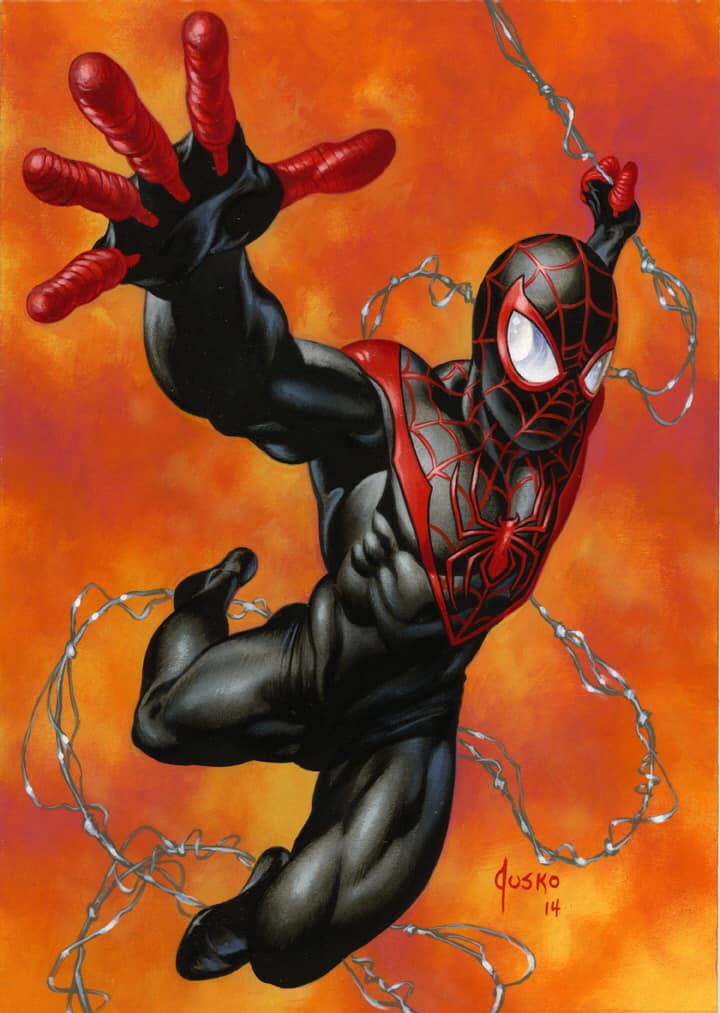 Although this character was not new to Jusko, this version and costume was. It was the first time he ever painted Spider-Man this way, and has become, in my opinion, the quintessential artwork of the entire 2016 Masterpieces set.
1. Wizard by Dave Palumbo, 2020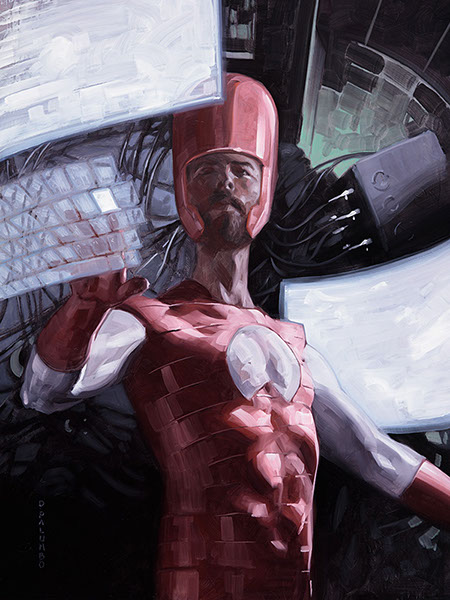 You might not have ever heard of the Wizard, enemy to the Human Torch, but he appeared in the 2020 Marvel Masterpieces set with the likeness of none other than the artist himself, Dave Palumbo. As far as I know this is the only card across any of these three sets that bears the artist's likeness, and that's pretty cool.
Wrapping Up
If you're new to the column or this series, I encourage you to take the deep dive and explore all these Marvel Masterpieces artworks from across the years and these three sets. The art is all top notch by the best in the business, and sheds new light on just what Marvel art can be. I'll see you all back in a month as we resume the Sketch Card Showcase, and as always, thanks for reading!
Donny Caltrider has been playing Magic since 2002 and collecting original Magic art since 2017. He has an M.A. in Museum Studies from Johns Hopkins University and enjoys telling stories about art, objects, and the intersection of fantasy with real-life. You can find him on Twitter talking about #mtgart, museums, and other #vorthos related goodness. Follow along and continue the conversation!