Good morning everyone, and welcome back to Masterpiece Theater for the now fourth installment of the 2020 Marvel Masterpieces Sketch Card Showcase! While it's been awhile since its initial release, in each box of Marvel Masterpieces 2020 (on average) there is a sketch card, an original work of art by an artist rendered on the same size and stock as the regular set. They are inserted at random and could be from one of more than 150 artists and of almost any character found within the Marvel Universe.
Among sketch collectors there are lots of different sketch collecting strategies. Some folks collect sketches by set (me), others do it by a certain artist (also me), or a particular character (still me), and a few collectors just really seek out high quality sketches, regardless of anything else, no different than an art collector in any other genre.
Volume I | Volume II | Volume III | Volume IV | Volume V | Volume VI | Volume VII | Volume VIII | Volume IX | Volume X | Volume XI | Volume XII | Volume XIII | Volume XIV
For my Magic: The Gathering readers, these are most similar to the artist proofs that artists receive after illustrating a card. While Magic APs don't ever appear in packs, the idea that each artist brings their own interpretation to a subject on a miniature blank canvas is the same. In Marvel, blank artist proof cards are provided to Marvel sketch card artists based on the number of sketches created, and they can illustrate and sell these both before and after set release.
This article will follow suit of the Sketch Card Showcase series; some entries will be character specific, other artist specific, and some a bit of both. The constant will be that each sketch tells a tale in the larger story of my collecting journey, and I'm very excited to tell you all about how I acquired them and the artist behind the artwork. We're steaming towards the end of my collection, so these are some of the latest pick-ups, trades, or commissioned APs that have come across my desk.
It's Show Time: this is the Episode XV of Exploring the 2020 Marvel Masterpieces; it's the Sketch Card Showcase #4!
Spider-Woman by Effix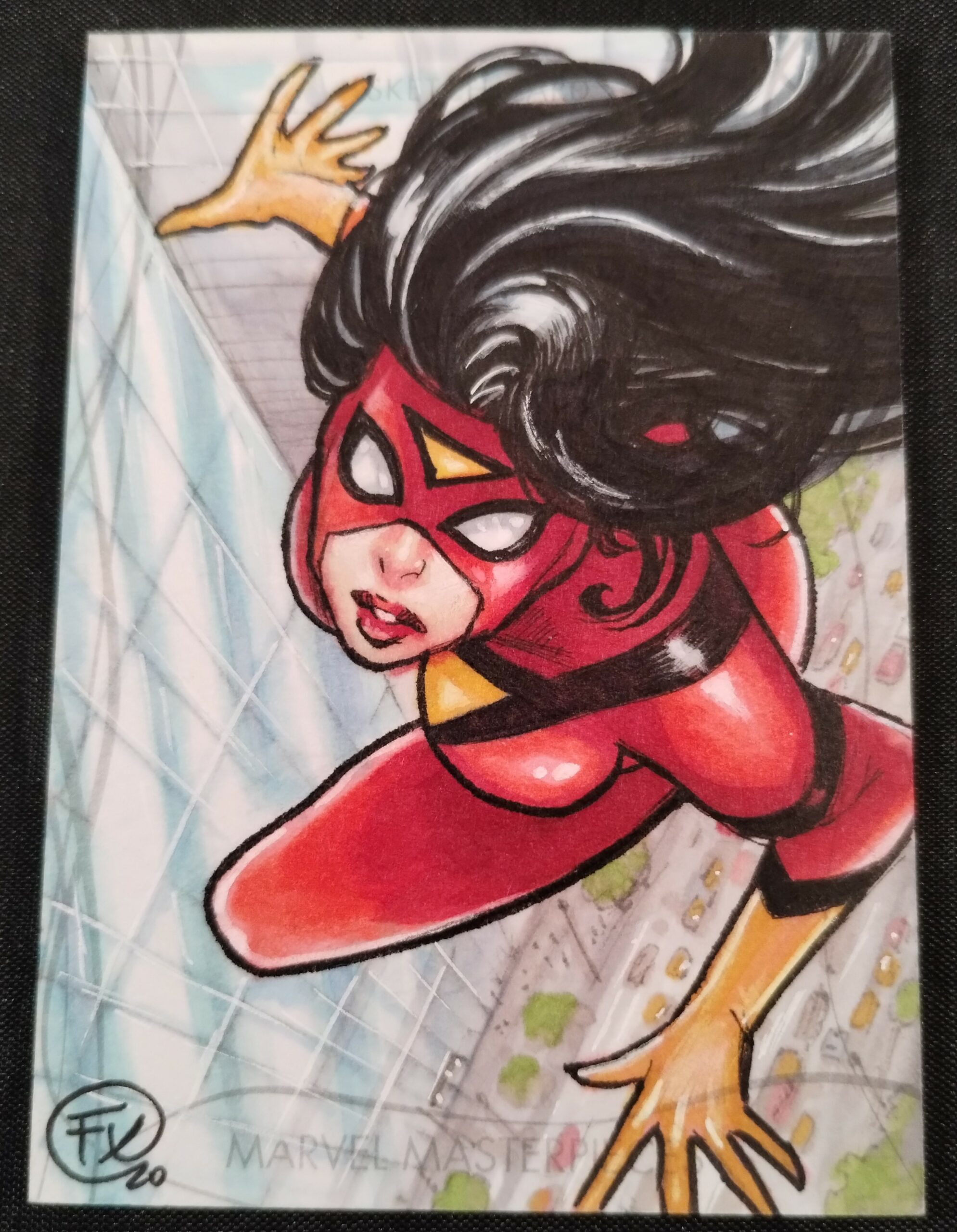 We'll start off hot today with Spider-Woman by none other than Effix! I opened an Effix sketch back in October of 2020 but it wasn't a character I collected, and have regretted not having one in my collection since I sold it last year. This is the perfect addition to my Spider-Woman page by one of the most talented artists in the entire lineup; I love the details of the cityscape, and his rendering of the ladies of Marvel is second to none.
Effix sketches do not come easily, but I can't say enough good things about his work, and what a delight it is to have one back in my collection.
Black Cat (AP) by Elise MP Strong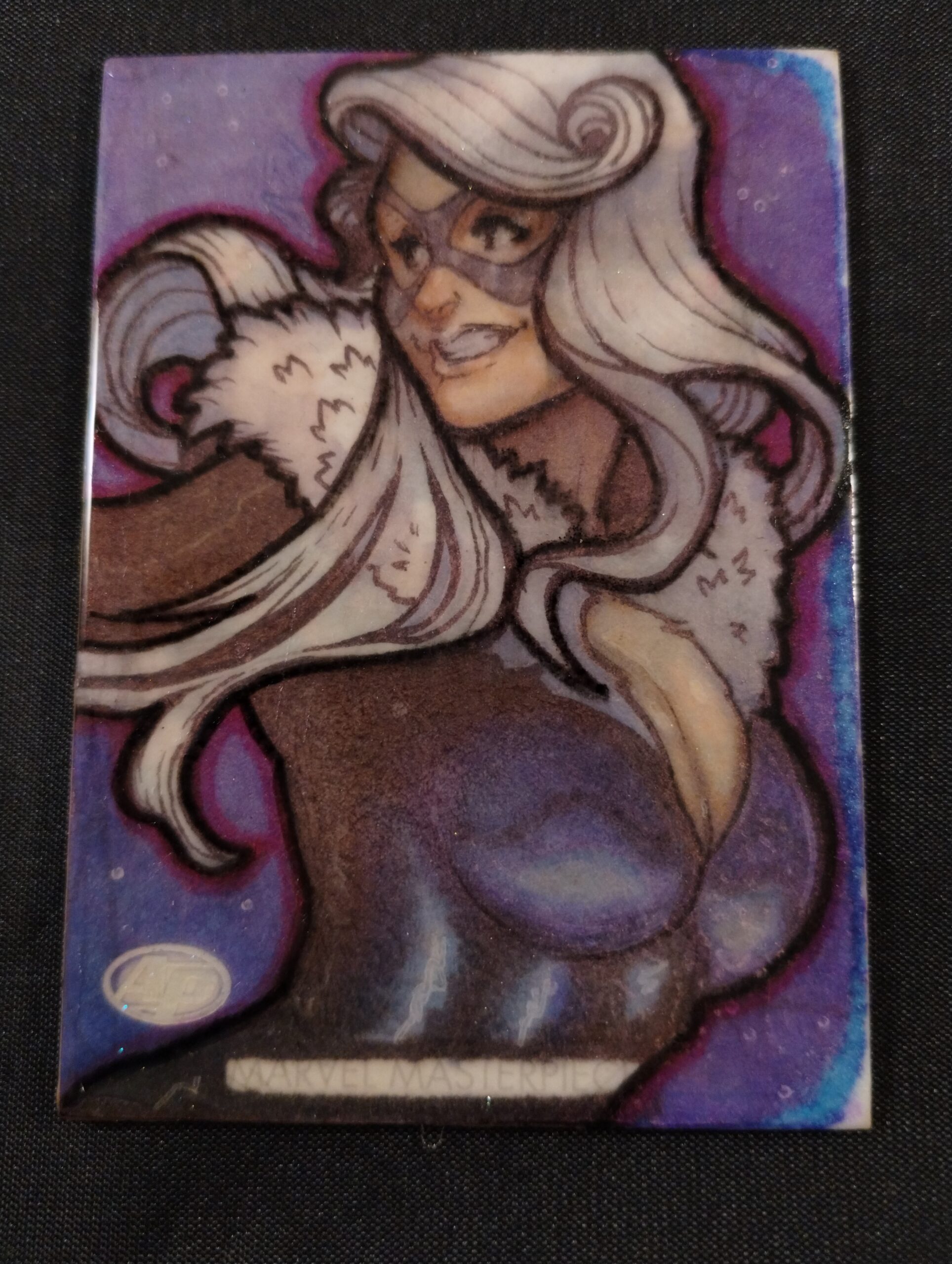 I mentioned this sketch in my last Sketch Card Showcase as it was commissioned at the same time as my Blink triptych, and was actually the first completed for my collection by Elise MP Strong. Her nouveau-inspired figure work combined with deep color and airbrush-like application make her work totally unique. She is one of my favorite artists to collect as you all have seen, and you can bet I'll be looking for more of her cards on future sets.
Iron Man by Robert Chapman & Iron Man by Salvador Velazquez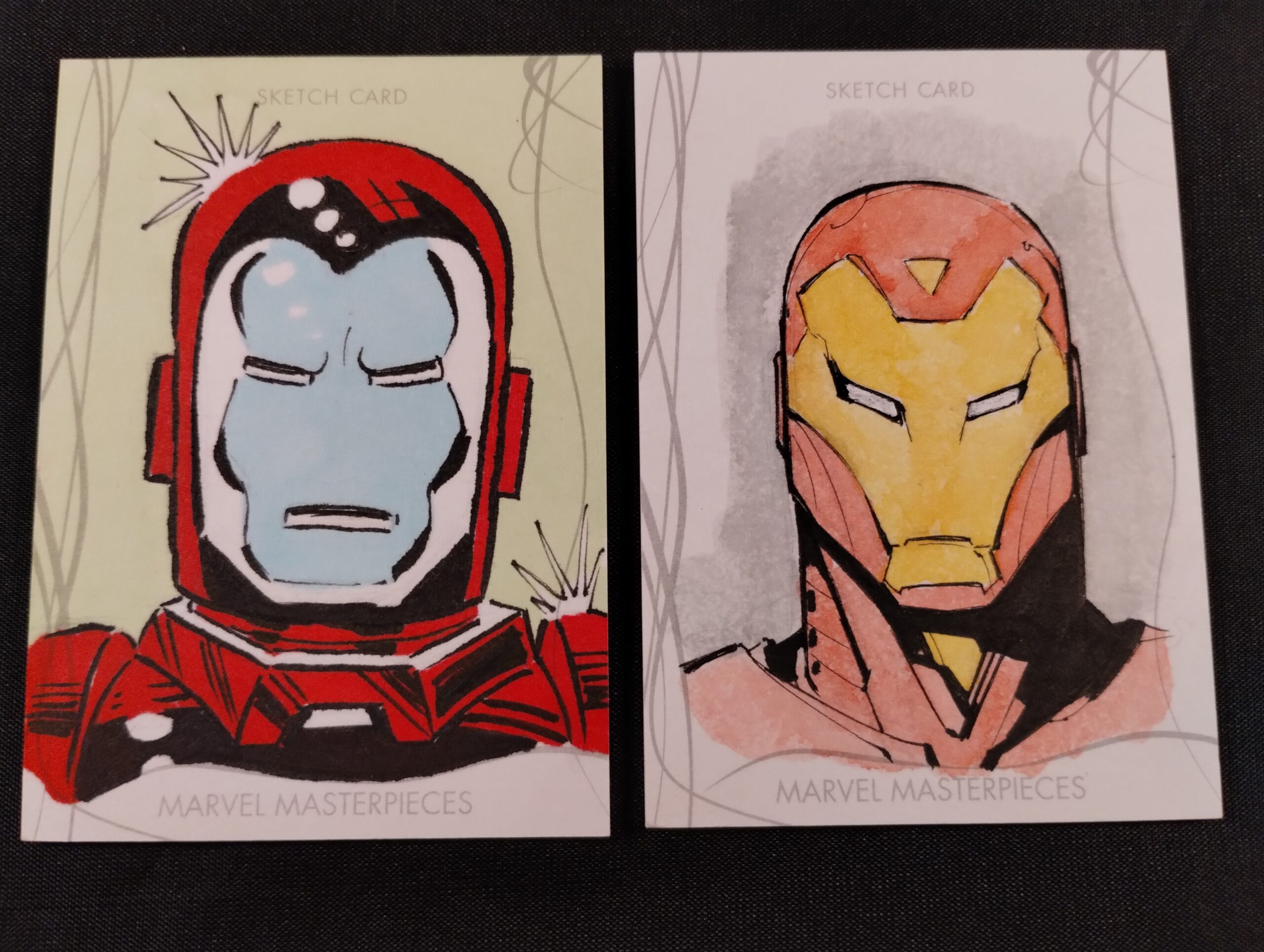 Way back in Sketch Card Showcase #1 I talked about an Iron Man by Idan Knafo, opened from my physical case of Marvel Masterpieces 2020. It's one of the only sketches to stay in my collection since that first opening, and I've finally completed the row of three (as I like to do) with this pair, one by Robert Chapman and the other by Salvador Velazquez.
Both of these artists have instantly recognizable styles: Chapman for his retro headshots and bright colors, and Velazquez for a similar study but rendered soft and almost pastel. Together these make a nice commentary across the three on how one might see Iron Man as a sketch card, and show the vast variety of art available, even within a single release.
Thanos by Breed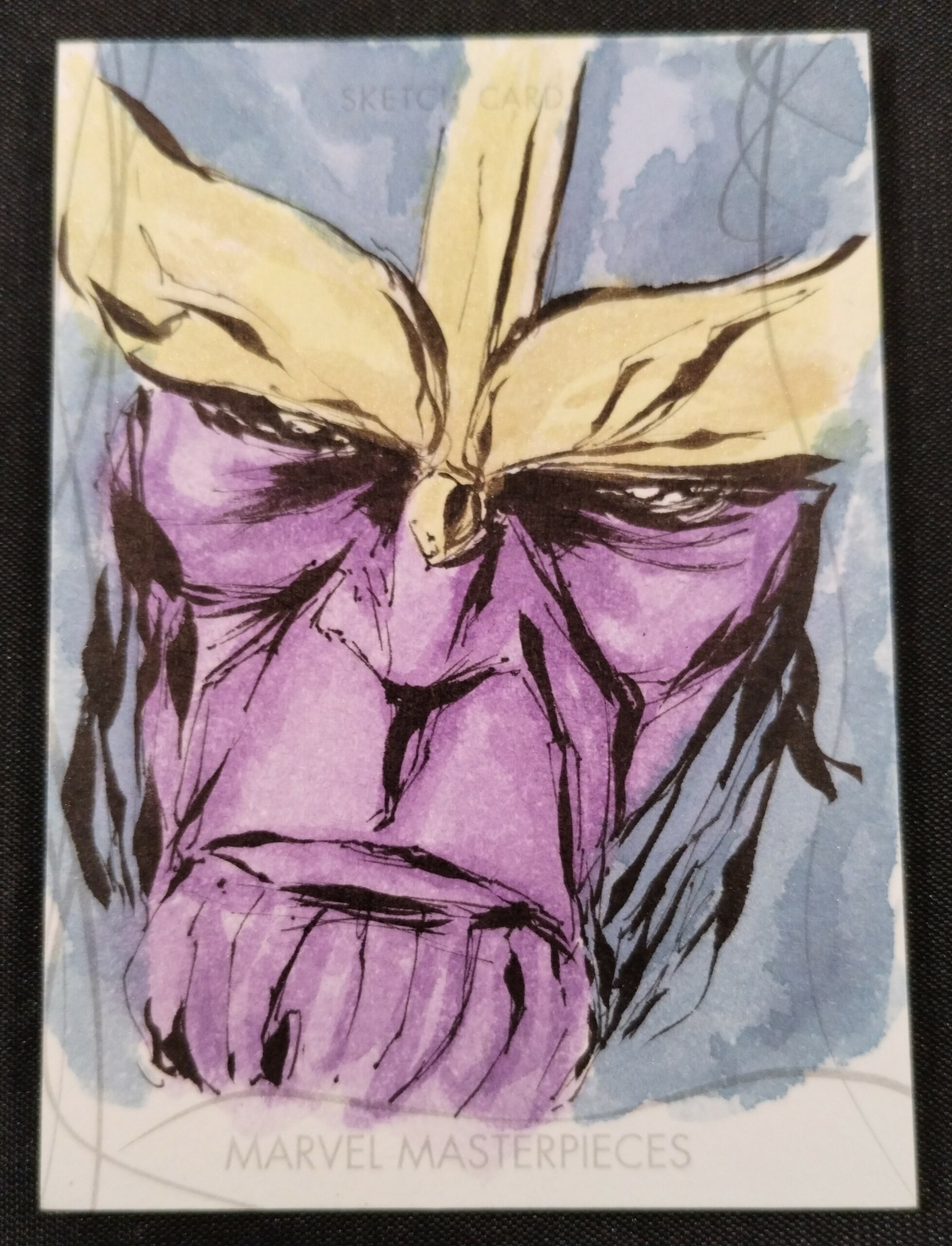 I feel like I chased this sketch around ePack forever, but was finally able to land it and bring it home. I spoke with Bobby about this one over email: it's one of those rare instances in sketches of the character where we see a burdened titan, heavy with the weight of his choices, and yet the resolve that drove him to completing the Gauntlet. It's got just a bit of gold foil on his helmet which adds for a nice sheen in-hand; perfectly representative of the artist's style, and a unique look at the inner workings of a major Marvel character.
Kingpin by Camron Johnson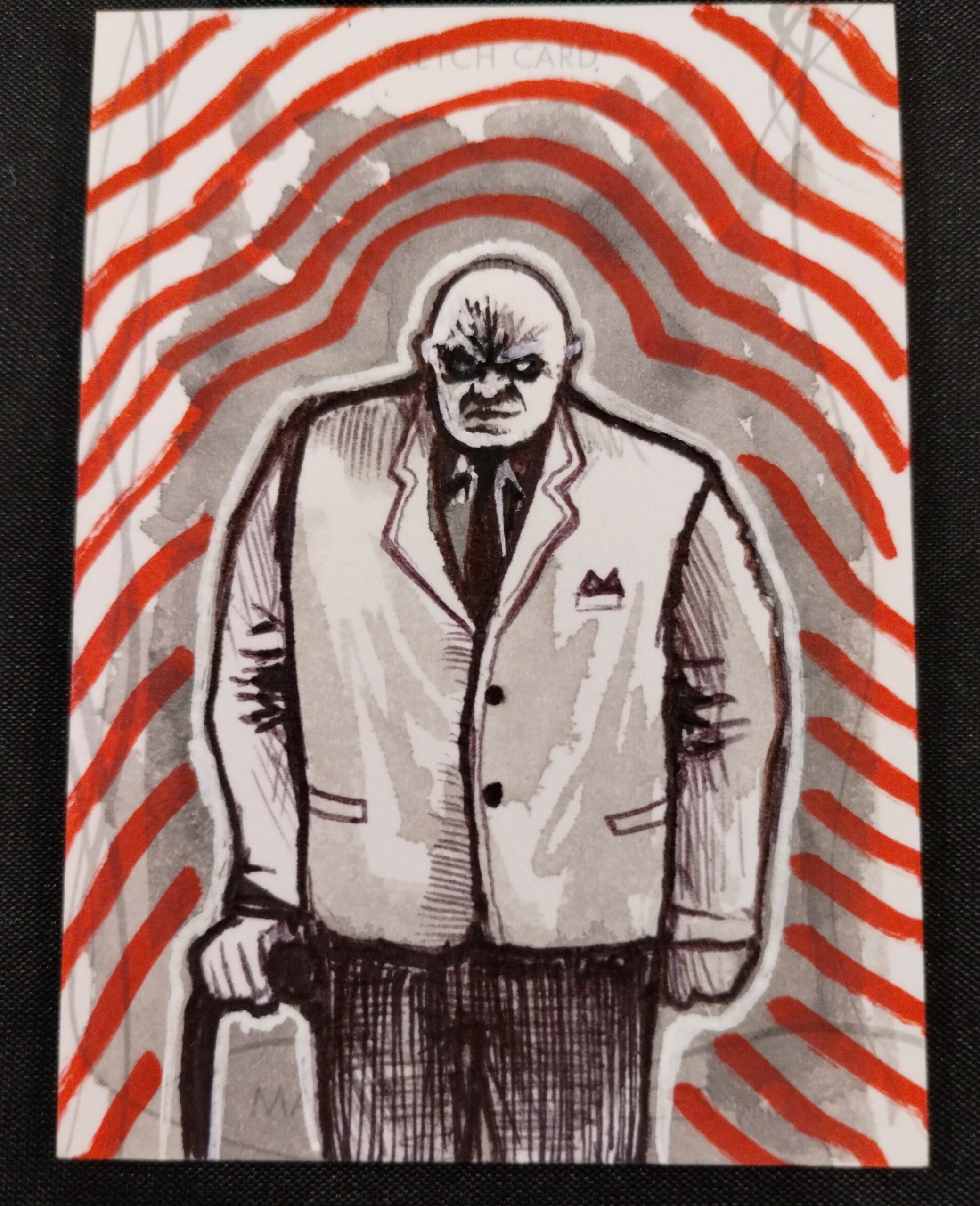 It looks as if Kingpin will once again be back in the MCU, and he's another larger than life character I like to collect as I can. This is only my second sketch of Wilson Fisk, but any chance to add a piece by Camron Johnson is one I'm going to take. The background surrounding the character is an absolute trip, framing the man and showing just how angry he can be. Johnson's work is stark and gritty, and I need at least one more by his hand for my collection.
Blink (AP) by Kevin Briones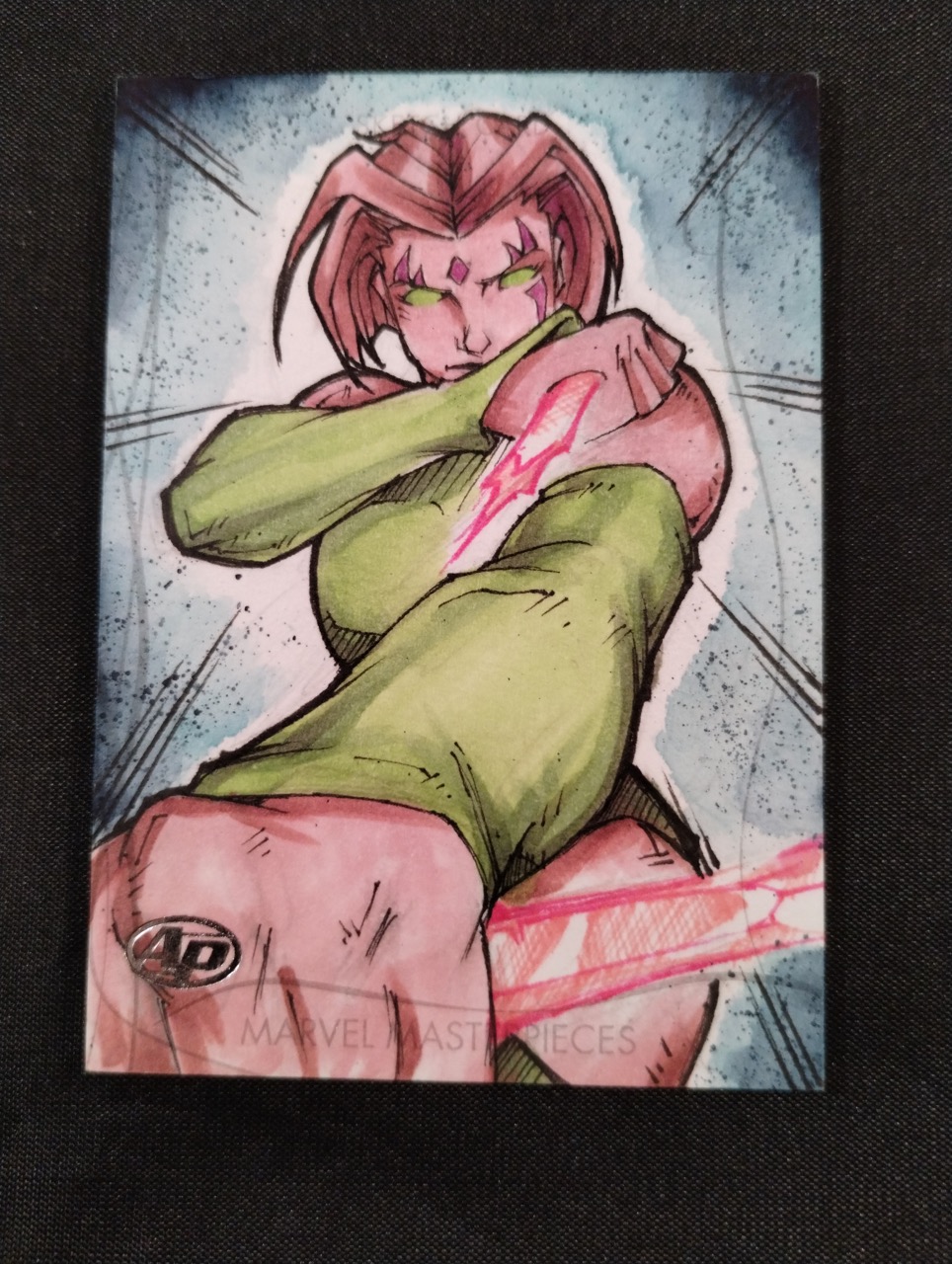 Ever since fred.ian's inclusion of Blink in the first Unbound set, I've fallen in love with the character, and have built quite a nice little group of her sketch cards, mostly by way of Artist Proof. This AP from Kevin Briones paints her in a fresh new perspective, and is entirely different than any other on the page. He's an artist that doesn't get enough love for his sketches, and you really need to see them in person to appreciate the attention to detail. If he's got APs left, you won't be disappointed.
Red Skull by Uko Smith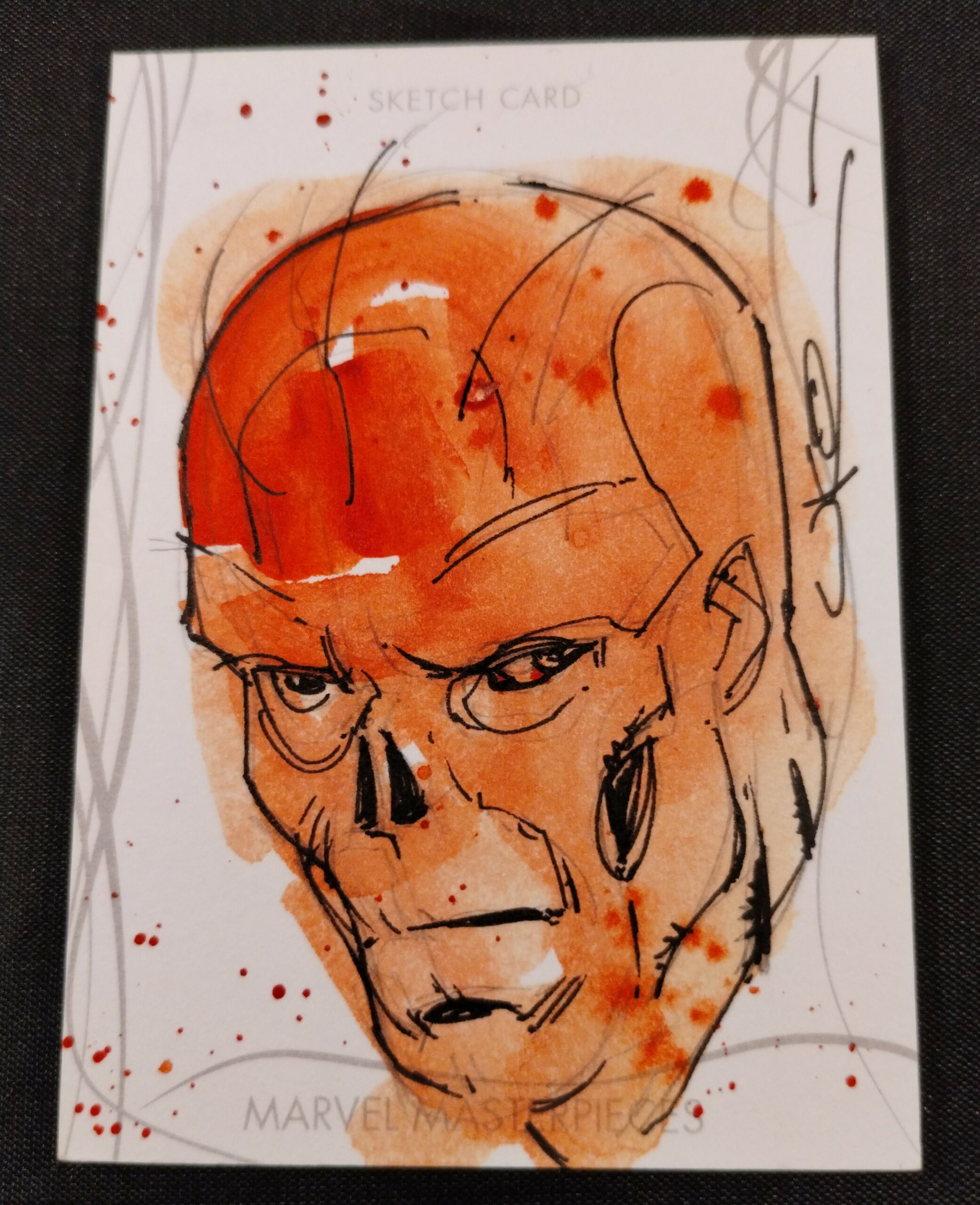 The third time's the charm with this Red Skull by Uko Smith, having traded two sketches of this character by this artist previously on ePack. After I let the second one go, I decided if ever one popped up again it would be staying with me, and lo and behold one late night on eBay brought this home. Smith's style is one of a kind, and you must follow him on Instagram to see all the incredible work he's putting out. Each piece posted is a knockout, and hopefully we'll see him again soon on future Marvel sets.
Viv Vision by Tim Smith 3 & Grim Reaper by Tim Fagaly
I mentioned completing rows of three in my binder, whether by artist, character, or sometimes even just a theme. This Viv Vivion by Tim Smith 3 and Grim Reaper by Tim Fagaly do just that, telling the story of the Vision (seen in Sketch Card Showcase #1) across three different cards by three different artists. It's weird little collecting goals like that that keep things interesting, and once again I've been able to add three great little pieces of art, all totally unique, to tell one cohesive story.
Venom by Alfredo Tasso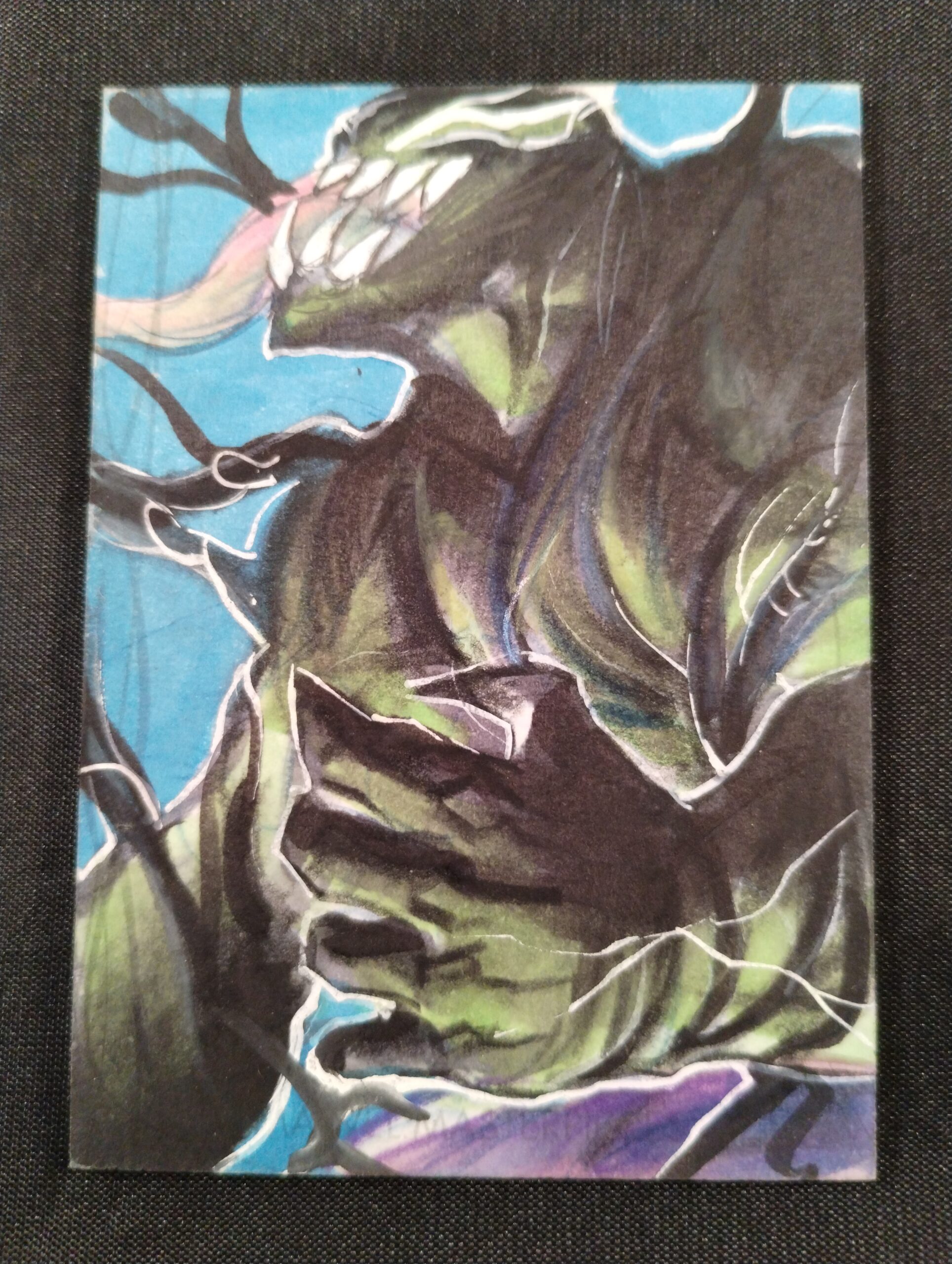 Regular readers of mine know I have a soft spot for styles that imbue motion, swirls and helixes, swoops and twists, and Alfredo Tasso is an artist that sees to it all his characters get a bit of this. I had only a single sketch by him prior to this Venom, but when it became available on the MCCW group, it was the perfect addition to my almost-finished row of the famous Symbiote.
The dark background adds a perfect contrast to the uplit monster, and the artist has made sure to fill the card to make him as menacing as possible. Tasso is definitely an artist I could collect on future sets.
Blink (AP) by Tim Shinn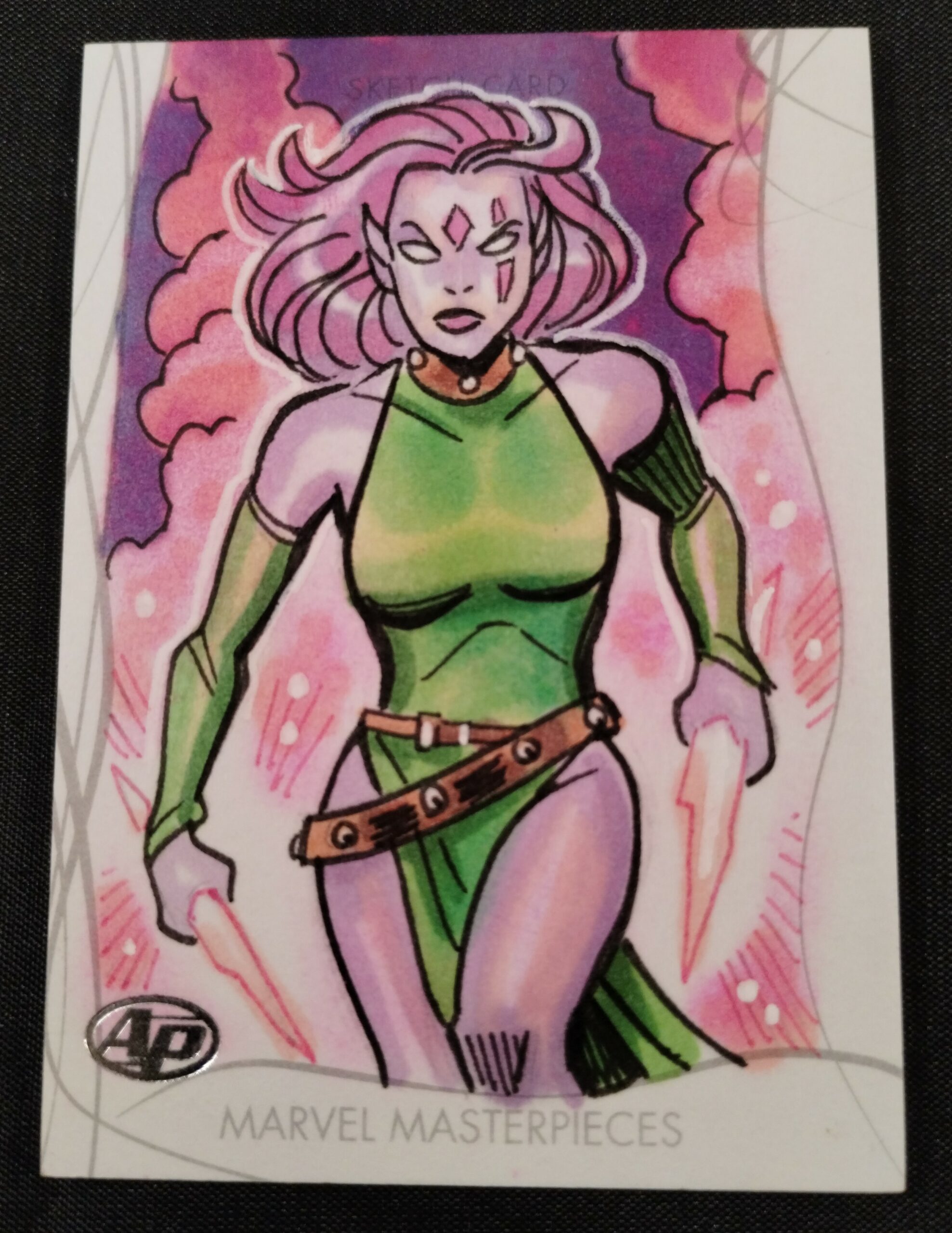 We'll end with a piece by one of the hardest working artists in sketch cards, Tim Shinn! This is my second AP from Tim, picked up in person when I met him at Fairfax Comic-Con outside DC earlier this year. His consistent style is seen across most every Upper Deck Entertainment release, and brings some of the best color work available across the comic book industry. He's got a ton of APs available too, so if you like what you see here, drop him a message on Facebook and get on his commission list today!
Wrapping Up
We've reached the end of Sketch Card Showcase #4 and put a dozen more sketch cards into the collection bank. I'm quickly closing in on 150 Marvel Masterpieces 2020 sketch cards, so there is probably enough for a Sketch Card Showcase #5, as well as my Mysterio article that's still forthcoming. I've said it before and I'll say it again: I absolutely love sketch card collecting, trading, interacting with artists and getting to know fellow art-lovers, and I don't see myself leaving this part of the hobby any time soon!
For the next few months Masterpieces Theater will feature Sketch Card Showcases from both Marvel sets and independent publishers alike, and that Mysterio article I mentioned is still coming, just as soon as I get all the APs hanging out there under one roof.
As always, you can keep up with all things Marvel Masterpieces 2020 by following me on Twitter. Feel free to ask questions or retweet to continue the conversation. Thanks and see you next time!
Donny Caltrider has been playing Magic since 2002 and collecting original Magic art since 2017. He has an M.A. in Museum Studies from Johns Hopkins University and enjoys telling stories about art, objects, and the intersection of fantasy with real-life. You can find him on Twitter talking about #mtgart, museums, and other #vorthos related goodness. Follow along and continue the conversation!