Good morning, and welcome to a new featurette here on Hipsters of the Coast, the Sketch Card Showcase! I've found myself enraptured by sketch cards, trading-card sized original works of art, after diving headfirst into the world of Marvel sketch cards as a part of my Marvel Masterpieces 2020 collecting journey. I've written two articles about Marvel sketch cards, as well as about the Magic: the Gathering equivalent, simply known as Artist Proofs. This column will now expand that exploration to independent studios creating sketch card sets for collectors, and the first we'll look at is the Hallowe'en 4: Ladies Night set by Perna Studios.
Perna Studios is run by artists Tony & Elaine Perna from their home base in Canada. Tony has been a freelance and sketch card artist since 2006, working on a variety of comics and sketch card sets over the last 15 years. Together with his wife Elaine, they commission and create independent trading card sets, each of which includes an original sketch card commissioned from some of the top artists in the field. There is a fair bit of crowd crossover between Marvel sketch card collectors and Perna Studios collectors, and I was turned to their work by fellow collector Matt Parks. In July, the Perna Facebook page announced this latest set:
Perna Studios is very excited to announce our 16th trading card set entitled Hallowe'en 4: Ladies Night. This set is focused on female characters that would come out to play on Halloween including witches, monsters, ghosts, ghouls, vampires, etc….. This set will also include art from some of the top sketch card artists in the industry.
Each set includes the Base Set of ten cards (seen here), one of four Pearl Chase cards, a set of three promo cards, and an original, hand-drawn sketch card by one of any of these sketch card artists.
This slideshow requires JavaScript.
Each set is $34.99 plus shipping. They go on sale at a set date and time, and are sold by email request. They sell out immediately, and when I say immediately, I mean even if your timestamp is the release time on the dot, they still could be gone by the time your message makes it through cyberspace. I was fortunate enough to be able to grab four sets to dip my toes into this series, and couldn't be happier with the results. Let's take a look at the sketches I've opened, as well as those I acquired to supplement my set.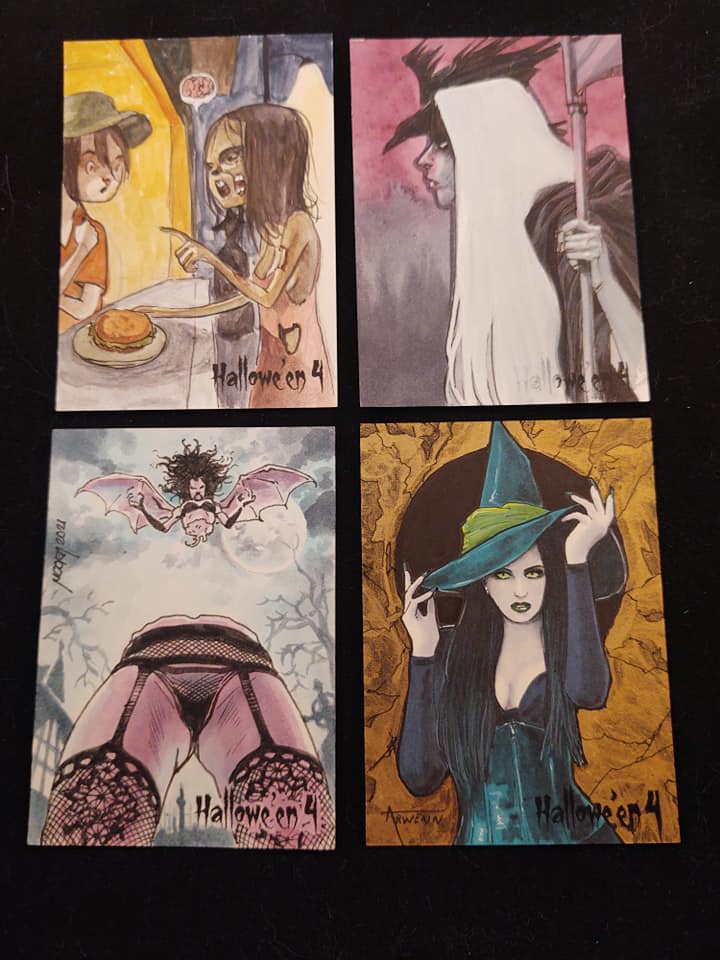 These are my four sketch card pulls, and I'd like to go one by one to talk about each of them.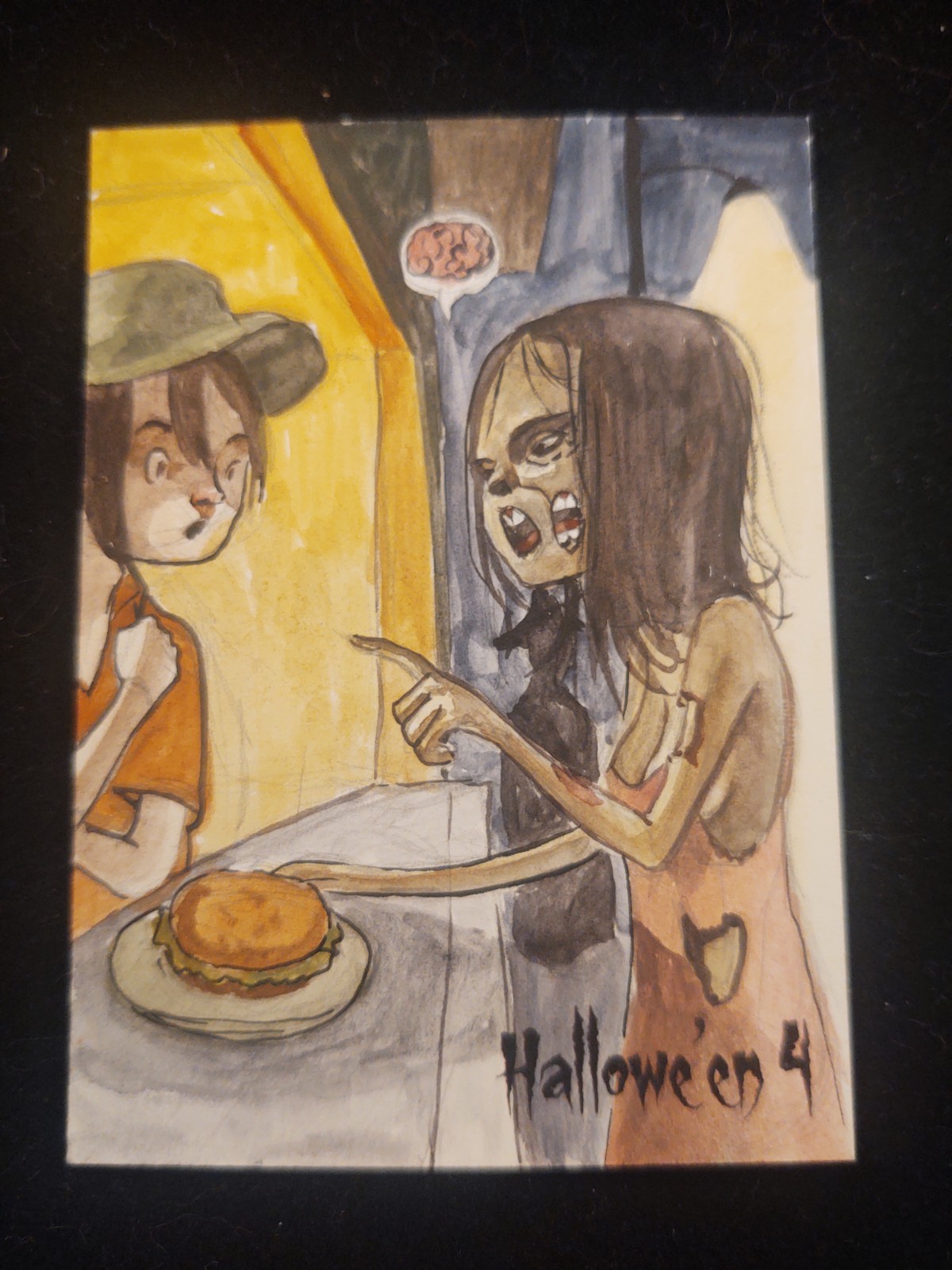 The first I opened is by fan favorite Juan Mendez. Known for his unique style and consistent whimsy, Mendez's Brain Burger is a fun spin on what's otherwise a largely spooky set. This is exactly what he is known for as an artist, and as such, I've gotten numerous trade requests. It's still in my binder for now, but most likely this will move to a dedicated Mendez collection.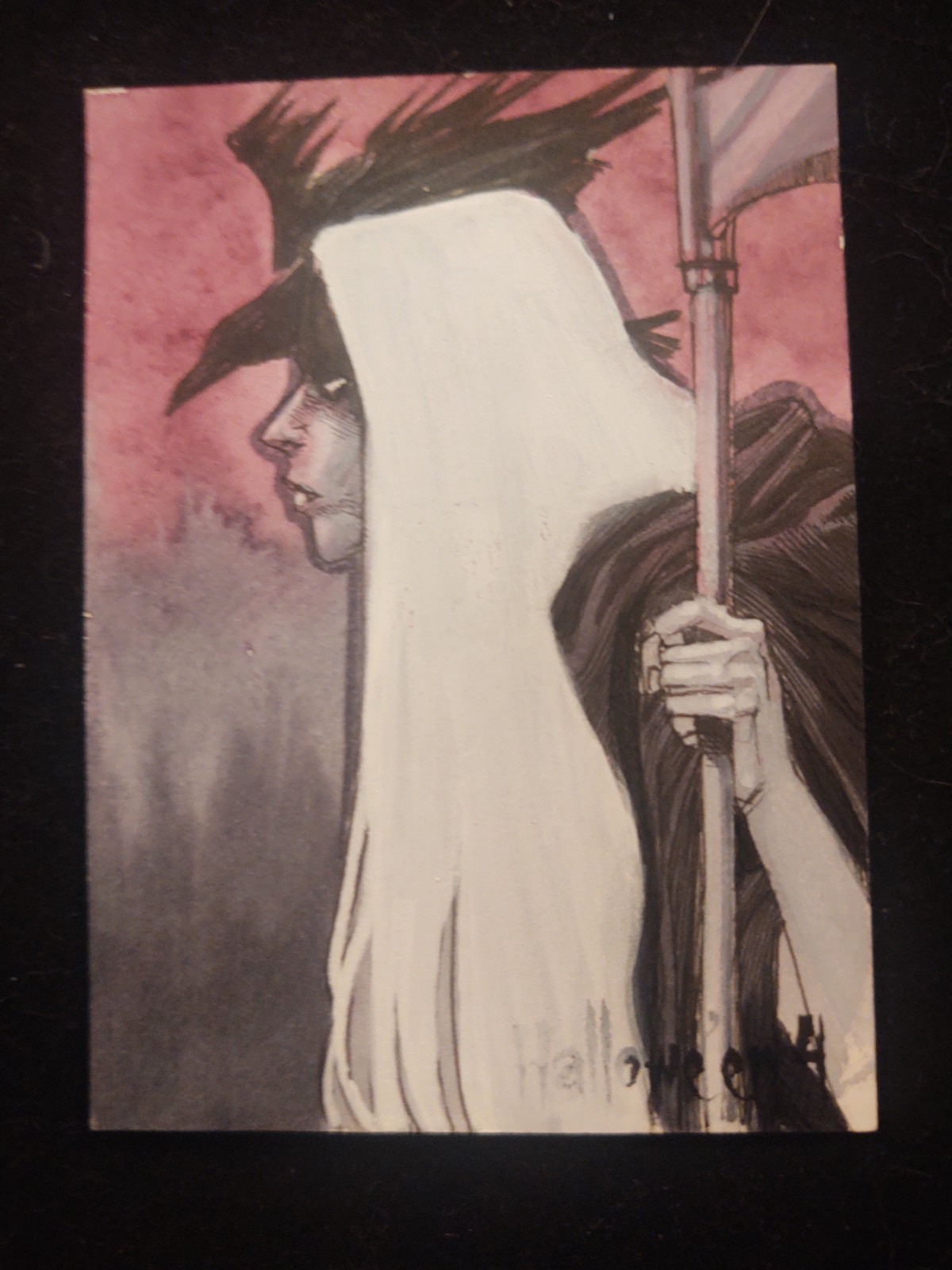 My next sketch card was by Leon Braojos, an artist whose work I became familiar with via Marvel Masterpieces 2020. This Halloween lady is simple, brooding, and ominous: note the colors here, from the deep maroon to the stark white accent. This would also be available for the right trade.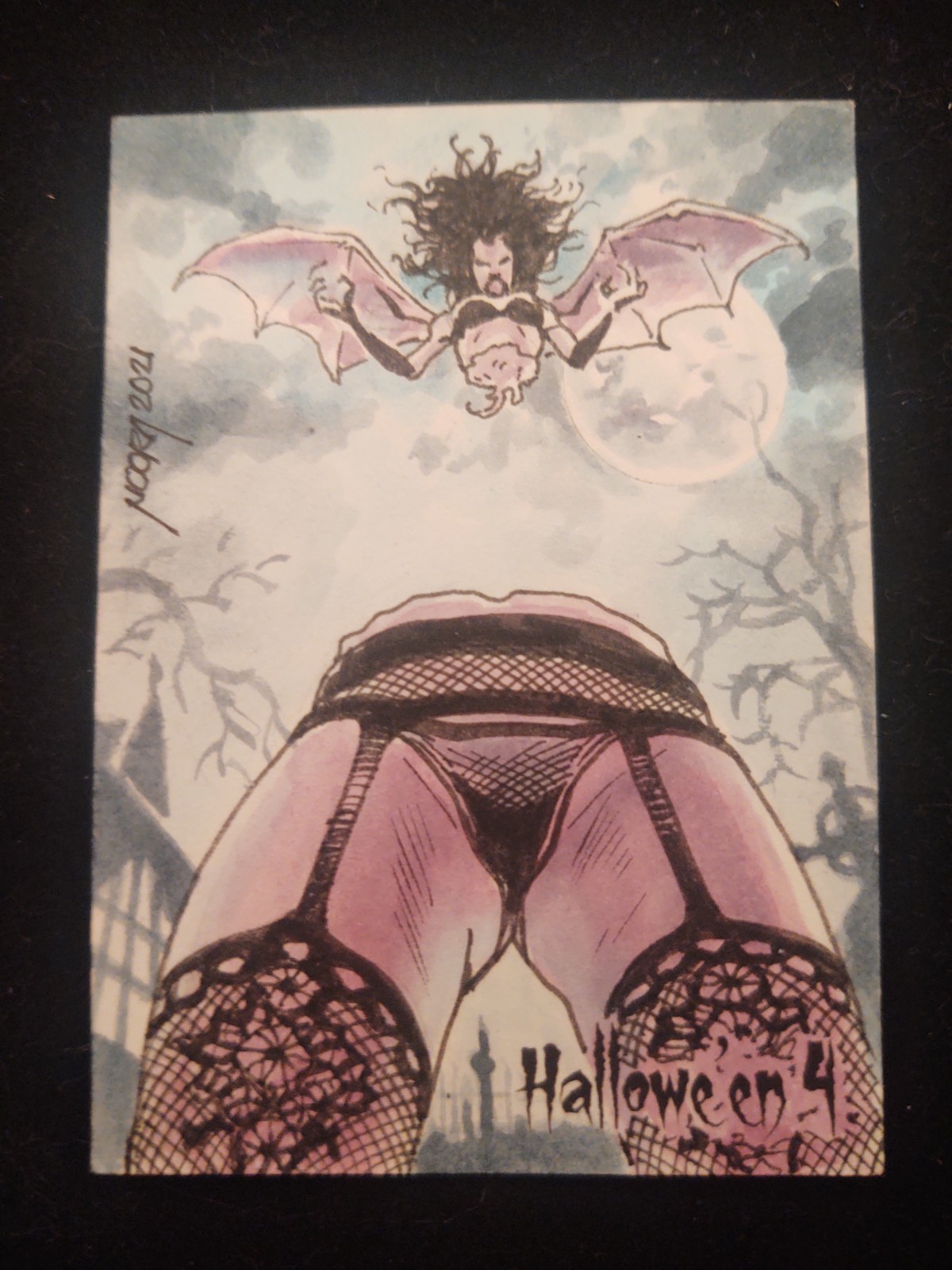 My penultimate pull was quite the eye-opener at 7:00am when I was cracking my package, and is by Rodel Noora. I found out from Elaine, when she answered a question in the group, that this is actually a vampire from the Philippines called a Manananggal. It's an absolutely terrifying creature once you read into it, and makes for a fun point of view in miniature on a sketch card. This card also got some trade attention, and may well find a new home too.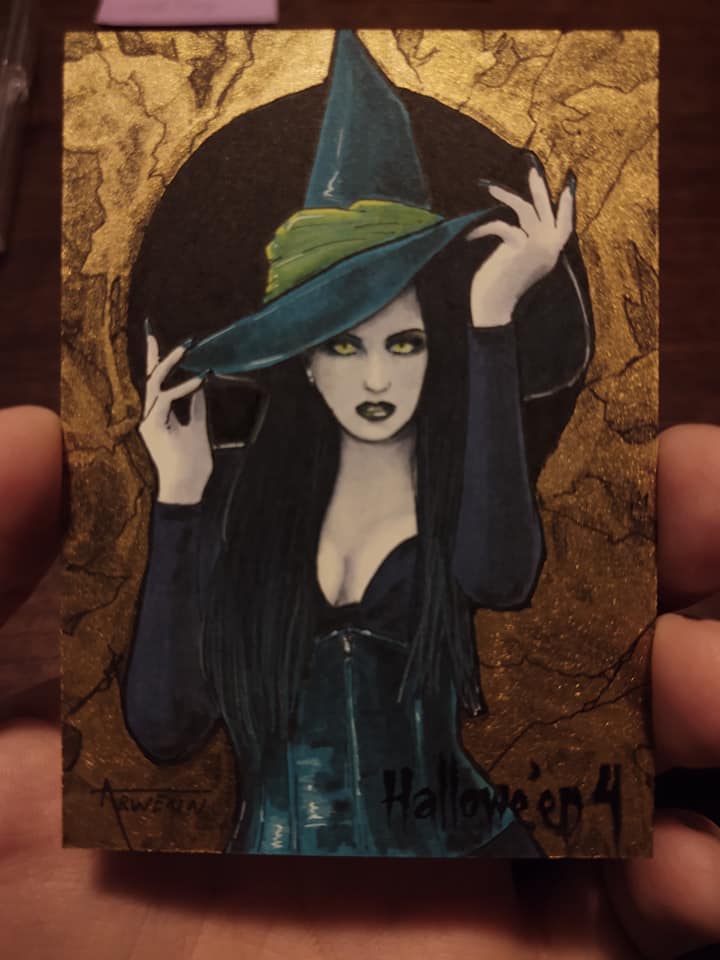 The last sketch card I opened took my breath away: an absolutely fantastic witch in gold leaf by Arwenn Necker. Necker hails from France, and has completed a fantastic series of women all in similar style for this set. Equal parts scary and sexy, this style is a spot on match for what "ladies night" is all about.
More Sketches!
As with any of my sketch collections, I seem to always be working towards either an eight- or nine-card page) for my sketch card binder. I chose to only order four sets (instead of the maximum of eight) to get my feet wet at first, but have been lucky enough to snag a few extra sketches by way of purchase and trade to add to my collection.
This whimsical witch by Oliver Casteneda came to me from Ian Taylor, my good buddy from the world of Marvel trading cards. Ian was interested in completing the "set" so to speak, so my set of Pearl Chase and metal insert Zombie by Tony Perna headed across the pond to the UK, and this lovely lady flew over here to me.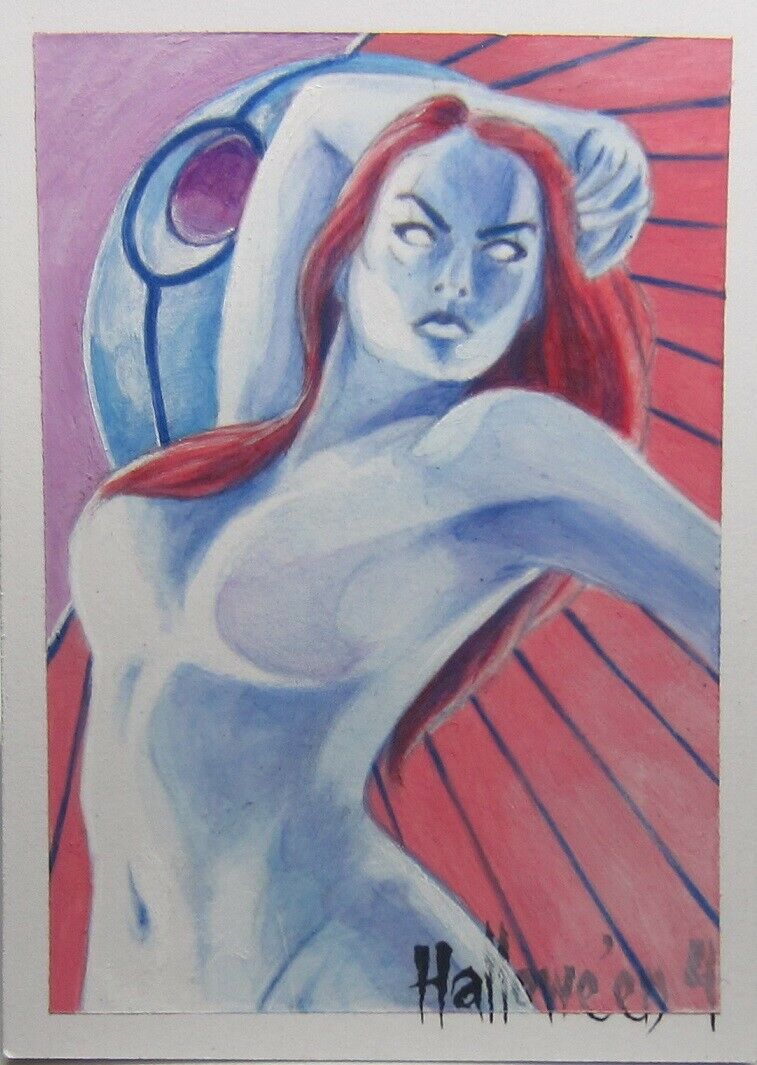 As with all things collectible, a certain number of Perna sketches land on eBay, and this past weekend I was able to land this sketch by the inimitable Andrei 'Dre' Ausch. This is a pulp cover inspired sci-fi lady with a softened edge, and so very unique to this set. I love it.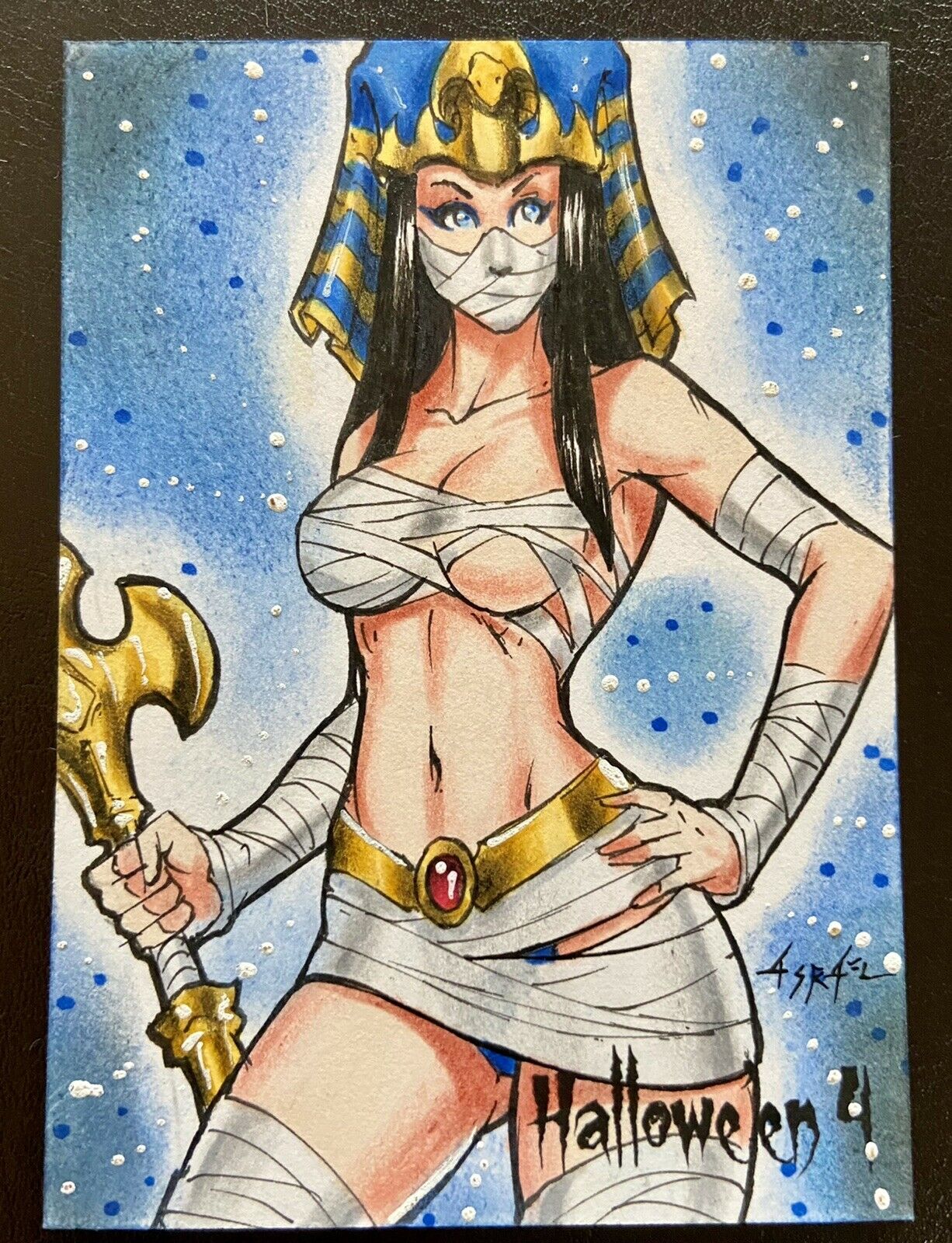 My eBay spree continued with a pair from the same seller, the first of which is this incredible Mummy by Israel Arteaga. He is another artist whose work I've collected on the Marvel side of things; this sketch is one of cleanest I've seen in the series, not to mention a gorgeous subject and unique inclusion of costume. I had to have it.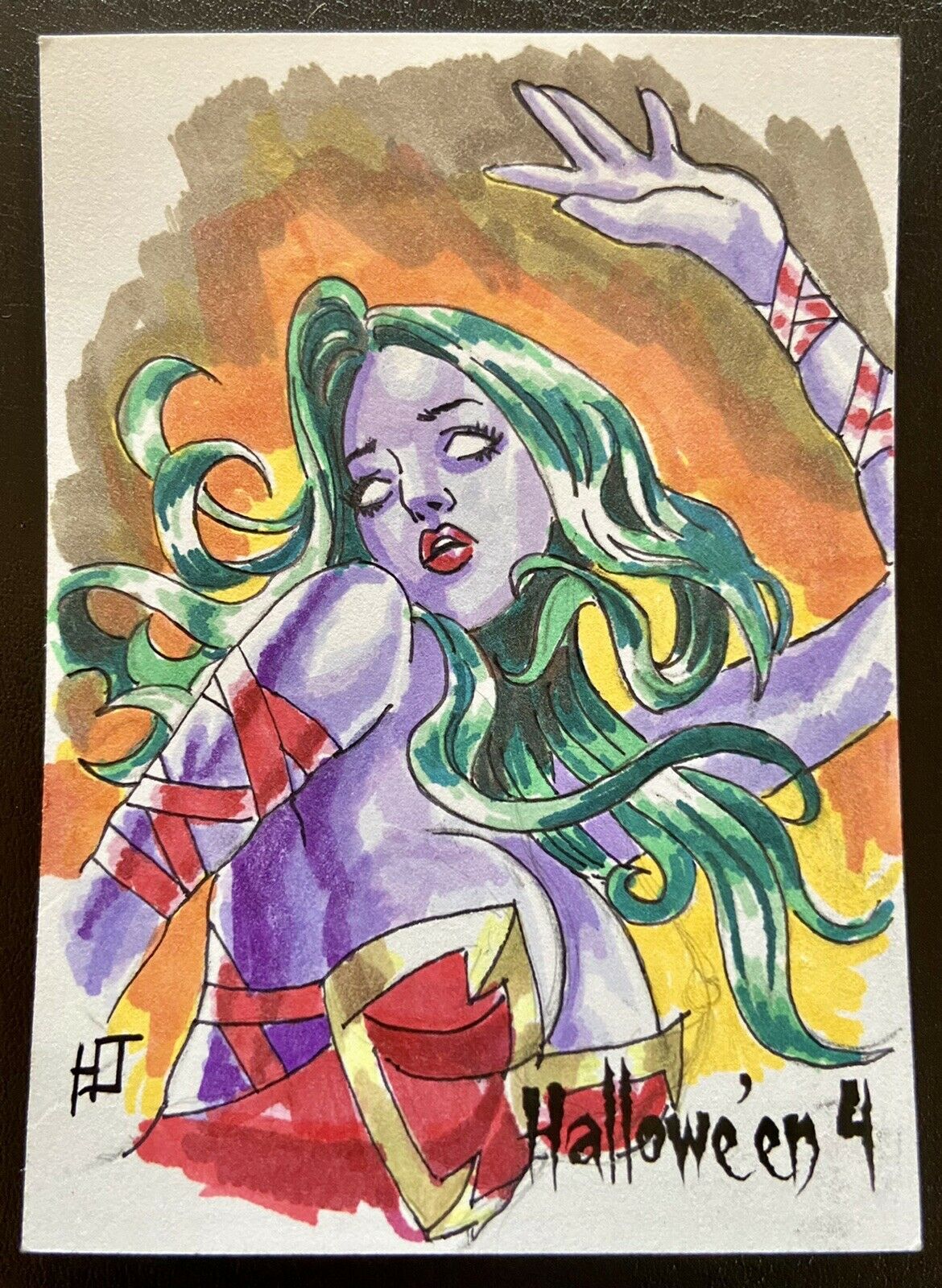 From the same place came this green-haired lady by Helmut Racho. Racho did a whole series of similar green haired and purple skin women, and I really love the contrast he achieved; this sketch has every color of the rainbow, and still works as a cohesive image and dynamic pose.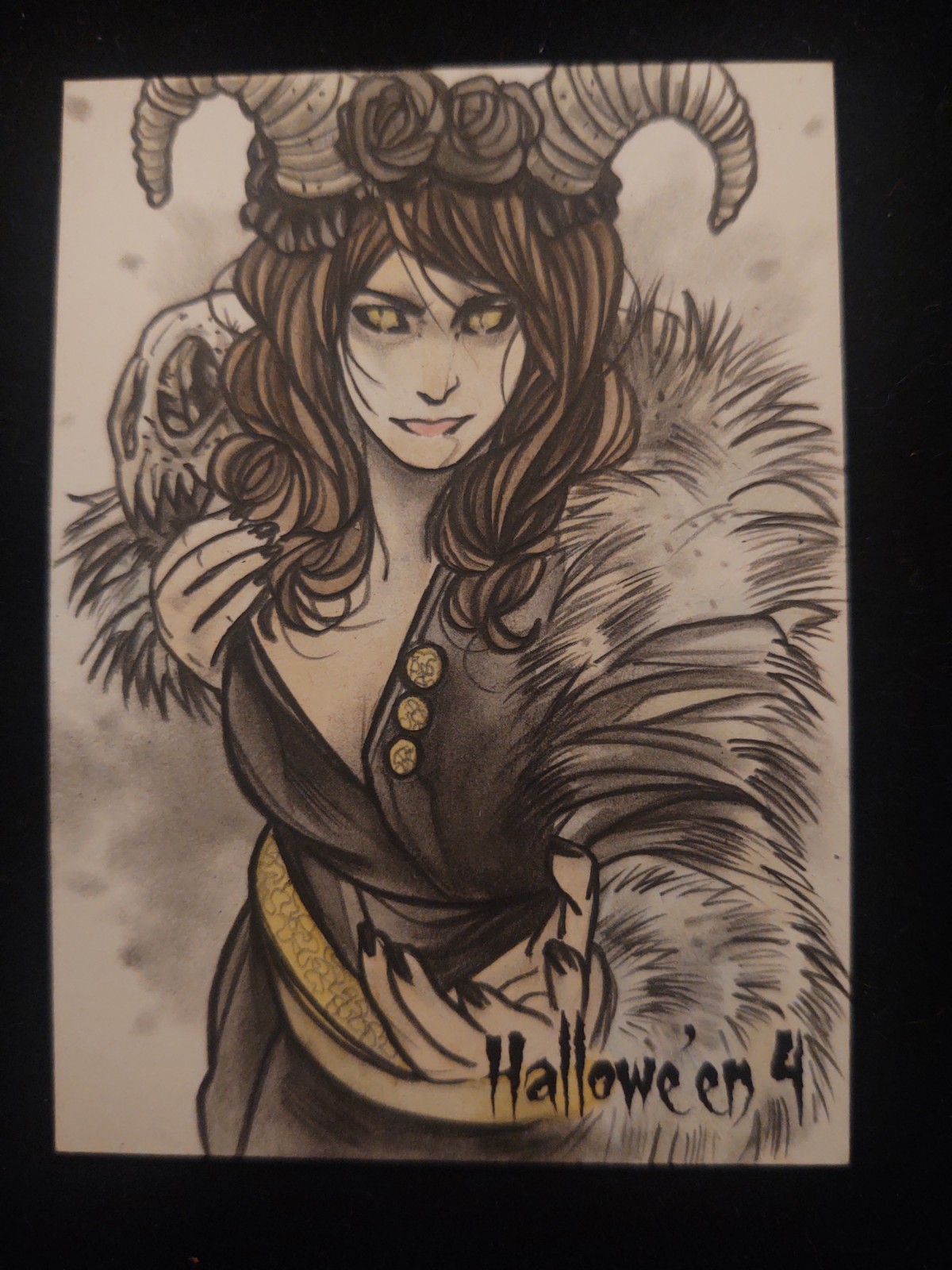 The last two cards I acquired from other collectors also came together, and the first is by Andre Toma. I first found Toma when he did a set of sketches for Marvel's Black Diamond, and I just love his style. He works in a very limited palette but his ladies are stunning all the same: she looks like she's about to walk right through the card frame!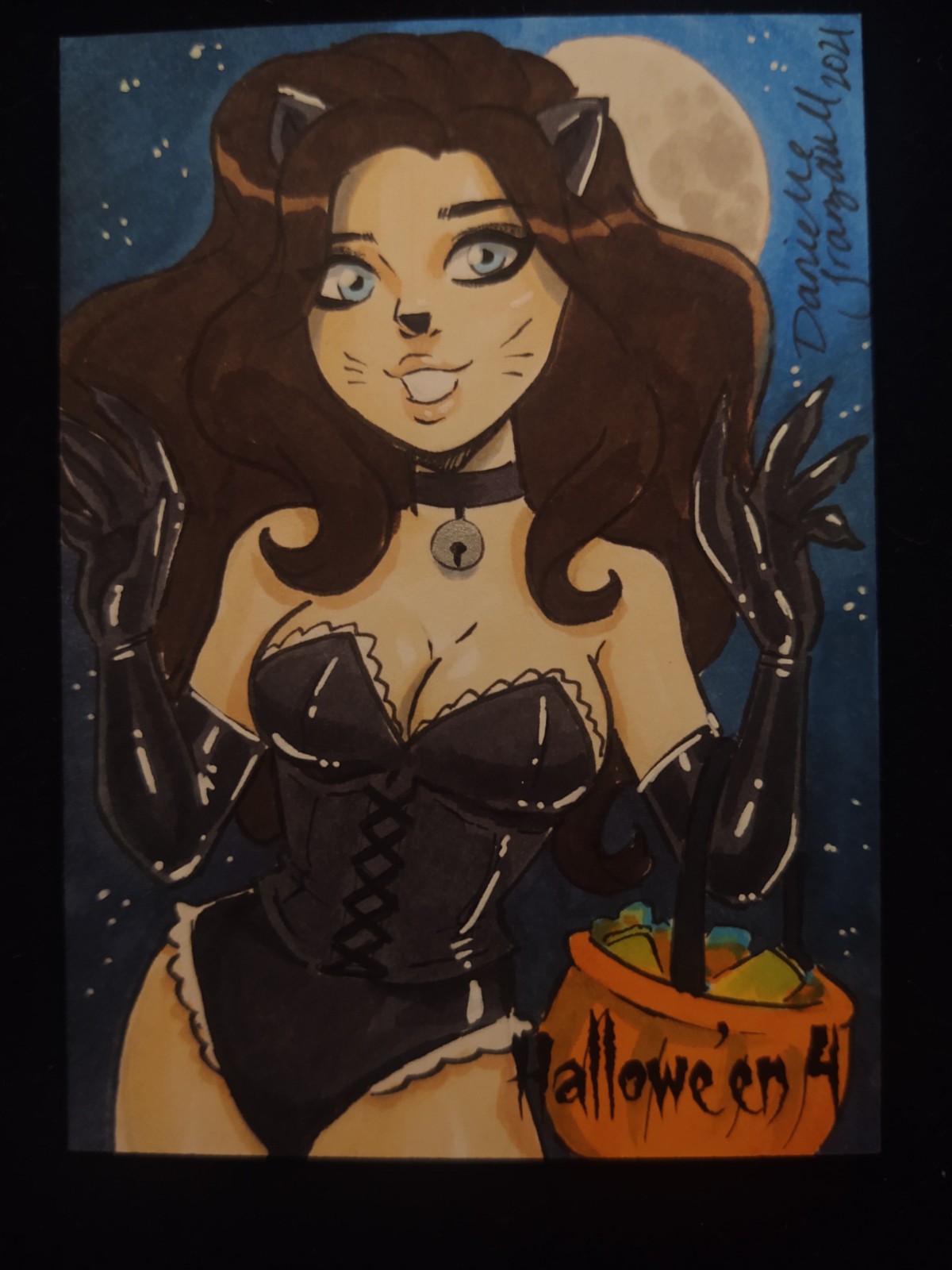 With the Toma came this wonderfully cute kitten from Danielle Grausaull. Up until this point I hadn't had a chance to capture one of her sketches, but I'm so excited to have this trick or treater as a part of my collection. It's a perfect compliment to my other pieces, and another fun take on the idea of "ladies night" without any of the scary bits.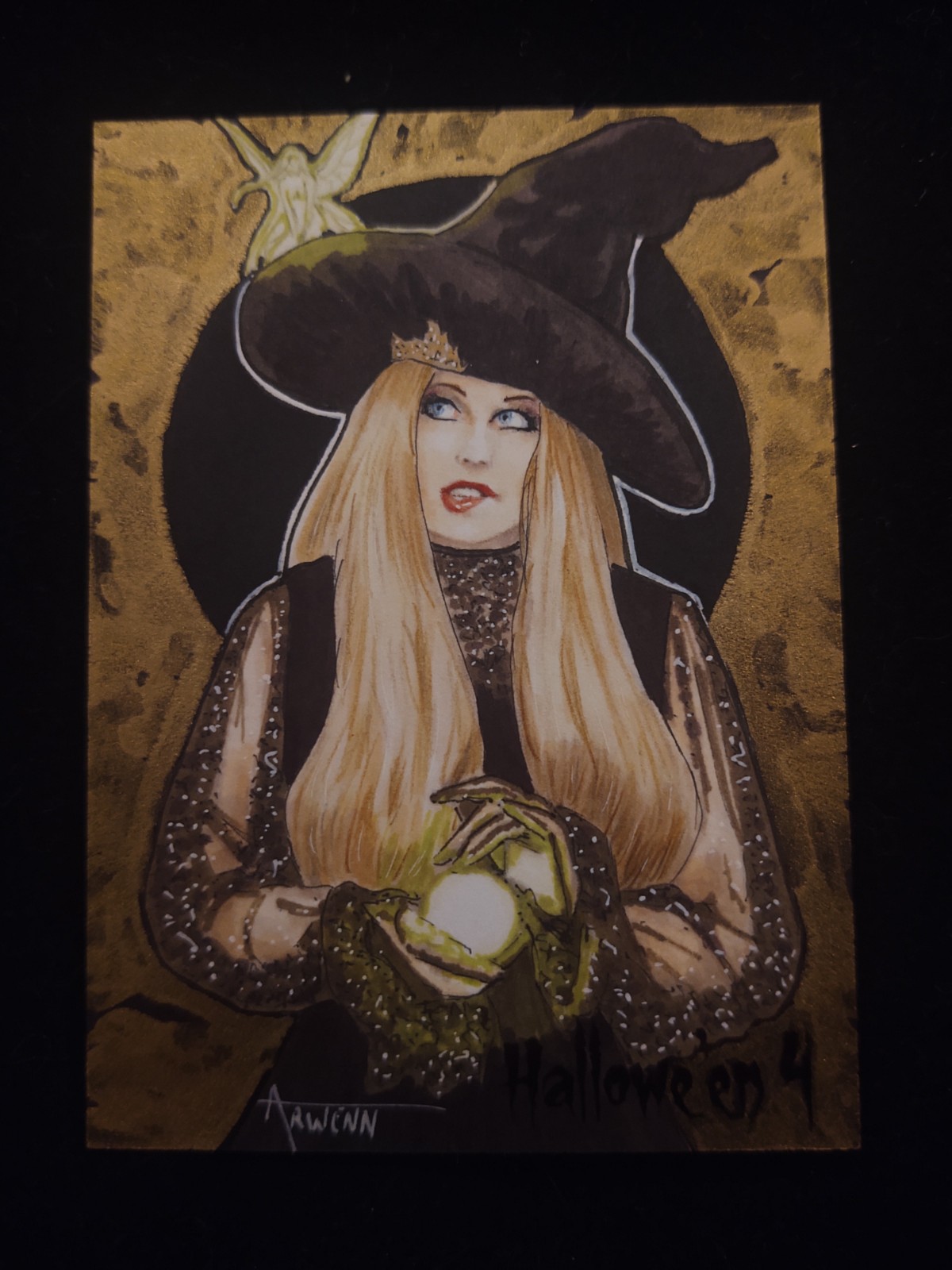 The last sketch for today is an AP! Much like other sets, each artist is given Artist Proofs (APs) to sell of their own volition. After opening one of Arwenn Necker's cards and falling absolutely in love with it, I reached out and commissioned another work to go alongside. The result was this wonderful witch, biting her lip as a fairy teases about her hat. It's my first Perna AP, and a perfect finishing touch to my set.
Wrapping Up
You can follow Perna Studios on Facebook for updates on upcoming sets, and on Deviant Art to see all the sketch cards and original artwork done for past releases. I've only just gotten to know Tony and Elaine, but they're doing fantastic work in this sketch card space. I'll be a collecting customer forever, and hope you'll check them out too.
Donny Caltrider has been playing Magic since 2002 and collecting original Magic art since 2017. He has an M.A. in Museum Studies from Johns Hopkins University and enjoys telling stories about art, objects, and the intersection of fantasy with real-life. You can find him on Twitter talking about #mtgart, museums, and other #vorthos related goodness. Follow along and continue the conversation!