Good morning, and welcome to the penultimate set review article of Masterpiece Theater on Hipsters of the Coast. We're continuing to explore Dave Palumbo's artwork from the 2020 Marvel Masterpieces trading card set, and this is Volume VIII. If this is your first time here you can find Volumes 1-7 below:
Volume I | Volume II | Volume III | Volume IV | Volume V | Volume VI | Volume VII
Marvel Masterpieces 2020 is the most recent premier set from Upper Deck Entertainment, picking up the mantle of the bi-annual Marvel Masterpieces series for this new decade. What makes the Marvel Masterpieces sets different? They are each illustrated by a single artist. 2016 marked the return of Joe Jusko, illustrator of the original 1992 set, 2018 ushered in famed Italian comic artist Simone Bianchi, and this year a master of imaginative realism, Dave Palumbo, was chosen to be the next Marvel Masterpieces artist.
Palumbo announced that he would be the featured artist for the set in July of last year via Instagram, and his contribution is the largest artistic project to date for the artist. Just this single set is comprised of more pieces than his decade-long catalog of work for Magic: the Gathering, of which he is perhaps most well and widely known.
This column will cover each of Palumbo's Marvel Masterpieces illustrations individually, and for each article Dave and I will look at 15 or so illustrations until we've gone through all 135. I'll include artist commentary, bits of collecting information, tidbits from the back of the cards themselves, and as always, a ton of stellar artwork. This is a mix of repeat performances from characters we've seen depicted multiple times, alongside some of the strongest technical artworks of the entire group.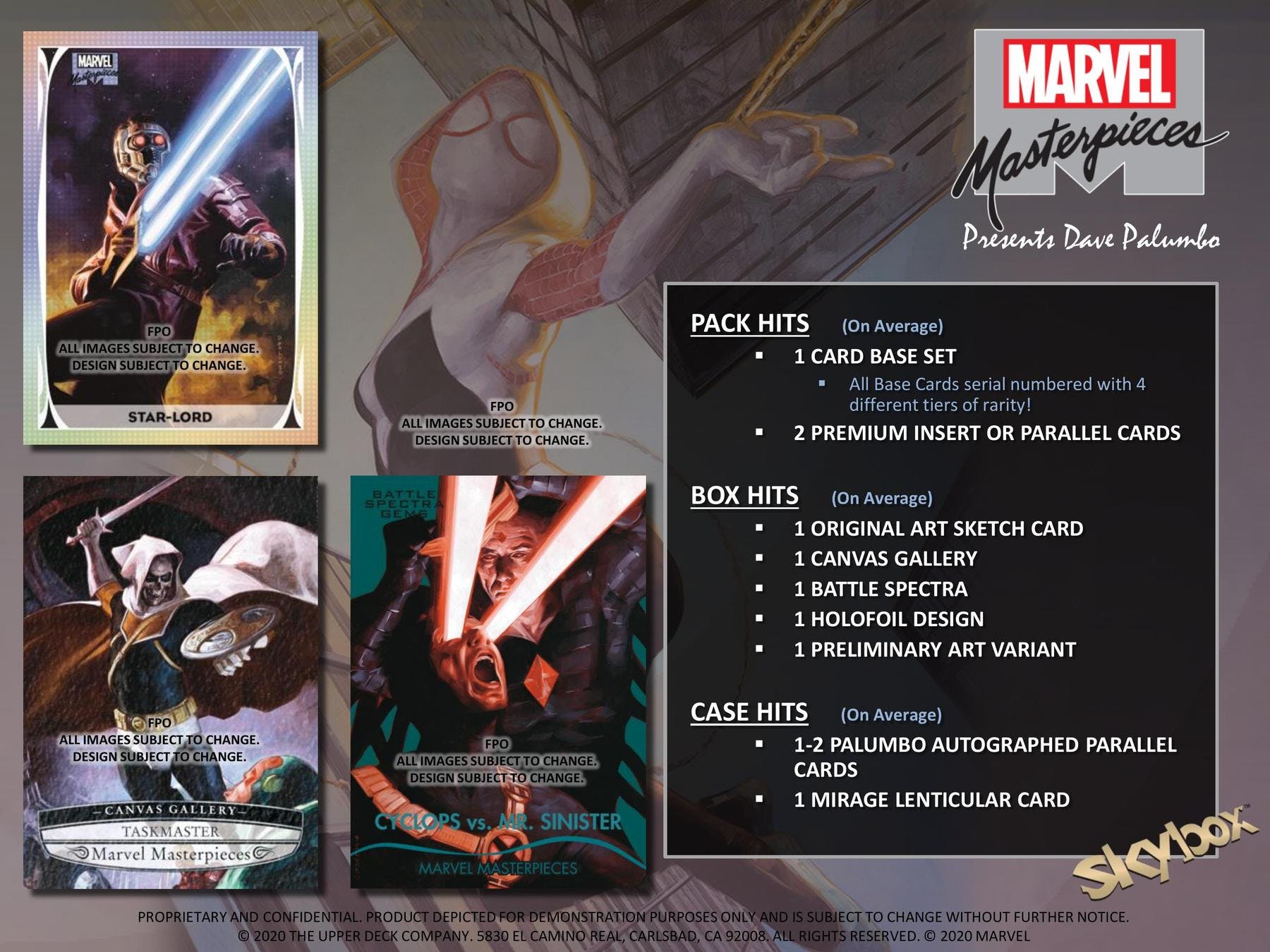 Each entry will include the published artwork as well as the song Dave used while he was painting. Each painting has its own soundtrack personally chosen by Palumbo, and the work wasn't complete until he felt it fully reflective of the song he chose. As in previous volumes, there are no songs for the Battle Spectra scenes, and duplicate appearances of the same character have the same song, in case you've heard it before. In order to replicate Dave's headspace, I also listened to the song as I wrote each entry, and I highly encourage you to do the same. Hit play and then look back at the artwork and read the caption for full immersion.
It's time for Volume VIII. Let's begin!
Ghost Rider
Song: Milquetoast by Helmet
We'll start today's article with one of Dave's personal favorites. Let's hear about it from him:
This was one of the very first pieces that I did and still remains one of my favorites. I remember in planning it, I was just getting into the mindset for composing these and wanted to steer more for a poster image than a trading card, which got me thinking about what actual posters I had as a kid. This is definitely one I would have had hanging in my bedroom, and in a weird way it gives me nostalgia for some really specific childhood memories watching movies and reading comics late into the night.
I love that he chose to do Ghost Rider off of his bike, and this piece is a fabulous example of how his personal memories shaped his interpretations and made them so different and incredibly unique.
Blade
Song: After the Flesh by My Life With The Thrill Kill Cult
This artwork is a compositional triumph, and results in a great visual journey. We begin in the center at the top of the work, travel down Blade's sword, and then across his other sword to the vampire pack waiting below. Whether we realize it or not this is by design, telling the story of this encounter and allowing the subconscious traverse of the entire painting. Our hero springs from the right, but takes us along for the ride even at card size; it's just a fantastic example of narrative in one tiny little package.
Jack O'Lantern
Song: Fear of the Dark by Iron Maiden
While we're talking about compositional narrative, we get another glimpse in Jack O'Lantern, as told in the artist commentary on the back of the preliminary art card found in packs:
I thought a good moment for Jack O'Lantern would be pulling the pin of a grenade as he is surfing by, with a trail of smoke streaming from the grenade. The light and haze of the background are meant to suggest mayhem underway, and the flames going one way, while the smoke goes another, suggests confusion and wild movement.
Again, and I can't say this enough: these choices Dave has made are all intentional, to make the art dynamic, and evoke emotion within the work. It's what has made these artworks so intriguing, and a large part of why even the least-known characters have become instant fan favorites.
Nightmare
Song: Eli by Bosnian Rainbows
This was a late addition, slotted in right at the end to replace some characters that Marvel decided to pull. In some ways, this one feels especially "me" to me, and I think hits the kind of note that I look for in a lot of my more personal work. I love moody, spooky images and so I felt like Nightmare was an excellent character for that approach.
An early member of the Marvel roster that dates back to Strange Tales #110 in 1963, this is Nightmare's only Marvel Masterpieces appearance in the modern era (meaning 2016 forward) and first since the very first set by Joe Jusko in 1992. As Dave mentioned, it's very representative of what we see in his personal work. It's both artist and subject doing what they do best.
Dr. Strange (Holofoil)
Song: Fire on High by Electric Light Orchestra
This painting is an abstract exploration of the man that is Dr. Strange, and I am here for it. Above his face we see his conscious as it splits through time and space, and below a beautiful expansion of the universe beneath the folds of the Cloak of Levitation. Add in a little ELO extraterrestrial music in the background, and your journey to the stars is just getting started.
Red Skull
Song: Suspira Theme by Goblin
As a villain with no ambiguity to his evil, I've always thought Red Skull was a great nemesis for Captain America. In the way that Captain America is our aspiration towards our best selves, Red Skull is the dark and frightening polar opposite. The piece obviously has heavy fascist/Nazi vibes from the stark color pallet to the WW2 era military map (which appears soaked in blood). I wanted this piece to be the face of evil.
Unadulterated, unbiased, and unmoving evil exudes from every pore of this painting. From his expression to the dagger he buries in the table, this is scheming villainy at its finest. This painting is a crowd favorite from the set, and I think will be remembered for a very long time as a signature depiction of the Red Skull.
Emma Frost (Base)
Song: Intro by The XX
Emma Frost has a history of being one of the most over-sexualized characters in the entire Marvel Universe; of this there is no doubt. But as we saw with her holofoil version, Palumbo made sure to depart from that tradition, as he did across his entire body of work in this set. We still get a bit of her midriff as one would expect, it's simply a part of her costume, but his painting here focuses on her power. She is one of the greatest telepaths the world as seen, and that's fully celebrated in this work.
Thor vs. Gorr the God Butcher
Song: N/A (Battle Spectra)
Thor is the only character to get doubled billed in the Battle Spectra series, as we saw him toe-to-toe with Hercules a few articles ago. Here he's ambushed by Gorr the God Butcher. I love what Palumbo's done in their faces: grit, determination, and anguish all wrapped up into one, and visibly unmistakeable for both parties. Thor's fist captures our attention and is enlarged to show his superhuman grip on Mjolnir, as he prepares to swing backwards at his foe.
This scene is very possibly a preview of the upcoming Thor: Love and Thunder film that will be set in the Marvel Cinematic Universe and release in 2022. Gorr is supposedly the primary antagonist, and it will be the live-action debut for the character.
X-23
Song: Tribe by Mad Capsule Markets
Square up! X-23 (Laura Kinney) is on her back foot and ready to strike in this dimly but full frontal depiction. The color palette is as cool as the Adamantium that extends from her hands, creating a feeling of uneasiness, but also showing her devoid of feeling at the same time. You'll see in a few articles that there was also an alternate pose for this work as well, and I'm quite the fan of that composition. We'll talk more about that then.
Ghost Spider
Song: Ha Ha Ha by Julie Ruin
I remember this one took a lot of time before I found the direction that I wanted. Sometimes just listening to the mood song would help me visualize a piece. This song was on a playlist that I used to listen to while going for runs (up until I tripped on a jagged sidewalk and mildly broke my arm) and I could kind of feel the energy of the character leaping off a roof top and swinging through the city. I liked the idea of looking at her from a kind of front view while the sky scrapers point straight up, which I think fits with that feeling of falling/swinging, while also making for a cool abstract design.
Dave's work within the Spiderman family has completed reinvigorated my love for the entire storyline and its characters, from Peter Parker and his host of bad guys to ancillary characters like Silk and Ghost Spider. Turn this song up loud and close your eyes: you can see her swing through the city, like watching a movie from memory only it hasn't been made yet. That's the power of art, and this is one of the best pieces in the entire set.
This painting is also what folks that open physical booster packs find waiting at the bottom of the box, and was used as the secondary packaging art, a nice contrast to the descending Venom found on the front.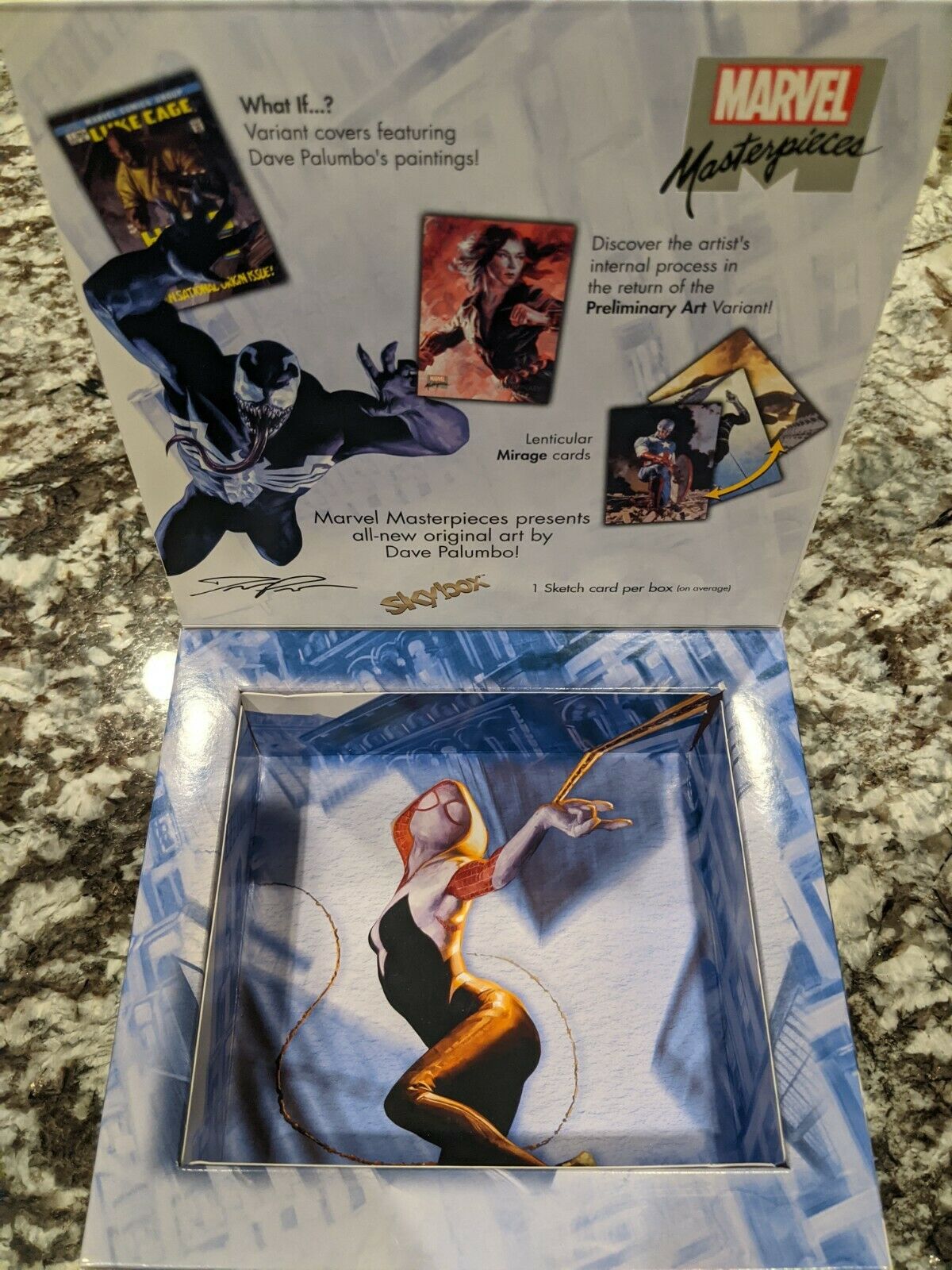 Hellstorm
Song: Zombi by Fabrio Frizzi
Damn this song is ominous, but so fitting for this character of fire and brimstone. It's another work filled with fire, and I'd like to jump back to the preliminary art card, with notes from Dave, to explain why:
The way that a figure lit by fire appears, almost as a silhouette because the flames are so much brighter, strikes me as so dramatic. Whatever footage of stuntmen in fire suits I could find was tremendously helpful here.
To accurately capture a man on fire, Dave found actual men on fire. It puts the real in imaginative realism, and is why paintings like this work so well.
Hulk vs. Thanos
Song: N/A (Battle Spectra)
The idea to have these two fighting on the moon is not tied to any particular thing that I can think of. I was doing a lot of sketching trying to visualize a fight between these two giant dudes and not happy with it. I was looking at professional wrestling and playing with figures in 3D programs and none of it was feeling like the thing. I eventually found a pose that seemed pretty good but was still missing something, which was when it just felt like "I guess maybe they're on the moon?" and that worked so I went with it.
As two titanic titans tiptoe through the tulips face off (announcer voice) in space, we now know it's the result of an artist's favorite question: why not? Even with rippling muscles and over-accentuated limbs there's a feeling of weightlessness that Palumbo's created, making it not only dramatic, but beautiful and oddly poetic at the same time.
Surtur
Song: Innocence and Wrath by Celtic Frost
It does seem like ominous undertones, pillars of fire, and a heavy metal soundtrack are the themes of this particular group. Here we encounter another larger than life figure in Surtur, and greet him from the perspective of the puny human we are, looking up his sword at the monster before us. The bringer of Ragnorok has eyes aglow and face expressionless: evil is as evil does.
Wizard
Song: Space Shanty by Leftfield
I've been waiting to write about this one for a good while. For those of you who don't know, that's Dave Palumbo himself as Wizard, and the sole piece in which the artist painted his likeness into the set. I'm guessing there is a reference photo of him wearing a silly hat to simulate the headpiece, and maybe if we're lucky he'll share it someday on his social media. The translucent technology that surrounds him situates the character in his "natural habitat," a common theme Dave has followed through many of his villain depictions in this set, and again one of those trends that really make these characters feel at home in their universe, and in ours.
Punisher (Holofoil)
Song: Bring the Pain by Method Man
Whereas the last time we saw Punisher and his face was totally shrouded in shadow, this Punisher is a bit more revealing—but only because of the destruction he's caused. We've spoken about Palumbo's fire several times through this series and in this article in particular, but in this work it's used primarily to cast shadow. It makes the work technically correct from an artistic perspective, as well as more dynamic, but also ties this piece to the other character depiction. In doing so it furthers the narrative of the Punisher's past, and tells another chapter of the story. Perhaps this took place before the other scene? Or maybe this is a flashback? We'll never know.
Wrapping Up
And so ends Volume VIII. We get a whole lot of heavy with this subset: deep music, fire, destruction, fighting, more destruction, more fighting; it's not all sunshine and rainbows in the Marvel Universe. I think the biggest takeaway from this group of work though, is artistic intention. The choices Dave makes for every painting, from composition to color, have a reason. They are meant to further the narrative, evoke an emotion, or symbolize something important. It's not just painting a superhero; it's telling a story. And that's pretty important stuff.
If you'd like to see all 135 works in a single three page gallery, you can find that here, along with information on which pieces are available for purchase and those that have already been sold. There are now less than ten original paintings available for purchase as of the writing of this article.
There is but a single article left before reached the conclusion of this 135 card set. But fear not, dear reader, there will be a few more articles about Marvel Masterpieces 2020 before I'm through, and I'd like to share a bit of a preview. After this article there will be one more in the set review, followed by an in-depth look at Dave's preliminary work, a Sketch Card Showcase featuring some of the my favorite sketch cards I've collected from this set, and then hopefully a feature on Mysterio, featuring the original artwork from this set.
From there I'll begin a new series that will incorporate the work of 2016 and 2018 as well, and you'll hear more on that later this year. You can keep up with all things Marvel Masterpieces 2020 by following me on Twitter. Feel free to ask questions or retweet to continue the conversation. Thanks and see you next time!
Donny Caltrider has been playing Magic since 2002 and collecting original Magic art since 2017. He has an M.A. in Museum Studies from Johns Hopkins University and enjoys telling stories about art, objects, and the intersection of fantasy with real-life. You can find him on Twitter talking about #mtgart, museums, and other #vorthos related goodness. Follow along and continue the conversation!