Hi everyone, and welcome back to the final Mirror Gallery of the year. We have all but reached the end of the 2018, and I've been doing a fair amount of reflecting (yes it's a mirror joke, let the bad puns roll) on what's happened this past year. I began writing for Hipsters of the Coast in April of 2018 with no previous content creation experience, submitting after only ever being a reader on the site. I wanted to explore my collection of original Magic art in an interpretive way, and share my passion for the incredible power and narrative locked within these works of art.
As a summation to the end of the year I want to do three things in this last article: look at where we've been, where we're going, and finally to say thank you to those that helped get me here.
Where We've Been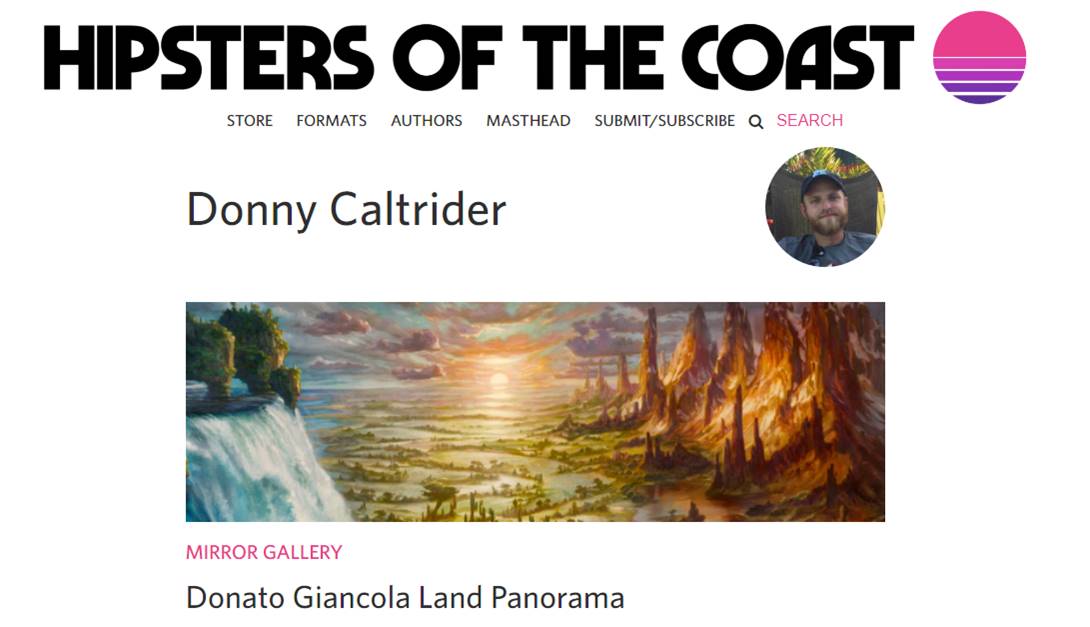 36 Articles. Thirty Six.
The Mirror Gallery began as a biweekly column that would take an in-depth look at different pieces of original art, but quickly branched and blossomed to cover all sorts of different aspects of Magic art and what it is to be a Vorthos. We got to look at art in my collection, from polished final paintings to preliminary color studies to some absolutely exquisite sketches. We didn't forget that Magic was a game, and brewed up some Vintage Artist Constructed as well as walking through all the choices one has when choosing Commander art. There have been artist interviews about pieces I've acquired as well as things going on in the community. And I got to take you all on a little roadtrip to IlluxCon, seeing who was going to be there and then looking back on everything that happened.
Of these 36 articles, fifteen of them were from my spin-off column the Art Market Minute. Back in the summer, David McCoy asked if I would be interested in covering the sale of Terese Nielsen's SDCC Planeswalker paintings, and those first few articles have now grown into a staple of my content creation. I look forward to covering more of the art market in 2019 and weaving these two columns together whenever possible.
Of all those articles, there were two that made it to the Mothership, and my work was also nominated for MTG Strategist's first ever MTG Content Creators Awards in the "Best New MTG Content Creator" category.
What an incredible journey this has been, but the question eternally begs: Where do we go from here?
Where We're Going
I like to set goals; they keep me focused, and having a solid plan will ultimately make my work even more informative, fun, and flavorful in 2019. With that, I have a few I've set for the Mirror Gallery and Art Market Minute, essentially what you the reader can expect and hold me accountable to over the next twelve months.
1.) 53 Articles: This isn't a huge increase over last year, especially considering I didn't write during Q1 of 2018. Nonetheless, fifty-plus pieces will keep me well on my toes and my creative mind cranking, and one a week (plus one) seems an achievable benchmark. Stay tuned for new Mirror Gallery articles every other week at 10am, and a few Art Market Minutes per month in between.
2.) Five Mothership Features: Getting to the Magic homepage is not easy, and I was fortunate to get there twice last year. Being selected to show up here brings the art I love so much to an even wider audience, and I would love to get back to Daily MTG as often as I can.
3.) Don't Forget About the Art: It's easy to get overly focused on new sets, prices realized, and current events within the community, but I want to make sure I don't ever forget it's always been about the art. My passion was derived out of research, telling stories, and sharing something beautiful. I want to make sure that above all else I keep doing that.
4.) Something New: To be entirely honest, Choosing Commander Art was an article idea born out of a hot shower and a cold beer, and it was possibly my most popular article of last year. I want to come up with something else inventive and off the beaten path that you all will enjoy just as much.
5.) A Preview Card: The ultimate goal for any content creator. Whether given one directly from Wizards of the Coast or being chosen to write about a preview card given to Hipsters, I'm going to keep working to get my content to a place that supports previewing an upcoming card.
Thank You
You know from my last article I firmly believe in giving thanks where thanks is due, and now is that time. So without further ado and in no particular order, I'd like to give a heartfelt Mirror Gallery thank you to:
Rich Stein, Carrie O'Hara and David McCoy: a sincere thank you to you guys for the opportunity. Thank you for taking a chance on someone you've never heard of who wanted to write about something only a small corner of the community may be interested in reading. You've given me a fabulous platform, and I look forward to continuing to build the Vorthos corner of the Coast. I promise I'll get back to sending my stuff before the night before.
My girlfriend Elli: I know I write an awful lot now, and that sometimes I get so excited about what I'm talking about I make less sense than I sometimes do otherwise. Thank you for being patient, listening, reading, and supporting me, today and every day.
My best bud Joe Ottomano: My "editor before my Hipsters editor" and the first line of defense against me saying something dumb. You taught me to play Magic over fifteen years ago, and I had no idea that kitchen table game at my parent's house would have led me here.
Mike Linnemann: Thank you for the vouch and vote of confidence as I was starting and promoting my work throughout the year. Your articles were my initial inspiration for what The Mirror Gallery has become, and I'm glad we've become friends and art brothers over the last two years.
Brian Scott Walters & Sidney Blumenthal: Thank you guys for being my #mtgart crew and perpetual sounding board. Whether it's what art is coming down the pike, something that was just posted, #mtgVAC, or wild speculations at IlluxCon, I'm glad I get to share this hobby and passion with you guys.
Blake Rasmussen from Wizards of the Coast: Thank you for the pair of features on Daily MTG this year. I've got my eyes set on making it back to the Mothership even more next year, and working towards a Preview Card. Email incoming.
Lou & Andrew at Gallery 99: Ain't That a Frame: You make my art complete, and have treated me as friend and family since the first day I walked through the door. The framing process with you is better than I could have ever hoped for, and I thoroughly appreciate everything you've helped me with over this last year.
Sam @ Rhystic Studies: Thank you for what you do for the world of MTG art. Your videos have been and will continue to be a constant inspiration for my writing, and I hope one day we can work on something together.
Jay Annelli: My go-to lore keeper. Thank you for always taking the time to answer my off the wall questions, no matter how left-field they seemed to be at the time.
Aaron, Brett, & Kevin: I know I talk about card art a lot around the Commander table, and I've already gotten one of you into collecting originals. (Sorry about your wallet, Aaron.) I could say I would dial it back, but we all know that's not true. Thanks for listening, and I do hope it sometimes makes the games even more fun.
John Dale Beety & Rob, the Orcish Librarian: I know you guys read just about every article, and I appreciate every like, retweet, comment, and piece of input you guys have shared over the last year. Thank you for the feedback and the constant support.
To all the Hipsters of the Coast writers past and present: You've made and continue to make this site the incredible MTG forum it is. It's a privilege to be a part of the team with you all.
A penultimate thank you to the artists: I've been fortunate to meet and interact with so many of you either in person, via email, or over social media this past year. To say it simply, you make Magic what it is, and the game would not be celebrating a 25th anniversary without you. A special thank you goes to Carl Critchlow, Matt Stewart, Ryan Pancoast, Lindsey Look, Titus Lunter, Dave Kendall, and Donato Giancola for your time and insights, whether answering interview questions or just fielding my curiosity. I enjoyed becoming friends with you all, and you've made the Mirror Gallery one of a kind.
And lastly but surely not least, thank you to the all my readers: I could not do this without you, and I look forward to another year of content we can enjoy together.
Wrapping Up
To end this reflection I'd like to offer a sneak peek of some art I plan to share in 2019. I am relatively private about what I collect and like to showcase new pieces here exclusively in the Mirror Gallery. Take a close look and see if there is anything you really love or you recognize. Let me know on Twitter and I'll try and get it to the top of the list to talk about.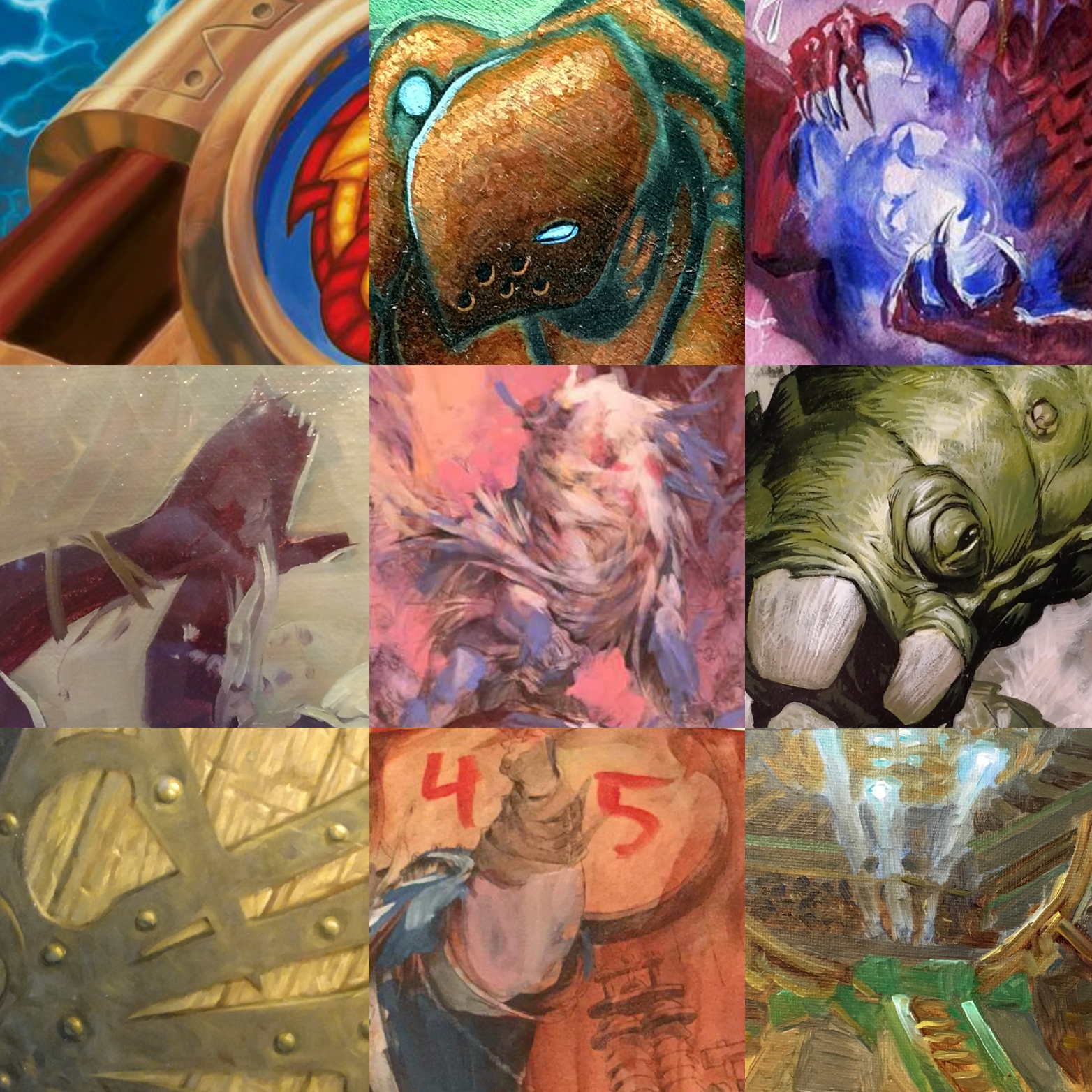 I wish you all a most prosperous and healthy New Year, and I hope you'll join me here in the Mirror Gallery in 2019. The next time we open the doors it will be a brand new year; I'll see you then.
Donny Caltrider has been playing Magic since 2002 and collecting original Magic art since 2017. He has an M.A. in Museum Studies from Johns Hopkins University and enjoys telling stories about art, objects, and the intersection of fantasy with real-life. You can find him on Twitter talking about #mtgart, museums, and other #vorthos related goodness. Follow along and continue the conversation!