Welcome back inside the Mirror Gallery. A few weeks ago, I wrote a pair of articles in preparation for my attendance at IlluxCon, the largest exhibition of imaginative realism in the United States, and very possibly anywhere. I covered the past and present Magic artists that would be at the Main Show as well as the Showcase, and got an overwhelmingly positive response, especially from the artists!
I mentioned in those articles and I'll mention it again: IlluxCon is not a Magic event, but due to the sheer quantity of artists that have worked for and been influenced by the game, Magic is very much a part of IlluxCon. The promoters of this exceptional show, Pat and Jeannie Wilshire, fully embrace the relationship with Magic Art community, and this makes the show even better for those seeking Magic art, as well as those artists with the option to bring Magic art.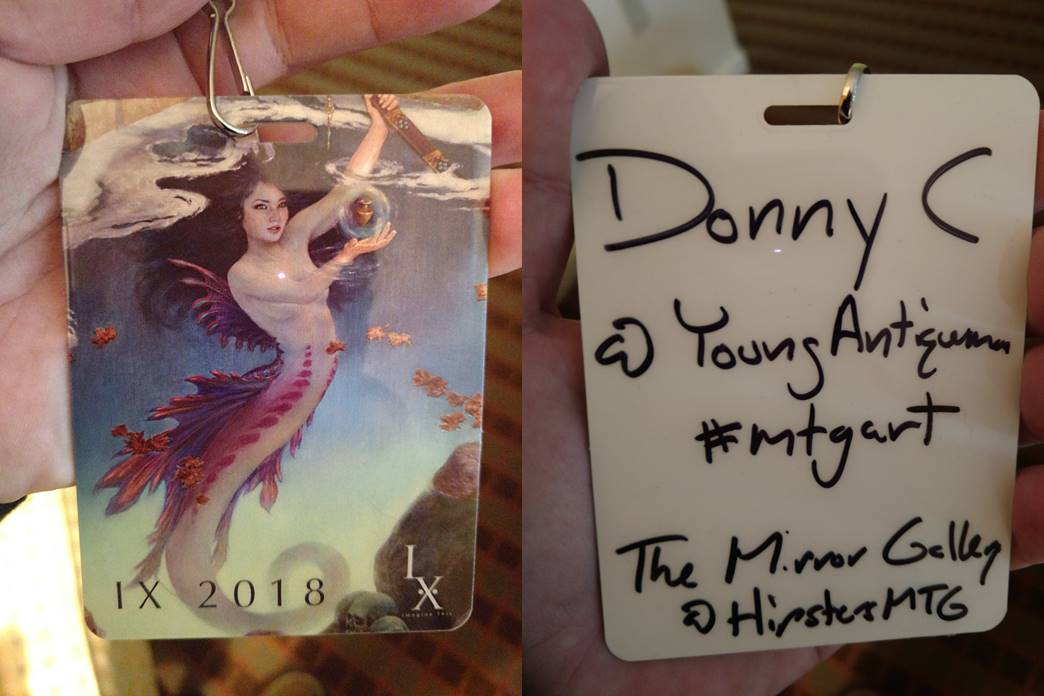 This year's show has come and gone, and boy do I have some stories to tell. If you're a regular reader of mine you know I love to tell stories, so sit back and relax. This is "the Gathering" in Magic: the Gathering. This, my friends, is IlluxCon.
Preview Night
Perhaps the most exciting time during the whole weekend is when the doors first open at 6pm on Wednesday night. It's the first opportunity for the general public to see what an artist might have brought, and collectors and fans move quickly through the show to see everything there is to see. For me it was about tracking down any of the original Magic art that might be floating around; as well as saying hi to those artists, collectors, and friends I hadn't seen in almost a year.
I met up with the man, the myth, the Legend Collector, Brian Scott Walters, who is an art collector and longtime volunteer for the show, and we started to make our rounds. I saw just about every piece of Magic art that was available—at least that I know of—and near a dozen pieces sold in the first three hours of the show. Most of the art remains in the artist's booth until the end of the weekend, with a red dot on the tag signifying the piece has sold. As Brian says, we want to see "Red Dots and Empty Spots."
I picked up a piece already spoken for as well as a never before offered Magic original from Ryan Pancoast. You'll get to see those in an upcoming article. For now, a sneak peek: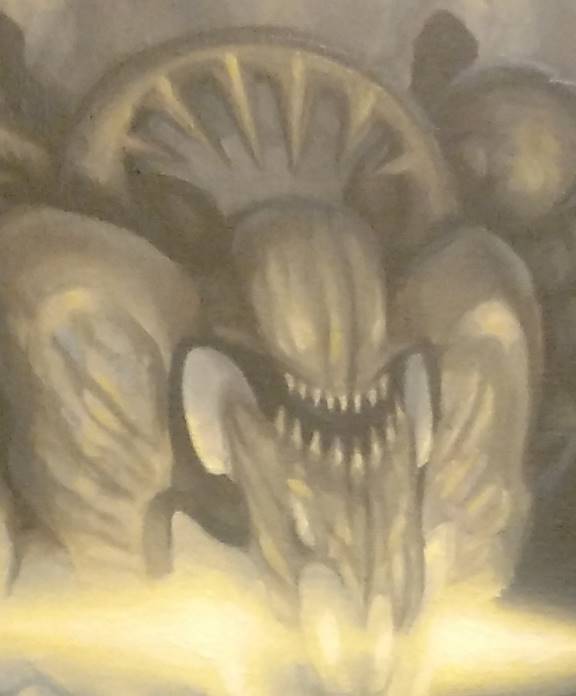 Original Magic Art from the Show Floor
It feels wrong to only talk about the Magic-related art within a show that was full of so many other fantastic works, but we only have so much time and need to stay on topic. All photos were taken by Brian or myself, and we still didn't get everything pictured. The majority of the Magic work that was available can be seen via Twitter by searching the hashtags #mtgart and #mtgilluxcon. Ready? Here we go!
Rob Alexander sold both of his Magic works, with the Explorers of Ixalan Jungle Shrine selling on Wednesday night and his "Temple Garden," only seen so far in the Art of Magic the Gathering: Ixalan book on Page 37, later in the weekend.
Dave Palumbo instantly (or possibly pre-show) sold his newest work, Vicious Rumors. He also exhibited his larger than life Arashin Sovereign as well as a selection of his super unique preliminaries.
Winona Nelson had three Magic originals available, though she said Oreskos Explorer sold very quickly on Wednesday night. She also had the original for Mesa Unicorn on display, as it awaits a few painted-in alterations to match her final version for the card. The original did not have the little floating buildings.
Matt Stewart always has a selection of his Magic work, and this show was no different. He sold six originals in a package deal to a collector on Wednesday night, including Abzan Skycaptain, Gilded Cerodon, Fervent Paincaster, Insatiable Harpy, Fanatic of Mogis, and Makindi Sliderunner, as well as one of his new works for Guilds of Ravnica, Sunhome Stalwart. He also had about a dozen Magic sketches, ranging in price from $200-$350.
Jeremy Wilson has only done two cards for Magic, and the only available original is his painting for Unquenchable Thirst. It's really fantastic to see up close, and is so representative of his style outside of Magic. It's still available and would be an excellent, sofa-friendly acquisition for someone.
The world of imaginative realism lost a giant this year in the passing of William O'Connor. Bill was one of the last people I talked with last year, and I never thought that would be the last time. This work hung in a small booth set up in his memory.
Ryan had a few MTG originals available, and as I said earlier I was able to grab one early on Wednesday night.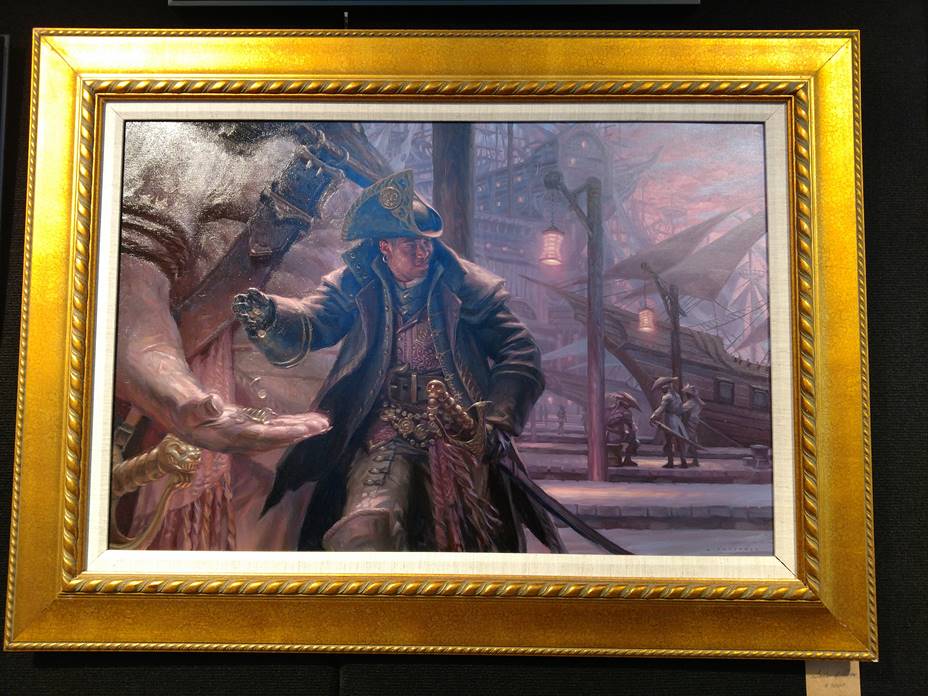 He also exhibited his Sailor of Means for the first time, and it was one of the most impressive paintings at show. An Infected by Art 6 art book selection, it's massive at 24" by 30" and just so good.
Scott Fischer must have went digging through the archives for some older MTG work, bringing out the three dimensional diorama for Raging Spirit, one of his earliest Magic "illustrations." The skulls are sculpted, and the feather? It's real, and belongs to his Cockatoo, Fred. He also had several sketches, a pair of Portal originals, and the original painting for Echo Tracer hiding under the table. I got to talk to Scott for quite a bit, and could easily write an article called "Stories from Scott." Maybe I'll do that.
Scott also had on display, and available, the original sketch for his Serra Angel painted for the 25th Anniversary Celebration of Magic in Tokyo, Japan. These cards were printed and distributed only at the exhibition and art show, and the opportunity to see this sketch in person was great.
Mark Zug always has a quantity of his past Magic work, some framed by the artist and others in his "crate" to be perused. He sold his M19 Suncleanser pre-show but it was on display, and also sold Angelic Blessing (in a fabulous frame) over the weekend. Several other originals of his also found new homes, and you can see at least some of them from an MTG Art Market post here.
When it comes to the Showcase, I totally whiffed on getting pictures and getting things tagged on Twitter. But Scott Murphy had several different originals including his work from Dominaria and Guilds of Ravnica, Lindsey Look had the original to Rush of Vitality, and Chuck Lukacs had a trio of his originals from the Theros Hero's Path deck.
Meeting an Artist
If you've ever been to a Magic Grand Prix, you have probably seen some form of Artist Alley, where a half dozen past and present Magic artists are invited to sign cards, sell prints and playmats, and sometimes even original works of art. There are usually lines, and a table separating you from the artist. Unless it's particularly quiet, you can only have a few moments of conversation, and that's the end of the interaction.
IlluxCon is different. On Thursday morning especially, most of the crowd are the people that were at the Wednesday night preview. This means you can pull up a chair and have a conversation with an artist, and it doesn't always have to be about art. I talked to Donato Giancola about Lord of the Rings, Mark Poole about the ridiculous name that is "Magic Fest," and Jeremy Wilson about frames and whiskey. This isn't something that's going to happen at a Grand Prix. This event allows you to build a relationship with an artist, especially from year to year, and for me this makes all the difference.
Card Signatures & Artist Proofs
As IlluxCon isn't a Magic event, there isn't protocol as far as getting cards signed. But it's definitely something that happens, and MTG artists there are just about always ok with it. In the same vein, some artists will bring their white back artist proofs, and many will do sketches as time allows.
The biggest thing here is to be considerate: both in when it's appropriate (not dropping a longbox on the table while an artist is mid-conversation trying to sell a work) and making sure to pay for your signatures. I got a fair few cards signed for my Grenzo Commander deck, some other upcoming projects: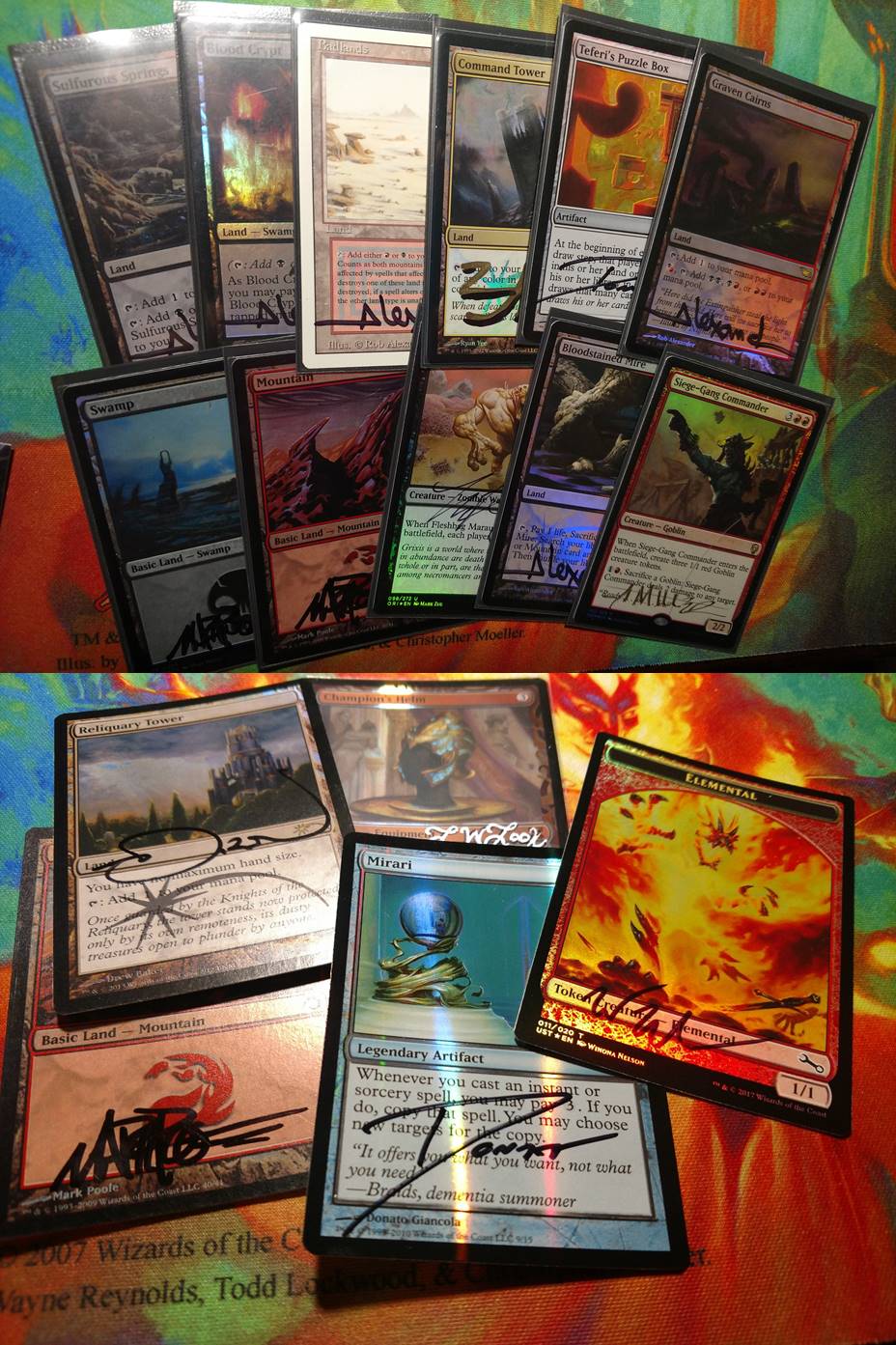 As well as my (foiled) Ryan Pancoast Vintage Artist Constructed deck signed in its entirety. Here's a couple of them: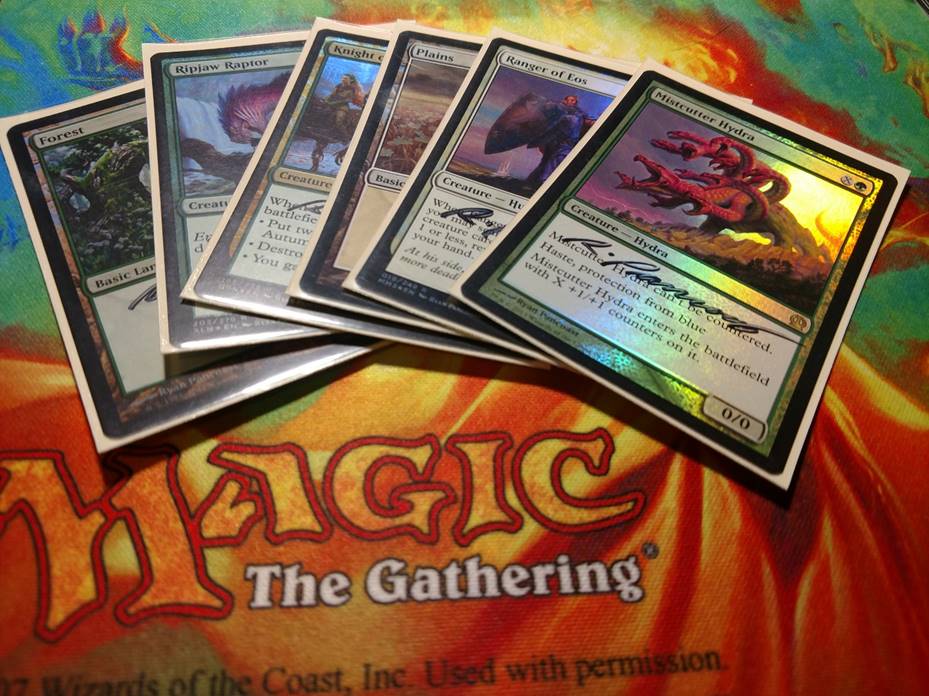 This is but a sampling of what I had signed, and it was a blast getting to talk to artists about their art of the cards as they signed them.
Friends, Old & New
Being able to see some of the people from the Magic art community is one of the most exciting parts of IlluxCon. Friendships are forged over Facebook messages and group posts, but in person we can talk, share stories, grab a beer, and bask in the incredible art surrounding us on all sides. My main partners in crime for the weekend were Brian Scott-Walters and Sidney Blumenthal, joining forces with other a dozen others from the MTG Art Market in the evenings. Hanging out with these folks and talking Magic and art for a couple days was an absolute privilege, and I can't wait to do it again next year.
On Friday night, this crew from MTG Art Market on Facebook shared the same table for dinner, talking about our collections, things we were looking for, and stories of great buys and tough sells. We split off on our separate ways for the IlluxCon Showcase, but reconvened for a Battlebond Draft outside the show and played until the wee hours. Many of us had only met for the first or second time, but it was as if we had played together regularly for years, all from a shared interest in that little box on the middle of the card.
Vintage Artist Constructed: Art vs. Artist
I mentioned in the last Mirror Gallery article that came out during the show that I was going to have the opportunity to play my Ryan Pancoast Vintage Artist Constructed Deck against the artist, who would also be playing a Ryan Pancoast Vintage Artist Constructed Deck, but comprised almost entirely of his artists proofs as opposed to regular cards.
The week during the Main Show was quite busy, but during the Showcase on Saturday night Ryan and I both found us some time and the game was set. Art vs. Artist. It was on.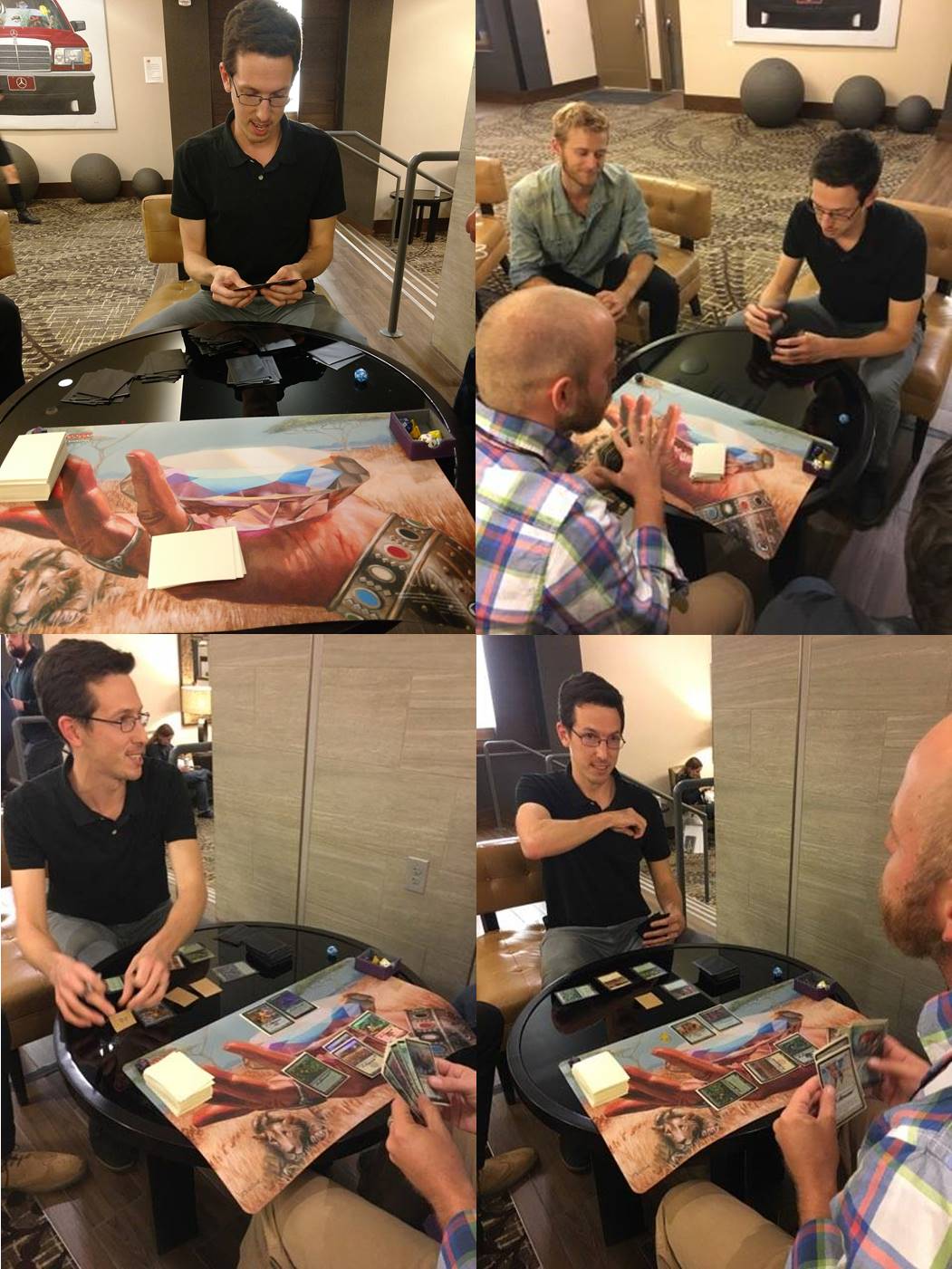 I should mention this was Ryan's first game of paper Magic against another person, having learned on and only played Duels of the Planeswalkers. The game started in the hotel lobby, but was quickly moved to a set-up outside the Showcase, where we played Vintage Artist Constructed, Art vs, Artist, live on stream for the world (then, approximately 6 people) to see. You can check out the video here and I encourage you to check out the rest of CovenMTGs videos while you are there; Seth Polansky puts on one hell of a fun show. We played Magic, had other artists drop in and out to tell stories about their cards and careers. I can honestly say it was some of the most fun I've had playing Magic in my fifteen years with the game.
In the end, it came down to who was going to draw the Windborne Charge first and fly over a clogged board. Victory went to Ryan Pancoast, winning his first game of paper Magic and the first in what is hopefully a continuing series of Art vs. Artist. It was awesome to play against one of my favorite artists, and I really appreciate the time he took to sit down and sling some spells with his own cards. Thank you again for the great games, Ryan.
Commanderin'
Magic Artist Mike Burns saw on my Twitter that we would be playing Magic outside the Showcase on both Friday and Saturday night. Because the showcase runs from 8pm til midnight, it makes it somewhat difficult for exhibiting artists to partake in the during/after show shenanigans. He couldn't make our Friday night Battlebond draft, but found Brian and I at about 1:30am on Saturday night post our Vintage Artist Constructed game and asked if we were still in for a Commander game. A chance to play Commander with a Magic artist? Absolutely.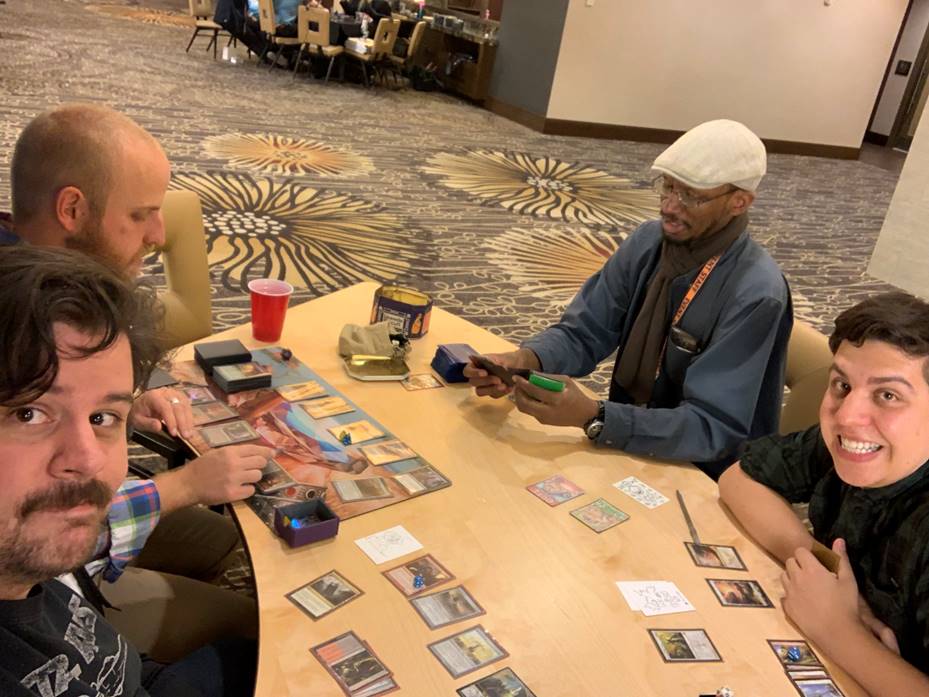 Burns why you cheesin' so hard?!
By 3:15am, I was Grenzo'ing at random off the bottom of my deck and Kiki-Jiki/Zealous Conscripting something off the board every turn. But Brian's Grusilda deck he borrowed from Mike was just too much, and combined enough creatures that he was able to seal the deal against us both. Easily one of the most fun games of Commander I can remember.
Goodbyes
IlluxCon is a whirlwind, but the last thing I do on Sunday starting about lunchtime is say goodbye to everyone. I start on Floor 4, and wind my way backwards through the show, shaking hands, letting artists know that I've thoroughly enjoyed the time they took talking Magic and signing cards, and look to where our paths may cross again. Then it's out the side door, closing the chapter of one of the greatest events an art-loving Magic player can ever experience.
I also make a point to send a follow up email to these artists just to say thanks again for their conversation, signatures, and time in general in what is a very busy weekend. It's a community, and building a network of these relationships has been incredibly fulfilling. This year, it also led to the acquisition of one of the best works in my collection. That too, is a story for another time.
Wrapping Up
I assure you I've missed something in this four and a half day recap, but the TL;DR of the article is this: If you enjoy the art on the cards, IlluxCon is the best event of the year. It is truly my favorite Magic-related expedition, and I cannot ever see missing it for the foreseeable future. Incredible artwork, exceptional camaraderie with this community of people, the chance to connect with those that shape the worlds we love, and some spell slinging to pull it all together creates an absolutely perfect experience.
We are quickly crashing through this weird Autumn-Winter on the East Coast, but looking forward we will be heading back to some of the in-depth looks at art you've come to expect in the Mirror Gallery. There are some wonderful works I have planned to talk about, and I can't wait to show you all.
Remember, to see original #mtgart and other #vorthos related things, follow me on Twitter. Feel free to ask questions or retweet to continue the conversation. Thanks and see you next time!
Donny Caltrider has been playing Magic since 2002 and collecting original Magic art since 2017. He has an M.A. in Museum Studies from Johns Hopkins University and enjoys telling stories about art, objects, and the intersection of fantasy with real-life. You can find him on Twitter talking about #mtgart, museums, and other #vorthos related goodness. Follow along and continue the conversation!