Hi everyone, and welcome back to the Mirror Gallery. In just two weeks, I'll be at Illuxcon 11, held at the Goggleworks Center for the Arts in Reading, PA. You've heard me mention Illuxcon over the last six months in my articles—it is the largest gathering of imaginative realism art and artists in the country. This year there are forty past and present Magic artists in attendance between both shows.
The show is in two parts: the Main Show and the Showcase. The Main Show runs from Wednesday evening through Sunday and requires paid admission for those seeking to see the art inside. Attendees can browse three floors of art, interact with artists, and participate in a number of different demos, workshops, and seminars. This year 23 Magic artists are a part of the Main Show.
The Showcase takes place on Friday and Saturday night in the ballroom of the Doubletree Downtown Reading, right down the street from the Goggleworks. It's free and open to the public, and another 125+ artists set up to showcase and sell their art. There are twelve Magic artists here too.
Doing some quick math, there are more Magic artists at Illuxcon than at any Grand Prix or SCG Con. It is important to mention this is not a Magic the Gathering event, and artists are not set up to exclusively promote their MTG work or sign cards. But just like a Grand Prix, you can talk and interact with artists and have your cards signed if you bring them. The bonus here is you get to see phenomenal artwork from both inside and outside the game; if you like the artwork in Magic you'll go into sensory overload at Illuxcon.
This article will serve as a preview: who is going to be there, how you know them from Magic via a well-known (or my favorite) illustration of theirs, and a link to see the cards they have illustrated. The listings of who is going to be there is fluid and has even changed during the course of this article, so make sure and check that your favorite artist is still attending and make plans to attend Illuxcon 2018!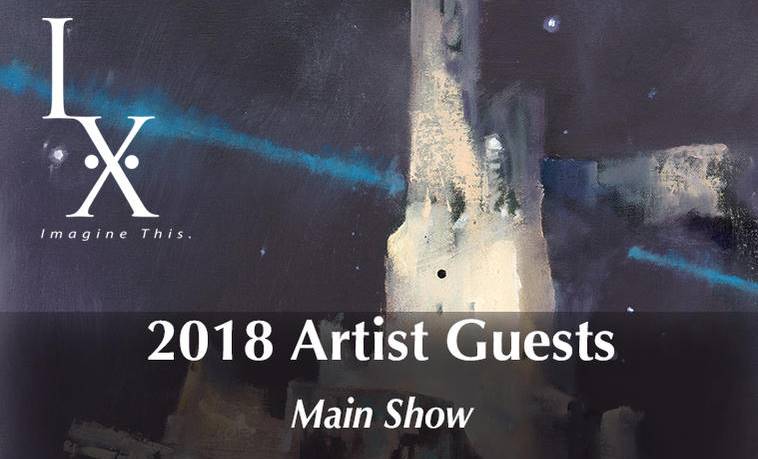 Rob Alexander
Now over 200 cards, Rob Alexander is one of Magic's most prolific artists. Rob has been illustrating since the game's inception as one the original 25 artists. Known for his basic lands and landscapes, if you have played Magic for any length of time you have probably generated mana using Rob's artwork.
Scott Altmann
Scott Altmann has illustrated ten cards for Magic over three sets: Future Sight, Shadowmoor, and Eventide. Perhaps if we see a return to Lorwyn, Scott will be tapped to illustrate more kithkin and the like.
Jeff Easley
Jeff Easley illustrated almost fifty cards for Magic, from Mercadian Masques in 1999 up until Eventide in 2008. That's almost ten years! I didn't get a chance to talk with him last year, but am making a point to stop by his table this year.
Bob Eggleton
Bob Eggleton's 23 cards for Magic are a mixture of dragons, drakes, and landscapes, including several different swamps and an APAC Island. Outside of Magic, he is a legend in the larger genre of imaginative realism.
Larry Elmore
Larry Elmore has only illustrated eleven cards for Magic (including an early Odyssey Beast token), but of these three are basic lands. My personal favorite is his Swamp, which looks particularly great in foil.
Scott M. Fischer
Scott Fischer has done near 150 different Magic illustrations over his career with the game since 1996. His newest work is shown here: the promotional Serra Angel for the 25th Anniversary MTG Art Show & Celebration in Shinjuku, Tokyo, Japan.
Marc Fishman
Marc Fishman painted thirteen different cards for Magic between 1999 and 2001. I have fond memories of his Angelic Page, first appearing in 7th Edition, during my early days with the game.
Donato Giancola
Donato Giancola is known by many names to those that love Magic art: Donny Cola. The Goat. A Living Master. He has illustrated 114 cards for Magic; above is his Cartographer, regarded as one of, if not the best illustration in Magic's history. Below is Doomsday Specter, the first card I collected solely because of the artwork and one of my personal favorites to this day.
Stephanie Law
Law only illustrated three cards for Magic, all for the Invasion expansion in 2000. While her style is reminiscent of early Magic, it is also entirely unique, and was quite fitting for these commissions.
Jeff Miracola
Jeff's artwork is some of the most fun you will see on a Magic card, and you have 115 opportunities to see his work inside of a card frame. He is the father of the Beeble, and they can be seen in a fair few of his paintings. He also has a brand new Inking Instructional Techniques Kickstarter, and you can check it out here.
Winona Nelson
Nelson is another artist that has surpassed the 100 card mark, having illustrated 115 Magic cards as of the writing of this article. She paints both digitally and traditionally, and has illustrated just about everything in Magic including several notable Legends and Planeswalkers.
Anthony Palumbo
Anthony Palumbo has created 78 works for Magic, and is another of those artists who has illustrated just about every card type and environment. Have a look through his gallery; the diversity of his work is incredible.
David Palumbo
Dave Palumbo is nearing ever closer to the 100 card mark for Magic, and again we see an exceptional diversity of cards he has illustrated. He was the first artist I got to have an in-depth conversation with last year, and is on my shortlist of artists to collect a work from in the near future.
Ryan Pancoast
If you read my articles you are already quite familiar with this artist. Ryan is also very close to the 100 card mark and his work levels up each and every painting he creates. This will be my first opportunity to meet him and have him sign some cards, and we also have a Vintage Artist Constructed Art vs. Artist face-off planned for the weekend. To see some of his work in my collection, check out my past articles here and here.
Mark Poole
Mark Poole is one of the original 25 artists for Magic and has illustrated 152 cards over his career with the game. His lands are some of my favorites, and he has illustrated more than a dozen marquee cards throughout his many years creating the worlds of Magic.
Omar Rayyan
Omar Rayyan and his distinctive artistic style were instrumental in concepting and illustrating the planes of Lorwyn and Shadowmoor. From his incredible landscapes to imaginative creatures, he is one of my favorite artists to have illustrated for Magic. He has illustrated 18 total cards for MTG.
Dave Seeley
Now known for his hyper-realistic and larger than life characters and scenes from sci-fi and fantasy, Dave (then David) Seeley's art was once much more conceptual and impressionistic, as seen in his nine Magic illustrations. His reimagining of the Fallen Empires lands for 5th Edition reminds us of a different period in the timeline of Magic art.
Matt Stawicki
Although Matt Stawicki has only officially illustrated two Magic cards, his work can be found on several fan-made tokens and third party playmats. My first Magic playmat was an illustration of his from Star City Games "Artists of Magic" series.
Matt Stewart
Now over 150 different card illustrations, Matt Stewart has become a household name of artists in Magic. He is consistently in the Spectrum and Chesley award conversation, and is often tapped to illustrate Magic's most important reprints and promotional cards. I wrote about the sketch I bought from Matt at last year's Illuxcon here.
Justin Sweet
Justin Sweet illustrated 66 cards for Magic during the 2000s, including notable legends like Arcanis, the Omnipotent and Emrakul, the Aeons Torn. His work is some of my favorite in the game, and is an artist I am ever hopeful of returning to Magic.
Eric Velhagen
Eric Velhagen only has seven Magic cards in his portfolio, and we see a lot of continuity within his contributions for the game. He evokes a feeling of intense motion, or "the deep breath before the plunge," in all his Magic illustrations. My favorite from Theros is seen here. Anyone else have a sinking feeling?
Jeremy Wilson
Jeremy Wilson is somewhat new to Magic, having only created two pieces of art for the game. As of last year at Illuxcon he did not currently have anything in the Magic pipeline, but maybe we will see more from him in the future?
Mark Zug
Mark Zug is one of Magic's longest illustrating artists outside the original 25, beginning in 1998 and still currently creating work for the game. His 163 cards have been everything from basic lands to bulk rares, tournament staples to tokens, with anything and everything in between. He always has a large box of Magic originals to peruse, and will always offer you a cocktail or glass of wine while you do so.
Wrapping Up
The Main Show at Illuxcon 11 has 23 past and present Magic artists. Some have illustrated hundreds of cards over their entire career, others only a few over a short period of time. But what they all share is that they have shaped the game we all love with their art. Illuxcon is an opportunity to dive deeper into the wells of creativity that bring Magic into reality, and I cannot be more excited to be attending again. By this time in two weeks, I'll be on the floor of the show talking Magic art with the people that put it in the card frame!
Make sure you tune in Monday for a special follow-up Mirror Gallery looking at the twelve artists exhibiting at the Illuxcon Showcase; same Mirror Gallery time of 10am EST, same Mirror Gallery place here on Hipsters of the Coast. See you all bright and early next week!
Donny Caltrider has been playing Magic since 2002 and collecting original Magic art since 2017. He has an M.A. in Museum Studies from Johns Hopkins University and enjoys telling stories about art, objects, and the intersection of fantasy with real-life. You can find him on Twitter talking about #mtgart, museums, and other #vorthos related goodness. Follow along and continue the conversation!