Welcome back to another installment of The Mirror Gallery. Today we are doing something a bit in different and combining some of what I cover during the Art Market Minute into my regular column. There were sixty new pieces of art on fifty-nine new cards for Commander 2018. While I would love to show each of them to you, I am going to split this article between the traditional paintings that have sold this past month since spoiler season and some of the digitally created works I'll be looking to add to my collection ways outside of original sketches and paintings. We've a lot to cover and we're going to go fast, so buckle up. Let's begin.
Traditional Works: Going Once, Going Twice, and SOLD!
One of the first works from the new set to be sold was the legendary General Varchild, Betrayer of Kjeldor by Lucas Graciano. The painting is oil on masonite and measures 16" x 20." It was sold via an MTG Art Market Auction on Facebook with the sale facilitated by Mike Linnemann. It finished at $3000.
Graciano has painted several horses for the past few sets, and has almost become the "horse" artist, as we saw Lindsey Look is to hands. Varchild is a character that may not be known to as many players as other heroes of old, and maybe that held the final price back a bit, but regardless this is a beautiful piece of art and one that should see play in Commander for quite some time.
Right about the same time as Varchild, Magus of the Balance by Kev Walker was offered on the MTG Art Market by his agent. The work is indicative of Kev Walker, being both a mixed media and of his standard, albeit smaller size of 8" x 11." After asking for initial offers and interest, a Buy It Now was set by his agent at $3500 and the high offer of $2200 was made public. No final selling price was disclosed, but the piece was advertised as sold and we have a range that it should have fallen in to; in my opinion a very strong price.
A few days later, another MTG Art Market Auction run by Mike Linnemann ended, this time for Saheeli, the Gifted by Ryan Pancoast. You all saw this work in my last article, and it comes as no surprise that such a large work, beautifully done, and of a planeswalker realized a $7700 final selling price. It was his first planeswalker commission, but certainly won't be his last. I have used her as my Commander, and based on just a few games I feel confident she will see play for the foreseeable future. You can look forward to seeing this standout art on the battlefield at your next EDH night.
You can watch a time lapse of Ryan completing this painting on Youtube and also purchase his GumRoad video for a full walkthrough. His videos are excellent so be sure to check them out.
Matt Stewart offers most of his newly-released paintings via eBay auction days after the art is initially released, and Tawnos, Urza's Apprentice was no different. This card was previewed by Sam of Rhystic Studies in one of the best card previews I have ever seen; and I can't help but think this could have inspired more hype for this card, and subsequently the art. The work sold for $6000, right in line if not just above where we would expect a beautifully rendered and playable Legend from Matt Stewart to finish up.
There are few sets without the work of Volkan Baga, and Commander 2018 included a piece of his work created for the "Loyal" cycle. Unicorn paintings have generally brought strong prices regardless of card power because of their ability to pass the Sofa Test: they can hang in a living room, bedroom, or even a child's room and simply have a lot of utility in ways one can display them in a home. The MTG Art Market Auction run by Baga's agent Mark Aronowitz ended at $2250, just over the opening bid of $2000. The sketch of the same size sold almost immediately for $500, being offered as a straight sale as opposed to auction.
Artist Alexander Deruchenko has come to be known in the original art community for his incredibly detailed color studies, essentially rougher version of the final color painting we see on the card. Though he is beginning to create more final, traditional works, his usual method involves finishing these color studies digitally, making them often the only way to collect originals by him. He offered both the color study and original sketch in the same auction, and the pair closed at $707. Most of his color studies similar to this end between $400 and $700 by themselves, making this a nice deal for the collector that was able to win both pieces in one single acquisition.
This is one of my favorite paintings, and favorite cards, from Commander 2018. An absolutely incredible work of art by Chris Rahn, we see his usual masterful direction of light to create a reverence and regality for this legendary creature. This is his fifth Sphinx for Magic. The painting realized a final price of $3896.78 after a flurry of bidding in the final moments.
For a playable Commander that will serve as the General of a super fun and flavorful deck, someone should be very happy to have collected this work under $4K. The card is chock full of "odd" Easter Eggs—start counting letters and words and look closely at the elements of the art. The brewing possibilities are endless.  Can you imagine hanging her behind your seat at the table and playing a game of Commander with your General literally looking over your shoulder? These opportunities to do something as cool as that don't come every day, and I know I certainly considered it. Hearty congratulations to whomever the winner was on this wonderful painting.
This piece by Lars Grant-West just made it into this article, selling late on Monday night for a healthy $2500 via another Mike Linnemann managed MTG Art Market Auction. Token art usually doesn't yield as high a price realized as a normal printed card, but this being a dragon and huge in comparison to other token artworks (and just large for MTG work in general) certainly helped. Lars has been illustrating for Magic for quite some time, and continues to be one of the most versatile artists in the game, crushing any assignment commissioned whether it a creature, artifact, land, or a combination of the three. He is one of the artists I look for in a new set, and I am always excited to see what he's been able to create. I'm looking forward to hearing more of his stories from the road and his career again at Illuxcon in October.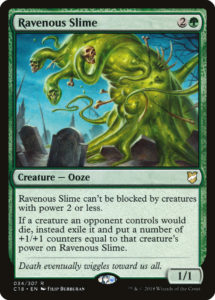 I unfortunately don't have much info on this work by Filip Burburan. What we do know is that it is traditional, and the original has already been sold. The artist did not post any information in terms of size or medium, and the painting was never offered publicly for sale. In many cases like this, when someone sees a piece of art they really like, they email the artist immediately and can acquire the work without the competition created from an auction or public post.
Beyond those that we just looked at, there are a handful of other paintings that could be traditional, from artists that tend to work traditionally, but no public information has surfaced yet. As these works are posted by their respective artists, keep an eye on my Twitter as to their medium and availability. Additionally, there are some artists that work both traditionally and digitally, or still use traditional components like sketches or color studies as a part of their overall process. There is no way to know for certain, even if you know the artist, so sometimes you just have to ask. If you see art you like, I never hurts to send a message to an artist about how much you like it. Start the conversation, and good things can happen.
Prints, Proofs & Playmats
Moving on from our Art Market More than a Minute, I want to look at some of the other art from the set that really caught my eye. Even though there is no way to purchase a traditional painting to hang on the wall of a digitally created work, you as a collector have ways to acquire and enjoy this artwork in the form of prints, Artist Proof (AP) cards, and playmats. Let's have a look at some pieces I'll be seeking out.
The planeswalker art for Aminatou was spoiled early on, but no one knew exactly what kind of card she would be. We eventually found out it was Seb McKinnon's first planeswalker, and that there was a second piece by him, Aminatou's Augury, also featuring Magic's youngest planeswalker and her moths. For more on Aminatou, check out her page here written by Wizards storycrafter extraordinaire Alison Luhrs.
This little girl is looking directly into your fate, and has already sent her moths to find out more. Seb McKinnon's art awakens the senses, and really makes you feel, smell, and even hear the art. Sam from Rhystic Studies said it: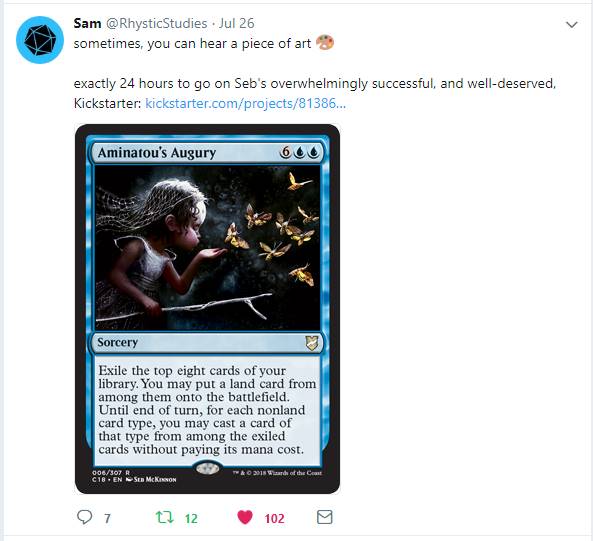 Can you hear those wings? I can. To see more of this artist's work, check out Rhystic Studies The Art of Seb McKinnon on YouTube. It is a must watch. Back to our art at hand, Aminatou is available as a playmat from Ultra Pro at your local LGS, and Aminatou's Augury as well as prints of either are available exclusively for those that backed McKinnon's latest Kickstarter.
I love everything about Brudiclad, from the incredible art by Mike 'Daarken' Lim to the card and flavor to the mini-Brudicald Myr Token also illustrated by Lim. They're scary realistic, and are the myr of nightmares as they are intended to be.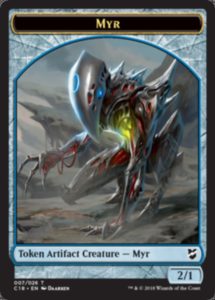 Myr hold a special spot for me in Magic, so he will certainly be a future Commander project for me and I'll be hunting a foil AP to use for just the occasion. I have played one game with him so far, and you all know I love nothing more than playing a great card with even better art.
As an aside, I unknowingly met Daarken at the Conflux prerelease in College Park, MD back during my undergrad years at the University of Maryland. A friend and I took a taxi up the street to the Holiday Inn where it was being held and had no idea a Magic artist was going to be there. Once I figured out what was going on, I got about a dozen cards signed out of my rare binder; having pure, dumb luck to have any at all by him with me. This was the first time I had ever gotten to meet a Magic artist in real life. I still have all the cards, and I would like to think it's the earliest encounter that set me on the path that brought me here to The Mirror Gallery.
I find maps absolutely fascinating. I have some from the 17th century hanging in my home, and buying and selling antique maps has been a core part of my antiques business since I started. Not surprisingly I really enjoy map cards, from the ones Jared Blando did for Ixalan to Donato Giancola's standout Cartographer, and all those in-between. This art by Titus Lunter is fabulous, from the details of the map itself to the ethereal mountains rising out of the meridian lines. Titus is an incredible landscape artist, and equally kills it when he gets to do something outside what we usually see on his cards. His work is a gift to the game.
This is Jenn's second Magic card, following up her debut The Eldest Reborn from Dominaria. If you don't follow her on Twitter, you need to. Follow her art, her photography, and her absolutely incredible artist proof sketches. I mean, just look at them: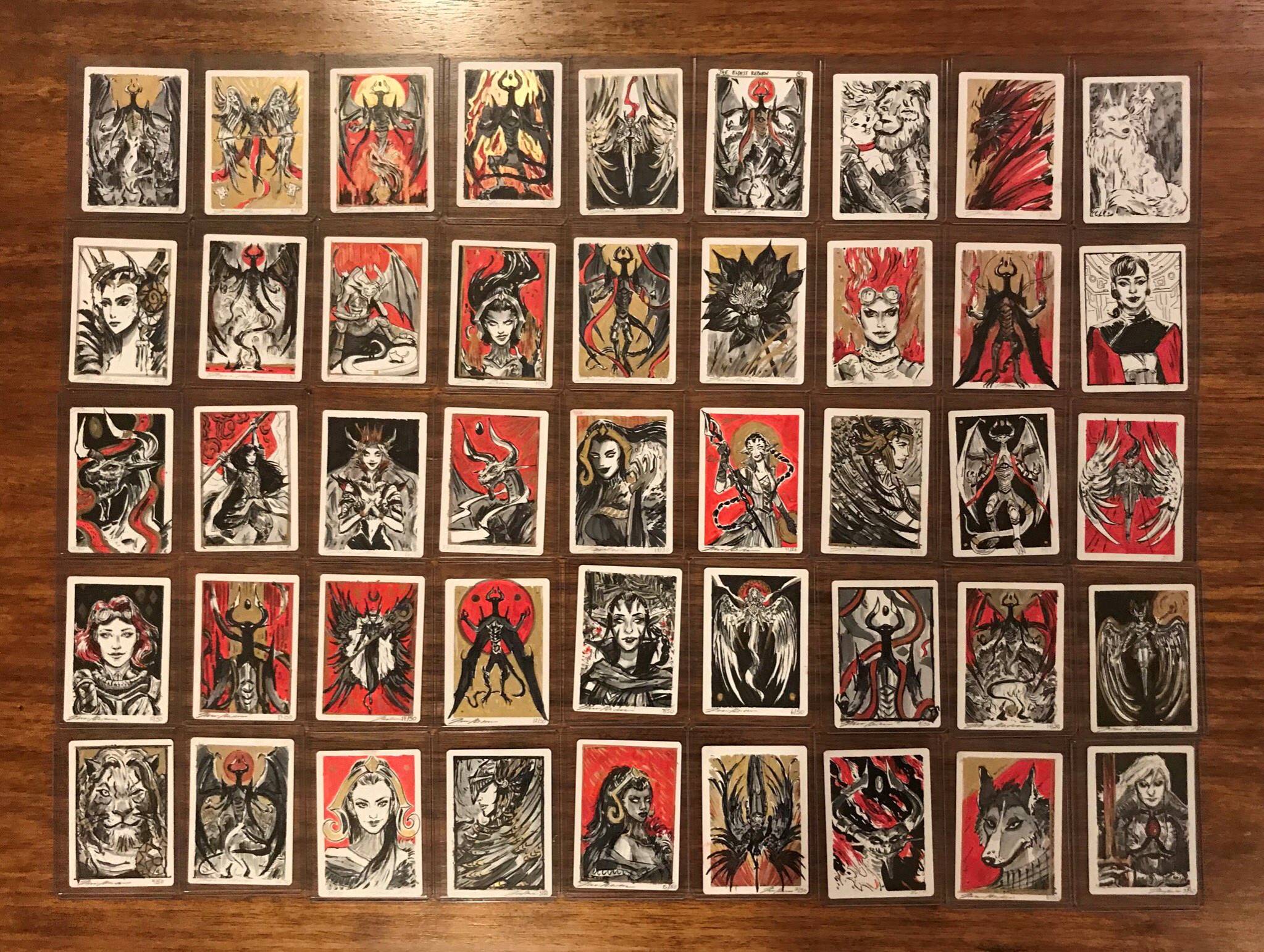 One of those is mine (you'll see which in a future article), and I'll be picking up an Artist Proof of Ever-Watching Threshold not just because I like the art on the front, but because I know the original art she will put on the back will be out of this world. She is an artist to watch, that's for certain, and has already firmly placed her stamp (pun intended, Jenn!) on the game.
We found out once this card was spoiled that this was actually a slush piece, or a piece of art submitted by the artist for a card that never saw production. Originally created in 2013, both a line and tonal drawing exist for this digitally-finished piece, and it appears both traditional components were sold at Gen Con 2018. I wish I could have been quicker to acquire that tonal drawing, but a print or artist proof will be on my radar in its absence. Just look at the inside of that sphere! Christopher will be at the Illuxcon showcase again this year, and his table is always a must stop.
Wrapping Up
These are but a few of the works I really like, but I would love to know which ones from Commander 2018 you enjoy! I love getting to explore these fantastic works of art with you all, and I would also like to remind you to support your artists wherever, whenever and however you can. Buy a painting, buy a print, commission a sketch, collect an artist proof, grab a playmat, or even just a signature or two. If you love a work, make sure you share it, retweet it, or tell a friend. You've heard me say it before but interacting with the art on the cards and those that create it will fundamentally change your relationship with Magic and enrich your experience with the game. Guaranteed.
Remember, to see original #mtgart and stay up to date on the market, follow me on Twitter. Feel free to ask questions or retweet to continue the conversation. Thanks and see you next time!
Donny Caltrider has been playing Magic since 2002 and collecting original Magic art since 2017. He has an M.A. in Museum Studies from Johns Hopkins University and enjoys telling stories about art, objects, and the intersection of fantasy with real-life. You can find him on Twitter talking about #mtgart, museums, and other #vorthos related goodness. Follow along and continue the conversation!