Good morning folks, and welcome to Part II of my Magic Artist Wishlist. Last week was Part I, so if you haven't seen that article yet, pop on over to read it after you've finished this one.
Begun last year and also in two parts, my Magic Artist Wishlist is about artists whose work I think would be a good fit for Magic. This year I've selected sixteen artists, split loosely into last week's "Main Set" article and this week's "Secret Lair" article. I'll mention again, but in most cases these artists would work in any capacity under the Magic banner. Many, especially in this article, have multiple styles and mediums in which they create.
For each artist I've chosen a personal or commissioned work that I think representative of what they would bring to Magic. And as the next step, I've asked ALK Alters to create a unique MTG card featuring that artwork to reinforce that these folks do indeed belong in the game. He's come up with some really outstanding designs, and you can see more of his work on Twitter and Instagram.
Please note that in most cases the included artists were not notified about being on this list. If any artist is concurrently working with Magic, meaning they've already been commissioned and we just don't know about it yet, their inclusion here is purely coincidental. I should also mention that some of these folks may never want to work for Magic, for a variety of reasons, and that's okay too. These are purely my opinions as a critic and connoisseur of the genre, as well as of the game and its art.
Let's finish up this journey; this is my Magic Artist Wishlist, Part II.
Johnathan Ruple
I first discovered the unique line work of Jonathan Ruple within the adjacent world of Marvel sketch cards, where he has been working for the last few years doing sketch series for Upper Deck's various set releases. Ruple's work is unique, in that his representations of famous Marvel members are distinguishable; and yet they exist in their own strange world, a sort of Rupleverse.
His characters range from warped and unusual to light and comical, and this extends to the artist's Magic fan art he's been creating as well. This past year's Ashiok and Vorinclex above are nothing short of the makings of their very own Rupleverse Secret Lair. Once again, these figures are recognizable to the game of Magic, and yet are unmistakably by his hand—the exact end goal of everything Secret Lair stands for. You can follow Jonathan's work on Instagram, and keep your eyes peeled for my upcoming article Into The Rupleverse that will be published next year.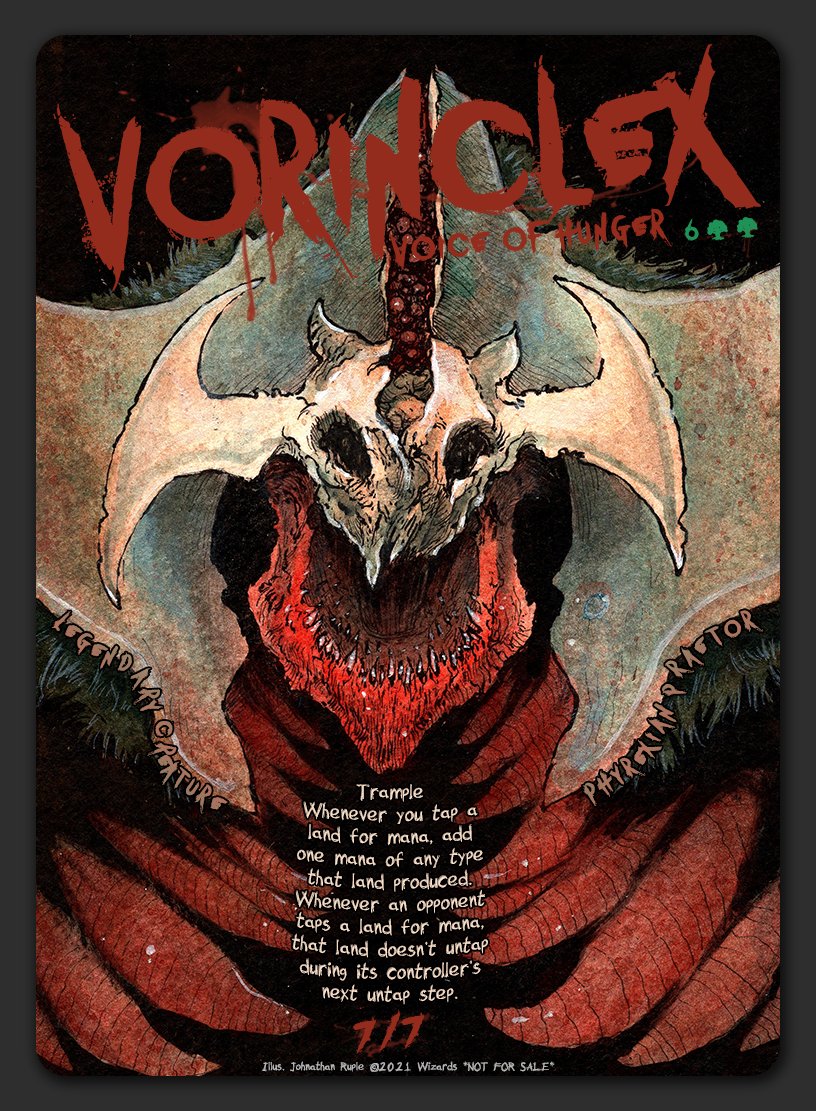 MrForest
This slideshow requires JavaScript.
Alters by MrForest. Traditional.
I found MrForest by way of Sam from Rhystic Studies, who would occasionally post his favorite alters from the artist on Twitter. They're wild, wacky and wonderful, from creative reimaginings based on the card to completely distilled abstraction, each painted by hand in miniature directly onto a real Magic: the Gathering card. The place to see them all is his Instagram, and he posts new works five to seven times a week!
MrForest will never repeat or recreate one of his works, meaning that we will never see his art on something like Alter Sleeves, or for that matter official Magic cards that naturally need reproduction for pack insertion. But nevertheless, I've not found a more creative body of work this past year. I find his art relentlessly inspiring and insightful, and get excited every single time a new alter is released. I've loved collecting his work over the last few months, and intend to continue for the foreseeable future.
Daria Aksenova
Daria Aksenova is a visual narrative artist working in the very unique medium of hand-cut paper sculpture and hand-built giltwood frame, creating incredibly detailed and impossibly intricate narratives that have hundreds of layers, both literally and figuratively. I was lucky enough to get to see some of her work, including the piece you see above, in person at the latest IX, and I kid you not when I say you can physically get lost in her art as you go deeper and deeper into the story she is telling.
When I write about the art of Magic: the Gathering, I talk at length about the important power of this type of storytelling, and Aksenova does it in a way no one else can. I would love to see her tell the old stories of Dominaria or the legends of Lorwyn through her unique style. You can keep up with and discover all of her work online at her website.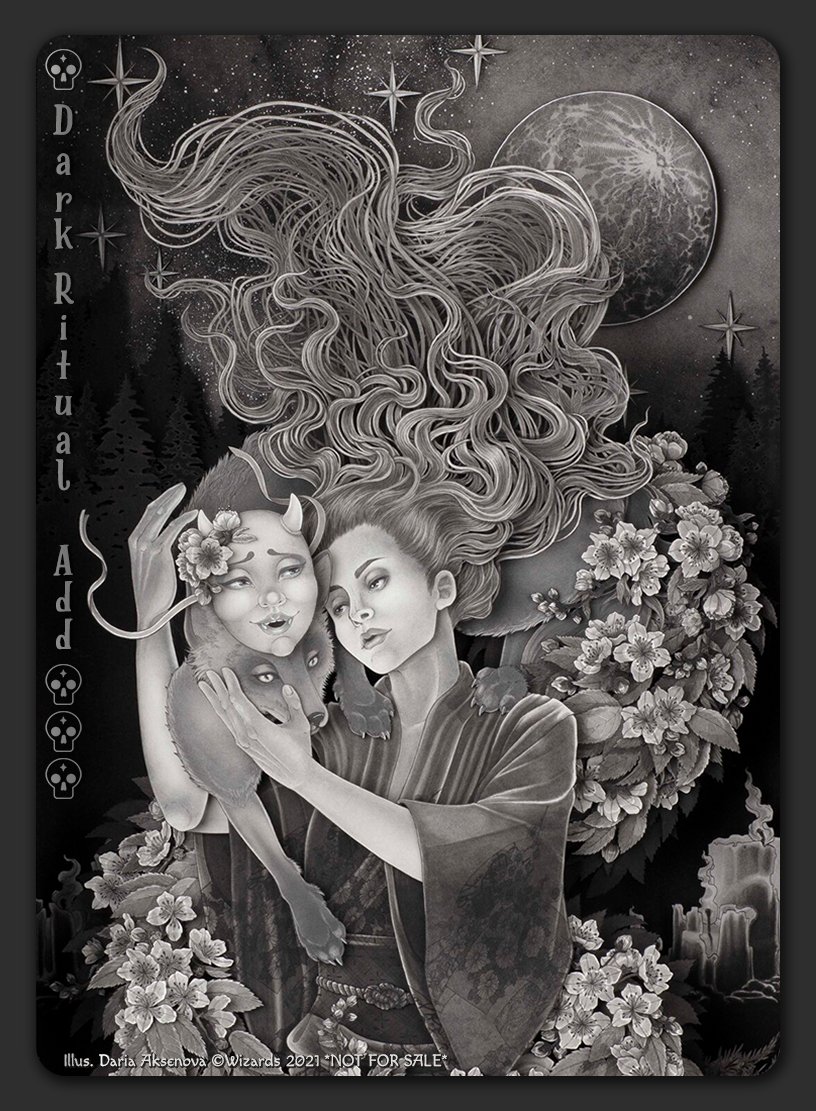 Sander Berg
Although they do not seem to post very often any longer, I saw the work of Sander Berg on Twitter during what I think was a Portfolio Day in 2020 or maybe before. Their art is a mix of medieval tapestry and illuminated manuscript, and yet it tackles contemporary themes and tropes in today's relevant fantasy, mythology, and science fiction. Many of Magic's top-down designed sets seek these same storytelling vehicles, and his work would fit seamlessly into the existing worlds of the game.
Whether a wolf amongst the churches on Innistrad like we see above, Unicorns that abound on Eldraine, or the Egyptian iconography of Amonkhet, Berg has the breadth of skill paired with the uniqueness of style that belongs in Magic. You can explore more of Sander's work on his website.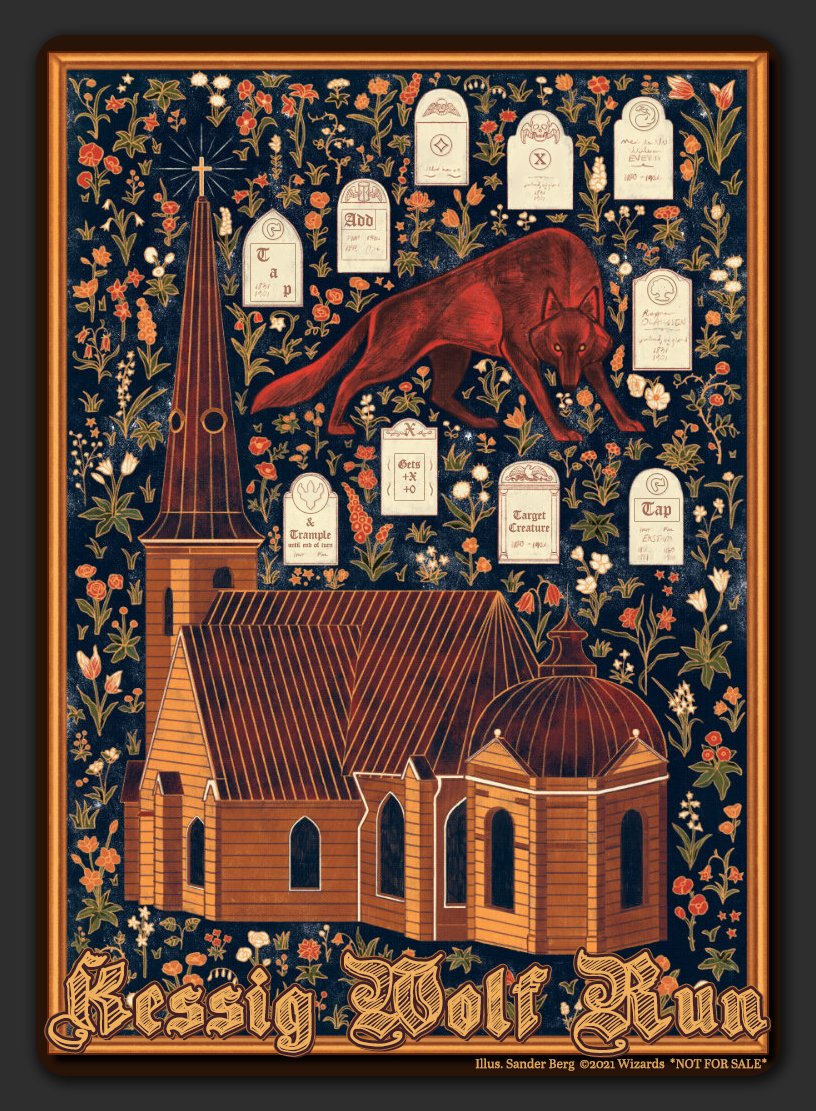 Sam Hogg
I first discovered the art of Sam Hogg on Everyday Original, but this artist is really a tale of two styles, both technically stellar and full of incredible storytelling. Her personal worldbuilding project of The Whaler Girl/The Daichen Chronicles is a more conventional approach to imaginative realism that transports us to Nostarna, introducing us to fantastic characters and incredible landscapes that are still evolving to this day.
But there is more to her art, seen especially within these traditional offergins on EDO. She intermixes elements of the Art Nouveau with the macabre, painting in an almost graphical style of pastel palette that's both innovative and interesting. It's a juxtaposition that makes her work wholly unique. Between these two skill sets she could paint anything in Magic, be it for main set cards or occupying an alternate artwork space not yet explored. You can find links to all of Hogg's work here.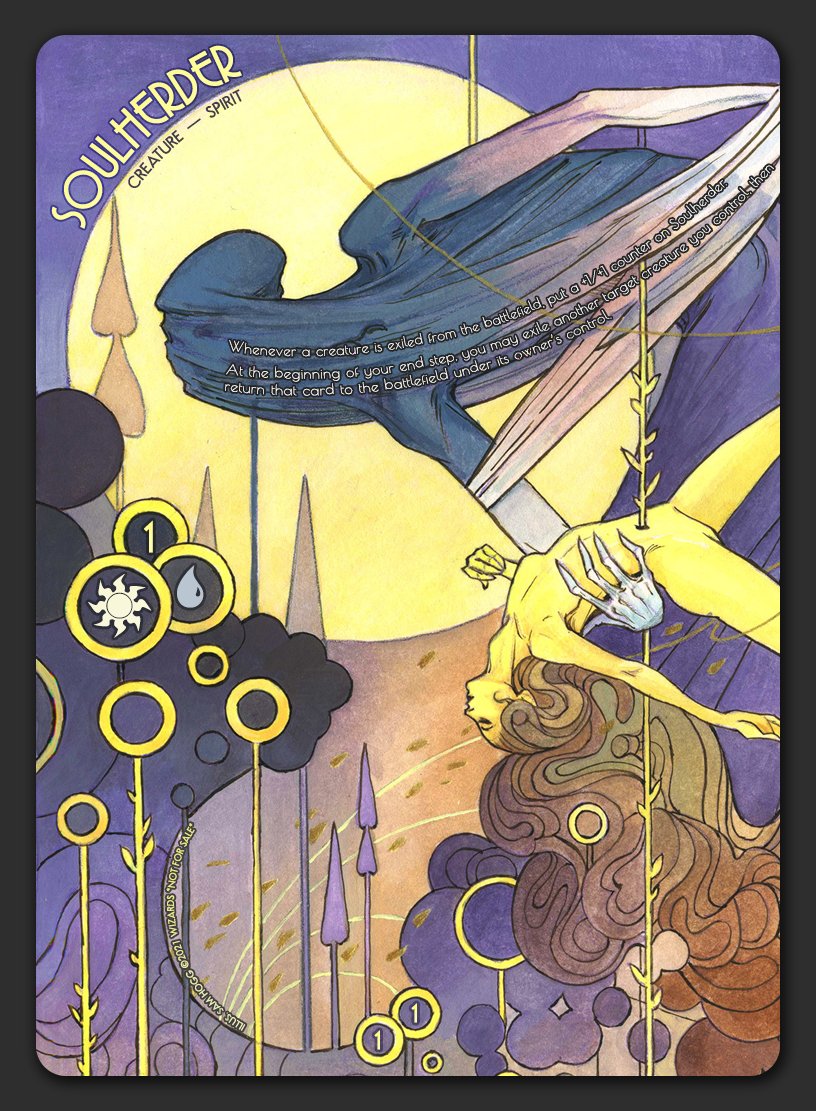 Andrew Thompson
Andrew Thompson is not new to the Magic scene, making his debut around the game with a fan art piece entitled Nalaar Unleashed for Gallery 1988's 2018 show surrounding Magic: the Gathering, and more recently a comic cover for Boom Studios Magic #5. Both of these artworks highlight the artist's use of neon color, bold forms, and jagged edges to create a cohesive image that is both dynamic and exciting.
I've been watching his work, and while Magic may not have been ready for that a few years ago, there are outlets now—I'm looking at you, what-could-have-been Neon Dynasty and Secret Lair—for him to bring this energetic "Fantasy Pop" style of art to the game for the very first time. You can see it all on his website, and make sure to follow him on Twitter for updates and new work.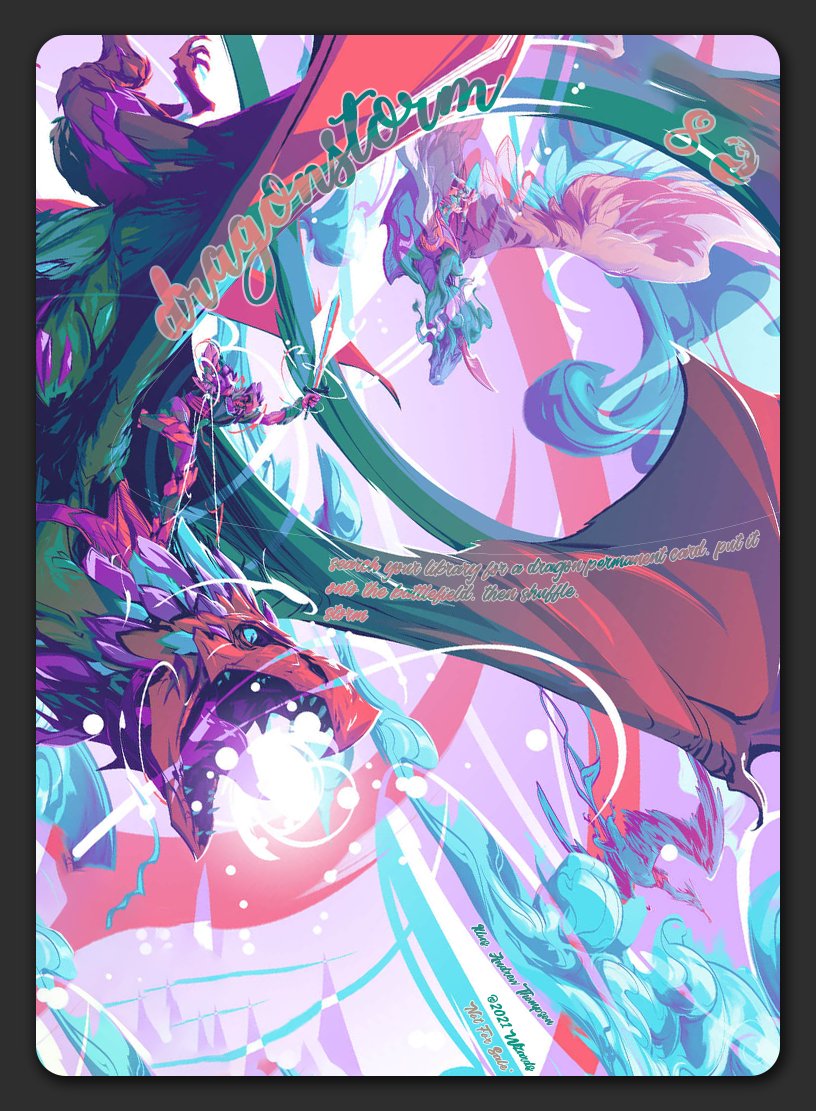 Carly A-F
Carly Allen-Fletcher is an illustrator and author from the United Kingdom; if you've seen her work before, you've certainly not forgotten it. Explosions of brilliant colors stand alongside strategic and strong shapes as she weaves a tapestry of rich storytelling throughout her work. Pay particular attention to the textures you see: how can someone make you feel light, or hear wind, or smell fire in two dimensions? Just like this. Viewing her work is an experience that sends you headfirst into the painting, and I love that.
From children's illustration to the creepiest of crawlies and literally everything in between, Carly A-F creates a complete visual feast for the senses with every piece she creates. Bookmark her Artstation and you'll see exactly what I'm talking about, and keep an eye on Twitter to keep up.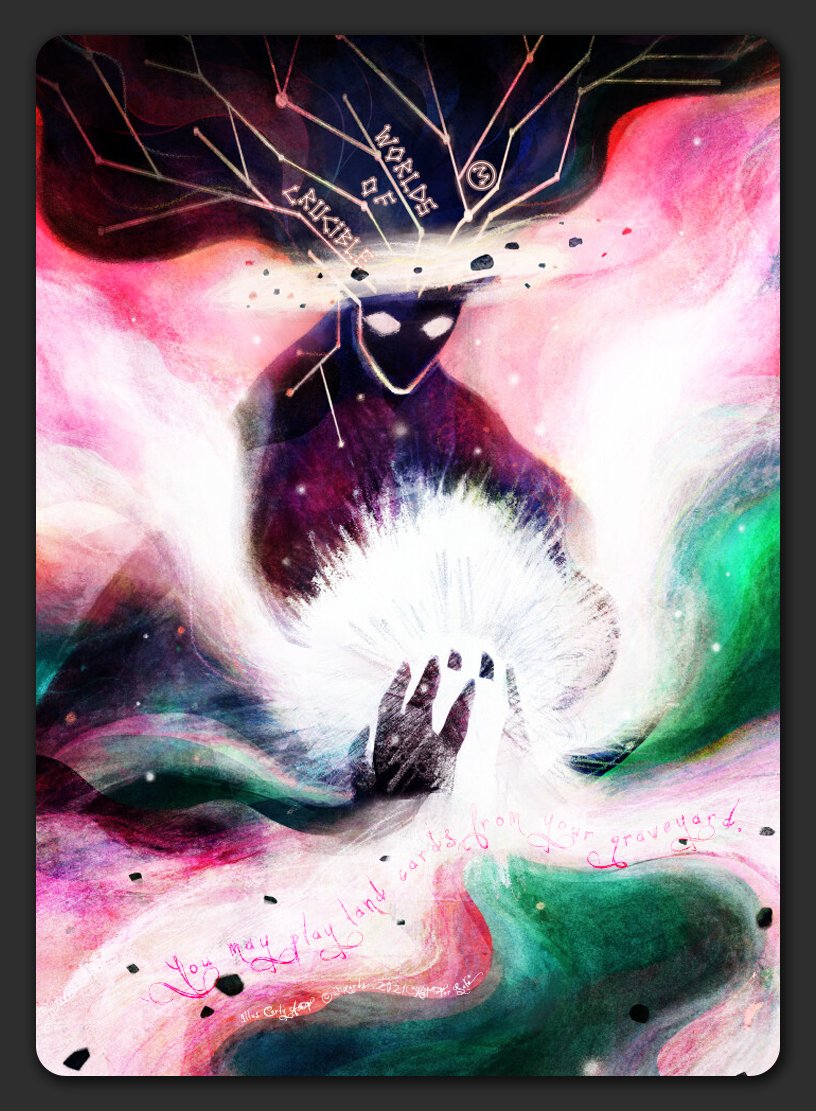 Vanessa Lemen
We'll end today with another artist whose work I recently wrote about in my Critic's Choice Chesley Awards article last month, Vanessa Lemen. Although I've seen her work before, it was this most recent piece that took me down the rabbit hole to her recent solo exhibition at Copro Gallery entitled Liminal Beings. This body of work has brought me back nearly a dozen times over the last few weeks to view online, and I fully intend to eventually collect one of these originals.
This collection of work, although a departure from her ethereal portraits and pseudo psychedelic backgrounds, allows us to explore the places between reality and imagination. Female faces are replaced with undulating forms and drifting phantasms not of this world. Both of her subjects and styles, the figures as well as these works of abstraction, would make brilliant additions to Magic. Take an extra moment to look at her work, and then let your mind wander through the Multiverse. You'll go on quite the trip.
Lemen is a regular attendee of IX in Reading, PA, and I'm very much looking forward to meeting her in 2022. You can follow Vanessa on her website as well as Muddy Colors.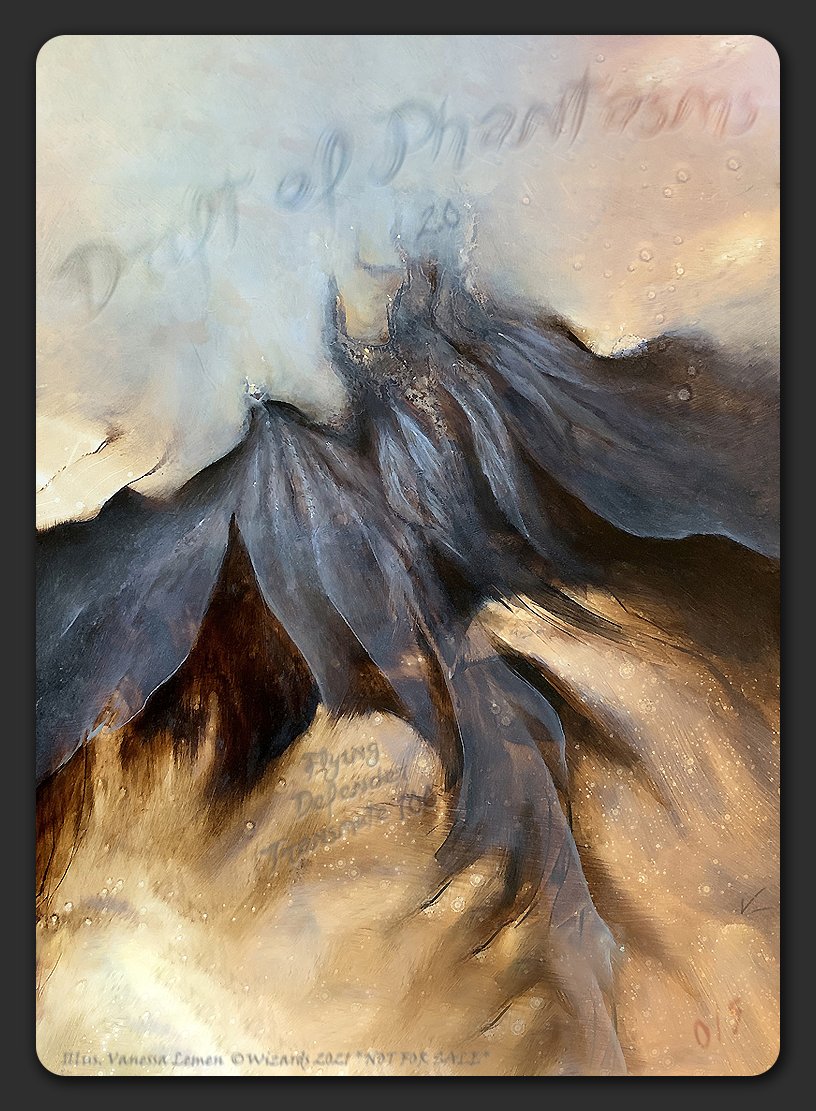 Wrapping Up
This concludes my Magic Artist Wishlist for 2022. I've looked forward to writing these two articles all year. I truly hope you follow some of these folks as their artistic journey continues to unfold, and hopefully in the direction of the game we know and love. There has never been a better time for these styles to join the game; and ADs, when you read this, you know where to find me if you need help tracking down any of these fine folks. I'd love to see them on a card, and I think you would too.
Looking forward, we have but one Mirror Gallery article left this year, my annual Mirror Gallery Reflection that comes out next week. I wish you and yours the happiest of holidays in whatever you may celebrate, and I'll see you all again real soon to close out 2021.
Donny Caltrider has been playing Magic since 2002 and collecting original Magic art since 2017. He has an M.A. in Museum Studies from Johns Hopkins University and enjoys telling stories about art, objects, and the intersection of fantasy with real-life. You can find him on Twitter talking about #mtgart, museums, and other #vorthos related goodness. Follow along and continue the conversation!