On Tuesday November 2nd, 2021, the original painting for Kaya, Geist Hunter by Ryan Pancoast was sold on the MTG Art Market for $11,100.
Kaya, Geist Hunter by Ryan Pancoast is a work of oil on canvas measuring a truly gigantic 24 inches by 36 inches. The work was commissioned as a Planeswalker card for Magic: the Gathering's latest set, Innistrad: Crimson Vow, and was sold midway through the two week preview season after being shown on the official Crimson Vow Preview Stream. The work was sold all before the full name, card or abilities were known.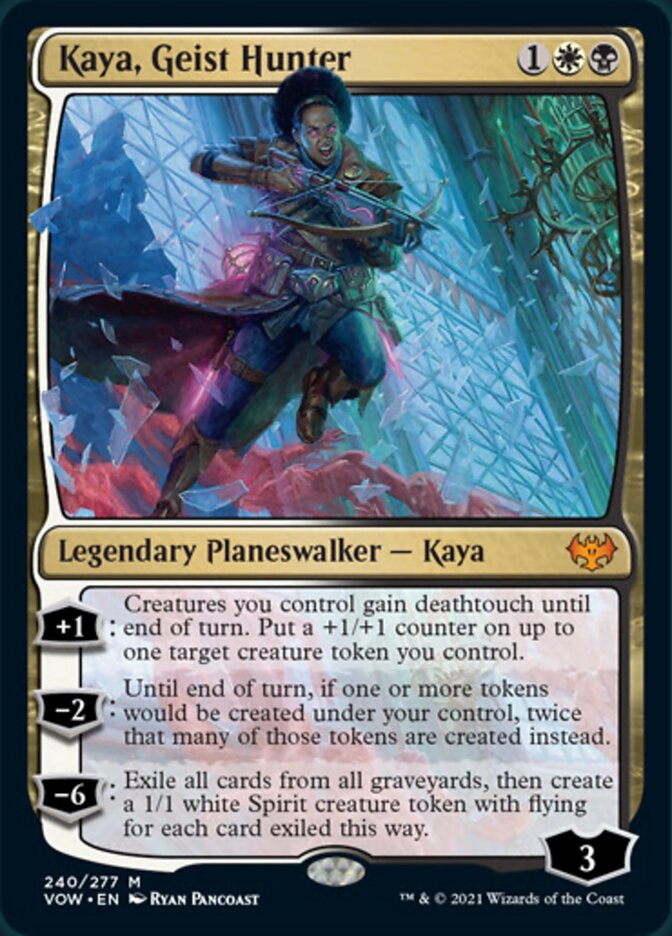 The auction was run with Vorthos Mike acting as agent for the artist, and the opening bid was set at $5,000, met in the first 30 minutes by Mr. Orzhov himself, Sidney Blumenthal. Another bid at $7,000 would come in shortly after, and it would remain here until the final half hour.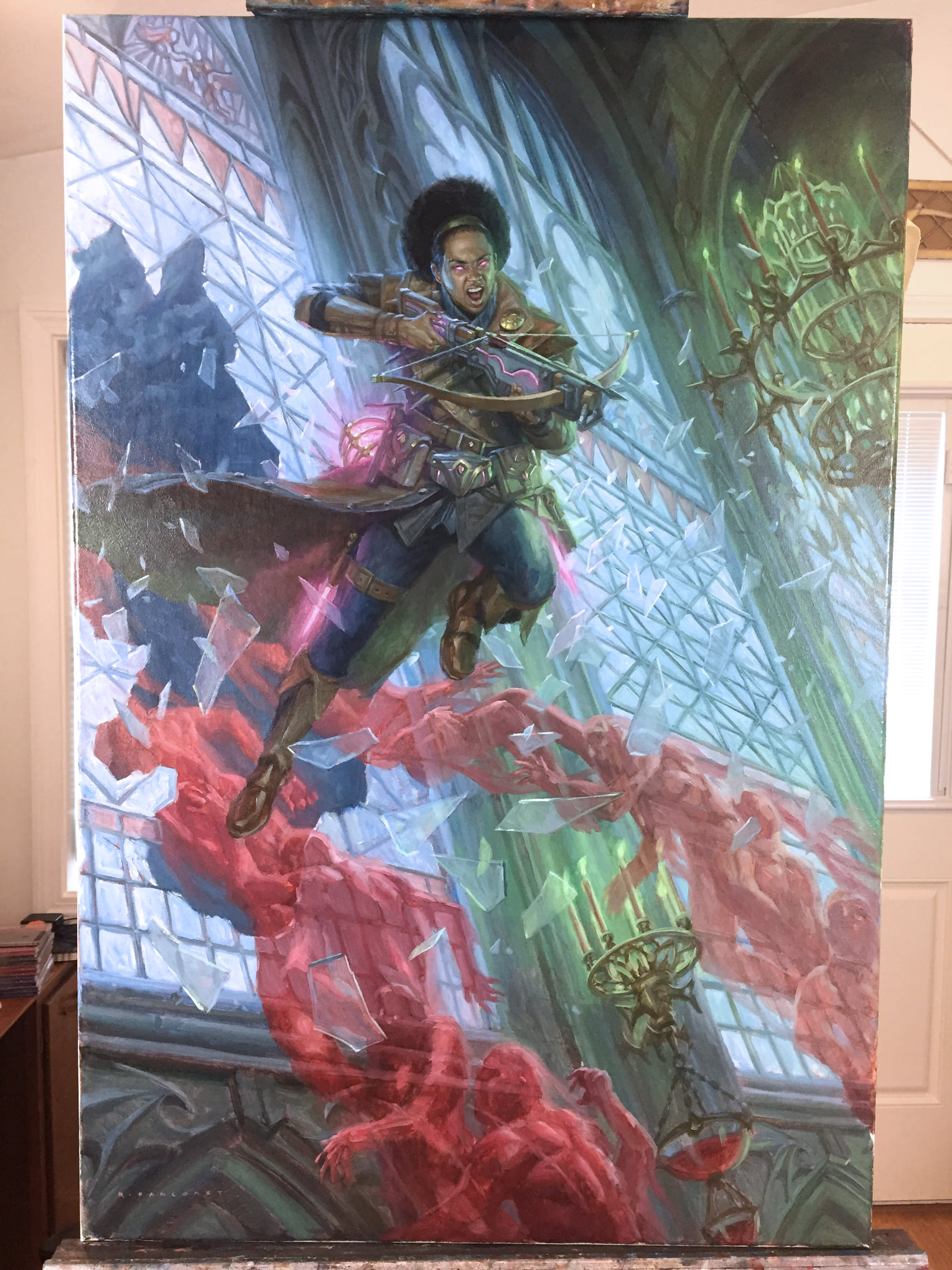 Once the 30-minute mark was announced, the next half hour played host to a flurry of activity, as bids crashed in from three separate private bidders. One minute after the slated end at 10:01 pm, a single bidder stood alone at $11,100 and took this work home.
It's been a while since I've had an opportunity to recap a Pancoast auction, but this piece has so much to look at: a dramatic figure, incredible details, and a complicated but clear composition that works at card size and full size.
This slideshow requires JavaScript.
As a part of the sale, Ryan elaborated on his process and procedure in creating this work:
"This job was certainly a challenge, with the action pose, shattered glass, odd green light and translucent spirits.
"Kaya's new outfit was designed by Wotc's talented concept artists and it was fun to try to take those designs and faithfully put them into such a complicated scene. When painting a scene so complex on a deadline, I often have to sacrifice some finesse for more gestural rendering. You can see that in the bottom half with the red spirits; details are implied with looser brushstrokes. Kaya's face and body, by contrast, are more carefully rendered because it's the focus of the piece and also the only part of the art that should be clearly visible in the card frame.
"The canvas itself is a stretched canvas on a 3/4 inch thick stretcher bars which I always leave unpainted. A standard open wood frame should cover up the sides and overlap the front of the painting slightly which will make it ready to hang.
"The canvas texture is slightly bumpy and raised with a stucco-like application of gesso underneath the final layer of oil paint. Under strong directional light you can see the texture, but hanging on the wall in most settings it should be very subtle. On the 1-10 Pancoast texture scale, I'd rate it about a 5."
This slideshow requires JavaScript.
In short, Kaya, Geist Hunter of Innistrad: Crimson Vow is another triumph by Pancoast, and nothing less. Stay tuned to Hipsters of the Coast for more Art Market Minutes and continuing art news from #MTGVOW