Good morning everyone, and welcome to my very first Critic's Choice, where I'll look at the nominations for the year end awards and publications in the genres of fantasy, science fiction, and imaginative realism, and give you my picks and reasoning from amongst the list of nominees in a variety of categories. This inaugural article will focus on the 2021 Chesley Awards, the pinnacle award in the genre for art, begun back in 1985:
"The Chesley Awards were established in 1985 as ASFA's peer awards to recognize individual works and achievements not otherwise recognized by the Hugo Awards, during a given year. The Chesleys were initially called the ASFA Awards, but were later renamed to honor the famed astronomical artist Chesley Bonestell after his death in 1986."
Categories include Best Cover: Hardcover, Best Cover: Paperback or eBook, Best Magazine Illustration, Best Interior Illustration, Best Gaming-Related Illustration, Best Product Illustration, Best Color Work: Unpublished, Best Monochrome Work: Unpublished, and Best Three Dimensional Work. There are two other categories that are also a part of the Chesley Awards, the Best Art Director and the Artistic Lifetime Achievement Award, but I've left those out as it didn't feel appropriate choosing amongst folks whose professional work or lifetime career I was largely unfamiliar with.
Voting officially closed on November 19th, and awards are expected to be announced later this year. In fairness to all nominees, I've waited to publish this article until the vote has concluded. As we go through, you can click on each header to zoom on all the nominees, and my choice will be bolder with images below. My choices take into consideration a mixture of technical prowess, penchant for storytelling, and proficiency in function; a piece of commercial art must still, at the end of the day, excel in the role for which it was commissioned.
Let's waste no more time, and take a look at my picks for the 2021 Chesley Awards:
Best Cover: Hardcover Book
The nominees:
My Pick: Corinne Reid, Encounters with the Imaginary Vol. 3 edited by Jeszika Le Vye and Kira Night (Boneshaker Press, September 2020)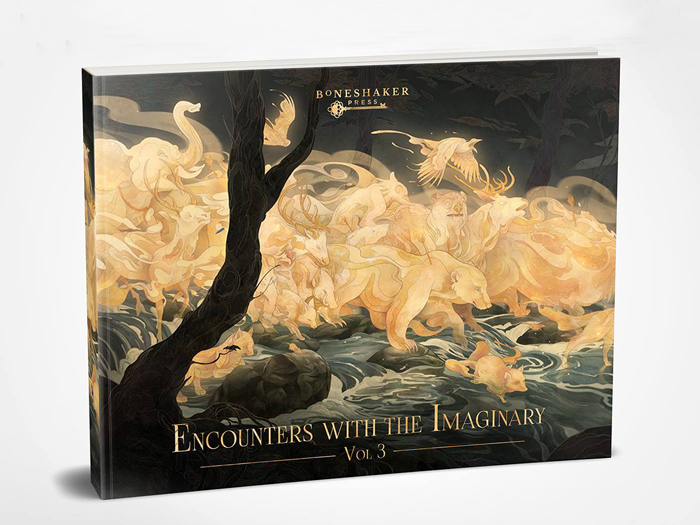 We start in the Hardback Book category, and my selection goes to the ethereal parade of the animal kingdom by Corinne Reid, created for the Encounters with the Imaginary series from Boneshaker Press. I was unfamiliar with Reid's work up until this point, but they are now firmly on my radar. This is one of those images where each time you look you see something different: another animal, and additional detail, or a new story woven into the mass of creatures crossing the cover. It's an illuminating entrance to this book, and I'm excited to explore it again and again.
Best Cover: Paperback or Ebook
The nominees:
My Pick: Scott Fischer Ashes of the Sun by Django Wexler (Orbit, July 2020)
I know Fischer's traditional work from Magic: the Gathering, and might not have known this was his at first glance; a digital, landscape book cover is about as far a cry and his normal convention as is possible. That said, I've found this work the most engaging of the group, and the final functions fantastically within the confines of the cover.
Fischer wrote a brilliant Muddy Colors post on how this piece evolved and what went into putting it together, and the immense effort is reflected through the deliberate choices in color and composition on the part of both artist and art director. I love these works that play with the notion of scale, a small figure in the foreground overlooking the vastness of adventure. Fischer's cover leaves us beckoning to find out what happens within.
Best Magazine Illustration
The nominees:
My Pick: Francesca Resta Clarkesworld #169 (October 2020)
Resta is an Italian artist currently residing in the UK, and this piece that found itself on the cover of Clarkesworld #169 was originally done as a part of her SmArt School mentorship with living master Donato Giancola. It was voted the fan favorite cover of any Clarkesworld Cover published this year, and is a wonderful example of visual narrative and the artist's true gift of telling a story through art.
There is something cinematic here just begging to be told, hanging on the lips as the vines hang across the work, and I for one want to know what it has to say. I'll be talking more about Resta in a future article, both of her propensity for tale and texture, so do stay tuned for that. But in the meantime, this is the work to beat.
Best Interior Illustration
The nominees:
My Pick: Iris Compiet The Dark Crystal Bestiary by Adam Cesare, Brian Froud, Wendy Froud, Iris Compiet Insight Editions (October 2020)
I first saw Iris Compiet's work at IX several years ago, and have had the immense pleasure to write about several pieces after she joined the ranks of Magic: the Gathering. This project, however, is something completely different. It's an incredible undertaking that is made up of literally thousands of works, resulting in a final published interior of the The Dark Crystal Bestiary is not only a sight to behold, but nothing short of a career defining work for the Dutch artist. Exceptional imagination has poured forth from Iris into that which is Thra, and it is by this book and its illuminated interior that this world will be remembered for years to come.
Best Gaming Related Illustration
The nominees:
My Pick: Lindsey Look "Sublime Epiphany" Core Set 2021 MtG WotC (July 2020)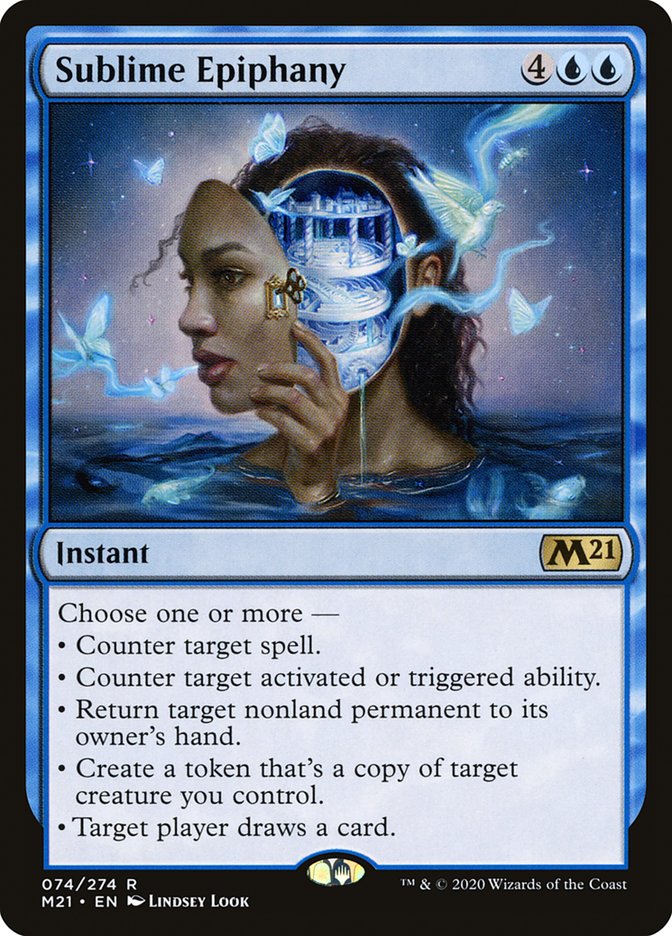 This painting was a part of my Grand Art Tour published this summer, and in my opinion is not only of of the best Gaming Related illustrations of this past year, but one of the greatest pieces of Magic: the Gathering art created, ever. It's not often that full-blown surrealism can be made to work within the game, but Look has created something truly special. This is a highly legible and flawlessly rendered work that is able to communicate the card and at the same time tell a story much greater than itself. This combination is the pinnacle of MTG illustration, and I'm glad to see it recognized.
Best Product Illustration
The nominees:
My Pick: Vanessa Lemen Psyche (Promo for Reckless Deck: PSYCHE)
The product category for the Chesley Awards is always one of the most varied, but as I've mentioned throughout this article, a work needs to not only be technically strong but function as it was intended. I saw this work for the first time at the Reckless Deck booth at IX in October 2021, and it grabbed my eyeballs immediately; so much that even after looking at thousands of paintings over those few days, I remembered it immediately upon seeing it again when looking at these nominees. It's the signature, sandscape style of Lemen, with the added functionality of being one exceptional piece of marketing artwork.
As an aside, it's also the catalyst of an awe-inspiring Muddy Colors post that I think we could all benefit from reading. Thank you for that, Vanessa.
Best Color Work: Unpublished
The nominees:
My Pick: Rachel Quinlan "Luminous" (Watercolor/Ink)
I think that the Unpublished: Color category is maybe the overall strongest collection of work of any category we're looking at today. It's also the one that plays a bit to my bias, and the work I've chosen, which I can confidently say would have gotten my choice anyway, resides in my personal collection.
Quinlan's Luminous plays to her Gilded Order series but turns the dial to 11, an explosion of color and shape that still reads perfectly and leaves the viewer free to explore every facet and detail of the winged broodmoth. She is no stranger to these awards and has won in the past, but I think this is not only one of her best paintings to date, but another high note on a trajectory that continues moving upward.
Best Monochrome: Unpublished
The nominees:
My Pick: Daria Aksenova "羊 (Yáng)" (Pen and Ink on hand-cut, suspended, layered paper in a hand-built, gilded Italian frame)
Daria Akesenova's work is another that must be seen in person to experience the full effect of her artistic vision. Each line is drawn with fervor, each shape cut by hand, assembled meticulously, and housed in a handcrafted casket that is equal parts function and fantasy. Every single element you see here has been born from her brain and wrought by her own two hands, and I find the thousands of hours and laser focus simply incredible. It was a privilege to see her work in person, and I find it perfectly in line for consideration of this category's top honor.
Best Three Dimensional Art
The nominees:
My Pick: Karl Deen Sanders "Siren" (Bronze upon an Onyx base)
I am no expert when it comes to the world of three dimensional art; it's something I've only recently started to dig into. Although I recognize several names from this nominee list, I'll be the first to admit my knowledge is far from expansive. That being said, Sanders's siren appears as if she's suspended in water, a fixed object that still has a certain feeling of motion, even though we as the viewer know that cannot be true. It's that bit of fantasy that makes this sculpture so enchanting, and keeps us yearning to learn more about the beauty we now behold.
Wrapping Up
There you have it folks, my picks for the 2021 Chesley Awards. As this is my first exercise of this kind, I'll be just as interested as you all to see who gets the nod in each of these categories when the time comes. The Chesleys, like any award system, are not the end all be all of art within this genre; but as you've seen here, they've brought together some of the strongest works of art created over the last 12 months. I'm glad to see the work of these incredible artists recognized on such a monumental scale, be it for the first time, or for one of many.
I'd love to hear if you had a particular work you feel strongly about, regardless of my opinion. Maybe you saw something I didn't, or an artwork has struck a chord? Let's start up a conversation and look at some great art; you can find me on Twitter and I'm always happy to chat about anything in this vein.
Until next time, I'm your friendly neighborhood art writer, and thanks for reading.
Donny Caltrider has been playing Magic since 2002 and collecting original Magic art since 2017. He has an M.A. in Museum Studies from Johns Hopkins University and enjoys telling stories about art, objects, and the intersection of fantasy with real-life. You can find him on Twitter talking about #mtgart, museums, and other #vorthos related goodness. Follow along and continue the conversation!