CHARLIE: Actually Lucy, my trouble is Christmas. I just don't understand it. Instead of feeling happy, I feel sort of let down.
LUCY: You need involvement. You need to get involved in some real Christmas project. How would you like to be the director of our Christmas play?
CHARLIE: Me? You want me to be the director of the Christmas play?
LUCY: Sure Charlie Brown, we need a director. You need involvement. We've got a Shepherd, musicians, animals, everyone we need. We've even got a *Christmas Queen!*
(LUCY indicates herself as the Queen by pointing to herself when she says this line.)
CHARLIE rolls his eyes in disgust.
CHARLIE: I don't know anything about directing a Christmas play.
LUCY: Don't worry; I'll be there to help you. I'll meet you at the auditorium. (pauses for a second) Incidentally, I know how you feel about all this Christmas business, getting depressed and all that. It happens to me every year. I never get what I really want. I always get a lot of silly toys, or a bicycle, or clothes, or something like that.
CHARLIE: What is it you want?
LUCY: Real Estate.
A tradition of the season since medieval times, the Nativity Play, or Christmas Pageant, is mostly today a children's activity. They are put on for the enjoyment of proud parents and the education of young children in music and in the traditions and stories of the holy season—sometimes more noteworthy examples come along, however. Jean-Paul Sartre's "Bariona ou le fils du tonerre (Bariona, or The Son of Thunder)" performed on Christmas Eve 1940, envisions Christ as a member of the Jewish Resistance against Roman occupation, mirroring French Resistance of Nazi Germany's occupation. And, of course, "A Charlie Brown Christmas" dramatizes Charlie Brown's attempt to direct the production of a Christmas play as a way to break free of his winter malaise, and critiques the consumerism that cartoonist Charles Schulz saw as obscuring the true meaning of the holiday.
Our holiday games of Magic with friends might be for more frivolous concerns than Sartre's or Shulz's, but we can still draw inspiration for our own kind of dramaturgy! The final collection of cards below takes its inspiration from the stage, and in a holiday-themed Jumpstart cube, puts on a holiday play of its own.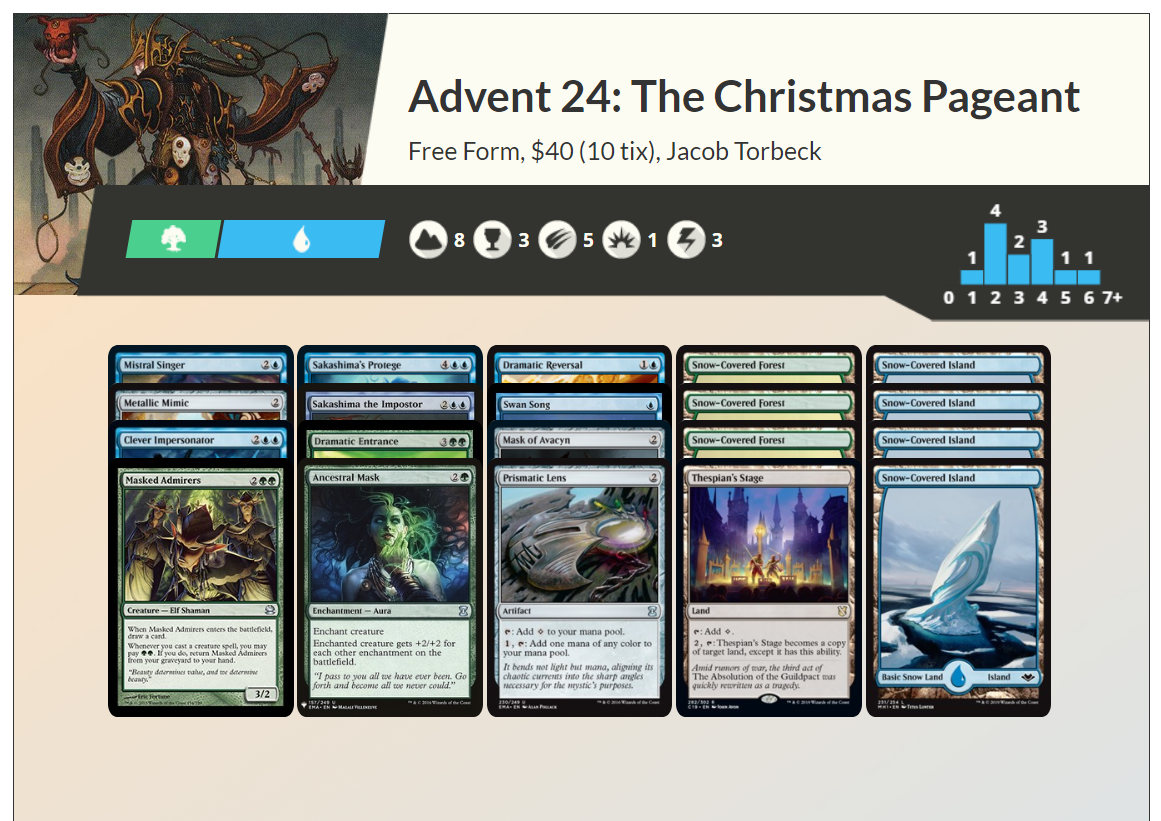 Advent 24: The Christmas Pageant
Our list today contains a number of cards that evoke theater, like Sakashima the Imposter, that can take the roles of other permanents on the battlefield; becoming characters or even the set, to stage the drama of your game within itself, a play within play. Whether you're copying your opponent's jolly elves or your own angelic singers, this deck excels at staying ahead on value in the mid to late game by copying higher cost creatures.
In addition to harmonizing well with other partially blue or green packs, this selection was designed with "The Thing in the Ice" in mind. Copying Dark Depths might be magical Christmas-land, but wishes are never more sure to come true on Christmas Eve. This pack lacks creatures it can reliably drop for the first few turns, so consider prioritizing a selection with a handful of cheap creatures. Break a leg!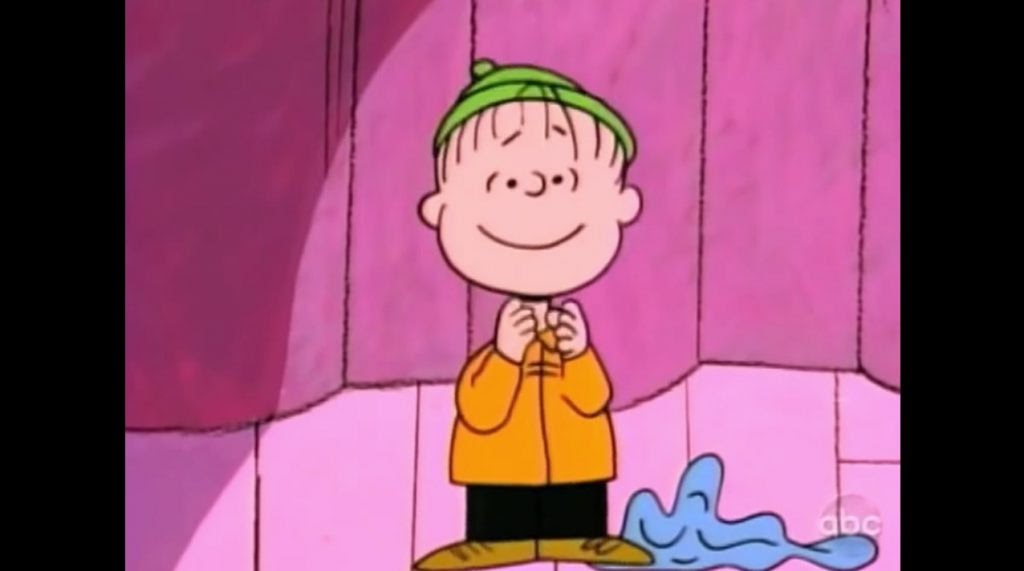 Now our advent calendar comes to an end. I hope you've enjoyed this experiment with the Jumpstart idea, and that these short bits of content that mix Magic with the rhythms of the holiday season have been pleasant or even inspiring as we draw near the end of the year.
Our twenty-four days of Jumpstart packs:
1: You Better Watch Out! | 2: Eight Tiny Reindeer | 3: Festive Colors | 4: Santa's Workshop | 5: Snow! | 6: The Feast of Saint Nicholas | 7: Gift Exchange | 8: The Elven Family | 9: The Table of Plenty | 10: A Snowy Evening | 11: The Thing in the Ice | 12: Our Lady of Guadalupe | 13: Wassail! | 14: Dance of the Sugarplum Faerie | 15: Shepherds | 16: Guardian Angels | 17: Wisdom of the Magi | 18: Lawgiver | 19: Lo! How a Rose E're Blooming | 20: Open to Wonder | 21: Dawnbringer | 22: Rex Gentium | 23: A Favored Presence | 24: The Christmas Pageant
WIth wishes of peace and goodwill, I leave you until the new year with this bit of recommended listening:
Jacob Torbeck is a researcher and instructor of theology and ethics. He hails from Chicago, IL, and loves playing Commander and pre-modern cubes.