O Rex Gentium, et desideratus earum,
lapisque angularis, qui facis utraque unum:
veni, et salva hominem,
quem de limo formasti.

—"O Rex Gentium," O Antiphon for Dec 22
The "kingship" of Christ and the reign of peace it is expected to bring is the subject of at least a couple of songs of the season. Adapted from the antiphons I've been quoting, "O Come, O Come Emmanuel pleads, "O come, Desire of nations, bind / in one the hearts of all mankind; / bid thou our sad divisions cease, / and be thyself our King of Peace." Likewise, "Hark! The herald angels sing" continues, "Glory to the newborn King! / Peace on earth and mercy mild, / God and sinners reconciled."
This selection of cards draws on the imagery of these old songs, hoping to establish a strong board state that lets us assume and keep the mantle of monarch.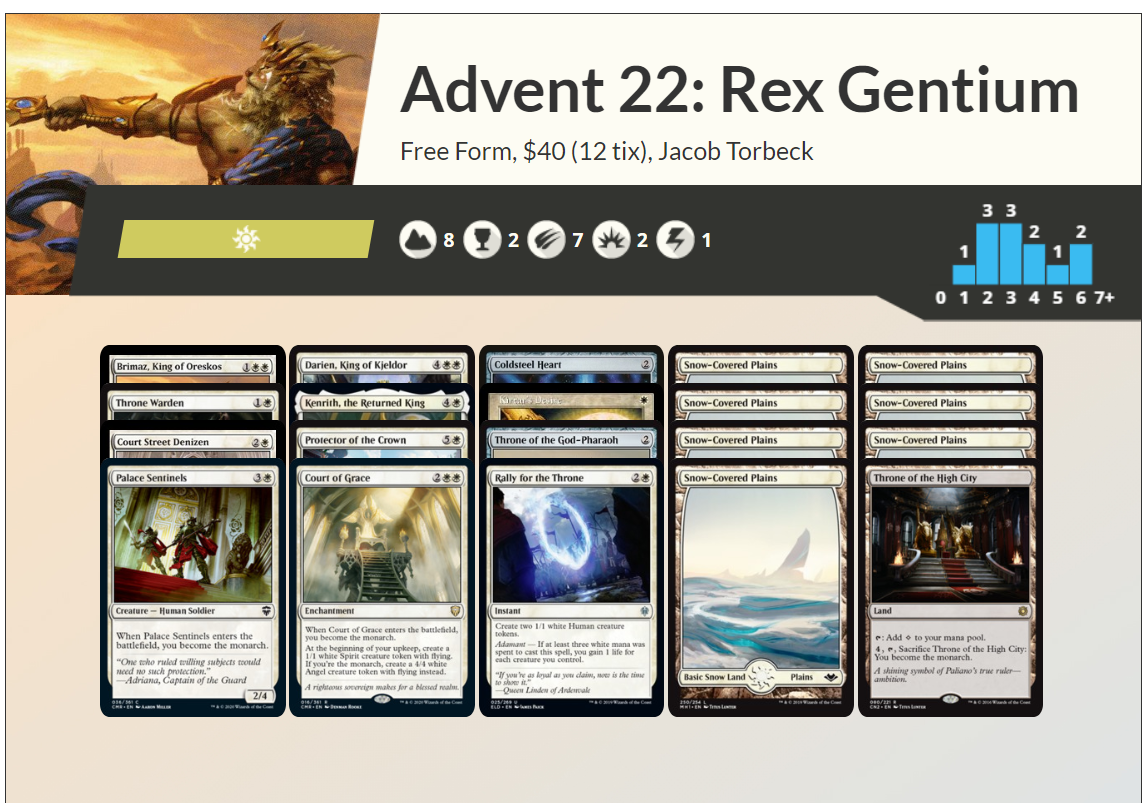 Advent 22: Rex Gentium
This selection leans mostly into the "King" lyric and less into "peace" with cards like Throne of the God-Pharaoh encouraging our soldier-based strategy to be as aggressive as possible. Cards like Court of Grace, Brimaz, King of Oreskos, and Darien, King of Kjeldor will keep our ranks strong, and Protector of the Crown can allow us an all-out attack for at least one turn. The desire for peace is of course Kirtar's Desire, and we can leverage this to ensure that the biggest or most evasive threat on our opponent's battlefield stays on their side.
One of the interesting things about having Kenrith, the Returned King here is that his utility will change based on which pack he's paired with, and in packs that contain versatile fixing like Arcum's Astrolabe or Prismatic Lens (a majority of them), his utility can be even greater. Packs like "Eight Tiny Reindeer" and "Open to Wonder" provide additional monarch synergies; whereas "Wassail!," "Guardian Angels," and "The Elven Family" provide additional tokens to bolster a "go-wide" token strategy!
Today, I leave you with the aforementioned hymn, "Hark! The Herald Angels Sing!" as sung in the classic A Charlie Brown Christmas:
Jacob Torbeck is a researcher and instructor of theology and ethics. He hails from Chicago, IL, and loves playing Commander and pre-modern cubes.