Today is the Feast of Our Lady of Guadalupe, an incredibly important festival day in the Americas, especially for natives of Mexico and people of Mexican descent. This festival might be lesser known outside of Catholicism or Mexico, so I'll do my best to summarize what it's about:
According to tradition, in December 1531, an indigenous peasant and Christian convert named Juan Diego experienced an apparition of a young woman at the Hill of Tepeyac, near present-day Mexico City. According to accounts, the woman spoke to the peasant in Nahuatl, his native language, and identified herself as Mary, the Blessed Virgin, "mother of the very true deity," and asked for a church to be built there. Predictably, the local Christian bishop did not believe Juan Diego's story, and demanded some proof. Mary again appeared to Juan Diego and exhorted him to gather flowers from the previously barren hill. In a second audience with the bishop, Juan Diego opened his cloak, letting dozens of roses fall to the floor and revealing the image of Mary imprinted on the inside of the cloak—the image that is now venerated in the Basilica of Guadalupe.
At least in recent years, the Basilica of Our Lady of Guadalupe in Mexico City has been the most visited Catholic pilgrimage site in the world. It receives almost three times the number of visitors St. Peter's Basilica in Vatican City; it is one of the world's most popular sacred sites across religions. Despite the doubts of scholars as to the historical veracity of the accounts, Juan Diego's cloak and its miraculous image became widely venerated, and have since become Mexico's most popular religious and cultural symbols. By the 19th Century, the cloak and its image became the figurative banner under which Mexicans rallied against the Spanish crown, and because of its integration of indigenous imagery and the apparition's use of the indigenous language Nahuatl, is seen as a legitimizing blessing of indigenous heritage.
The selection of cards I've chosen for today's pack commemorates this story: Skyclave Apparition, Mother of Runes, and Akroma, Vision of Ixidor evoke the apparition of Mary, Mother of God; while Everdawn Champion, Emissary of Sunrise, and Sun Titan recall her being "clothed in the sun." The venerated cloak is here represented by Holy Mantle, while subsequent moments of veneration by pilgrims are depicted on Festival of the Guildpact (note the roses), Benevolent Blessing, and Heliod's Pilgrim. Ancient Ziggurat recalls the city of Tenochtitlan, razed by Hernán Cortés just a decade before Juan Diego is said to have seen the Blessed Virgin on a nearby hill. he plains here, from Ixalan, are meant to recall the rocky terrain near Tepeyac.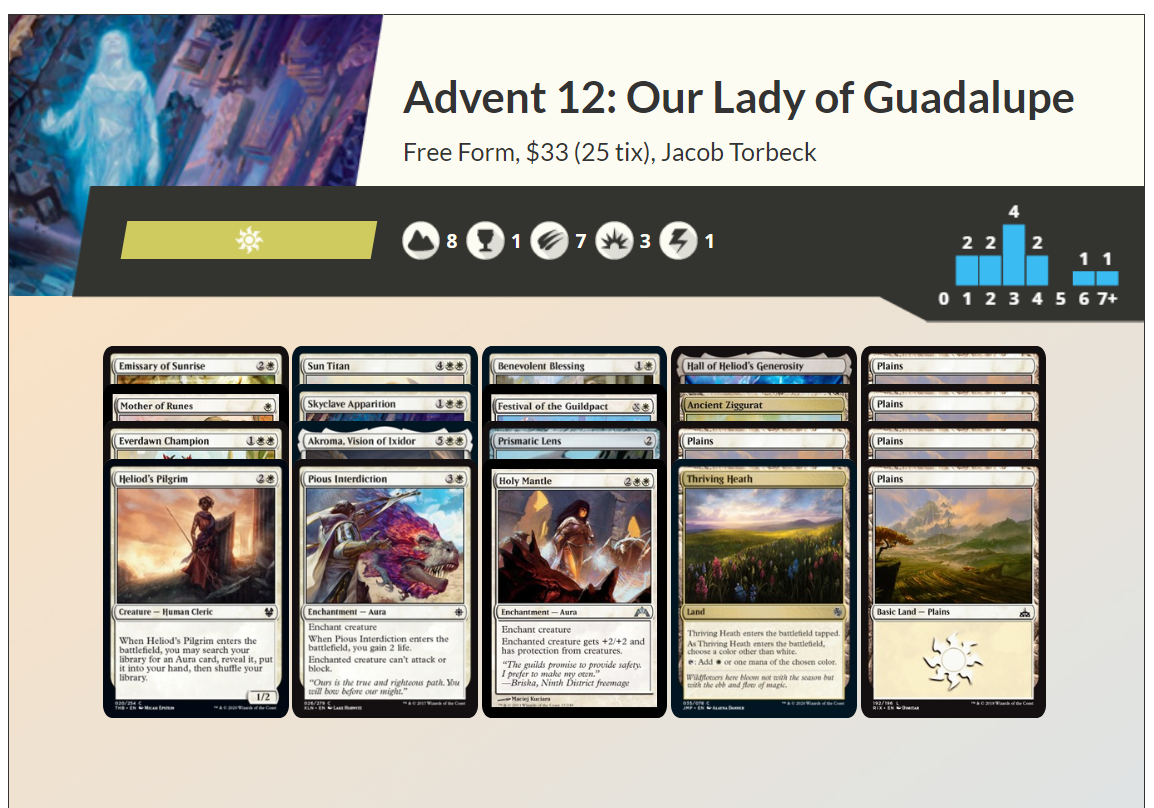 Advent 12: Our Lady of Guadalupe
Our Lady of Guadalupe is associated with a number of miraculous healings and blessings, so this pack's mechanical theme is protection and auras. While its larger creatures are often game-winning threats on their own, granting them protection can give us either an unstoppable offense or an impenetrable defense. This pack and strategy plays well with just about any other pack that doesn't care about snow permanents, and providing strong recursion for cheap creatures with Sun Titan, making a small number of larger threats unblockable via protection, and buffing creatures with keyword abilities with Akroma.
Coda: The Legacy of La Virgen
Our Lady of Guadalupe occupies a central place in the popular piety of Mexican Christianity. As Roberto S. Goizueta has written, "No other popular religious devotion is as closely linked to a people's self-identity, or socio-historical context, as is the Mexican devotion to Our Lady of Guadalupe; none other is more deeply 'ours'" (Caminemos Con Jesus, p.38). As other scholars and essayists have written, in the wake of dehumanizing colonization by Spanish conquistadors: the apparition, bearing the appearance and symbolism of indigenous people meshed with descriptions of Mary from the book of revelation, became an affirmation of the human dignity of the colonized, a representation of the faith they were being baptized into that also remade the tradition in a way that held onto brown skin and ancient customs as privileged places of divine revelation, a legacy that to this day inspires religious devotion, indigenous pride, and courage to fight for the good.
Recommended Media:
Maria Hinojosa with Ray Salazar, "Feminism and Our Lady of Guadalupe".
Griselda Alvarez Sesma, "A short history of Tonantzin, Our Lady of Guadalupe".
Donalt V. Kurtz, "The Virgin of Guadalupe and the Politics of Becoming Human," Journal of Anthropological Research 38.2 (Summer 1982), pp. 194-210.
Margarita de Orellana, Jill Derais, Miguel León-Portilla, et al. "Guadalupe Tonantzin: REFLECTIONS," in Artes de México No. 125, GUADALUPE Tonantzin (JUNIO 2017), pp. 73-96.
Jacob Torbeck, "A Thorn in our Side: Vito and the Legacy of the Spanish Conquest," Hipsters of the Coast.
Jacob Torbeck is a researcher and instructor of theology and ethics. He hails from Chicago, IL, and loves playing Commander and pre-modern cubes.