Whose woods these are I think I know.
His house is in the village though;
He will not see me stopping here
To watch his woods fill up with snow.   
My little horse must think it queer
To stop without a farmhouse near
Between the woods and frozen lake
The darkest evening of the year.   
He gives his harness bells a shake
To ask if there is some mistake.
The only other sound's the sweep
Of easy wind and downy flake.   
The woods are lovely, dark and deep,
But I have promises to keep,
And miles to go before I sleep,
And miles to go before I sleep.
—Robert Frost, "Stopping by Woods on a Snowy Evening"
This gorgeous poem about a winter day's introspection takes place on the solstice—another eleven days from now, the 21st—but I have other plans for that day, and I didn't want to leave it out. The references to a farmhouse, the Snow-Covered Forest, and a lake are archetypal Bant; and this snow-themed selection is all about enjoying the beauty of snow before consigning our opponent's creatures to Winter's Rest.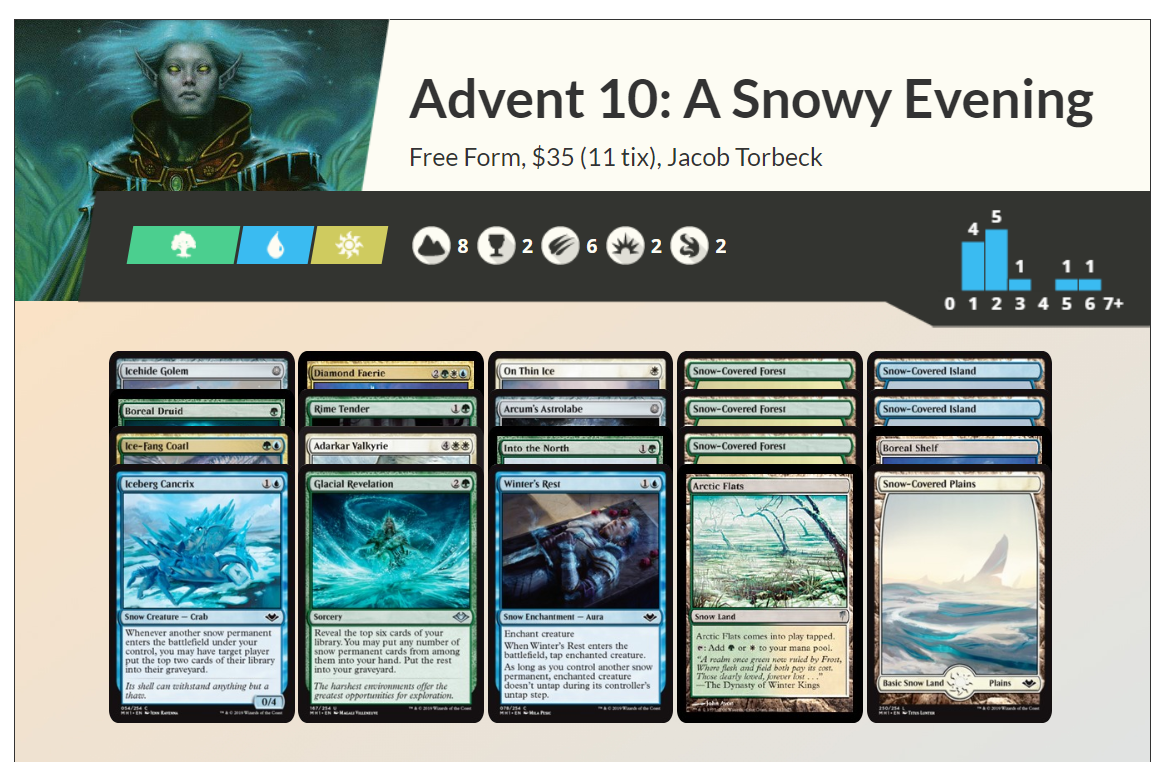 Advent 10: A Snowy Evening
Snow is strongest in blue and green, and that's evident here: Glacial Revelation offers a tremendous rate for card draw when a snowpack is as deep as this one. While Glacial Revelation will likely find us whatever lands we need, Into the North is a solid fixer alongside this cube's very common Arcum's Astrolabe. This pack features a few possible lines of play to freeze our opponents in their tracks: early plays should enable us to ramp and draw a few cards before we drop Iceberg Cancrix, a potent mill engine in a pack like this. Mid-to-late game, Adarkar Valkyrie can recur our creatures if they should perish, and Diamond Faerie can make our whole board "abominable," and overwhelm the opponent's defenses. Be a good sport and offer your opponent some hot cocoa after you've put their gameplan on ice.
When drafting this pack, mana requirements are likely the most important consideration. Many packs in this cube contain some combination of blue or green with white, these packs can help ensure that two white mana are available when it's time to summon Adarkar Valkyrie!
Jacob Torbeck is a researcher and instructor of theology and ethics. He hails from Chicago, IL, and loves playing Commander and pre-modern cubes.