Here we come a-wassailing
Among the leaves so green;
Here we come a-wand'ring
So fair to be seen!
—Wassail Song, trad.
So much to say today!  Today is Gaudete Sunday, the third candle on the Advent Wreath, which encourages Christian believers to "Gaudete!" (Rejoice!) It's also the start of the second half of my Advent Calendar here at Hipsters of the Coast, and so I've something of a brief recap for us at the end, as well.
Todays pack has gone through a number of iterations, but I ultimately settled on "wassailing" because of a wonderful blog post my friend David Mosley put together over on his blog. David and I are alike in that we both love the carols of the Advent and Christmas seasons. I first learned of wassailing in 1987 when Will Vinton's Claymation Christmas explained the song in a series of running gags (pigs sing about "wallowing," geese come "a-waddling," you get the idea). Ultimately, a group of rather Irish looking elves explain it in a fairly neutral fashion: it's about bringing cheer to the town by singing carols door to door and drinking Christmas cordials—a very British holiday tradition that we see also at Halloween, St. Nick's Day, and in the Mari Lwyd of Wales!
Like Halloween, though, wassailing isn't just about going door to door: according to my friend David, the singing one does when a-wassailing is "to sing the evil spirits out of the trees." The sympathetic magic of wassailing was to bless the apple trees as they rested in the winter, so in the Spring, they awaken and produce a bountiful harvest—producing the apples that would be made into the hot, spiced, alcoholic cider that would warm the carolers. By the time we have much recorded, the ancient folk way had blended with Christian spirituality, and the singing was linked to Christian rejoicing and the preferential treatment of the poor. The singers (usually poorer) beg for food and drink and God's blessings upon the trees and the town and any who open their doors, and in exchange, the poor carolers are given cider, beer, and food. Rejoice!
The card selection for today is meant to evoke this ancient folk tradition, and the trappings of caroling in general. I had to make some hard choices, but here's where I settled.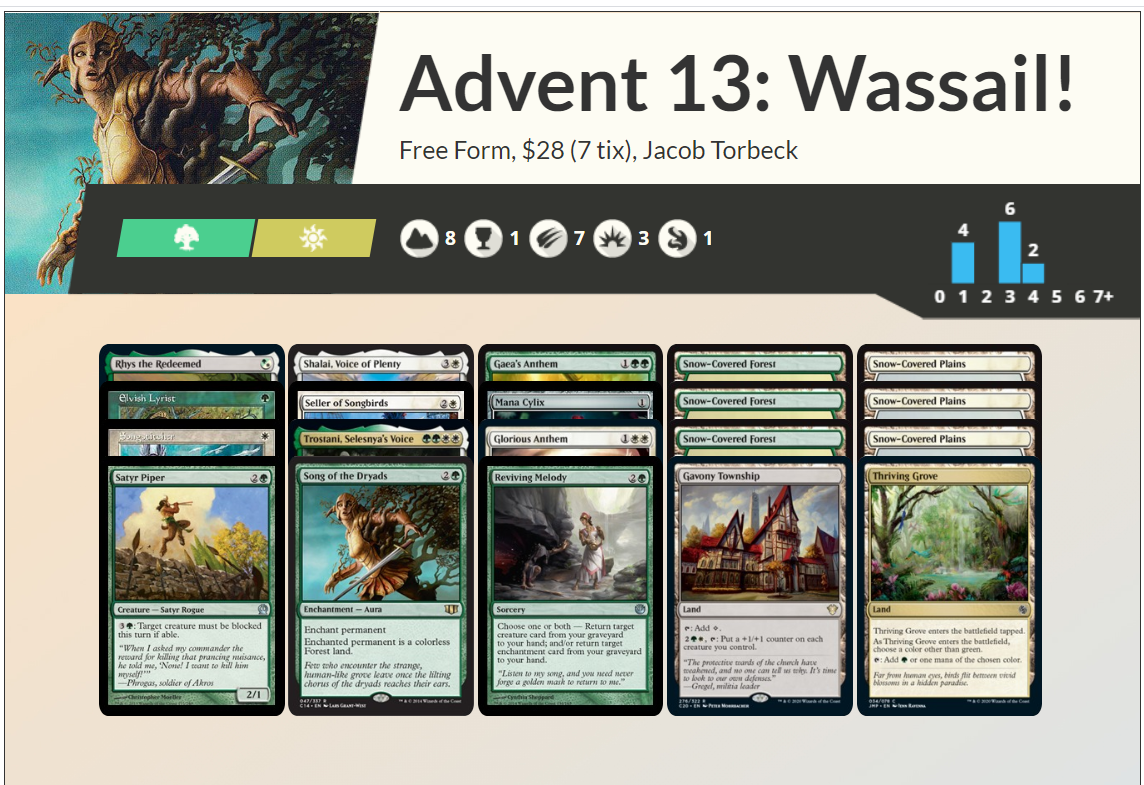 Advent 13: Wassail!
This pack aims at making and buffing creature tokens, using song-themed spells and creatures to do it. While some creatures, such as Elvish Lyrist and Songstitcher, serve unfocused utility roles and are here mostly for their theme; Shalai, Voice of Plenty and Trostani, Selesnya's Voice harmonize in amplifying the tokens made by Rhys the Redeemed and Seller of Songbirds.
Should you knock and not find a hospitable land, pour some wassail into that Mana Cylix and take a long draught before going back out into Gavony Township to sing a Reviving Melody. These singers perform best alongside other packs that can generate tokens and or benefit from anthem effects—The Elven Family, for example, as well as Festive Colors, synergize each in their own respective ways.
Looking back, looking ahead
So much of Advent is about looking ahead, but we can also see where we've been.  If you haven't had the opportunity to check out my previous selections, or missed one, here you are:
1: You Better Watch Out!
2: Eight Tiny Reindeer
3: Festive Colors
4: Santa's Workshop
5: Snow!!!
6: The Feast of Saint Nicholas
7: Gift Exchange
8: The Elven Family
9: The Table of Plenty
10: A Snowy Evening
11: The Thing in the Ice
12: Our Lady of Guadalupe
Love and joy come to you,
And to you your wassail too;
And God bless you and send you a Happy New Year
And God send you a Happy New Year!
Jacob Torbeck is a researcher and instructor of theology and ethics. He hails from Chicago, IL, and loves playing Commander and pre-modern cubes.