"In that region there were shepherds living in the fields, keeping watch over their flock by night. Then an angel of the Lord stood before them, and the glory of the Lord shone around them, and they were terrified." 
—The Gospel according to Luke, Chapter 2, verses 8 and 9.
The Christmas Story is framed in two different manners in the Christian Bible.  While some key details remain the same—a prophesied child is born to a virgin mother in the town of Bethlehem—the characters we meet surrounding these events are from different social classes. That communicates something to us of who, precisely, this version of the gospel may have been written for. The Gospel of Luke is famously the most explicitly concerned with the plight of the poor and the marginal; so it is fitting that the angels of God appear not to kings or magi, but to shepherds out in their fields, away from the halls of kings and administrators. It is also the account in which the child Jesus lies in a manger—the Incarnate God is born into solidarity with the poor.
This mono-white pack makes use of what few shepherds Magic offers us to call this account to mind. The mechanical unity here is about rescuing our cards from the grave, both before and after they end up there: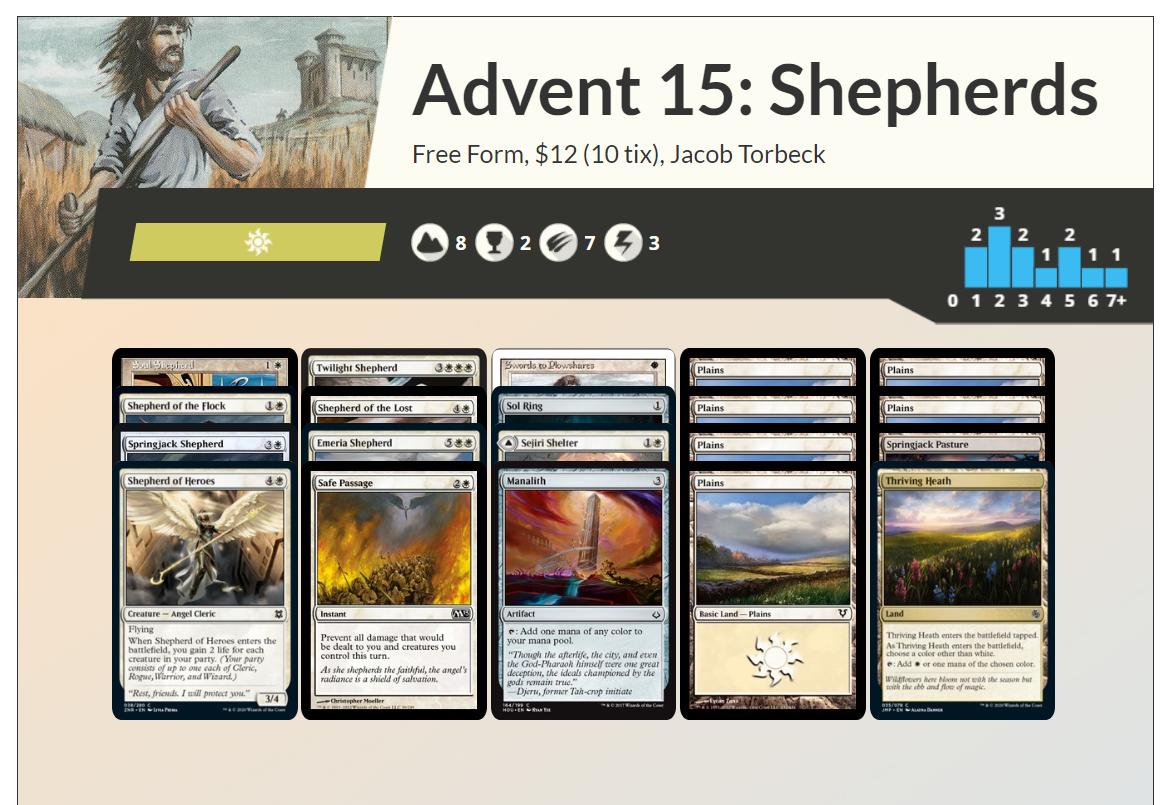 Advent 15: Shepherds
This pack hopes to make use of Sol Ring and Manalith to ramp quickly to our expensive angelic shepherds. Twilight Shepherd and Emeria Shepherd provide strong recursion that we can protect with Sejiri Shelter or Shepherd of the Flock's Usher to Safety if necessary. The mana curve on this selection is high, so we could do worse than pairing this pack with one full of ramp, but I have a hunch there are some more angels yet to be heard on high in the coming days.
Jacob Torbeck is a researcher and instructor of theology and ethics. He hails from Chicago, IL, and loves playing Commander and pre-modern cubes.