Good morning everyone and welcome back to the Mirror Gallery here on Hipsters of the Coast. It's time for another Grand Art Tour, and today we'll be zeroing in on the newly released Commander Legends set that's brought an immense 177 new pieces of Magic art to the game. Even after last article's token exercise, cutting down to ten from 640 choices, trying to choose ten or twelve from 177 new and exciting works is even more difficult. So I narrowed the field.
This is Commander Legends after all, and of those 177 new artworks, 73 of them are on Legendary cards. That will be my picking pool for today. In case this is your first time here, the Grand Art Tour series was inspired by New York Magazine art critic Jerry Saltz, and his 2010 piece entitled A Grand Tour. His piece highlights some of his most favorite works that could be seen in New York City in 2010, and in the same way the Grand Art Tour for each new set highlights my favorite newly released illustrations. You'll see cards across the entire set, and this particular article looks especially at those things you can't see at card size. The devil's in the details as they say, and these ten are all about details.
So here we go: in no particular order, these are my favorite Legendary artworks from Commander Legends:
Colfenor, the Last Yew by Filip Burburan
I just said I was going to talk about details, and there is no better place to start. What is a top notch illustration gets better as we zoom in: all those mushrooms, the dripping Spanish-esque moss, and those bright berries playing peekabo throughout the work all send this painting next level. Perhaps my favorite part is his brilliant blue eyes, tucked in among it all; they're just so full of feeling and his years and year of existence. Treefolk have been a staple of Burburan's repertoire for the last few years, but remember—much of Commander Legends was painted two years ago. This was probably this work that set those in motion, the very seed from which those commissions sprouted.
Mike Linnemann had it right about this painting: "It rewards you the longer you look at it."
This slideshow requires JavaScript.
Tevesh Szat, Doom of Fools by Livia Prima
Livia doesn't often do dark and scary, and I always like to highlight when an artist can completely change gears and give us something totally different. This is her fifth Planeswalker, so she is no stranger to full art and the larger than life render required. What we get as a result is an undulating mass of tentacles below the text box, and a revisiting of the design based off the original Tevesh Szat from the 1995 Armada Ice Age comics. Livia has done an exceptional job of contemporizing this classic character for 21st century Magic.
Sakashima of a Thousand Faces by Jason Engle
This work evokes a bit of Engle's art outside Magic, namely his Mausolea project, which if you haven't seen before you must explore. I love when an artist can bring their distinctive stylings into Magic from their other work, and it's something I look forward to every time I see Jason has got a new card.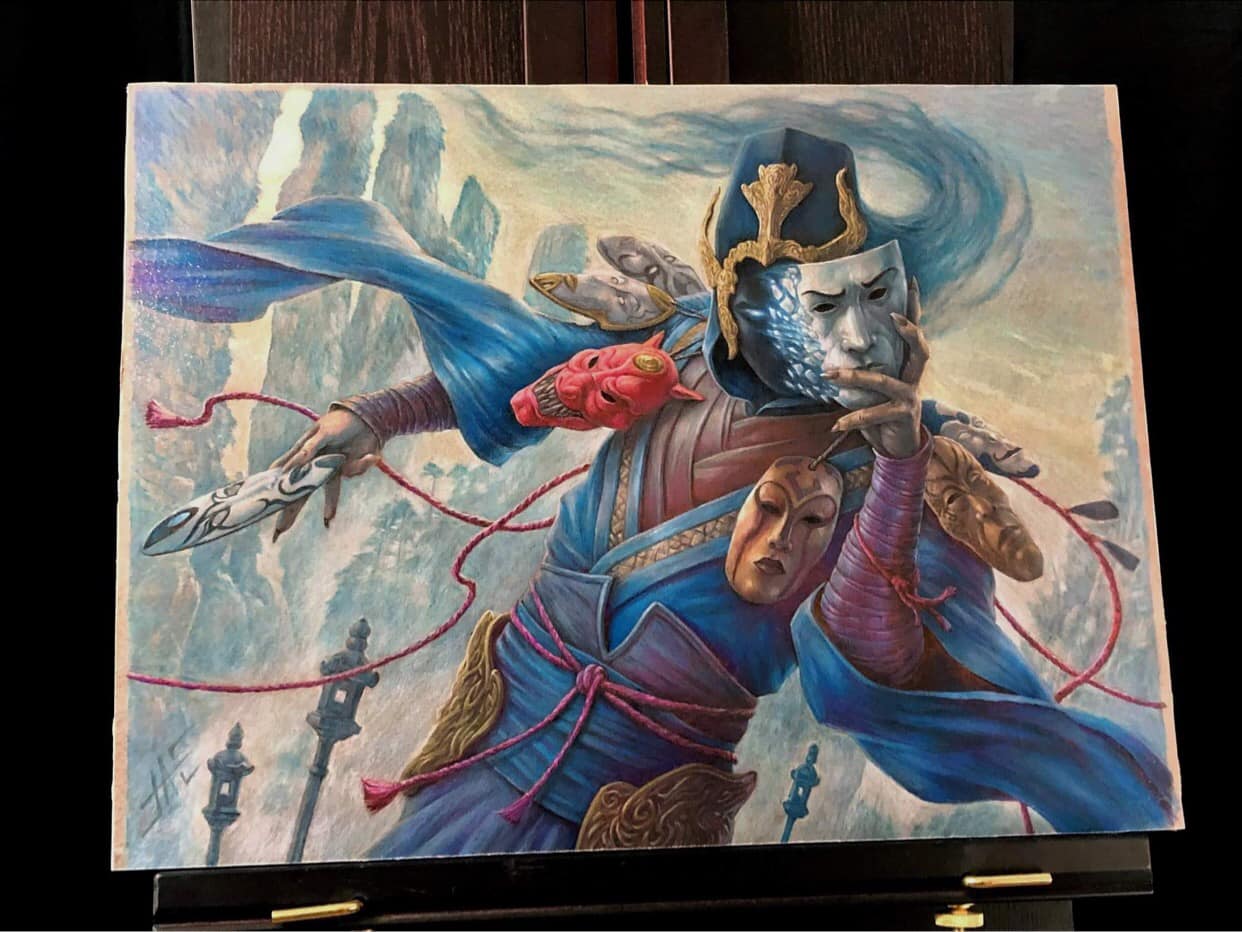 And while this work was finished digitally for publication, there is a downright insane traditional piece in colored pencil you can see above. Engle answered some questions talked a bit about the process in an MTG Art Market thread, but the amount of literal manual labor that went into creating this is mind-blowing. I can't even fathom it. A fantastic job well done.
Belbe, Corrupted Observer by Igor Kieryluk
Hipster's own Rob Bockman wrote a great piece on this character, and being mostly unfamiliar with her background and history, it explains so much about this new artwork. We know Belbe has been dealt an incredibly tragic hand of pain upon pain for her entire existence as we know it. She is shown in the full artwork eyes closed and recoiled, yet still standing with an air of defiance; the kind you need to survive. There is a definitive silence to this work; the silence before a scream.
Hans Eriksson by Ryan Pancoast
For those unfamiliar, this is in fact the Hans from Lhurgoyf, one of Magic's most famous flavor texts in Magic history:
"Ach! Hans, run! It's the lhurgoyf!"
—Saffi Eriksdotter, last words
Those words were later immortalized onto an Unhinged card of the same name. Now after more than fifteen years, Hans has a card of his own, still blissfully unaware of what Saffi is shouting in the background.
This slideshow requires JavaScript.
I've added some zoom details to this entry, because Pancoast has added some really wonderful storytelling elements. Saffi wasn't in the art description he was given, but he felt it important to have her here to tell the complete the story. The flower he smells is carried throughout the work in both his pendant and pommel, and Hans and Saffi's costumes share a handful of complimentary characteristics when you look close. Ryan said himself it's in his Top 5 paintings he's done for Magic as well as his favorite hand he's ever painted. You can watch him paint this fabulous work on YouTube; and for a nominal fee, the full video on Gumroad.
Eligeth, Crossroads Augur by Yigit Koroglu
I came across the full art of this creature in search of something else on Patrick Scalisi's Art of MTG website—a great resource, make sure you bookmark it—and I had to find it a spot in this review. Just look at that expression! Sphinxes are masters of riddles, always cunning, and usually a slight bit arrogant; this work exudes all those qualities and more. The gold adornments are next level detailed, and even though you can't see them all that well at card size, they really make this a standout illustration and an example of the uneeded but ever present "push" by artists working on the game.
Obeka, Brute Chronologist by Jesper Ejsing
Jesper's work is a regular inclusion in these articles, and he had seven new cards in this set. Each is great in their own right, but Obeka is a standout—not only because of her composition, but the unique process of her creation. The broken shards we see are digital printouts applied and then painted into the overall work, and Jesper explained a bit about the painting on the auction listing when it was sold last week:
"I had so much enjoyment in doing this one. Never had I been asked to design a female Ogre before. I wanted her to look cool and bad ass and colorful. And pretty to some degree. The effect with the shards was done by copying elements digitally from the final painting and then cutting them out and gluing them onto the painting. Then a bit more paint on top and a varnish and it looks like nothing cheating was going on. This is my very first mixed media painting."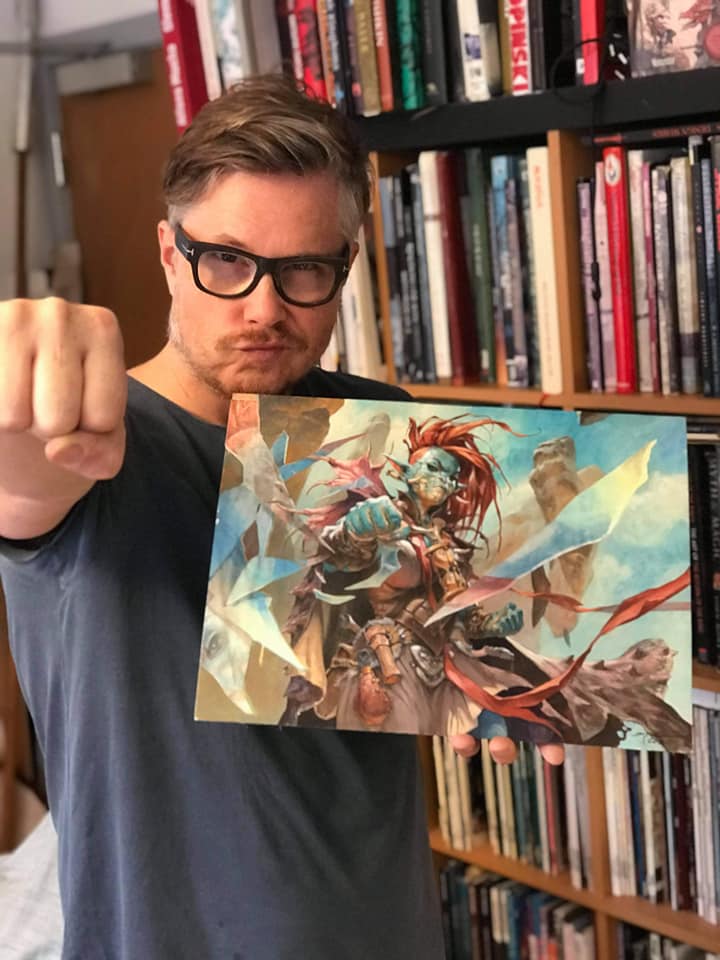 A great character, a great composition, and a fun chronicle of a new way to work.
Prismatic Piper by Seb McKinnon
This was one of the earliest images we saw from this set, shown way back in June of this year at CommandFest Online; it's signature Seb McKinnon. The mask is reminiscent of and almost assuredly inspired by the Chief Spirit from his own KIN Fables property that he's been developing over the last several years. Once again, we get that intertwining of fantasy and imagination from outside Magic infused within the game's artwork, and Magic is better for it.
Reyav, Master Smith by Scott Murphy
This is Murphy's very first Legendary card in his six years working for Magic, and is a must-feature for the article. There is so much of that fantastic filigree Kaladesh is known for woven into this work: in the background, on the railing, and as a part of some of the best bracers I've seen in some time.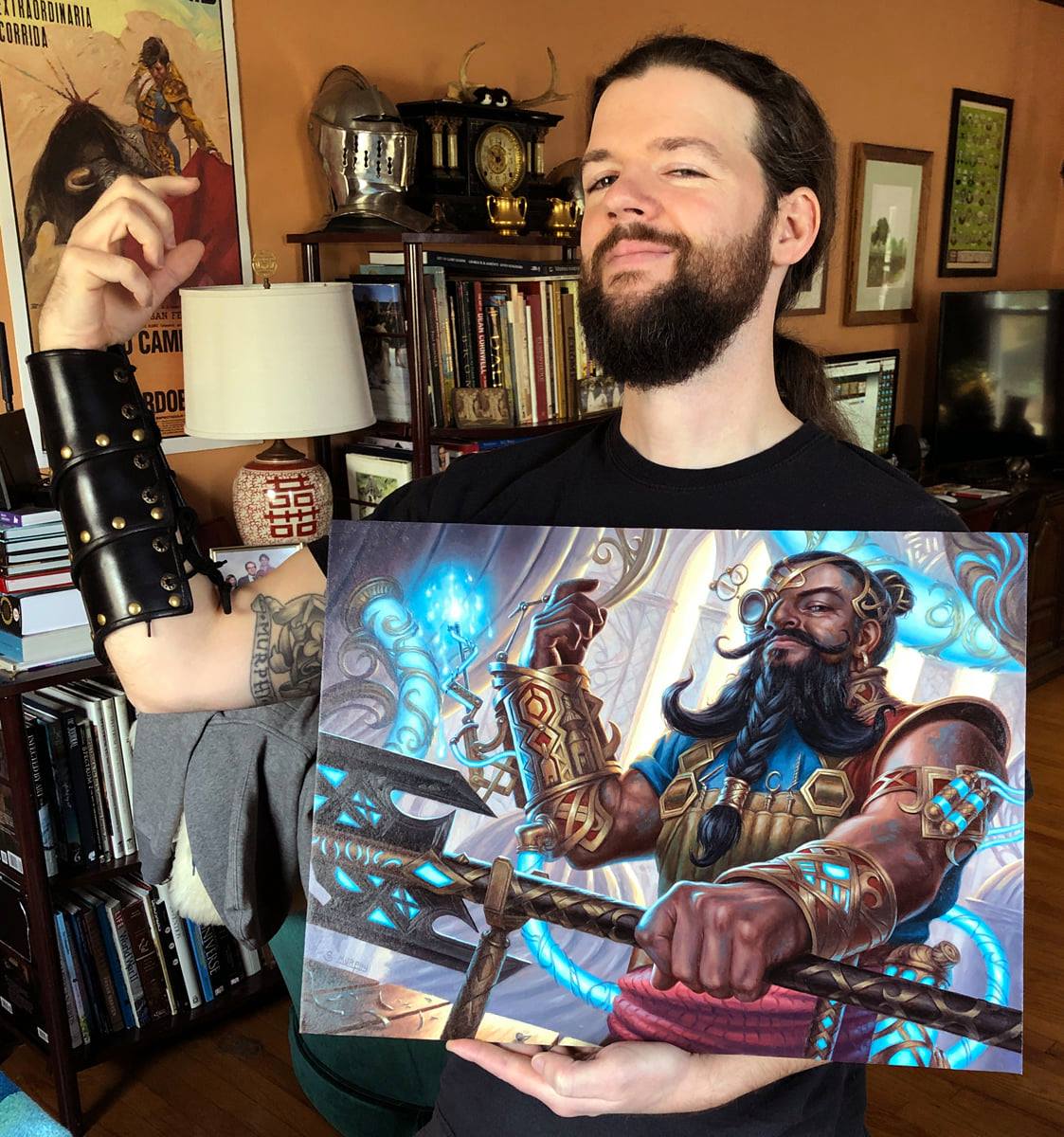 The inventor takes on the visage of Murphy, which means as soon as we get back to in-person events, I want to see him in the braided beard and man bun he's painted here. Sorry Scott, I don't make the rules. You have to do it now.
Ardenn, Intrepid Archaeologist by Jason Rainville
His coming was foretold to us, the work known for two long years only as 'Handsome Man." It seems only fitting that after waiting this long for this painting to come out, I'd make you all wait through this article too.
It began in June of last year, with a brief mention of his arrival. But July 8, 2019 was not close. July 31 for C19 wasn't it either. On August 22 it was still not time, and on August 25 we found out it would be at least a year. Now fast forward to 2020.
August 4, 2020? Nope. August 23 was getting warmer. October 27 was so hot it would've burned us. And on Halloween this year, he finally appeared. The Handsome Man.
Jason did another one of his unparalleled Twitter threads that takes us from art description to final illustration, complete with reference photos, sketches, GIFs, and so much more. It's a must read, so once you're finished here, head over there to check it out. He notes it was his relationship with Art Director Andrew Vallas, and the joint effort to continually push this piece to where it finished, that lands it not only as one of Jason's favorite cards he did but as one of the strongest in the set. It's a beautiful thing when something like this comes together, and I'm glad he's finally out in the world for all to see.
Wrapping Up
Here ends our Commander Legends Grand Art Tour journey. If you take away anything from this series, let it be my encouragement to seek out the full artworks and follow their creators. Why?
Because there's so much to see, and it's the stuff you can't see at card size that really wows you. Be it red berries hidden in trees, flower pommels, or just mischievous expressions and a bit of bling, those details are there. And because there's so much to learn; it's the stuff you wouldn't know without hearing it from the artist. Two year wait times, the misery of colored pencil hand cramps, or using mixed media for the first time to try and drive home a story that's perfect for the piece.
These tiny details are the things I live to write about, and what sets Magic: The Gathering artwork apart from the rest of the industry. None of these works, digital or traditional, needed to be pushed this hard, but the artists and Art Directors working on Magic care so much about what their creating that they wouldn't do it any other way.
My next article is going to examine some of the works I didn't get a chance to cover, as I deep dive into a handful of Commander Legends paintings by Sidharth Chaturvedi. We'll have some insight from the artist, and set sail on an artistic expedition that takes us back more than a hundred years. It should be a lot of fun.
Remember, to see original #mtgart and other #vorthos related things, follow me on Twitter. Feel free to ask questions or retweet to continue the conversation. Stay safe, be excellent to each other, and I'll see you back here again real soon.
Donny Caltrider has been playing Magic since 2002 and collecting original Magic art since 2017. He has an M.A. in Museum Studies from Johns Hopkins University and enjoys telling stories about art, objects, and the intersection of fantasy with real-life. You can find him on Twitter talking about #mtgart, museums, and other #vorthos related goodness. Follow along and continue the conversation!