On Saturday, April 18, Magic artist Seb McKinnon concluded his Magic: the Gathering Playmats: LIMITED EDITION 3 Kickstarter, raising $879,303 CAD ($628,053 USD) over 60 days from 6,375 backers.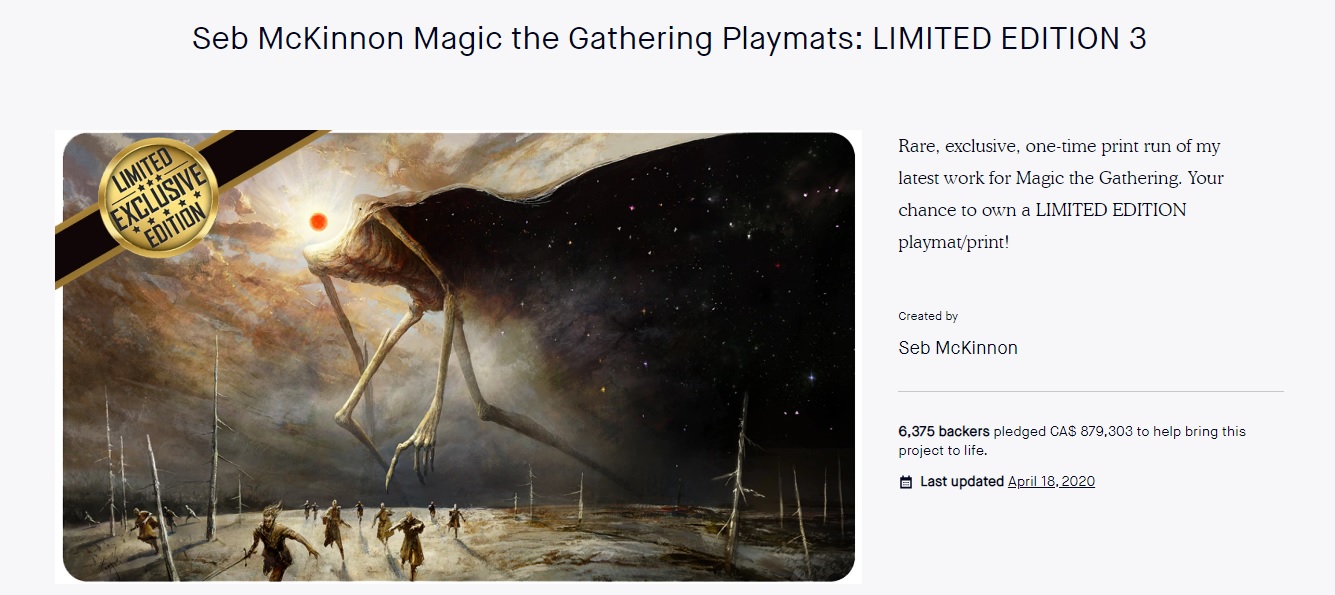 This was the third (and still exclusive) way for players and collectors to acquire his art as a playmat or print directly from the artist. It and concluded almost exactly one year after his Round 2 Kickstarter ended, which raised $971,575 CAD ($693,959 USD), and two years after his first raised $395,648 CAD ($282,596 USD), totalling over $2.2 million CAD ($1.6 million USD) combined. All proceeds will again be going to fund his feature film, KIN Fables: The Stolen Child.
22 different artworks were unlocked and available to contributors and the end of the campaign, including sixteen Magic illustrations and six brand new KIN Fables-inspired designs.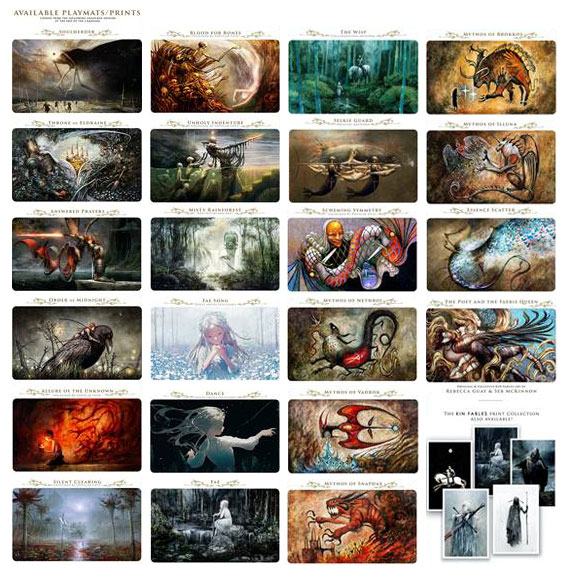 The KIN Fables mats for this project were more special than ever before, with an original piece by McKinnon himself, two by guest artist Sheya, and two collaboration mats with Magic artists Drew Tucker and Rebeca Guay: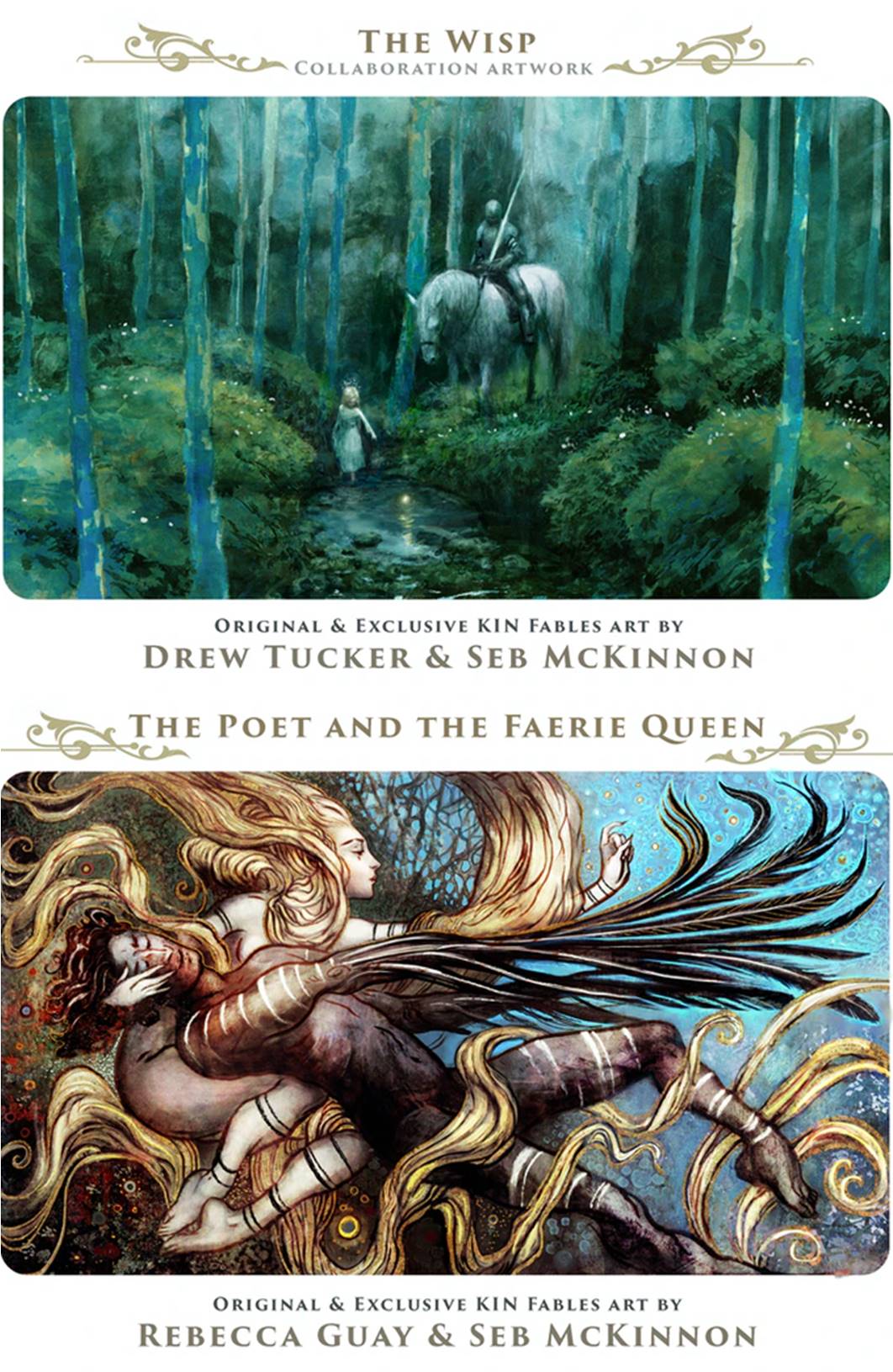 Each of these near two dozen designs was available as either a print or playmat, and will be only be printed this time to the demand of the Kickstarter. Fulfillment will once again be through a partnership with fellow Canadians HitPoint Press, the company that brought the world the smash-hit Humblewood and dozens of other fantastic gaming products and accessories. McKinnon and the team at HitPoint Press worked together on his first and second campaigns, and another efficient and expedient delivery process is expected once again.
This Kickstarter, alongside the recent sale of his six paints from Ikoria: Lair of Behemoths, has McKinnon knocking on the door of being able to bring his very own world of KIN Fables to life. He has been building this incredible IP for more than five years, and is so very, very close to having the financial green light to make it happen.
I caught up with him this afternoon after the Kickstarter ended to offer congratulations and ask how it felt this third time around, now being so close to having the KIN Fables story become a reality:
"[I] just want to say a huge thank you to all 6,375 backers for coming together in making this giant leap in making the KIN Fables reality," McKinnon said. "Thank you to all those spoke about and shared the campaign. And of course, I'd like to thank the three guest artists, MTG legends Rebecca Guay and Drew Tucker, and the talented, upcoming illustrator Sheya, for their contributions and willingness to collaborate with me. I am surprised the campaign did this well in the midst of a pandemic—it just makes me feel even more grateful and appreciative."
About the Artist
Seb McKinnon has created 130 pieces of artwork for Magic: the Gathering, and even won a Spectrum Gold Award in the Institutional Category in 2018 for his work on Stasis. But as prolific as his Magic illustration career has been, his mission to create KIN Fables stands as his true passion and ultimate goal, and its creation will be the crown-jewel of his career as an artist and creative.
To learn more about the artist, his work, and the recent sales of his brand new traditional works for Magic, follow along at Hipsters of the Coast, and check out the Mirror Gallery's own Behind the Brush interview from 2019.
KIN Fables: The Stolen Child is on the not-so-distant horizon. We'll be waiting and watching.