On Tuesday February 4th, 2020, the auction for a package of work related to Jenn Ravenna's Secret Lair Marrow Gnawer was sold on eBay for $2,425. The group included an original, unused sketch, a monotype print, and an artist proof.
Marrow Gnawer by Jenn Ravenna is a digital work commissioned for Magic's newest supplementary product called Secret Lair. These are themed "drops" that are a collection of premium cards with alternate art available for purchase directly from Wizards of the Coast only within a 24 hour window.
2019 included the first seven Secret Lair drops. You can read my stories about them with artist interviews here and here.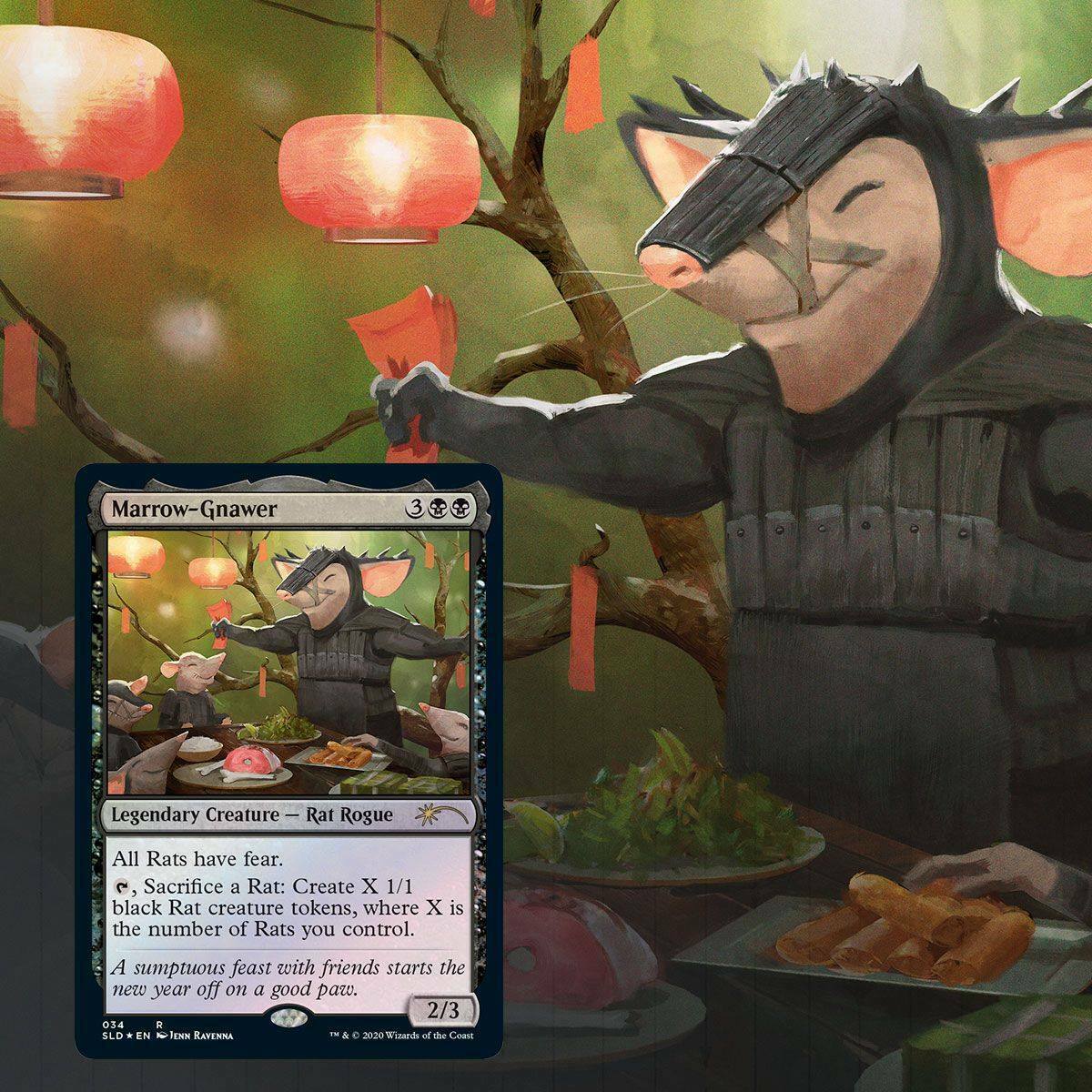 The first Secret Lair of 2020 was entitled Year of the Rat to coordinate with and celebrate the Chinese, or Lunar New Year, and featured some of Magic's most famous rats reimagined by a special hand-picked group of artists. It was available for purchase on January 27th, 2020, with art direction by Meris Mullaley.
This auction included Ravenna's original traditional ink sketch as she began to work out the scene, a white-backed artist proof, and the largest component, a 1 of 1 monotype print up to 18 inches by 24 inches, and hand-embellished by the artist if the buyer so chooses. Monotype prints have become a way for digital artists to provide unique works to the original art collecting community in lieu of a final traditional painting. They have become quite popular and sought after over the last year, as reflected here in the final selling price of $2,425 for this collector's suite.
Ravenna has both Chinese and Vietnamese backgrounds, and imbued this illustration with numerous elements that callback to her culture. She wrote a phenomenal thread on Twitter that opens up each of these Easter eggs, from the red envelopes in Marrow Gnawer's hands to the food on the table.
There is so much personality in this illustration. It's evident that Ravenna poured her heart, soul, and history into this painting. It appears that Secret Lair will be one of the vehicles to fantastic new artwork from incredible artists both within and outside of Magic, and art that pushes the boundaries of Magic's style while at the same time represents its diverse community. I hope this continues, and we see more things like Jenn Ravenna's Marrow Gnawer in the future.
About the Artist
Jenn Ravenna has illustrated fourteen cards for Magic as of the writing of this article, and has one of the widest artistic ranges of any artist who is currently working or has previously worked on the game. She is also a professional photographer, and just wrapped shooting on her first film as a cinematographer. Keep on the lookout for And Then: filmed in Tokyo, Japan and directed by the one and only Jenn Ravenna.