Wizards of the Coast announced a new Secret Lair drop called Thalia: Beyond the Helvault today featuring four different versions of Thalia, Guardian of Thraben. It will be available for 24 hours on March 12, 2020 starting at 12 PM Eastern for $29.99 from the Secret Lair store.
The four cards in the drop each have new art by Magali Villeneuve and Johannes Voss, two of Magic's most popular artists. Thalia, Guardian of Thraben will also be a part of MTG Arena's Historic Anthology 2, which will also release on March 12 along with 24 other cards. The drop will come with a redeemable code for card styles of each of the four versions of Thalia on Arena, as will a sleeve style of one of Villeneuve's pieces.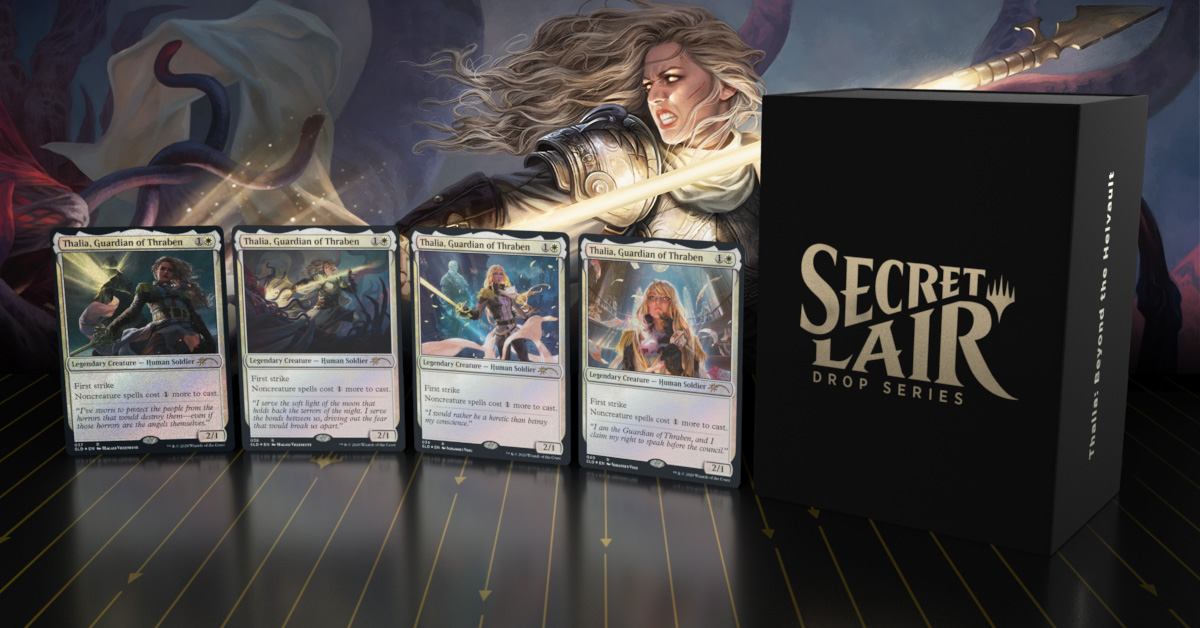 The Thalia drop will be the 15th drop since the Secret Lair Drop Series was announced last November. It's announcement comes three days after Wizards revealed the International Women's Day drop, which in turn was revealed a week after the Theros Stargazing drop.
In response to concerns that they were releasing too many drops too quickly, Wizards said that this drop "was planned a long time ago simply because we ❤️ Thalia and we were waiting for the right time to [release it]." But, they continued, "When the MTG Arena team wanted to include Thalia in Historic Anthology II, it was the perfect fit! We didn't want to pass up the perfect drop date."
In an interesting twist, this drop was initially leaked on Instagram and made its way to reddit last night, over 10 hours before it's official announcement article went live on Destructoid. That leak is a first for the Secret Lair Drop Series as none of the other 14 previous drops leaked beforehand.