Good morning everyone, and welcome back to the Mirror Gallery. I have returned for part two of my new "Art & Anecdotes" series featuring the new Secret Lairs and the stories behind them, all as told by the artists.
This article will take a look at the art from the other four drops of Secret Lair, and will again include anecdotes from the artists about their experience creating for this set—from getting commissioned to stories of inspiration and artistic process to what it means to them as an artist to now have a Magic card.
This is their story, part two.
Restless in Peace by Dan Mumford
On the third day of Secret Lair, things got a bit spookier. Ghastly greens and paranormal purples transformed three signature Dredge cards into the Restless in Peace Panoram(ish) by illustrator Dan Mumford:
If the name doesn't sound familiar but you feel like you've seen his work in Magic before, you're not wrong. While these are Mumford's very first Magic cards, he's done work for the company before, namely the 2016 Pro Tour Eldritch Moon exclusive poster, featuring Liliana and Emrakul: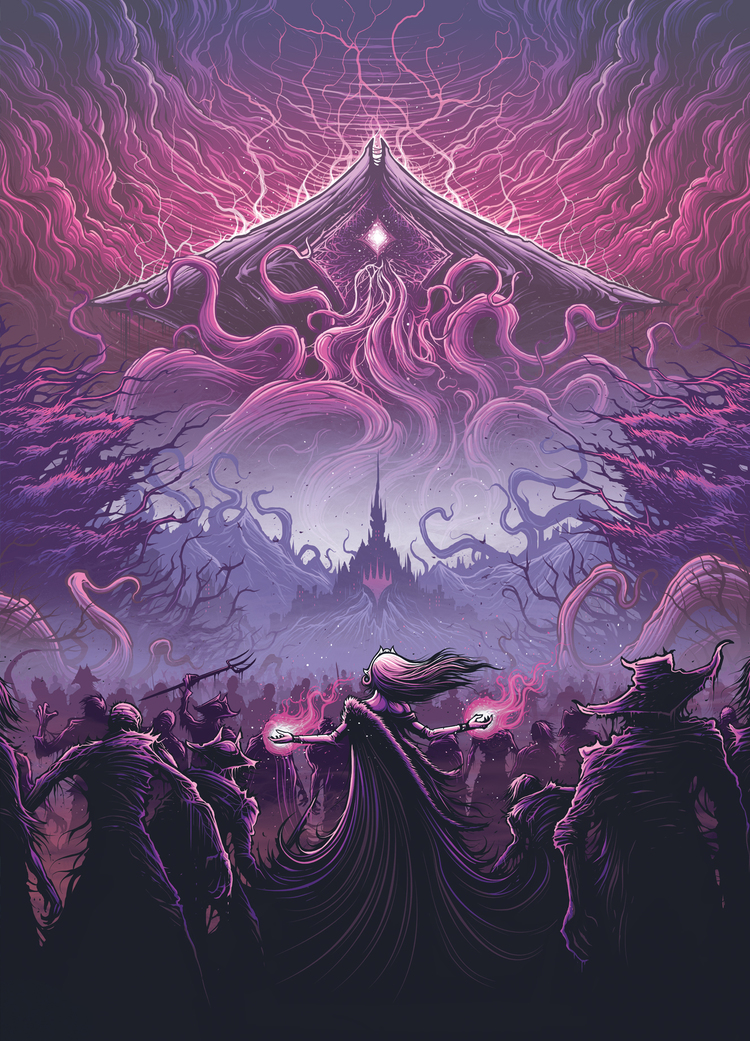 I asked Dan via email about his relationship with Magic and the experience of having now illustrated not one, but three, Magic cards. This is what he said:
I was a late comer to Magic: The Gathering and only really discovered it in my late 20's about 7 or 8 years ago, me and some friends decided we would try and get into what seemed to be a very dense world. We quickly became quite obsessed with it, and MTG became a staple every week where we tried to outwit each other.
So when I got an email from Wizards of the Coast earlier this year asking me to do some artwork for cards, I was floored. It's pretty much a real bucket list job for me. The artwork on the cards are always so spectacular, so there was a real pressure (from myself!) to try and put my all in to these pieces. I had actually worked on a few MTG projects before in the form of editorial illustrations and a poster, but never an actual card.
We knew it was going to be a set of three, so I made sure that they worked on their own but also as a roughly laid out triptych, they don't line up perfectly visually, but we have the figures bookending the middle, and the colours from them bleeding into the Life from the Loam card, any excuse for some sort of connective elements across a series and I will put it in there! Overall it was so much fun to be able to play a small part in the ever evolving epic world of Magic: The Gathering.
Thanks you to Dan for sharing his story on this special triptych. I have to think we'll be seeing Dan on more Magic cards in the future; his style fits in all the right ways, and gives us something very different while at the same time fitting into the overall aesthetic of the game. While we're waiting for that, dig into his portfolio and the incredible catalog of clients here, and keep your eyes peeled for when his work might turn up again!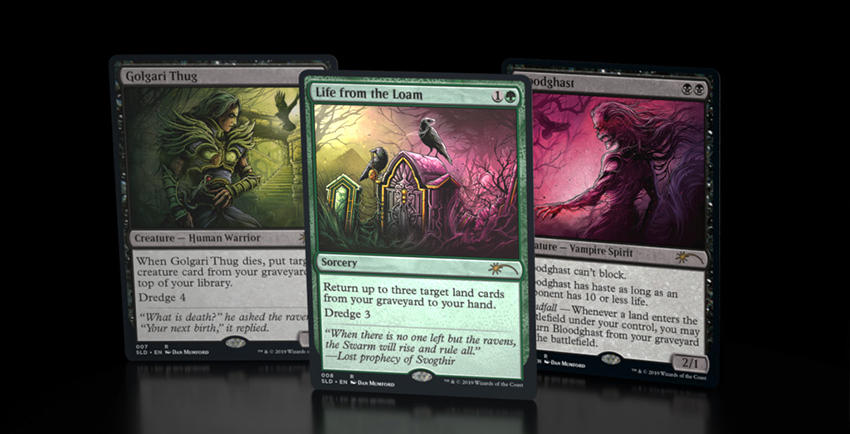 Seeing Visions by Jaime A. Zuverza, Lauren YS, DXTR, and Kristina Collantes
Secret Lair Day 4 brought a playset, a four piece visual redesign of one of the game's most popular sorceries, Serum Visions. None of these artists have worked on Magic previously, and while I unfortunately wasn't able to gather any of the stories behind these four pieces of art, that doesn't leave us with any shortage of things to talk about. Let's check them out, and introduce the new artists:
Zurveza is most known for his graphic poster design. After taking a look at some of his other work from 2019, you can see how this painting fits right in his stylistic catalog. It's abstract, and yet tells us exactly what it happening.
Lauren YS is a Los Angeles-based urban muralist, whose work runs the gamut of both theme and genre, weaving bits and pieces of a dozen different topic areas into psychedelic wholes. Click through to her website to see exactly what I mean. Can you imagine this Serum Visions huge, on the side of a building? How cool would that be?
DXTR the Weird is a German artist working often in the partially pixelated style like we see here. This isn't something I ever expected to see on a Magic card, but it is very much at home alongside the others and within this set. It's simply wild the boundaries that can be stretched.
Last but not least, this Art Nouveau-esque version by Filipino and Portland-based illustrator and creative director Kristina Collantes turns the color intensity to 11. For every part that seems real there is an equal part out of this world. It's a stunner of a painting, and something I hope we see again within the confines of the card frame.
It goes without saying the Art Director for this set (whoever they are) assembled an incredibly diverse team of talent to create these four radically different works of art. Their unconventional stylings will leave a decided and very awesome mark on the game forever.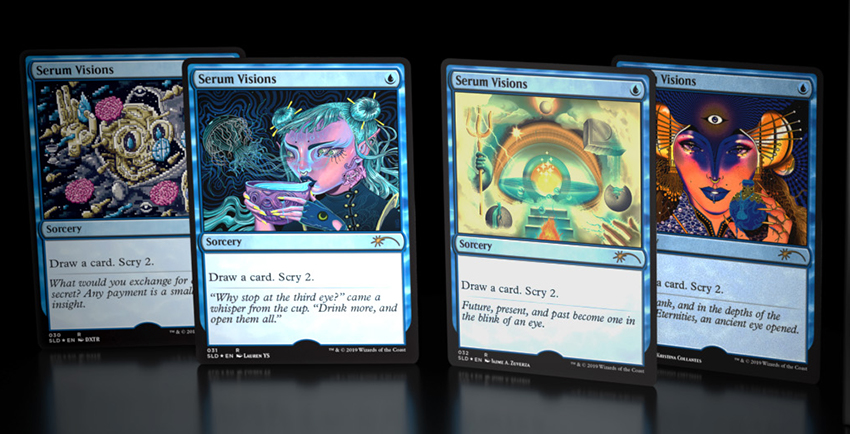 <Explosion Sounds> by Mike Uziel
Another brand new artist for Magic, Mike Uziel, has worked for a variety of different outfits, including Sony, Airtight Games, 5th Cell Media, and Hidden Path Entertainment. And now he has brought something entirely different to Magic in one booming good time of a goblin panorama for Secret Lair:
I don't think there has ever been a goblin-related panorama in the history of Magic. Uziel has created something wholly unique in his own artistic style; each one a take on some of Magic's most popular green-skinned friends:
Mike was willing to share his story on exactly how he got here:
Hi, I'm Mike Uziel.  I've been an artist working in the video game industry for around 15 years and I never expected to do any illustrations for Magic: The Gathering.  Seriously, I never thought it was a possibility at all—but life takes you weird places.
About three years ago, on the advice of a good friend and coworker I decided to start showing my work at local conventions.  My very first show was Jet City Comic Con in Tacoma, WA. While there, I had the great fortune of being assigned a table next to some fantastic people, one of whom was Jeff Carpenter.
Jeff and I got to talking.  He's a fantastic illustrator in his own right, and he was beginning work on a really cool concept doing traditional nature illustrations, but with a super hero theme.  I thought the idea and execution were great, so we traded information and artwork. He wanted to get into games, and I was looking for an outlet for more 2D illustration.  I don't think either of us had the idea of working together at the time, but it's always good to know good people.
Time passed, and we saw each other and hung out at other conventions.  Eventually, Jeff made his move and landed a gig at Wizards. Shortly thereafter, I'd left my day job to go 100% freelance.  It was my first year, and while I was nervous about stringing enough work together, I inexplicably found myself with the opposite problem—I had too many jobs!  
…Enter Jeff to complicate things even further. 🙂
He asked me if I'd be interested in doing a set of cards for Magic, and I sort of brushed off the idea.  I was busy, and I knew my personal style wasn't really in their wheelhouse. I thought I might be able hit the house aesthetic, but it would take me a long time and time wasn't something I had a lot of at the moment.  Plus, the deadline was one month for five paintings. To be quite honest, I felt like I'd miss the mark and I was worried about making Jeff and myself look bad.
Jeff kept nudging me.  "It's for a special project, something we've never done before.  Trust me, it'll be great, you're perfect for it!" Etc, etc. Then he showed me the concept and I was beyond excited.  I think at some point the words "Goblin A-Team" were spoken. That was enough for me, I was in!
Work was pretty difficult, I was doing two other contracts at the time, and this was my third.  I was working well over 60 hours a week when I started the goblins, and it actually ended up taking me around six weeks to complete the full panorama.  Jeff and the team at Wizards couldn't have been more supportive, pushing me to make the art more zany, and getting me extra time when I was up against the deadline.
Overall, it has been one of the most amazing experiences of my early freelance career.  I sincerely hope everyone enjoys the art as much as I enjoyed making it. Thanks to all of the fans, and a big special thanks to Wizards and Jeff!  Like I said, I never thought I'd have the chance, but I sure am grateful for the opportunity.
Mike's excitement translated into five ferocious pieces of Magic art, and was met with equal enthusiasm from the community. This Goblin A-Team is one of a kind, and I hope to see his work on a Magic product again soon.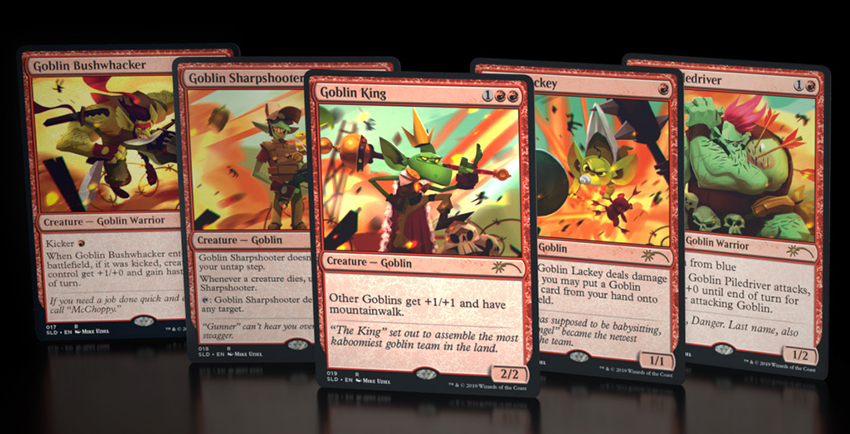 Kaleidoscope Killers by Justine Jones
When I saw the Kaleidoscope Killers set by Baltimore artist and Magic newcomer Justine Jones, it blew my socks off and took my shoes right with it. There's a special spot in my heart for these three Commanders. I've either played previously or currently play with each one of them, and to see them reimagined in such vibrancy by a hometown artist is just surreal. Look for yourself, because all I can say is wow:
I was able to catch Justine between commissions via email to hear about her Secret Lair journey:
Doing these cards is a total dream come true for me, and it still doesn't feel like a real thing that actually happened?  Like maybe I'm still in the midst of a practical joke, haha! Basically, to me, doing art for Wizards of the Coast always seemed like one of the coolest things you could do, but it also seemed really unattainable because I don't fit in with the current magic style. 
I wasn't told what these cards were for, only what they were… so as a new MTG artist, I was pretty confused and delighted to be getting such awesome cards to draw!!  I was also very nervous at first, because obviously my art is nothing like the regular Magic art, which made me a little self-conscious while I was working on these. But I was assured that they wanted everything totally in my style. I had a VERY short deadline, and almost didn't take the job, because I wasn't sure if it was something I could realistically do, but I'm soooo glad that I did.  The reaction to my cards has been amazing, especially since I was so scared that people wouldn't like them since they look different!!
Justine, we all love them, and I think these will see play on many a Commander table for years and years to come. These new paintings have inspired me to resurrect two old decks, and I can't wait to get them onto the battlefield.
If you'd like to hear more about these three pieces, Justine's artistic career, and her recent break into Magic, keep your eyes open for a special Behind the Brush interview with her coming in January 2020!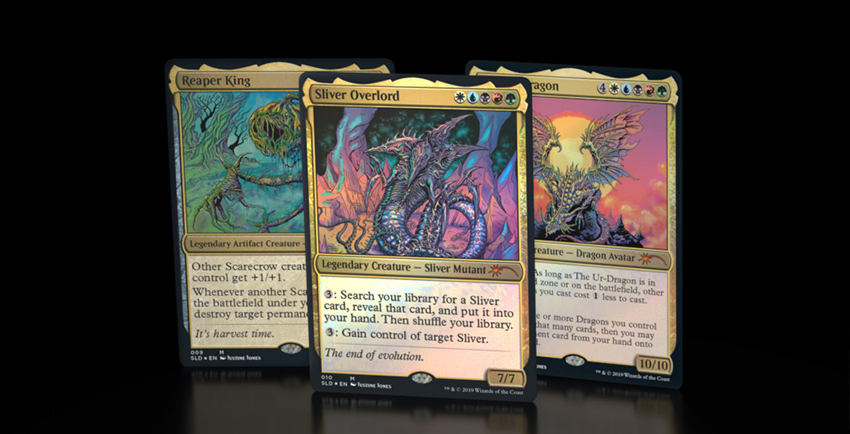 Wrapping Up
I hope you enjoyed this Secret Lair fireside chat. Seeing the art outside the card frame and hearing the stories directly from the artists of how they came to be is one of the things I enjoy most about writing about Magic art, and to get to unfold these tales and unfurl these images is a real joy.
Secret Lair is completely different than anything Wizards of the Coast has done before, but it's introduced the Magic community to an incredible ten new artists and at the same time let three veterans really flex their stylistic muscles. It's a dream come true for an art-lover and collector like myself. While I wasn't sure if this was something for me when I first heard about it, I am 150% sold now and into the future.
My next article is my last of 2019—the annual Mirror Gallery Reflection where I look back on everything that's happened over the last 300+ days. It's been an exciting ride the last eleven months, so make sure you tune in two weeks from yesterday to finish out the year with me. Thanks as always, and see you next time!
Donny Caltrider has been playing Magic since 2002 and collecting original Magic art since 2017. He has an M.A. in Museum Studies from Johns Hopkins University and enjoys telling stories about art, objects, and the intersection of fantasy with real-life. You can find him on Twitter talking about #mtgart, museums, and other #vorthos related goodness. Follow along and continue the conversation!