Good morning everyone, and welcome to the Mirror Gallery. Here we are in December of 2019. We've seen so many new Magic products debut and release this year, but Wizards still had one more holiday surprise up their sleeves: the short-window Secret Lair releases we saw last week and weekend.
Billed as a "love letter to Magic fans," Secret Lair was a series of exclusive 24-hour "drops" featuring three to seven notable cards with new and wonderfully unconventional art.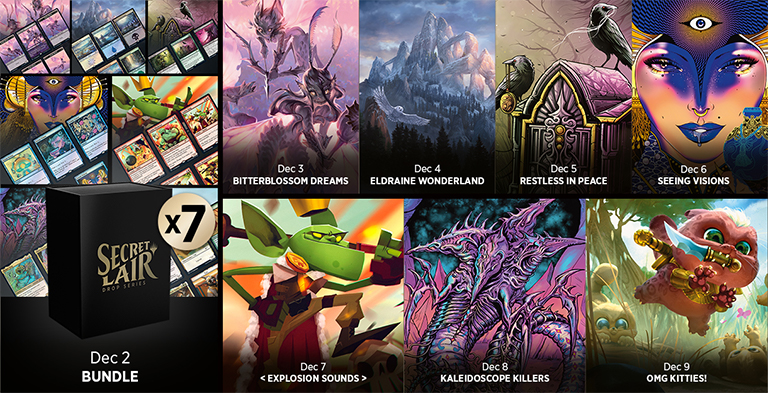 I'm going to lay out this incredible art over two articles, and each will include not only the art larger than card size but accounts from the artists about their experiences with Secret Lair: from getting commissioned to stories of inspiration and artistic process to what it means to them as an artist to now have a Magic card.
This is their story.
OMG Kitties by Andrea Radeck, Jakob Eirich, Allison Carl, and Erica Williams
The OMG Kitties set was both the first to preview and the last to drop, releasing this past Monday at noon. Being a cat dad myself, it took about five seconds after seeing them to realize that this whole Secret Lair product might really be for me. The most internally diverse, four different artists worked on this seven-card set.
First up is Andrea Radeck. She is no newbie to Magic, having worked on Unstable and Ponies: The Galloping, as well as extensively for Star City Games Creature Collection. Her signature style shines through here as well. These kitties are the ambrosia we've come to expect from her work.
This was no easy commission for her though, and she told me over email exactly what happened to bring these furry friends to fruition. Let's hear from her:
Andrea Radeck: Mirri and Regal Caracal came together in a uniquely special way most of my illustrations don't—from me cursing and violently downing cups of non-lemon lime Gatorade between two-hour sleeping jags. I had the illustrations about half done when I attended MagicFest Providence, and ended up with Salmonella by Sunday, (a great band name), propped up by OTC medication and three nested-doll esque hoodies for the rest of the day.
After sleeping 14 hours when I got home, I managed to finish the illustration by doing two hours sleeping, 45 minutes painting for the remaining five days I had left before my deadline. My salmonella cleared up by day seven and I'd dropped eight pounds in a week. Wizards of the Coast was sympathetic and did give me generous extra time, but I managed to hit my original deadline, either by 15% concentrated power of will, or just stubbornness. Probably the latter. 
I'd love to say I had my cats to root me on, but they were more like furry anchors that meowed for the 45 minutes I was out of bed until I went back, one immediately docked per armpit. They have no idea how the creative process works; I can't blame their lack of support.
Sometimes the artist process isn't all sunshine and rainbows, folks; but Andrea fought through to make these artworks a reality.
Next on this set is Jakob Eirich, a German artist new to Magic coming from a variety of other projects in video games and animation. His work slots in perfectly in this group especially alongside Radeck's, with his own pair of fetching felines.
The penultimate card of OMG Kitties is by Allison Carl, another Magic first timer and Chinese-American illustrator from Philadelphia. Her mix of pen and ink with the digital medium creates a unique rendering that fits this card perfectly. It's right from a storybook.
She gave me a rundown via email of how it all came about:
Allison Carl: Over the summer I was approached by one of the art directors from Wizards of the Coast to reinterpret the Qasali Slingers card for an upcoming, secret project. I was given a short description and a few reference pictures, but ultimately I had the freedom to interpret this card in my own style. My version of Qasali Slingers features a trio of cute kittens dangling from high branches, batting at some dust floating above them. I decided to use a similar color palette so it wouldn't stray too far from the original, while keeping it within my personal style. I'm so excited to finally see the end result and I'm looking forward to seeing the other cards that follow!
The final card and art of this set is the Cat Dad himself, Arahbo, Roar of the World by Minneapolis artist and new-to-Magic illustrator Erica Williams. Only the second printing of this legendary cat after Jesper Ejsing's original Commander version, Erica has turned her stylistic dial to maximum cuteness—to astonishingly adorable results.
I asked Erica over email what it was like to be commissioned for Magic and to take me through how it all happened. This is her story:
Erica Williams: One day I got an email from Wizards, and I freaked out, and then I opened it and freaked out even more. The AD (Art Director) said she had been researching and stumbled on my work and just liked it so much she wanted to do a card with me. No clue how exactly she found me, I hadn't submit my name to MTG or anything since I knew my style wasn't the typical MTG card style. Still amazed and honored they asked me though!
The card itself is really unique in my body of work because it is really cute. Most of my work leans into darker tones with occult themes, even though I adore cute things and fluffy animals. So being asked to draw the kitten version of this powerful mountain cat was immediately an "OMG YES!" but also "wow, I don't normally draw cute…" At one point I actually asked how cute I was allowed to make it and if I could add a bunch of bows and ribbons. They were totally down!
The entire thing felt like I was drawing a Pokémon, and I think just the joy of being asked to draw a kitten with all the fun fur and curling hair really showed through. We had talked about adding in toys and other little items but instead went for the big round flowers that might read as balls of yarn and little mice peaking around. Overall it was just really fun and charming to do, and getting to be that playful isn't something I get to have much in my work so it was refreshing.
And when asked what it means to have her very own Magic card:
Erica Williams: Well, I mean it is Magic. Maybe this isn't true for a lot of illustrators, but pretty much everyone I know is like "holy shit" when it comes to Magic. It always feels like it's one of those goals we all have, and if you can make a Magic card it means you've 'made it' to a degree. I literally never thought I would get to make one since my work is line art heavy, but getting to say I actually did it is amazing. And even more so to have done a cat card. Ahhhhh-mazing. <3
I love it when artists are excited to work on Magic, and it always shines through in the final artwork. The OMG Kitties set has a bit of art for everyone, and should prove to be one of the most popular drops in the series.
Thank you to Andrea, Allison, and Erica for sharing your stories!

Bitterblossom Dreams by Lena Richards
This was the first official Secret Lair drop, and what a way to start. Lena Richards had her first Magic card in Throne of Eldraine's Storybook Showcase Reaper of Night, and follows it up with a stunning five piece panorama of Bitterblossom and its associated Faerie Rogue tokens:
This sequel is really something else, and as far as I know the first and only time a "parent card" and the tokens it creates have been rendered as a single artwork. I love a pink and purple palette for black cards, and this is stunning.
I was able to catch up with Lena over email last week to ask about this commission, and she shared the most wonderful story. Check it out:
Lena Richards: I have a little backstory for the central piece of the set! One of the fairies there is using a breadseed poppy head as a weapon. It's not part of the brief, but seemed like a logical choice at the time.
First of all, of course, because it visually reminds you of a mace 🙂 
Second, it creates a pretty good feeling of scale for people that have seen a poppy flower at least once. A similar effect would be if maybe one of fairies used an acorn top as a helmet;  it makes it easier to believe in them once they're juxtaposed against a real world object that has a fixed range of size.
And the third reason is probably most narratively satisfying for me. As a Ukrainian immigrant I often think of my old homeland, and one of the memories I used in this case was a hot summer evening when I was around seven years old. It was the end of summer and my grandmother was baking a sweet poppy seed roll called makoviec. It's a simple but delicious pastry stuffed with a thick mixture of poppy seed and honey. Glistening and gooey, very indulgent, too. Doesn't it seem like something mischievous fairies would enjoy? Can't help but imagine them scooping the honey-seed mixture with both their hands and stuffing their cheeks, having a food fight with it.
But back to reality. While my grandma was baking the roll, me and my older brother found several dried up heads of poppy plant in a bag of seeds and just started to run around and whack each other with them like weapons while doing some dumb fighting noises. Again, seemed to me like the kind of thing Bitterblossom would do, haha.
So there you have it. I started this commission with a question "what would a mischievous fairy do?" and ended up with an answer "probably something a seven year old me would." You better believe that me and my brother were reprimanded for screaming and poppy seeds all over the floor in every room in the house—and some in our pockets, on the carpet, in our hair, everywhere. 
We still got our slice of roll, but were grounded for the evening otherwise. Fairies don't get grounded. Not fair 🙁
What a neat bit of backstory! I absolutely love hearing these sort of tales. Special thanks to Lena for sharing the inspiration behind these beautiful pieces—they're absolutely lovely.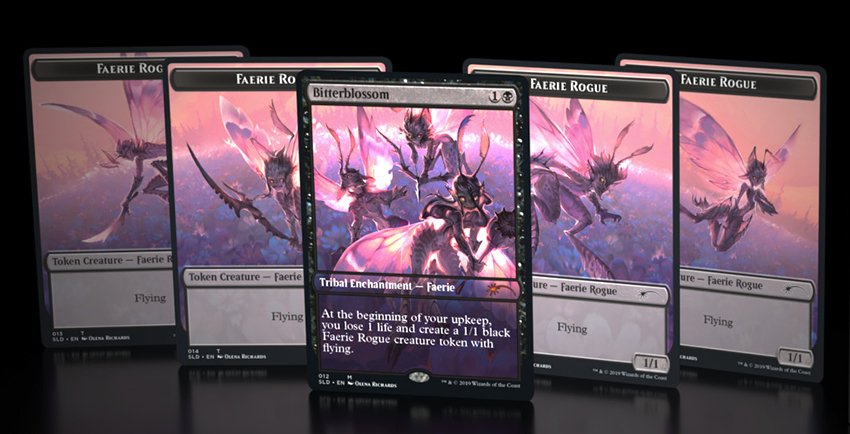 Eldraine Wonderland by Alayna Danner
On the second day of Secret Lair, we went walkin' in an Eldraine Wonderland, featuring a set of five beautiful alternate art Snow Lands by the one and only Alayna Danner:
This slideshow requires JavaScript.
Alayna is a veteran illustrator for Magic, and has become one of, if not the go-to person for special lands in the last year or so. Whether it was her Temple Garden for MTGO, her Azorius Diptych, or the Standard Showdown panorama recently reprinted into this year's Commander release; if cool lands are getting new art, look for her name at the bottom.
These lands are exactly what we expect to see from her: astounding views with dramatic light that place them purely in fantasyland, as if drawn from the opening pages of a fairytale.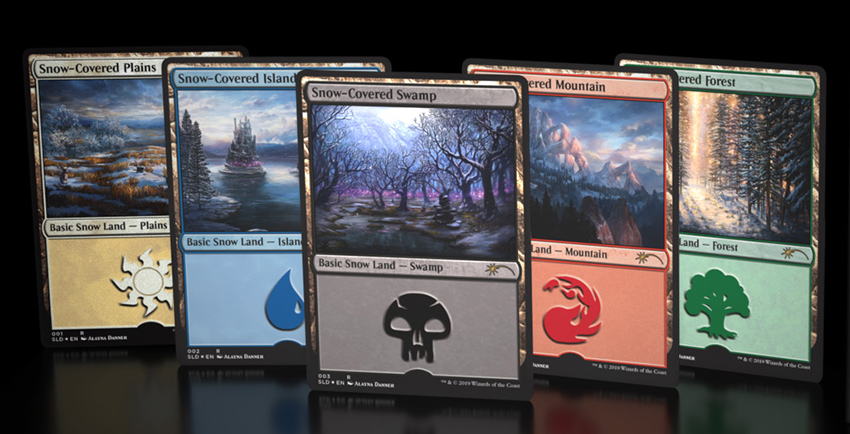 Wrapping Up
We'll stop here for today: these are just three of the seven Secret Lair drops, and but a handful of the tales behind the amazing artwork. Make sure to tune in first thing tomorrow morning to catch the other four, and we'll wrap up this first ever Art & Anecdotes exploration!
Remember, to see original #mtgart and other #vorthos related things, follow me on Twitter. Feel free to ask questions or retweet to continue the conversation. Thanks and see you next time!
Donny Caltrider has been playing Magic since 2002 and collecting original Magic art since 2017. He has an M.A. in Museum Studies from Johns Hopkins University and enjoys telling stories about art, objects, and the intersection of fantasy with real-life. You can find him on Twitter talking about #mtgart, museums, and other #vorthos related goodness. Follow along and continue the conversation!