Welcome everyone, and thanks for joining me in the Mirror Gallery on this steamy midsummer July day. It's been a while since we've done a deep dive on a piece of art. Seeing as it's been so warm here in Maryland, I thought it would be fitting to look closer at a set of weather-themed color studies, those for Jeremy Wilson's Unquenchable Thirst.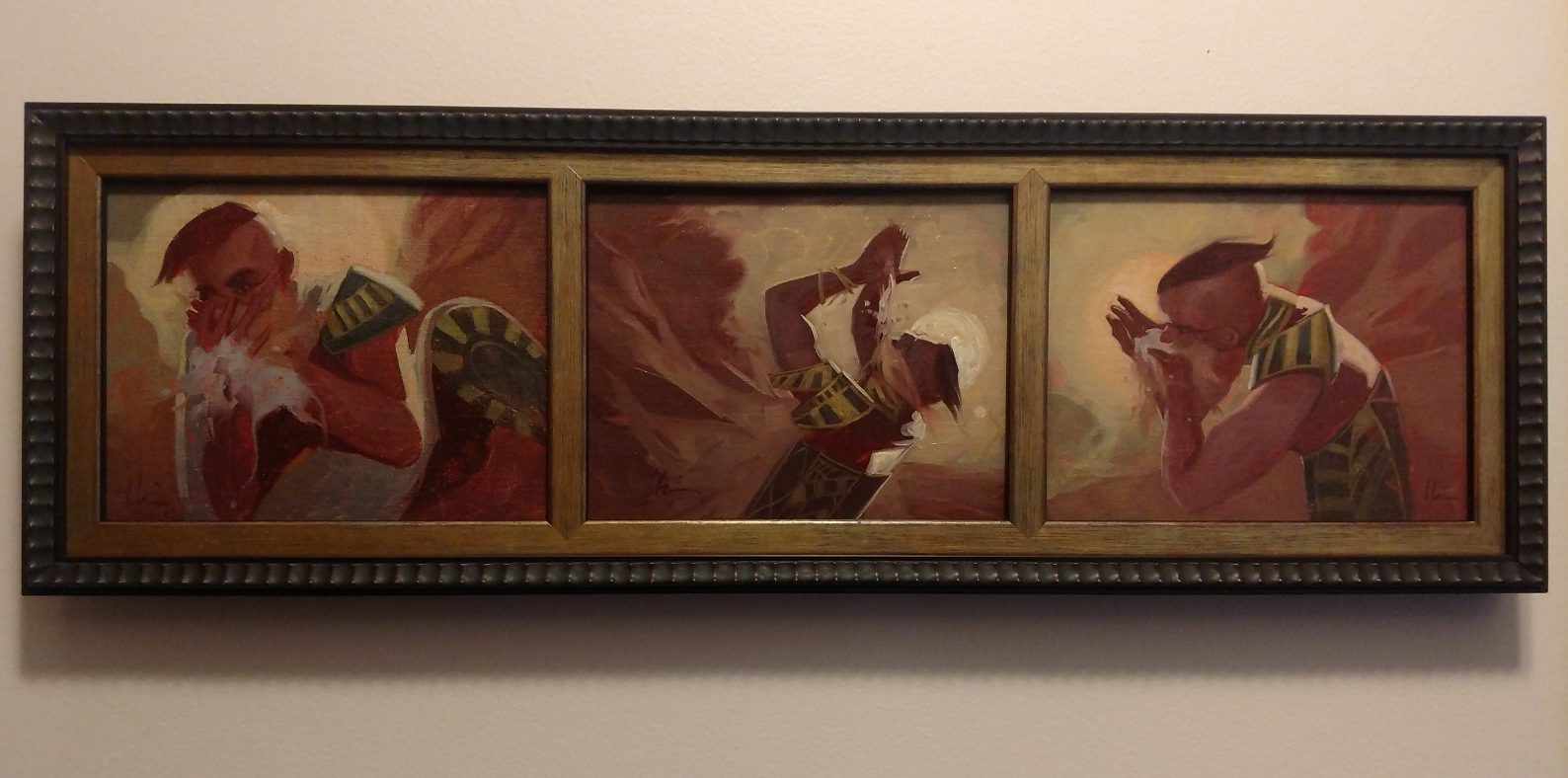 I first saw these three color studies during IlluxCon 11 in 2018, where Wilson had them on display as a part of his exhibition at the show. They were created by the artist en-route to his final painting, used to get both the color and composition correct, but on a smaller scale before committing to a larger canvas.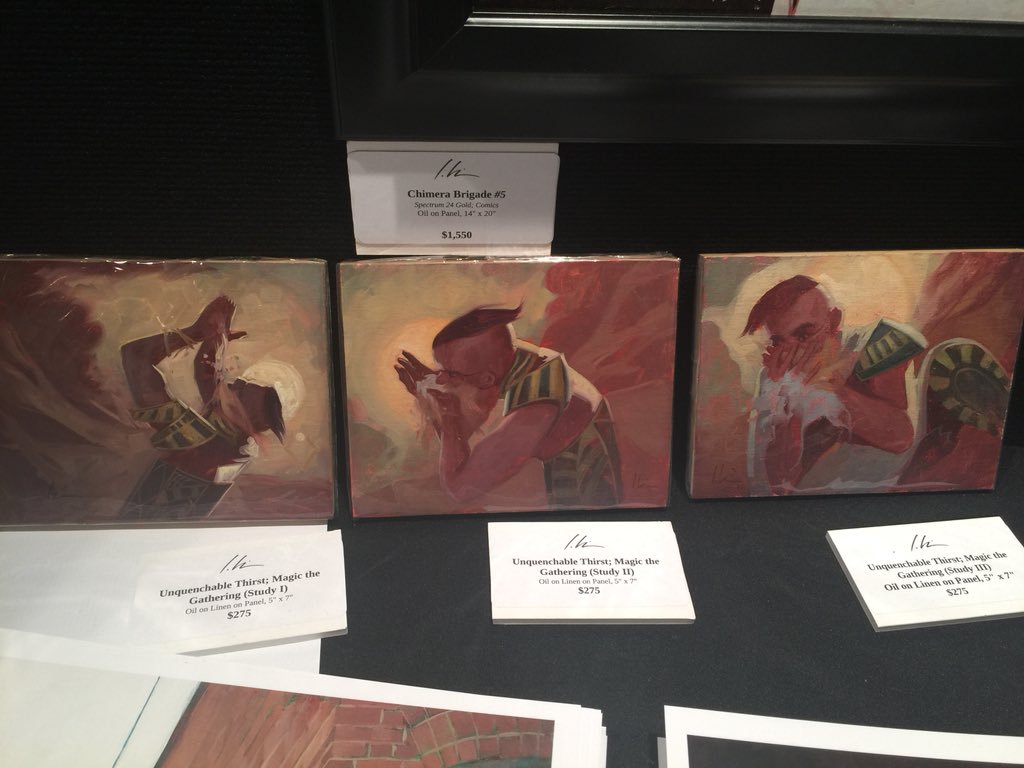 While I had already spent my budget at the time, I didn't soon forget about them. When Jeremy posted one of the three on Everyday Original, I had to ask if the set was still together. They were indeed. After seeing them a few weeks later in-person at IX 12 and getting to talk in-depth with Jeremy, I made the decision to add them to my collection.
Now I know you may not recognize this card or art right off hand. It wasn't the most played common from Hour of Devastation of the Amonkhet block in 2017. But here in the Mirror Gallery, you know I'm not necessarily worried about the card but rather the story that it tells. This piece of Magic art weaves just a wonderful narrative. I've got some behind the scenes goodies straight from the artist to share with you all; but before we get too much further, let's meet the artist Jeremy Wilson.
The Artist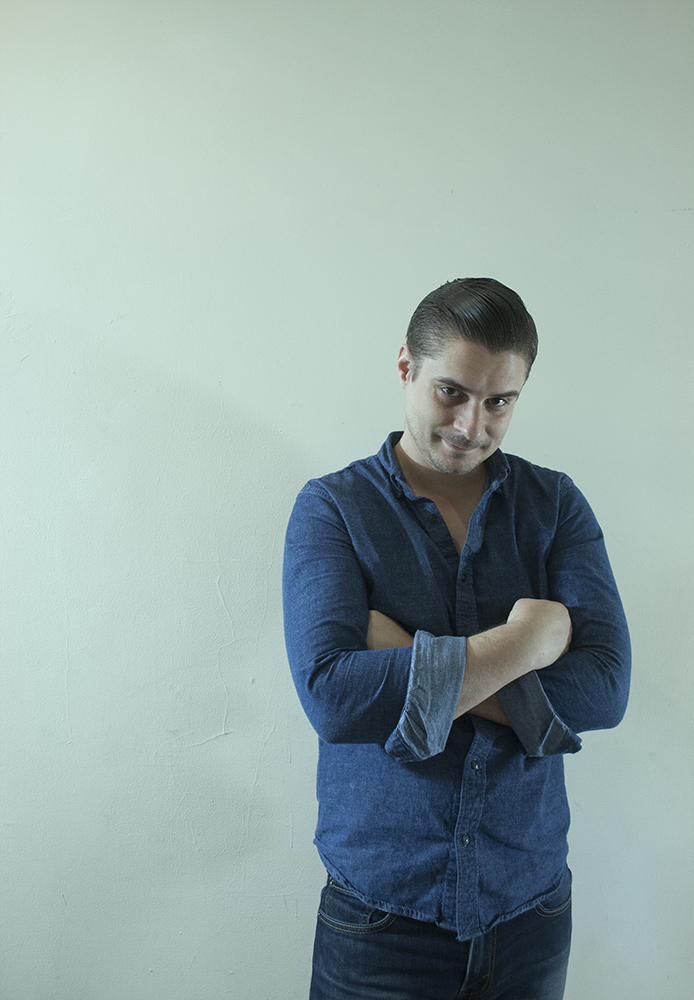 Jeremy Wilson is an imaginative realist artist working for a wide variety of clients, from book and comic covers to promotional posters and advertising—with other assorted projects, like his pair of Magic cards, in between. He works traditionally, and enjoys experimenting with negative space and those elements of painted versus unpainted areas. This is something that carries throughout the art we see:
His stark whites, deep blacks, and bursts of color are breathtaking; an integral part of his style.
He won a Spectrum 24 Gold Award in 2017 for the comic cover above, the The Chimera Brigade #5, and has a pair of Chesley Award nominations under his belt as well. He is continually in the conversation for these recognitions, and it's only a matter of time before he takes home the top Chesley honor.
Wilson's oeuvre is so unique. Whether on a comic cover or trading card, you know it's his hand as soon as you see it. For his Unquenchable Thirst color studies, let's look a little closer at not only where he starts, but how he gets there.
Prelims and Process
One of my favorite things about attending IX is that it affords the opportunity, especially on Thursday and Friday, to talk freely with artists. No lines, no pressure, just good conversation surrounded by fabulous art. I was able to talk for over an hour with Jeremy last year about these three pieces well before I (finally) decided to purchase them. The context he gave me was so illuminating I've been waiting to share it with you all since last October.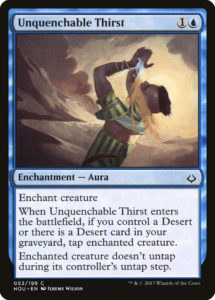 Wilson paraphrased the art description from Art Director Mark Winters as "an 'Initiate' drinking water from cupped hands, which is turning into sand before it hits his mouth." That certainly sounds straightforward enough, but in execution it's an entirely different challenge. He said his first feelings were everything from "How the hell am I supposed to do this" to "Maybe Mark doesn't like me?" But as we've now seen, he was able to prevail and was willing to share some of the components that went into conquering this commission.
The Initiates and the Five Trials are at the center of the Amonkhet story. I always encourage my readers to check out James Wyatt's The Art of Magic: that Gathering series for an in-depth exploration of the intricacies of these worlds and their lore.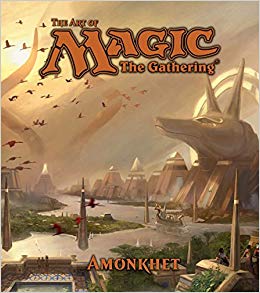 Designs for how an "Initiate" should look were almost certainly in the Amonkhet style guide given to the artists working on the set. This is an internal document that we as fans will never see, but it keeps the visuals of a set cohesive and provides a point of departure for artists illustrating something universal within a world.
In order to properly capture the Initiate he needed for Unquenchable Thirst, Jeremy decided to become the Initiate himself. He sent me a few of the reference photos he took in preparation for starting these pieces. Let's take a look: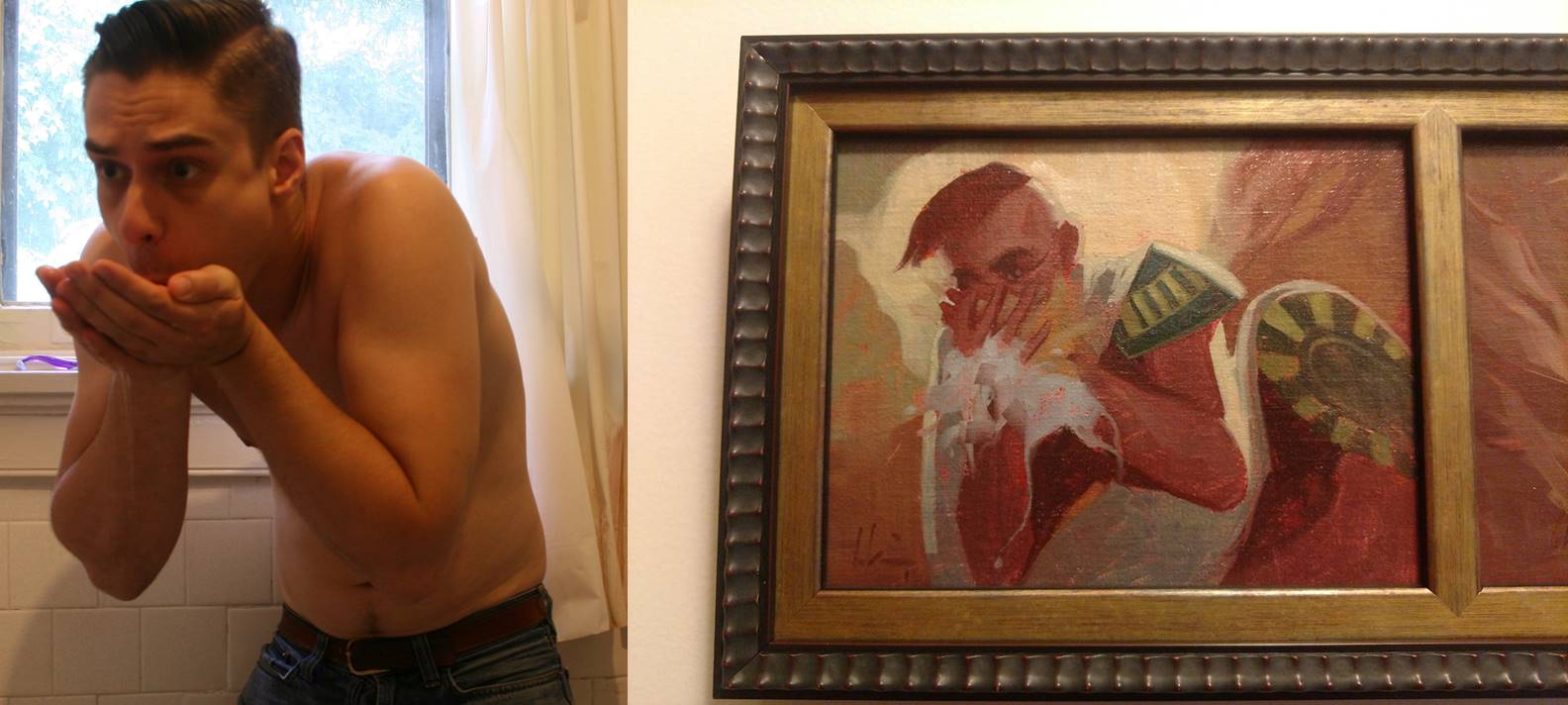 Yes, for most of the cards you see there is a photograph or rendering somewhere of a similar scene. An artist that has become one with their art . . .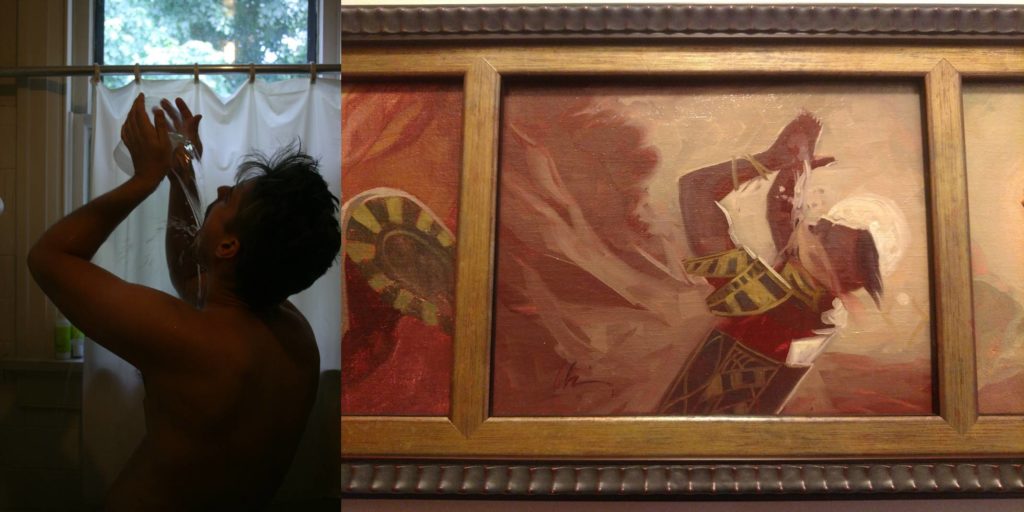 Even if that means pouring water over your head standing in your own shower.
Artists don't often share these eye-opening preliminary steps, so it's super fun to get to see these early pieces of the larger art puzzle. Winters and Wilson landed on the central design of this triptych for the final card; only this composition carried through to the final work.
Although the card itself didn't necessarily make an impact on Magic gameplay, the illustration caught the attention of the Magic art community when it was released. Vorthos Mike included it in his Hour of Devastation Art Review, saying this of the finished artwork:
As for the art itself, his ability to show dynamic changes in color, evoking shadow is phenomenal. You can deconstruct his thought process by showing the required scene, then seeing how he was able to beautifully render the setting. It's all so effortless and I know we'll be returning to see his process and ability to execute soon. Stellar work.
The addition of the other two color concepts only strengthens this idea, as they fully flesh out the narrative of Unquenchable Thirst, even in this unfinished preliminary stage. Wilson's visual storytelling is just so good, and I'm going to enjoy telling the story of these three color studies—from their acquisition to what they tell us about the artist and about Amonkhet—for a long, long time.
Put it on the Wall
I've been excited to write this section of this article for quite some time. This is one of the most intricate framing jobs I have on my walls, masterfully completed by my friends at Ain't That a Frame in Westminster, MD.
There were two options, three combinations total, when it came to framing these three: frame as three individual pieces, or as a singular triptych, either vertically or horizontally. Shortly after I purchased these at IX, some friends and I spent some time arranging them every which way to find the "best" layout, and that's actually how we discovered that they almost, though unintendedly, connect. It was a bit of a serendipitous discovery, and thus was how I wanted to frame them with a continuous inner frame.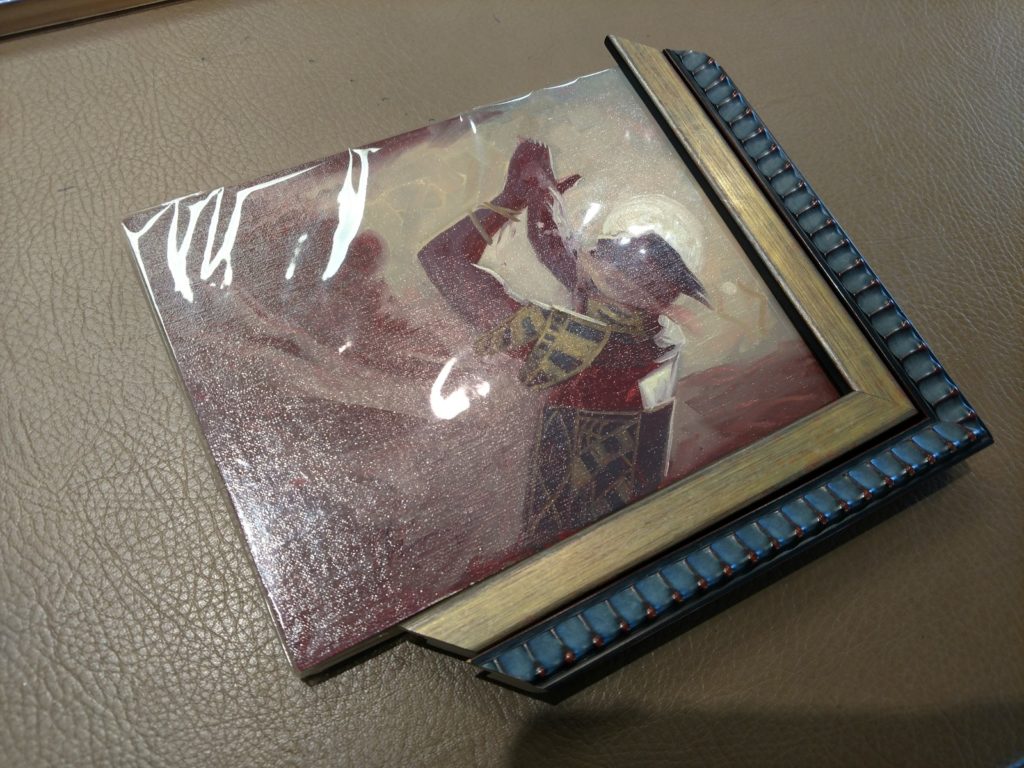 While this wouldn't be easy, there no challenge too great for my local framers. As she does, Lou found both the perfect inner and outer frame to evoke the Egyptian elements of the work without overdoing it, and Andrew crafted the inner golden frame to appear as a contiguous confine for these color studies.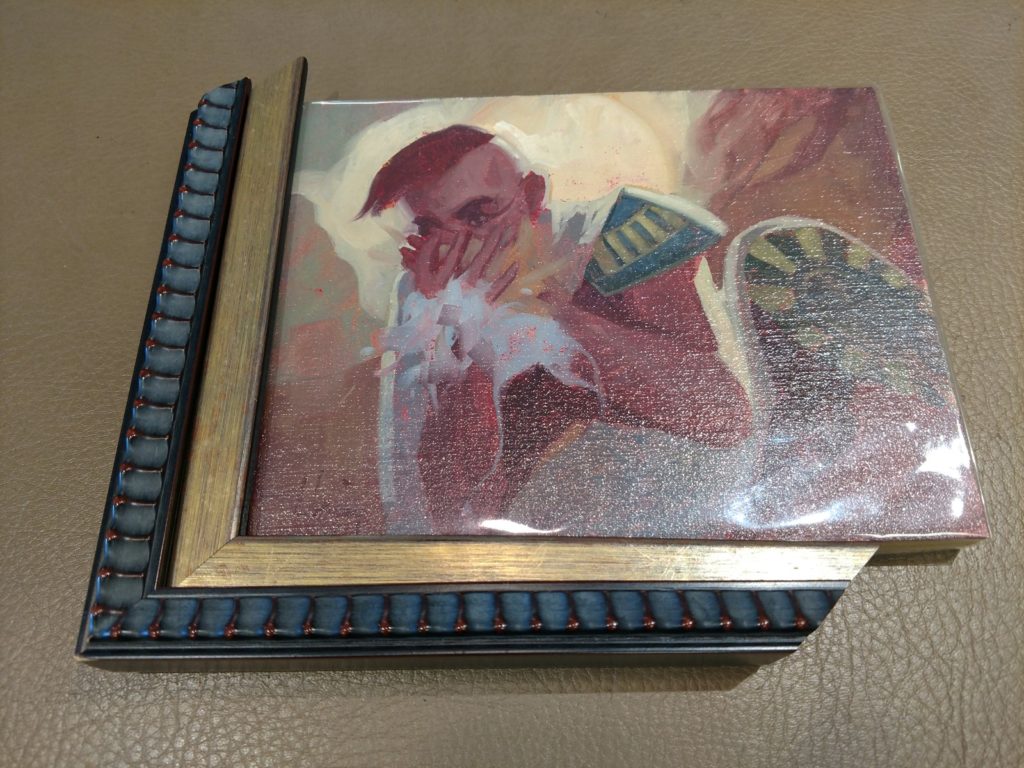 The final piece now more than ever reads as one narrative, a triptych tale of one man's descent into madness from an Unquenchable Thirst on the plane of Amonkhet.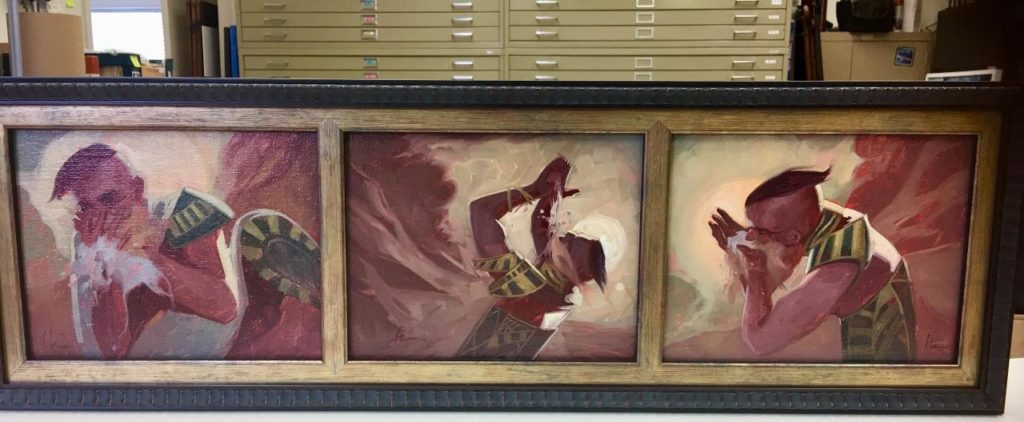 Build Your Collection
These color studies were my chance to own an original by Jeremy Wilson. Because he only has two cards for Magic as of the writing of this article, there aren't a lot of options for collecting his work for Magic. The original for his Kor Token is unavailable, and the final painting for Unquenchable Thirst is currently off the market and will not be on view until the next Magic Art Show at IX in October.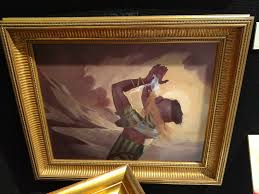 That said, Wilson has several astounding pieces of artwork outside of Magic available to collect, and all can be seen on his webstore. He paints large, and has an artwork for any room and every setting available in his webstore. Click the title to go straight to the painting detail page.
This painting was a finalist for the 2019 Chesley Award for Best Interior Illustration. It is fabulously larger than life, and it's hard to believe it's still available. If you like it, act fast.
This is an original painting commissioned by The Playerlist, featuring the legendary NBA all-star Allen Iverson. Lots of folks can buy the screen-print, but only one person can own this original.
Elegy Written in Country Church Yard (Study) 
A smaller and very affordable study for a larger work, which is also available. Wilson's color studies, as you've seen, are incredibly tight and beautifully vibrant. This piece is no different.
Wrapping Up
I hope you've enjoyed this exploration of Unquenchable Thirst, Jeremy Wilson's larger catalog of art, and his illustrious career. I love following his other commissions and personal pieces, and witnessing just how his creativity constructs these cutting edge illustration. His art is unlike anyone else working right now, and I can't wait he's working on in the future as he continues to push the boundaries of color and negative space.
Will we see him return to Magic someday? I sure hope so.
My next article will be a bit earlier than usual, dropping on Tuesday, August 6th with a special surprise you're not going to want to miss! Until then stay cool out there folks, and I'll see you August 6th!
Donny Caltrider has been playing Magic since 2002 and collecting original Magic art since 2017. He has an M.A. in Museum Studies from Johns Hopkins University and enjoys telling stories about art, objects, and the intersection of fantasy with real-life. You can find him on Twitter talking about #mtgart, museums, and other #vorthos related goodness. Follow along and continue the conversation!