Good morning folks, and welcome back to another Secret Layers of Secret Lair here on Hipsters of the Coast. It's been since October since I've covered a full-on Superdrop (yes, of course I missed it), but these massive offerings have returned for 2023. There's a new and improved extended order window that gives both collectors (and art writers) plenty to time to digest this set before it's too late! So while I'm not on it from the start, I'm glad to still have an opportunity to write about these unique artworks before they disappear forever.
The Winter SuperDrop is one of the most varied we've seen yet, from Phyrexian phun to artists series and showcases, all with the usual left-field outlandishness we've come to love and expect from this product. I'll say it again later I'm sure, but this Drop seemingly has something for everyone, no matter how you play Magic. 
Let's look inside at the Secret Layers of Secret Lair: Winter SuperDrop 2023.

Showcase: All Will Be One Step-and-Compleat Edition
The first available group of cards seek to show off the brand new "Step-and-Compleat" foiling found in Phyrexia: All Will Be One. This process inserts tiny Phyrexian symbols into the foil layer, and as such creates a unique visual that goes one step past what we expect in a foil Magic card. The included cards are all Phyrexia-adjacent, or legends of Phyrexian lore, and each receives a brand new artwork in the Ichor showcase style found within the main set. I got to see the original artworks for both Ertai, the Corrupted by Sidharth Chaturvedi and Glissa, the Traitor by Kekai Kotaki during the Concept to Compleat art show at Magic Con: Philadelphia, and believe you me, you're going to be blown away once you have these in hand.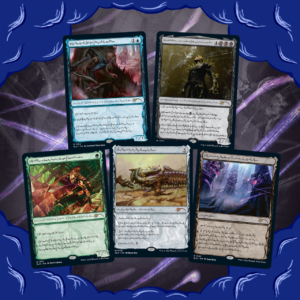 Phyrexian Faves
Continuing right on brand, it only makes sense that there would be a drop dedicated to Phyrexian language cards. Secret Lair has reworded five of the most popular and playable Phyrexian cards with the damnable language, and each retains their original artwork and card frame. For a full translation, you'll need to check out Rhystic Studies latest video to find out just how to read them, but in the meantime, these will provide an exciting thematic addition to your new Phyrexia Commander deck on cards you're already playing. Hail Phyrexia! Hail Reprints.
This slideshow requires JavaScript.
Draw Your Hand by Rope Arrow
This one one I'm most excited about, as Rope Arrow (a.k.a. Tyler Day) joins the ranks of Magic art for the very first time in his debut Secret Lair with the "Draw Your Hand" drop. A printmaker in his creative endeavors, he's taken these tenants and applied them, poster style, to his own collection of Magic cards. The results are bold colors, sensational shapes and creative compositions that make this Lair wholly unique, and truly like nothing we've seen before. Years down the road, players will be able to look across a table and say "Hey, that's the sweet Rope Arrow version," and that is exactly what Secret Lair is all about. 
Also, if you haven't watched it yet, Vagabond Gallery interviewed the artist for their latest video. Iit's something I'd encourage all folks in and around these art-centric spaces to take a look at. It's an invaluable insight into artist and process, and a truth-telling tale of what it means to be an artist for Magic. 
This slideshow requires JavaScript.
Ssssssnakessssss
I wouldn't be Secret Lair without getting a little weird, and the Art Directors have assembled a crew of artists capable of making the most dangerous and most noodly Danger Noodles Magic has ever seen! Sharp, scaly, smooth, spicy; there simply aren't enough adjectives that start with the letter S to satisfactorily specify the substances seen in this snakeskinned set.
This Drop also had a little bit of controversy, as it seems an older version of the Stonecoil Serpent art (viewable here) mistakenly made it through to the published ordering website. It has since been updated (and the man in the middle unimpaled and removed), but it remains to be seen if any were actually printed, and this might slither out into the wild.
This slideshow requires JavaScript.
The '90s Binder Experience
If you're a 90s kid like I am (I was born in 1989, close enough), then this style holds a special little bit of nostalgia deep down in your elementary school soul. Paul Mafayon takes all those feels from our notebooks and folders of yore and distills them down into Magic card sized artworks in a style all his own. I'm particularly smitten by that Goreclaw- it just feels like home, and that's a pretty special thing to be evoked out of a small piece of cardboard. 
This slideshow requires JavaScript.
City Styles
One of my favorite things about Secret Lair is seeing something that you figure is not for you, and then realizing it completely is! Usually I'm not drawn to the anime showcases, or those reskin Magic characters into contemporary settings, but this collection by Tsubonari is just absolutely out of this world. Look at Sakashima surveying the Neon Dynasty from the billboard perch. Look at Teysa! How cool is she? This group is just full of imagination, and brilliantly executed to boot. It's not one to sleep on, and it might even spur me to a new Commander deck. The art is just that good.
This slideshow requires JavaScript.
Artist Series: Sam Burley
The last group of this SuperDrop is the singular artist series, completed by concept artist and illustrator extraordinaire Sam Burley! Burley has been a key part of modern Magic worldbuilding (a highlight for me was his work on Theros: Beyond Death) and he brings that same vigor and prowess to his very own Artist Series. This Lair shows the full range of the artist, from evocative magical spells to dynamic legends, with a little bit of dragon on the side. Burley's work was instrumental to the clean and cinematic look that put Magic on the map, and I'm excited to see him get his very own fever pitch now in Secret Lair.
Wrapping Up
That's the end of our layered tour of this latest drop. From fancy foils and illegible languages to alternate artworks and artist series, once again Secret Lair has a little something for everyone. Whether you're collecting one set or all of them, there is something here that fits your deck.
The Winter Superdrop 2023 is on sale through March 27, 2023, the longest availability for a Superdrop to date at almost two months. Secret Lair has been trying new things, from coupons and discounts to this new extended timeframe, all in an effort to find what works best for Magic's players and collectors. At MagicCon Philadelphia during the I Have A Secret (Lair) panel, Emily Floyd, Senior Business Manager for Secret Lair, spoke to some of these things; that they're trying, and how they're working every day to improve the experience of Secret Lair. Floyd has an absolutely brilliant vision for creative business, and with her one of the folks behind the helm, I'm very excited to see where she helps steer this favorite product of mine.
As always thanks for reading, and we'll see you next time.
Donny Caltrider (he/him) is a Senior Writer at Hipsters of Coast writing about all things related to the art of Magic: The Gathering and the larger imaginative realism genre. He has an M.A. in Museum Studies from Johns Hopkins University and enjoys telling stories about art, objects, and the intersection of fantasy with real-life. When he's not writing for Hipsters or working with artists, you can find him traveling with his wife, petting his two cats, and watching the Baltimore Orioles.