Matt Stewart's original artwork sales simply soared for Zendikar Rising on the MTG Art Market! On Sunday September 6, 2020 his Emeria Captain angel sold for $7500, and the following evening two associated pieces, Emeria's Call and Emeria, Shattered Skyclave, sold for $9,050 and $9,400, respectively.
Today we take to the sky for a closer look, and begin with Emeria Captain:
Emeria Captain by Matt Stewart is a work of oil on gessoboard measuring a substantial 18 inches by 24 inches. It was commissioned for the Magic's latest expansion, Zendikar Rising, which releases everywhere September 25, 2020.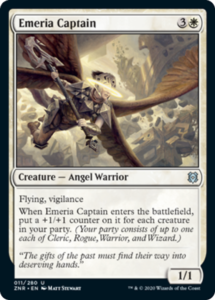 This auction was run on the MTG Art Marker with Vorthos Mike acting as agent for the artist, beginning shortly after the card was officially previewed by Wizards of the Coast and its sponsored partners.
The auction for Emeria Captain sought a $4,000 opening bid (it's an angel of course), which was not only obtained immediately but soon bested by a $5,000 private bid. A few bids trickled in through the end of the week, but the fireworks began with about an hour to go. From here, two private collectors went by $250 increments all the way to the sun of $7,500. Feast your eyes on this beautiful angel; Matt Stewart knows how to make 'em fly.
This slideshow requires JavaScript.
Next up and ending on Monday September 7, 2020 was Stewart's shot at one of the new Modal DFCs. These flashy new cards debut in Zendikar Rising: double-faced cards that let you choose a side when you play them.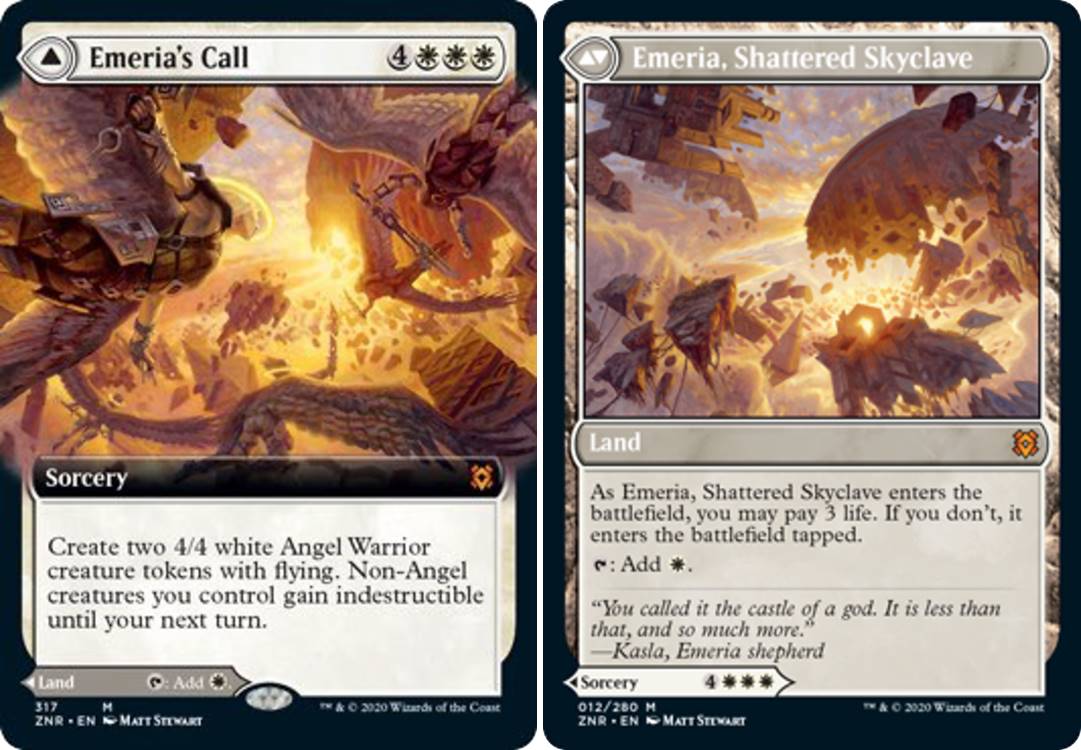 Emeria's Call and Emeria, Shattered Skyclave are both works of oil on gessoboard and each measure 18 inches by 24 inches. They were again run on the MTG Art Market by Vorthos Mike. An absolutely stunning pair of paintings both at card size and on the easel, the initial opening bid ask for each was $10,000, with a Buy It Now available on each painting at $25,000 and for the pair at $40,000.
When no bids arrived on the night of September 2nd, auctioneer Vorthos Mike lowered the opening bid on each the morning of September 3, to $5,000 per work, a brilliant move that incited immediate bidding and set these works in motion.
This slideshow requires JavaScript.
Bids in varying amounts came in bit by bit through the week, but as we saw with Emeria Captain above, the real fun began around noon on the final day. At least three private bidders and one public bidder began to push; when the dust settled both works had eclipsed $9,000, sold to the same private collector.
This slideshow requires JavaScript.
If you've watched through the zoom slideshows above, I think you'll see why these are two of the strongest pieces of art in the entire set; I love that they are staying together in the same collection. Make sure you check out of the Zendikar Rising Grand Art Tour for more on why I think they're so fabulous, and stay tuned to Hipsters of the Coast for more Zendikar Rising Art Market Minutes.