During the first week of previews for the upcoming Magic: The Gathering Zendikar Rising set, two paintings were sold almost instantly upon their initial reveal. Linvala, Shield of Sea Gate by Wayne Reynolds and Morphic Pool by Steven Belledin both were hammered via a "Buy It Now" option in their respective auctions for $15,000 each on the first day of previews.
Let's recap how these two sales went down.
Linvala, Shield of Sea Gate by Wayne Reynolds
The first traditional work to be sold for Zendikar Rising was Linvala, Shield of Sea Gate by Wayne Reynolds, and is a work of acrylic on artboard measuring approximately 11.5 inches by 16.5 inches. This is Linvala's third iteration and appearance on the plane of Zendikar—following Linvala, Keeper of Silence and Linvala, the Preserver—each time more embattled, and more fierce.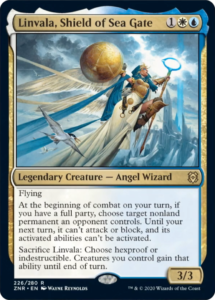 The painting was brought to market by Vorthos Mike acting as agent for the artist, and was available by the evening of its initial preview, Tuesday September 1, 2020. With an opening bid ask of $5,000 met immediately, there was also a Buy it Now option of $15,000 if a buyer so should so choose. There would be only a half a dozen bids up to $7,100 when 40 minutes in, a buyer privately did indeed elect the Buy It Now option. The auction was over and the work was sold, the very first from this new set, and for a fantastic figure!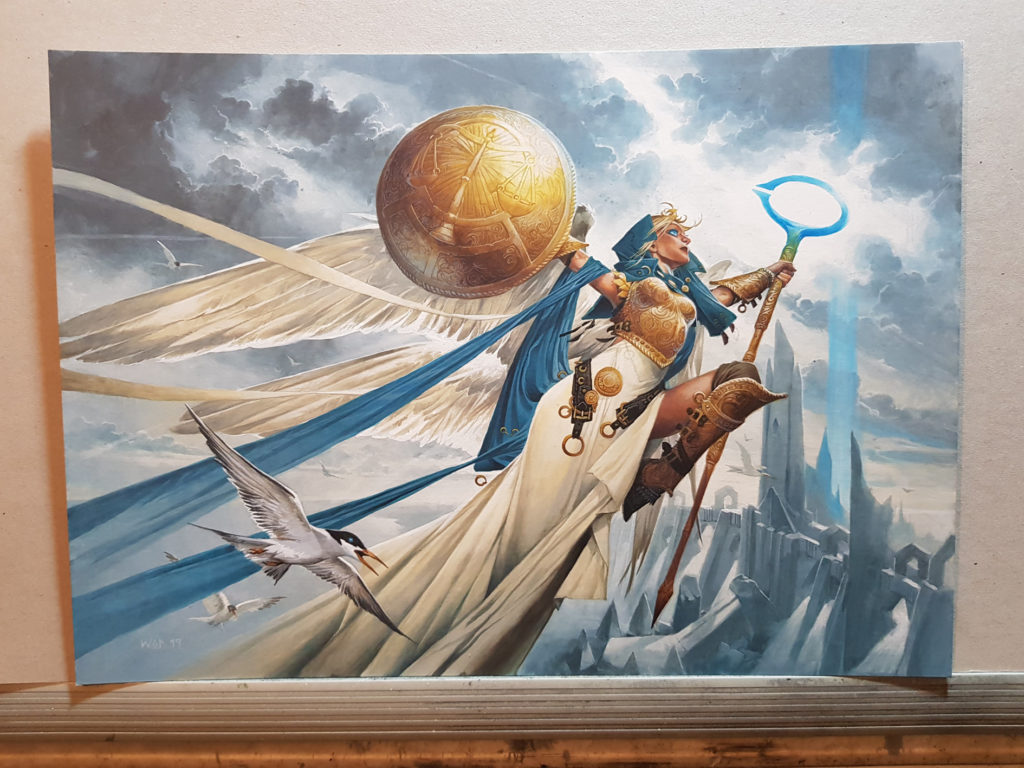 There are color studies and a single sketch that will be offered first to the purchaser of the painting, and later publicly if they pass interest.
This slideshow requires JavaScript.
Morphic Pool by Steven Belledin
Later that evening, a second work was brought to market by Vorthos Mike. Morphic Pool by Steven Belledin, commissioned as one of thirty Expedition Box Toppers for the new Zendikar Rising set, had also been revealed earlier that day, and was headed to the auction block.
Morphic Pool by Steven Belledin is a work of oils on cradled hardboard, measuring 16 inches by 20 inches and oriented vertically for the full art land card frame. It is one of the Zendikar Expeditions, special versions of classic and important lands from Magic's history that exemplify the spirit of exploration and adventure present within this setting. This is also Belledin's first full art land commission.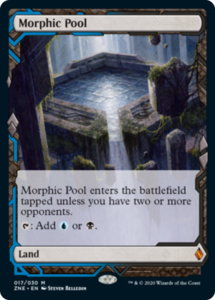 The auction began late in the evening, near midnight Eastern Standard Time on the first day of previews at 11:52pm. It would receive only two bids, its $5,000 opener and one advance to $5,500. But at 12:06am EST, less than 15 minutes after it became available, a collector privately elected its $15,000 Buy It Now.
It is a stunning artwork, and I implore you to look through these close-ups.
This slideshow requires JavaScript.
After the advent of Double Masters, where the total price of original artwork sold from the set very possibly passed $500,000 in sales in a mere two weeks, the market for original Magic artwork is moving at an incredible pace. There are a multitude of factors that could play into this continued meteoric rise, but one thing is for certain: it seems the trend will continue with Zendikar Rising.
Stay tuned for more Art Market Minutes in the coming weeks, only on Hipsters of the Coast.