Good morning everyone and welcome back to the Mirror Gallery here on Hipsters of the Coast! The two week preview season for Zendikar Rising has come to an end. While the set doesn't release for another week and a day, there's no reason we can't start looking close at some artwork.
I initially wasn't quite sure how to approach this Grand Art Tour. Should it be all lands? I do like lands and Zendikar is the land-matters plane. Or perhaps two articles—lands and no lands, to catch everything? But then what about the Expeditions? And the alternate showcase art, where does that go? And how do I narrow this down to twelve?! There is a ton of art in this set!
For anyone joining for the first time, my Grand Art Tour series was inspired by New York Magazine art critic Jerry Saltz, and his 2010 piece entitled A Grand Tour. His article tracks his love of art from his childhood; all centered around an early museum visit and the discovery of a painting's storytelling capabilities. It goes on to highlight some of his favorite works on view during the summer of 2010 in New York City. To that same end, the Grand Art Tour for each new set highlights my favorite newly released illustrations.
You'll see cards across the entire set, and for this particular writing piece, will be those I find most narratively representative of this new Zendikar we are visiting. These artworks get to the core of what Zendikar looks like, and why that's important. There is some real A+ work in this set, and there are paintings you must see outside the card frame.
So without further ado and in no particular order, these are my favorite artworks from Zendikar Rising.
Spire Garden, Polluted Delta, Branchloft Pathway, and Boulderloft Pathway by Titus Lunter
As you probably guessed, I'm starting with lands—specifically those from one of Magic's current go-to landscape artists.
Titus Lunter has painted more than 80 different lands for Magic. I knew that at least one (Spire Garden) would be in this article, when he posted a tweet with all four together it created a feeling of a "complete" Zendikar, almost a North, South, East, and West, of sorts. Spire Garden is my favorite among them (and perhaps of the entire set, for that matter) with its masterful composition that literally holds your hand as it takes you through the work. It's an daunting yet picturesque path along a rollercoaster bough, through the clouds, and into territory unknown.
If you ask what Zendikar looks like, I'm going to show you these.
Verdant Catacombs, Ravorverge Thicket, Horizon Canopy, Needleverge Pathway, and Pillarverge Pathway by Alayna Danner
This slideshow requires JavaScript.
Verdant Catacombs, Ravorverge Thicket, Horizon Canopy, Needleverge Pathway and Pillarverge by Alayna Danner. Digital.
Next? More lands!
Alayna's landscapes are almost instantly recognizable: incredible dreamlike lighting, a ton of details packed legibly into complete illustrations, and stunning compositions that never stop giving you something new to look at. These five from Zendikar are no different, and I implore you to take 30 seconds from reading and look closely at these artworks outside their frames. From the lighting of the Razorverge Thicket tree canopy to the scale bats in Verdant Catacombs, there is just so much she's added to make them look and feel real.
Every single one of these works approaches the landscape it's as if you're flying, with an almost cinematic feel, and honestly I think that's a feeling we could all use a bit more of. They are simply stunning.
Tangled Florahedron by Randy Vargas
Randy Vargas had four double-faced cards in this set for a total of eight illustrations, and I could honestly write an entire article just on the relationship between the front and the back of these cards.
But for this, let's focus on his affectionately depicted Tangled Florahedron, and what something like this means as a piece of imaginative realism. It's difficult to make something truly anthropomorphic, to make the inanimate come alive, and beyond that evoke real emotion from the viewer. But that's exactly what Vargas has done. He brings a classical, Old Master feel to his fantasy, and in doing so creates a scene that feels as if it could truly exist somewhere out there. This is a fabulous work that shows the softer side to a place unhinged; it's a beautiful contribution to the set.
Emeria's Call and Emeria, Shattered Skyclave by Matt Stewart
"We need, like, a lot of angels, but also a landscape, and make sure the lighting is perfect and colors are brilliant and everything drives to central focal point like the sun so it's legible on the card. Two pieces. Also the land explodes."
"Coming right up" — Matt Stewart, probably
All kidding aside, this is in my opinion one of the strongest technical works in the entire set. Matt Stewart is an exceptional artist, this we know; but he created two complimentary and cohesive scenes, with no detail unaccounted and some of the best capturing of light we could ask for out of a traditional artwork. These are so much more impressive off the card, and it's no surprise each pushed five figures when sold. They are astounding works in oils. Bravo, Matt!
Moraug, Fury of Akoum by Dominik Mayer
Brand new Magic artist Dominik Mayer contributed five pieces to the showcase series of Zendikar Rising, and Moraug is my favorite among them. Stylistically this is something brand new for Magic; these bright colors, sharp edges, and one incredible diagonal (bottom right to top left) create a dynamism that exudes the power and passion of this legendary character. His work on these showcase cards is something that Zendikar will be remembered by, and hopefully there will be an opportunity to see more of it again soon. Have a look at some of his other artwork. Welcome Dominik!
Into the Roil, Roil Eruption, Roiling Vortex, Nahiri's Lithoforming, and Brushfire Elemental by Campbell White
This slideshow requires JavaScript.
Into the Roil, Roil Eruption, Roiling Vortex, and Brushfire Elemental by Campbell White. Digital.
Campbell White illustrated twelve cards for Zendikar Rising, by my count the second most of any artist on the set. In doing so, has had an incredible impact on how we visually experience the plane. The set title alludes to the land itself coming alive, and we see exactly that in this mere third selection of his work presented above. Seas rise up, lava churns and flows and elemental creatures burst forth, unbridled. This is the Rising. He's created some truly dynamic screenshots of these events, and has had a profound impact on the overarching narrative of this set.
Blackborn Rogue and Blackborn Bog by Jesper Ejsing
It's one thing for an artist to design a character, and another entirely different thing to design and paint an environment. But in getting to do them together, the end result creates a marriage and resonance that really shines through. That's exactly what we have here.
Painting the swamp first, Ejsing brought the background and color palette directly to the rogue piece, creating a captivating and complete environment and really ensuring that both the imaginative and the realism could be felt with equal vigor. This was Jesper's favorite of his contributions to Zendikar, and it's certainly one of my favorites too. It's full fantasy immersion at its best.
Brightclimb Pathway, Grimclimb Pathway, and Grove of the Burnwillows by Donato Giancola
This slideshow requires JavaScript.
Brightclimb Pathway, Grimclimb Patheway, & Grove of the Burnwillows by Donato Giancola, oil on panel, each 18" x 24"
It was but a few months ago I said I hoped for more land commissions for Donato. Zendikar Rising brought us three via an Expedition and two borderless non-basic lands, all fabulously painted by the living master himself. The sense of scale he is able to create in the Pathways is immeasurable and impressive, giving us a scale person among so many floating rocks and winding canyons it's impossible to tell where the explorer might be going, or how far they have to go. And when it comes to the fan-favorite Grove of the Burnwillows, Donato noted he used cadmium pigments in order to achieve the "bright burn" seen in the treetops; there is literal heavy metal paint in this disco inferno! (His words, not mine.)
Canyon Jerboa and Ravager's Mace by Antonio José Manzanedo
One of these things is not like the other, because one of these things is freaking adorable!
The other has just come within an inch of your face, so close you can feel the wind whoosh by and a little drop of blood touch your nose as it passes. Over the last few months we've really got to see Manzanedo show his artistic range, and in this set we get the full juxtaposition. Canyon Jerboa is rendered as clean, crisp, and cute as humanly possible.Ravager's Mace is, both literally and figuratively, super sharp, with the Minotaur and background shrouded in mist to force the viewer's focus on the most important part. There is stillness, and yet that sense of motion, like a freeze frame in a movie
Branchloft Pathway and Boulderloft Pathway by Grady Frederick
Grady Frederick is another artist brand new to Magic, and his double-faced-land pair caught my attention immediately because of both his color and composition. On one side, a brilliant (and I mean brilliant) green cascades along a twisting and turning bough, a recurring landscape element we see beautifully rendered here that once again leads us through the work. On the other side, that bit of a tilt, an unsettling balancing act that leaves us uneasy, is the perfect compliment. One card, two artworks, and a fabulous start to what I hope is a long career in the game. You can see more of his work here. Welcome Grady!
The Zendikar Planeswalkers by Dave Rapoza
This slideshow requires JavaScript.
Nahiri, Heir of the Ancients, Jace, Mirror Mage, and Nissa of Shadowed Boughs  by Dave Rapoza. Digital.
As an eleventh entry I want to end on the three Planeswalker illustrations from Zendikar Rising. I don't often include Planeswalkers in these articles, because while they are almost always exceptionally well done artistically, they unfortunately often don't leave much for me to talk about. These three are different however, and you have to strip away the border to see it.
Surrounding each Planeswalker are five smaller vignettes of their past and present, and Rapoza has seamlessly woven these tiny narratives into the larger artwork. This composition is uniquely his design, and like nothing we've ever really seen before. They're an absolute triumph, and one of the coolest concepts I've ever seen executed in Magic. My socks are still knocked off, and I think yours will be too. You crushed it Dave.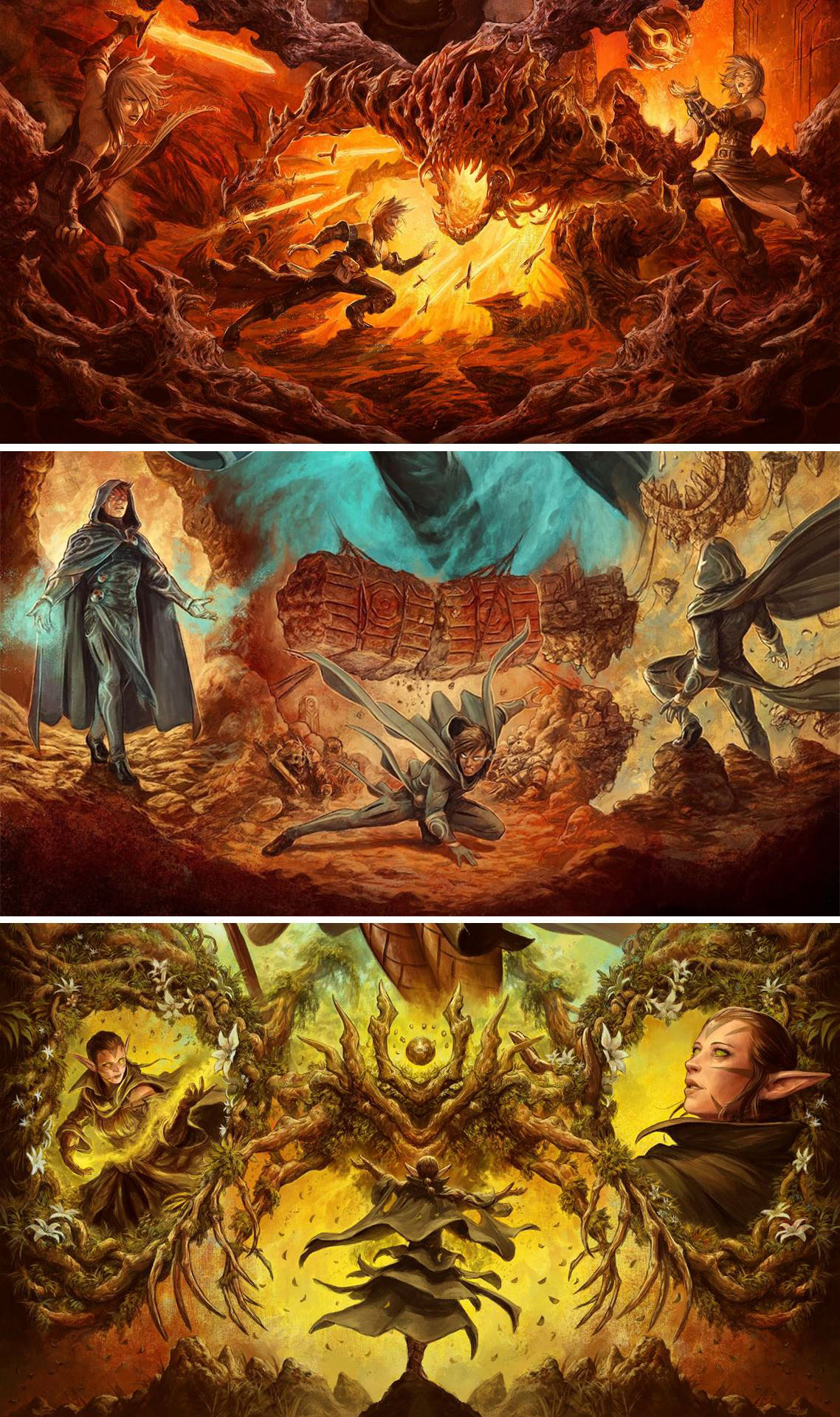 Wrapping Up
We made it! So ends our thirty-artwork exploration and the journey through this third iteration of Zendikar. Having not been playing during the first Zendikar, and focused strictly on playing the Limited format during the second visit; this was a fun exercise to really explore the aesthetic of what Zendikar was, is, and will be perhaps again in the future. I very much like this theme of exploration and the non-Eldrazi plane. And the land illustrations in this set, as you well saw, are some of the best we've seen.
I feel like I could have written a standalone article on every single one of these artists, as well as a second article with another ten entries and two dozen artworks. Alas, I am just one art writer. By my rough calculation there were near 400 pieces of artwork for Zendikar Rising (remember modal double-faced cards have two arts per card), so I'm sure I missed one you really like. Please feel free to share it with me on Twitter; I'd love to hear which, and why you like it. Was it one of Sam Burley's six expeditions or six base set lands? Or perhaps one of Cristi Balanescu's nine inhabitant depections? Or maybe you were real excited to see Pascal Blanche or Bastein Grivet come to Magic?
Whichever it may be, I'd like to hear about it, and I'm sure the artists would too.
You also may have noticed the absence of Adam Paquette and his 14 cards; and that's because next month we'll have a full Behind the Brush spread on his entire contribution to Zendikar, including plenty of preliminary work and a ton of insight from the artist. That's an article you don't want to miss.
Remember, to see original #mtgart and other #vorthos related things, follow me on Twitter. Feel free to ask questions or retweet to continue the conversation. Stay safe, be excellent to each other, and I'll see you back here again real soon.
Donny Caltrider has been playing Magic since 2002 and collecting original Magic art since 2017. He has an M.A. in Museum Studies from Johns Hopkins University and enjoys telling stories about art, objects, and the intersection of fantasy with real-life. You can find him on Twitter talking about #mtgart, museums, and other #vorthos related goodness. Follow along and continue the conversation!