Beginning Sunday May 31, 2020, the five original works by Josh Howard for Magic: The Gathering's Secret Lair: Summer Superdrop set, Full Sleeves: the Tattoo Pack were sold on the MTG Art Market. The combined final price for the five pieces, each liquid acrylic and ink on watercolor paper measuring 6 inches by 8.5 inches, totaled a crisp $17,300!
The Works
The five works arranged as traditional tattoo flash: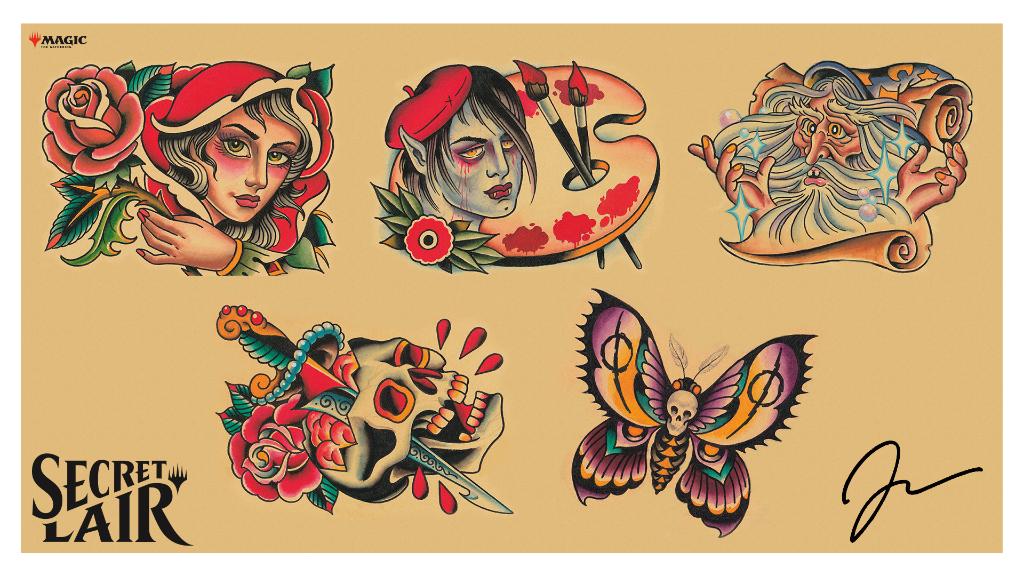 The auctions were handled by Vorthos Mike acting as agent for the artist, and the individual works achieved the following final prices: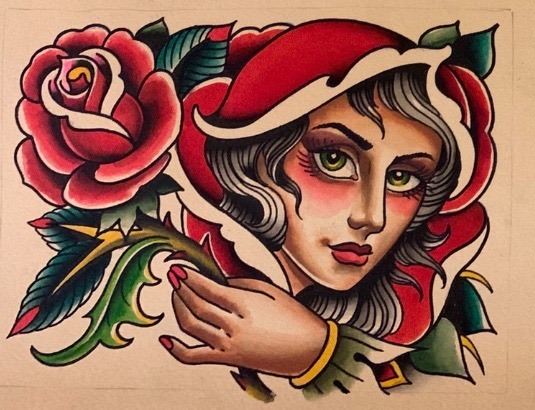 Eternal Witness was the first of the group to sell on May 31st. It would prime the canvas, realizing $4,000 from a public bidder in the comments.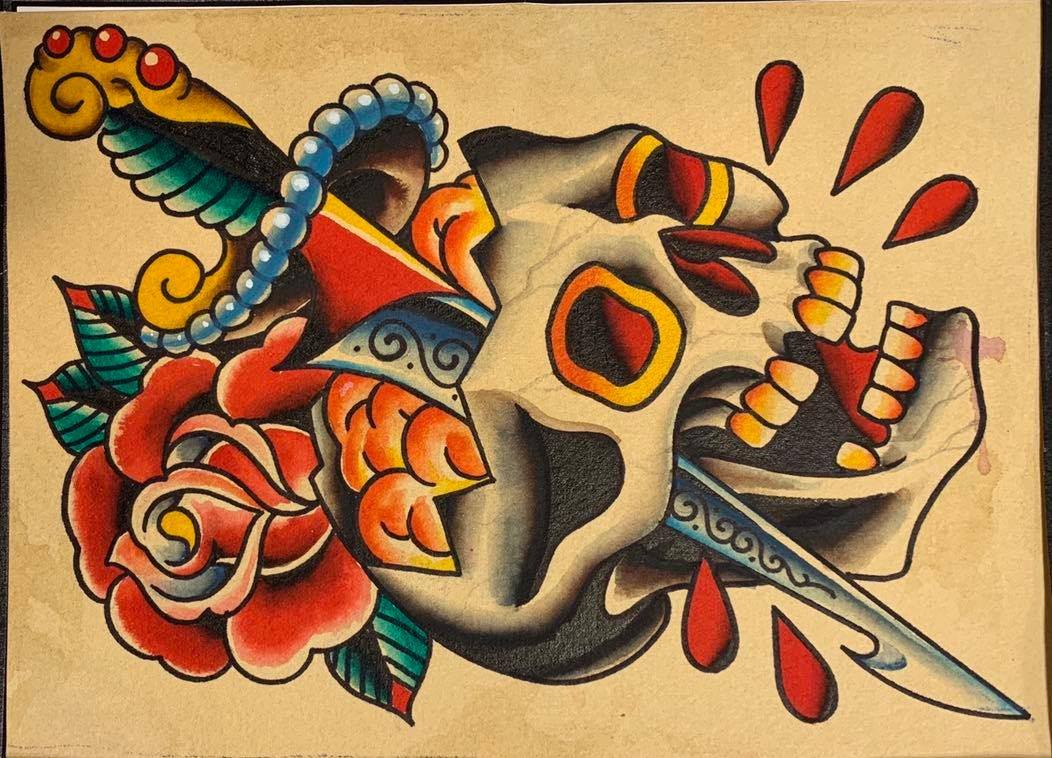 The following day, the final work for Pithing Needle also sold for $4,000, this time to a private collector bidding by private message.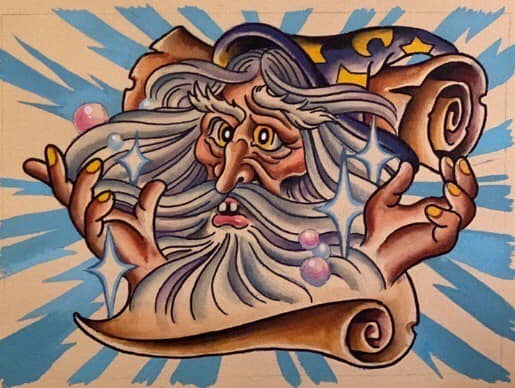 Continuing on the day after that, the whimsical Spell Pierce sold for $3,100 after an intense bidding battle at auction's end. Down between two public bidders, the price in the closing minutes nearly doubled from where it began earlier that evening.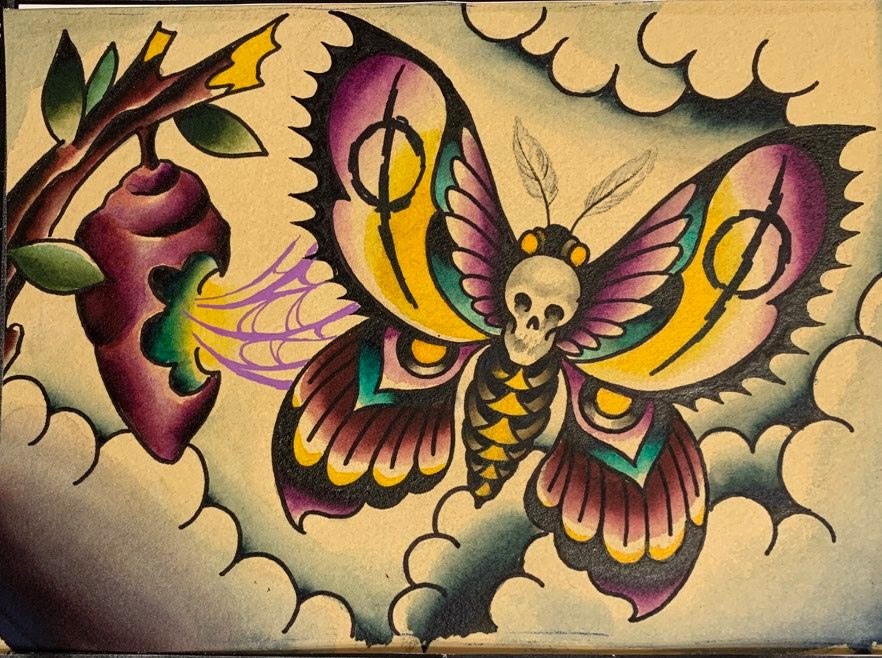 The auctions took a breather until Sunday June 7th, when Inkmoth Nexus sold for $3,900 to a private bidder.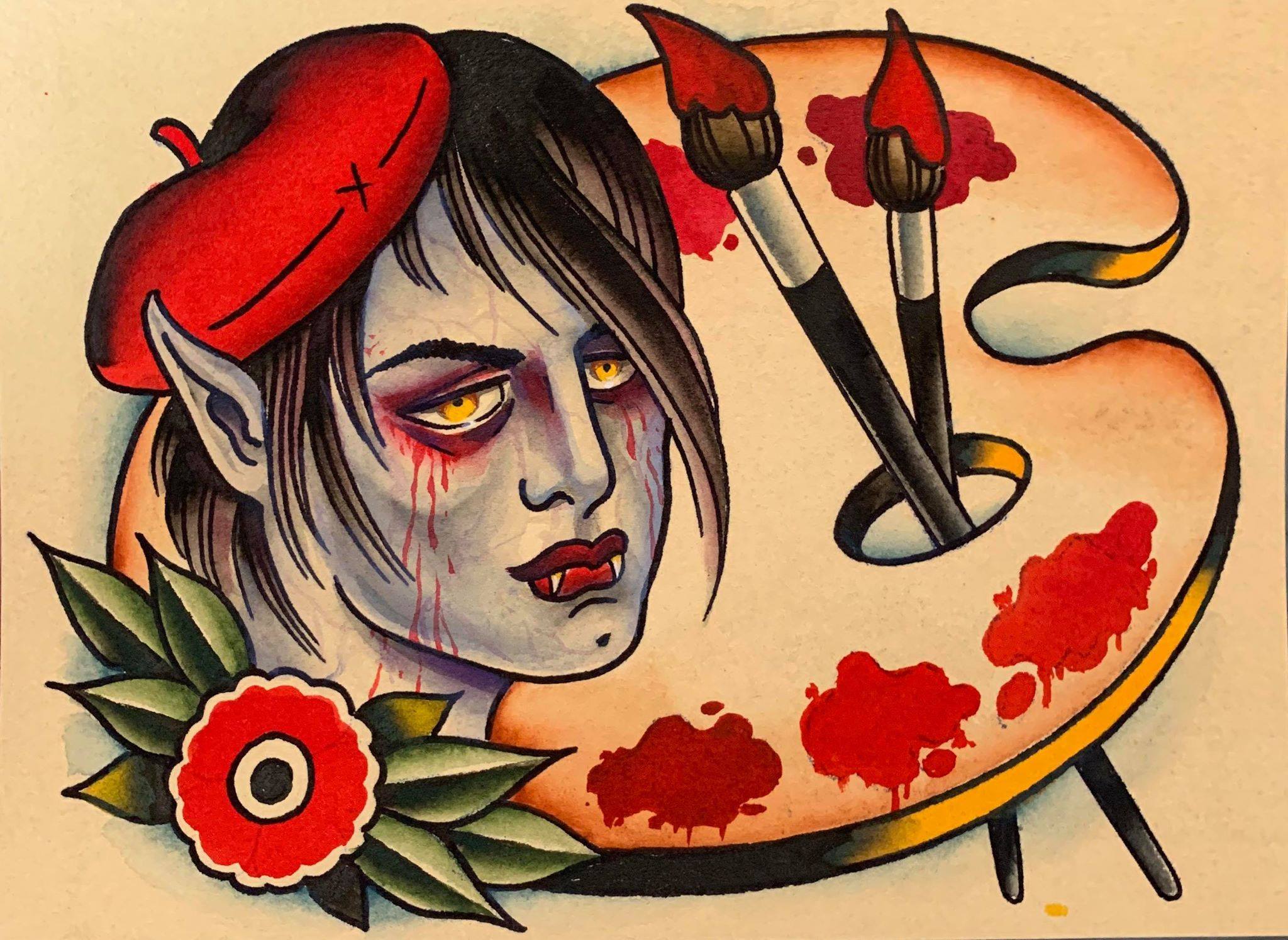 That sale would leave only Blood Artist remaining, selling on Tuesday June 9th and finishing the group with a final price of $2,300. It went to a private bidder after a short flurry of late bidding.
Each work also has an associated pencil sketch to be offered in an upcoming auction at a later date. So far we have only seen one sell, that for Eternal Witness, which sold for $500 late on Sunday June 7.
The Interview
I was able to catch up with Josh for a few questions to take a closer look at these incredibly cool pieces of art, now a part of Magic: The Gathering history:
Josh, thanks so much for chatting with me. What's it like seeing your art on a Magic card? Was this something you'd always wanted to do, or a new opportunity?
GREETINGS HUMANOIDS!!
Well, this was a new opportunity to me that came from a super cool lady I tattoo who happens to work for the almighty MTG. I had never done any legit illustration work before, just local band stuff or things for friends, but I have painted a ton of tattoo flash over my 15+ years of tattin'. Seeing as they wanted something with a traditional tattoo look/feel, I agreed to the job post haste.
I have to say it was super satisfying and fun creating images that I knew would be seen by a large group of people. I love the idea that people are gathering around playing these cards, collecting them, trading them, seeing the art every time they play the card. I'm no Bernie Wrightson, but maybe I'll get to influence some young artist out there. I know I was heavily influenced by fantasy illustrators when I was coming up, couldn't soak up enough of that stuff!
Everyone in the community has been super kind and helpful with the creative process; I loved working with the art directors, super cool people. The collectors, role players and those anonymous nerds sitting behind you in math class are my people.
Seeing my work on a magic card makes me think about the first time I was introduced to MTG. I believe it was in the late 90s. I never got in to playing Magic though, as I was introduced to it towards the end of my role playing days and at the beginning of my days as a psychedelic warlord. I was in high school in the mid to late 90s and avidly gaming. I played AD&D Ed 1 & 2, Shadowrun, GURPs, Vampire, Werewolf, Cyber-Punk, and Cyber-Gen. I always loved the illustrations in those books, especially Shadowrun, just super creative and imaginative stuff and it always helped place me in the world I was gaming.
Did you draw inspiration for your versions of these from anywhere in particular?
Most of the images are related to traditional tattoo designs. The skull and dagger, rose of no man's land, and the artist with pallet are all traditional designs in American tattooing. When doing anything related to traditional tattoos, I try to reference back to something in our tattoo history, a tip of the hat to those who came before as well as an anchor to tradition.
I love that these are contemporary but steeped in history. Do you have a favorite of the five? 
They're each their own animal in a way and I like different things about each one. I'm happy with the way they all came out as individual pieces. But I would have to say that Eternal Witness is overall my personal favorite. It was the last card I illustrated and I felt like I was getting a bit more concise and polished with each illustration. Plus I love a lady in a rose.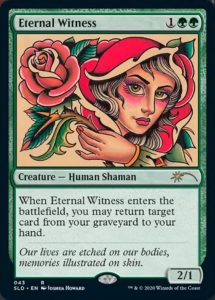 And finally, were there any challenges or triumphs along the way you'd like to share?
Well this last year has been very, very difficult for my family. My Mother suffers from MS and has become quadriplegic from the disease. I've not been working as a tattooer since mid-March and been taking care of my Ma in my home on my own throughout this pandemic. Illustrating these cards and now auctioning off the originals have helped us weather the storm here financially. I feel a deep sense of gratitude for being given the opportunity to do the work and the positive response from players and collectors out there.
That being said, if any of my fellow basement dwelling troglodytes out there would like to commission paintings or drawings, hit me up homies, and let's get weird! You can get me at [email protected].
Wow. Josh thanks so much for sharing this incredible story! Folks love what you've created, and I think we're going to see these cards for a very long time. You and your Ma take care, and I hope to see more of your art in Magic in the future.