Good morning and welcome to the Mirror Gallery here on Hipsters of the Coast. I know its Halloween, but instead of something scary, this week is the final installment of the Throne of Eldraine Grand Art Tour! Today marks Volume 3 and takes a look at the cards from the general set as well as a few Brawl additions.
In case you missed the two previous articles, here is where we've already been:
Volume 2: Storybook Showcase & Alternate Art
As I do within the Grand Art Tour series, I search for artworks with particularly strong narrative and storytelling, and as you'll see in this article especially, exceptional composition. This was an impossible task to whittle down twelve images from the hundreds of unexplored cards, and honestly I could have probably written about every card in Throne of Eldraine in some way or another. But nonetheless and without further ado, let's bring this home: these are my favorite works from the rest of Throne of Eldraine, in no particular order:
Kenrith Family Portrait by Ryan Pancoast
I'm once again going to start with an artwork that doesn't appear on a card.
As far as we know, this painting was commissioned exclusively for this article, where Senior Art Director Cynthia Sheppard interviews the Throne of Eldraine novel author Kate Elliot about these title characters. Ryan has captured the first family of Eldraine flawlessly, taking the longstanding tradition of royal family portraits and transitioning it perfectly to this world of fiction. His efforts to capture each character completely and accurately are immeasurable, and his execution, from preliminary planning to the final brushstroke, is finer than a frog's chin hair split four ways (bet you've never heard that one before).
He and I talked about this painting a fair bit over the last few days, and I got to see this monumental piece of art in person this past weekend at IX 12. It's a breathtaking masterwork of imaginative realism, and just being able to see it will forever be a highlight of my relationship with Magic art.
Tome of Legends by Mila Pesic
Mila Pesic is a brand new artist for Magic, and Tome of Legends is one of my very favorite illustrations from across this entire three volume Grand Art Tour. She takes the idea of a "storybook" and magnifies it, showing us that the hero inside could literally jump right through the cover at any moment. The depth and lighting she captures by looking all the way through the book, and having the scene backlit by the candles on the table, is unreal amazing. It's a literal illumination of the story inside the pages, and so perfect for this card and this plane. I absolutely love it.
Edgewall Innkeeper by Matt Stewart
Matt Stewart has an affinity for the Lord of the Rings, especially in his personal work, and this certainly feels as if the innkeeper of The Prancing Pony in Bree has visited Edgewall in Eldraine. The bar-back tells a medieval-esque story, and from the warm lantern-light that dances off his cheeks to the overflowing mugs of ale, we feel at home. A single hand invites the viewer to take a load off and join the patrons of the inn, and boy does it look cozy. Matt still has this painting, and it would make a charming addition to any wall.
Ardenvale Tactician by Jason Rainville
I adore the composition of this piece.
The parallel hard lines, especially as the work exists within the adventure frame, really make it stand out from the crowd, and draw the viewer's attention immediately that this soldier is important and to be noticed. We travel back the beak, up and around the soldier, and off the back of the eagle to read the image completely. The dusky sunset color and lighting is lovely and not something we often see.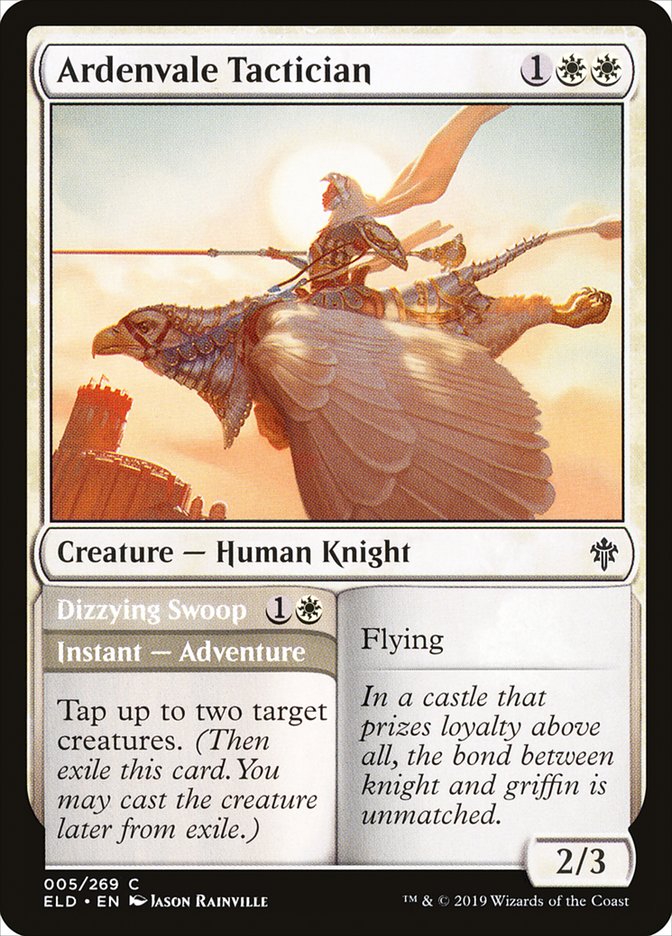 Rainville put together a great Twitter thread, from art description through process gif and detail shots, so please be sure and take a few minutes to explore his process.
Blow Your House Down by Jenn Ravenna
This is an exciting conceptual work by the ever fabulous Jenn Ravenna, taking the classic fairy tale trope of the Big Bad Wolf and creating something very new and exciting. Here we become the wind, the huff and the puff that blows the house down, and that very gust leads us through and across the artwork. We realize we may be in for more than we initially bargained from our increasing bigger and badder foe as the Wolf explodes from the tiny house below. I hope we get to see more abstract illustration from Jenn in the future.
Gadwick the Wizened by Colin Boyer
Colin Boyer is another new artist to Magic, and has already left his mark on both Eldraine and the larger game with his work for this set. Gadwick is the "Merlin" equivalent of this world, rendered in stark realism, as if he could be real; and deep mystery, as a Merlin-ous character should be. There is so much going on that you miss entirely at card size, from the melted wax pauldrons to his fur-lined cuffs. While I'm not sure what he might be reading from the flying book in the foreground, his concentration exudes confidence, a merit of unmistakable legendary power and a touch that makes this painting complete.
Oko, Thief of Crowns by Yongjae Choi
Yes, even the art article is going to talk about Oko. It's a great illustration, and I'd be remiss to not include him.
The Planeswalkers of Magic often have very similar compositions, as the frame and function of these very specific cards have an important role to fill. Oko is a bit different however, in that he is depicted here lying down, staring off into space, without a care in the world.  Knowing his character this nonchalance is perfectly fitting, and therefore nothing short of brilliant by Choi. It's a cutting-edge capture of the game's newest magical menace, and a brand new way to weave extreme characteristic and trait representation into an important artwork.
Escape to the Wilds by Chris Ostrowski
How cool and fitting is this—a portal, wreathed in flame, opening inside a castle to the forest outside? Ostrowski has captured the necessary dichotomy perfectly, making the inside of the castle as real as possible and at the same time seamlessly inserting a lush landscape directly into the center of the image. As if a swirling disk, the viewer's eye begins in the center, and as we zoom out we realize exactly what this is, and what's going on. It's hypnotizing and beautiful, a fitting addition to this illustration catalog.
Deafening Silence by Igor Kieryluk
This is a digital painting.
I know there is canvas texture clearly visible, but this work is still rendered entirely digitally. What we see is as if the sound, or in this case lack thereof, has shaken the paint right off the substrate. It's a seriously visually striking work as Kieryluk continues to push the envelope in his Magic illustration, both in terms of concept and render. It's the first time I can remember seeing the intentional replication of canvas digitally, but it's what makes this work say, "Wow."
It's The Sound of Silence indeed. [Ed. note: If you want to read an amazing short story that evokes a similar elemental coldness, may I suggest this?]
Grumgully, the Generous by Milivoj Ceran
Milivoj Ceran has become a regular addition to the list of Magic artists working on every set, and he's received his first legendary card for Throne of Eldraine!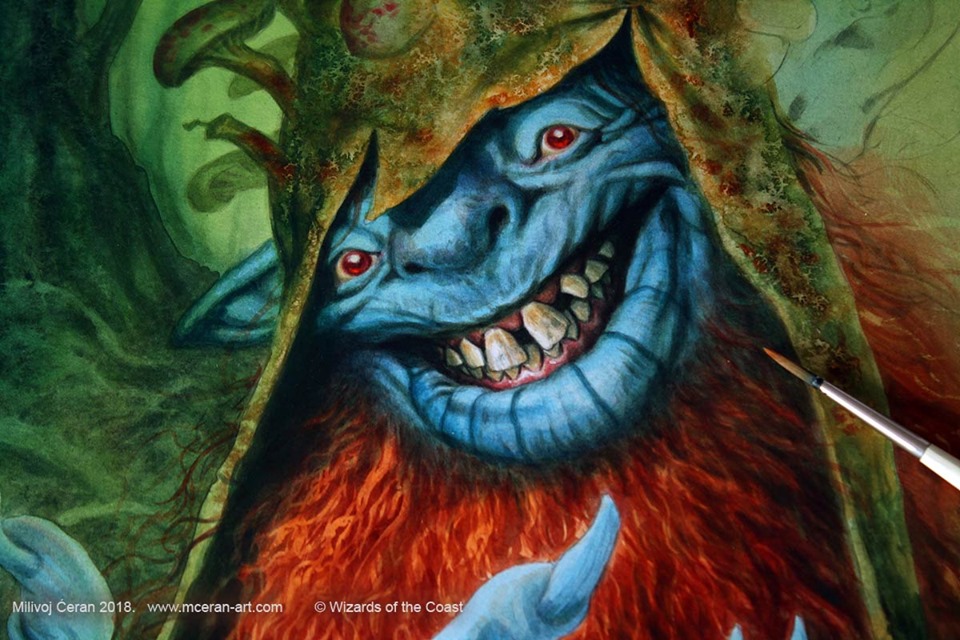 From the artist's sketch and preliminary work to the above zoom on the almost finished painting, we see just how much he poured his everything into getting Grumgully just right. It really comes through in the final, brilliant painting; he is whimsical yet unsettling, and a perfect depiction of what I would expect an Eldrainian Goblin Shaman of high rank to look like. Welcome to the legendary club, Milivoj!
Searing Barrage by Allen Williams
Allen Williams has returned to Magic after a half a decade hiatus, and it's exciting to see his name back on the bottom of a Magic card. He has brought the feeling of his incredible pencil and line-work with him, and we have a wonderful image on this red damage spell.
Bringing new meaning to the phrase "Into the belly of the beast," this bird's eye view is a perspective we don't often get in Magic illustration. An excellent representation of the relationship between the card ability and art depiction: we see five streams of fire (including the two fists), indicative of the five damage the card does, headed right down the gullet of this unknown monster. Will your everyday player count the damage points via the artwork? Probably not. But now you can, and have something fun to talk about after you play this card.
Gingerbrute by Vincent Proce
The same man that illustrated the wildly creepy body-pile known as Hogaak, Arisen Necropolis has returned with a less macabre but equally unsettling Gingerbread man come alive. Blasting through a window and across a pie to the chagrin of the elder in the cottage, our confectionary comrade has been let loose out into the world. His sunken, uneven eyes and drooling mouth are indicative his apparent mischief and madness, and translates perfect to the mayhem he causes in the game.
We can still hear the age old rhyme "Run, run, run, as fast as you can," but this time it's not about you catching him. This time it's him catching you.
Syr Gwyn, Hero of Ashvale by Lie Setiawan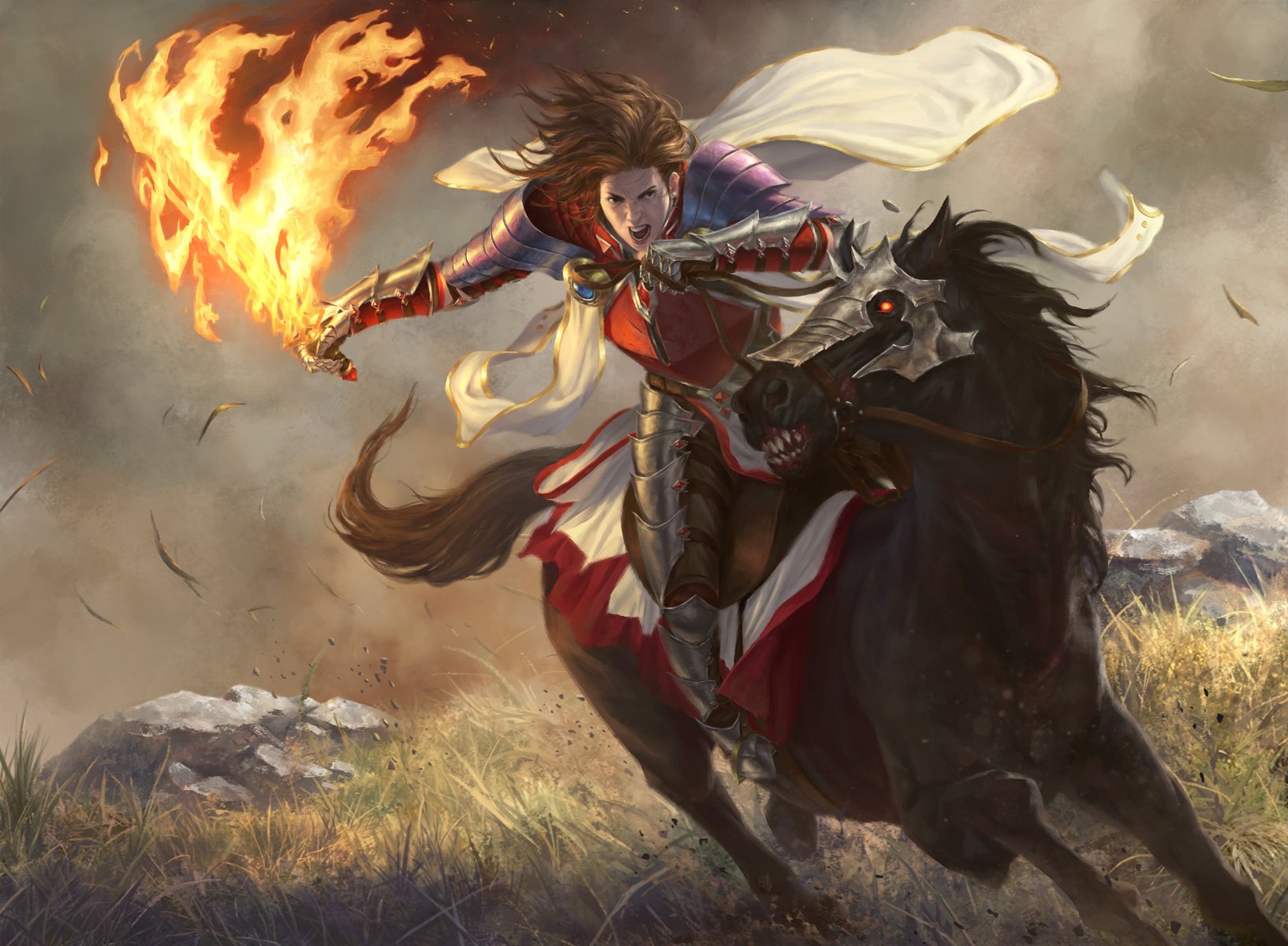 Lie Setiawan is yet another of Magic's brand new artists, having only illustrated one card in paper (plus a few Arena-only exclusives) prior to their work on Throne of Eldraine. This is a pre-constructed Brawl legend—read Kristen's examinations of the card in action—and this art is simply dynamic. There is such motion and feeling conveyed as our hero emerges from battle on her mount, a feel reminiscent of Lord of the Rings-esque fantasy cinema and exciting even at card size.
Syr Gwyn is going to be my Brawl Commander of choice for some time, and I can't wait to see this art every time I play her. Welcome to Magic, Lie; we can't wait to see what else you add to the game!
Wrapping Up
Phew! After six weeks and forty pieces of art, we've concluded our three volume set of Grand Art Tours for Throne of Eldraine. I stand by what I said in my first article: this is one of the most beautifully rendered and art-directed sets I can remember, and may be my favorite Magic expansion since I started playing back in 2002. The blend of fact, fiction, familiarity and fantasy is unparalleled, and makes this exceptional group of cards and art a high-note in Magic's 26-year history. I hope you all enjoyed this elongated visual journey, and I certainly enjoyed sharing these works with you.
Looking into the future, I'll have a full write up on Whimsy, Wonder & War: A Magic Art Show that just concluded last week at IX 12 in Reading, PA, a short break for Thanksgiving, and then we'll finish up the year with something a little different (it's a surprise!) and my annual Mirror Gallery Reflection looking back at all of 2019. Keep enjoying the magnificent art of Throne of Eldraine while we have it in the spotlight, and I'll see you again real soon.
Donny Caltrider has been playing Magic since 2002 and collecting original Magic art since 2017. He has an M.A. in Museum Studies from Johns Hopkins University and enjoys telling stories about art, objects, and the intersection of fantasy with real-life. You can find him on Twitter talking about #mtgart, museums, and other #vorthos related goodness. Follow along and continue the conversation!