It's been a long time since we've done one of these full set common reviews. War of the Spark looks sweet, so here we go!
Editor's Note: Don't miss Part 2!
I'm using a different kind of scale than folks might be used to. I have the full spectrum of letter grades, but I'm only applying the scale to commons—powerful uncommons, rares, and mythics go off the scale. Normally, an A or a 5.0 refers to incedibly powerful, mythic rare bombs. Here, it refers to the best commons of the set. I'm about to define our metrics, but I want to make all of this abundantly clear. I'll also avoid using pluses and minuses to keep from splitting hairs where possible. And now, our scale!
A: One of the best commons in the set. These are first-pickable.
B: A high quality common, it should almost always make your deck (if it's in your colors) and sends a strong signal that this color is open. This can also include powerful, archetype-specific cards that don't go into every deck of this color.
C: A fine common. These includes most creatures with decent stats, serviceable removal spells, and some of the better combat tricks.
D: A fine, but lower-tier common. This category tends to include most combat tricks and most serviceable creatures (combat tricks always compete for space with creatures and removal, so I rate them lower), as well as cards that can be strong out of the sideboard.
F: You'd really prefer these cards not to go into your deck. This includes very low-power cards and cards that in very specific archetypes might have a role to play. Maybe.
Before we begin, let's acknowledge the obvious: I am fallible and have biases. I've played a lot of Limited over the years, but am ultimately evaluating cards based on guesses about what the format will be like and data on how comparable cards have performed in the past. Sometimes, I've been spot-on with these guesses (Nessian Asp being awesome was a pretty fun debate to have), and sometimes I've been really wrong (I told the last Community Cup team that Sheer Drop was outstanding).
War of the Spark is a particularly difficult set to evaluate. The power level across all rarities seems unusually high, likely to offset the power proffered by plentiful Planeswalkers, which are appearing in orders of magnitude higher volume than ever before. Planeswalkers effectively increase players' life totals by virtue of (almost always) needing to be answered. This in turn increases the value of both evasion (for bypassing defenses when attacking Planeswalkers) and defense (that ideally your opponents can't easily bypass).
Planeswalkers lower the value of traditional card advantage outlets (because Planeswalkers can do that for you) and hinder traditional aggro (because Planeswalkers inflate life totals). There's the question of whether this format is about sticking a Planeswalker and riding that snowball of advantage to victory, grinding out value over time, or using high power creatures to ignore the slower, more expensive value proffered by Planeswalkers. Finally, with so many uncommon Planeswalkers costing four mana, two- and three-drop creatures get a bit better (since you can use them to protect or pressure Planeswalkers) and more expensive cards get a bit worse (since they're competing with your Planeswalkers on curve or come down after your opponent's Planeswalkers).
Only time and actual playtesting will tell the speed of the format, but I'm super excited to speculate and hit the ground running once the set comes out.
With that said, let's begin!
White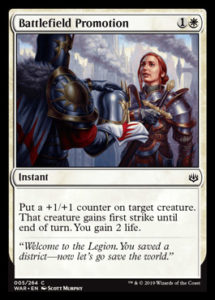 Battlefield Promotion is a pretty complicated combat trick and card design, doing two complementary buffs and some unrelated lifegain. It also has synergy with the pseudo-Prowess creatures in Jeskai. When you get someone with this, you'll be pretty delighted, but it's no Feat of Resistance.
Grade: D
Bulwark Giant has a much better ability than Watchful Giant, but six mana is still a lot to ask, even more so for a 3/6. You can bring this out of the board against aggressive, ground-based decks to stabilize behind. But again, six mana is a lot.
Grade: D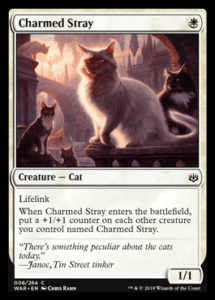 Trained Caracal has a small upgrade, but no longer has Ethereal Armor to turn into Baneslayer Angel. Once in every nine lives, you'll manage to get nine of these in draft and in your first four turns and you'll look like a god (probably Oketra), but that's probably not gonna happen.
Grade: F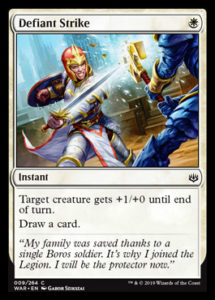 Defiant Strike was mediocre in Khans of Tarkir, when Prowess was a major mechanic. Sure, you're cantripping, but this takes up a spell slot in your deck and doesn't help you do what combat tricks are supposed to do—win combat. This can do cool things with those Jeskai pseudo-Prowess and Heroic creatures, but you can put better spells in your deck by putting most any other spells in instead.
Grade: F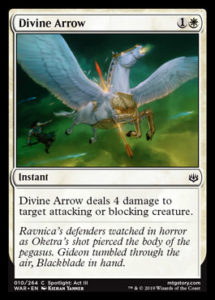 This effect is always deceptive. Gideon's Reproach was only a serviceable removal spell. You have to hold up mana and have your opponent cooperate for this to work. This will make your deck most of the time, but it's easy to get punished for playing multiples or taking them early.
Grade: C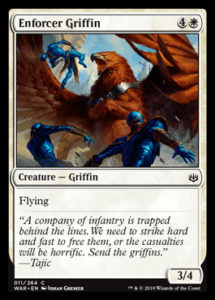 Once upon a time, a 3/4 flying for five mana would be a contender for best common creature. Today, you need a format like GRN with smaller creatures and to staple additional value on for a Watcher in the Mist to be good. Creatures are better now. Enforcer Griffin is a fine playable, but likely not amazing.
Grade: C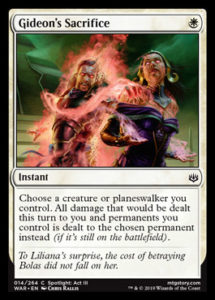 This is a weird card to evaluate. In the best case scenario, you turn a messy combat where tons of creatures are supposed to trade into a two-for-something. But you need to finagle that precise situation into happening, and most of the time this won't do what you want. It's like a Fling that requires your opponent's cooperation to function.
It's a great story moment, though.
Grade: F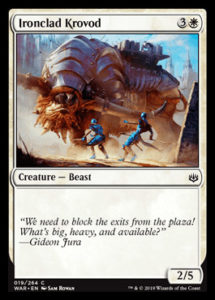 This is what happens when you put armor on a Pillarfield Ox, or summon Dutiful Servants. You get a fine blocker and nothing more.
Grade: D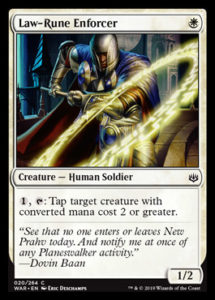 So far, white's commons have been pretty anemic, but here we've got a Master Decoy! The CMC restriction is mostly there to keep you from stopping Bolas's zombie army tokens and from tapping down opposing Law-Rune Enforcers, but this card is the real deal. It's effective creature removal that can also tap down two blockers on the pivotal turn (one during your opponent's end step, one during your turn before you attack).
Grade: A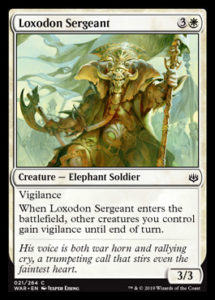 Hill Giants come with upside nowadays; but they're still not very strong, and vigilance is a lot less impactful than Civic Stalwart's buff.
Grade: D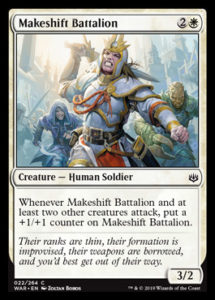 Yep, the battalion's got Battalion. This isn't the easiest hoop to jump through, but a single counter means a lot (especially when paired with Proliferate cards, especially at instant speed). Thanks to a certain upcoming pegasus, this 3/2 for three mana could do some serious damage.
Grade: C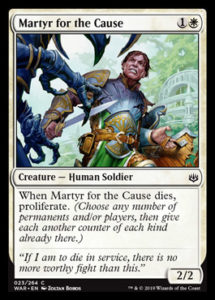 A 2/2 for two mana isn't the most exciting thing in the world, but cheap creatures can pressure Planeswalkers. Its death trigger often means you'll be able to squeeze an additional use out of your own 'walkers as well.
Grade: B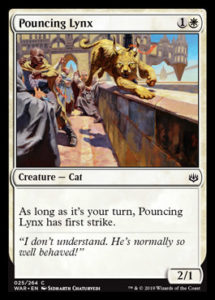 Fresh-Faced Recruit was a strong card in GRN. Pouncing Lynx is harder to cast and lacks Mentor to really make it sing. Those factors make it much weaker against 1/3s and 2/3s. It can pressure Planeswalkers, but I fear that 2/1 first strikes need more help to do work than they used to. Or this could be a top tier aggressive common, especially when backed up by cards like Battlefield Promotion. Time will tell, but I'm bearish on this kitty.
Grade: C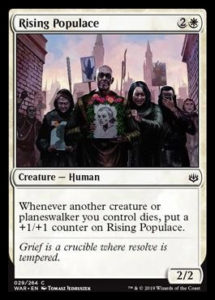 This mournful crowd is much better than an Unruly Mob, since it only needs a single counter to have good stats. And once you've got that first counter, you can Proliferate your population for profit.
Grade: B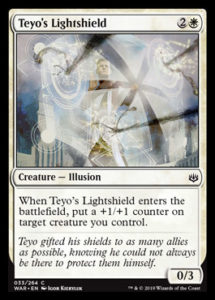 This looks like a 0/3, which is a terrible creature, but it's actually a Horned Turtle that you can Proliferate. It's nothing particularly stellar, but it can protect your Planeswalkers and set up Proliferate well.
Grade: C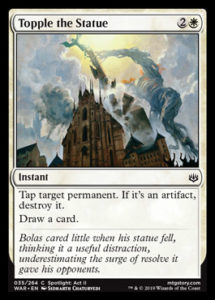 The Ice half of Fire // Ice is a real card because it always cycles and can disrupt your opponent's mana. Increasing the mana cost by 50% and losing the ability to cast Fire is not offset by the value of blowing up a random artifact (there are only seven in the set), but this can blunt your opponent's defense or mana for a turn. Sure, it's still a non-creature, non-removal spell, but you can do worse than a cantrip that always does something.
Grade: D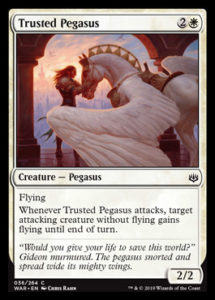 Pegasus Courser was the best white common in Dominaria. It was so good that Roc Charger was an uncommon in Guilds of Ravnica. Now it's back, has even better aggressive stats (though it's more likely to trade in combat, like its forebear Aerial Guide), and ready to SMASH.
Grade: A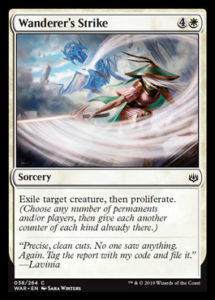 Spread the Sickness existed in an era where creatures were a bit weaker than they are today, and common removal was a bit stronger. Five mana is a lot to pay when three-mana creatures are threats. That said, Proliferate is a lot more powerful when it's magnifying your +1/+1 and loyalty counters, rather than compounding your opponent's -1/-1 counters. Killing anything and even getting a single +1/+1 counter is a fine deal for five mana. I think Trusted Pegasus is a stronger card, but Wanderer's Strike remains a high quality common.
Grade: A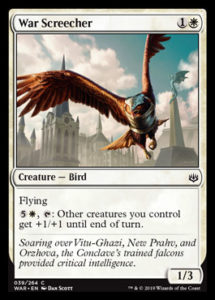 Concordia Pegasus is a weak card. But War Screecher has several upsides. It pecks away at Planeswalkers while defending your own. It sets up Battalion for Makeshift Battalion. And when the board stalls out and you've got mana to spare, it functions as an anthem on demand. That's a lot of function packed into one card, and I wouldn't be surprised if this bird is the word.
Grade: B
Top 3 White Commons:
White seems a bit all over the place in this set. It has two stellar removal spells and one amazing pegasus which functions like removal, but then the quality of common creatures falls off pretty quickly. White looks to be more of a support or aggro color, rather than a flexible or top tier color.
Blue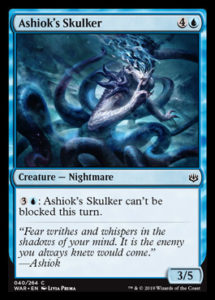 This looks like a solid role-player. Thraben Purebloods isn't an exciting Magic card, but doing a Creeping Tar Pit impression to pressure Planeswalkers or opponents is decidedly solid. I don't imagine picking these too highly, but I can imagine them putting in some good work.
Grade: C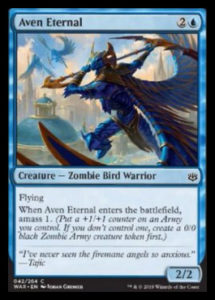 It's been a long time since Wind Drake was a good card in Limited. In fact, we wrote about that almost two years ago. But this isn't Wind Drake, this is Eldrazi Skyspawner. It's three power for 2U, which is a very good rate (and an amazing rate for blue). It gives you an upfront threat and helps start or progress your zombie army, something blue cares about when paired with black, red, (the two Amass colors) and green (the other Proliferate color).
Grade: A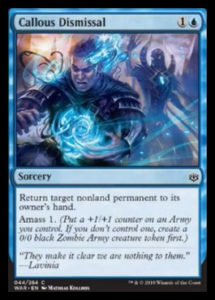 Void Snare tends to be bad in Limited. You can't use it to punish combat tricks, save your creatures from removal, or wait until your opponent makes a choice. But this is actually mini Man-o'-War. I'd play a 1/1 for 1U that bounces an opponent's permanent, where that 1/1 is sometimes turning my 3/3 into a 4/4. Moreover, there is a U/R spells-Amass archetype in which this is sure to be the crux. I can envision this card being dismissed as actual chaff, but I wouldn't be surprised if we find it's amazing at voyage's end.
Grade: A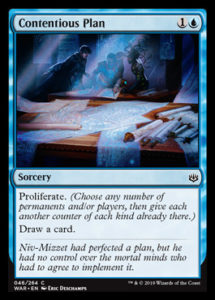 I imagine this will be one of the most contentious commons in the set. Steady Progress was not stellar, but this costs less and can squeeze out an extra activation from most uncommon Planeswalkers. Sure, it's much harder to get +1/+1 counters on creatures than it was in MMA2015, but cycling for 1U isn't the worst. I imagine that in U/G and U/R, this could put in some serious work, but I worry that it's a cantrip that only justifies itself once you've hit the later game. I'm ready to eat crow, but I expect this to be more dud than powerhouse.
Grade: D
Summoner's Bane is not a great spell, and trading Essence Scatter for Miscalculation is more of a lateral shift than an upgrade. Countermagic is better than normal because it's the only way to prevent your opponent from accruing value from a resolved Planeswalker, but four mana is a ton to hold up.
Grade: D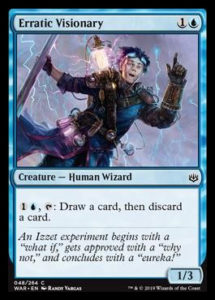 Whoah. Research Assistant got good. This card blocks for your Planeswalkers and quickly becomes a card quality engine. Sure, it's not Merfolk Looter, but that's a great card to even be in the same conversation as. I wouldn't be surprised if this ends up being one of blue's best commons.
Grade: B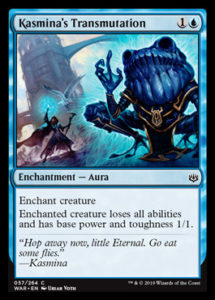 Time and time again, we've seen blue removal spells like Reduce in Stature fail to function because they cost too much and leave abilities intact. Then we got Deep Freeze. Kasmina's Transmutation is the cheapest we've seen this effect. While it's still worse than Pacifism and it upgrades zombie army tokens, it still is a two-mana answers to large and powerful creatures. It also deals with the mythic Gods, if that's something you need to do.
Grade: B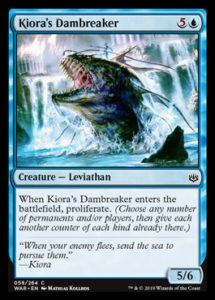 This is a lot of mana for a lot of effect. I'm much more excited to cast this than Bulwark Giant. It's still a six drop, and those are easy to overload on, but you can do worse than this. And if you set this up well, it can represent much more than just five power.
Grade: D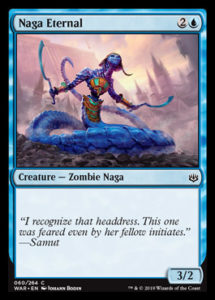 This Naga was feared by her fellow initiates, but few others. A vanilla 3/2 for three mana is weak, and it's in a color which tends not to be great at applying pressure (on the ground) or buffing its creatures. This isn't unplayable, but it's a bottom of the barrel quality common.
Grade: F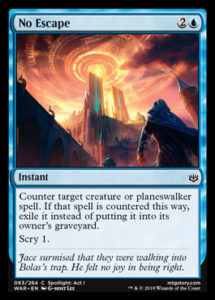 You don't want to Crush Dissent. You want your enemies to have No Escape whatsoever. This is how you stop your opponents from getting value off their Planeswalkers while holding up mana for your Erratic Visionary (which will then protect the Planeswalker you deploy after countering theirs).
Grade: C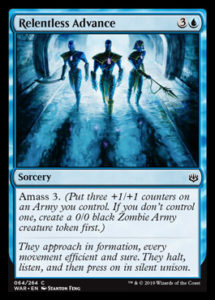 In most cases this will be a Hill Giant, and that doesn't cut the mustard. Sometimes, if you're not playing white, you can use Amass or Proliferate or Amass-Spells matter shenanigans to make this card more than the sum of its parts. Other times, you'll be forced to play this Hill Giant as a Divine Transformation and get two-for-oned.
Grade: D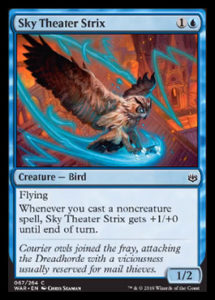 This is a glorified Storm Crow, but with none of the memes. Prowess proved to be a weak ability, and this doesn't even get the toughness boost that could lead to a blowout mid-combat. I can see this functioning in a U/R spells deck, but it does so little.
Grade: D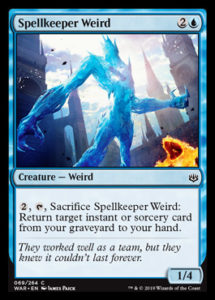 Spell recursion effects and Horned Turtles tend to be serviceable at best. But stick them together in a format with powerful removal spells and Planeswalkers worth protecting and you get more than the sum of its parts. This comes down before the critical turn four (when Planeswalkers come down) to block effectively. Then, when the game has gone on, you can cash it in for the best spell you've cast. That's none too shabby.
Grade: C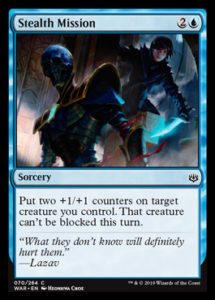 Stealth Mission is a hard card to evaluate. On the one hand, it's basically an aura, and those are generally bad. On the other hand, One With the Wind was very powerful, but that was thanks to low powered creatures and removal. My gut says that this effect isn't good; but given that blue seems able to play tempo, this has the potential to get in for a lot of damage. Even if it doesn't allow a lethal swing, it might force a two-for-one the following turn in the form of a double block.
Grade: D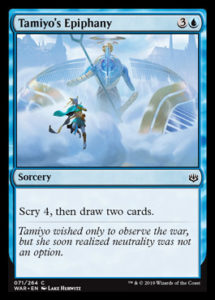 Holy crap, it's Foresee! That card is broken. Yes, creatures are better now than they were in 2011 and 2007, but this is still a huge amount of value. Yes, this is fighting with Planeswalkers both for the four mana slot and the card advantage engine function, which weaken its standing, but value.
Grade: C (but it's a B in my heart)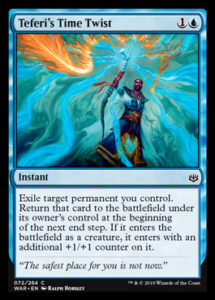 I love that Teferi's signature spell communicates his silly, Dad joke-y personality. This spell has a lot of play to it, like saving and resetting your Planeswalkers or buffing your creatures while setting them up to be Proliferated. But, it still is a noncreature, nonremoval spell that requires setup, and it's really hard for such spells to pull themselves out of D territory.
Grade: D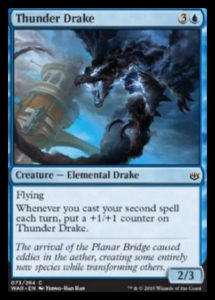 I wish this were called Surge Drake. This isn't the easiest condition to trigger, but someone is going to live the dream scenario of playing this on six and then immediately casting Contentious Plan. The fail case of a 2/3 flying for four mana isn't the worse; it still has evasion, and triggering it even a single time makes it a real threat. I suspect this is gonna be good, but it might also make for some awkward decks with Defiant Strikes that only work with a small number of their cards.
Grade: B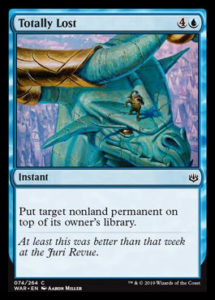 This spell is always solid and rarely great. It's card advantage neutral, tempo positive, and mana taxing.
Grade: C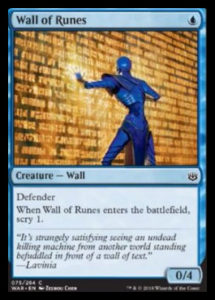 Don't be tricked by this glorified Barrier of Bones. You can deploy it early to protect your Planeswalkers post-board, but its inability to do anything else means you need some incredibly powerful Planeswalkers to justify such a weak card.
Grade: F
Top 3 Blue Commons:
1. Aven Eternal
Blue seems incredibly deep (which has also been the case for GRN and RNA). It has an abundance of removal, including multiple tempo spells that don't incur card disadvantage. It supports aggressive, evasive, and Amass strategies while also providing powerful card advantage and one of the largest common creatures. I haven't gotten to the other three colors yet, but blue is already in very strong position.
Black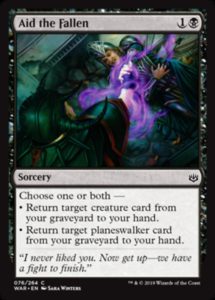 We've seen card advantage recursion effects like this before. Remember the Fallen is the closest analogue in name and function, black had Fortuitious Find, and there was Reviving Melody. These cards were generally was fine, but not superb—even in formats with artifact and enchantment creatures, it wasn't easy to get a satisfying two-for-one from these effects, and paying three mana to recur a single card is subpar. Aid the Fallen has two enormous advantages, however: Planeswalkers are really powerful to recur, and it costs only two mana (which is potentially a gamechanger). I'm not ready to call this card great just yet, but it could be the exact Divination you want in a grindy format.
Grade: C (which is high for a noncreature, nonremoval spell in my book)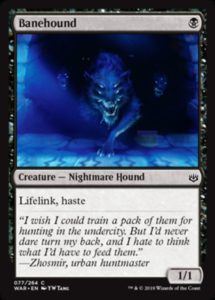 It's hard for one-mana 1/1s to be good, and this dog is unlikely to have its day. Black has no ability to put +1/+1 counters on creatures (except by Amassing) or Proliferate at common, making it hard for this to do anything. Maybe there's a hyperaggro deck where this becomes a key piece for racing, but I really doubt it.
Grade: F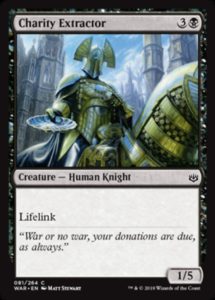 This is a fine defensive creature. It blocks most things, protects your Planeswalkers, and helps slow the game down. If there were lifegain synergies, it might get a higher grade, but it's merely serviceable as is.
Grade: D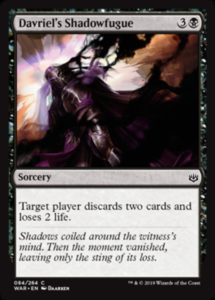 Mental Agony is not a good card. Sure, discard is a nice preemptive answer to Planeswalkers, but four mana is too slow to make things awkward for your opponent. This card might have a place out of the sideboard, but Davriel's signature spell is much, much worse than Davriel himself. (But see Witness the End in Oath of the Gatewatch, which Carrie says was pretty good.)
Grade: F
Duskmantle Operative is weaker than white's bear, Martyr for the Cause. Its ability seems weak (and likely is), but against a red/green deck, it avoids several common creatures. I'm still optimistic about cheap threats (that aren't easily blanked like Banehound) and evasive threats (which this only vaguely is). I don't think she's anything special, but I could see her being an essential piece of the curve in a format defined by protecting and pressuring Planeswalkers.
Grade: C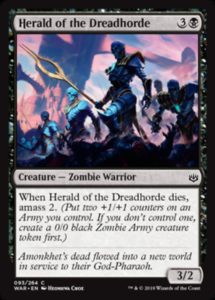 Undead Servant isn't a spectacular card. Sure, it offers card advantage; but you're overpaying for a 3/2 (which is already subpar) and you need to work to get your advantage, which is just a slightly weaker creature. Herald of the Dreadhorde is a bit different, however, because Amass is complicated. Making a 2/2 isn't great, but upgrading a 2/2 into a 4/4 is a big deal. I'm going to give this one a middling grade and not be surprised if it's too expensive to be particularly playable or if it's a good source of value and pressure.
Grade: C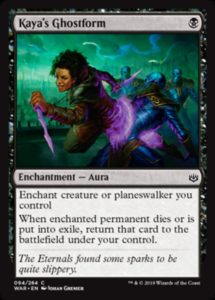 The only time these effects are good is when you can put them on an opponent's creature and steal it after death. Even then, they're mediocre. This is definitely the cheapest we've seen this proactive protection, but it's still risky card disadvantage for no payoff. Just play Aid the Fallen instead.
Grade: F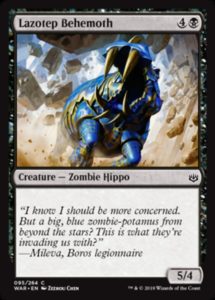 This is a solid beater. Sure, it doesn't have any abilities, but just look at the flavor text! This is a wall of stats that will probably make your deck a decent amount of the time, and is substantially bigger than all of black's other (reasonable) options at common.
Grade: C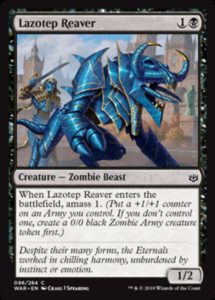 A two mana 2/3 is a fine creature at common, but this is more Gather the Townsfolk than it is Elvish Warrior. For this to be good, you want to have a lot of Amass, Proliferate, or value-sacrifice effects. Perhaps there'll be enough that this is good in a majority of black decks, but I expect more from two drops.
Grade: D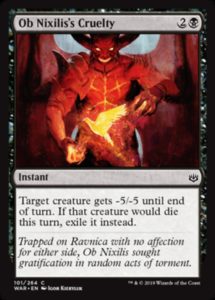 And here we have a candidate for best common in the set. Apparently, Ob Nixilis uses primo quality kill spells when taking down birds (and is far more deadly when not touching something with his Demon's Grasp). This is way above the power level we normally see of common kill spells—it's efficient, instant-speed, and kills almost everything.
Grade: A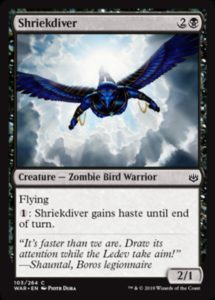 We're three colors down and now have our third twist on Wind Drake. This is definitely the worst of the bunch, but conditional haste makes it so your opponents can never be too confident of the safety of their Planeswalkers and life totals. One toughness is unfortunate when there are several common fliers with three or more toughness, but it'll still do good work.
Grade: B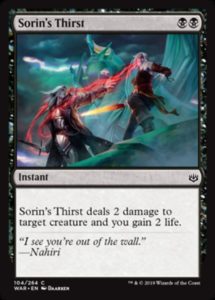 Double black isn't as easy a hoop to jump through as it looks, and this can't kill everything, but Shock with upside is still a solid card. There is a universe where everyone's going big and this gets sideboarded out. But given that it kills all these Wind Drakes, I imagine you'll be delighted to have the first copy.
Grade: B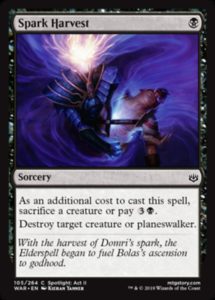 Bone Splinters is not a good card. Even if you can provide sacrifice fodder, you're still trading 1.5-for-1 at sorcery speed. This being able to kill a Planeswalker is pretty good, since otherwise you might need to effectively sacrifice several creatures in combat to swarm the 'walker down. However, this card is also 3BB: Hero's Downfall (a card I really expected to be in the set). That's a pretty fair removal spell nowadays, even if it's nothing to write home about. This flexibility pushes it up pretty high in my estimation. While it's no Ob Nixilis's Cruelty, I think it's closer to that than Sorin's Thirst.
Grade: A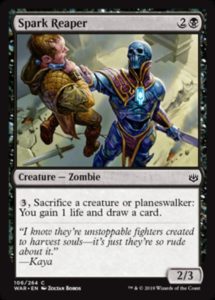 Three is a lot of mana to hold up in response to a removal spell, but we basically never see card advantage engines like Vampiric Rites at common, and certainly not stapled to a reasonable body. This blocks for you in the early game and lets you cash in irrelevant creatures and spent (or doomed) Planeswalkers for values when it's not making your opponent's removal awkward. There's a lot of play to this card and I'm excited to see it in action.
Grade: B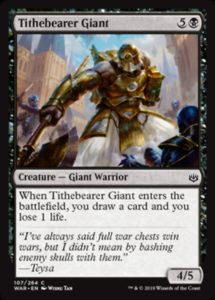 Phyrexian Ragers never stop growing and eventually become these big things. I can imagine a world where the format is slow and chaining these into each other is a recipe for success. I suspect that instead these are too expensive and small (for their size) to be much good.
Grade: D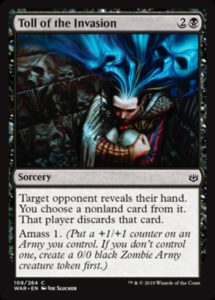 Coercion is usually an awful card in Limited, only coming out of the sideboard when you have a bomb you really, really need to be beat. Toll of the Invasion has two factors working in its favor: you can cast it right before the critical fourth turn (when most uncommon Planeswalkers show up), and it provides a body. It's still an awful topdeck, but it at least does something even if your opponent has nothing to take, and it could be a big player in U/B proliferate. I'm giving this one the benefit of the doubt.
Grade: C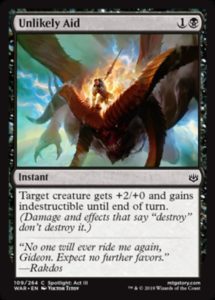 Supernatural Stamina is a decent combat trick at half the cost of Unlikely Aid. I'm not too excited about this, mostly because black already has so many good removal options, partly because black's creatures aren't that stellar, and finally because this isn't that much bang for your buck. Rush of Vitality was a fine card, but it did three different things and in a format often defined by racing. Combat tricks are worse when card advantage rules.
Grade: D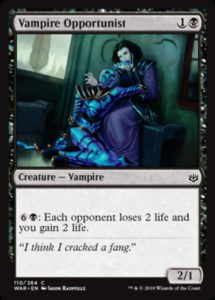 Bloodrite Invoker's younger cousin isn't afraid to bite metal or be silly. I don't think this card is particularly strong, but it is relevant in both the early and late game. She's much, much worse than Scholar of Athreos in both stats and the ability's cost, but she can function as both early pressure and the last finisher.
Grade: C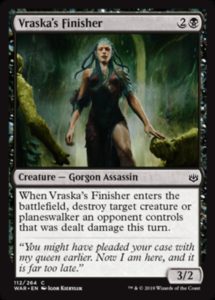 Generally, Orzhov Euthanist effects are worse than they look. For the ability to function, you need your opponent to cooperate in combat by blocking the way you want, or to spend a card dealing direct damage. Both of those make the effect card advantage neutral outside of the rare time you get to plink a Planeswalker or have two creatures bounce off of each other. The different here is you're not getting a Gray Ogre. A 3/2 is a huge improvement. While it's not something you're excited to cast without the value, it's enough of a threat that it'll likely be relevant all of the time.
Grade: B
Top 3 Black Commons:
Black has both more and more quality removal than it's gotten in a long time. Unsurprisingly, many of its common creatures are less than stellar to compensate. I'm not sure whether Vraska's Finisher or Spark Harvester ought to bump out Sorin's Thirst from the third slot, but black really lacks many good ways to apply pressure to start Amassing at common. There's power here, but I worry that black is going to need to lean on other colors (or higher rarity cards) to have sufficient threats or shenanigans.
We'll take a break here, but join us next time for the conclusion as we hit red, green, and colorless cards!
And, as always, thanks for reading!
—Zachary Barash is a New York City-based game designer and the commissioner of Team Draft League. He designs for Kingdom Death: Monster, has a Game Design MFA from the NYU Game Center, and does freelance game design. When the stars align, he streams Magic.
His favorite card of the month is Conviction. While initially designed as an aura that wasn't nigh-guaranteed card advantage, it's proven far more flexible over a decade later in sets like Aether Revolt (where it enabled Revolt) and Ultimate Masters (where it was quite strong alongside Heroic).