Last time, we reviewed every white, blue, and black common. Today, we're here to finish off the rest of the commons in War of the Spark. As a reminder, here are our metrics:
A: One of the best commons in the set. These are first-pickable.
B: A high quality common, it should almost always make your deck (if it's in your colors) and sends a strong signal that this color is open. This can also include powerful, archetype-specific cards that don't go into every deck of this color.
C: A fine common. These includes most creatures with decent stats, serviceable removal spells, and some of the better combat tricks.
D: A fine, but lower tier common. This category tends to include most combat tricks and most serviceable creatures (combat tricks always compete for space with creatures and removal, so I rate them lower), as well as cards that can be strong out of the sideboard.
F: You'd really prefer these cards not to go into your deck. This includes very low power cards and cards that in very specific archetypes might have a role to play. Maybe.
With that said, let's get to the cards!
Red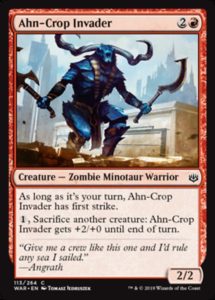 Thorned Moloch is back and this time it looks like Burning-Fist Minotaur. This creature has a high ceiling in that it can be a huge Fireball, but it requires a hefty investment of resources and risks getting blown out by a Sorin's Thirst. I think it isn't amazing, since you need to feed it resources for it to function. That said, a 4/2 first striker is likely to eat whatever your opponent blocks it with and a 2/2 first striker doesn't need to be fed to deal with small creatures.
Grade: C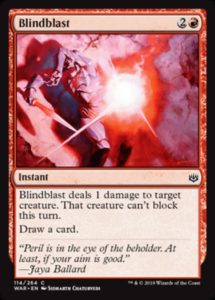 Zap and Stun aren't great cards, but combining them with no increase in cost can't make them worse. This will feel amazing when it picks off a one-toughness creature, getting in the final point of damage post-combat, or knocking out a blocker between you and a Planeswalker; but it suffers from being a lot of mana for a minor effect.
Grade: D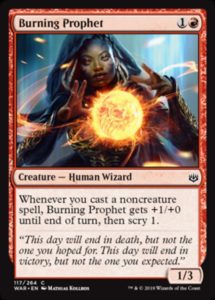 This style of card has generally been underwhelming. Nimble-Blade Khenra, Sanguinary Mage, and Jeskai Student were playable at best. Elusive Spellfist was much better, since a single trigger had a more dramatic effect. Burning Prophet seems more in the latter category than the former, since adding Scry 1 to instants and sorceries you already want to play is pretty valuable. It's dangerous to build an entire deck around the minor power boost of this and Sky Theater Strix, but it's a fine blocker than can help smooth your draws in the midgame.
Grade: C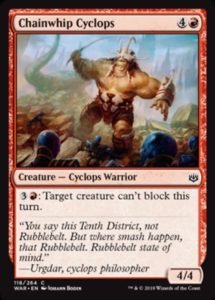 A five-mana 4/4 isn't exactly stellar, as is paying four to keep a creature from blocking (though such a repeatable effect isn't often done at common). However, stapling them together produces a serviceable curve topper that can make blocking really difficult for your opponent. This isn't an aggro all-star, since it's slow and inefficient, but you can use it to finish the game or turn board stalls into awkward races for your opponent.
Grade: C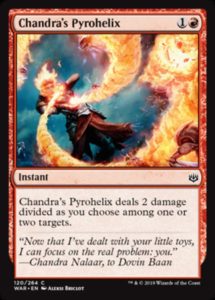 Back from Kaladesh, Chandra's Pyrohelix is still solid. It's definitely better than Sorin's Thirst as it's both more castable and can finish off Planeswalkers (and is particularly nice against Vraska, Swarm's Eminence). You'll always play the first of these and probably be happy with a second copy.
Grade: B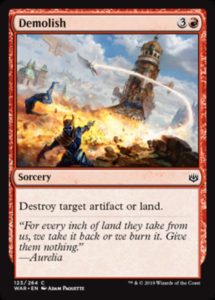 Demolish was an awful but sometimes necessary sideboard card in Ixalan, thanks to the powerful transforming lands (many of which started life as artifacts). Here, it's just awful.
Grade: F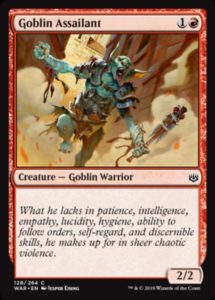 I know I've been talking about the value of two drops in a format rife with four mana Planeswalkers, but this is scraping the bottom of the barrel. Even black's bear gets a mild form of evasion. I suspect this might be an important role-player given how important curving out is to aggro and that Raging Kronch really needs a two mana friend, but this could also be a harbinger of red's low aggressive potential.
Grade: D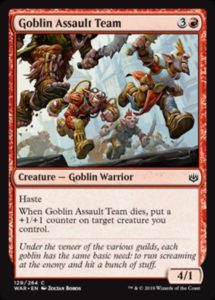 Lightning Elemental isn't a very strong card, but give it added value and put it into a format with Planeswalkers you need to pressure and the ceiling gets quite a bit higher.
Grade: C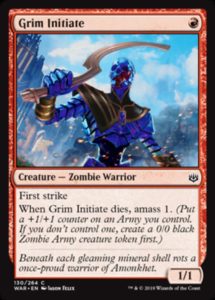 1/1s for one are generally terrible, unless they're something like Doomed Traveler. Grim Initiate could be an important component of the B/R Amass deck, but the token it produces is worse than Doomed Traveler's (and Doomed Traveler had the benefit of human tribal, spirit tribal, and sacrifice-matters). This could also be the first threat from a red aggressive deck, but the lack of a Trumpet Blast effect furthers my suspicion that red aggro will be good only when players commit to durdling, rather than on its own strengths.
Grade: D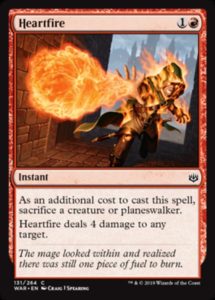 Fiery Conclusion is an okay card that's awful in multiples. Heartfire can hit enemy Planeswalkers and finish off your opponent, which more than compensates for it loses a point of damage, making it more of a Fling than a Bone Splinters. This is going to be great when it's in response to a removal spell or your opponent making a wide attack against one of your Planeswalkers (who you can then sacrifice in response), but it's still at best a two-for-one. Then again, four is a lot of damage, and some decks will have ample sacrifice fodder.
Grade: B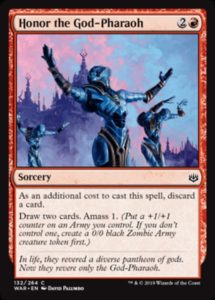 This is somewhere between Viashino Racketeer and Tormenting Voice. The former has better stats and worse card flow, and is a weak card. The latter is also weak in Limited, but it's playable. This could be a key component of the Izzet spells deck we keep talking about; but it's not a very powerful spell on its own, and it's very difficult to get value from the discard. I could see this getting a lot better in a shenanigans Amass/spells deck, but it seems too weak and expensive to be good elsewhere.
Grade: D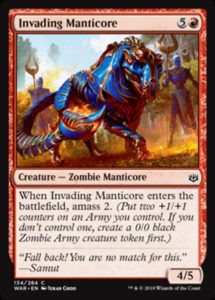 This is a huge amount of stats for red to be getting at common. For those stats to matter, you basically need to adding counters to a Zombie Army, rather than making a 2/2. In a deck with sufficient Amass, this being six mana for a 4/5 with a 4/4 haste is pretty solid. In a deck without sufficient Amass, this card seems barely playable.
Grade: C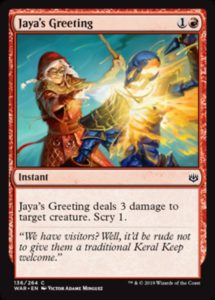 As with Ob Nixilis's Cruelty, this is one of the strongest common removal spells seen in the past decade. I was expecting a Lightning Strike, not a super Magma Jet (that yes, only hits creatures, but that's the most common target for burn in Limited). I love that Jaya gets to steal the spotlight and show everyone just how good burn was back in the '90s. There's real competition between this and ol' Ob Nob's spell for best common the set, and I'm inclined to give this the nudge for its cheaper cost and added value.
Grade: A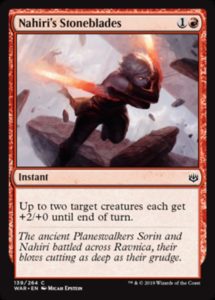 Either Nahiri outright stole this spell from Lorwyn, or Blades of Velis Vel is inspired by her. This looks like a four damage burn spell, but in the absence of an effect like Heroic (which, yes, is on a single Boros uncommon), this is the kind of combat trick that tends to be a one-for-two. In an aggressive deck, this could be the Trumpet Blast you need, but most of the time, it's just not good enough.
Grade: F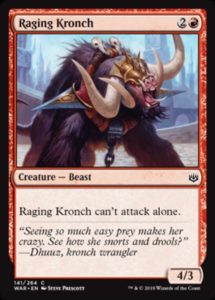 I was initially so distracted by how silly and gross-sounding this thing's name is that I thought it was just another Ember Beast—weaker than it looks because of vulnerable it is to destruction. But it can block alone, and that's a huge deal! Wojek Bodyguard was outstanding, but a timely bounce spell would make it unable to do anything for an entire turn cycle. Raging Kronch is solid on defense and outstanding when it does get to go on offensive.
Grade: B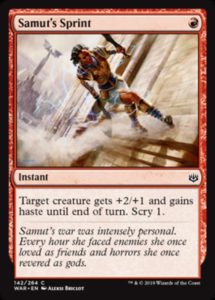 I really like combat tricks that squeeze every bit of value out of the one mana they cost, and Samut's Sprint is up there. Surprise haste makes it so your opponent's Planeswalkers are never too safe, and the Scry 1 makes it so trading up in combat with this will feel amazing. The only problem is that +2/+1 just isn't that big of a buff—it probably won't keep your creature for trading, and then you're trading card flow for card advantage. There are some decks that can take advantage of this effect, but most red decks probably won't.
Grade: D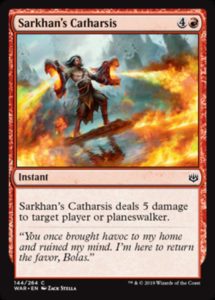 This is one of the best Lava Axes ever. It's instant-speed and can tag Planeswalkers, just like Lava Axe used to be able to. Unfortunately, it still costs a lot of mana and only really matters if you're actually killing your opponent with it. Furthermore, it's fighting with Heartflame, which is both more flexible in effect and efficient in cost. This will make decks and it will kill people, but a lot of the time, it'll read, "4R: discard this card."
Grade: D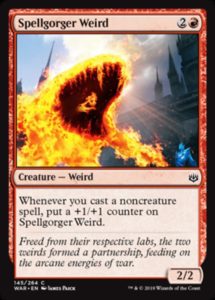 Pyre Hound is a strong card in the right deck, but you really need to pump it twice to get good stats for your investment. Spellgorger Weird only needs a single spell to start the party, and if that spell is Contentious Plan, you're going to be very happy indeed.
This card makes red's mediocre spells much better, and since there are so many of them and so few payoffs like this, you should prioritize Spellgorger Weirds and happily play whatever playable spells come around. I think this card is the real deal, and that's especially important considering how weak so many of red's common creatures seem to be. I'm bumping this up an entire letter grade just based on how high its quality seems to be relative to red's other creatures. Of course, I could be wrong, but sometimes you just have to bet big.
Grade: A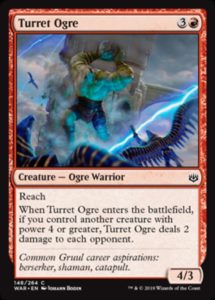 Once upon a time, Skyraker Giant was a solid uncommon. This is a big, splashable threat that puts Giant Spider to shame. It's costed to both pressure and protect Planeswalkers, and effectively stymies both white and blue's best common creatures (as well as almost all red creatures). This could well be better than Spellgorger Weird, since it should be good in every red deck. Oh, and it even Shocks your opponent sometimes, because why not?
Grade: A
Top 3 Red Commons
3. Turret Ogre
Red is a bit all over the place. It has one outstanding common removal spell, two strong common removal spells, and three strong common creatures. It doesn't have very good aggressive options (which perhaps it makes up for by having lots of aggressive options), but it has solid midrange potential. Red might be the best color when it's open, but its lower average common quality will likely make it one of the worst colors when overdrafted.
Green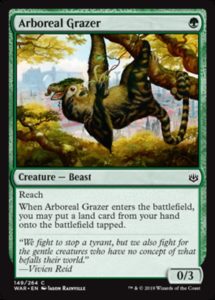 There are better ways to protect your Planeswalkers than a glorified Wall of Vines. Once in a while, it'll feel outstanding when it ramps out a Jiang Yanggu, Wildcrafter or Vraska, Swarm's Eminence, but most of the time you're just putting a do-nothing spell in your deck. I'm not willing to completely discount this since acceleration is particularly effective in Planeswalker duels and it pairs well with card draw, but this looks like a very bad card.
Grade: D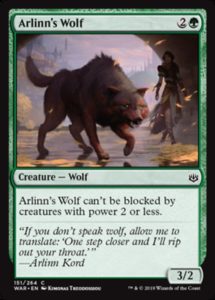 Arlinn's Wolf is a lot like Boggart Brute—it's hard to block and will probably trade for an equivalent threat. Evasion is more powerful than normal because it helps pressure Planeswalkers, and this particular form of evasion basically guarantees that Arlinn's Wolf trades for a creature of equivalent CMC or higher (or a removal spell). That's a fine deal for a three drop.
Grade: B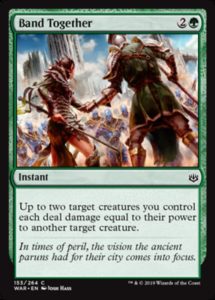 This is expensive, conditional removal. Sure, it can help prevent getting blown out by a combat trick if both of your creatures can take down the opposing one, but three mana and requiring a reasonable amount of board presence makes this make worse than something like Prey Upon or Rabid Bite in my book. Ambuscade was a solid card and Clear Shot an excellent card because they provided some additional value for the added cost. You'll likely still play this much of the time, but there's a lot of substantially better removal in this set.
Grade: C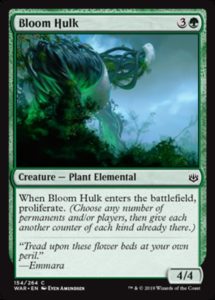 Rumbling Baloth is about the peak of stat efficiency you'll see at common. Bloom Hulk is splashable and has a swingy ETB ability with a high ceiling for free. This is one of the best common creatures and synergizes incredibly well with cards like Kronch Wrangler.
Grade: A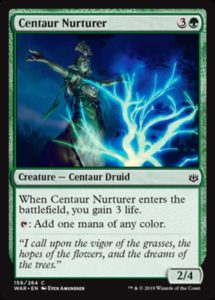 I was impressed by how strong Oasis Ritualist was. This time, there's a much stronger multicolor focus to the block. Sure, the lifegain is a bit less relevant since Planeswalkers already artificially inflate life totals by virtue of needing to be attacked most of the time, but it's not nothing. I suspect this card will be a key component of big and greedy mana decks and a fine card in most green decks. It does suffer a bit for being at the critical four drop slot and competing with Bloom Hulk, but it stills much better than replacement level.
Grade: B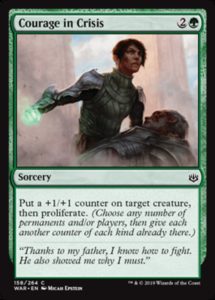 Scale Blessing was a pretty disappointing card. This time around, it's cheaper (albeit a sorcery), you have complete control over where the counters go, and Proliferate further magnifies the value of these counters. This is still essentially an aura, and since it's not facile to generate +1/+1 counters across mana creatures (aside from something like Jiang Yanggu, Wildcrafter), it's going to be hard for this to generate more than +3/+3. Once you're getting beyond that, this could be a mini-Overrun, but I expect this will be excellent a tiny fraction of the time and mediocre to bad most of the time.
Grade: D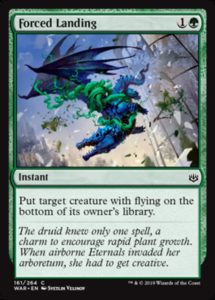 Here's a Plummet design that surprisingly has never existed before. Plummets can be great out of the board but are risky business in the main deck (in most formats).
Grade: D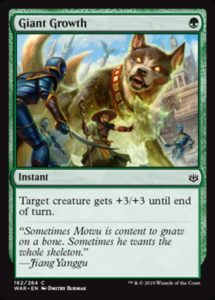 This is about the maximum efficiency a one-mana combat can be, and it's a standard Giant Growth has set since Alpha. Combat tricks are at their best in formats defined by racing and weak removal (like Ixalan or Avacyn Restored) and at their worst in formats defined by card advantage and powerful removal (like War of the Spark seems to be). This is still a powerful combat trick, but it's not exciting trading this for some spare Amass tokens lying around and it's awful in the face of a Jaya's Greeting.
Grade: C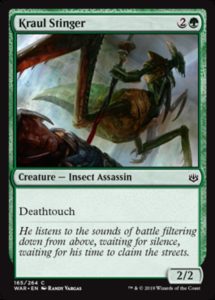 Daggerback Basilisk has never been a particularly strong card, but it's never awful, either. This protects Planeswalkers from most threats, trades up on defense, and can demand a block when pressuring opposing Planeswalkers. Still, you're not getting a very good deal on stats—Sedge Scorpion is much better than Noxious Groodion.
Grade: C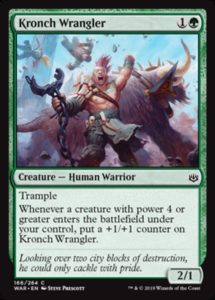 I'm still not a fan of kronch entering the MTG vernacular, but here we are. This is a twist on the rarely impressive Territorial Boar, but jumping through its hoop is both easier than it was in Ravnica Allegiance and much more powerful. This plus a single Bloom Hulk makes a 4/3 trample, which is a solid deal for a two drop and a bit of work. The ceiling here is quite high, since green really benefits from having a +1/+1 counter or two to Proliferate, and the hoop isn't impossible to jump though (green has four commons which trigger this). The floor, however, isn't super high, since a 2/1 for two isn't exactly great. Still, two drops get better when there's an abundance of four mana (and even some three mana) Planeswalkers that need attacking, and I'm willing to give this one the benefit of the doubt (and some Ferocious creatures, since apparently Ravnica is a huge fan of Temur).
Grade: B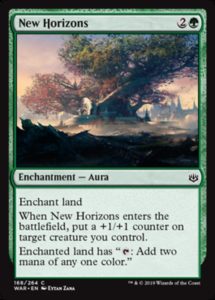 This isn't a great rate for fixing, acceleration, or a +1/+1 counter, but it can set up some pretty big starts. There's the additional issue that four seems to be the critical mana juncture, so ramping from three to five isn't the best deal, but this also helps four/five color green decks play all the Planeswalkers alongside Centaur Nurturer. I'ma dock it like I do every noncreature, nonremoval spell, but this one still has a lot of play to it as a playable common.
Grade: D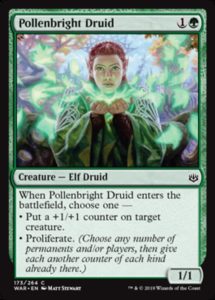 Normally, Ironshell Beetle is a pretty mediocre card. It's either a two mana 2/2 or two mana for counter and a mostly useless creature. In War of the Spark, however, Pollenbright Druid promises not only a potential additional Planeswalker activation and multiple counters in the late game, but it's also one of the cheapest threats that turns on Proliferate and isn't an embarrassing 1/1 Zombie Army token. The fail case is still a two mana 2/2, and I'm willing to give all of them the benefit of the doubt (as long as they have more play than Goblin Assailant.
Grade: B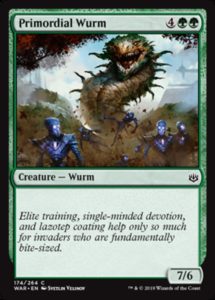 Green always gets a big-mana threat at common. The best ones have evasion, usually Trample. Other ones just have bigger stats are almost always worse. Green's got a decent amount of acceleration which makes this a bit more playable, but it's still an expensive, replaceable finisher in format where blue, black, and red all have access to a token making mechanic.
Grade: D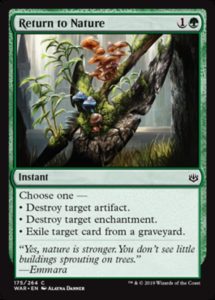 Naturalize is like Plummet in that it's a sideboard card the majority of the time. The big difference is that most decks tend to have flying creatures, but (outside of formats like Kaladhesh and Theros) most decks don't have artifact or enchantment creatures to destroy. The additional graveyard hate is a welcome utility for Constructed, but there is no graveyard mechanic in War of the Spark (and many of the high rarity bombs are spells and creatures, not artifacts and enchantments).
Grade: F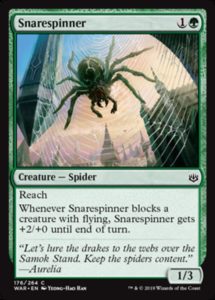 This is no Deadly Recluse and lacks the crucial second power of Netcaster Spider, but it's still a fine defensive creature that can shut down enemy attacks and protect your Planeswalkers. It's worth noting that green already has two other two drops with better stats and this is terrible at pressuring Planeswalkers, but it's still a perfectly playable card.
Grade: D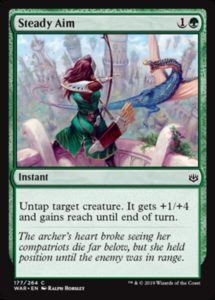 Arbor Armament is a mediocre combat trick at best. Vines of the Recluse is fine but unexciting. Even Spidery Grasp gives you a crucial second point of power. This is too much mana to pay for too little effect. Sure, it'll save your creature from several removal spells, keep it alive in combat, or ambush fliers, but it won't help it trade up in combat or get in the last several surprise points of damage. Keep this in your sideboard and just play Giant Growth or Reach creatures, and maybe take it out of the board if the situation is perfect.
Grade: F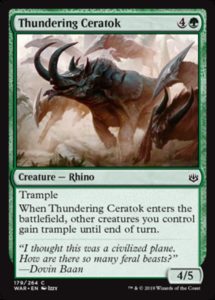 These are some hefty stats with evasion for five mana. It's no Tajuru Pathwarden, and the enters the battlefield effect is likely to do little work most of the time, but this is a lot of effect for not too much mana. You can do worse for five mana and this can turn an early bit of pressure into an unstoppable series of attacks.
Grade: C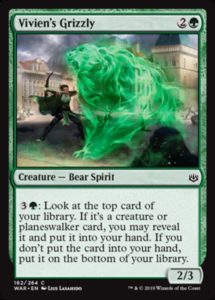 Well, here's something new. A 2/3 for three seems par for the course for War of the Spark, and in the late game, this provides both card smoothing and card advantage. This doesn't play either role particularly well (unlike the mythic uncommon, Dryad Greenseeker), but the flexibility combined with acceptable stats makes this a high quality common.
Grade: B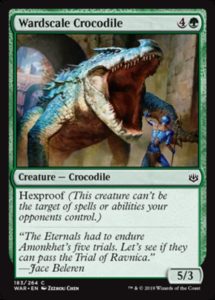 A five mana 5/3 isn't a very good card on its own—it's great to ramp into while on the play, but will tend to trade down on mana for something like a 3/2. However, if you can get even a single counter on this thing, it can become The Abyss as your opponent is forced to chump block over and over. There aren't that many deathtouch creatures or Liliana's Triumph effects to punish this plan.
Grade: C
Top 3 Green Commons
1. Bloom Hulk
Green is in a familiar place—it has a lot of high quality common creatures and little removal. It's perfectly set up to be a primary color and rely on another color for its interaction, evasion, and setup (for the Proliferate or 4+ color shenanigans it wants to do). There's nothing too crazy here, just a lot of efficient creatures across the curve.
Colorless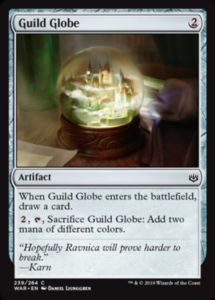 It's a Terrarion that provides the card upfront for an additional mana. Now, I love me some artifact fixing like Prophetic Prism (it is my favorite card), and this can let you double-splash hybrid mana Planeswalkers; but this takes up an actual spell slot and there's nothing like Delirium or Improvise to reward it. This can always cantrip, but there's no guarantee that it does anything else, especially since Tezzeret isn't in booster packs.
Grade: F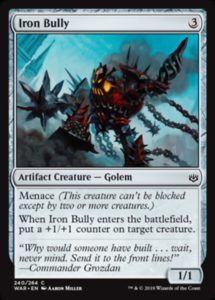 Here we have a flexible but weak card. In aggressive decks, it's a splashable Boggart Brute; and in Proliferate decks, it gets the party started. You can do better at the three mana slot in most colors, but it's at least playable. And if you can put a single counter on this thing, it can become a real source of annoyance for your opponent.
Grade: D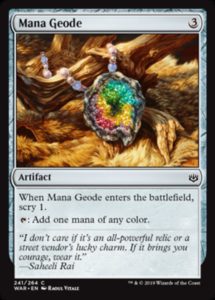 Manalith isn't a good card, and while tacking Scry 1 on can only help matters, this is neither a heavy multicolor set, nor one where ramping past four mana is a huge boon. There will be multicolor decks that appreciate this effect, but they'll often have better green cards to lean on.
Grade: D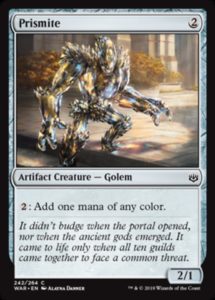 I don't love me a Shimmering Grotto, but it'll fix your mana in a pinch and apply pressure early on. You can do worse, but since this is an artifact (and again, an artifact in a format where there's no payoff for playing artifacts or having them be in the graveyard), you can also do better.
Grade: D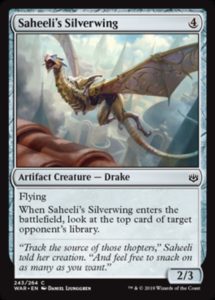 And now, the best colorless card of the set. As is ever the case with colorless cards, you're not getting a very good rate for your mana, but a 2/3 flier for four isn't terrible. The ability isn't trinket text, either—knowledge is power.
Grade: C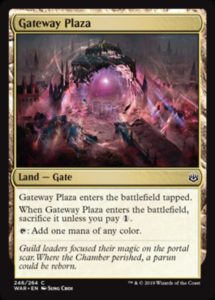 Turns out that blowing up the Chamber of the Guildpact via teleportal to Bolas-Egypt and severing all the leylines within has no effect on how a land words. This is worse than it was in the last two sets, since there are no Gates-matter payoffs and fewer multicolor cards, but the fixing is much scarcer to compensate.
Grade: C
I'm not going to do a top five colorless cards, mostly because I don't think Guild Globe needs that level of aggravation. Instead, let's do a quick overview of each color as a whole. My rating system has a bit of wiggle room, partly because we have barely played with the cards thus far and also because it intentionally doesn't allow for minor gradations like C- or B-/C+.
White has 5 As, 3 Bs, 5 Cs, 5 Ds, and 3 Fs
Blue has 2 As, 3 Bs, 5 Cs, 7 Ds, and 2 Fs
Black has 2 As, 4 Bs, 6 Cs, 4 Ds, and 3 Fs
Red has 3As, 3 Bs, 5 Cs, 6 Ds, and 2Fs
Green has 1 A, 5 Bs, 5 Cs, 6 Ds, and 2 Fs
If we rank an A as a 5, B as a 4, F as a 1, and so on, we can get a rough estimate of each color's strength at common. Every color is quite close, all falling within 0.16 points of each other. Red is at the top, with an average grade of 2.95, meaning its average common is just below a C. White and black are tied for second at 2.89, green is a close fourth at 2.84, and blue is in last at 2.79.
This is hardly what I expected—when I first looked at the spoiler, I thought that blue was almost assuredly the best color with its diversity of play styles and high (apparent) average common quality and both white and red suffered for having aggressive creatures with little (apparent) payoff. Instead, my own rating system suggests that not only do white and red have game and blue has the highest density of situational and weak cards, but that all of the colors are fairly close to each other in power level. Hopefully this suggests that format is diverse and balanced, with no color far above or below the others at common.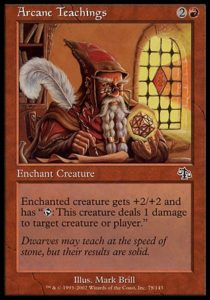 Hopefully folks have enjoyed the revival of this old HotC tradition—I know I have. It's been personally interesting seeing these come out alongside reviews of folks I deeply respect, particularly Luis Scott Vargas on ChannelFireball. His evaluations have starkly differed from mine on several cards, and while I'll always defer to him as a better and more accomplished player than I, it's nevertheless fun for me to compare my rationales with his. This weekend (or sooner, if you're enjoying the format on MTG Arena) will show just what we can expect who was more off base or on point, and I'm hoping I might have hit the nail on the head at least a few times.
I hope everyone has a blast at the prerelease this weekend, playing on MTG Arena, or at Mythic Championship London and that this format is a joy to play. I've got a bunch of prep work to do before MagicFest Providence and Modern Horizons' release in June. And, as always, thanks for reading!
—Zachary Barash is a New York City-based game designer and the commissioner of Team Draft League. He designs for Kingdom Death: Monster, has a Game Design MFA from the NYU Game Center, and does freelance game design. When the stars align, he streams Magic.
His favorite card of the month is Conviction. While initially designed as an aura that wasn't nigh-guaranteed card advantage, it's proven far more flexible over a decade later in sets like Aether Revolt (where it enabled Revolt) and Ultimate Masters (where it was quite strong alongside Heroic).