Hi everyone, and welcome back to the Mirror Gallery. This week we are looking at another new medium and entirely new process: the first Magic print I have ever acquired. Prints, both limited and open edition, can serve as a great introduction to collecting art of any genre. They are usually considerably more affordable than original, traditional pieces of art. In this case, however, my motivation was fueled by the fact there was no traditional original. This work was created digitally and therefore a print was the only option to be able to hang this incredible piece of art on the wall. So let's get to it! Today we are looking at Tommy Arnold's Syncopate!
The Artist
Tommy Arnold currently has seventeen Magic card commissions under his belt, adding more cards with each new set's release. His first two commissions were for Kaladesh: Glimmer of Genius, and the Masterpiece Invention Static Orb seen below.
There are not a lot of artist's who can start out illustrating something like a Masterpiece for Magic. What makes Tommy different? He may be relatively new to this game, but his work in the realm of imaginative realism, and especially in fantasy and sci-fi book covers, is known, established and awarded.
He is an annual inclusion in the art book Spectrum: the Best in Contemporary Fantasy Art and has several Chesley nominations under his belt as well. I've mentioned this in several of my other articles, but these awards are a really big deal for artists working in the genre. These are the accolades that recognize the best of the best, and to be in the conversation, nominated or win are things that push careers forward.
For the latest major Magic expansion Dominaria, Tommy had two commissions, Rona, Disciple of Gix:
And the piece we are looking at today, Syncopate.
Syncopate is not a new card for Magic, with this being its third reprint and each iteration having new art. Yet Tommy Arnold, Art Director Mark Winters, and Creative Director Kelly Digges gave Magic something very special in this particular Syncopate. Let's rewind and take a look at Syncopate's history in Magic. To know where we are, we need to see what came before.
Syncopate: Through the Years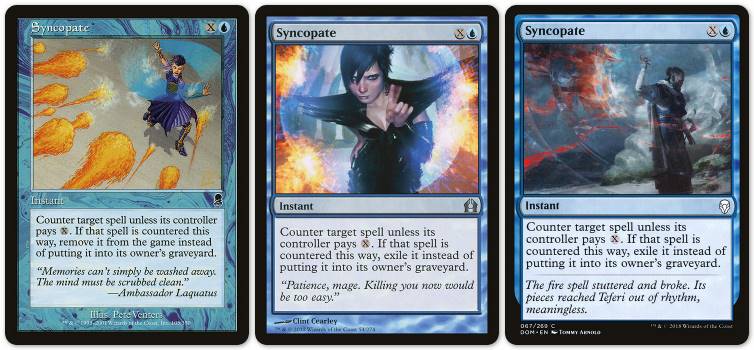 Three reprints, three distinct pieces of art.
First printed in Odyssey in 2001, the original art for Syncopate was illustrated by Pete Venters, whose contribution to Magic and Magic illustration deserves their own article. We see an unknown and unnamed female mage, her anonymity confirmed by Pete himself, warding off a fire spell with the wave of her hand. The magic crashes into the barrier and dissipates. A classic depiction of a counterspell, the art serves the function of the card quite well, and is what we've come to know and expect for counterspell art.
Syncopate was then reprinted eleven years later in 2012 as we returned to Ravnica. The new art was created by Clint Cearley, a master of motion within his digital art. We see a re-envisioning, almost contemporizing, of what appears to be the same female mage (look at her hair and pauldrons). She has matured as a spellcaster, no longer needing to move her hands to create that barrier when a simple wag of the finger will do. Her direct interaction with the viewer exudes a confidence that is not easy to convey within the confines of the card box, but Clint lets us know who is in control in this scenario.
Moving forward another seven years to 2018, we have arrived at this latest rendition of Syncopate. It now features a known figure from the multiverse—Teferi—yet keeps with the same tradition of counterspell art, deflecting and defending against an incoming spell.
I'll mention some more of the particulars of the art in just a bit as we examine the response to this piece of art, but what strikes me most about this piece is the emotion evoked from Teferi's action. This work goes one step further in terms of visual storytelling to make the viewer actually "feel." Teferi's blind indifference to what appears to be a powerful spell is apparent, and the fact that he doesn't even turn around, just raising a single hand behind him, leaves the viewer in awe and admiration of his sheer power. His wisdom and prowess is obvious, and there is a feeling of safety invoked in the presence of this planeswalker. So long as he is around, we as the viewer are safe.
The Best Art of Dominaria?
In a set that has arguably the strongest body of art in Magic's history, this is a near impossible label to place. I haven't even decided for myself. But what I do know is that Syncopate is certainly in the Top 5, and that an argument can be made to place it above all others. Let's create some context.
I had just framed this piece and was about halfway through writing this article when on a random Tuesday in June, Sam Gaglio (@RhysticStudies), known for his exceptional videos of Magic art and card history storytelling, asked Mike Linnemann (@VorthosMike) this:

Note that Sam said favorite, which does not necessarily mean best. However in this case it's perfectly plausible these can be the same thing, and we see why pretty quickly: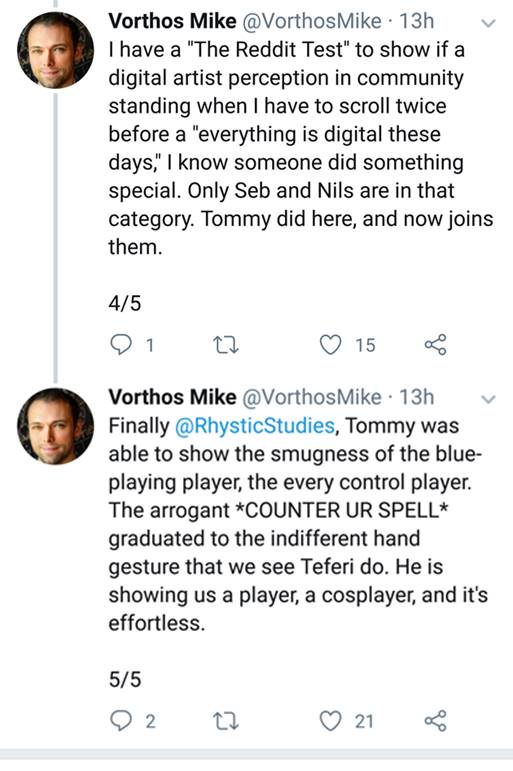 If you read my articles there is a good chance you already follow Mike Linnemann on Twitter and/or read his articles. We have come to expect this in-depth analysis from his writing on Magic art, and I always enjoy reading his art reviews to find things I missed. His comment about "The Reddit Test" is particularly poignant, as placing Tommy Arnold in the realm of Nils Hamm and Seb McKinnon in terms of Magic audience perception is high company. If the art of Hamm and McKinnon doesn't pop into your head, give yourself five minutes on Scryfall. Some of the most unique and powerful art to be seen in the game has come from these two artists.
But the best in Dominaria? That's still a lofty title.
Kelly Digges, former Senior Creative Designer for Wizards of the Coast and Creative Lead for Dominaria, wrote the art brief for Syncopate (and for most of Dominaria from what I understand). He wanted this: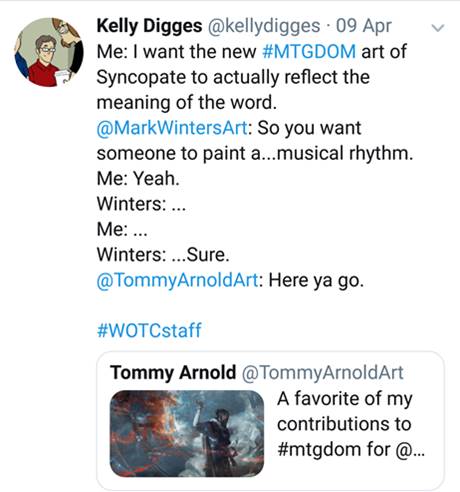 Yes those ellipses mean it wasn't going to be easy. Art Director Mark Winters took it one step further, prompting the artist to create a spell as if a corrupted MP3 file to further the idea of the spell being sound.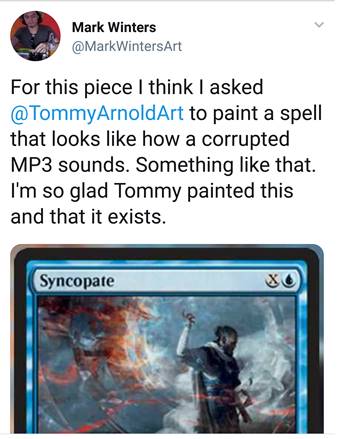 How do you even do that? We go to Mike Linnemann's Dominaria Art Review to find out.

Tommy Arnold's work for Syncopate is simply stunning. It's a piece that gets more complex and interesting the deeper you go, and as I said before the visual storytelling and evocation of feeling is one that's not often seen in Magic. This article doesn't need a Five Things to Consider or Why This Piece? section as I usually do, and you've just seen why. It is indeed one of the best in Dominaria, and the opportunity to own a copy of this piece was one not to be missed.
Even though I almost did.
Acquisition
This fabulous limited edition print was acquired a little unconventionally.
Tommy Arnold does not sell open edition prints. This means that when a card of his is released, there is a short window of opportunity for fans of the work to order a print directly from him.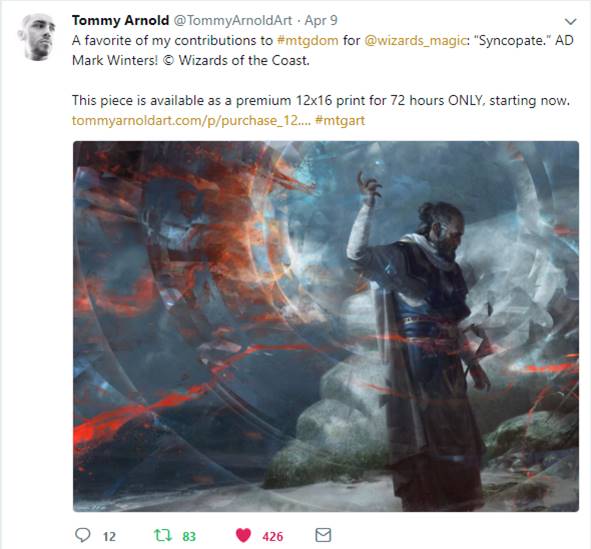 Once this window closes, that almost exact number of orders is created and hand signed and numbered. There are also, turns out, a few artist proofs created—these are for the artist, future display, replacements, etc.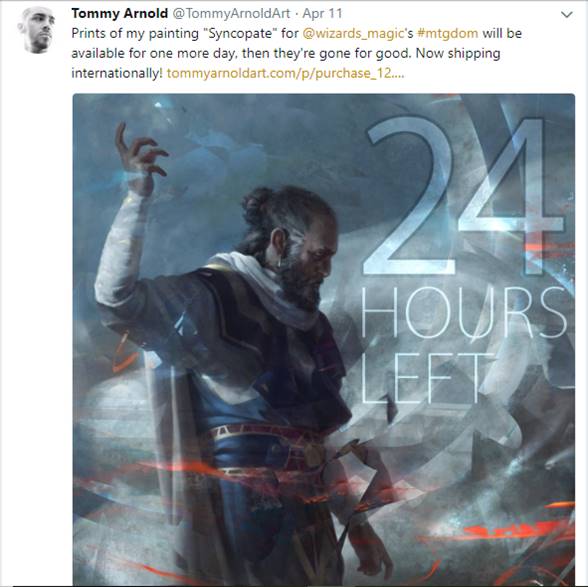 That's it. One shot. Or so I thought.
I almost bought a Syncopate print during the limited edition window. A friend of mine even bought one after I sent him the link and said, "You should jump on this." And then I got busy, let the time lapse, and didn't—missing the window. Oh well, right? Things happen.
Fast forward two months. Josh Krause from Original Magic Art posts on Twitter about just how great the new Syncopate art is as he was preparing his Reprint Rumble series for a Dominaria edition.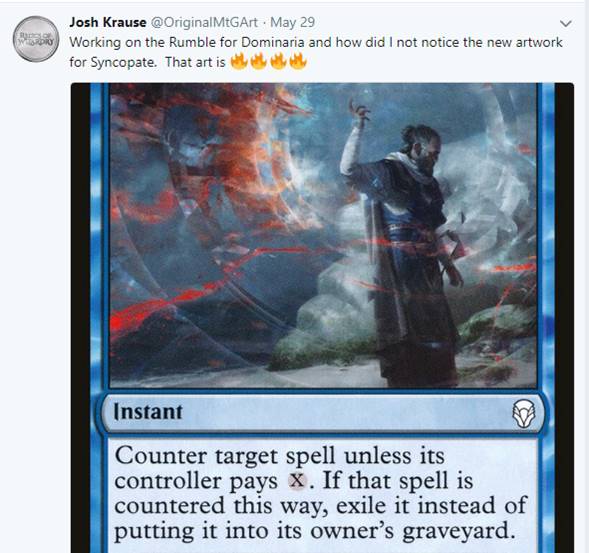 I tagged Tommy and mentioned something about the prints and how I was kicking myself for not grabbing one. Then this happened.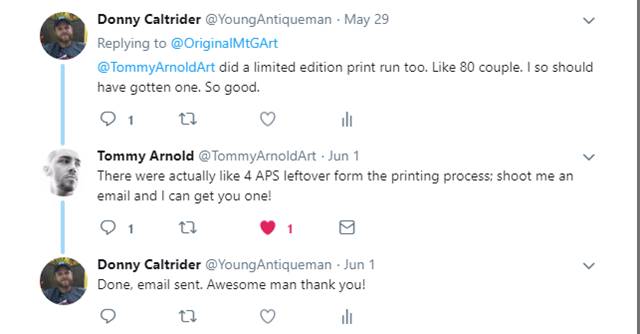 This falls into one of my rules of Magic art: when an opportunity presents itself, you must be ready as a collector. You often will not know when this will happen, and it usually won't be convenient, but that's just how these things work. Be prepared, and never let your reserves (or "war chest" as fellow Magic Art collector Sidney Blumenthal calls it) run completely empty. I emailed Tommy straight away and in less than a week my very own Limited Edition Syncopate, signed by the artist and marked as an AP, was on my doorstep.
Second moral of the story? If you like #mtgart, follow the artists on social media. Watch their work. Interact with them and others that share your opinion of art. The experience is a wonderful one, and it will enrich your experience with Magic as a whole. Promise.
Put it on the Wall!
You all know by now when I have a piece of Magic art to be framed, I head nowhere but my FLCF (Friendly Local Custom Framer) Ain't That a Frame. I have also mentioned that custom framing does come—though worthwhile—at a higher cost than big-box or off-the-shelf frames.
Shortly after this piece arrived I found myself at my local Michael's on an unrelated mission, and figured I would just take a look to see what they might have. The print is 12 inches by 16 inches, which falls under their "Digital" section—apparently this is a popular size for digital prints and they had a half dozen or so frames to choose from. I wasn't sure exactly how I wanted to frame this print. A simple black to make sure the viewer didn't get distracted? Something with blue to play off the card frame? Or maybe something that covered up the white border so it was just the art?
But, as seems to happen, there on the bottom shelf was what would become a perfect fit, and it was none of what I had originally planned on.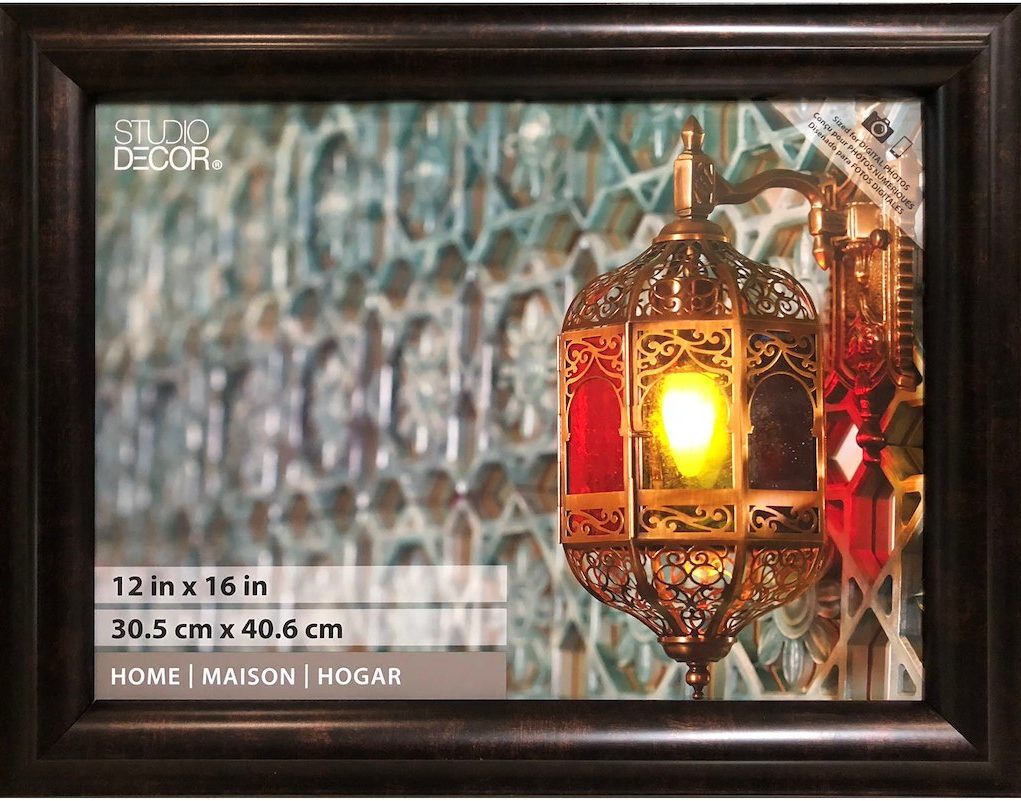 Which ultimately turned out beautifully: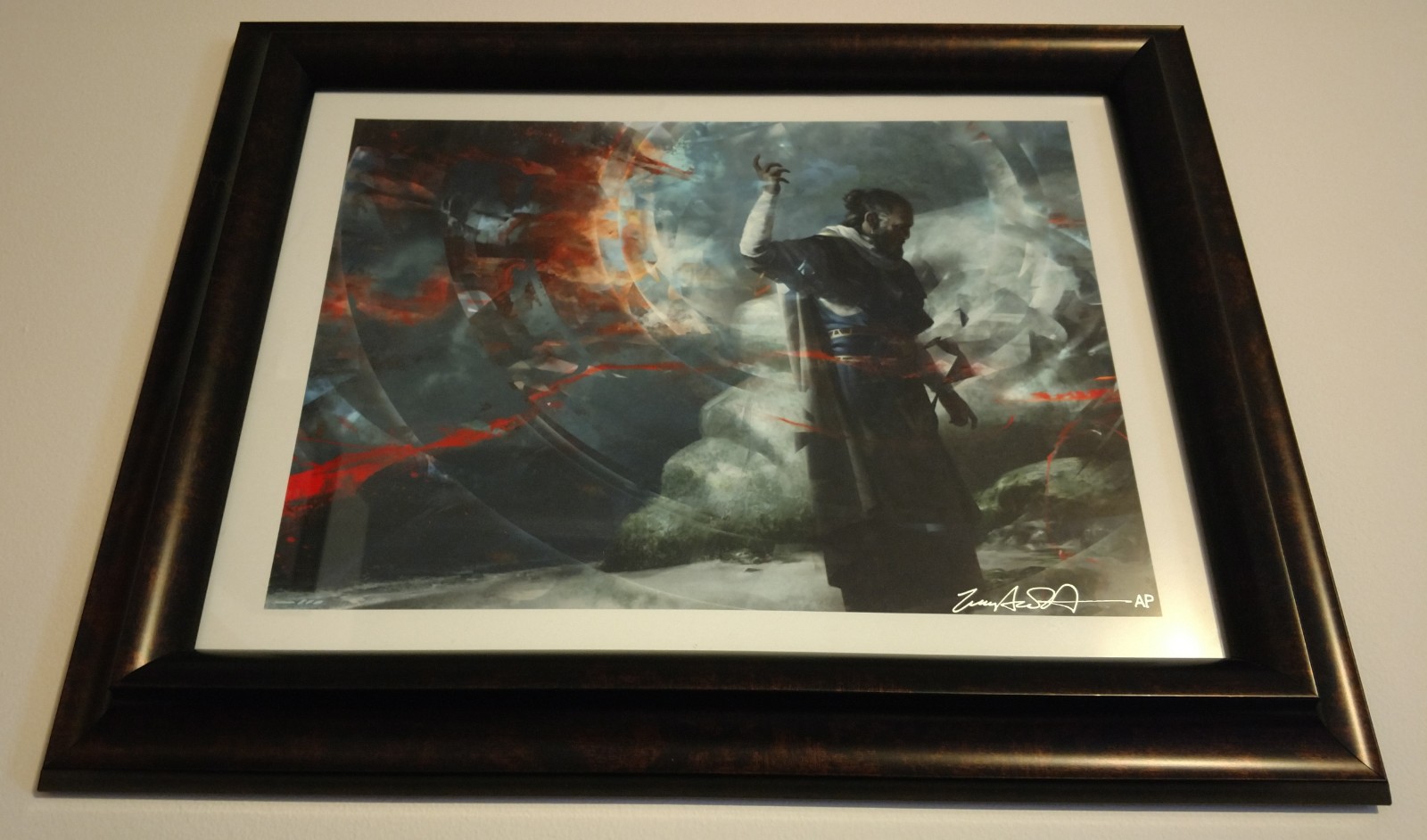 The combination of bronze and deep scoop moulding just works really, really well. The color and swirl design mimic the radiating energy of the incoming fire spell, and the scoop plays on the movement that is a part of the work.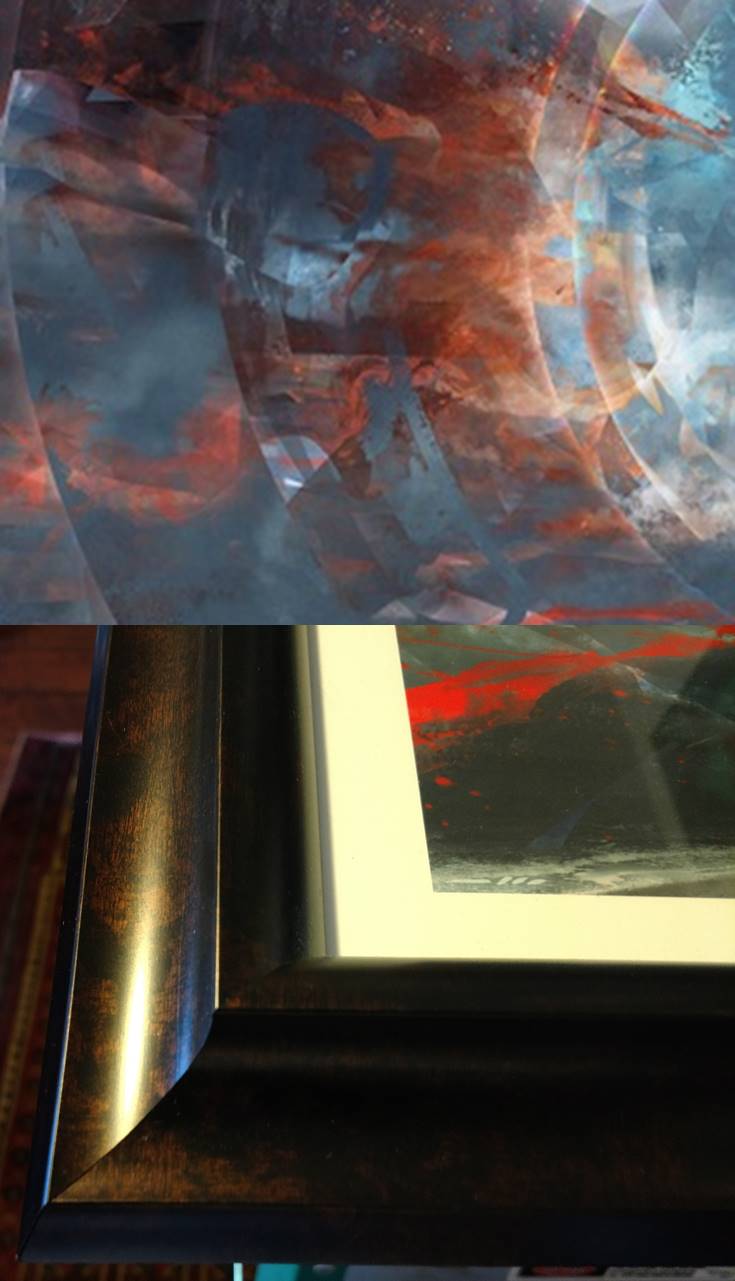 I am immensely happy with how this piece finished, and it was super simple and extremely cost effective. After the sale and coupon (there is always a coupon), the frame was less than $20, making this piece signed, sealed, delivered, framed, and on the wall for well under $100.
Build Your Collection
Tommy works almost entirely digitally, so there are no traditional originals, and rarely if ever sketches or color studies to collect. When this is the case, prints, proofs, and playmats are really your only options. There are no playmats of his work (yet), and his proofs are sold in single large quantity batches, making these limited edition print runs your best opportunity to enjoy a piece of his work in your home.
As I said earlier when a card of his releases, there is a short window to order prints, the run is created, and then no more. Ever. This creates a lasting value of each of his hand signed and numbered prints, and leans toward potential investment versus long term market flooding. Those that love the piece buy a copy, and in the future folks looking for one will have to overcome the scarcity, which ultimately protects the value of the print.
As of the writing of this article he doesn't have anything up in his store: it may be "closed" due to workload, travel, deadlines, etc. This is not out of the ordinary, so bookmark it and check back regularly. I'm sure there will be more ways to purchase his work in the future. He has a few cards in Core Set 2019, meaning there could be at least one limited edition print run in addition to artist proofs becoming available. Jump on his mailing list and you'll be the first to know.
Wrapping Up
Dominaria was such a unique experience in terms of Magic art. With the early season card and mechanics leak, the focus was on art and flavor for the duration of preview. And in a set destined to be one of the greatest flavor triumphs of the decade already, it made the spoiler season experience unforgettable. Syncopate is a special piece of art, and you have now seen the roundtable attention it got across the Internet, from release to quite some time later. It is one that will be in the conversation of the best Magic art for quite some time.
I'd like to end by saying thank you. To everyone who had a part in this set, thank you for making me really, really love Magic again. Kelly Digges and Mark Winters are no longer at Wizards, but their work especially has set the bar even higher for sets to come.
If you're interested in learning more about the art of Dominaria, you can read Mark's retrospective about his role in creating the set. Additionally, James Wyatt's art book for the Art of Magic the Gathering: Dominaria has just released as of July 3rd. Mine just showed up on my doorstep as I am finishing this article, but from what I understand this is the best edition yet!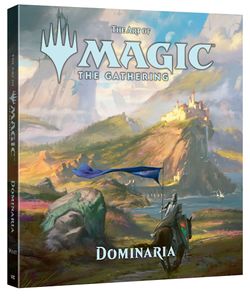 Next time we are jumping back into the Vintage Artist Constructed format to take a look at a deck that might not be the most competitive, but is still a ton of fun to pilot. We'll get to build with cards across Magic's history, so if that's your thing make sure you stop by!
Remember, to see original #mtgart and other #vorthos related things, follow me on Twitter. Feel free to ask questions or retweet to continue the conversation. Thanks and see you next time!
Donny Caltrider has been playing Magic since 2002 and collecting original Magic art since 2017. He has an M.A. in Museum Studies from Johns Hopkins University and enjoys telling stories about art, objects, and the intersection of fantasy with real-life. You can find him on Twitter talking about #mtgart, museums, and other #vorthos related goodness. Follow along and continue the conversation!