Good morning friends, and welcome back to the Mirror Gallery here on Hipsters of the Coast! This week it's Grand Art Tour time once again, as Magic returns to Dominaria for its latest expansion, Dominaria United.  With Magic spending so much of its early history on this plane, these sets always feel like coming home, and there is once again a smattering of especially stand out artworks from brand new artists and seasoned veterans alike.
If you're new to the Grand Art Tour series, it's my review column begun back in 2019 and inspired by New York Magazine art critic Jerry Saltz's 2010 article entitled A Grand Tour. That story took readers through the museums of New York City and highlighted Saltz's paintings from that summer. These articles do the same thing, taking a trip around the base set and Commander releases to highlight some of my favorites and just why I think you should see them closer.
As I mentioned previously, these selections will look at a mix of artist's joining Magic for the first time, some that have been around since almost the beginning, and a few in between. It's split almost exactly 50/50 in terms of male and female, as well as digital and traditional final paintings. What will be a bit different than normal is where I usually very much focus on storytelling, this group takes a more anecdotal approach, and I'll talk about what makes them and their creators worth singling out, from technical triumph to bits of history that make each painting extra special.
Welcome home folks. This is the Dominaria United Grand Art Tour.
Thran Portal by Sarah Finnigan
Thran Portal was one of the first images shown when this new set was first spoken about way back last year, and since then I've been, in a word, obsessed with it. I saw it in person at IX last fall, and the single picture I appear in from the show candids? You guessed it, I'm looking at it.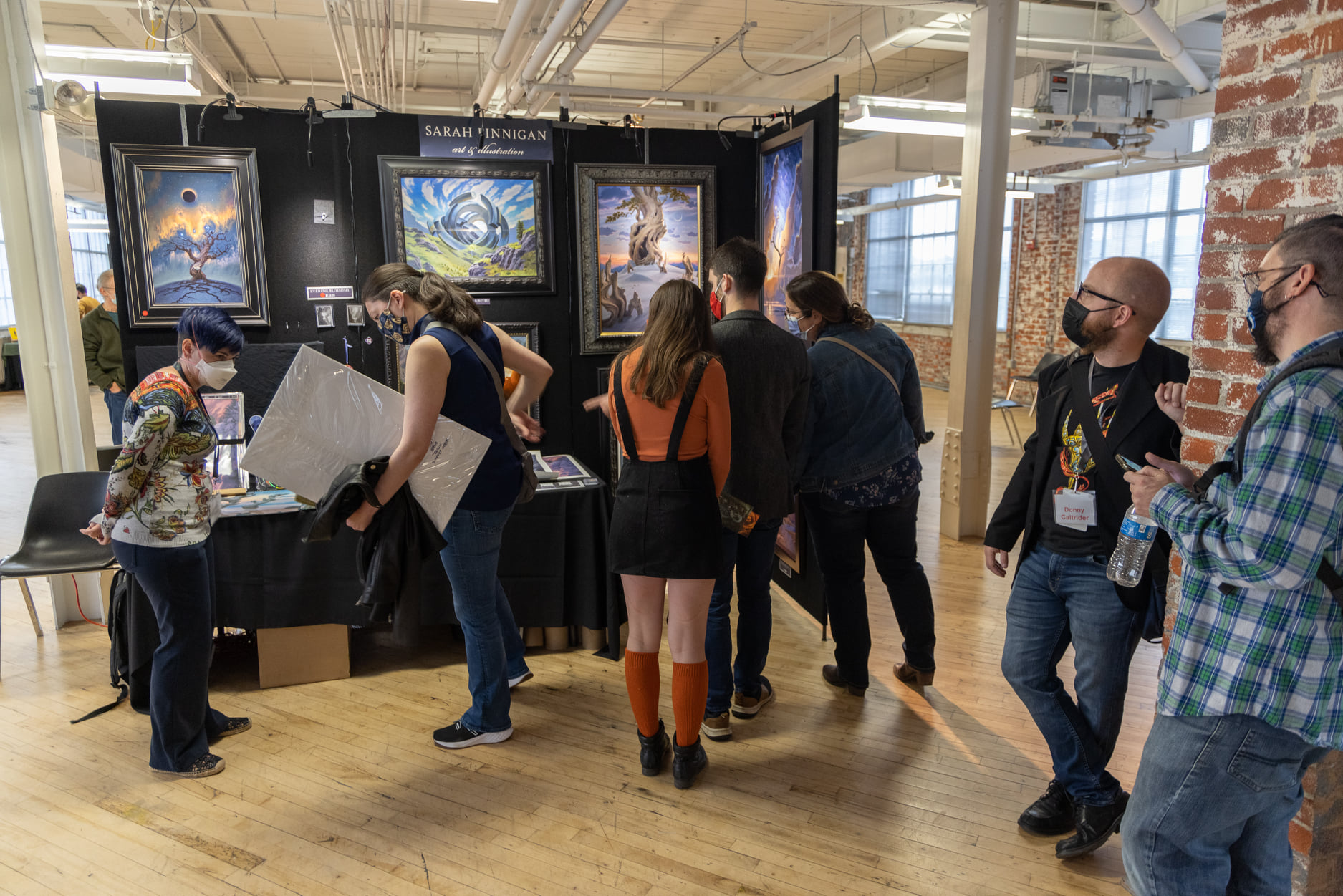 Look closely. The clouds begin to swirl towards the center of the portal, drawing your eye and energy towards its epicenter. Energy ripples from that core and flares outward—in acrylic no less! Sarah's got a dozen cards released for Magic so far, and has already firmly cemented herself at the very top of the landscape artists working in Magic today.
Rith, Liberated Primeval by Victor Adame Minguez
Continuing the conversation on rising stars shooting to the top, my regular readers will have certainly noticed Victor Adame Minguez as a frequent inclusion in these articles, and that's no mistake. He has found his style in the traditional medium, and the resulting paintings are nothing short of astounding. Behold Rith, Liberated Primeval!
There is a regality and softness in this rendering of the ancient legend, with not scale birds, but scale dragons! From his skull to his skin to the bark on the trees, Victor's color palette and value control has created something of dreams and yet wholly realistic at the same time. It's an incredible stride, and in the words of NBA Jam, he's on fire!
Talas Scout by Julia Metzger
Metzger's MTG debut was with an Angel token in Streets of New Capenna, catching the Twitterverse by storm and starting her career off with a bang. Her most recent in Talas Scout stood out immediately amongst the near 300 pieces of new Dominaria art; a dynamic composition that carries your eye through the piece, brilliant lighting that accentuates subject and setting, and an uncanny perspective that makes you look closer. She's well shown that she belongs here, and I absolutely cannot wait to see what she has coming next.
As an aside, she's posted a wonderful Twitter thread for aspiring MTG artists full of things to keep in mind. It's also very much how I look at work that makes it into these articles (including the things that made this piece stand out), and well worth a read for artists and fans alike. Check it out above.
Love Song of Night and Day by Eli Minaya
For those of you that follow me on social media you've probably seen this artist's work before, but Eli Minaya has finally made his MTG debut! Love Song of Night and Day is his second card for this set, and finally brings to card form a poem that existed only within the flavor text or Visions and Mirage. It's a beautiful and emotion-evoking piece, if you can read the poem linked above while looking at the work, and get ready to feel all the things.
While this work is digital he works by way of collage and mixed media in either form, and as such brings a very unique blend of abstraction and reality to the game in his own new way. This is a story told as only he could tell, and Magic has been waiting a long time for something like what he brings to the table, Welcome Eli!
Phyrexian Missionary by Mila Pesic
It's been far too long since I've included a piece from Mila Pesic, but of her four contributions to Dominaria United and its subsets (all of which are wonderful), her Phyrexian Missionary really stands out. Whether on game card or art card, this phyrexian steals the show, combining the beauty of Serra's realm in the background with the horror that has befell this pilgrim in her new compleated form.
I absolutely love the figure and resulting uneasiness from what we know has happened, furthering the larger narrative and providing an excellent artwork at the same time.
Karplusan Forest by Randy Gallegos
It's not too often an artist gets a second go at a card, much less a staple land, but that's exactly what happened here as we witness a great little story we see unfold. Gallegos has illustrated for Magic for 28 years, and first painted a Karplusan Forest for 5th Edition back in 1996. His post on Facebook tells the complete story.
In short, Art Director Zack Stella knew he'd done a version long ago as a fledgling artist, and provided an opportunity here to give it another go, larger than life and in the vertical format with everything he's learned over the last three decades. The end result is breathtaking, and shows the career's worth of technical growth and creative vision we find in the Gallegos paintings of today. This is something I'd really like to see more, where artist's get a second chance at reinterpretation, and hopefully something we see more of in Stella-directed sets.
Shivan Reef by Andrew Mar
The man known for his dragons gets his very first land card in Dominaria United, and in the best color pair. (OK, I might be just a bit biased, but hey, I'm the captain now.) His Shivan Reef is breathtaking.
One of my favorite things is watching an artist tackle something completely different from what we're used to seeing, and on top of that, knocking the cuff off at the same time. We get the best of both worlds; the island above water as it's been depicted before as well as the actual reef under the sea, with undulating perspective and all those juicy details. Andrew is fast approaching 100 cards for Magic, and it will be a treat to see which direction his art continues.
Yavimaya Coast by Jesper Ejsing
Ejsing is a Magic regular, but like Andrew Mar, it's not often we get to see him flex his landscape muscles. Yavimaya Coast is his first land since 2020 and only his tenth of nearly 200 cards for Magic, and we're once again transported to Fantasyland, as he calls it. This is much looser than much of Ejsing's work, but allows for the dreaminess and painterly feelings to bleed through. It's all the things this set seeks to evoke, with scale birds to boot, and makes for a perfect inclusion among this reimagining of the classic lands series.
Zeriam, Golden Wind by John Tedrick
It's not everyday you get a new Griffin in Magic, and Dominaria's newest legendary winged beast comes as John Tedrick's second card for the game. I took notice of Zeriam, Golden Wind as soon as it came out, and uncannily enough my old Content Manager and good buddy Kristen Gregory posted on Twitter heralding this article with none other than this very legend!
Tedrick has a penchant for both unique monsters and exquisite detail. This beast, highlighted by the uplighting in the bottom corner, shows Zeriam in.mid-flight, higher even than the sun, and ready to pick up the mantle Zuberi, Golden Feather began so many years ago. Tedrick is off to a brilliant start here in MTG, and I'll be looking forward to hopefully seeing more of his work on future projects
Hero's Heirloom by Ovidio Cartagena
It's not everyday I get to include a work by an art director. With only a handful of credits on cards themselves this far, each time Cartagena is tapped he is sure to make a statement with his work. He noted on Twitter that the statue depicted on Hero's Heirloom is to resemble the Legendary King Torsten but as if carved by Bernini. It also features, though subtly, the stained glass of Benalia that inspired the entire showcase from this set. Part master study and part imaginative realism, when Art Directors get a chance to do the thing they do, they do it well.
Cartagena has upcoming AD credits on the 2023 sets Phyrexia, Lord of the Rings (Universes Beyond), and the return to the Lost Caverns of Ixalan in addition to his previous work. Keep your eyes peeled for his vision coming to an expansion near you very soon.
Liliana of the Veil by Martina Fackova
I don't even know how she does it, and I'm running out of things to say without them just being praise-filled expletives or just me trying to pick my jaw up off the floor. This is a fantastic new Liliana of the Veil. Look at Lili's expression. Her reflection in the mirror, and the narrative it makes the viewer conjure back from years gone by. The stone floor, the folds in her cloth, the light reflection off the puddle, it's all great, again. Martina continues to crush it on a regular basis, she's incredibly consistent, and I hope she stays with Magic for a very long time.
Bone Splinters by Jeremy Wilson
When Jeremy Wilson received the commission for Embereth Shieldbreaker for Throne of Eldraine, done in his signature style of bold color and negative space, I sincerely hoped it meant that he would be back for regular inclusion in Magic. So far that's exactly what we've seen, and his Bone Splinters reprint shows us exactly why we need to keep seeing what he does for the game. A disorienting perspective, unique colors, and thoughtfully placed brushstrokes artfully arranged that white make this work jump off the card, and you out of your skin. Keep doing what you do Jeremy, we're all here for it!
Wrapping Up
This closes the chapters for the Donimaria United Grand Art Tour. We've seen new folks make their mark, old folks show how they've grown, unique styles find their stride and new figures and forms experimented for the very first time. And yes, there were a lot of scale flying things, from dragons to birds to griffins! Unintentional, but retrospectively pretty cool to see across the set.
I want to take a moment to recognize the efforts of Art Director Zack Stella, who was responsible for the direction of much of what you see in this article. A powerhouse artist in his own right, his vision for Magic, from tapping new artists for the roster to refining the end result, makes a set spectacular. He is absolutely smashing it in his new role with Wizards of the Coast. I hope he stays in this capacity for a long time, and I think we'll see a lot of great things in the future under his keen artistic eye.
You may have noticed a decided absence of the Stained Glass Showcase artwork, Well fear not, as I'm working on an article featuring just that showcase series. That entire subset is a beautiful mixture of styles from artists new and old, so stay tuned for that in the coming weeks.
Remember, to see original #mtgart and other #vorthos related things, follow me on Twitter. Feel free to ask questions or retweet to continue the conversation. Thanks and see you next time!
Donny Caltrider has been playing Magic since 2002 and collecting original Magic art since 2017. He has an M.A. in Museum Studies from Johns Hopkins University and enjoys telling stories about art, objects, and the intersection of fantasy with real-life. You can find him on Twitter talking about #mtgart, museums, and other #vorthos related goodness. Follow along and continue the conversation!