Good morning all, and welcome back to the Mirror Gallery here on Hipsters of the Coast for the third installment of our Strixhaven art exploration. Over the last month I've highlighted some standout artworks from both the Mystical Archive and the main set, and today we advance one step further to the Commander 2021 expansion that was released alongside these other cards.
As I will often do with these smaller subsections of cards, I've chosen just a few favorites that have some extracurricular depth surrounding them, whether it's multimedia video, artist commentary, or something extra cool you might not get from just seeing them opened up at card size. This group especially highlights the incredible tiny details incorporated by the artists; details that aren't necessary for art legibility, but give these works a bit of extra credit within their genre, and speak to the artist's reverence for their craft.
Get your magnifying glasses out folks, it's time for a Closer Look at Commander 2021.
Losheel, Clockwork Scholar by Daniel Zrom
I mentioned I was going to write more about this work when I covered its earth-shattering sale in an Art Market Minute last month. If you didn't look close then, the time to do so is now. It's hard to describe just how breathtaking this work is once you get zoomed in.
This slideshow requires JavaScript.
The tiny tools and oliphant accoutrements of this loxodon are mind-numbingly precise in all the right ways, and these nuggets that Zrom has added to this work are all but unparalleled in the history of Magic art. You can't see them at card size, but to the artist that doesn't matter. He said in the auction listing:
"I am aware of how crazy I go with details, at this point I have realized that I cannot solve this obsession, it's not intentional at all. It is just the way my brain works, and the way my eyes see. I pay close attention to details and textures anywhere I see. I love to imagine how everything I paint would feel to the touch.
"During my university years, I focused on analyzing and studying 19th-century art and became obsessed with Alma-Tadema and a very unknown painter from my city, Jimenez Aranda, and these two are probably the ones who got me into little details. I know those details don't show in the cards, and yes I know they are not necessary, and yes, this is a big problem for my working times and my wallet, as I cannot take many commissions (notice that I'm doing only one card for the sets, and sometimes none at all). But in the end, I paint for myself, and take it very seriously. Either I do my best or don't.
"I tend to learn as much as possible and absorb information from everything I do to apply it to my work. For example, I love historical fashion, and the shirt I used as a reference for this painting I hand-sewed it myself. This has given me a lot of information on how fabric behaves, how it gathers, how it stitches, and the final touches look when done by hand. Applying all this information was just so much fun!
"Regarding this painting, I really enjoyed imagining how those parchments would behave, the wear they would have. the old books feeling, and the weight of her tools. But what I most enjoyed was experimenting on that background, trying to create space and air behind her using very little differences on the values and pushing the vibrant hues on the edges just to see if it works.
"As a final note, yes, I waste a detail brush per painting."
It's just how he is and how he works: full throttle, all the time, go small or don't do it at all. You can watch Losheel come to life in his YouTube video surrounding the artwork, and I do believe Daniel has more cards coming in the future. Rest assured we'll be looking at his work up close again real soon.
Revival Experiment by Jeremy Wilson
Jeremy Wilson has made his second return to Magic, having been gone since his reemergence in 2019's Throne of Eldraine. He's once again turning heads in his signature style of bold colors and negative spaces. This new piece for Commander 2021 goes off in a bit of a different direction yet again, employing a darker palette lifted by stark white and neon, almost radioactive, greens.
This slideshow requires JavaScript.
He says of these above close-ups, originally recorded for the auction of the original painting:
"Here are a few very close detail shots of the painting! Of note, the directional brushstrokes to indicate the form. Or thick versus thinner paint letting the underpainting show. Not only is every shape is considered but virtually every brushstroke or mark made is considered. Each is put down precisely (or not!) to serve the overall image or form. I even love letting certain pencil marks from the preparatory stage show through. They can enhance the forms and show little found artifacts of the process and physicality of the painting."
That sort of intentionality, even amidst the chaos of abstraction that exists within his style, is in part what makes Wilson's work so special. Each mark is made with purpose, a puzzle piece of something much greater. I really hope we continue to see opportunities for his work in Magic.
Fiery Encore and Audacious Reshapers by Justyna Gil
Justyna Gil first caught the eyes of the Magic world with her stunning Aurelia fanart back in 2019, and Hipsters writer Kristen Gregory even had the foresight to do a Behind the Brush interview with her right here in the Mirror Gallery that same year. Fast forward to 2021 and Gil's first pair of official Magic cards have finally dropped for Commander 2021, two incredibly detailed pieces to continue our study.
Above is Fiery Encore, a work of exceptional depth that lets the viewer explore the crowd as they make their way to the main event on the stage, a Prismari performance in full exposition. I see something new every time I look at this piece, and I'm sure there's elements I've yet to discover even after a half a dozen times!
Audacious Reshapers is equally detailed and filled with symbolism, so much so that Justyna's given us a bit of a guide to help us see exactly all she's woven into this artwork!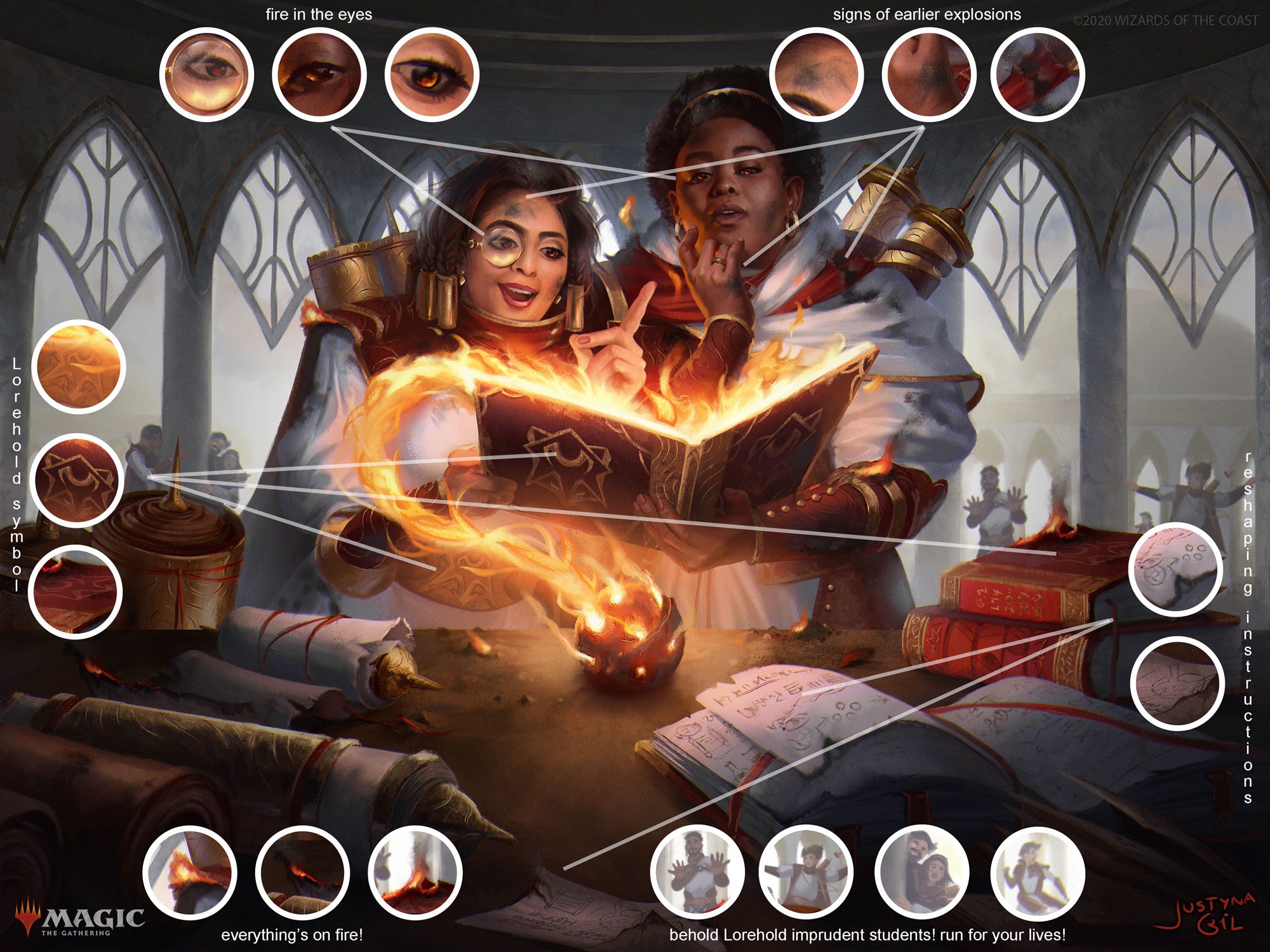 While they may not be as recognizable at card size and require a bit of extra hard-looking, their inclusion works its way into our subconscious, reinforcing that feeling of camaraderie and institution that permeates all of Strixhaven. Gil is here to stay in Magic, of this there is no doubt, and I foresee a long and fabulous art career making art for the game.
Inkshield by Jarel Threat
Jarel Threat's third artwork for Magic comes in the form of his first physically printed paper card! A student of Donato Giancola and rising star in fantasy art, Threat gives us a lot to look at the further in we go. He's left no detail unaccounted for, creating an epic and complete story within the frames of this artwork.
This slideshow requires JavaScript.
This painting is supposed to overwhelm the viewer—it's an attack, after all—and showcases the prowess of a Silverquill's craft in their ink-based magic. These micro-stories make for great jumping off points when exploring a Magic set; Jarel makes me want to know what happened leading up to what we see, and the outcome just the same. That's a powerful narrative, and to me, what being a Magic Vorthos is all about.
You can watch his Threat Level Studios video here as Inkshield is brought forth from the canvas.
Triplicate Titan and Tokens by Andrew Mar
"Chimera, NOT a centaur." —Andrew Mar
Centaur expert and Magic art badass Andrew Mar gives us a Wurmcoil Engine for the 2020s in Triplicate Titan, a chimera that splits into three separate golems with three separate abilities. He's painting straight fire for Magic right now, and is only getting started. We could talk about the dreamy, dusky palette of the background or evocative motion of this larger than life creature, but perhaps the coolest element of this work is the golem tokens that go along with this beast. Why? Because they're actually a single piece of art!
I have a soft spot for panorama and polyptychs, which I suppose this piece technically is, as each works functions on its own within the game. I can't recall tokens being given this artistic treatment before, especially not in triplicate. It's a fun touch to bring unity to cards that go together already, and I'll be looking forward to seeing folks join these artworks together on the battlefield.
Bold Plagiarist by Miguel Mercado
I'll end today with one of the most heartwarming posts I've borne witness to in quite some time. I was first introduced to Miguel's work when he did a commission for Vorthos Mike Linnemann way back in 2017, and since then have been waiting for that day when he would join the ranks of Magic. That day is finally here.
You can see, without question, just how hard he went to make this first piece not only a great artwork, but a mic drop of, "Here I am; I've made it." I love the expression of the Silverquill student as she completes her plagiarizing ruse of the other mage's spell, and this is again a great micro-narrative that I'm left wanting to know more about.
To commemorate his breaking into the game, Mercado purchased the Commander deck with his card in it, and wrote himself a memento on the side of the box you can see below. It says:
Silverquill Statement Commander Deck
Bought this deck today, 22 April, 2021, at my local game store. My first Magic card, Bold Plagiarist, is in this deck.
Dreamt of doing Magic art since 1995. Today I'm actually holding my first card in my hands.
Miguel, 22/4/21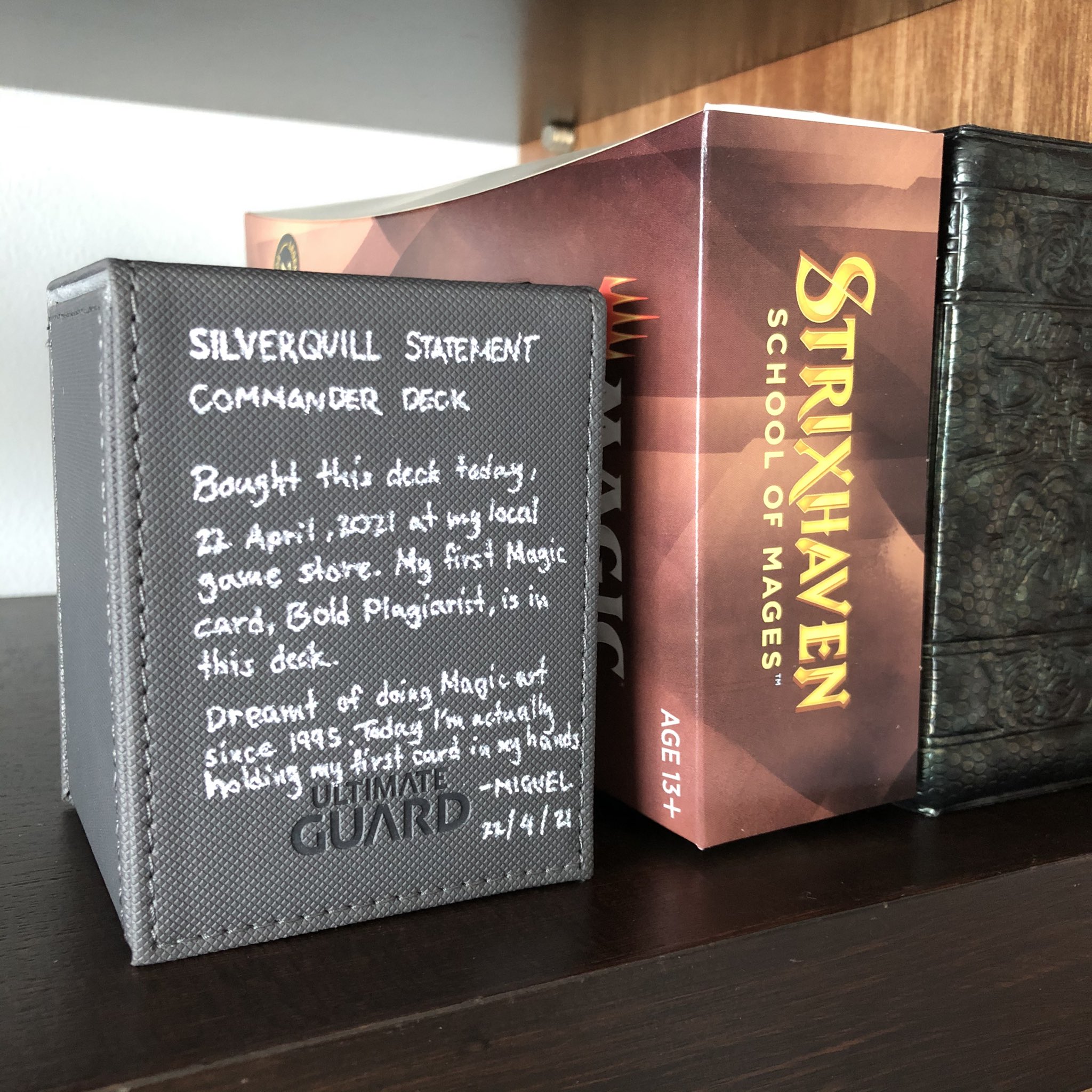 It's just something in my eye, it's nothing. These sort of stories make everything worth it. Welcome Miguel. We're glad you're finally here.
Wrapping Up
That's all today folks, and I hope you enjoyed this magnification of some of the details and stories that needed a closer look from Commander 2021. There is always more than meets the eye at card size, and the rich stories behind artworks, the narratives they create, and the loves of the folks Behind the Brush will always be what makes Magic the best game in the world.
Next time in the Mirror Gallery we're going to take a closer look at the brand new Mythic Frames, a Kickstarter that began last month with custom Alter Sleeves for your entire Magic deck! We'll hear from a few of the MTG artists on the project, and see some examples up close; it should be a ton of fun.
Remember, to see original #mtgart and other #vorthos related things, follow me on Twitter. Feel free to ask questions or retweet to continue the conversation. Thanks and see you next time!
Donny Caltrider has been playing Magic since 2002 and collecting original Magic art since 2017. He has an M.A. in Museum Studies from Johns Hopkins University and enjoys telling stories about art, objects, and the intersection of fantasy with real-life. You can find him on Twitter talking about #mtgart, museums, and other #vorthos related goodness. Follow along and continue the conversation!