Good morning everyone, and welcome to the Commander 2019 Grand Art Tour here in the Mirror Gallery on Hipsters of the Coast! The yearly Commander-specific product is always highly anticipated, with folks looking for new Generals, exciting reprints, and all the new art that comes with them. In total there are 74 new pieces of art out of the 302 total cards across four decks, as well as five new token illustrations.
Plus there's this reimagined Sol Ring from the card's original illustrator, Mark Tedin:
For those tuning in for the first time, my Grand Art Tour series were born out an article entitled A Grand Tour by Jerry Saltz. Similar to his initial exploration, past renditions would cover around a dozen works, each with a short explanation on why I found them so exciting, and have a particular emphasis on storytelling through art. Where block sets and expansions must use cards and art across rarities to tell the story of the setting, Commander is much more about innovative cards and exclusive reprints. That leads to some super works on above average cards, often in the rare or mythic slot. So instead of a dozen, this article will look at exactly seven new pieces of art from this set, and in a bit more detail on just what makes each so special.
Let's begin! My favorite paintings from Commander 2019, in no particular order:
Ixidron by Antonio José Manzanedo
The first stop on our tour today is the reprint reimagining of Ixidron by one of Magic's newest artists, Antonio José Manzanedo. Manzanedo has managed to walk the fine line between giving this Morph-of-all-Morphs the living, breathing qualities of something alive, while at the same time keeping it confined to its morph-creature state as the card itself functions.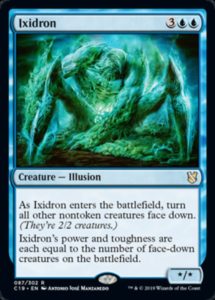 The artwork fills the frame perfectly, and has a wonderful bulk and weight as if the creature has sunk to the sea floor. The greens and blues further evoke this feeling, making Ixidron feel as if it could come alive at any moment. To be able to capture this moment of motion, as this beast begins to lift itself, makes this painting particularly phenomenal.
Manzanedo has only eight cards for Magic so far, but jump over to his ArtStation to have your socks knocked off. I have my fingers crossed that he gets commissioned for a Magic dragon, and can't wait to see what else he has coming. There are some unbelievable paintings in his portfolio and I want to see more of them in the frame of a Magic card.
Solemn Simulacrum by Donato Giancola
Donato Giancola has continued his return tour to Magic with two pieces in Commander 2019: Mimic Vat and this incredible new version of Solemn Simulacrum. Robots are one of Donato's specialties, and a passion subject for him over the last decade.
Donato's Solemn Simualcrum says nothing at all, yet is infused with the emotion of a thousand beings. He stands stoic in front of a stunning stained glass window, but his body language and the curvature of his metal limbs show an immense weight of feeling. This is an exquisite depiction of the automaton as a true empath, and a beautiful new illustration for one of the most played cards in Magic.
His Empathetic Robots series serves as dramatic inspiration, providing an unparalleled point of departure for reimagining Magic's signature "sad robot."
Aeon Engine by Ralph Horsley
This is one of those rare opportunities in Magic commissions that science fiction and fantasy are married as one. Not having to follow a style guide or storyline allows for something futuristic and extra-terrestrial like this artifact, and Horsley has delivered exactly that. Look closely, because there is so much you miss at card size. There are two dozen tiny planets, essentially an entire solar system, underneath two star-laden galaxies; one at the bottom and then the swirling whirlpool at the center.
The color palette is so unique; the pinks and purples not only pop against the silver of the artifact frame, but set the stage precisely in parts unknown. We really have no idea where this is taking place. Is it in space? Or an earthly temple, with the colors a product of the machine's activation? It's something Horsley had to work out himself, and he actually created four different color studies to sort out which colors worked best
The device itself has Horsley's signature feel of whimsy; technologically advanced and yet an unusual amalgamation all at the same time. This is a very fun work, on a very fun card, and I can't wait to play it myself.
Full Flowering by Sidharth Chaturvedi
This painting is placed firmly in Ravnica among the Selesnya Conclave, but dryads or elves are not the subject. Instead, in true Selesnya fashion, it's these great beasts born out of their buildings, natural architecture come alive.
The initial creature concept design from a number of years ago was created by artist and Magic illustrator Peter Mohrbacher, who revealed on Twitter that his inspiration came from a combination of Shadow of the Colossus and what's known as a Circus Tree: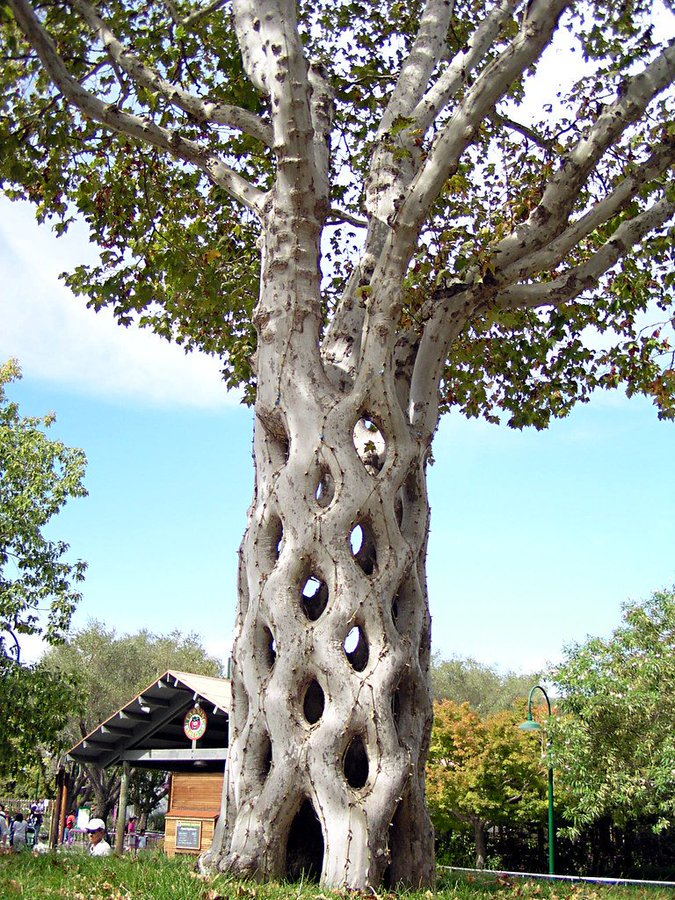 Chaturvedi has created a depiction of something incredibly strong, yet it still has a Selesnya-softness and organic feeling. Look at the chalk highlights in his initial sketch, especially being on grey-toned paper; it makes the magic that brings them to life literally jump off the sheet.
These brothers and sisters of Vitu-Ghazi are magnificent, but they will 100% trample you in their wake if necessary. Sid's contribution to Magic over the last few sets has been so inspiring, bringing a masterful style to the game and creating some show-stopping artworks, no matter the commission or card.
Pendant of Prosperity by Raoul Vitale
This is an oil painting.
Let that sink in for a minute, because it certainly made me do a double take when I first saw it. Vitale is one of those artists who has a truly remarkable range, breathing life into all of his subjects, whether they be giant creatures or a still-life full of inanimate objects like this piece.
The sketch originally featured more of the candle to the left, also rendered in absurd detail, but at the Art Director's request the focus was zoomed in to encompass more of the pendant. This helped to accentuate even more the sharpness of the ridges and the life-like lighting that Vitale is so known for, and has left us with a great piece of Imaginative, almost Photo-Realism.
Artist Spotlight: Zack Stella
Back during my War of the Spark Grand Tour, I mentioned that Zack Stella described his Vivien's Arkbow as a turning point in his illustration, and that we would see more pieces inspired by and in that very new and different style. I said I was excited then, and boy did he deliver on this pair, the first we've seen since of this anticipated Art-Nouveau aesthetic from Stella:
These two artworks immediately stand out. They are not just stunning paintings, but amazing vessels for Magic storytelling. Let's look closer: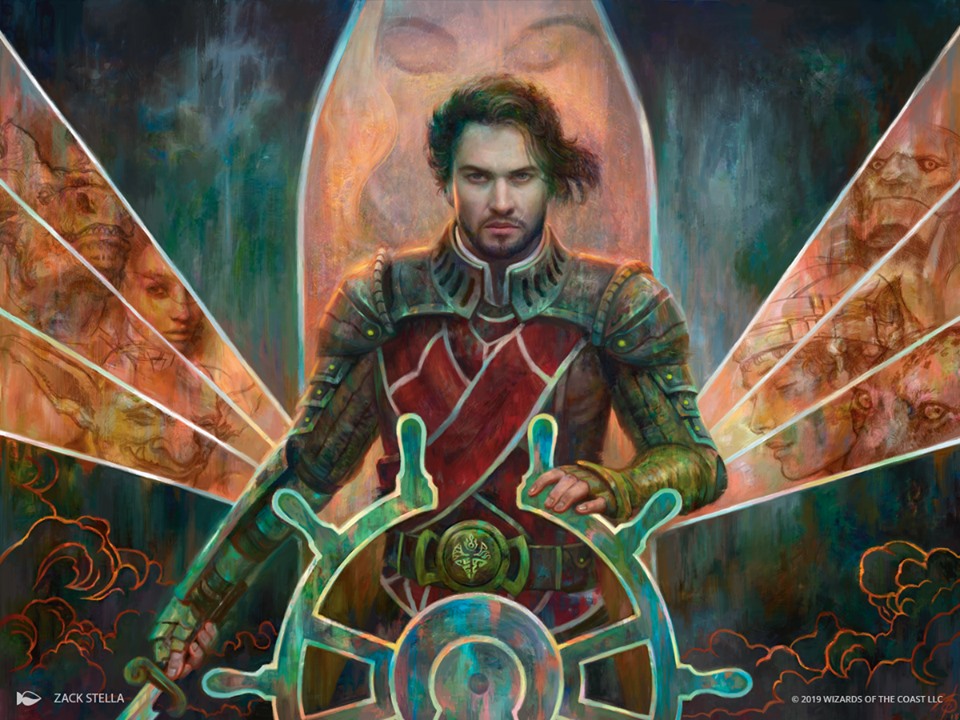 Gerard stands at the helm of the skyship Weatherlight, behind him the silhouette of the great flying machine. In the left wing are sketched Tahngarth, Sisay, and Squee, and to his right are Orim, Mirri, and Karn. Behind his head his lost love Hanna, once navigator of the Weatherlight. His belt bears the symbol of the Coalition, and in the top left, the looming symbol of Phyrexia. For a full history of the lore behind each of these elements, check out Jay Annelli's thread on Twitter here. But there's more . . .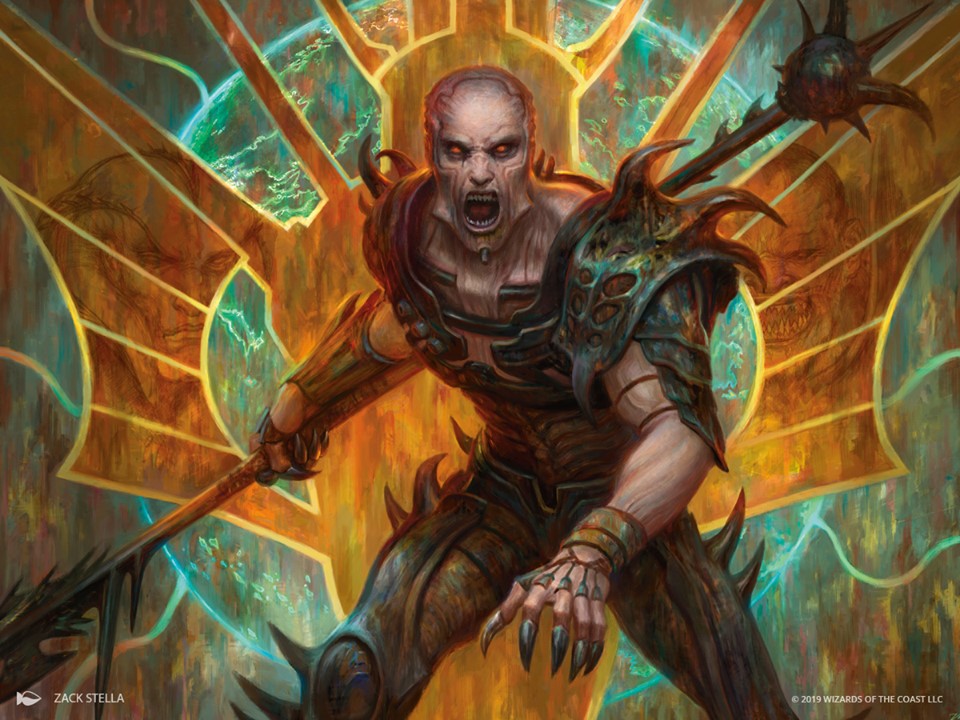 Moving on to Greven, artist Zack Stella took us step by step through the work in his own Twitter thread. Similar to Gerard, Greven stands in front of the Predator silhouette. The wings bear the likeness of his two masters, Volrath and Crovax, and behind the skyship is the globe of Dominaria as it looked under invasion by the Phyrexians. (Jay Annelli also did a lore thread for Greven here.) Zack also shows off some of his inspirations, from the Golden Age of illustration Saturday Evening Post covers of J.C. Leyendecker (Top Left) to the contemporary works of James Jean (Top Right) and Brad Kunkle (Bottom):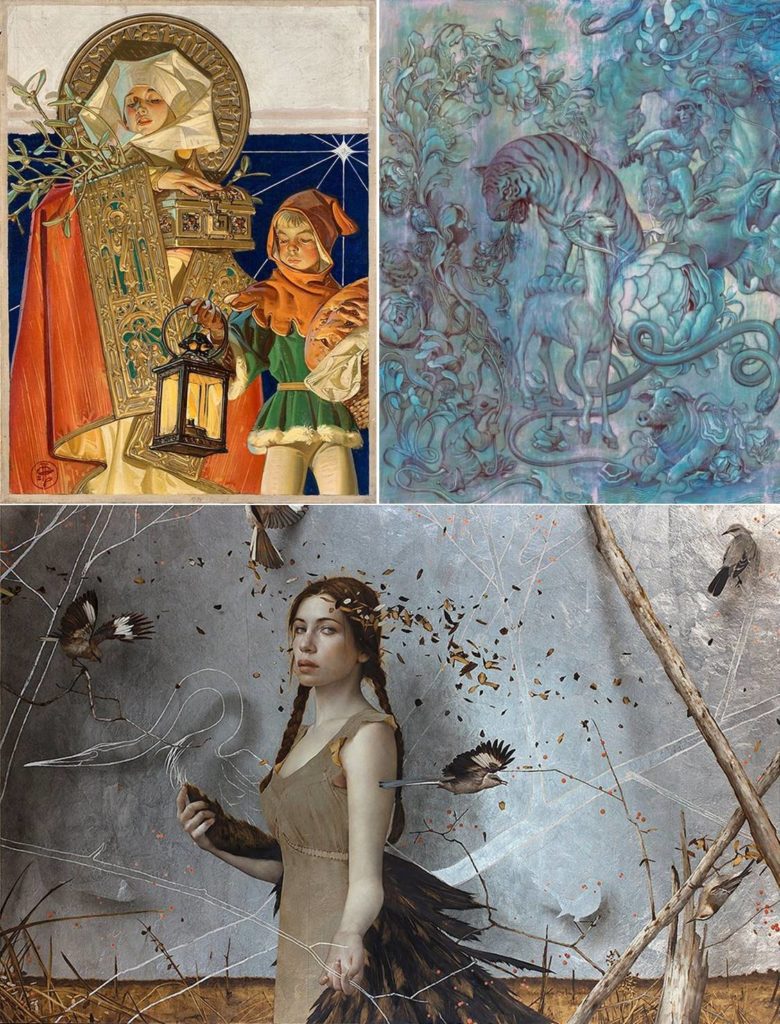 I love being able to see the art that inspired other art. It provides a rare look into the mind of the artist, and seeing these three vastly different styles being blended into Stella's "new" style is incredibly exciting.
These two pieces encompass the story of Dominaria, the saga of the Weatherlight, and the Phyrexian War—all wrapped tightly into two incredibly jam-packed paintings full of Easter Eggs and highlights for Magic fans new and old. They are masterworks of visual storytelling, and exceptional works of art.
Wrapping Up
Here ends our mini-Grand Art Tour of a few of my favorites from Commander 2019. Though there aren't quite as many new artworks in a Commander release, there are some seriously killer pieces of art in this set as you've well seen, from the most important of Legends to reprints to strategy specific spells. Let me know on Twitter what you're most excited to play with from this new set, or if I missed one of new works that happened to be your favorite new from this set.
If you're reading this on Thursday morning, I'm at LightBox Expo in Pasadena, CA, where over 250 artists have gathered in one convention center to showcase some of the best art, illustration, and animation in the world. The list includes more than two dozen Magic artists, so stay tuned to my Twitter to see who all is there and what they're up to.
I'll be back here in another two weeks to talk Whimsy, Wonder & War: A Magic Art Show in full force—previewing some paintings we will have on display as well as telling you how you can get your hands on a sweet 4" x 4" canvas Planeswalker painting by one of 30 past and present Magic artists. In the meantime I hope you all enjoy Throne of Eldraine preview season; it looks like it's going to be an absolutely breath-taking set! Take care everyone!
Donny Caltrider has been playing Magic since 2002 and collecting original Magic art since 2017. He has an M.A. in Museum Studies from Johns Hopkins University and enjoys telling stories about art, objects, and the intersection of fantasy with real-life. You can find him on Twitter talking about #mtgart, museums, and other #vorthos related goodness. Follow along and continue the conversation!