On Tuesday March 30, 2021, the monumental original oil on canvas for Ryan Pancoast's Kasmina, Enigma Sage sold for $12,600 on the MTG Art Market on Facebook.
Kasmina, Enigma Sage is a work of oil on stretched canvas, as the artist often works, and measures 24 inches by 30 inches, a size the artist uses when commissioned Planeswalker or otherwise legendary illustrations. It was commissioned for Magic's upcoming set Strixhaven: School of Mages, and is the borderless showcase version of on of the title characters, Kasmina. These cards can be found in packs when the set physically releases April 23, 2021.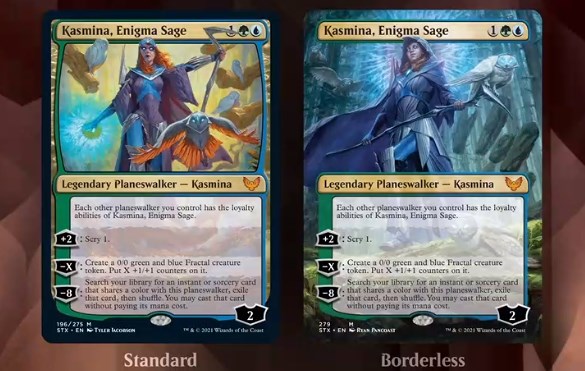 The auction began on the MTG Art Market a few days after the card was officially previewed by Wizards of the Coast, with Vorthos Mike acting as agent for the artist.
This auction sought an opening bid of $10,000, met immediately, and within an hour it had been raised to $12,000.
This slideshow requires JavaScript.
Only a few advances would come to pass, and an unusually quiet end sent Kasmina to a new collection for a price realized of $12,600. The collector, bidding publicly in the comments, primarily collects original art of legends and named characters from the game.
There were also two pieces of preliminary work sold a few days before auction end, and this time with the artist's wife acted as agent, running the sales. First, a pair of double sided ballpoint pen ink thumbnails was sold for $100:
This slideshow requires JavaScript.
Kasmina, Enigma Sage (Thumbnails), ballpoint pen on sketchbook paper, 5″x7″
And following was an oil painted canvas board color study, sold for $510. The study will join a collection of near a dozen other Pancoast color studies done in the same form and fashion; it may be the largest grouping of studies by the artist in a private collection.
Ryan Pancoast has had five works previewed as of the writing of this article, and there's a lot of other fantastic art to come. Stay tuned for more Strixhaven Art Market Minutes, right here on Hipsters of the Coast.