On Tuesday December 22, 2020, the original painting for Tran Nguyen's Valkyrie Harbinger, from Magic: the Gathering's upcoming set Kaldheim, sold for $13,000 on the MTG Art Market on Facebook. This is the artist's very first Magic card illustration.
Valkyrie Harbinger is a work of acrylic and colored pencil on 300 lb hot press watercolor paper, measuring 12 inches by 16.5 inches. It was commissioned for Magic's upcoming set, Kaldheim, which releases February 5, 2020. It can be found exclusively in the White Theme Booster Pack, and is our first glimpse of the Valkyrie angels we'll encounter on this new Nordic-inspired plane.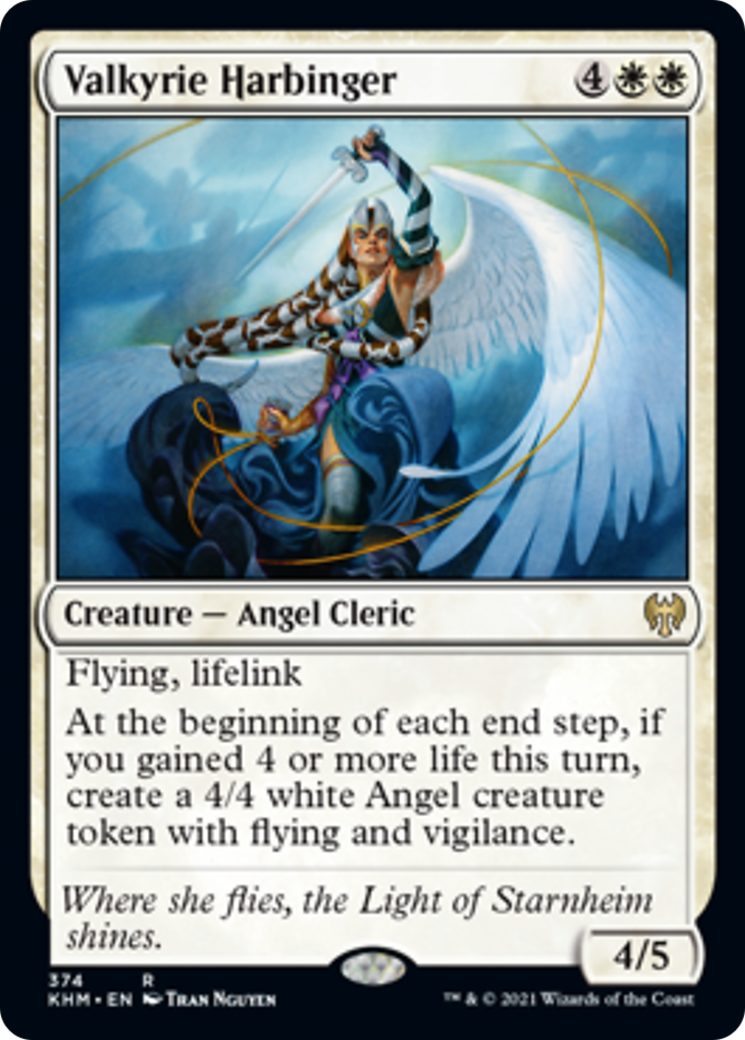 The card that bears this artwork was a part of the "early" previews for the upcoming set, rolled out as a teaser before the holiday season and the official start of set previews that will take place in January 2021. It was offered via auction on the MTG Art Market, with Vorthos Mike acting as agent for the artist. The sale was conducted gratis by the agent as he often does with artists that are new to the game (to provide an introduction into this particular corner of the market and ensure their initial success).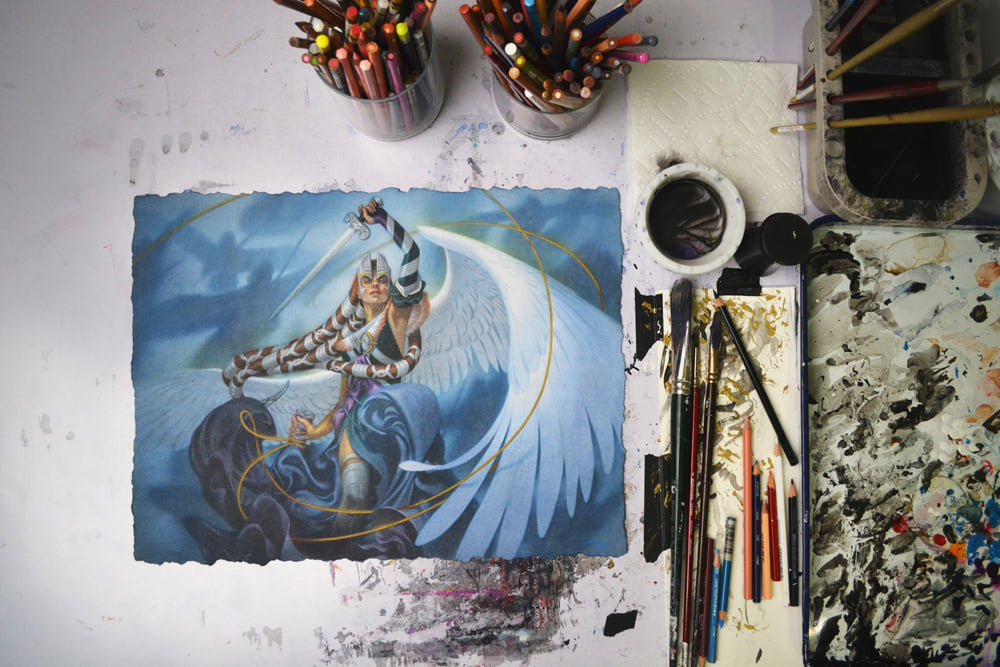 The auction began with an opening bid ask of $4,000, alongside a Buy It Now option of $13,000 with no expiration date (remember that last part, this becomes important later). The opening bid was met immediately, raised to $5,000 two minutes later, but would only move a few hundred before the end of the sale. With 90 minutes to go, the bid stood at $5,200, however it would not stay there for long.
At this point, both public and private bids began to pour in, sometimes advancing $25, others $100, and a far few increasing the total by $500. Four new private bidders would join the auction by this point, and the volume of action slowly pushed the auction into overtime, as any bid placed within five minutes of the end extended the sale five minutes.
This slideshow requires JavaScript.
When the bid hit $9,500, artist Donato Giancola, who was watching the auction end, made a comment within the post:
"Waiting to see who just calls it quits and takes the BIN!"
I myself had completely forgotten about it, too, but the $13,000 Buy It Now price was still active. As the bidding inched closer, the sale became a game of auction-chicken; how high could the bid go before someone disregarded any "savings" and just hit the red button to claim the artwork? It took only three more bids before one of the six private bidders could wait no longer, and elected the Buy It Now. The high bid stood at $9,750 but the auction was now over, the fantastic new artwork hammered sold for a wonderfully impressive price.
I was able to catch up with Tran after the auction to see how she was feeling, and what illustrating for Magic meant to her:
"I'm feeling absolutely elated!!! I used to play Magic when I was around 10-12 years old (I had a mean land destroying deck) so getting to actually contribute to the game feels surreal. Being surrounded by three brothers, I got pulled into whatever they wanted to do and Magic was one of them. Then I saw the art on the cards and it sucked me in."
I love hearing these full circle stories; artists that once played the game, now creating for it.
About the Artist: Tran Nguyen
Tran Nguyen was born in Vietnam and now resides in sunny Georgia, USA. She works in multiple mediums and across scale, from small pencil drawings all the way to painted murals.
While this may be her first Magic card, she is not a new artist by any means. Tran has an immense client list alongside an incredible list of accolades and awards, including two Chesley Awards for Best Cover Illustration in 2016 and 2017, and three Spectrum Gold Medals in 2014, 2015, and 2016.
This slideshow requires JavaScript.
To win back-to-back Chesley awards and Spectrum Gold three years in a row is nothing short of dynastic, and has placed her firmly at the top of her craft. She now enters Magic: the Gathering illustration as a new frontier, and has already made quite the splash with this first artwork, which will no doubt be in these same award conversations come next year.
We have a lot to be excited for with Tran now illustrating for Magic, and I can't wait to see what she creates next. Congrats Tran, and welcome to Magic!
You can find Tran Nguyen on her website, Facebook, Twitter, Instagram, and Patreon.