Welcome to the beginning of preview season for Kaldheim, Magic: the Gathering's next expansion set. The traditional Winter set preview season is starting a little earlier this year!
What to Expect
This week marks the beginning of Kaldheim's extended preview season. You can expect an introduction to the plane, character reveals, art previews, and more ahead of the official beginning of previews on January 7, 2021.
New and Returning Characters
Wizards revealed two new characters that we'll be meeting on Kaldheim: Niko Aris and Tyvar Kell.
Niko Aris is a non-binary planeswalker originally from Theros. They defied Klothys, causing a confrontation that resulted in their spark igniting. (Read more about Niko in an interview with writers Chris Mooney and Allison Steele.)
Tyvar Kell is elf-King Harald's younger brother and is a very Kaldheim elf—a little hot headed and boastful. (Read more about the character in an interview with Lake Hurwitz and Cynthia Sheppard.)
Oh—and Kaya and Tibalt (yes, Tibalt!) are returning for Kaldheim's story!
Packaging and Metal Theme
Apparently Kaldheim has a bit of a metal theme, following up on the sweet metal Party Hard, Shred Harder Secret Lair drop. Check out the set-specific font on the booster packs!
And if that wasn't enough, Wizards has also created some very metal Kaldheim concert posters: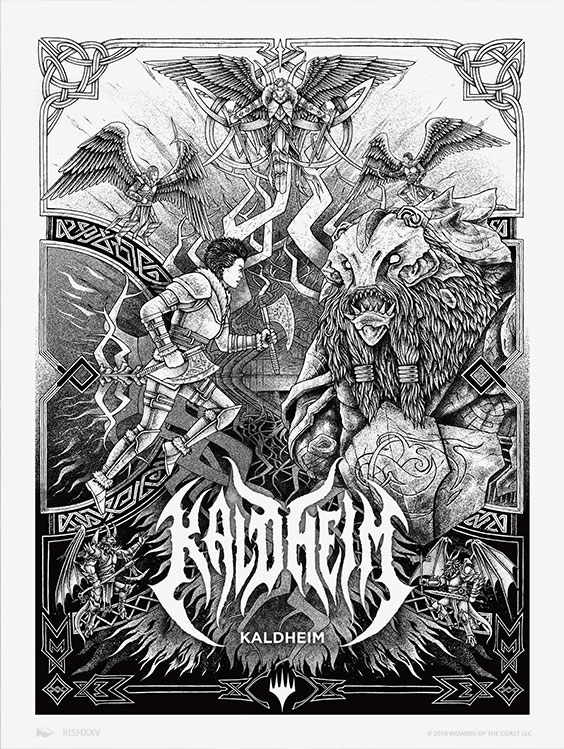 Stay tuned for more previews throughout the week!