Rebecca Leveille, known to Magic fans as the legendary artist Rebecca Guay, launched her second Kickstarter today to fund her upcoming artbook The Present. She also revealed that she has created a new illustration for a Magic card that is due out next May.
The project includes a mixture of her fine art and Magic: the Gathering illustration offered as prints, playmats, puzzles, facemasks, and more. For Magic fans, this is an exclusive opportunity for backers to claim limited edition prints and playmats of some of her Magic: the Gathering illustrations, as well as a once in a lifetime chance  to purchase original preliminary sketches of her card illustrations, directly from her sketchbooks that have been in storage since their creation.
The campaign has a $60,000 goal and will run for just over a month. All rewards can be seen in a special "Backer Gifts Gallery" page on her website and will be updated as new goals are added and unlocked.
Magic: the Gathering Rewards
If you're a fan of Rebecca Guay's MTG work, there is a smorgasbord of campaign options to support her current work and career via this Kickstarter.
First, she is offering several extended playmat designs for the base campaign, including Hana Kami, Channel, and Angelic Renewal.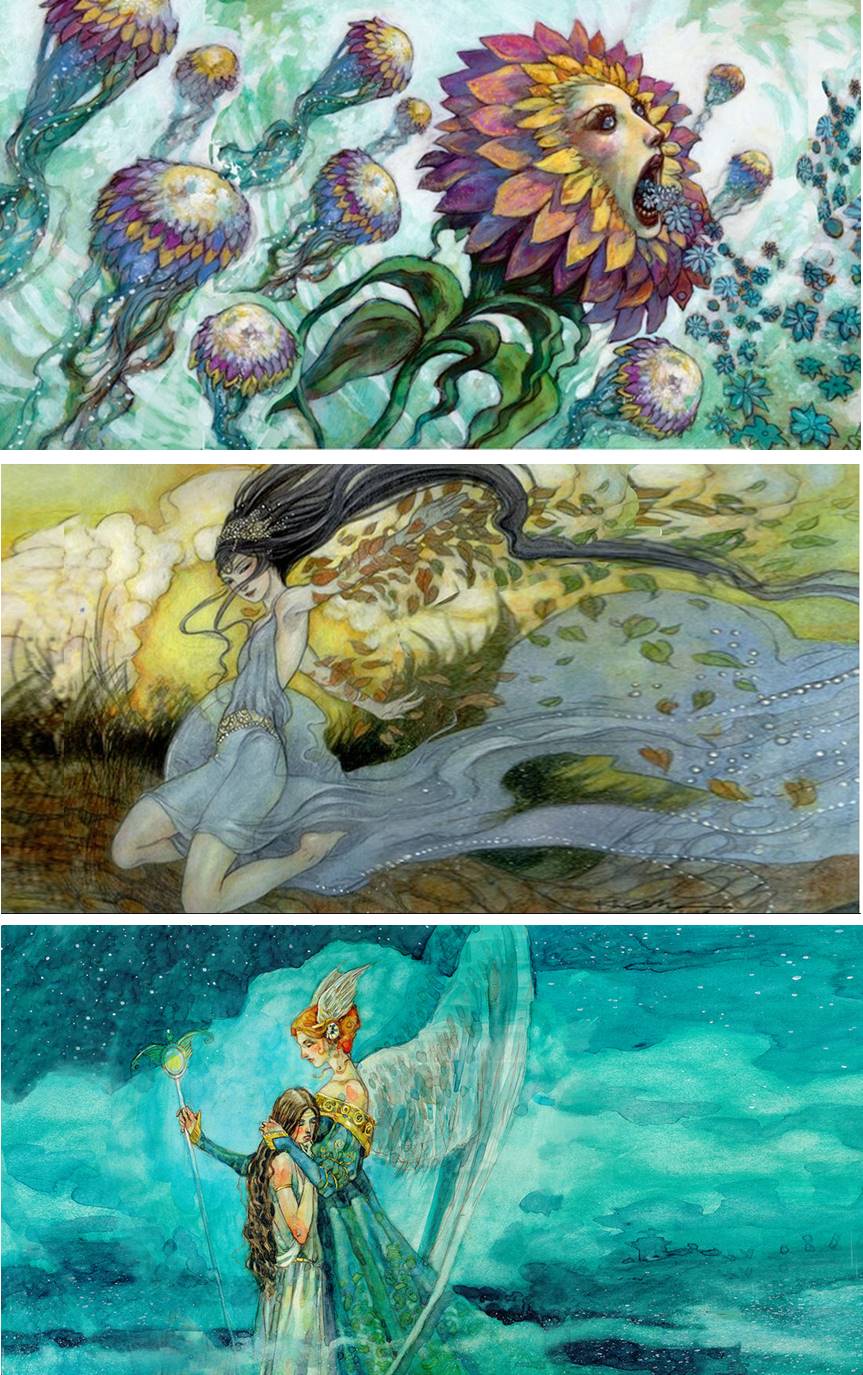 Also in the works are some brand new artwork extensions for future stretch goals later in the campaign. She gave a preview of the Bitterblossom design that will unlock past the first funding goal
As well as a potential collaboration for a playmat/print with one of her favorite MTG artists (who she's worked with before, hint, hint).
Any of the unlocked artwork will also be available as a 16" x 20" or 30" x 40" limited edition print, including both her personal work and the MTG artwork that's a part of this project. Smaller, open edition prints at 8.5" x 11" are also in queue, with two options available at launch.
Perhaps the most exciting reward of this Kickstarter is the Evolution Box Collector's Edition Packages:
Each of these rewards includes one of the last signed copies of Rebecca's first art book Evolution, a signed  Magic: the Gathering artist proof card with watercolor sketch, a signed oversized Titania MTG card, a signed print of her work The Visitor, and an original Magic preliminary pencil sketch, taken directly from her sketchbook. For fans outside Magic, there are also original watercolor works in place of the pencil sketches.
This slideshow requires JavaScript.
Prices for this tier begin at $2,900 and increase to $4,500 based on the sketch included with the group. This is currently the only way to acquire an original sketch directly from the artist, and I would expect by the time this article is published that several of these high-end tiers will have been claimed.
A New Card Coming Next Year
Rebecca has also made a pretty big announcement within the text of this Kickstarter:
"A release of a playmat and print of the NEW piece that will mark the return of my art that will be included in the MTG game—in a new piece coming out in MAY (you heard it here first!). I can't show it to you until its released, but I LOVE it and they let me do ANYTHING I wanted (yes anything!)!"
That's right folks, after more than a decade, Rebecca Guay is returning to Magic: the Gathering! She'll be adding a new card to the more than 160 cards she has illustrated for Magic between 1996-2009.
Wrapping Up
Again, that link to become a backer is here. Get your pledge in now so as to not miss out, and make sure you watch for special stretch goals and new rewards over the next thirty days.
Stay tuned to Hipsters of the Coast for updates in this campaign, and remember, to see original #mtgart and other #vorthos related things, follow me on Twitter. Feel free to ask questions or retweet to continue the conversation. Thanks and see you next time!