Snow is on the ground here in New York, while Christmas and the New Year are just around the corner—and that means it's time to start thinking about Magic's annual Winter set. Kaldheim is due out on February 5, 2021, with the official preview season kicking off on January 7, but Wizards of the Coast wasn't content with waiting until after the holidays to show of some new cards!
This is an excerpt from this week's Hipsters Weekly MTG Newsletter. Every Monday, we tell you know what you need to know about the week's most important Magic news. Subscribe and get next week's edition delivered straight to your inbox!
Wizards did not disappoint with the first batch of Kaldheim previews. As part of a pre-preview season event, they gave a series of high-profile cards to a few popular metal bands—like Mastodon and Amon Amarth—to get us in the Viking spirit. Wizards also introduced us to two new characters in the set, Niko Aris and Tyvar Kell.
Check out the Kaldheim cards we've seen so far!
The Gods of Kaldheim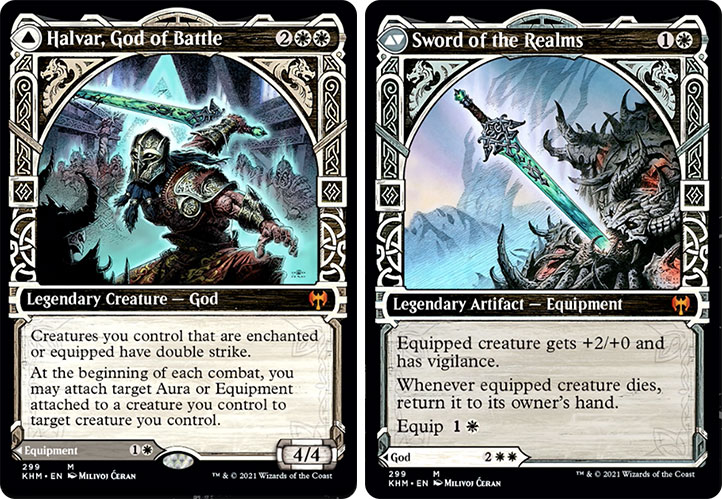 Another new plane, another new set of gods!
Kaldheim follows in the footsteps of Theros and Amonkhet with its own set of plane-specific gods. Wizards introduced us to Halvar, God of Battle, mono-White god on Kaldheim—and he's a modal double-faced card with a legendary artifact, Sword of the Realms, on the back! Apparently the sword is Halvar's weapon of choice and will serve as a key plot point in Kaldheim's story. And in a move true to Norse mythology, Kaldheim's gods aren't indestructible, meaning that they can die by normal means.
And check out that sweet new showcase frame! Wizards said that all legends in Kaldheim will have alternate versions that use that frame. (See below for more!)
Kaya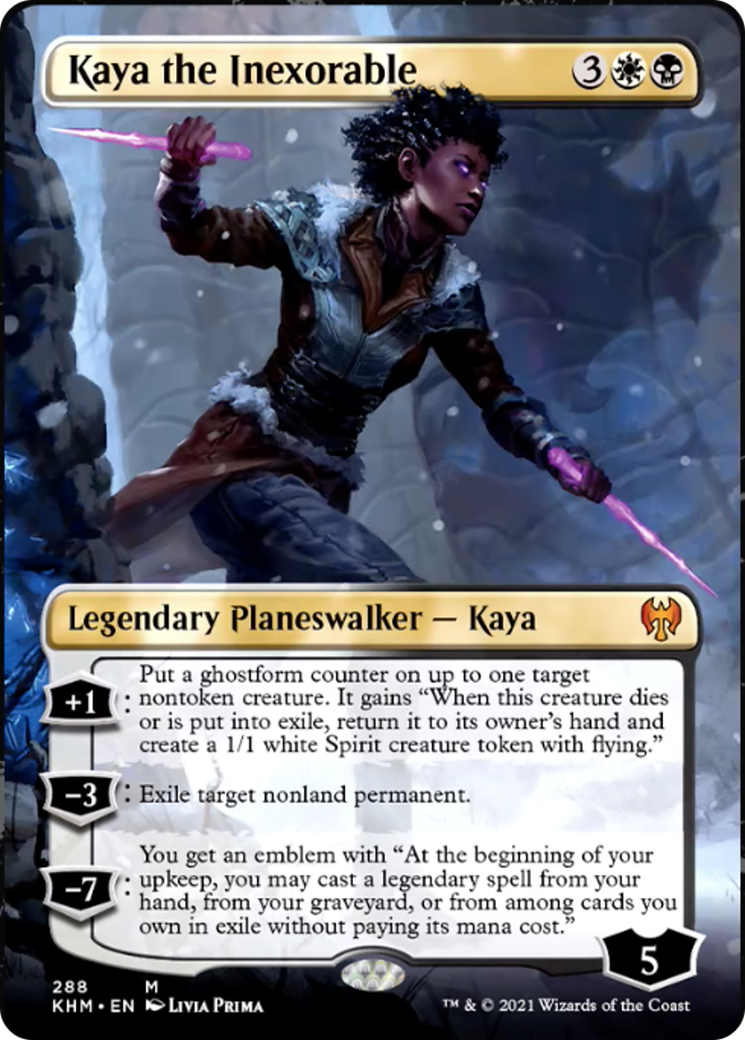 Kaya, who was last seen hunting down Liliana after War of the Spark, is back for Kaldheim. We don't know exactly what she's doing on the plane but it doesn't seem like she's going to be stopped.
We also know Tibalt will be in the set and, based on the teaser trailer, he appears to be the main antagonist of the story. We haven't seen his card yet, nor have we seen the cards of Kaldheim's two new characters, Niko Aris or Tyvar Kell.
The Kaldheim Pathways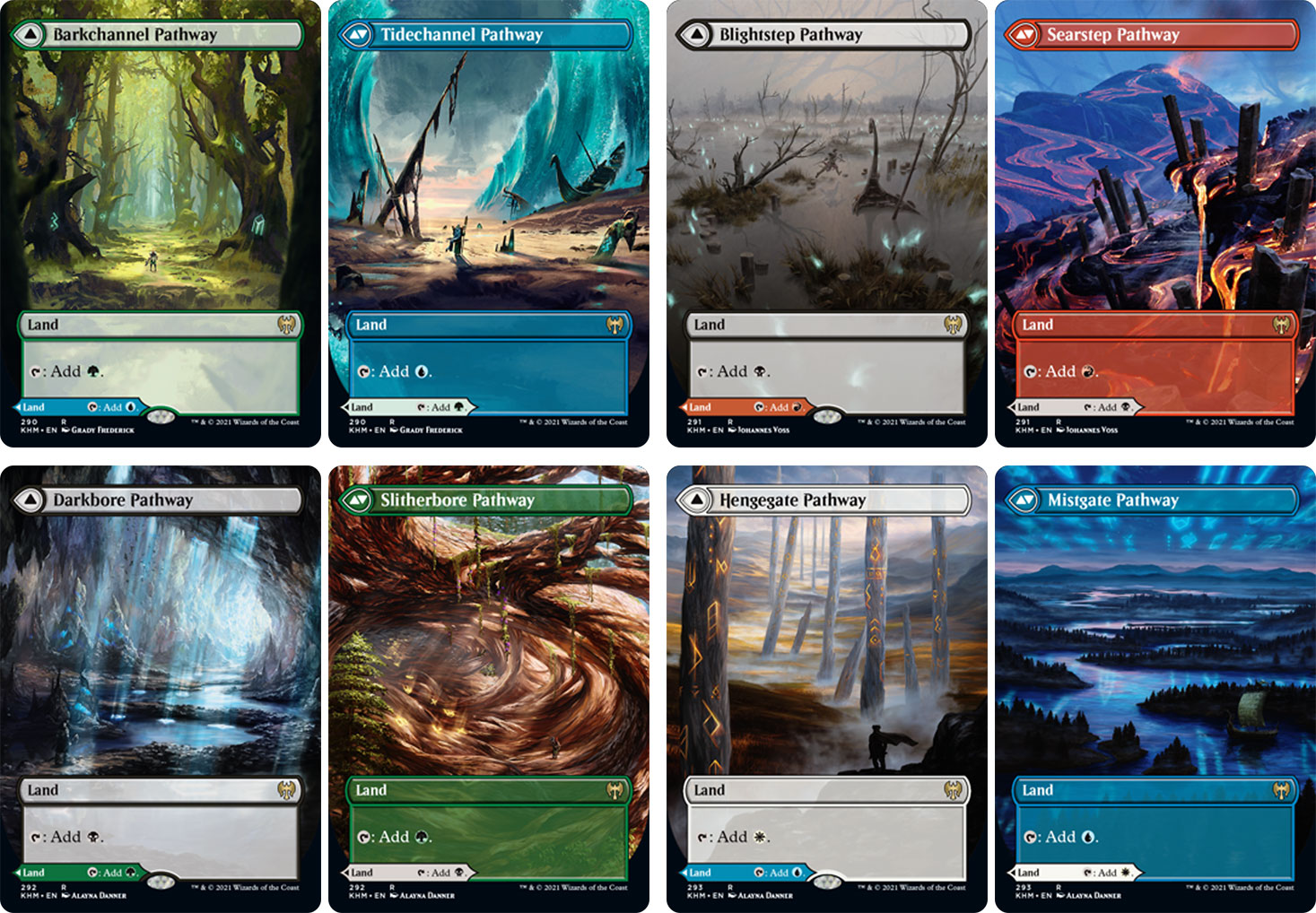 When Wizards previewed the six Pathway dual lands that were in Zendikar Rising in September, they said that the four remaining Pathways would be included in Kaldheim.
Well, here they are! They complete the 10-card Pathway cycle with absolutely stunning full-art and normal versions set on Kaldheim.
Wizards has also announced that additional alternate versions of the 10 Pathways will be available as part of Secret Lair: Ultimate Edition 2 in the Spring of 2021. The six Zendikar Rising pathways will have new art set on Kaldheim, while the four Kaldhiem Pathways will have new art set on Zendikar.
Dwarves and Vehicles and Sagas, Oh My!
As if Vikings weren't enough flavor for a new set, Wizards also included Dwarves in Kaldheim.
Magic's Dwarves were reintroduced in Kaladesh as a creature type with an affinity for artifacts and vehicles. It appears that Kaldheim continues those themes, as seen in Magda, Brazen Outlaw. Her ability triggers when a Dwarf becomes tapped, which synergizes with vehicles…which themselves are returning in Kaldheim. Gilded Assault Cart, seen above, is the only vehicle previewed so far and will be included in the Kaldheim Set and Theme Boosters—but not normal booster packs.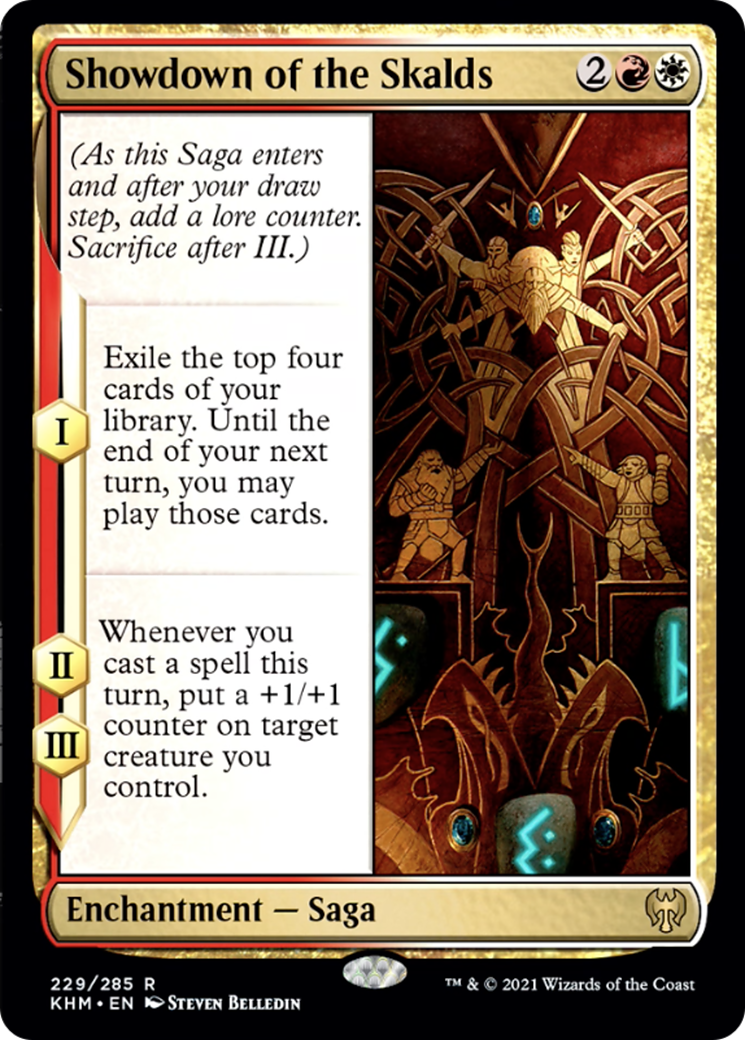 Sagas, a new card type that was introduced in Dominaria and returned in Theros: Beyond Death, returns once again in Kaldheim. As seen in Showdown at the Skalds, Sagas focus on telling a story through a series of multi-turn effects.
Watch the Teaser Trailer
No Magic set would be complete without a teaser trailer and the trailer for Kaldheim doesn't disappoint. Check it out!